Are you considering using a baby wrap but have no idea where to start?
I like to call baby wraps the Volkswagen Beetles of the babywearing world. They are bright and adorable, and everyone seems to want one. But they also require a little more work and can be intimidating, like driving a standard.
In this article, we'll dive into all the nitty-gritty details of baby wraps. We'll discuss the different kinds of wraps and what safety considerations you should consider. We'll talk about how to wear your wrap and how to troubleshoot issues. We'll also answer some frequently asked questions about different kinds of wraps.
---
What's the Deal With Baby Wraps?
If you are just joining the world of baby carriers, you might be asking yourself why you should consider a wrap in the first place. What makes them unique compared to carriers such as mei tais or ring slings?
A baby wrap is essentially a long piece of fabric you wrap around your body to hold your baby in different positions. They are the most versatile baby carriers because you can use them to hold your child from birth to preschool. You can maneuver a baby wrap to hold your little one in several positions on various areas of your body.
This article goes into all the details, big and small, about baby wraps. But first, let's start with what you need to know before choosing the wrap that's right for you.
Different Kinds of Wraps
There are two basic kinds of baby wraps: woven wraps and stretchy wraps. Both types have advantages and disadvantages.
1.

Stretchy Wraps

These wraps are made of stretchy fabric, as their name suggests. This makes them a popular choice as a beginner wrap for several reasons.
The Pros of Stretchy Wraps
Stretchy wraps are a popular choice for moms who are new to babywearing for the following reasons:
They are less intimidating: Stretchy wraps can be tied to your body before placing your baby into the carrier. This makes it easier for parents to get the hang of tying the wrap without fear of dropping their baby.
You can hold your baby in more than one position: Stretchy wraps can hold babies in front and side carry positions.
They are a one-size-fits-all solution: Most stretchy carriers come in one size. This means you don't have to worry about measuring to find the carrier to fit your size, and more than one person can share the carrier without having to adjust buckles or straps.
The Cons of Stretchy Wraps
Although there are several advantages to using a stretchy wrap, there are some disadvantages you need to consider.
They do not offer support: The stretchiness of the wrap might seem appealing, but unfortunately, it takes away from the carrier's support. Because of this, it is best used for lighter babies.
You cannot use a back carry: We don't recommend using stretchy wraps in a back carry position because the stretchy fabric is unsupportive. It can allow the child to shift out of position and become unsafe.
You will not be able to keep your baby in it for as long: Again, it's the support that causes the issue. As your baby grows, they need more support. This means you will eventually need to purchase a different carrier to keep babywearing your little one.
Comfort: As your baby gets heavier, the stretchy wrap won't disperse their weight evenly. The weight of the straps on your shoulders can make it uncomfortable for you.
2.

Woven Wraps

Woven wraps have less stretch compared to their stretchy counterparts. They are made from a wide variety of fabrics, including cotton, silk, wool, and cashmere. They do not stretch in length or width but do have some diagonal stretch.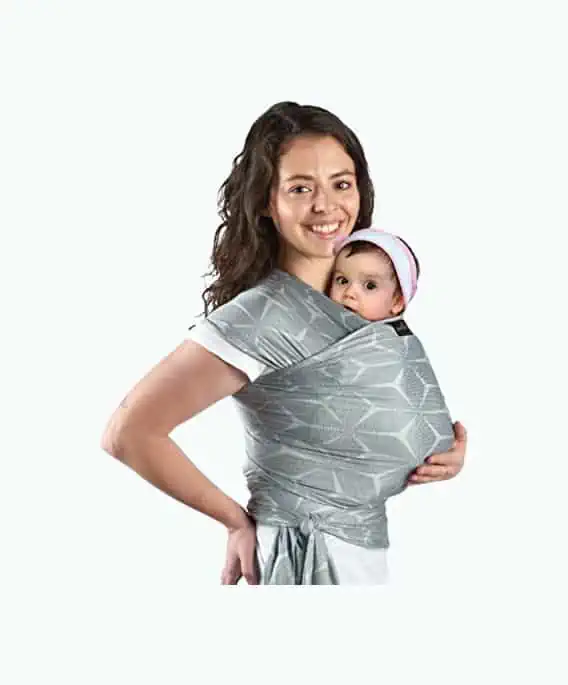 The Pros of Woven Wraps
Here are some of the advantages of choosing a woven wrap:
The versatility of positions: A woven carrier can be used in front, back, and hip carry positions. You can also use them in single-layer or multi-layer carrier styles.
It will last you a long time: A woven wrap provides the support a stretchy wrap lacks. You can use it well into the preschool years if you choose.
Pick a fabric you love: Woven wraps come in several fabric options, including silk, cotton, and wool. You can choose a wool wrap to keep your baby warm in the winter and a breathable cotton fabric during the hot summer months.
It's comfortable: The support of a woven wrap prevents it from digging into your shoulders under your baby's weight.
There is something for everyone: Woven wraps come in various patterns and designs, allowing you to choose one that fits your style.
The Cons of Woven Wraps
Although the woven wrap is the most versatile choice for baby wraps, that doesn't mean they are without flaws. Here are some cons to consider before purchasing a woven wrap:
They are not one-size-fits-all: Woven wraps come in different lengths based on your shape, T-shirt size, and wrap length you need to do the basic front wrap cross carry. You will need to get the right size to wear your baby in the wrap successfully. Once you start to gain confidence in wearing your baby, you can purchase different sizes to do various kinds of carries.
They have a pretty steep learning curve: Learning different positions can be intimidating, especially since you have to hold your baby as you are wrapping them. As your baby grows, you might need to learn new positions to adjust to their weight or carry preferences. This can take a while to master.
Safety Considerations When Using Wraps
While baby wraps are safe to use, there are always things to consider to ensure you carry your baby in the safest way possible. Keep the following elements in mind every time you wear your baby.
1.

Ensure Your Baby Has a Clear Airway

This one sounds obvious, but your baby's airway can become obstructed easier than you might think. It's essential to keep this safety precaution in mind the entire time your baby is in the wrap.

The best way to keep your baby's airway open is to keep them in an upright position. You want to place them high on your body so you can monitor their breathing. You also want to make sure their chin does not fall onto their chest because this can obstruct the airway.

Pro Tip

You can place your baby in the cradle position while they are breastfeeding. However, make sure to put them back into the upright position as soon you are done to keep them safe

(1)

.
2.

Only Use Carriers in Optimal Condition

Every time you wear your baby, you need to inspect the carrier first. Ensure that it has no tears, weak areas, or loose and snagged stitching to ensure that unexpected malfunctions will not happen while wearing your baby.

Purchase your carrier from a reputable manufacturer. That way, you can ensure all current testing and labeling standards are met before using the wrap.
3.

Ensure Your Wrap Provides Enough Support

You need to hold your baby ergonomically for your comfort and your baby's comfort and safety. Your baby's neck and back both need to be supported correctly as they develop, and their hip sockets should be in the correct position.

Place your baby in the carrier with their knees sitting higher than their bottom. They also require adequate support from their hip sockets to their knees to keep them in the correct position.

If you allow your baby's legs to hang low, you risk a condition known as infant hip dysplasia. This can lead to discomfort and even surgery for your little one to correct the condition (2).
4.

Always Have a Spotter

Babywearing involves a bit of a learning curve.

Be Safe

Until you are confident in the way you wrap your baby, make sure you have a spotter in case something happens.

This can mean wrapping your baby while leaning over a bed or a couch in case they need a soft place to fall or making sure you always have another person there to spot. Many moms find that front holds are easier to learn than hip holds or back holds. It might be a good idea to build confidence by mastering these before moving on to more challenging positions.
5.

Don't Back Carry with Stretchy Wraps

Stretchy carriers do not provide the support required to use a back carry. This is because the wrap stretches as your baby leans back, making it possible for your baby to fall out of the wrap.

However, woven wraps are safe to use for a back carry as the fabric does not stretch. If you use a back carry with a woven wrap and your baby leans back, your baby will not fall out of the wrap as long as you have secured it tightly.
Tips For Using Stretchy Wraps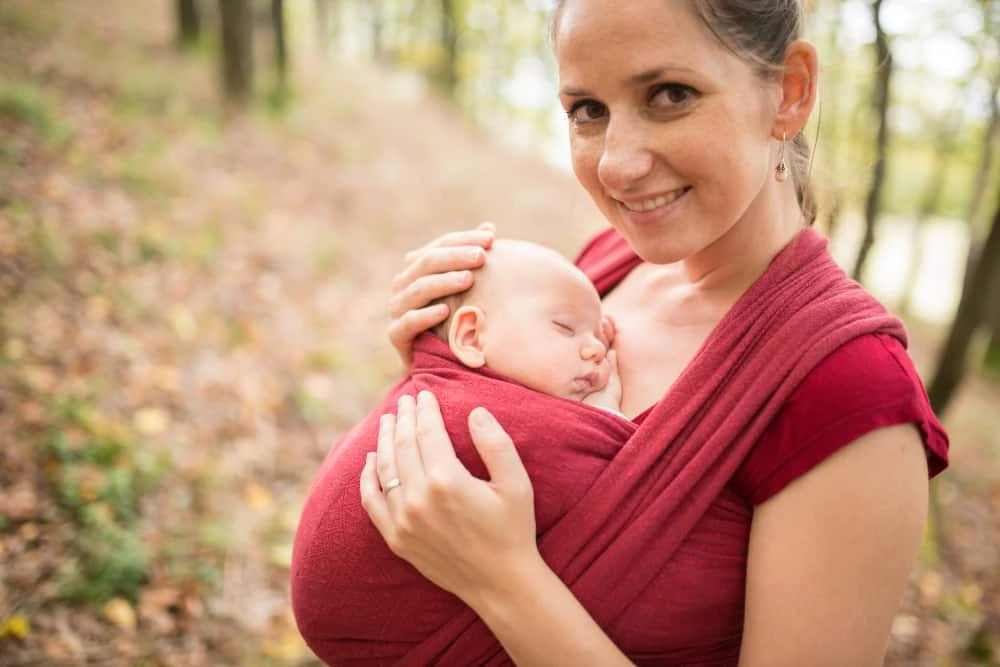 Stretchy wraps do not have as big of a learning curve as woven wraps, but they still require some practice. Here are some tips for wearing a stretchy wrap and step-by-step instructions for three ways to wear your baby in a stretchy wrap.
Wrapping Your Baby in a Stretchy Wrap
All of these facts and tips are great, but you're probably excited to start using your stretchy wrap. Here are some step-by-step instructions for three of the most common stretchy wrap carries.
Safety Tip
Don't forget to conduct a security check each time you wrap your baby. You will need to ensure their legs are in the optimal position; their hips, back, and neck are supported; and their airway is open.
Troubleshooting Your Stretchy Wrap
Are you having some trouble mastering a carry? Maybe you feel like it's too tight or too loose. Or perhaps you are worried about your baby's positioning. We're here to help.
We've compiled a list of common stretchy wrap problems and will explain what you can do to solve them.
Stretchy Wrap FAQs
Here are the answers to some of the most frequently asked questions about stretchy wraps.
Tips for Preparing a Woven Wrap

Woven wraps have a steeper learning curve than stretchy wraps. Here are some tips and more step-by-step instructions for how to use and wear your woven wrap.
Woven Wrap Positions
It can take a while to master tying a woven wrap, but don't worry — we've got you covered. Below are some detailed, step-by-step instructions on how to tie your woven wrap.
Quick Tip
Make sure to always do a security check when you are done tying your wrap. This will ensure your baby is safe and secure in the wrap and that their back, hips, and neck are supported and their airway is open.
Troubleshooting Your Woven Wrap
Just like with a stretchy wrap, you might discover some bumps in the road even after you've learned a carry in your woven wrap. Here are some common problems you might face, as well as our tried and true solutions to getting everything in order.
Woven Wrap FAQs
We've thrown a lot of information at you already, but you might still have some questions. Here are the answers to several frequently asked questions about woven wraps.
---
Thank You For Your Feedback!
Thank You For Your Feedback!