Ring slings are a popular choice of baby carrier because they are easy to use, lightweight, fully adjustable, and comfortable for both wearer and baby.
That's why ring slings are often the preferred choice of baby carrier, and many parents now choose this style over others.
But if your sling isn't made with quality, tested sling rings or sturdy fabric, you could be putting your child — or your own muscles — at risk of injury.
We've been using ring slings for many years and have learned all the tricks. We've tested the top brands to bring you our recommendations for the safest and best ring slings for cozy, comfortable babywearing in any situation.
Image
Model
Product Comparison Table
Features
Best for Breastfeeding
Nalakai Luxury
Soft, breathable fabric
Perfect privacy cover
Unwelded aluminum rings
Most Versatile
4-in-1 Baby Wrap
Four options for use
Neutral gray color
Added stretch for comfort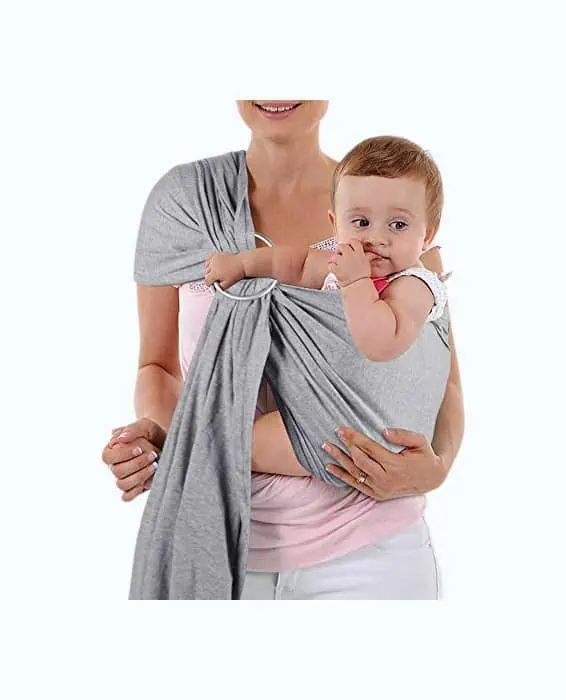 Best for Summer
Netursho Bamboo Ring Sling
Eco-friendly
Precision seam technology
Doctor approved
Best for Water
Vlokup Baby Water
100% polyester jersey mesh
Remains light in water
Sturdy metal rings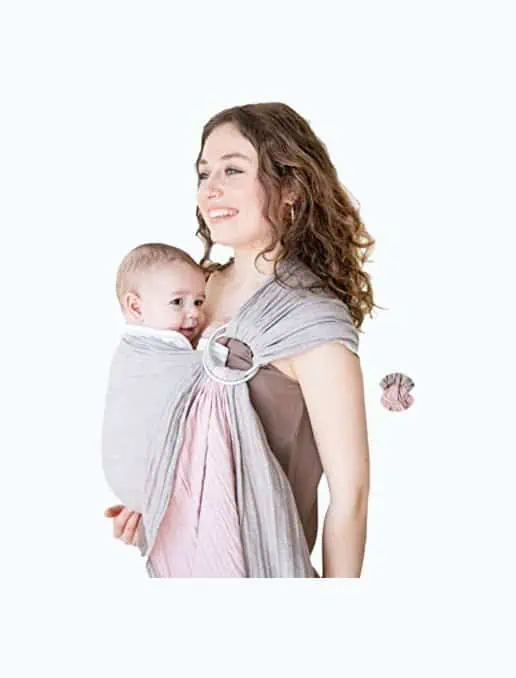 Most Breathable
Mebien Baby Wrap
No ironing required
Breathable 100% Turkish cotton
Includes pouch for easy storage
Best for Toddlers
Hip Baby Wrap
Non-toxic, eco-friendly product
Hand-woven fabric
Machine washable
Best for Sleeping
Lite-on-Shoulder
Curved pouch design
Padded shoulder and rails
Stitched tail for easy adjustment
Best for Plus-Size Moms
Moby Sling
Suitable for all sizes
Wide variety of colors
For babies up to 45 pounds
Best Gender-Neutral
Aellana Baby Carrier
Muted color
Has a pocket
Bamboo and hemp fabric
Review Methodology: At Mom Loves Best, we strive to provide you with a thorough analysis and evaluation of the best ring slings on the market. Our experienced team meticulously researches and compares various products based on criteria such as ease of use, quality of material, comfort, and safety. We gather data from hands-on testing, professional reviews, and user experiences to rank and measure the performance of each ring sling. Our assessment not only identifies key decision-making factors like durability and versatility but also discusses design choices and their effect on users. In addition, we share quantitative measurements and first-hand evidence to help you choose the best ring sling for your needs. Trust our expertise and findings to make an informed decision for you and your baby.
---
---
The Best Ring Sling Reviews of 2023
Here are our favorite ring slings on the market.
Nalakai Luxury Ring Sling Baby Carrier
Best Ring Sling for Breastfeeding
Nalakai ring slings are strong but lightweight and luxuriously soft. They are made from an eco-friendly blend of bamboo and linen. The fabric requires no breaking in (bonus!) and is soft right from the get-go.
There is enough material in the sling to fit moms of any body size, as it's a whopping seven feet long. This also means that once your baby is latched on when breastfeeding, you can use the tail as a privacy cover. With your baby in the correct position, you can even breastfeed hands-free — what a blessing for us busy moms.
The naturally breathable material will help regulate your baby's temperature. This ensures they stay cool and comfortable, and it stops you from overheating too — no more sweaty mom look.
Solid aluminum rings hold the fabric securely in place, whatever carry position you use.
We especially love that a mom designed this sling, and 5% of all profits go to a charity supporting low-income families in Costa Rica. The designer is so confident in her product that she offers a lifetime guarantee.
Pros
Made from soft, breathable fabric.
The long tail makes a perfect privacy cover for breastfeeding.
Aluminum rings are unwelded, so there are no bulky ridges or risk of rings cracking.
Several colors to choose from.
Cons
Material wrinkles easily.
It needs to be tightened often due to the soft material.
Our Ratings
Community Feedback
I'm quite pleased with this baby sling, as it's comfortable and easy to use once you get past the learning curve. The quality is top-notch, and the pocket is a nice touch for convenience. However, while the fabric is soft and breathable, I do miss the extra padding around the sides for the baby's head.
---
Kids N' Such 4-in-1 Ring Sling
Most Versatile Ring Sling
This 4-in-1 sling is highly versatile. You can use it as a wrap sling, ring sling, postpartum tummy wrap, or nursing cover. This is ideal if you can't decide between slings or wraps.
You could use it to support your belly in the early days after delivery and as a sling when you are ready to wear your baby.
The sling is made from soft, breathable cotton with 5% spandex to give it a small amount of stretch. This makes it extra comfortable for you and your baby. The neutral gray color makes it suitable for both moms and dads to wear.
It caters to babies from 8 to 35 pounds; however, as the fabric is slightly stretchy, we don't advise using it for a back carry.
Two sturdy metal rings make it easy to adapt this long piece of fabric into a ring sling.
The company has a hassle-free returns policy and offers a lifetime guarantee on the product.
Pros
Four options for use.
Neutral gray color.
Added stretch for comfort.
Cons
You cannot use it for back carrying.
Fabric may be too long for some.
Our Ratings
Community Feedback
I'm quite happy with this baby sling wrap, especially for carrying my small elderly dogs who can't walk far. The pattern is nice, and the material is good quality, providing a secure hold without the need for metal D-rings. However, the length of the fabric can be a bit cumbersome, as it tends to drag on the ground while wrapping it around. On the plus side, this wrap allows for a hands-free experience with even weight distribution, though I do find myself supporting my pets occasionally when they squirm. As a larger individual, I appreciate that the wrap is big enough to comfortably fit around my waist.
---
Netursho Bamboo Ring Sling
Best Ring Sling for Summer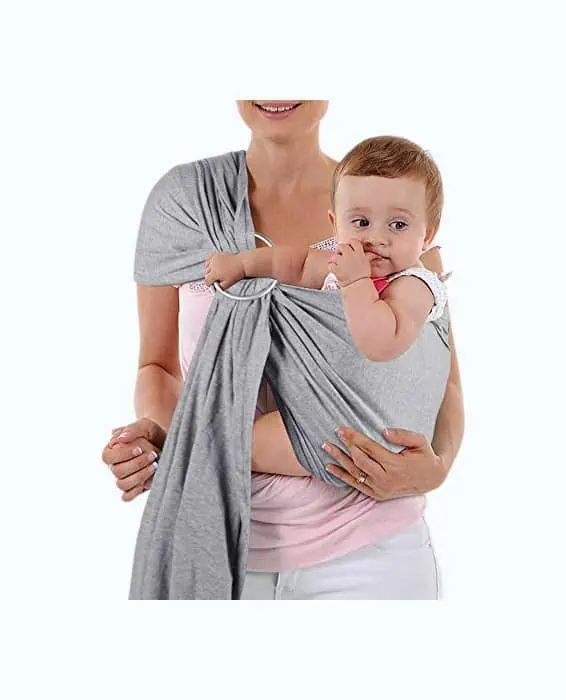 This super-soft baby ring sling by Netursho uses a fabric blend of 80% linen and 20% cotton. This is breathable and will keep your baby cool through the hot summer months.
Carrying a little one can be a sweaty business, but this sling has natural temperature regulation for moisture absorption and ventilation. The texture is so comfy that it won't irritate your baby's delicate skin.
It's made of eco-friendly material and top-quality metal rings to ensure the safety and comfort of your little one. This will fit most body types and sizes and supports babies weighing up to 44 pounds.
The two sturdy aluminum rings let you adjust the sling with ease while ensuring it stays in place for your baby's safety.
Pros
Eco-friendly fabric.
Precision seam technology.
Doctor approved.
Cons
May not provide sufficient support for newborns.
Our Ratings
Community Feedback
Love this ring sling for its simplicity and versatility. Initially, the material felt a bit starchy, but after a few washes, it softened up considerably and became more comfortable. This sling has made daily tasks like dishes and dinner much easier, as it allows me to keep my baby close while accomplishing chores. The adjustable positions provide a cozy, secure environment for my little one, and it even works well for a toddler. However, the metal rings can sometimes be uncomfortable and may require readjustments to ensure proper sling tightness. Despite these minor drawbacks, this ring sling has proven to be a valuable addition to our baby-wearing collection.
---
Vlokup Baby Water Ring Sling Carrier
Best Ring Sling for Water
Introducing your little one to the delights of a swimming pool can be a daunting experience. Maybe you have other children who you need to supervise in the pool too.
This sling from Vlokup has been designed with these issues in mind. Play in the shallow water with your toddler while your baby stays safe in the sling.
It is made from 100% polyester jersey mesh, which won't get heavy in the water and dries quickly. Available in 14 different colors, there is one suitable for all tastes.
The strong aluminum rings make the sling easy to adjust and comfortable to wear. When you have your baby in the water with you, the optimal position is high on your chest. You want to ensure their head remains clear of the water.
The sling has a portable packing pocket and is suitable for babies weighing from 8 to 35 pounds.
This sling was designed in the U.S., and the fabric is machine washable. The sling also meets all CPSC and CPSIA standards.
Pros
Lightweight mesh fabric.
It remains light in water and dries quickly.
Sturdy metal rings.
Cons
It might need adjusting regularly.
Our Ratings
Community Feedback
My experience with this affordable ring sling has been quite positive, as it's perfect for water activities and dries quickly in the sun. The lightweight, silky mesh material is comfortable for both me and my baby, but can be a bit tricky to adjust for first-time users. Although it can cut into my one-year-old's legs when carrying him, it works surprisingly well for lighter babies and is great for enhancing bonding. This sling is truly versatile, as I have even managed to breastfeed in it after some practice.
---
Mebien Baby Wrap Ring Sling
Most Breathable Ring Sling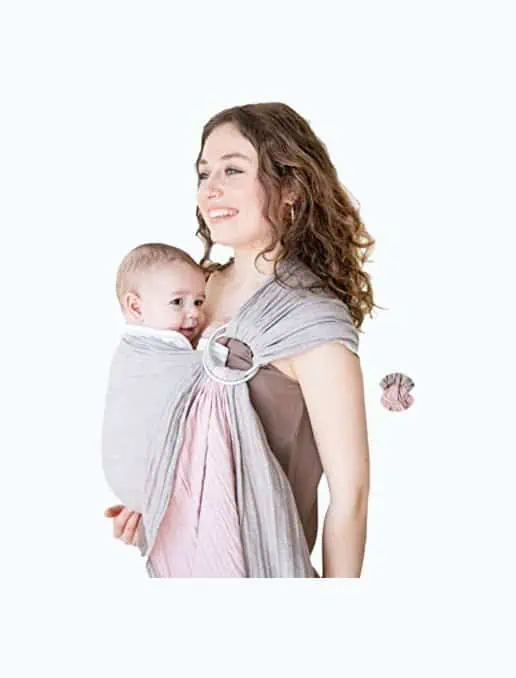 The Mebien ring sling will make carrying your little one more comfortable because its fabric prevents both you and your child from sweating. This sling is made from breathable, 100% Turkish cotton and can support babies from newborns up to 35 pounds in weight.
The brand is ASTM and CPSIA compliant, ensuring protection. It frees up your time as there's no need to iron.
If you are vertically challenged, this sling is a great option. We like that you will no longer be tripping over an extra-long tail or looking for somewhere to tuck it in.
The sling is easily adjustable through the strong aluminum rings. There is sufficient fabric to give you a privacy cover when breastfeeding a younger baby.
A secure pocket built into the sling helps store keys, a cell phone, or even a spare diaper and wipes. That's a bonus when you don't want to carry a purse for a quick trip out.
Pros
100% breathable Turkish cotton fabric feels like a muslin swaddle blanket.
Woven structure for less ironing time.
Pre-washed fabric is ready to wear.
Cons
The lightweight fabric slides easily through the rings, so you may have to adjust it often.
Not the best option for larger women.
Our Ratings
Community Feedback
My experience with this baby carrier has been a mix of pros and cons. I initially struggled with assembling it and worried about the safety of my baby, but once I got the hang of it, it felt secure and comfortable. The fabric is sturdy, breathable, and has a nice gray color, making it both fashionable and functional. While it took some time to learn how to properly use the ring sling, it has allowed me to keep my baby close and get things done around the house.
---
Hip Baby Wrap Ring Sling Carrier
Best Ring Sling for Toddlers
This product, brought to us by Hip Baby, is made from durable cotton. It is breathable for comfort and strong enough to support children weighing from 8 pounds to a generous 35 pounds.
Fitted with two strong aluminum rings, you can easily adjust it to carry tummy to tummy, on your hip, or on your back. Keep it on hand when you are out and about in case little legs decide they no longer want to walk. It's much easier to carry your tired toddler in a sling on your back than in your arms.
The fabric gives you plenty of room to wrap around you and your child.
These fair trade, handwoven slings are dyed in India using non-toxic, eco-friendly products. Lightweight but sturdy, this sling will cover your needs, from breastfeeding a little one to carrying around a toddler.
I found carrying a toddler without a sling hard work. The constant wiggling would leave my shoulders feeling like I had spent an hour lifting weights in the gym. This sling made it much more comfortable as it evenly distributed my toddler's weight, especially when carrying for long periods.
Cleaning your sling is easy; you can just pop it in the washing machine.
Choose from a variety of colors, including striped options, to suit your style.
Pros
Made from durable, breathable, fair trade cotton.
Suitable for babies and toddlers who weigh up to 35 pounds.
Machine washable.
Cons
The fabric quality can vary between colors.
Our Ratings
Community Feedback
I'm thrilled with this baby wrap, as it has made my life considerably easier and more comfortable. It's soft, lightweight, and versatile, allowing me to carry not only my baby but also my small dog with ease. I appreciate the convenience of being able to quickly put it on when I need to keep my little one close while doing chores or going out. However, as my baby has grown, I've noticed it can be a bit straining on my body during longer walks or more strenuous activities. Despite this minor drawback, the wrap has provided countless snuggles and naps, and I would gladly purchase it again if needed.
---
RosyBaby Lite-on-Shoulder Baby Sling
Best Ring Sling for Sleeping
This Lite-on-Shoulder ring sling has a curved design that forms a pouch for holding your baby. This provides extra support and holds your baby secure, even when they are asleep.
It is quick and easy to put on and adjust, which is excellent for slinging your baby when they have already started snoozing.
This sling is made from 100% cotton sateen and has light padding on the shoulder and along the rails to protect and cushion your little one's delicate legs and help your shoulder remain comfortable.
The buckle rings are formed from cast copper and zinc alloy, with the bonus of no welding. Reducing the chance of weak spots means strong rings to hold the full weight of your slumbering cargo.
The tail is stitched to be more narrow, making it easier to adjust.
There are 27 options, including patterns, plains, pastels, and bright colors. There is sure to be one that matches your clothing, for the fashion-conscious mom.
It weighs only 10 ounces, making it easy to pack in your diaper bag.
The wrap measures about 65 inches and fits women who wear clothing up to size 22. It can carry a baby or toddler weighing up to 35 pounds.
Pros
Curved pouch design for safety and comfort.
Stitched tail for easy adjustment.
Padded shoulder and rails provide comfort for mom and baby.
Cons
Padded rails can make it harder to adjust.
Our Ratings
Community Feedback
I'm thrilled with the Lite-on-Shoulder Baby Sling, as it provides comfort, versatility, and portability for both my baby and me. The different holding options allow for adaptability as my baby grows, and it's lightweight enough to easily fit in a diaper bag. Although breastfeeding can be a bit tricky, the overall convenience and ease of use make this sling a valuable addition to my baby gear collection.
---
Moby Ring Sling
Best Ring Sling for Plus-Size Moms
This Moby sling is made from high-quality cotton fabric, giving it both strength and comfort. It measures 78 inches long by 27.5 inches wide. If you are a mom who wears plus-size clothing, you will appreciate the Moby sling's snug fit.
It provides plenty of room for both mom and child, even when your baby gets bigger. With multiple muted colors to choose from, you can find the perfect fit for you — and your partner.
The lightweight aluminum rings are sturdy enough for children weighing from 8 pounds to 45 pounds. This means it will adjust as your baby grows.
The sling is comfortable to wear for extended periods and offers many carrying options. You can use front, back, or hip carrying positions with this machine-washable sling.
Pros
Good length and width, making it suitable for people of all sizes.
Choice of colors for moms and dads.
Suitable for children who weigh up to 45 pounds.
Cons
The material is thick and can feel warm.
Our Ratings
Community Feedback
My experience with this Moby ring sling has been surprisingly positive, despite my initial skepticism. The lightweight material allows me to keep my son close while having my hands free to do light tasks around the house, and it's super easy to adjust. On the downside, the massive warning label on the tail is difficult to hide and the fabric is a bit scratchy for summer use. That being said, this sling has been a useful addition to my baby-wearing arsenal, especially for its versatility in front or side wear and suitability for all sizes of moms.
---
Aellana Baby Carrier
Best Gender-Neutral Ring Sling
Most ring slings are designed with women in mind, but the Aellana ring sling is perfect for moms and dads. Moreover, it is also an excellent choice for babies with sensitive skin because it is ultra-soft and made from bamboo-based fabric.
The rings in this sling are lead-free, and the fabric will keep your little one safe from UV rays.
The sling is made from strong fabric, letting parents carry their babies close, whether tummy to tummy or on the hip or back.
Parents and caregivers alike love that the Aellana sling comes in a gender-neutral, natural beige color.
Pros
Neutral color.
It has a pocket for carrying extras.
Soft bamboo/hemp fabric.
Community Feedback
My experience with this ring sling has been a mix of pros and cons. On the positive side, the bamboo-hemp material is soft, lightweight, and breathable, making it comfortable for both me and my baby. The fabric is also durable and secure, with the embroidered emblem adding a unique touch. However, I found the sling to be a bit too short and not as lightweight as other options I've tried. Additionally, my baby had a tendency to kick his legs and fall out of the sling, making it less ideal for us.
Why Choose a Ring Sling?
The ring sling was the brainchild of Dr. Raynor Gardner. It was first made in 1981 and consists of a length of cloth with two rings securely attached at one end.
The fabric wraps around the wearer's body and feeds back through the rings at shoulder height. Your baby is cradled in the pouch that forms at the front of the sling, keeping your little one close to you. Your baby can feel your body's warmth and hear your heartbeat.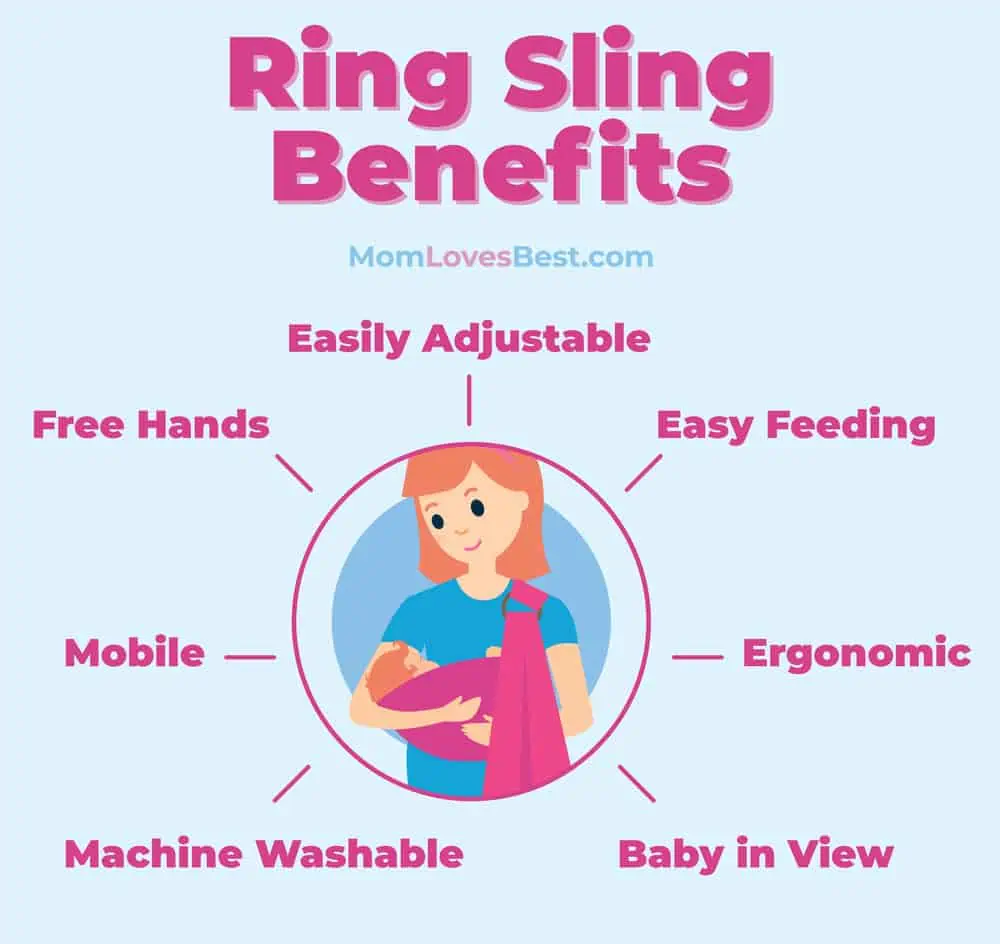 As well as being soothing for the little one, a ring sling leaves your hands free to get on with other things. The use of ring slings has grown more popular over recent years, and even celebrities like Kate Hudson and Gwen Stefani have been spotted using them.
The flexibility of ring slings makes them different from other baby carriers. They're almost infinitely adjustable and can be used from birth to toddlerhood.
They fit wearers of different sizes and are easy to use — especially if you have little ones who want to be picked up and put down a lot! The sling's "tail" also offers sun protection and a breastfeeding cover.
How to Choose the Best Ring Sling
There are a few aspects of a ring sling you should pay attention to.
Ring material: Look for thoroughly tested, sturdy aluminum, metal, or nylon rings that hold the fabric securely.
Fabric material: Breathable, strong fabrics like cotton, linen, or bamboo will keep you and your baby comfortable.
Rails: Padded rails (the outer edge of the material width) to protect little legs from rubbing or pressure.
Size: Make sure the sling is long enough — many are, but some are shorter than others.
Weight allowance: Check the manufacturer's recommendations for minimum and maximum weights for the sling.
Shoulder padding: This can make it more comfortable to wear for longer periods.
---
Ringing It Up
Ring slings are a versatile way to keep your baby close, allowing your hands to be free to do other things.
Our top pick is the Nalakai luxury ring sling. Designed by a mom for other moms, the natural bamboo and linen keep both you and your baby cool and comfortable. It has aluminum rings for safety and is suitable for babies and toddlers.
It is long enough to fit all shapes and sizes and can be used by dads as well. We especially appreciate the lifetime guarantee, and the company donates part of its proceeds to charity.
Whichever ring sling you choose, babywearing will bring you and your baby closer together and make your life easier at the same time.
Thank You For Your Feedback!
Thank You For Your Feedback!