When you're breastfeeding, it isn't always practical to dash to the nearest empty room when your baby gets hungry. Sometimes you have to breastfeed in public or at family gatherings.
But what if you don't want to put your breasts on display for the world to see?
The best nursing covers help keep your business private while your child gets all the nutrient-rich breast milk they want.
We've rounded up all of the top nursing cover brands to help you find the right one for you.
Image
Model
Product Comparison Table
Features
Best for Summer
Bebe Au Lait Muslin
One size fits all
Rigiflex neckline
Space saver in diaper bag
Best Nursing Apron
Kids 'N Such Apron
Adjustable neck strap
Full coverage
Washing machine and dryer safe
Best for Bonding
Bebe Au Lait Cotton
Open neckline
Prevent corners from poking
100% cotton
Best for Twins
Hooter Hiders Cover
Has external pocket
Breathable cotton
Good for two babies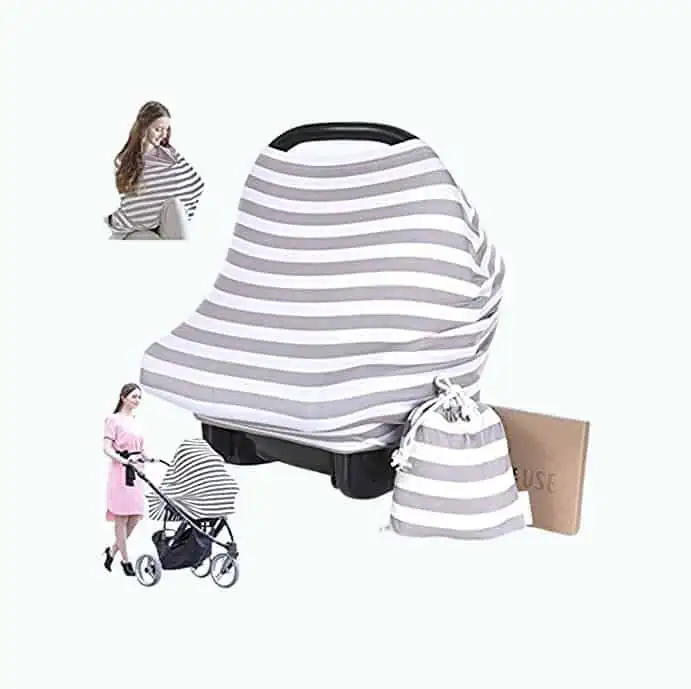 Best for Full Coverage
KeaBabies All-in-1
360° coverage
Breathable fabric
Soft and durable
Best Multipurpose Cover
Milk Snob Nursing Cover
Seven design options
Multi-purpose
Protects against weather
Best for Plus size
Udder Covers Cover
Very affordable
Can fit in diaper bag
Suitable for plus-sized women
Best Nursing Scarf
Bozeman Scarf
Comes in 28 colors
Affordable
Can be used as blanket
Best for Air Travel
WeeSprout Nursing Cover
Multi-purpose
Four lovely colors to choose from
Really soft fabric
Best Nursing Poncho
Genovega Bamboo Poncho
Has handy armholes
Used as a stroller cover
Fits plus-size women
Review Methodology: At Mom Loves Best, our team of experts conducts thorough research, analysis, and hands-on evaluation on the best nursing covers available in the market. We compare products based on criteria such as design, material, comfort, size, and privacy, to provide you with an unbiased assessment. Our reviews take into consideration the user's perspective, highlighting key decision-making factors and rating the nursing covers accordingly. We share quantitative measurements of each product's performance and identify what sets it apart from its competitors. Drawing from our extensive experience, we confidently recommend the best nursing covers, backed by first-hand evidence and in-depth knowledge, to make your nursing journey as comfortable and stress-free as possible.
---
---
The Best Nursing Covers of 2023
Here are our top nursing cover picks:
Bebe Au Lait Premium Muslin Nursing Cover
Best Nursing Cover for Summer
Moms may like that this soft and super light material feels just perfect for summer. You won't feel weighed down or like you're roasting alive.
This nursing cover has a Rigiflex neckline which will keep the cover away from your neck and upper chest so you can check on your baby and let the fresh air reach inside. An Interlocking Cap System is used on the neckline to ensure that any sharp boning material won't pop out through the ends.
There's a neck strap on this cover to help keep it in place, even if your baby decides to tug on it. You can also use this cover as a changing mat, or a blanket. On sunny summer days, you can drape it over the stroller or use it as a car seat canopy for some shade.
When this nursing cover gets dirty, simply toss it in your washing machine where it will hold up wash after wash.
Pros
One size fits all at 36 inches wide.
Lets you make eye contact with your baby during nursing.
It doesn't take up much room in the diaper bag.
Cons
A bit on the pricey side.
Some have found the material too sheer.
Our Ratings
Community Feedback
Definitely a must-have for nursing mothers, this nursing cover is lightweight, breathable, and visually appealing. The unique design allows both baby and mom to see each other while remaining covered, making it perfect for use in public spaces. I found that the muslin material kept both of us cool and comfortable, even in warmer weather. Although the boning at the neckline could be a bit stiffer for better visibility, overall, this nursing cover has been a great addition to my breastfeeding journey.
---
Kids 'N Such Arrow Nursing Apron
Best Nursing Apron
This apron has everything you'll need. It's budget-friendly, it's stylish and it's cute in a pleasant neutral color that will go well with many outfits.
Plus, it has a sewn-in burp cloth that lets you switch from feeding your baby to burping them. This apron is made out of breathable fabric so air will be circulating and keeping everyone happy.
With a rigid neckline, you'll be able to easily peek down at your baby to see how they're doing. That will help you correct any problems they're having with their latch, plus you'll be able to enjoy that mother-child bonding time by making eye contact.
This nursing cover comes with a carrying pouch too, so your nursing apron can stay clean and fresh when you aren't using it. Just pop it in the diaper bag and it'll stay protected till you need it.
Pros
The neck strap can be adjusted.
You'll get full coverage with this apron.
It can go in the washing machine and dryer.
Cons
It does tend to get a bit hot in the summer.
Plus-sized women might need a bigger apron.
Our Ratings
Community Feedback
I've been using this nursing cover for a while now, and it has truly made breastfeeding in public much more comfortable for me. The bendable bar at the top allows me to easily check on my baby's latch, and the weighted terry cloth bottom helps keep the cover in place. The adjustable neck strap is a convenient feature, although I do wish the cover was slightly wider. After washing, I noticed some fraying, so I think the fabric and seams could benefit from being a bit sturdier. The solid color options are a nice touch, and the built-in burp cloth is a great bonus.
---
Bebe au Lait Premium Cotton Nursing Cover
Best Nursing Cover for Bonding
Breastfeeding is a special time for mom and baby and a strong connection can form during feedings. A nursing cover is important for when you're out and about, but it can cut you off from important bonding opportunities. We appreciate that this special nursing cover allows you to see your baby and your baby to see you.
This nursing cover is made of the highest quality cotton fabric and includes patented end caps to prevent the corners from poking your little one. However, it is the open neckline that really stands out. It has a unique design that allows it to be flexible but rigid enough to stay away from your body.
This means your view of your baby is unobstructed. You can maintain eye contact and interact as your baby nurses. We also like that it promotes airflow and breathability and can also be used as a stroller or car seat cover.
Pros
An open neckline allows you to bond with your baby and maintain eye contact during feedings.
End caps prevent fabric corners from poking or scratching.
100 percent cotton is comfortable and easy to launder.
Cons
Available in one size, so it may take some adjusting to ensure a good and proper fit.
Our Ratings
Community Feedback
This nursing cover has an excellent design and quality, allowing for easy visibility of my baby without having to fumble with the material. The corner towel-like material is a convenient feature for dealing with spit-ups or drool, saving me from needing a separate burp cloth. However, there seems to be too much material, creating a rather warm environment for both me and my baby. Despite this, the cover is definitely worth the price and is a significant improvement over cheaper alternatives I've tried. The two terry cloth pockets are useful for storing breast pads and other necessities, and overall, this nursing cover makes breastfeeding in public more comfortable and discreet.
---
Hooter Hiders Nursing Cover
Best Nursing Cover for Twins
This Hooter Hiders nursing cover will ensure your babies have plenty of air while they're nursing. With two babies feeding under your cover, it's more important than ever to make sure there's enough air circulating. This cover delivers with its special Rigiflex neckline.
The neckline is rigid enough that the cover will keep its bowed shape, even when it's on you. That bowed shape will mean that the cover stays away from your skin just above the breast, which will give your babies air and will also let you make eye contact with them.
Even with the rigid neckline, it's still flexible enough to fold up easily when you're finished, and you can store it in its matching carry pouch. These covers are big enough to give you complete coverage even with two babies. Plus it comes with an adjustable neck strap to make sure you can find the perfect fit.
Pros
This cover has external pocket so you can keep small items handy, like breast pads.
Machine washable.
Large enough for two babies.
Breathable cotton for hot weather.
Very lightweight.
Cons
They don't come in solid colors, only patterns.
It may take you a few tries to find the right length for the neck strap.
Our Ratings
Community Feedback
For moms in need of a nursing cover, this Hooter Hiders cover is a great choice. It has a Rigiflex neckline that ensures air circulation, allowing you to maintain eye contact with your baby and providing ample space for two babies. The cover is lightweight, breathable, and machine-washable, with an external pocket for convenience and an adjustable neck strap for a perfect fit. However, it may take some trial and error to find the right length for the strap, and the cover is only available in patterns, not solid colors.
---
KeaBabies All-in-1 Nursing Cover
Best Full Coverage Nursing Cover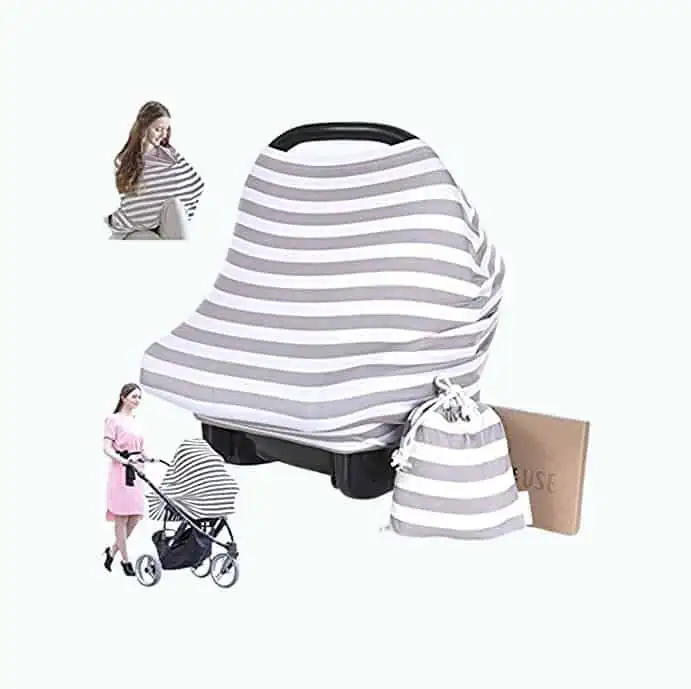 With the 360° coverage, ensure personal privacy while you're breastfeeding. Even if your baby tugs or pulls on the nursing cover, the fact that it's wrapped around you means it's secure.
Plus, the fabric is high quality and not see-through. What's great is that the material is breathable, too, so even in the height of summer, it won't feel too hot.
The soft and breathable material makes it a nice experience for you and the baby. It's a super soft cover that allows great airflow, so your baby won't get too warm.
Finally, this product has endless uses! The cover fits most carseats and strollers so you can shield your baby from the sun or give them some peace if they're napping. It also works as a blanket, a shopping cart cover, a changing mat, a scarf and much more.
Pros
360° coverage for maximum privacy.
Breathable fabric so you and the baby stay cool.
Endless uses such as a blanket or car seat cover.
Soft and durable material.
Cons
Only one color and size option.
Our Ratings
Community Feedback
This car seat cover has a soft and stretchy material, making it easy to use for nursing and covering the baby carrier. The gender-neutral pattern is visually appealing and the fabric provides just enough dimming for naps during travel. However, it may be too large for certain infant car seats, causing it to hang low and interfere with the base attachment. Despite its size issue with some car seats, it offers versatility as a nursing cover and protection from germs in public spaces.
---
Milk Snob Nursing Cover
Best Multipurpose Nursing Cover
The Milk Snob nursing cover is multipurpose — you can use it for a wide range of things, making it a great investment.
Of course, it works as a nursing cover, providing maximum privacy with its 360° coverage. But it also functions as a car seat cover, a shopping cart cover, a high chair cover, a blanket and much more.
No matter what you use it for, it can provide total protection against nosey strangers or bad weather. If you need to feed your baby outside on a windy day, this protects your child from outdoor elements such as strong winds or allergens.
If you prefer more privacy when breastfeeding, this is the perfect thing to use in public as the quality material and 360° coverage gives you space, peace and quiet.
Pros
Multipurpose, from nursing cover to shopping cart cover.
360° coverage.
Seven different design options.
Protects against weather.
Cons
It can ride up when you're nursing.
The material isn't super breathable, so your baby might get too hot.
Our Ratings
Community Feedback
I've been using this Milk Snob nursing cover for a while now, and it's been so handy in multiple situations. Not only does it work as a nursing cover with 360° coverage, but it also serves as a car seat cover, shopping cart cover, high chair cover, and even a blanket. I love that it protects my baby from the elements, like strong winds or allergens, when we're outside. The seven different design options are a nice touch too, allowing for some personal preference. However, I did notice the material isn't super breathable, which could make the baby feel too warm at times.
---
Udder Covers Nursing Cover
Best Plus Size Nursing Cover
At 32-inches across and 24 inches in length, this is a big nursing cover that will work for plus-sized women. It uses stainless steel d-rings that will let you adjust the neckline to get the right fit and level of modesty.
This Udder Covers nursing cover has a more rigid neckline that is shaped away from your neck and upper chest area. That allows you the room to easily check in on your baby or to stare into their precious little eyes.
Made out of 100 percent cotton, this material is fairly thin, which makes it breathable. It'll stay relatively cool in the summer, and it even provides a bit of warmth in the winter. The non-creasing fabric will always make it look fresh and ironed, even if you just dragged it out of the diaper bag.
These come in eight different patterns that you can choose from, ranging from bright and vibrant to subtle. So whether you want to stand out in a crowd or blend in, you'll find a pattern to suit you.
Pros
One of the more affordable covers on the market.
It folds up easily and compactly to store in the diaper bag.
Big enough for taller moms.
Cons
Some moms had problems with the cover shrinking after washing.
It doesn't come with a matching carry bag.
Our Ratings
Community Feedback
My experience with this lightweight nursing cover has been a bit of a mixed bag. The fabric is pretty, soft, and breathable, which is perfect for hot summer days. However, the size is a bit too small for adequate coverage, especially if your baby is squirmy or you need more modesty. The D-ring clasp on the neck tie can come undone, making it a bit difficult to reattach, so a velcro addition would have been a great improvement.
---
Bozeman Baby Company Nursing Scarf
Best Nursing Scarf
If your main concern about using nursing scarves is how sheer some of them tend to be, you'll appreciate this infinity scarf's double layer that makes it less transparent than some others on the market.
This scarf can look dressy or laid back, depending on what you pair it with. Although it doesn't look like it would offer much coverage, it easily conceals your front, back and sides from people who are trying to get a peek when you're breastfeeding your baby.
The fabric is soft so it won't be irritating to you or to your baby, which is nice since many babies struggle with sensitive skin. If the scarf gets dirty or gets some milk or spit-up on it, you can clean it in the washing machine — no need to hand wash.
Pros
It comes in 28 colors.
It's affordable.
In a pinch, this scarf can also work as a blanket for your baby.
Cons
This may not give enough coverage for plus-size women.
Several moms have complained about the unpleasant smell.
Our Ratings
Community Feedback
This nursing scarf has been a fantastic addition to my nursing routine, providing convenience and style. The chevron pattern is visually appealing, and the material is both thick and breathable, ensuring both my baby and I remain comfortable during feedings. The impressive stitching ensures durability, so I don't have to worry about it wearing down with use. Not only does this scarf function well as a nursing cover, it can also be worn as a fashionable accessory when not nursing. After washing, the colors and material remain intact, giving me confidence in the overall quality of this nursing scarf.
---
WeeSprout Nursing Cover
Best Nursing Cover for Airplane
On an airplane, you'll want extra full coverage so you can breastfeed in peace. That's precisely what this nursing cover can offer you with its 360-degree coverage.
But since you're traveling, you'll also want your cover to offer other purposes as well since packing space can be tight when you have a baby. This one can be used as a baby seat cover, high chair cover, or shopping cart cover, which will help you cut down on your baby's exposure to germs while traveling.
Plus, this also works as a sunshade for your baby when you aren't breastfeeding and can double as a blanket. The fabric is breathable so you can be sure that your baby is getting enough oxygen. When it gets dirty, rest assured that the fabric washes well and will hold up after multiple rounds in the washing machine.
Pros
Considering how many different purposes it serves, this nursing cover is a bargain.
Four lovely colors to choose from.
The fabric is really soft.
Cons
Some items arrived without a plastic piece used to open the neckline and see baby.
May be too big for a slender and petite moms.
Our Ratings
Community Feedback
This nursing cover is a game changer with its soft, comfortable fabric and generous size, allowing for easy breastfeeding and even using a pump while staying covered. The plastic insert for the neck can be a bit awkward, but it does provide a way to see my baby while nursing, which is helpful. The material might not be ideal for hot outdoor environments, but overall, it offers great coverage and functionality in various settings.
---
Genovega Bamboo 360-degree Nursing Cover
Best Nursing Poncho
This nursing poncho will give you complete privacy while you're breastfeeding your baby. But the thing that really makes it stand out among competitors is that it has handy armholes, which eliminates that awkward reach-around thing moms have to do while wearing other covers.
If they don't do the reach-around correctly when they are grabbing for something out of the diaper bag, they risk pulling the cover away from their body and flashing any unsuspecting people in the vicinity. With this cover, you've got the freedom to reach for anything and still be covered.
You can also make this cover appear a lot more fashionable by doing a knot at the side to gather up the extra fabric when you aren't breastfeeding.
Pros
You can get it in 27 colors so you'll be able to find options to go with any outfit.
It can be used as a stroller cover too to protect your baby from the sun or wind.
It's large enough to fit plus-size women.
Cons
It can't be put in the dryer.
This cover is a little more expensive than some others.
Our Ratings
Community Feedback
Definitely one of the better nursing ponchos I've tried, this cover provides complete privacy while breastfeeding, thanks to its convenient armholes. No more awkward reach-around situations, which means no risk of accidentally exposing myself when grabbing something from the diaper bag. I also love that it's available in 27 different colors and can be styled fashionably by knotting the side to gather extra fabric. Another bonus is its versatility, as it can also be used as a stroller cover to protect the baby from sun or wind. Despite being slightly more expensive than other covers and not being dryer-friendly, this nursing poncho is a great choice for plus-size women seeking a functional and fashionable option.
---
Copper Pearl Stretchy Multi-Use Nursing Cover
Best Stretchy Cover
This 5-in-1 nursing cover is super stretchy so it can fit most car seats and be used by most moms. It works as a nursing cover, car seat cover, shopping cart cover, high chair cover and an infinity scarf.
The cover comes in 16 different designs, including a range of colors and patterns. So, you'll find something that suits your personal style.
You can use these all year round, as they protect against any weather element. The high-quality rayon blend is easy to wash and it folds up to a compact size, so you can easily slip it into your baby bag.
New moms praise these nursing covers as they're very easy to use, stretchy and adaptable.
Pros
16 different design options.
Five different uses, so it's very versatile.
Protects against weather elements.
High quality rayon blend.
Cons
It is a snug fit while wearing, so some babies get agitated or too warm.
Not ideal for summer months as the material isn't very breathable.
Our Ratings
Community Feedback
I'm impressed with this 5-in-1 nursing cover's versatility and the diverse selection of 16 design options. As a mom, I found it to be great for multiple uses like a car seat cover, nursing cover, shopping cart cover, high chair cover, and infinity scarf. The high-quality rayon blend is easy to clean and compact enough to fit in my baby bag. However, I did notice that the material can feel a bit snug and may cause some babies to become agitated or too warm, especially during the summer months. Despite this, the cover provides protection against various weather elements and is quite adaptable.
Are Nursing Covers Necessary?
If you plan to breastfeed, you might think you won't care if people catch a glimpse of your girls in the process. But feeling that way in your mind is a lot different than actually doing it.
Potential stares from other people as you breastfeed in a restaurant can sting, even though you aren't doing anything wrong. It's enough to make even confident moms feel a little timid about it at first.
Keep In Mind
It's a good idea to have a nursing cover, even if you aren't sure you'll use it. Because when you need one, you'll desperately wish it was there, especially if you have large breasts, because you'll be putting on quite a show for onlookers.
Sometimes there are no good options when you're breastfeeding, other than exposing yourself or letting your baby cry. And neither of those work for some moms. This is where a nursing cover can help and spare you some stress or awkwardness.
In America, a mother is legally allowed to breastfeed her baby in any public place she has the right to be. While public attitudes will vary depending on where you live, the fact is that you cannot be asked to move, to cover up or to leave simply because you are making others uncomfortable (1).
Though you might resent being shamed for public breastfeeding, and though the law is on your side, you may still want to avoid the exposure anyway and choose to be discreet. You don't have to be a loud-and-proud breastfeeding advocate — us moms have enough on our plates already, so it's fine to pick your battles and ultimately do what works for you.
The Choice Is Yours
Whether you breastfeed openly or you use a nursing cover is up to you. There's no right or wrong way to do this. It's your body and your baby.
Different Styles of Nursing Covers
You won't have to suffer through using a style of nursing cover that you hate because there are plenty of choices out there when it comes to cut and style. Make sure to give some thought to what style will work for you and your lifestyle before you buy one.
There are three main types of nursing covers.
Apron nursing cover: Regular aprons have been popular for decades because they're a cinch to use and get the job done. You place the strap behind your neck, just like you would an apron. This style is great because you can see your baby and ensure they're getting enough air. The one downside is there isn't a lot of fabric right above your breasts, so if your baby tugs hard, the apron can slide down and give everyone an eyeful.
Infinity nursing cover: This design is a master of disguise. It doubles as an infinity scarf and as a nursing cover when you need it. There is plenty of light, breathable material to cover your baby, but as a downside, you won't be able to see them very well.
Poncho nursing cover: A huge trend in the 1970s, the poncho is making a comeback as a nursing cover. If you're paranoid about any part of you being seen while you're breastfeeding, a poncho will be right up your alley. You'll keep everything covered with these bad boys and there's no risk of your baby ripping it off either. But you need to make sure you don't buy a regular poncho because the material might be too thick and heavy.
How to Choose a Nursing Cover
I know they said that diamonds were a girl's best friend, but a mom's best friend is a burp cloth. I've lost count of all the times a simple square of absorbent muslin has saved the day, whether it's mopping up spills or serving as an impromptu nursing cover. While you can make do with a blanket or towel if you don't have a nursing cloth on hand, it's better to be prepared and shop for a breastfeeding cover that you can rely on.
---
Tips for Using a Nursing Cover
If you're using an apron style cover up with a stiff hoop at the top, practice wearing it at home beforehand so you get comfortable with how it feels. You may even like to check in a mirror at home to make sure that you've got the hang of it and nothing is peaking out when it shouldn't be.
If you're using an infinity scarf style cover, the first step is to drape the scarf over just one shoulder, kind of like a beauty pageant sash would fit. Then, wrap the front drape of the scarf over your baby and the arm you're holding them with. When you're satisfied with the placement, you can open your shirt and nursing bra and make sure to latch properly.
Other things to consider when you breastfeed in public:
Everything will be easier if all the clothing you have underneath the cover is also lightweight, comfortable and easy to open.
Make sure you're covered to your liking before opening your bra.
When you're done, the scarf can be refolded around your neck, the apron can be slipped off and packed away, or a poncho can be left on until the next feed.
How to Make Your Own Nursing Cover
If you're handy with a sewing machine, it's possible to make a DIY apron-style nursing cover to your own liking.
If that's a little too much crafting skill, it's easy to shop around for an ordinary infinity scarf and use it as a nursing cover if it's big and breathable enough. If you have any long, broad piece of fabric at home, sew the edges together to create a loop and voila, you have an infinity style nursing cover. Just be sure to always wear the seam at your back to avoid irritation.
Another idea is to simply sew up a clippable strap that can be attached to any blanket or piece of fabric. You can take this strap anywhere to easily convert whatever burp cloth, towel or muslin square you have on hand into a nursing cover.
All you'll need is a pair of pacifier clips and a strip of fabric, or you can buy pacifier clips on lanyards and simply attach two of these to the right length, making a very affordable DIY alternative to buying a new nursing cover.
Nursing Cover FAQs
---
The Bottom Line
While it may feel strange and a bit out of your comfort zone at first, breastfeeding in public is all about attitude. Be calm and confident in the knowledge that you're doing your best for your baby, and simply smile at any curious onlookers. Though you may feel like the spotlight's on you, most people are polite and understanding and will simply let you get on with it.
Nursing moms, what do you think is the best nursing cover? Let us know.
Thank You For Your Feedback!
Thank You For Your Feedback!