You've heard it before: breastfeeding is a precious bonding time for both mom and baby. Breastfeeding is beautiful. Nothing could be more natural and lovely. Right?
Except it isn't all sunshine and roses while your baby is first learning to latch on. Learning to breastfeed can leave your nipples so cracked and dry you may worry they're going to slice through your shirt.
Not all heroes wear capes! Some wear nursing bras and stained blouses. It hurts like a mother, but if you're determined to soldier through and continue breastfeeding your baby anyway, you're going to need some help.
The best way to soothe both sore nipples and frayed nerves is a nipple cream made especially for breastfeeding moms. We've reviewed the best nipple creams currently on the market, so you'll know exactly which one you can count on for some sweet, sweet relief.
---
What Does Nipple Cream Do?
If you're reading this article, you've already experienced nipple pain from breastfeeding, or you've heard the horror stories from other moms. Nipple cream can stop, or prevent, the dry, itchy, cracked and bleeding nipples that are caused by breastfeeding.
Taking care of your nipples with good nipple cream or ointment at the start of breastfeeding can prevent all this from happening.
It may only be needed for a week or two as your nipples adjust to the rigors of breastfeeding. You might be tempted to try tough it out, but you would be suffering needlessly. If you had a splitting headache, you'd take ibuprofen, right?
Besides, if breastfeeding starts feeling like torture, you aren't going to want to do it. If you skip it, you miss out on all those wonderful benefits breastfeeding offers your baby.
Can It Harmful to My Baby?
Sadly, some products out there have been known to contain ingredients that are potentially harmful to babies (1). But don't let that put you off: there are plenty of safe, doctor-recommended alternatives, too.
Heads up
You'll want to avoid petroleum-based creams or alcohol-based creams. Alcohol is a disinfectant that tends to dry skin out, which is something you'll want to avoid if your skin is cracked. Causing more dryness will just add fuel to the fire.
You should also pay close attention to both the active and inactive ingredients in the cream.
If you read the ingredient list and everything in it sounds like it was concocted in a laboratory, you might want to pass on that cream. I know I would. I always like to choose all-natural products, especially when it comes to something the baby is going to put in its mouth. With any product, it's probably safest to wipe your nipple off just before nursing your baby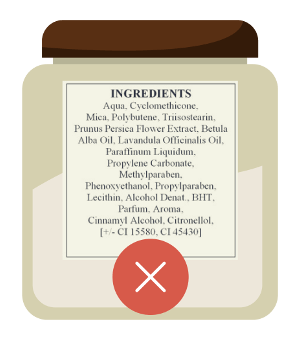 You'll also want to be on the lookout for possible allergens. If you're allergic to something, you should avoid it for your own sake but also because your baby might have the same latent allergy. Many women find great relief from a lanolin-based nipple cream, for example, whereas some women and babies are allergic to it (2).
Be especially wary of products that provide a numbing effect. I know how tempting it can be to numb a sore nipple, but this kind of cream isn't actually healing anything – it's just dulling the pain for a little while. Just use ice or cool washcloths, because if your nipple is numb, there's a chance some could still be lingering there when your baby starts feeding – and you don't want to give your baby a numb mouth accidentally!
How to Choose the Right Cream?
It's just cream for your nipples. It can't be that hard to choose one, right? Wrong.
It's a big business. Almost four million babies are born each year in the United States (3), and that translates to a whole lot of sore nipples.
Companies have responded to women's needs, and as a result, women thankfully have dozens of choices to stop them from feeling like their nipples have been dipped in molten lava.
Some factors you should consider include price, smell, ingredients, and whether it must be washed off before your baby can breastfeed.
Price will vary depending upon how high-end you want to go, but quality products can be found for under $10 a tube. But don't pick your nipple cream on price alone. Since most are pretty affordable and one tube might be more than enough, you could buy one that meets all your needs without breaking the bank.
Some brands are scented and some aren't, but I tend to choose the unscented creams because I don't want any extra, unnecessary ingredients. Babies are very sensitive to smells because everything is new, you don't want your baby not to nurse because they are bothered by a scent.
Here, simple might be best. Good brands may contain coconut oil, aloe vera, shea butter or lanolin, all of which are safe and natural. On the other hand, avoid alcohol, vague-sounding "parfum" or ingredient names so long they wrap around the bottle.
Whether it Must Be Removed
Depending on the ingredients used, your nipple cream may be creamy, very light, or coat your nipples in an almost waxy film. A thicker cream may be extra soothing but require wiping off when it's time to feed. Also, read the label carefully to determine whether you have to wash your nipple or whether the cream is non-toxic enough to go into baby's mouth.
---
The Best Nipple Creams of 2020
Breastfeeding is hard work, and your nipple cream should work hard too. A good product will consist of natural ingredients that are as harmless to your baby as they are effective at healing your sandpaper-nipples (as I affectionately named mine). Here are our top picks for 2020:
1. Motherlove Nipple Cream
Best Organic Nipple Cream
Even when you wash your nipples before feeding, you may be worried about traces of the cream remaining. If you don't want to have to scrub your nipples raw to satisfy your paranoia, you may want to consider using an organic product.
This salve uses only certified organic ingredients – extra virgin olive oil, beeswax, shea butter, marshmallow root, and calendula flower. Almost sounds edible, doesn't it?
The ingredients used in this cream are safe for ingestion, so your nipples won't need to be washed off before nursing. With the consistency of a light ointment, Motherlove doesn't have the stickiness of some other brands.
You can find this salve for relatively cheap, and a little goes a long way. People who don't like plastic containers will like that this cream comes in a sturdy glass jar.
PROS:
The cream has a smooth and slick application that doesn't tug on sore nipples.
Parents like that they can use the leftover cream as a diaper rash ointment for their babies.
CONS:
Some babies may not like the smell of this product – it smells like olive oil.
People who worry about tampering may be disappointed this cream comes in a jar with no safety seal.
Because this is more an ointment than a lotion, some women may not feel this product soaks in as lanolin does.
---
2. Lansinoh Breastfeeding Salve – HPA Lanolin
Best Nipple Cream for Pumping
This cream is billed as being safe for both mother and baby. It's an all-natural, single-ingredient product made of medicinal quality, 100 percent pure lanolin which comes from oils from a sheep's wool
This brand is the only cream endorsed by La Leche League International. It's hypoallergenic, preservative-free and doesn't have to be removed before breastfeeding. It has the texture of a very thick lotion or gel – not solid like some other nipple ointments are –  and one small tube should get you through two to three months of breastfeeding.
PROS:
Very reasonable price.
The versatility of the product may appeal to moms.
It can also be used for soothing chapped lips.
This product is unscented.
CONS:
Some women might not like the thicker, stickier texture.
It's thick enough to make it hard to squeeze out the tube.
Women may not like the greasy spots that are sometimes left on clothing after use.
---
3. Medela Tender Care Lanolin
Best On a Budget
This product contains all-natural ingredients, and doesn't need to be removed before breastfeeding. It's hypoallergenic, making it unlikely to cause an allergic reaction for you or baby. The ingredient list is lanolin, caprylic/capric triglycerides, and oat beta glucan.
It goes on smoothly and doesn't tug on tender nipples. It's also not as thick as some other brands – its thinner texture glides on without a lot of rubbing. Plus, this isn't as hard to wash off your hands as some other brands are.
PROS:
Can also be used for baby's chapped, dry skin.
Moms who are watching their bottom line may like that this is almost twice as much product as other creams on the list for the same price.
CONS:
Moms, and possibly babies, might not like the smell of this cream.
This product can leave an oily residue on clothes.
---
4. Earth Mama Angel Baby Nipple Butter
Best Natural Nipple Cream
If you're a fan of using all-natural ingredients because you feel they're better for you than all the man-made options out there, you can relax. There are plenty of natural options out there, you just need to experiment until you find one you love.
This cream is lanolin-free, which is good news for those with lanolin allergies, and there's no need to wash it off before your baby nurses. It's gluten-free, contains all-natural ingredients like calendula flower extract and olive oil, and comes packaged in a cute jar.
This product isn't only aimed at nursing mothers but anyone else who has dry, irritated skin. It's a nipple butter with impressive versatility, and many purposes besides soothing boobs that feel like they're on fire. Dry heels, cradle cap and chapped lips are all a little smoother with a daub of this cream.
PROS:
Women who aren't happy with the texture of lanolin may like that this does not have a sticky feel.
It's non-GMO, which might be good for women who worry about this.
CONS:
Women may not like the grainy feel of this cream – although the grainy bits will melt with body heat.
This container also doesn't have a seal, which women concerned with safety might not appreciate.
---
5. The Honest Company Nipple Balm
Best Without Lanolin
Lanolin is a holy grail ingredient for countless moms, but if you're one of the few women who find it rubs them up the wrong way, you'll want a cream without it. Companies today are more savvy about the potentially irritation of lanolin, and so it's easier these days to find a quality cream with other active ingredients.
This nipple balm is billed as organic and cruelty-free. It comes in a 1.8-ounce jar and is made from food-grade ingredients, such as sunflower, coconut, olive, tamanu and calendula oils. It doesn't have to be washed off before a feed.
The balm also contains food-grade beeswax, shea, and aloe vera. This lotion is a little runnier than the other options out there, but rest assured it won't feel like you're spreading a glob of Crisco on your nipples. Because this product comes in a jar, you need to make sure the lid is screwed on firmly, so it doesn't leak out in your diaper bag.
PROS:
This product is so thin it's easier to wipe off if you overdo it.
Moms who like multi-purpose products will be happy they can use this on lips, dry skin or cradle cap.
CONS:
Since this product does contain coconut oil, mothers may want to observe their babies since coconut is a known allergen.
Moms who are particular about the smell should be aware that this cream does have an odor.
---
6. bamboobies Organic Lanolin-Free Nursing Balm
Safest for Baby
Mothers deserve relief when they struggle with cracked or bleeding nipples, but protecting your baby from harmful chemicals or allergens always remains at the forefront. That's why it's important to find a nipple cream safe for both you and your baby.
All the ingredients in this nipple cream are 100 percent organic. Better yet, they're non-toxic, so they can be safely ingested by your baby during breastfeeding. You don't have to worry about washing yourself off before a feeding, conserving precious time and energy.
The formula contains five healing extracts and oils for maximum relief, including beeswax, shea butter, and marshmallow root. It's also free of fillers, petroleum and lanolin. Combined, these ingredients moisturize, soothe, and protect.
Each jar comes with one ounce of nipple cream which can be applied liberally as needed, including before and after feedings. They also have Bamboobies pumping ointment for mom's that pump a lot.
PROS:
100 percent organic and enriched with soothing extracts.
Doesn't need to be washed off before feedings.
Free of petroleum and lanolin.
CONS:
Has a natural, earthy smell that may be off-putting to sensitive noses.
---
7. Cora Baby-Safe Nipple Cream
Best Socially Conscious Product
These days, women have the option to give their money to organizations that are truly dedicated to making a difference in the world. If you're serious about being an ethical consumer when it comes to baby products, but you also want something that works, you'll appreciate independent companies who care about more than the bottom line.
With every purchase from Cora (they also make a range of fantastic feminine hygiene products) you'll know that part of your purchase goes to giving underprivileged girls access to the pads and tampons. When you're a mom, your world sometimes feels like it shrinks down to the size of your precious little one, but it's nice to know that you can be a good mom and help others at the same time.
This product is organic, non-sticky, and super-soothing. And it comes in a minimalistic little jar you'll be happy to display on your vanity. Ingredients include coconut oil, chamomile and shea butter, making it a thick cream that melts easily with body heat.
PROS:
Cruelty-free, non-GMO and organic. Hooray!
Heals troubled nipples but also prevents further cracking.
Multipurpose, especially as a lip balm.
CONS:
No safety seal, so may be tricky to transport.
Some users have noted that the container is seldom filled.
The taste may be off-putting to some babies.
---
8. Camille Beckman Vegan All-in-One Balm
Best Nipple Cream for Vegans
If you don't want to compromise on your core values and need to find a vegan-friendly option,luckily for you, companies are now catering to the needs of moms who are concerned about the world around them and not just for their own families.
This cream is all-natural, uses only vegan-friendly ingredients, and has not been tested on animals. It's one of the few (if not only) products out there that are suitable for vegans since Earth Mama started adding beeswax to their formula.
The balm itself can be used by both mom and baby and is multipurpose. It's safe for breastfeeding, soothing itchy or dry skin during pregnancy, dry lips, or even baby's dry skin spots.
The formula contains coconut oil and organic cocoa butter, which are two of the most beneficial ingredients when trying to reduce the appearance of stretch marks after labor. It is also gluten-free and contains all-natural ingredients like calendula flower extract and olive oil.
PROS:
Has a soft and refreshing scent.
All natural ingredients and gluten-free.
Vegan-friendly and not tested on animals.
CONS:
Only comes in a 2-ounce container.
---
9. e. ra Organics Nipple Cream
Best Nipple Cream for Sensitive Skin
Do you have sensitive skin? If you're a mom who's discerning when it comes to the face cream she uses, you'll probably also want nothing but the best for nipples, too. A quality cream made of only natural ingredients will ensure that even the most delicate of skins is cared for.
This product really ticks all the boxes. It's non-GMO, cruelty-free, and organic. It doesn't contain any petroleum, drying alcohol or mineral oils, perfume, parabens or lanolin – all the nasty things that could aggravate already inflamed skin.
It contains an impressive list of ingredients known to have anti-inflammatory properties, like apricot seed oil, evening primrose oil, and rosemary extract. This means you don't just soothe sore nipples; you actually heal the damage that's there.
There's a 60-day money back guarantee, which means the makers are pretty confident that this cream will do what it promises.
PROS:
Actively reduces inflammation on nipples.
Doesn't need to be washed off before feeding.
Has a pleasing, buttery texture that really melts in.
CONS:
The texture can be a little too stiff and waxy.
Some moms noticed the cream upset their baby's stomachs.
Not completely odorless.
---
10. Milkies Nipple Nurture Balm
Best Luxury Balm
Sore nipples and difficulty with latching can be tough on new moms, I get it. If you're upset that painful nipples are getting in the way of special time with your little one, you might just need a little TLC and pampering to keep trying.
This product is a bit pricier than the others on the list, but feels a lot more luxurious. With marshmallow root, calendula, olive oil and the marvelously named medicinal herb "self-heal", it's like a little nurse in a jar.
There are no animal products here although the blend does contain organic beeswax. It's thick and rich, and feels almost like a mini-spa for your nipples when they're a bit run-down.
Many like that this is scent-free and super soft on the skin, which can be a lifesaver for babies who are tongue-tied or any little one who's having a hard time latching. Nipples should never hurt when nursing (4).
PROS:
The balm is oil-based and quite thick, so a little goes a long way.
No strong smell.
If you don't finish the jar, use the rest as diaper cream, foot lotion or lip balm.
CONS:
This may be a bit too thick to rub into extra-sore nipples.
Some women have complained of inconsistent texture.
The jar is on the small size at 1.5 ounces.
---
How Do I Use Nipple Cream?
Nipple cream should be used right after your baby is finished feeding. That gives the cream time to soothe the soreness and prepare your breasts for the next feeding.
When it's time to feed your baby again, many brands don't have to be washed off. If you tend to get super paranoid about safety (like I do!) you might still feel the need to wash off your nipples with a little water and a washcloth before feeding your baby.
That's understandable, but also counterproductive.
Try to resist the urge to wash your nipples if you're using a nipple cream that doesn't have to be washed off before feeding. It's meant to soothe the nipples from the strain of breastfeeding. Washing them with a washcloth only aggravates them further, trapping you in a vicious cycle.
Even if your nipples can stand the extra washing, try to avoid cream that you have to remove before feeding. I don't like to rely on my memory when it comes to something that will affect my child's health. Moms have a million things running through their heads every day – we don't need to add "wash nipples" to that list!
Also, babies are impatient. If I lose track of time while attacking my Mount Everest-sized laundry pile, I don't want to be stuck furiously scrubbing my nipples while my baby is crying and starving. Moms feel enough pressure 24/7 without adding to it by fussing about it.
Remember
When you are putting on nipple cream, a little dab will do it. You don't want to turn your nipple into a slip and slide that your baby can't latch on to. It might be tempting to keep piling it on in the hopes that you'll get faster relief, but there's no point wasting it.
That burning nipple feeling can be intense, but try to resist the urge to use the whole bottle of cream in one go. Put a dab on, take a deep breath, and try to find some sort of distraction to focus on. In a few minutes, it'll sink in and start working.
DIY Alternatives
You may be wondering: if simple, natural nipple creams are so great, what's stopping you from making your own at home? Well, nothing!
If you're crafty and like the idea of making your own cream, there are plenty of DIY recipes out there that call for all the same ingredients you'd find in products off the shelves. This is great since you can make a fresh batch yourself and know exactly what's in it. One downside is that it may be more expensive in the end to buy all those ingredients if you only ever end up using a small jar.
Luckily, us moms come with our own built-in dry nipple cure. Didn't I say we were a bit like superheroes?
As a mom, you already know of some of the astonishing things your body is capable of, but did you know that your own breast milk is a cure for chapped nipples? Simple dab a bit onto sore nipples for relief, or you can express a drop after feeding and let it dry.. Even the flow of breastfeeding itself can bring some comfort – one more reason to push on!
Alternatively, try a few of these simple home remedies to get your nipples fighting fit again:
Apply a little pure cocoa butter, coconut oil or shea butter.
Use warm compresses, perhaps after a shower.
A tiny dab of honey can act to stave off an infection on small cuts since it's antibacterial.
Air dry your breasts instead of using a towel.
Wear loose, flowing tops or nothing at all if you can get away with it!
Frequently Asked Questions
How Often Should I Use It?
A good rule of thumb is to dab some on after every feed; this gives the cream time to soak in, so you're ready for the next one. More than this is unnecessary and may irritate your skin further. Stop using the cream once your nipples have healed and adjusted to their new job.
Can Nipple Cream Cause Mastitis?
Mastitis, or inflammation and blockage of the breast, occurs when milk ducts become engorged or possibly infected. While cracked nipples may increase the chance of developing mastitis (5), this has nothing to do with using nipple cream or not. If you develop mastitis, the right cream can actually help you heal faster.
Can Nipple Cream Cause Thrush?
The answer to this is both yes and no. Thrush on the nipples is caused by the Candida albicans fungus, which thrives in moist, warm places. While nipple cream doesn't directly cause thrush, what it can do is make it easier for an already-existing infection to spread.
If you develop thrush, stop using nipple cream until it clears. This is because you may inadvertently transfer the infection every time you touch your nipple, or encourage its growth by providing a moist layer over the surface of your nipple.
Avoid breast pads for the same reason, and if you're really desperate, make sure you rub it in well and air-dry your nipples before dressing again.
Can Nipple Cream Cause Baby Acne?
No. Baby acne is quite normal for many infants, and nothing to worry about. The cause is usually the hormones in your own body, heat rashes, cradle cap or allergies, and seldom has anything to do with your nips.
Can I use Nipple Cream While Pregnant?
Can You Use Nipple Cream for Chapped Lips?
Look, nobody needs to know. You can slap some on dry lips, but no need to stop there. If it works for you, you can use it on chapped heels, rough cuticles, elbows and knees, dry hands, or whatever you like.
---
The Bottom Line
While every mom has different needs when it comes to choosing the best nipple creams, the Mama & Baby All-in-One Balm is our favorite when it comes to safely restoring and protecting my nipples.
I love that Camille Beckman chose to use only natural, cruelty-free, non-GMO and gluten-free ingredients. And because it's lanolin-free, you won't need to worry about lanolin allergies.
While it would be nice if it came in a larger container, you can't argue with the results. It helps your nipples feel better, and quickly. And happy nipples make for a well-fed baby and a mom who can breastfeed without the ouch-factor.
Have you experienced sore, dry nipples? We'd love to hear about how you got around the problem, or else share this article with a fellow mom who could use the relief.