In all of the excitement that surrounds your pregnancy and birth, it's easy to overlook how you will cope in the postpartum period. That's when things start to get real — some of us realize our bodies are never going to be the same.
Some women have unrealistic expectations and struggle when things don't go as they plan. Others just haven't given any thought to this period and suddenly find themselves in a twilight zone between birth and the back-to-normal stage.
Our clothes can have a huge impact on how we feel at this time, so it can be important to know what is practical yet comfortable to wear. But we also want to feel as good as possible about ourselves, so finding postpartum clothes fashion ideas is crucial.
Key Takeaways
During the postpartum period, prioritize comfortable and practical clothing that makes you feel good about yourself.
Opt for clothing that accommodates breastfeeding, is easy to wash, and comes in neutral colors for easy mix and match.
Some useful postpartum clothing items include maternity clothes, robes, nursing tops, and leggings.
Don't forget about accessories, such as jewelry or scarves, to elevate your postpartum outfits and boost your mood.
---
The Fourth Trimester
In the first days and weeks after you give birth, your body will be sore. You'll quite possibly be feeling some pain, and it can seem like fluids are flowing uncontrollably from your body.
You're also exhausted and probably at least a little shell shocked by what you have just gone through. And your hormones are causing you to experience a constant unwanted emotional roller coaster.
You've had your baby but the side effects of pregnancy don't vanish overnight. During the fourth trimester, you still may have hair loss, a swollen belly, urinary leaks, and back pain (1). Don't worry — that's normal.
But it can be shattering to your self-confidence. Try to shake it off for now. Things will start improving before long, and your body will start looking less and less like one of the Teletubbies every day.
The last thing you should feel forced to be worried about right now is how cute you look in your clothes. If you want to live in pajamas 24/7, you go for it. If dressing up in some new postpartum outfits will give your confidence a boost and make you feel better, do it.
What's the Problem With Postpartum Clothes?
After delivery, you may feel like burning the maternity clothes you've lived in for the past few months. Many women only buy a few articles of clothing because they don't want to waste money on something they'll wear for such a limited time.
But after you've had your baby, you face a dilemma. You don't want to wear maternity clothes anymore, but your pre-baby clothes are still too small.
You hope to be smaller in a couple of months so you don't want to spend a lot of money on postpartum clothes. That means you may find yourself living in oversized, cheap clothing that washes badly and makes you feel down about yourself.
You may want to opt for postpartum outfit ideas that are comfortable, practical, and don't make you feel like a heap of dirty laundry.
What Clothes Can You Wear Postpartum?
It's up to you what you wear, but your postpartum fashion choices can make your life easier.
Go for clothes in neutral colors that will be easy to mix and match.
Look for items that will make it easy to breastfeed if you have chosen to do so.
Check that the items are easy to wash and dry.
Let's look at some good examples of postpartum clothes fashion ideas that work well for new moms.
Maternity Clothing
Maternity clothes have come a long way since the Victorian maternity corsets that were designed to "hide the evidence" that you had dared have sex. Not many of us are ready, willing, or able to invest in an entire closet full of maternity wear. But most of us buy at least a few pieces that are specifically designed for our expanding belly.
And yes, I know that toward the end of your pregnancy you couldn't wait to retire those items. But maternity clothes, especially those with adjustable elements, can be an extremely comfortable option in the first few weeks of the postpartum period.
To avoid the "I'm living in a giant tent" feel, go for those snug maternity tees that will fit you closely.
A Robe
You may want to spend your time in your underwear or with minimal clothing, especially if you've had a C-section and find restrictive clothes irritate your incision. If so, relax and enjoy the freedom. Instead of worrying about being dressed, get yourself a comfortable robe to throw on quickly if the mail carrier knocks or you have unexpected visitors.
A robe can be used to add another layer of clothing if you're feeling a little chilly during the day but don't have the energy to change clothes. It is also incredibly useful for nighttime feeds when you are warm when you get out of bed, but get chilly when feeding your baby.
A pretty robe can make you feel good when you need a boost, and you can use it way after the postpartum period is over.
Postpartum Briefs
While you're in the hospital, snag yourself as many pairs of the horrible looking mesh briefs as you can. They are comfortable, disposable, and designed to accommodate the hideously huge maternity pads you'll be using the first few weeks.
If you don't have any of these, or you've run out, think one word — big. Now is the time you want to be comfortable when you are moving about and when you are sitting down. If you've just spent an hour or more getting your newborn settled, you don't want to discover that your underwear has migrated but you're too scared to move and adjust them.
Underwear that offers high waists, plenty of room, and comfort is what you need. But, if you care about fashion still at this point, they don't have to be ugly.
Appropriate Bras
Something many first-time moms don't realize is that whether you breastfeed or not, in those first few days your breasts are going to leak. And they may not drip a little either — sometimes, when you're least expecting it, they spray like a pair of fire hoses.
If you are breastfeeding, invest in some soft nursing bras to wear through the night. Otherwise, you're going to end up with a wet, milky bed.
If you are not breastfeeding, you will still need bras big enough to hold nursing pads. You'll need them to be comfortable enough to wear 24/7 until your body stops producing milk. Sports bras are an excellent option because they can hold breast pads firmly in place while your breasts shrink down again.
Loose Pants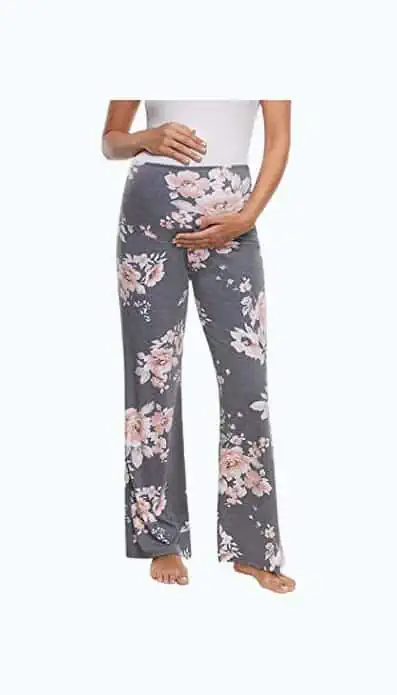 They can be lounge pants, track pants, pajama pants, or whatever works best for you. The only thing to be aware of is that the looser a pant is in the leg, the easier it will be to put them on and take them off without bending too much at the waist.
This is an important consideration in the first couple of weeks or for approximately six weeks after a C-section. When you're sore or in pain, bending at the waist becomes a big issue.
The other advantage of loose pants is that nobody will ever have to know you are wearing giant maternity pads.
Leggings
Sometimes you want to feel like something is holding your body snugly, and the best postpartum clothes for this are maternity leggings. Once you are able to bend and move about a little more comfortably, leggings can be a staple of your postpartum wardrobe.
Avoid the ugly, baggy leggings you may have lurking in your closet, they will just make you feel like a slob. Instead, wear leggings that have color, pattern, and plenty of stretch.
Another advantage to leggings is that they come in size ranges, rather than a particular dress size. The large size may cover 12s and 14s, instead of regular jeans that will only be suitable for one size. That makes them appropriate for the ever-changing size and shape of your postpartum body.
Oversize Wrap/Sweater
Don't make the mistake of buying a regular wrap or sweater in a bigger size than you need. Instead, buy one that is designed to be oversized.
The difference is in the way the garment is cut.
A regular sweater in a size or two larger than you need will be too big all over. While this might accommodate your lower body well, you will find the arms, shoulders, and neck of the item are way too big. Instead, an item that is cut to be oversize will fit you well around the arms, neck, and shoulders, but will be loose lower down where you most need extra room.
Flowy Tops
Sticking with loose maternity tops may seem like a good idea. But maternity clothes are designed to fit your "non-pregnant" size around the back and your baby bump out front. That means the maternity shirt that felt pleasantly flowy and feminine in your last trimester can feel like an uncomfortable tent postpartum.
A good compromise is a top in your pre-pregnancy size that is designed to be flowing all around. This will provide you with plenty of room while your body adjusts. If the change to your body shape is more permanent, you can continue to wear it.
Nursing Tops
It can be tempting to forego any nursing clothing and rely on regular clothes that button down the front, or something big enough to hike up.
However, don't. Trying to unbutton your shirt with one hand while you hold your little one in the other, or pulling up your top only to have it fall down onto your feeding baby is no fun.
There are plenty of nursing tops that allow you to either pull aside a piece of fabric or release a strap and pull one side of your top for easy discreet feeding. That's incredibly helpful while you're out or for easy feeding sessions when you're home.
Nursing Dress
Another excellent postpartum wardrobe staple is the nursing dress. Often overlooked, they are especially comfortable in the warmer weather. You want to wear something loose and cool, but don't want to live in tank tops, t-shirts, and leggings.
A well-designed nursing dress will look good whether you are actively breastfeeding when you wear it or not.
If you want to get dressed and go out for a walk and don't want to be changing before and afterward, a nursing dress will be comfortable at home, out on the street, and then back at home again.
A Special Accessory
Postpartum fashion doesn't have to be restricted to your clothes.
Plain clothes with a fabulous piece of jewelry can make you feel well put together and lift your mood. Another huge advantage of this fashion strategy is that you can buy one or two affordable pieces and you will be able to wear them for years to come. It doesn't matter what your body does or doesn't do in the meantime.
You can also get much more bang for your buck if you buy accessories and plain, base items. This will allow you to treat yourself to something new on more than one occasion.
If you're not a jewelry wearer, you can always opt for a scarf. You'll be able to use it for years to come, and it will give you added coverage when you're breastfeeding in public.
Postpartum Clothes for Every Occasion
If you are thinking about postpartum clothes for a particular occasion or situation, we've got you covered.
Postpartum Dresses for Weddings
It can be tricky to dress for a wedding while your body is still in flux. Think loose, maxi cut items that you can wear again.
If your body has whipped back into shape fairly quickly, you might feel confident enough to go for a more fitted maternity dress that will give your belly a little extra room.
Plus-Size Postpartum Clothes
There was a time when plus-size maternity and postpartum clothes were incredibly difficult to find, but no more. These options will keep you looking and feeling good, without having to resort to menswear whether you're dressing up, casually lounging, or working out.
Postpartum Work Clothes
If you don't have the luxury of a long maternity leave from work, comfortable postpartum work clothes are a must. You won't want anything too restrictive for the first few weeks or months, and if you're breastfeeding, you may want a nursing top for those at-work milk pumping sessions.
Pants with a belly band in them may be especially useful.
Postpartum Casual Dresses
A walk in the park, a coffee with your squad, or a casual family get-together, these are all times when a good postpartum casual dress is priceless. You can go with a maternity dress if you want something with much more forgiveness in the waist. That's also a great choice if you're planning to have more children and will get future use out of it as well.
FAQs
Do you have any of these questions on your mind? If you're like most new moms, you'll be wondering at least one of these.
---
You're The Important One
As you are considering your postpartum wardrobe, remember one thing, dress for you, not for other people. Try not to worry about "getting your body back" or not "getting yourself together" in these first few months. And don't stress over those celebrities who do — they have a team of helpers and deep pockets at their disposal.
Instead, focus on postpartum clothes fashion ideas that will help you feel physically comfortable and mentally well.
Thank You For Your Feedback!
Thank You For Your Feedback!