Good maternity underwear is essential during pregnancy as you'll basically be squeezing two people into them. So, don't feel bad about outgrowing your favorite lingerie — you'll be back in it soon enough.
In the meantime, we've compared dozens of maternity underwear styles — from over-the-bump to under-belly designs, from disposable options to hot and sexy numbers. We've come up with this list of the best maternity underwear for keeping you comfortable during pregnancy.
Image
Model
Product Comparison Table
Features
Best Soft Cotton
Giftpocket Under the Bump
Comfy rear coverage
Hygienic lining
Premium material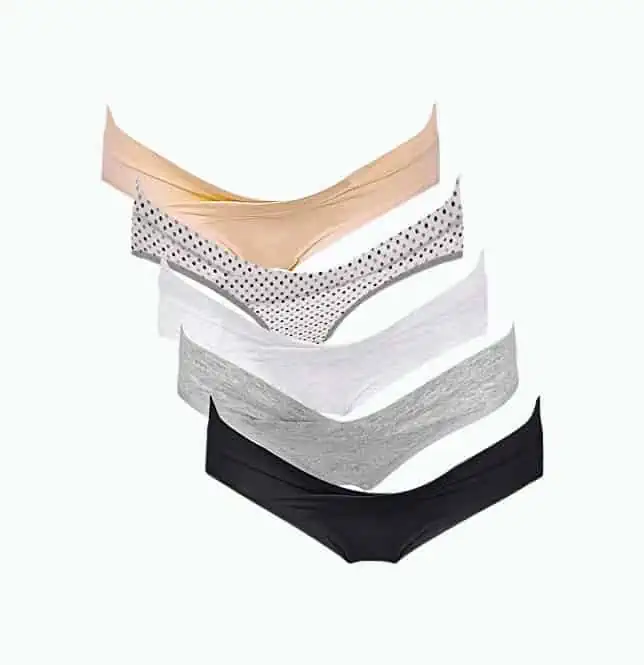 Best for Dresses
Intimate Portal Under Bump
Fits nicely under the bump
Stretchy cotton fabric
Can be worn even after delivery
Best Over the Bump
NBB Lingerie High Cut
Offers gentle support
Adjustable sizing
Soft, stretchy, and breathable
Best for Jeans
Kindred Bravely Under The Bump
Ultra-soft fabric
Designed for everyday comfort
Cost efficient
Best Seamless
Rosie Pope Seamless Hipster
Seamless
Machine washable
Feminine & stylish appearance
Best for Extra Support
Belevation Maternity Briefs
High waisted
Gives comfort and gentle support
Seamless and breathable
Best for Every Trimester
Motherhood Maternity Fold Over
Multipurpose design
Elastic closure
Comfortable brief silhouette
Best Value for Money
Suekaphin Under Bump
No-show panty lines
Super soft and skin friendly
Fits nicely under the bump
Best Disposable
ALC Seamless Knit
Lightweight and breathable
Soft elastic waist support band
Non-absorbent material
Best Sexy Underwear
Hanky Panky Low Rise
Seamless look
No visible panty line
Low-impact dyes
Review Methodology: At Mom Loves Best, we understand the importance of finding the perfect maternity underwear for expecting mothers. Our team of professionals conducts a thorough analysis, assessment, and comparison of various products, using data, experience, and hands-on evaluations to measure their performance. We rank the best maternity underwear based on criteria such as comfort, support, breathability, durability, and style. Our research and reviews allow us to identify key decision-making factors, rate products in those areas, and provide first-hand evidence for our recommendations. By sharing our findings, we help mothers make informed choices and select maternity underwear that meets their unique needs and preferences. Trust Mom Loves Best to guide you through your pregnancy journey with the most reliable information and expert advice.
---
---
The Best Maternity Underwear of 2023
Here are our favorite maternity underwear picks.
Giftpocket Under Bump Maternity Underwear
Best Cotton Maternity Underwear
This maternity underwear by Giftpocket is made of 95 percent cotton and 5 percent spandex, giving them superior stretch.
For women who find they want as little touching their bellies as possible, these sit on the low waist, giving you moderate coverage on your rear so you won't have anything hanging out.
You'll get three pairs of underwear in one pack, and they'll all be different colors. The material is really soft and breathable.
Because these sit under your belly, you won't have to deal with the annoying feeling of your underwear rolling down.
Our Ratings
Community Feedback
These maternity underwear by Giftpocket are made of a comfortable blend of 95% cotton and 5% spandex, providing a nice stretch while remaining soft and breathable. They sit on the low waist, offering moderate rear coverage without any annoying roll-down issues. In each pack, you'll receive three different colored pairs, adding a touch of variety to your maternity wardrobe.
---
Intimate Portal Under Bump Maternity Underwear
Best Maternity Underwear for Dresses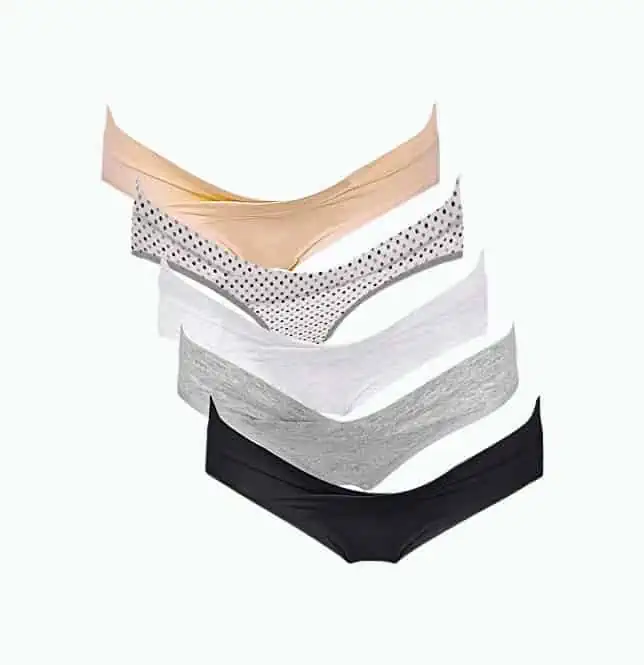 This extra-low-rise underwear won't show panty lines when you're wearing a maternity dress. Thanks to these bad boys, your belly will be the star of anything you wear, not your undergarments.
If you seem to be carrying your baby low in your belly, this underwear will sit even lower.
They come in packs of five or three, depending on which colors and patterns you choose.
For the safety and wellbeing of your baby, these have an interesting extra feature — they use a light color to line the gusset so you'll be able to detect any spotting right away and alert your doctor if there's a potential problem.
Our Ratings
Community Feedback
Definitely a great addition to any maternity wardrobe, this extra-low-rise underwear ensures that panty lines won't steal the show when wearing maternity dresses. I found these especially useful since my baby was carried low in my belly, and the underwear provided a comfortable fit. Available in packs of three or five with various colors and patterns, these undergarments also have a light-colored gusset lining that allows for easy spotting detection to ensure the safety and well-being of both mother and baby. In terms of material, comfort, support, and style, I would rate these underwear a 3.5 out of 5.
---
NBB Lingerie High Cut Maternity Panties
Best Over the Bump Maternity Underwear
This underwear by NBB will reach your belly button and stay there. They won't slip or slide. They also offer gentle support with a light support band that doesn't press uncomfortably into your belly. Made of 95 percent cotton, these won't feel hot or scratchy.
This style of underwear is made to adjust to your ever-changing size and shape. They keep expanding as your belly grows in late pregnancy. And after your baby is born, you can wear them as postpartum underwear, where the support will come in handy yet again.
Our Ratings
Community Feedback
Love how these maternity underwear fit well over my growing bump, but the obnoxiously uncomfortable tags inside can be a real annoyance. The fabric is soft and they provide decent coverage, but they could benefit from a wider crotch area for better comfort. Although the elastic top band can sometimes dig into my belly, these underwear are still more comfortable than many others I've tried. It would be great if the tags were screen-printed instead, as this would make for a more enjoyable wearing experience.
---
Kindred Bravely Under The Bump Maternity Underwear
Best for Jeans
Some pregnant women struggle with self-esteem issues as their body experiences rapid changes. As your belly grows bigger, you may feel you need to ditch your normal clothes for loose-fitting pieces you find frumpy. But you don't have to!
The Kindred Bravely Under The Bump Maternity Underwear allows you to wear your favorite clothes — including jeans — without excess bulk and discomfort. With a low waist and ultra-soft fabric, it conforms to the natural curves of your changing body.
The bikini style provides the coverage you're looking for — especially during the third trimester — but fits smoothly underneath jeans and leggings. These Kindred Bravely panties are available in packs of three and five.
Our Ratings
Community Feedback
Excellent maternity underwear with a few minor drawbacks. The soft and breathable fabric provides extra material to catch fluids, and the cross front design ensures a comfortable fit under the belly. However, the elastic band for the leg holes and across the back can be a bit tight and uncomfortable for some. Sizing up may be a good option since these underwear tend to run small. While the material is thin and delicate, it's also quite comfortable, but may not last as long as expected through multiple washes.
---
Rosie Pope Seamless Maternity Underwear
Best Seamless Maternity Panties
If you hate the experience of uncomfortable rubbing from thick, irritating seams, these Rosie Pope maternity underwear are a great choice. And they require minimal care as you can just throw them in the washing machine.
They don't look like a maternity item at all, and you'll be able to wear these during your postpartum time.
The lace trim gives it a feminine and stylish appearance. They come in seven different colors, so you can wear a different color every day of the week.
Our Ratings
Community Feedback
I've been wearing these maternity underwear throughout my pregnancy, and they've been a perfect fit for my growing belly. Not only do they prevent my pants from pushing them down, but the wider crotch and smooth seams provide ultimate comfort, even for my sensitive skin. The seamless design, softness, and durability make these my go-to underwear, even beyond maternity wear.
---
Belevation Maternity Briefs
Best with Extra Support
If the weight of your expanding belly is causing you pain, you won't care if your underwear looks like granny panties as long as it helps you feel better. That's where this Belevation underwear comes in.
Made of a soft blend of nylon and spandex, these underwear are seamless, so they won't cause any uncomfortable rubbing on skin that's already stretched out and itchy. They'll also offer comfortable support without making you feel like you're wearing a suffocating pair of Spanx!
Nothing should be tight or uncomfortable during pregnancy. You want the best blood circulation to your body and your baby.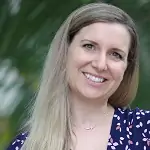 Editor's Note:
Katelyn Holt RN, BSN, BC
These briefs ride high over your belly and offer support for your lower back too.
Our Ratings
Community Feedback
Best maternity underwear I've tried so far! I initially purchased these in a large at 33 weeks, and they provided excellent fit, comfort, and belly support. These underwear really helped to round out my baby bump and made me feel more confident about my appearance. The only downside was that I accidentally tore a finger-sized hole in the belly section of two pairs, but they remained functional. A helpful tip: try using bamboo panty liners with these for extra comfort and hygiene.
---
Motherhood Maternity Panties
Best for Every Trimester
A pair of fold-over underwear works well at any point during your pregnancy because of its multipurpose design. As your body changes, these panties adapt to meet your needs.
When your baby bump is still small, keep the underwear folded down to prevent unnecessary bunching. As your bump grows, you can stretch the top panel over your belly for support. Plus, it will still fold down and rest comfortably under your bump if you wish.
These panties are made of 95 percent cotton and 5 percent spandex, and they feature a comfortable brief silhouette. Each pack comes with three pairs of underwear.
Our Ratings
Community Feedback
I've been wearing these underwear throughout my pregnancy, and they're incredibly comfortable and soft. The waistband is gentle on my growing belly, and the leg openings provide ample room. While they do run slightly large, I found that ordering my regular size worked well for me. The breathable material makes it feel like I'm wearing nothing at all, which is a huge bonus during pregnancy.
---
Suekaphin Under Bump Maternity Panties
Best Value for Money
During pregnancy, you start to accumulate a lot of baby gear, which can take a toll on your pocketbook. This value pack of cotton maternity panties provides you with essential comfort without breaking the bank.
Each pair has a low-rise style. They fit comfortably under your baby bump during any trimester without adding extra pressure or getting bunched up. With extra-wide leg bands, you can be assured they won't cut into your thighs.
You get eight pairs of underwear in a pack, each in a different color, making this a great choice for moms trying to stick to a budget.
Our Ratings
Community Feedback
For someone seeking comfort during pregnancy, these undies have a lot to offer. I found the material to be soft and cool, and they provided enough stretch to accommodate my growing belly. However, they do run a bit small and have a very low-rise design in the front, which may not be ideal for everyone. Despite this, they've been quite comfortable and have alleviated pressure I was experiencing from other underwear.
---
ALC Seamless Knit Maternity Underwear
Best Disposable Maternity Underwear
These disposable maternity underwear come in a package of 15 pairs. They're a good option for before and after your baby is born, when you may not want to deal with additional laundry or staining from the after-effects of delivery. This underwear is thin and comfortable for post-delivery wear when your skin may be feeling extra sensitive.
These are lightweight and breathable, and they'll stretch to ensure your comfort. They're a perfect choice for holding post-surgery dressings in place without applying too much pressure to them. This is ideal for women who have stitches from a cesarean.
The leg bands and the waist are made of a soft elastic fabric. While these underwear are designed to be disposable, they can still be reused for a while if you wash them by hand or in the delicate cycle.
Our Ratings
Community Feedback
Best postpartum underwear I've tried, but with a few drawbacks. I loved that these were super useful after my hospital stay, especially since my local hospital was low on supplies. However, the waist didn't come up high enough to cover my c-section incision, and it felt tight, causing discomfort. The hospital-provided panties were definitely better for that purpose. I ended up switching to high-waisted cotton panties from the dollar store for better coverage and comfort.
---
Hanky Panky Women's Low Rise Thongs
Best Sexy Underwear
Do you feel like you've lost your femininity and sense of style during your pregnancy? Reclaim your sexy self with these lace maternity thongs. Made of durable lace, they stretch easily to fit any body size and shape.
Our favorite part of this underwear is the seamless look you get when wearing your favorite fashionable outfits, including dresses, pants, and shorts. The v-shaped front and back waistband are both flattering and comfortable. You'll get a boost of confidence as you capture the spirit of your old self and grow into your new sexy body.
This thong is made in the USA with low-impact dyes, so you can be sure that it is not only sexy but safe to wear.

Our Ratings
Community Feedback
My experience with these lace maternity thongs has been quite positive. The durable lace material stretches comfortably to fit my changing body, and the seamless design keeps me feeling stylish and confident in my favorite outfits. I appreciate the flattering v-shaped waistband and the fact that they're made in the USA with low-impact dyes, ensuring they're safe for me to wear. While the support may not be as strong as some other options, the overall comfort and style make these thongs a great addition to my maternity wardrobe.
When to Start Wearing Maternity Underwear
There's no hard and fast rule as to when you should make the switch to maternity underwear. Some women gain a lot of weight at the beginning of their pregnancy, but others only pile on the pounds in the last few months. Maternity underwear can help you feel more comfortable at any stage.
Women who were at a healthy weight before their pregnancy should expect to gain anywhere from 25 to 35 pounds during a singleton pregnancy (1). And most won't gain much weight during their first trimester of pregnancy — only about 2 to 4 pounds. After that, you are likely to gain about a pound a week.
So, while you probably won't need maternity underwear for the first few months, you might want to have some ready to go once you hit your third trimester.
Often, women who are overweight before pregnancy gain less weight during pregnancy and may not require maternity underwear.
How Many Pairs Will I Need?
That number of pairs of underwear you'll require depends upon how often you want to do laundry, but remember that your energy will start to evaporate during your pregnancy.
So unless you're certain you'll have the energy to do laundry twice a week, you'll want to make sure you have a week's worth of underwear on hand.
Types of Maternity Underwear
If this is your first pregnancy, you may never have considered pregnancy panties before. But like non-maternity underwear, there are more than a few options.
Over-the-bump Styles
These extra-high underwear offer full coverage to your bump, with the waistband hitting well over your navel and, if you're heavily pregnant, possibly up to around your ribcage.
While not the most flattering, these underwear are great for women wanting more support and full coverage or during winter when you don't want an exposed bit of belly getting cold. They're best for bigger bumps and preventing chafing or irritating shirt fabrics from rubbing against your sensitive bump.
Under-the-bump Styles
This style is a lot prettier and may even pass as a regular pair of panties when you're not pregnant. Low-rise underwear is lighter and stays out of your way but may not work for women who want the coverage and support of something sturdier. These styles are great for the earlier months and are often less visible under clothing.
Special Feature Underwear
Some companies make maternity underwear with extra absorbent panels for incontinence or simply to help you feel dry and comfortable as you go about your day. Others are built with heavy-duty support panels for bigger bumps or "seamless" designs to prevent visible panty lines.
Lastly, the fact that you've made a baby doesn't mean you're not going to have fun anymore. There are some gorgeous maternity lingerie lines out there that can accommodate a bump while still making you feel sexy and beautiful.
How to Choose Maternity Underwear
When you're shopping for maternity underwear, there are a few things you'll want to think about:
---
FAQs
Thank You For Your Feedback!
Thank You For Your Feedback!