Are your lower legs roughly the size of tree trunks because of pregnancy-related swelling?
One of the worst parts of pregnancy for many women is the swelling and achiness in their legs. We know because we've experienced these joys ourselves. The horrified looks you get from concerned family and friends when they see your giant, misshapen legs don't make you feel better either.
To help ease the swelling and relieve your achy legs, we've shopped around, squeezing our limbs into a wide variety of stocking lengths and styles and comparing them based on their effectiveness, quality, and comfort. We've come up with this list of the best compression socks for pregnancy and beyond.
Image
Model
Product Comparison Table
Features
Perfect Wardrobe Staple
Preggers Footless
Built-in belly support panel
Graduated compression
Moisture wicking properties
Best Color Range
Bluemaple Copper Compression Socks
Breathable, moisture absorbent material
Form fitting and lightweight
Satisfaction guaranteed
Open Toe Option
ToFly Stockings
Premium quality
Sweat-absorbent
True graduated compression
The Full Monty
Ames Walker Pantyhose
20-30 mmHg firm compression
Expandable tummy panel
Opaque look
Snug all the Way Up
MGang Compression
Graduated gradient compression
Doctor-recommended
Professional silicone band
Thick and Supportive
MadeMother Compression Socks
True medical grade graduated compression
Effective and comfortable
Built to last
Full-Length Stockings
BeVisible Socks
Durable compression fabric
True graduated compression
Set includes 2 pairs
Tailored Ergonomic Design
Hi Clasmix Socks
Delivers peak performance
Arch compression
Includes ventilation
Great Winter Classic
Therafirm Light Tights
Lab tested
Provides shaping support
Moisture wicking
Serious Support
Lemon Hero Stockings
Long-lasting graduated compression
Non-slip thigh high design
Premium brand
---
---
The Best Maternity Compression Socks & Stockings of 2023
These are our top picks for the best compression socks and stockings for pregnancy.
1. Preggers Footless Maternity Compression Leggings
Perfect Wardrobe Staple
You'll get two pairs of compression leggings with this set — one black, which will go with everything in your wardrobe, and one coal, which is neutral enough to match many shirts.
Fashionista moms will appreciate how stylish these leggings look. You can feel sleek and sexy while your legs are getting some much-needed TLC.
However, be warned that these do not provide full visual coverage. They are quite thin — more like tights than leggings, so you'll want to ensure you wear them with long shirts or dresses.
Because they are footless, you can wear them with any kind of shoes, including sandals or flip flops.
These graduated compression leggings have 10-15 mmHg of light compression and provide some belly support.
---
2. Bluemaple Copper Compression Socks
These socks have a smooth heel and toe area, so you won't be aggravated by having seams rub against your foot.
You'll get six different-colored pairs of socks in this package, so you'll have a pair to match every outfit. And there are so many print options to choose from, including medical-themed stockings, socks with music notes, cacti, hearts, stripes, and professional-looking solids.
With a compression level of 15 to 20 mmHg, these knee-high stockings will offer enough light support to keep you comfortable throughout the day.
These are lightweight and breathable, so your feet won't get uncomfortable and sweaty. They offer 360-degree stretch to feel both flexible and durable.
---
3. ToFly Thigh High Compression Stockings
Sneaky Silicone Top
These compression stockings supply 20-30 mmHg of gradient compression. If you hate the sensation of thigh-high stockings sliding down on your legs, you'll be happy to know these have a silicone band to help keep them in place.
The toes are open, meaning your toes don't have to be compressed, which can be a relief to moms who hate the feeling of cramped toes.
If you find you're sweating a lot during your pregnancy, these are a good pick because they have sweat-absorbent properties, are anti-bacterial, and the open toe can keep you cooler.
---
4. Ames Walker Maternity Compression Pantyhose
The Full Monty
These pantyhose have closed toes, and you can wear them under your clothes. They'll work with dresses or can be worn under pants if you don't want anyone to see you're wearing pantyhose.
The closed-toe design comes with reinforced heels and toes, so they are extra durable. They have compression of 20-30 mmHg.
As your baby bump gets bigger, you'll be covered because these stockings have an expandable tummy panel that will grow with you. Although they are pantyhose, they hold up really well, lasting week after week.
---
5. Mgang Thigh High Compression Stockings
Snug all the Way Up
These graduated compression thigh-high stockings give a lot of pressure at the ankles before easing up some at the calf and even more at the thigh. The stockings offer 20-30 mmHg of compression.
These are soft and comfortable to wear, even all day long. They are breathable and will absorb moisture if you start to sweat.
Because of a silicone band at the top of the stockings, they won't slip or slide down your leg. Plus, silicone shouldn't cause itchiness or scratchiness on your leg.
---
6. MadeMother Maternity Compression Socks
Thick and Supportive
Moms who like a more substantial sock may like these. The thicker knit is warmer, so they'll be a good winter option.
They use graduated compression which may help moms who have one particular problem spot. They use 25-30 mmHg at the foot and ankle, 15-20 mmHg for the calf and mid-leg, and 10-15 mmHg right under the knee.
They are easier to take off than some other kinds because of the thicker material. The toe box has extra padding to help you feel pampered and more comfortable.
---
7. BeVisible Sports Maternity Compression Socks
Open Toe Option
These socks provide 20-30 mmHg of graduated compression. Because they have open toes, they'll work better for moms who may get foot aches or cramps from having compressed fabric on their toes. It will also make the socks more comfortable for women who have abnormally-shaped feet.
They have a wide anti-slip band at the top edge that will stop these stockings from falling down as you go about your business.
---
8. Hi Clasmix Graduated Compression Socks
Tailored Ergonomic Design
These graduated compression socks offer ventilation and moisture-wicking properties so your feet won't feel hot and sweaty. These socks go up right beneath the knee and stay up really well because of the amount of pressure they give. But unlike some compression socks, they don't pinch your skin behind your knee.
They aren't as slick as compression stockings, so there will be no need to wear extra socks over top of these.
If you are a mom who had bigger calves before pregnancy, these socks do come in larger sizes.
---
9. Thermafirm Light Footless Compression Tights
Great Winter Classic
You'll get 10-15 mmHg of compression with these footless support tights. The compression will be the greatest in the ankle area and will decrease slightly as the tights go up your leg. That will leave the least compression around the belly area, so it shouldn't feel too tight. However, these tights may be better for the first and second trimester.
The tights have a high waist, so they'll be less prone to slipping and they'll hit your belly in a comfortable spot. Because they're footless, you can wear them with sandals or flip-flops.
---
10. Lemon Hero Thigh High Compression Stockings
Serious Support
These graduated compression stockings provide 20-30 mmHg of compression. They are an open-toe design meant to be more comfortable and to keep the air circulating better on your foot.
A silicone band at the top of the stockings helps keep them in place, keeping them from curling and slipping. After all, it can be tough enough for pregnant women to get these things in place when they're getting dressed in the morning. You don't want to have to spend the rest of the day tugging them back into place.
What Are Compression Stockings?
Compression stockings are basically tall, stretchy socks that fit really snugly. They'll feel tight when you put them on, but that's how you want them to feel.
There are many reasons people wear compression stockings (1):
Pregnant women.
Athletes.
Older adults.
People with a high risk of forming blood clots.
People with circulation problems.
People who recently had surgery.
Workers who are constantly on their feet.
How to Choose Compression Socks & Stockings for Pregnancy
Before buying compression stockings, you first have to decide which style you want. There are three basic models you'll have to choose from.
Knee-high socks: If you can't stand the idea of wrestling with a thigh-high pair of socks with your giant belly in the way, this is the option you should go for. These are also a great choice for moms who have most of their swelling in their lower legs.
Thigh-high stockings: When you don't want stockings riding up over your belly but you want something to help fight veins and that tired feeling in your upper legs, thigh-high compression stockings are an excellent choice.
Full-length stockings: When socks or stockings won't do, you can opt for compression leggings instead. Leggings are riding high in the fashion world right now, and they can be dressed up or down. So they are perfect for pregnant women because they are so versatile.
Each style provides its own particular benefits.
Knee-high stockings help control swelling and pain in the ankle and the calf regions. Thigh-high stockings do the same, but they also help with most of the thigh area.
Full-length compression stockings cover the entire legs in addition to helping with back pain. But before you race out and buy this type of stocking, remember that if they cover that much territory, they will be much more problematic to put on than the shorter options.
Keep in mind that you'll have a giant belly in your way as you bend, stoop, and struggle to tug these bad boys on.
How Much Compression?
Compression stockings are assigned numbers that show what their level of compression is. The lower the number, the less compressive they are.
Pregnant women should opt for one of two levels of pressure.
15-20 mmHg: You may need a prescription to purchase stockings with this level of compression. They are easy to find and will be firm enough to combat minor swelling and varicose vein issues. As an added perk, they'll be easier to get on than the next kind will be.
20-30 mmHg: These can be difficult to get on because of the level of compression. But it's the type to go with if you're having a lot of swelling or bad varicose vein pain.
Your doctor or midwife can prescribe the right compression for you and you can actually have stockings prescribed for you. Compression stockings can help prevent lightheadedness by promoting good perfusion. Compression stockings are only worn during the day, 12 hours on /12 hours off.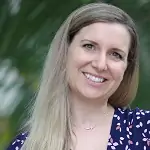 Editor's Note:
Katelyn Holt RN, BSN, BC
---
Benefits of Compression Stockings During Pregnancy
The best compression stockings for pregnancy will make your legs feel and look better. They'll reduce any swelling, making you feel all around.
What moms-to-be really love about compression stockings is how they make their legs feel better. They can greatly reduce that sore and achy feeling. They can also help keep spider veins and varicose veins from forming and decrease the pain from them.
Another benefit of wearing compression stockings is that they can help reduce your risk of getting a blood clot since the blood moves through your veins instead of pooling in there. During pregnancy, you have an increased risk of blood clots, including deep vein thrombosis.
The risk increases during pregnancy and after delivery for several reasons (2):
Fluctuating hormone levels and blood composition.
Slower blood flow in the legs because of the baby's weight.
Vein injury during vaginal delivery or C-section.
Bed rest and increased inactivity after delivery.
Some women are at greater risk than others during pregnancy, including women who:
Are obese.
Have a history of blood clots.
Have a family member who has had blood clots.
Are older than 35 years of age.
Smoke.
The increased risk of blood clots remains throughout pregnancy, goes up after delivery, and goes back to the original risk weeks after your baby is born. Women who have C-sections are at an increased risk compared to women who gave birth vaginally.
---
Thank You For Your Feedback!
Thank You For Your Feedback!