Your feet will change and may swell during pregnancy. You need good footwear to provide stability and support as your weight increases and your center of balance shifts. But functional shoes don't have to be ugly!
We've scoured the web for the best pregnancy shoes that are supportive, cute, and comfy and don't compromise on fashion. Treat your feet to a pair (or more!) of our top ten picks — including flats, boots, slippers, dress shoes, sport shoes, and more — and carry your baby with ease throughout your pregnancy.
Image
Model
Product Comparison Table
Features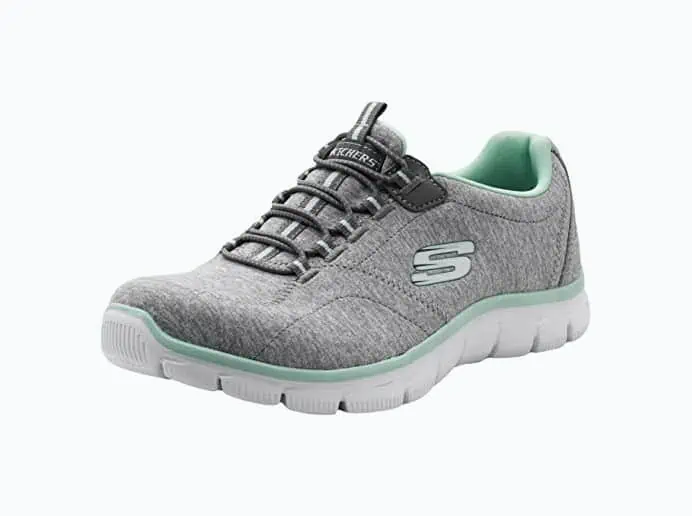 Best Athletic Shoes
Skechers Sport Sneakers
Shock absorption feature
Easy to get on and off
Comfortable memory foam sole
Best Slip Ons
Vionic Slip Ons
Rubber sole
Convenient slip-on design
Has an orthotic insert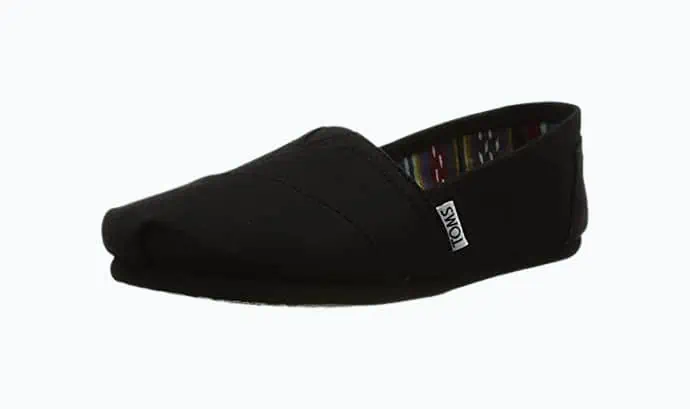 Best for Swollen Feet
Tom's Classic Flats
Non-skid sole
Purchase helps a charitable organization
Have a supportive insole
Best Sandals
Crocs Swiftwater Sandals
Waterproof
Great traction
Offers adequate arch support
Best Dress Shoes
Aerosole's Flats
Memory foam in footbed
Absorbs shock when walking
Very low, comfortable heel
Best Arch Support
Propet Travelfit Walking Shoes
Breathable hands-free style
Lightweight
Great arch support
Best for Back Pain
Orthofeet Sneakers
Designed primarily for foot health
Supports arches and ankles
Absorbs shock while walking
Best Boots
Qupid Flat Boots
Easy to pull on
Low, comfortable heel
Sturdy rubber sole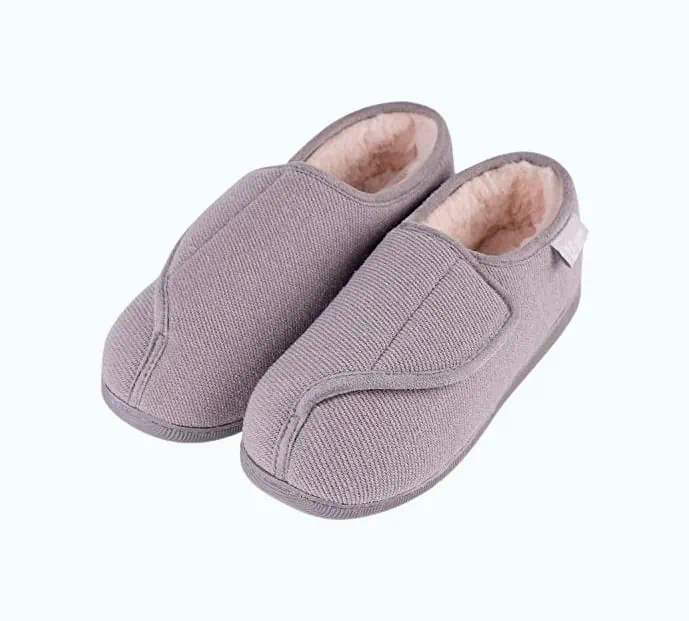 Best for Winter
LongBay Furry Slippers
Convenient slip-on style
Low, comfortable heel
Sturdy rubber sole
Best for Summer
Vionic Sandals
Alleviates heel pain
Fashionable touch
Easy to slide on & off
Review Methodology: At Mom Loves Best, our thorough analysis and hands-on experience allow us to evaluate the best pregnancy shoes from a user's perspective. We compare various brands based on criteria such as support, comfort, style, and durability using data and research to rank them. Our professional assessment helps identify key decision-making factors, and we share quantitative measurements of each product's performance, design choices, and their effect on users. Based on these factors, we provide a detailed review and score to recommend the best pregnancy shoes that stand out from their competitors, ensuring you make an informed choice for your comfort and well-being during this special time.
---
---
The Best Shoes for Pregnancy in 2023
Here are our all-time favorite shoes for pregnancy.
Skechers Sport Empire Sneaker
Best Athletic Shoes for Pregnancy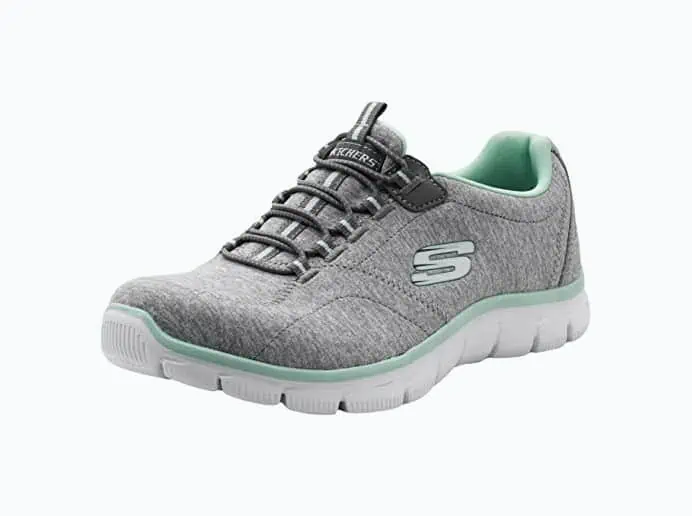 These sneakers are super fashionable, and you don't even have to lace them up. The slip-on design has an air-cooled memory foam insole to help you stay comfortable.
The midsole has built-in shock absorption, and the uppers are flexible enough to accommodate any swelling. And the non-skid sole will help prevent slips, keeping you safe and upright whether you're working out at the gym or just hanging around your house.
Pros
Shock absorption softens each step.
Convenient slip-ons won't take forever to put on.
They have a super comfortable memory foam sole.
The uppers are flexible.
Cons
They don't come in wide sizes.
Our Ratings
Community Feedback
My experience with these Skechers has been fantastic, as they provide excellent support and comfort during my long days on my feet. The cooling memory foam and arch support make them ideal for all-day wear, and they've even helped alleviate my nerve pain in my toes and plantar fasciitis. While the quality seems to have diminished slightly over the years, I still find these shoes to be a reliable and comfortable option for my daily needs.
---
Vionic Women's Fitness Shoes
Best Slip On Pregnancy Shoes
These shoes have an orthotic insert to help keep your feet happy, healthy, and comfortable. The upper is made from breathable mesh, which will allow the shoe to "give" a little if you need the room, while still offering adequate support.
The sole is made from rubber to prevent slipping, and it also provides shock absorption to alleviate stress on your joints.
And finally, the slip-on design means you won't have to figure out how to bend over and tie your laces.
Pros
It has a rubber sole.
Shoes slide on and off — no bending required.
The orthotic insert offers exceptional support.
Cons
The sizing runs large.
They can only be hand washed.
Our Ratings
Community Feedback
These orthotic slip-on sneakers have been a fantastic find for me, providing the perfect fit and excellent arch support. I've worn them on rocky trails without any discomfort, and the thick, sturdy soles protect my feet well. The uppers prevent debris from entering the shoes, which has been an issue for me with other sneakers. However, my feet do tend to get a bit warm in these shoes, so I reserve them for outdoor walks and hikes. While not the most stylish option, they serve their purpose exceptionally well and seem to be well-made.
---
Tom's Women's Classic Flats
Best Pregnancy Shoes for Swollen Feet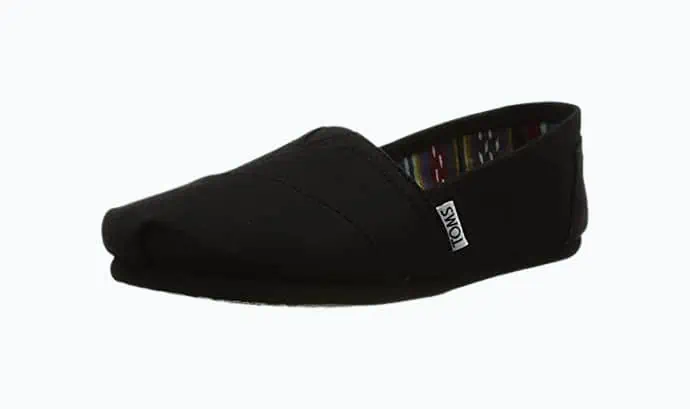 These shoes are great for your swollen feet during pregnancy because they don't have a restrictive ankle. This allows ample room for them to expand.
The sizing tends to run a bit large, and the canvas material has a lot of give, keeping your feet comfortable as your feet swell and recede.
They have a non-skid, synthetic sole to help prevent slipping. And even though these shoes are called "flats," the insole includes arch support to help prevent fatigue in the bottom of your feet.
Pros
Design is easy to slip on and off.
Your purchase helps a charitable organization.
Chic, minimalist style with dozens of color options available.
Cons
They're not available in wide sizes.
The canvas may lose its shape over time.
Some women find they wear down pretty quickly.
Our Ratings
Community Feedback
My experience with TOMS and BOBS has been quite positive overall. I've found both shoes to be comfortable and stylish, with each brand offering its own unique perks. The TOMS, made from textile materials with a synthetic sole, are lightweight and come in a fantastic range of vibrant colors. Though the suede insole might not be as supportive as I had hoped, knowing that a pair is donated to a child in need with each purchase is a big plus. On the other hand, BOBS by Sketchers provide more support with their memory foam footbed and "arch pillow," and they also contribute to a good cause by donating 25¢ from each purchase to the Petco Foundation. While I appreciate and recommend both shoes, I personally lean towards the BOBS for their additional comfort and support.
---
Crocs Women's Swiftwater Sandals
Best Sandals for Pregnancy
Crocs have a reputation for incredible comfort combined with incredible ugliness. Thankfully, they've expanded their line to include more designs, such as these sandals that happily combine both comfy and cute.
The strappy design will accommodate a swollen or expanding foot, and the rubber sole will keep you safe from slips. Added traction will also help you stay upright, and the foam cushion softens each step.
The contoured foot offers adequate arch support, and the low heel holds your foot in a proper anatomical position.
Pros
Waterproof design makes them easy to clean.
They have excellent traction.
Soft cushioning absorbs shock.
Cons
Not available in half sizes.
Plastic/synthetic uppers may aggravate sensitive skin.
Our Ratings
Community Feedback
I've been wearing these Crocs for a while now and I must say they are very comfortable, even in the summer heat when my feet tend to swell. The sizing is a bit off as they don't offer half sizes, but I managed to find a size that works for me. These sandals are not only comfortable but also quite stylish, making them suitable for casual outings and dinners. The ease of slipping them on and off without using my hands is a feature I appreciate for quick tasks like taking out the garbage. The heel support could be better, but it's not a deal breaker considering the overall comfort and appearance of the sandals. I've already bought a second pair as I wore out my first pair, and I look forward to wearing these out as well.
---
Aerosole's Women's Ballet Flats
Best Dress Shoes for Pregnancy
These pretty ballet flats have memory foam in the footbed to keep your feet from aching after a long day. They have a wide, low heel that provides some shock absorption and keeps your foot in its proper position, helping to prevent joint pain.
Made from textiles and synthetic materials, they may not be as flashy as the shoes you used to wear, but there are still several cute designs to choose from.
You can jump back into those heels after your baby arrives — but for now, you might want to stick with conservative footwear to preserve your comfort.
Pros
Three neutral colors to choose from.
Simple design still looks dressy.
Shallow, comfortable heel.
Cons
Sizing runs small and narrow.
They take some time to break in.
Our Ratings
Community Feedback
Definitely a stylish and comfortable addition to my wardrobe, these flats have been great for both work and casual outings. The small heel and nude suede finish add a touch of elegance to any outfit. I did have to exchange my first pair for a half size smaller, but the fit was perfect after that. One minor issue I faced was the fabric sole in the toe area not staying put, but I believe some shoe glue can fix that. These shoes are best suited for fall and winter due to the velvety fabric.
---
Propét Travelfit Slide Walking Shoe
Best Arch Support Shoes for Pregnancy
This shoe combines the comfort of an athletic shoe with the ease of a sandal. The slip-on, hands-free design allows you to slip these shoes on easily, but the adjustable laces will ensure a snug, custom fit, regardless of whether your feet have swelled or not.
The upper offers full-coverage support and protection. They're also breathable to keep your foot from overheating. Finally, they're lightweight but still offer good arch support to help prevent joint pain or injury.
Pros
Breathable fabric stays comfortable in hot weather.
They're lightweight and will pack easily.
Additional arch support distributes foot pressure.
Slip-on style means you won't need to bend over to put them on.
Cons
The open-heel design doesn't offer ankle support.
The long, narrow shoe might not work for some foot shapes.
Our Ratings
Community Feedback
Great shoes for those dealing with foot swelling or needing easy slip-on options! These shoes have been a lifesaver for pregnant women and those with foot issues. The bungee laces make them easily adjustable, though some may find they don't loosen as much as they'd like. While not the most stylish, these shoes provide comfort and support for long periods of walking or standing. The toe box could be a bit roomier for some, but overall, these shoes are a fantastic find for those in need of a convenient and comfortable footwear option.
---
Orthofeet Orthotic Sneakers
Best Pregnancy Shoes for Back Pain
These shoes were specifically designed to assist those with foot-related pain and medical conditions. The orthotic insole includes a gel pad at the heel along with fantastic arch support to minimize stress and back pain.
They have air pockets under the feet to help with shock absorption, and the uppers were designed to minimize pressure points.
While they do come with traditional laces, you can always swap them out for elastic no-tie versions, so you don't have to bend over to tie them as your belly grows.
Pros
Designed primarily for foot health.
They offer ankle support.
Great arch support.
They absorb shock, preventing joint pain.
Cons
They have laces.
They're expensive.
They may be too hot in the summer.
Our Ratings
Community Feedback
As someone who struggles with foot issues, I found these shoes to be an absolute blessing for my feet. The extra wide width and soft toe box provide much-needed comfort for my bunion, while the included arch supports and two different thickness insoles allow for a customizable fit. While the shoes may have a somewhat chunky appearance and a fuzzy covering over the mesh part, the comfort they provide while walking truly outweighs any aesthetic concerns.
---
Qupid Slouchy Flat Boot
Best Boots for Pregnancy
Riding boots are always stylish. And this slouchy style has a looser-fitting ankle, allowing slightly swollen feet room to wriggle.
They don't have zippers, so you don't have to worry about bending over to fasten them. The rubber sole will help keep you from slipping on certain surfaces, and the low heel means they won't negatively affect your balance.
Finally, these boots are vegan friendly as they don't contain any animal products.
Pros
Convenient slip-on style.
Made with vegan-friendly materials.
Low, comfortable heel.
Sturdy rubber sole.
Cons
Not waterproof.
Don't hold up to a lot of wear.
Our Ratings
Community Feedback
My experience with these boots has been mostly positive, but there are a few downsides to note. They are comfortable and stylish, and I've received numerous compliments on their appearance. However, the fit can be a bit snug, especially for those with wider feet, and the quality of the material leaves something to be desired, as they tend to scuff easily. With a few adjustments, such as adding insoles and stretching them out, these boots can become quite comfortable and serve as a fashionable choice for casual wear.
---
LongBay Furry Memory Foam Slippers
Best Pregnancy House Shoes
Nothing sounds better than furry memory foam slippers — especially when you're heavily pregnant in the dead of winter. These LongBay indoor shoes are perfect for pregnant women with swollen or painful feet.
They give you full coverage and have a tight grip for ultimate stability. The non-slip rubber sole is great for wearing around the house, but it also means you can wear the shoes outside. We don't recommend taking a long winter walk in them, but they're suitable for taking out the trash or visiting a friend's house.
Pros
High-density memory foam offers ultimate comfort.
Relaxes foot arch and eases pain.
Great for indoors, but they work outdoors too.
Four color options.
Cons
The upper fabric tends to get fuzzy.
No ankle support.
Our Ratings
Community Feedback
These slippers are a great find for people with wide or swollen feet. They are soft, comfortable, and provide enough room for doubling up on socks if needed. I've even received compliments when wearing them outside. However, they may not be suitable for long-term outdoor wear due to the sole's quality.
---
Vionic Women's Pacific Alexis Platform Sandal
Best Pregnancy Shoes for Summer
Pregnancy woes can worsen in the summer, with the heat causing you to feel as swollen and uncomfortable as a beached whale. Don't let it get you down! These comfortable and cute sandals keep you cool and allow you to have fun on your summer adventures.
The midsole is made of a lightweight, flexible material (EVA) to absorb shock and reduce stress on the feet, ankles, and knees. The durable rubber outsole provides traction on many surfaces, including sand, and the soft nylon webbing uppers prevent chafing.
Best of all, they've been biomechanically designed to hug your arches, which is great for alleviating heel pain. A small row of rhinestones will help pregnant moms feel a bit glamorous on the rough days.
Invest in these sandals to continue enjoying summertime fun during your pregnancy and beyond.
Pros
Proven to alleviate heel pain and provide essential support.
Rhinestones offer a fashionable touch.
Easy to slip on and off.
Cons
 The rhinestones may fall off.
Not a great choice for moms on a budget.
Our Ratings
Community Feedback
I recently purchased these Vionic sandals and found them to be a perfect fit at size 7. The built-in arch support is fantastic, especially for someone like me with plantar fasciitis and a very high arch. The stylish design with beading on the straps adds a touch of glam, making them far from the typical "old lady shoe." Although the soles are a bit squishier than other Vionic sandals, they remain comfortable and adjustable, allowing for longer walks without pain. I appreciate the various adjustment options, which make these sandals suitable for those with flat feet or overpronation.
Do I Need Different Shoes for Pregnancy?
Yes!
First, your feet will grow up to half a size during pregnancy — and this change may be permanent (1). Your old shoes may be too tight and uncomfortable as your pregnancy progresses.
Water retention is common during pregnancy, and your feet and ankles may swell — especially after a great deal of use. If this happens to you, restrictive footwear might suddenly become difficult (or impossible) to get on.
Your weight increases when you're expecting, which naturally puts more pressure on your joints and feet. Good footwear with proper arch support will not only help to keep your feet comfortable but help you maintain good posture and prevent issues in other parts of your body — like back or pelvic pain.
Finally, when you're pregnant, you're at greater risk for falls. Not only does your center of gravity shift upwards as your belly grows, but your body's production of the hormone relaxin will cause your joints to be looser (2). Choosing sensible shoes can help minimize your risk of falls, which could be dangerous to both you and your baby.
How to Choose the Best Shoes for Pregnancy
Keep these features in mind when choosing shoes to wear while pregnant.
Slip-on: Slip-on shoes are a pregnant woman's best friend. Not only do they allow swollen feet to get in and out easily, but you don't have to figure out how to bend over and tie them.
Rubber soles: Rubber is an excellent shock absorber and can help alleviate some of the joint discomfort associated with pregnancy. They also provide great grip, which can help you avoid slips and falls.
Low heel: A low heel offers more stability than a high heel and more support and protection than ballet flats.
Arch support: To prevent pain in the heel or ball of your foot, choose a pair of shoes with good arch support, which better distributes the pressure throughout your whole foot.
---
Thank You For Your Feedback!
Thank You For Your Feedback!