You want to stay healthy and active when you're pregnant, but you need proper maternity workout clothes to do that.
Trying to squeeze yourself into pre-pregnancy clothes or choosing clothes not designed for exercise can cause uncomfortable pinching, chafing, and dangerous overheating.
The good news is we're here to help keep you as fit, healthy, and comfy as possible.
We've tested dozens of options and scoured reviews from thousands of pregnant moms like you to find the best maternity workout clothes and shoes to keep you moving throughout your pregnancy.
---
How to Choose Maternity Workout Clothes
When buying maternity workout clothes, look for the following:
Developed for Maternity
With the only possible exception being sports bras, choose clothes specifically designed for athletic use during pregnancy. While your husband's oversized t-shirts or your old pre-pregnancy yoga pants may fit, they won't provide the best level of support or comfort.
Fit
Choose clothes (especially pants) that are fitted close to the body. When wearing baggy leisure pants, you run the risk of tripping, which is especially dangerous during pregnancy. The same goes for shoes; though slip-ons may be comfy on your ever-expanding feet, they don't provide the same level of support and safety as a lace-up shoe.
Seam Placement
Your clothes will be in direct contact with your skin, which may be getting extra sensitive — especially toward the end of pregnancy. Be aware of the cut of seams, and if possible, choose seamless or low-profile seams to prevent chafing and irritation.
Fabric
Unless you're doing low-intensity activities, choose synthetic fabrics. They'll help keep you dry and cool without feeling uncomfortably restricted. Well-designed clothes will also keep your blood circulating and prevent you from overheating.
Support
Choose clothes that offer a good level of support for your belly, breasts, and back. Don't expect nighttime camis to function as sports bras just because they're stretchy. And don't expect thin leggings to work in your step class if they don't have a fully-functioning belly panel.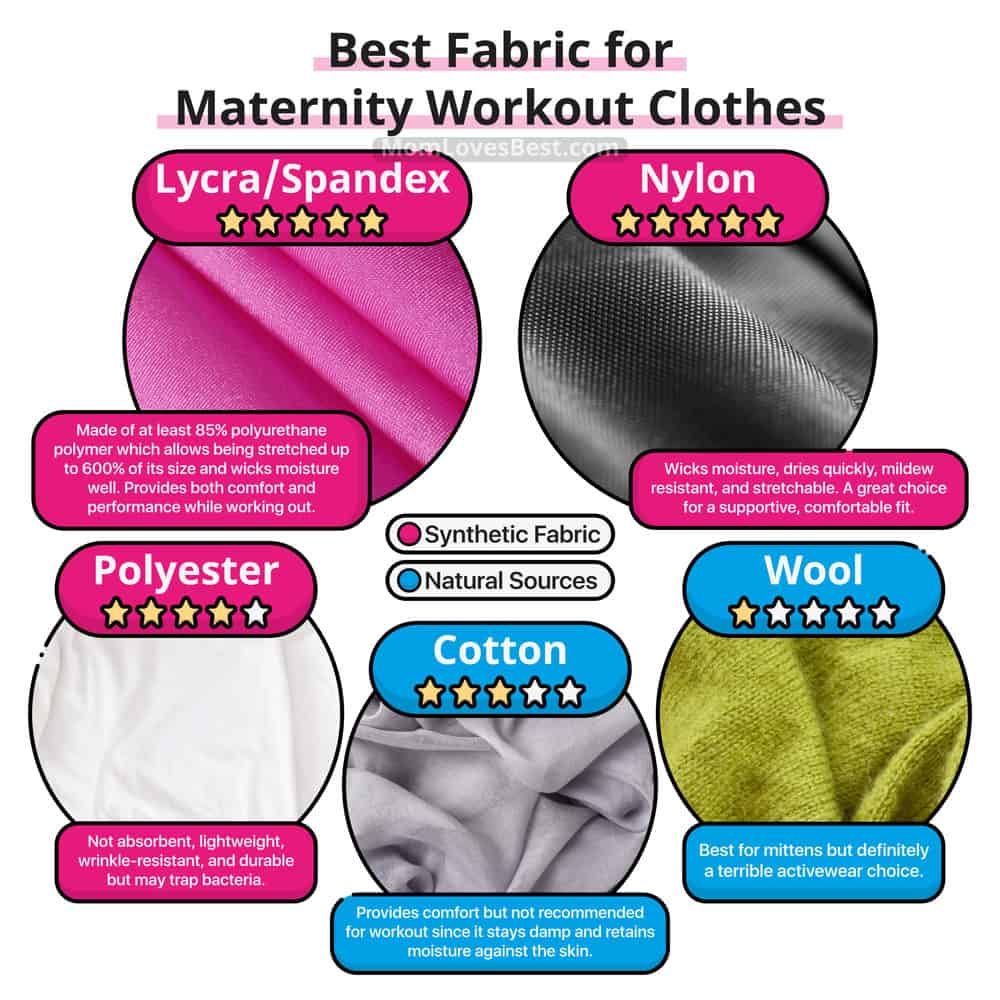 ---
The Best Maternity Workout Clothes of 2022
Here are some great maternity workout clothes to consider.
---
---
---
---
---
---
---
---
---
---
---
---
---
---
---
---
---
---
---
---
---
---
---
---
---