Who doesn't love a good pair of yoga pants?
They're comfy, flattering, and non-restrictive. Paired with the right top, they can even be stylish. It's no wonder they've become the unofficial "uniform" of motherhood.
We've rounded up the best maternity yoga pants to match your style and keep you comfy throughout your pregnancy.
Image
Model
Product Comparison Table
Features
Short Legs
Ingrid & Isabel Active Capri
Offers quality and versatility
Provides support in all directions
Minimizes uncomfortable chafing
Best for Layering
Motherhood Maternity Leggings
Patented secret fit belly feature
Pull-on closure
Machine washable
Plus-Size Women
Beachcoco Fold Overs
Made of 95% cotton
Many colors to choose from
Versatile
Everyday Wear
Ecavus Lounge Pants
Creates a slimming effect
Super-sleek pants
Wide-leg design
Petites
Motherhood Petite Secret Fit
Breathable fabric
Seamless
Figure flattering and comfortable
Big Thighs
Beachcoco Wide/Straight
Super soft and comfy
Straight-leg design
Made in the USA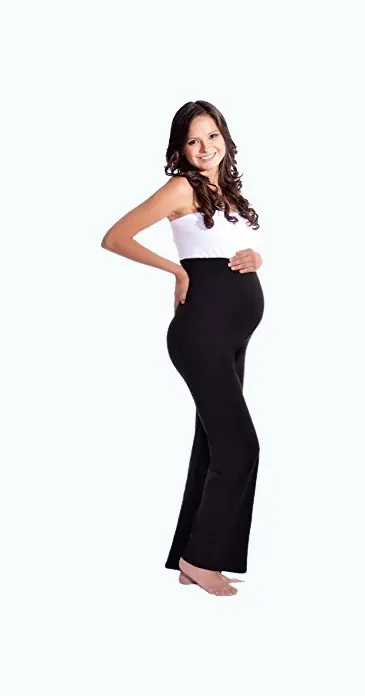 Tall Women
Belly Mama Maternity
Soft & comfortable cotton fabric
Durable
Versatile
Best with Pockets
Fishers Finery
Great wardrobe staple
Thick material
Affordable
Review Methodology: At Mom Loves Best, we understand the importance of reliable information when it comes to choosing the best maternity yoga pants. Our experienced team conducts thorough research and hands-on analysis, comparing various products based on criteria such as comfort, fit, design, and quality. We evaluate each item from a user's perspective, using data and facts to rank them based on performance and key decision-making factors. Our assessment includes first-hand experiences, expert reviews, and quantitative measurements, ensuring that we provide you with an accurate and trustworthy guide to make an informed choice. By highlighting the unique features and benefits of each product, we help you determine which maternity yoga pants will best suit your needs during this special time.
---
---
The Best Maternity Yoga Pants of 2023
Here are our favorite maternity yoga pants on the market.
Ingrid & Isabel Active Capri Maternity Yoga Pants
Best Short Leg Maternity Yoga Pants
This pair offers both quality and versatility. The belly panel is not simply an extra band of fabric as you see in other pants, but it's actually a four-way panel designed to provide support in all directions as your belly grows.
What's more, you can fold down the panel in the early stages of pregnancy or during your postnatal period.
Finally, the stitching was designed to lay flat to minimize uncomfortable chafing.
Our Ratings
Community Feedback
These maternity pants offer both quality and versatility with a unique four-way belly panel that provides support in all directions as your belly grows. I found that I could fold down the panel during early pregnancy or postnatal period, making them incredibly comfortable. Additionally, the flat stitching design minimizes any uncomfortable chafing, making these pants a great choice for expecting and new moms.
---
Motherhood Maternity Stretch Belly Leggings
Best for Layering
These three-quarter-length leggings are great for layering. You can wear them on their own with a big sweatshirt as you lounge around the house. Or you can dress them up with a cute skirt or dress to suit work meetings, dates, or a walk with a friend.
They're made with super soft and stretchy cotton and spandex. Available in three different colors, you can find the right one to suit your wardrobe.
We also love that the seamless maternity panel grows with you throughout all stages of your pregnancy.
Our Ratings
Community Feedback
These leggings have a fantastic fit and are extremely comfortable, even with a growing baby bump. The fabric is breathable and doesn't attract much pet hair, but it is slightly see-through in the butt area. They provide enough stretch without feeling too tight, but I do wish they had pockets and were more of a dry-wicking material.
---
Beachcoco Fold Over Maternity Lounge Pants
Best Plus-Size Maternity Yoga Pants
Made of 95% cotton with just a touch of spandex, these pants are available in sizes up to 3XL.
With a slight flare at the bottom which gives a flattering outline different from workout pants or leggings, you can wear these yoga pants in many different situations.
There are several neutral-colored options if you're hoping to pass them off as regular trousers. But there are also many bold-colored belly band choices, if you're going for that extra-fun pop of color.
Our Ratings
Community Feedback
I'm absolutely thrilled with these maternity lounge pants that not only fit perfectly for my growing belly but also offer great comfort around the house. The material is thin, making it ideal for summer, but I do wonder how well these pants will stretch into my third trimester. I'm 5'4" and the pants are slightly long, but I can easily fold them under or let them hang without any issues.
---
Ecavus Versatile Maternity Yoga and Lounge Pants
Best Everyday Wear
The wide-leg design of these yoga pants flows all the way to the floor, giving your legs more room for comfort and providing a visually slimming effect.
Less fabric against the skin means less itching, chafing, and sensitivity, especially during those final months of pregnancy.
Made of rayon and spandex, these super-sleek pants can be worn above the belly or rolled down if you prefer to leave your tummy bare.
Our Ratings
Community Feedback
My experience with these maternity lounge pants has been a mixed bag, but overall, I appreciate their comfort and versatility. The material varies depending on the color, with the dark grey being my favorite for its softness and wide leg design. However, I must note that the waistband and length are inconsistent across different colors, which may affect the overall fit and comfort. These pants are thin, making them ideal for spring and warmer weather, but not suitable for colder days. Despite the inconsistencies, I still find myself wearing these pants frequently around the house, and they continue to accommodate my growing bump.
---
Motherhood Petite Secret Fit Maternity Yoga Pants
Best for Petites
From the maternity clothing experts at Motherhood Maternity come yoga pants designed specifically for expectant mamas of short stature, and they're fitted with their patented "secret fit belly."
Made of cotton and spandex, these pants are also boot cut, giving visual balance to your frame (and extra space for your ankles when they're swollen during pregnancy).
Our Ratings
Community Feedback
In my pregnancy journey, I discovered that these maternity pants are not only extremely comfortable, but also perfectly suited for shorter individuals like myself. The supportive belly panel and thick, non-see-through material make them a great choice for various activities, from yoga to running errands. However, I did find that the material could be a bit more durable, as it ripped when a dog jumped on me, so keep that in mind when considering these pants.
---
Cloya Active Capri Maternity Yoga Pants
Best Over-the-Belly Maternity Yoga Pants
These pants are made of nylon and spandex and are designed to grow with you and keep the fit snug and proper throughout your pregnancy.
The belly panel sits higher in the front and lower in the back, providing coverage and support without compromising comfort or breathability. The stitching is also designed to minimize chafing.
This is important not only in the thigh area but in the belly panel, which can otherwise irritate your tummy and cause it to itch.
Our Ratings
Community Feedback
These maternity leggings have a thick, durable fabric that provides a comfortable, non-see-through fit. I found them perfect for prenatal yoga and appreciated that they didn't cause any itching or discomfort on my sensitive skin. However, the belly band was a bit tight for me, so I would recommend considering a size up for maximum comfort during pregnancy.
---
Beachcoco Wide/Straight Comfortable Maternity Yoga Pants
Best for Big Thighs
The flowing fabric coupled with the straight-leg design is just what you need if you're hoping to flatter your figure.
Made in the USA of rayon and spandex, these pants are super soft and comfy.
You can wear the waistband over your belly or roll it down if you prefer the feel of an under-the-belly design.
Our Ratings
Community Feedback
I'm quite impressed with these pajamas, as they provide an exceptional level of comfort. The long legs work well for my 5'6" height, so keep that in mind if you're considering them.
---
HDE Fold Over Waist Maternity Yoga Pants
Best Cotton Maternity Yoga Pants
Made of 95% cotton with a 5% hint of spandex to give you that soft stretch you love, these fun pants come with a colored band in the belly to give you that extra pop.
While they're definitely workout pants (sorry, they won't pass as date-night pants), sometimes comfort beats fashion — especially when you're expecting.
With a slight flare at the bottom, these pants make for a flattering silhouette and can be worn during all seasons. They may even work for you after your baby is born.
Our Ratings
Community Feedback
I recently bought these pants and instantly fell in love with their softness and comfort. As a 5'6" individual, I had to trim a couple of inches off the length, but that was an easy fix. These pants are versatile, great for pairing with colorful scrub tops for work or even for working out. The only downside is the quality of the material could be better, but they are still incredibly soft.
---
Belly Mama Maternity Yoga Pants
Best for Tall Women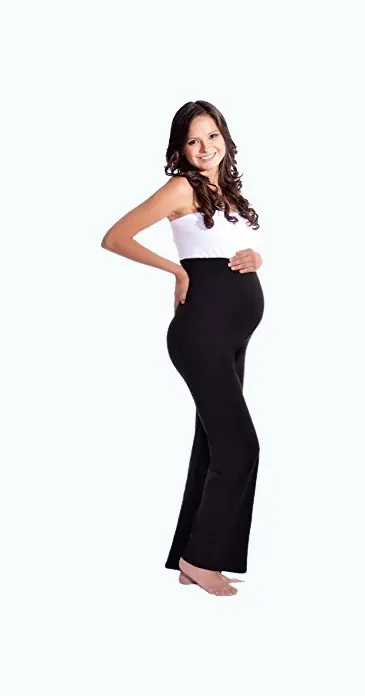 If you're 5 feet 11 inches or taller, these maternity yoga pants just might be your new best friend. With an inseam over 36 inches, they've got extra length to cover your ankles so you can walk around confidently.
Made of cotton and spandex, these provide both fashion and function— and if you're sneaky, you might even get away with wearing them to the office.
Our Ratings
Community Feedback
For someone who's tall and pregnant, these maternity yoga pants are a great find. I'm 6'1" and they fit well in length, which is usually hard to come by. The cotton knit material is comfortable, though on the thinner side, but still not see-through. The waistband has enough room for my growing belly without feeling restrictive, and I can even fold it down if needed. However, I do wish these pants had pockets, but overall, they're perfect for everyday wear and lounging around the house.
---
Fishers Finery Yoga Pants with Pockets
Best With Pockets
While these aren't technically maternity pants, they're forgiving enough that you could get away with buying a size or two larger than your typical size and wearing them under your belly, at least during early pregnancy. And they'll definitely remain a staple after your baby arrives.
Made of thicker material, you won't have to worry about any embarrassing transparency issues.
The mid-rise cut will give you a little extra belly support when you're recovering postpartum, and the flattering boot-cut silhouette will help your figure look sleek.
Our Ratings
Community Feedback
Got these yoga pants for their comfort and flattering bootcut style, but was disappointed with the thin fabric and lack of front pockets. They fit nicely and the soft material feels great, but I'm concerned about their durability given the price point. It's worth noting that the back pockets are functional, but the front ones are missing, and they require delicate washing, so keep that in mind before purchasing.
---
Beachcoco Knee Cropped Active Maternity Yoga Pants
Best Budget Pick
Made of 95% cotton with just a touch of spandex, these pants are not only a light touch on your skin but also on your wallet.
With a flattering belly band that you can wear over or under your belly, these cropped pants will provide comfort through the warmer months — and you won't have to deal with any mom-guilt for buying them because they're so cheap.
Our Ratings
Community Feedback
I've recently tried these maternity pants and found them to be incredibly comfortable and soft, making them perfect for lounging around the house or even wearing as pajamas during warm summer nights. The fold-over waist is a nice feature, allowing for a customized fit as your belly grows throughout pregnancy. However, the material is a bit on the thin side and can show every lump and bump, so pairing them with tunic tops is a must. One downside I experienced was a slight inconsistency in sizing between different colors, but overall, these pants have been a great addition to my maternity wardrobe. Just be prepared for some possible minor adjustments or repairs after washing, as some users have reported small rips in the crotch area.
Why Do Moms Love Yoga Pants?
Yoga pants have developed a reputation as a popular everyday clothing choice for mothers, both during pregnancy and in the following years.
There are several reasons for this.
How to Choose Maternity Yoga Pants
Here are some things to consider when shopping for maternity yoga pants:
---
FAQs
Thank You For Your Feedback!
Thank You For Your Feedback!