As your belly grows during pregnancy, so does your discomfort. It's like you can feel every pull and twinge from the weight of your heavy belly, and it can be a struggle to get things done.
This is where the best belly bands can come to your rescue and ease some of that burden. The right belly band will give you support, coverage, and a slightly smoother shape that helps your clothes fit better.
Since we know how busy life can get when you're preparing for a baby (we've been there!), we spent hours comparing the features, reviews, and costs of all the top belly support products on the market. We've rounded up the best maternity bands and belts to help support your body in carrying that precious cargo.
Image
Model
Product Comparison Table
Features
Best for Back Pain
Azmed Maternity Belt
Gentle compression
Reduces pregnancy pains
Soft and breathable
Best for Casual Wear
Gabrialla Breathable Belt
Stylish design
Helps prevent stretch marks
Features a back pocket
Best for Pelvic Pain
Cabea Support Belt
Gentle groin compression
Adjustable and breathable
Soft and discreet
Best for Postpartum
Chongerfei 3 in 1 Wrap
Multipurpose
Slimming design
Quality lightweight fabric
Best for Over Clothes
NeoTech Care Belt
Satisfaction guaranteed
Fully adjustable
Breathable fabric
Best for Keeping Clothes Up
Ingrid & Isabel's Bellaband
Ultra-soft, tagless band
Seamless knit construction
Versatile
Best for Exercise
Diravo Belly Band
High quality silicone strip
Cost-efficient
Seamless knit construction
Best for Twins
Cross Pregnancy Support Belt
Elastic material
Corrects poor posture
Soft padding yet high quality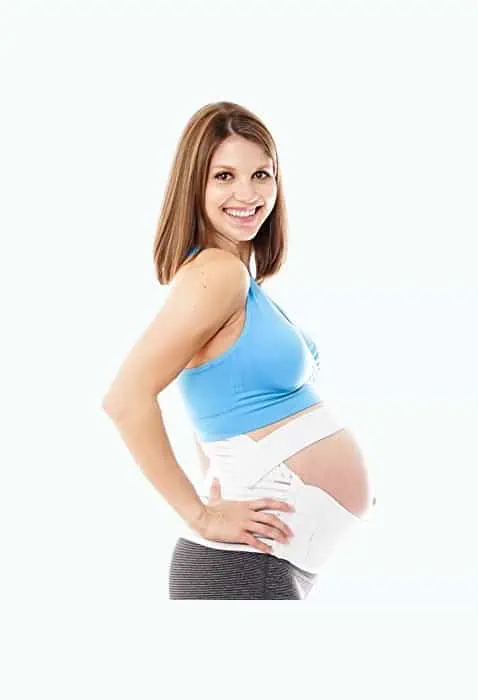 Best Plus Size Belt
Flexguard SupportBelt
Lifetime guarantee
Fully adjustable
Provides great support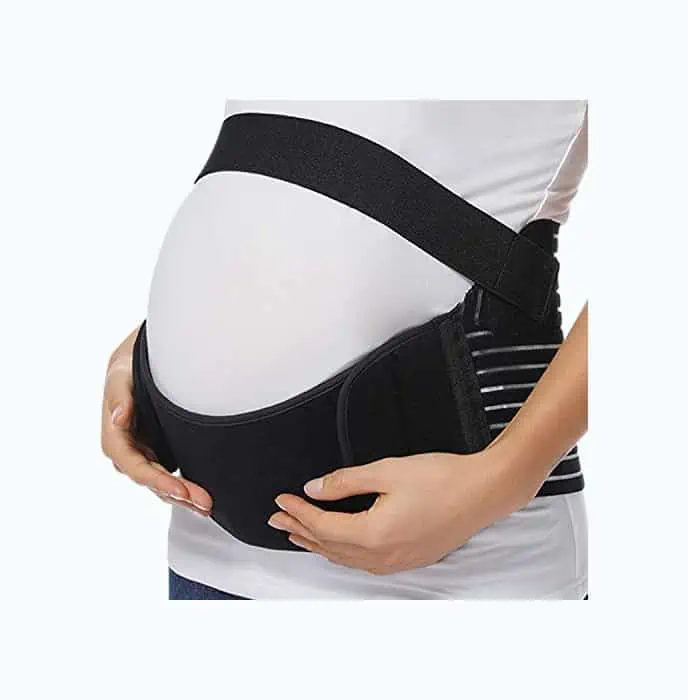 Best for Running
CFR Belt Support Brace
Fully adjustable
Versatile 2 strap support
Includes prenatal core exercises
Review Methodology: At Mom Loves Best, our thorough analysis and hands-on experience with maternity belts and belly bands allow us to provide you with trustworthy and reliable information. We assess each product based on key factors such as comfort, support, adjustability, and durability to help you make the best decision. Our team of professionals conducts meticulous research, comparing various products and evaluating their performance based on real user experiences. We examine design choices and their effects on expectant mothers, ensuring that our recommendations are backed by solid evidence. By identifying the ten most important aspects of maternity belts and belly bands, such as breathability, size options, and ease of use, we rank and review each product to help you choose the one that best suits your needs and preferences. Trust Mom Loves Best to guide you through your pregnancy journey with confidence.
---
---
The Best Maternity Belts & Belly Bands of 2023
These are our favorite maternity belts and belly bands.
Azmed Maternity Belly Band for Pregnancy
Best Maternity Belt for Back Pain
Azmed's belt is made of breathable fabric, so you won't feel hot and sticky under your band.
Staying as comfortable as possible while pregnant is a big deal, especially when maternity hormones have you feeling like you're roasting half the time.
With this belt, you'll experience less pressure on your spine, which helps ease any potential back pain.
It lifts your belly a little, supporting your back, but you'll also get some reprieve from pelvic and hip pain.
This one-size design can fit a belly of up to 46 inches.
Our Ratings
Community Feedback
Excellent support and comfort are provided by this Azmed maternity belt, which has a breathable fabric that keeps you cool and comfortable. I found that it helps to alleviate back pain by reducing pressure on my spine, and it also offers relief from pelvic and hip pain. The one-size design can accommodate a belly of up to 46 inches, but the adjustability is somewhat limited compared to other belts.
---
Gabrialla Breathable Maternity Belt
Best Maternity Belt for Casual Wear
This maternity belt is almost invisible under your jeans, and it comes in your choice of black or white or with the option of pink trim.
When you wear this belt, you won't have to limit your activities because the soft, breathable mesh-style elastic allows you to remain active. For added comfort, the Gabrialla belt has a back pocket that you can slip hot or cold packs into to help with any pain you might be feeling.
Despite the amount of firm compression this belt provides, it still feels comfortable.
Our Ratings
Community Feedback
I recently purchased this maternity belt to alleviate pelvic pain during my second trimester of pregnancy, particularly while running. Upon trying it out, I found that it effectively supports my stomach and reduces pain without causing itchiness or excessive sweating, even when worn directly on my skin. However, as a larger woman, I did experience some issues with the belt bunching up and the Velcro straps scratching my skin. While not perfect, this belt has provided me with the necessary support during my daily walks and other physical activities.
---
Cabea Maternity Support Belt
Best Maternity Belt for Pelvic Pain (SPD)
This belt provides compression for your groin area, which may feel a little strange at first, but before long, you'll wonder how you managed without it. The compression helps pelvic floor pain, as well as back discomfort and hernias.
It offers firm support low down to help lift the abdomen off the pelvis. You should begin to feel relief immediately.
This belt is breathable, easy to figure out, and simple to adjust. Plus, you can clean it in the washing machine with all your other clothes, which is always a time saver.
Our Ratings
Community Feedback
I recently purchased this maternity belt to help alleviate lower back pain and swelling during my pregnancy. Upon trying it on, I found the groin compression straps to be surprisingly comfortable and noticed a significant reduction in swelling and pain after just two days of use. However, I did encounter some minor issues, such as the need to wear a long fitted undershirt underneath due to the band slipping and the Velcro being itchy. Despite these drawbacks, I believe this medical-grade maternity belt is well worth the investment for any expecting mother experiencing discomfort.
---
Chongerfei 3 in 1 Postpartum Belly Wrap
Best Wrap for Postpartum
Each phase of recovery after giving birth is different, and this 3-in-1 belly wrap will see you through it all. It's composed of three parts: a belly belt, a waist belt, and a pelvic belt. You can wear them separately or together.
The belly belt, designed to support your stomach, prevents sagging organs, while the waist belt promotes uterine contractions. The pelvic belt corrects the pelvic position. Altogether, they work to reduce swelling, support core abdominal muscles, and help the uterus shrink to its original size sooner.
Each part of the belly wrap is made of a lightweight and breathable material fitted with strong elastic supports so you can adjust it to fit your comfort level and needs.
It's important you know you shouldn't wear each part of this belly wrap right away. To prevent injury and pain, each included belt has its own specific timing recommendations.
Our Ratings
Community Feedback
My experience with this abdominal binder has been quite positive, especially after losing a significant amount of weight. The three separate bands for pelvic, back, and hips provided excellent support and adjustability without rolling or causing discomfort. While it took some practice to get the sections in place, the binder has been helpful during post-surgery recovery and for support during workouts.
---
NeoTech Care Pregnancy Support Maternity Belt
Best for Over Clothes
The NeoTech maternity belt fits comfortably over your clothes with a streamlined design and all the necessary support a pregnant woman could want. Its easy-to-use adjustment system also allows you to resize the entire belt as your belly grows.
Made especially for women experiencing lower back pain, it redistributes pressure evenly across the back while also lessening the burden of pregnancy weight by wrapping around your belly and waist.
The customizable two-sided velcro is this belt's standout feature. As your belly grows, move the velcro attachments to fit, then cut off the excess. The velcro is designed to be worn over clothing because it can be quite heavy and may tug at any fabric placed on top of it.
Overall, the design is simple, and the colors are plain, so you can wear them over clothes without drawing too much attention to yourself. If you're self-conscious, we definitely suggest wearing clothes in the same colors as your belt so they'll blend together.
Our Ratings
Community Feedback
This maternity support belt provided me with much-needed relief during my pregnancy. As a petite woman, I was initially concerned about the sizing but found it to fit perfectly and offer excellent support without being too tight or uncomfortable. However, after a month and a half, I noticed that the elastic strap became too tight on my kidney area, causing discomfort. Despite this issue, the quality and relief provided by the belt were great for the price. I would advise future buyers, especially those who are smaller, to consider sizing up for additional support and growth range throughout their pregnancy.
---
Ingrid & Isabel Bellaband Maternity Belly Band
Best Belly Band for Keeping Clothes Up
These bands have a stay-put silicone strip on them to help hold your unbuttoned pants in place. They come in several basic colors, and they'll hang low enough on your midsection that it will look like you're wearing layers — just like a tank top under a shirt.
You can either wear the bands at their full length if you like the layered look, or you can fold them in half underneath the hem of your shirt, which gives them extra hold.
You can put these bands in the washing machine to save time.
Our Ratings
Community Feedback
These maternity pants are a fantastic investment, providing comfort and support during my pregnancy. The Bellaband held up my maternity pants well and even allowed me to continue wearing my regular pants longer than expected. While the product had an initial strong chemical smell and caused some irritation, after a few hand washes, it became a valuable addition to my maternity wardrobe.
---
Diravo Maternity Belly Band
Best Belly Band for Working Out
These bands will offer some support while working out without feeling too confining. You don't want your range of motion or flexibility to be too limited when you're exercising, so this level of support should be just the amount you're looking for.
They're seamless and breathable, so you'll stay cool even during hot workouts. They have a silicone rubber band on the bottom to help keep it in place, which is handy when you're moving around a lot.
These have the right amount of compression to support your abdominal muscles, so whether you're lightly exercising or really trying to break a sweat, your belly will be supported.
Our Ratings
Community Feedback
My experience with these belly bands has been mostly positive, as they provide support and help cover my belly when wearing normal shirts. They are comfortable and allow me to wear jeans without zipping them up, which has been a huge help during my pregnancy. However, I did notice that they tend to roll up when sitting or bending down, requiring frequent adjustments. The bands work best with high-rise jeans, but not so well with low-rise pants. One downside was the strong chemical smell upon arrival, which required multiple washes to eliminate.
---
Cross Pregnancy Support Belt
Best Maternity Belt for Twins
When you're carrying twins, you'll likely need some support for your abdominal area, back, hip, and pelvic region.
This belt offers all of that. It has support bars, so it can do all the heavy lifting you need.
It uses an upper layer and under layer that's made of breathable fabric. This belt gives you just enough stretch that you'll be able to wear it while doing all of your daily activities. You won't have to sit on the sidelines for anything.
Our Ratings
Community Feedback
I'm impressed with the support this pregnancy belt provides for my stomach and back while dealing with sciatic pain. It has been a great help during my pregnancy, allowing me to comfortably sit, walk around, and even complete chores or errands. The belt is not too bulky and blends well with my bump, making it easy to wear discreetly under clothing. However, it's not meant for all-day use, but it definitely does its job when I need that extra support.
---
Flexguard Support 3XL Plus-Size Maternity Belt
Best Plus Size Maternity Belt
You can get this maternity belt in sizes up to 3XL. The largest size is capable of supporting a 54 to 62-inch belly.
It's completely adjustable, so as you gain additional weight in late pregnancy, your belt can keep expanding with you.
These belts are backed up with a lifetime warranty, which is nice for moms who are worried about spending their hard-earned money on products that don't work.
This belt will help you correct any poor posture you might have that could be contributing to your pain.
Our Ratings
Community Feedback
I'm impressed with the effectiveness of this maternity band in providing much-needed relief during pregnancy. From personal experience, it has significantly alleviated back pain, pelvic discomfort, and even hernia-related issues. However, the design could be improved, as the Velcro fasteners tend to pop off easily, requiring additional support and adjustments. While it might not be the most comfortable for all-day wear or sitting down, this maternity band has certainly made a positive difference in my day-to-day activities.
---
CFR Belly Band Pregnancy Belt
Best Maternity Belt for Running
As the name indicates, this belt has a split right in the center. That gives it great versatility — you can wear it three different ways with the two-strap support it comes with.
You'll be able to lift your belly up so your bladder won't feel as much pressure, and you can go on a run without having to interrupt your workout every few minutes to find a bathroom.
Exercise is so important during pregnancy, and the back support this provides lets you continue working out safely.
This belt is also slim enough that it won't look super bulky under your workout gear. It's fully adjustable and is made in the U.S.
Our Ratings
Community Feedback
Great maternity support belt for both pregnancy and postpartum use! As someone who was initially skeptical, I am thrilled with the relief this belt has provided for my back and belly pain, especially during long days at work. It's important to wear a thin layer underneath it to avoid itchiness, and I personally didn't find the top strap necessary. This belt has not only helped me feel more comfortable during pregnancy but also made a positive impact on my daily activities, allowing me to walk faster and reduce strain on my back.
---
Belevation Maternity Belly Band
Best Plus Size Belly Band
This belly band is adjustable to size 18, so it's a good option for women who are looking for support but can't fit into the standard-sized belly band.
It's seamless, so it's super comfortable to wear. Made out of breathable mesh, you won't feel too hot when you wear this, which is nice because most women are constantly warm during late pregnancy.
It's made in the U.S. and is lightweight since it's constructed from breathable nylon and spandex. You can clean it in your washing machine, and it can even go in your dryer, so you don't have to wait for it to air dry.
This band won't feel restrictive even though it gives you ample support.
Our Ratings
Community Feedback
My experience with this belly band has been a mix of comfort and support throughout my pregnancy. As a plus-sized woman, I appreciated how it helped transform my B belly into a rounder D belly, making me feel more secure and confident. I've worn it with both maternity and non-maternity clothing, and it has made everything fit better and feel more comfortable. It provided enough support for me to even use it while running, keeping my belly still and in place. The only downside I experienced was the back rolling down occasionally, but overall, this belly band has been an essential part of my maternity wardrobe.
---
Diravo Womens Maternity Belly Band
Best Belly Band for Ab Muscles
Do you need a belly band that can support your ab muscles during all stages of pregnancy? The Diravo band is great for all trimesters and postpartum and supports you during exercise and workouts.
It reduces stress on your body and supports your back and abs. It also promotes recovery after your baby is born. It can reduce pressure on your waist and spine to make all stages of your pregnancy more comfortable.
It has a seamless knit design that makes it less obvious if worn under your shirts or maternity pants, so you can get comfier without sacrificing fashion.
Our Ratings
Community Feedback
After purchasing these belly bands, I've found them to be quite helpful during my pregnancy. They provide support and prevent my belly from being exposed when wearing my regular clothes. The bands are comfortable and have allowed me to continue wearing my jeans without zipping them up. However, they do tend to roll up when sitting or bending down, requiring frequent adjustments. One downside I experienced was a strong chemical smell upon arrival, but after washing them twice, the odor disappeared.
Maternity Belts vs. Belly Bands
Many companies use the terms "maternity belt" and "belly band" interchangeably, but they aren't the same product, although some may be a hybrid of both. Here's the difference.
Belly Bands
A belly band is essentially a loop of stretchy fabric used to help you wear your normal pants without having to spend a fortune on special maternity clothes. They come in different sizes and colors, and some fasten with velcro while others are a continuous strip of material.
During the second and third trimesters, swelling and fluid retention may make you feel like a rapidly expanding blimp. You can leave your pants button open and cover the gap with a belly band, using it as a fabric "bridge." There are many layering options with belly bands, and when used under other clothing, they can add extra warmth in winter.
A belly band is more about coverage, although it does offer a little support.
Maternity Belts
Though they can look similar, maternity belts have a more heavy-duty design and provide more support. These are less about coverage and more about giving your bump structured support.
There are different styles, but many consist of a narrow belt that is partially stretchy. Rather than going over the whole midsection, they often sit underneath your baby bump, supporting it like a sling. When I was pregnant, I thought of mine as a bra for my belly.
These are thicker, more structured, and may be more adjustable to help with lower back pain.
How to Choose the Best Belly Band
Whether you're looking for a maternity belt or belly band, there are a few factors to consider in your search.
---
Benefits of Maternity Belts and Belly Bands
Maternity belts can help in many situations during pregnancy:
If you're on your feet a lot at work.
If you've gained more weight than you were expecting to.
If you're expecting twins.
If you're having back pain.
If you're suffering from pelvic pain.
If you have sciatica.
If you have round ligament pain, which is common in pregnancy.
If pregnancy has caused a hernia.
The best maternity belts and belly bands will help by providing the following:
Weight redistribution: You'll feel more contained, balanced, and supported.
Gentle compression: Like a sports bra helps during jogging, a belly band or belt helps during daily activities.
Better posture: You'll constantly be reminded to stand correctly and not in a "swayback" position.
Pain reduction: Joint and pelvic pain can be relieved with the help of a supportive band.
Comfort and confidence: Many women enjoy the pleasant feeling of snugness, plus a little extra coverage.
The right belt or band will let you get on with your life by preventing pain and the feeling that you need to sit down every five minutes. It can serve as a light reinforcement under clothing in the first trimester and works like pregnancy armor to support your changing shape as you battle out the last trimester!
How Do You Use a Belly Band?
If you find yourself unable to zip up your pre-pregnancy pants once you hit the second or third trimester, it's a good time for a belly band.
All you have to do is slide your belly band over the top of your pants and the opened zipper, button, or snap. It's easy to put on, gives you extra coverage, and helps hold your pants in place even when you can no longer fasten them.
How Do You Use a Maternity Belt?
Unlike belly bands, maternity belts are sometimes worn outside your clothes. But you can also wear a maternity belt under your clothes, especially if you want it to pull double duty as a belly band.
You'll either use hooks or Velcro to fasten it as tight as you need after you position the belt low on your belly.
Maternity belts also can help after you've had your child. They're especially supportive for women who have had a cesarean section as it offers the extra support they need while they're healing.
Why You Should Strengthen Your Pelvic Floor
There are endless ways to make pregnancy and motherhood more comfortable, but don't forget about the best tool you have in your arsenal: your own body.
During pregnancy, your body works hard to cradle your growing baby and keeps them snug and safe as they grow. A complex network of ligaments, muscles, and tissue holds everything in place, but it's hard work. If you don't have much strength in these areas, you'll occasionally feel tired and sore.
The best belly bands and maternity belts will alleviate some of this strain, but they don't address the underlying weakness. It's better to work on your internal support system — and your pelvic floor is a great place to start!
The pelvic floor is a shelf of interlocking muscles that support your bladder, bowel, and uterus (1). There are plenty of good reasons to tone it up. A strong pelvic floor:
Increases sexual satisfaction.
Assists in the birthing process.
Decreases your chances of incontinence.
Best of all, a strong pelvic floor is a built-in maternity belt that lightens the burden and reduces your chances of developing pain during the final pregnancy months. Here's how to give your pelvic floor a workout:
Kegels
I know you already know about Kegel exercises, but they're always worth mentioning again. Squeeze in a few throughout the day, or take five minutes each morning to show these muscles some love, whether you're trying to conceive, are already pregnant, or are in the postpartum stage.
Pilates, Yoga and Other Exercise
Besides the noble Kegel, you can get a good pelvic floor workout with any exercise that strengthens your core and balance, such as yoga, Pilates, or even ballet barre workouts.
Belly Band & Maternity Belt FAQs
---
Thank You For Your Feedback!
Thank You For Your Feedback!