If you've been shopping for a pregnancy pillow, you'll know that they come in a wide range of odd-looking options from short wedge-style pieces to extra-long C-shaped or U-shaped designs. Moms are always asking us which style is best.
The truth is, they're all great! But not every pregnancy pillow works for every woman. Some are designed to help relieve back pain, while others support a side sleeper's belly bump. Some fit better for tall mamas, while others are best suited for shorter women.
We've studied the various pregnancy pillow styles to help you narrow down which style will be best for you. And we've sought out answers to all your questions about pregnancy pillows.
We've also rounded up the best pregnancy pillows and outlined the pros and cons of each, so you can finally take a huge step toward getting some much-needed sleep.
Image
Model
Product Comparison Table
Features
Best for Side Sleepers
Coop Memory Foam
Hypoallergenic
100-night sleep guarantee
Machine washable
Best Pregnancy Wedge
hiccapop Wedge
Cooler than a full-size pillow
Inexpensive
Has different firmness on either side
Best for Back Pain
Meiz Premium
Very supportive
Replacement covers are available
Made of cotton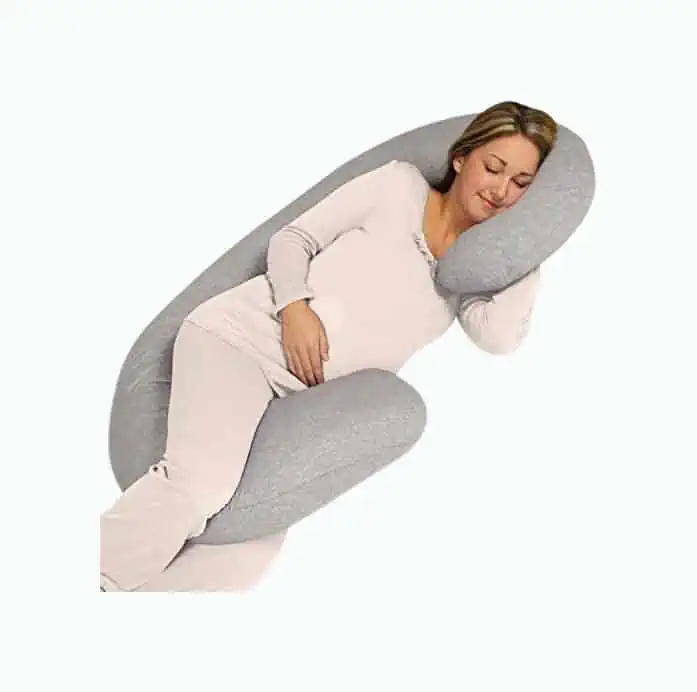 Best for Plus Size
Leachco Snoogle Total Body Pillow
Suitable for all body types
Offers more support
Designed for pregnancy
Best Budget Pick
ComfySure Full Body
Affordable
Not too bulky
Has a removable cover
Best for Hip Pain
ComfiLife Knee Pillow
Small
Inexpensive
Has a zipper outer cover
Best Body Pillow
Moonlight Total Body Support
Versatile
Made in the U.S.
Machine washable
Best for Tall Women
Queen Rose Body Pillow
Doesn't make noise when shifting
It is extra long
With a removable cover
Best for Petites
Restorology Maternity Pillow
Satisfaction guarantee
Machine washable removable cover
Long-term usage
Best for Stomach Sleepers
Holo Inflatable Pillow
Sleep on your stomach safely
Doubles as a pool float
Comes in several colors
Review Methodology: At Mom Loves Best, we understand the importance of finding the perfect pregnancy pillow for you. Our team of professionals conducts in-depth research, analysis, and hands-on evaluations of various pregnancy pillow options to provide you with the most accurate and reliable information. We compare key factors such as design, comfort, size, and materials, as well as the overall performance of the pillows. Our assessment takes into consideration the user experience, quantitative measurements, and evidence-backed findings to identify the best pregnancy pillows that stand apart from their competitors. We also discuss the design choices and their effects on users, ensuring that our suggestions are based on real-life experiences and practical criteria. Trust Mom Loves Best to help you make an informed decision on choosing the ideal pregnancy pillow, tailored to your specific needs and preferences.
---
---
The Best Pregnancy Pillow of 2023
Here are the top ten pregnancy pillows on the market.
Coop Memory Foam Pregnancy Body Pillow
Best Pregnancy Pillow for Side Sleepers
You don't want any more heat-trapping insulation than you already have when you're pregnant. If you're a seasoned side-sleeper, you probably won't need the additional pillow support in the back to keep you from rolling over, so this straight pregnancy body pillow should do the trick.
At 54 inches long, it will fit most women from their head to their knees. Though it's made with memory foam so it won't go flat, it also has cooling technology to help you from overheating. And since it's not exceptionally bulky, you may find you love it so much you continue to use it after pregnancy, too.
Unlike many memory foam products, this is fully machine washable. And though it comes with a removable cover for separate washing, since it's a standard pillow shape, you can probably find additional covers that will fit it to match the decor in your bedroom.
The pillow is made with Certi-PUR foam, which means they limit harmful emissions during the production process and it lacks many harmful irritants. Plus, they are hypoallergenic and dust mite resistant, making them an excellent choice for anyone with sensitivities or allergies.
What makes this pillow even better is that it comes with a 100-night sleep guarantee. If you're not satisfied for any reason, you can return the pillow and get a full refund — no questions asked.
Pros
It's hypoallergenic.
It will not cause you to overheat.
It's machine washable.
Cons
Not designed specifically for pregnancy.
Not as flexible as some other options.
You cannot wrap it around your whole body
Our Ratings
Community Feedback
I'm really impressed with this body pillow! As a side sleeper with lower back issues, I've struggled to find a pillow that stays firm and supportive throughout the night. This pillow not only meets those needs but also has a soft, smooth cover and is easily adjustable for the perfect firmness. It has made a significant difference in my sleep quality and I couldn't be happier with my purchase.
---
Hiccapop Pregnancy Pillow Wedge
Best Pregnancy Wedge Pillow
A wedge is a fantastic pregnancy pillow option to get the support you need without all the bulk and heat-trapping insulation.
This pregnancy wedge pillow is two-sided and made of foam with different densities, meaning you can find the support that best fits your needs in this one product. This is different from other wedge pillows which are one-size-fits-all and don't have differing levels of support.
The wedge shape also allows you to put it as far under your belly as you need, unlike most other pregnancy pillows which have a one-size-fits-all place to support your bump.
The foam has a ventilating layer to promote airflow, helping to keep you cool during the night. And the removable cover is made of a super-soft plush velboa fabric, making it incredibly comfortable.
The grade of the slope is not super steep, so it offers gentle support under your belly, behind your back, or between your knees. However, it may not be ideal for knee and hip support, so if this is your primary issue, you may want to consider another product designed specifically for that purpose.
Used under your belly, it can reduce pressure on your lower back and even help reduce swelling.
Because it is compact, it is convenient for traveling — in fact, it even comes with its own travel case. It also takes up less space in your bed, helping to ease some of your major discomforts without the bulk of a full-size body or pregnancy pillow.
Pros
It is cooler than a full-size pillow.
It is inexpensive.
It has different levels of firmness on either side.
Cons
It does not offer back support.
It is not ideal for use between the knees.
The foam does not appear to be machine washable.
Our Ratings
Community Feedback
I'm currently pregnant and have been experiencing terrible back pain, but after using this pregnancy pillow for just two days, my pain has significantly decreased. This pillow offers both firm and memory foam sides, and I personally adore the memory foam side. It's not as bulky as other pregnancy pillows, making it easy to move and adjust throughout the night without taking up too much space in the bed.
---
Meiz Premium Pregnancy Pillow
Best Pregnancy Pillow for Back Pain
This deluxe pillow cradles your whole body so you can enjoy support exactly where you need it. Its U-shaped design supports your head, neck, belly, knees, hips, and all along your back.
While primarily intended for sleeping, this pillow is also versatile. It can be used to comfortably prop yourself up while reading in bed, recline while watching television, or elevate your baby while nursing.
You can even enjoy it when you're not pregnant, but since it was designed specifically with your baby bump in mind, it includes belly support.
It is made of natural materials, with cotton filling and a removable, washable cotton cover. Cotton tends to be more breathable than materials like foam, so it may be less likely to make you overheat than other pillows.
To wash the pillow itself, you will likely need a large-capacity washer, due to its size. Even though it is a unique size and shape, replacement covers are available for purchase.
The pillow comes with additional tips on maximizing the pillow's support and includes a money-back guarantee. If you're not happy, you can request a refund within the first 30 days.
Pros
It is very supportive.
Replacement covers are available.
It is made of cotton.
Cons
It is very large.
It may not be machine washable.
It may compress over time.
Our Ratings
Community Feedback
I recently purchased this pillow and, at first, I was unsure about its effectiveness due to its shorter length and initial firmness. However, after using it for a few weeks, I found it to be quite comfortable and helpful in alleviating my back, hip, and neck pain. The pillow does require occasional fluffing as it can flatten in certain areas, but overall, it provides excellent support for both legs and back. It's also versatile enough to be used as a head pillow or for support while sleeping on your side. Although it may not be the ultimate solution for all pregnancy discomforts, this pillow has been a great addition to my sleep routine, making it a worthwhile purchase.
---
Leachco Snoogle Total Body Pregnancy Pillow
Best Plus-Size Pregnancy Pillow
This uniquely-shaped pillow combines the flexibility of a C-shaped pregnancy pillow with the customization of a flexible pregnancy pillow.
You can use the top to either cradle your head or incline your torso if used underneath a traditional pillow. The bottom curve lets you prop your knees up and keep your hips in alignment.
The long edge can run along your back and offer extra support, or you can use it to prop up your belly and snuggle up against it. Because it is open-ended on one side, it will accommodate many different body types.
It has a removable, washable cover made of a jersey knit material for extra softness. It is filled with regular, fluffy pillow filler that makes it very comfy but may compress over time. But it is also machine washable,, like a regular pillow, for occasional deep cleaning.
Pros
It is suitable for all body types.
It offers more support than a regular body pillow.
It is designed for pregnancy.
Cons
It may add extra heat.
It may compress over time.
It is bulky.
Our Ratings
Community Feedback
If you're experiencing discomfort during pregnancy, this Snoogle pillow may be the solution for a good night's sleep. I found that it provided excellent support for my back, hips, and belly, improving my sleep quality significantly. While the price may seem high, the benefits of enhanced comfort and rest during pregnancy make it a worthwhile investment.
---
ComfySure Full Body Pregnancy Pillow
Best Budget Pregnancy Pillow
Is it possible to get quality and affordability? With this pregnancy pillow, you don't have to compromise.
The "C" shape offers you the same custom support as some of the more expensive pillows on the market. You don't even have to worry about sensitivities since it is crafted with hypoallergenic materials. The materials are 100% polyester.
This pillow is completely machine washable if you have a large enough washing machine. If you don't, there is a removable cover that you can wash instead.
The pillow is 56 inches in length, so it will work for women of any stature. And since it's just over two feet wide, it won't take up the whole bed — leaving plenty of room for your partner.
It is versatile, meaning you can use it to position yourself for more than just nighttime sleeping, and you may even find it helpful during the postpartum period. Down the road, you may want to get it out of storage if you start to develop hip or back pain. Your husband just might steal it from you if he suffers from the same afflictions.
Unfortunately, you cannot purchase additional covers you can purchaseize your pillow's look.
Pros
It's affordable.
It's not too bulky.
It has a removable cover.
Cons
It's made of polyester — not natural materials.
The filler may compress over time.
You cannot purchase decorative covers.
Our Ratings
Community Feedback
I've been using this body pillow for a while now, and it's helped with some of my sleeping issues, but it's not perfect. The pillow isn't as fluffy as it appears in the pictures, and the cover isn't very soft, even after washing. I've tried fluffing it up, but some parts still remain flat, especially around the head area. Despite these shortcomings, it does provide decent support for my knees and overall comfort, just not as amazing as I had hoped for.
---
ComfiLife Orthopedic Knee Pillow
Best Pregnancy Pillow for Hip Pain
If hip pain is your primary complaint, you may not need a full-size pillow to add extra bulk and heat to your bed. A single pillow between your knees to keep your hips parallel may do the trick.
This ergonomic pillow will do just that, keeping your knees, hips, and spine in proper alignment. It also helps improve leg circulation.
It is made of firm, high-density memory foam, so it won't flatten over time and will offer long-term support while sleeping.
The zippered outer cover makes cleaning a breeze, and its small design makes it easy to take along if you're traveling.
One drawback is that the pillow itself is not machine washable, only the cover. And since it's ergonomically designed for use between the knees, it's not practical to use as a support pillow on other parts of your body.
Pros
The smaller size makes it easy to store and transport.
It is inexpensive.
Removable outer cover is washable.
Cons
It does not offer full-body support.
It is a single-use item.
The foam isn't machine washable.
Our Ratings
Community Feedback
My experience with this knee pillow has been quite positive, as it provided the support and stability I needed during sleep. As a side sleeper, I found that regular pillows would constantly shift and not provide the proper support for my knees and hips. This knee pillow, on the other hand, remains in place and can be used in various positions for optimal comfort. The firmness might take some time to get used to, but it does an excellent job of aligning my hips and spine, reducing discomfort and allowing for a better night's rest. However, the lack of a fitted pillowcase is a minor drawback, but overall, this knee pillow has been a great addition to my sleep routine.
---
Moonlight Slumber Total Body Support Pregnancy Pillow
Best Pregnancy Body Pillow
This versatile pillow provides total customizable support for anybody — pregnant or not. It wraps completely around your body and is moldable enough to help you form it into the proper shape and position to keep you comfortable.
It keeps your neck, shoulders, spine, and pelvis in alignment to minimize neck, back, and hip pain.
The filling is made of synthetic down, which means it is also hypoallergenic and odorless. It is completely machine washable, though it may be difficult to wash it at home depending on the size of your washing machine. For more frequent washing, you can remove the zippered outer cover and wash it instead.
The filling maximizes airflow to help keep you from overheating and will hold its shape over time, not clumping like some other pillow fillers.
The pillow weighs a whopping 10 pounds, which is a testament to both its heft and functionality. But that also means it may be difficult for you to move it from room to room, and it might be too bulky for use post-baby if you want to continue sleeping in the same bed as your partner.
This pillow was made in the U.S., and the fabric and materials were also domestically sourced.
Pros
Versatile design can be used for several purposes.
Made in the U.S.
It's machine washable.
Cons
Heavy pillow may be hard to cart around.
More expensive than a lot of other options.
It is bulky.
Our Ratings
Community Feedback
Best body pillow I've ever owned! I've tried other brands, but this one stays firmer for much longer, giving me the support I need for my knees and back. I'm a petite person, and the size is perfect for me, but it might be undersized for larger individuals. The cover is incredibly soft and the pillow itself is very comfortable, helping me sleep better and alleviating my knee pain.
---
Queen Rose Pregnancy Body Pillow
Best for Tall Women
This pillow is great for both pregnant and non-pregnant use. That means it doesn't have specific cutouts to accommodate your belly, but since it is both large and flexible, you can adjust it to provide the support exactly where you need it.
This pillow is extra long — over five feet in length on either side — so it's ideal for a tall woman or someone with a long torso.
The filling is a high-density Bionic Polyethylene which offers the support of traditional pillow filler. It is hypoallergenic and does not emit a scent. Because it is a soft filler, it is silent when you shift at night and will not disturb you.
While the pillow itself is not washable, it comes with a machine-washable cover.
The pillow weighs about seven pounds, and its bulk and weight contribute to its ability to support your growing body in just the right places. However, because of its size, it will be challenging to take with you if you travel during your pregnancy.
Pros
It does not make noise when shifting.
It is extra long.
It has a removable cover.
Cons
Pillow is pretty flat upon unboxing but can be fluffed with some effort.
The fabric can feel hot on warmer nights.
It may compress over time.
Our Ratings
Community Feedback
I'm delighted with this pregnancy pillow, which has significantly improved my sleep during pregnancy. As a lifelong back sleeper, I was struggling to find a comfortable position, but this pillow provides the perfect support to alleviate hip pain and allow me to sleep diagonally between back and side positions. Its soft, breathable fabric adds to the overall comfort, making me feel as if I'm sleeping on a cloud. However, there are a couple of downsides: it tends to get warm and can be bulky, taking up a lot of space on the bed. Despite these minor issues, the benefits far outweigh the drawbacks, especially considering the comfort and support it offers during this critical time in my life. Even non-pregnant individuals, such as those with neck and shoulder issues, have found this pillow to be highly beneficial for a good night's sleep. Although it may not be perfect for everyone, especially if you're looking for a pillow to keep you on your side all night, it still offers undeniable comfort and support worth considering.
---
Restorology C-Shaped Maternity Pillow
Best Pregnancy Pillow for Petite Women
Though this pillow was initially designed for use during pregnancy, it can offer support and comfort to anyone. This extends the life of the product, making it even more worth the expense.
It helps relieve common pregnancy discomforts such as sciatica, heartburn, lower back pain, and hip discomfort.
Because it is a "C" shape and flexible, you can bend it to fit your body. And because it's not exceptionally long, it won't overwhelm your body if you're shorter.
The pillow's design eliminates the need for additional pillows that can take up room in your bed, including a head pillow, a pillow between your knees, and other supportive pillows. It is not as big and bulky as some other options, so your partner will still have enough space in your bed.
This pillow also comes with a satisfaction guarantee. If you're not happy, contact the company for a full refund within the first 30 days.
Pros
It comes with a satisfaction guarantee.
Great for sciatica, heartburn, back and hip pain.
You can use it long-term when you're not pregnant.
Cons
It's hard to get the pillowcase in place.
It is not ideal for taller women.
It does not offer support to both front and back simultaneously.
Our Ratings
Community Feedback
I've been using this pregnancy pillow for quite some time now, and it has done wonders for my sleep quality and overall comfort. Initially purchased to alleviate my back pain, the pillow's firm yet comfortable design has allowed me to sleep through the night without any disruptions. While the outer case did encounter some wear and tear, the pillow itself has remained consistently supportive, making it a valuable addition to my nightly routine.
---
Holo Inflatable Maternity Pillow
Best Pregnancy Pillow for Stomach Sleepers
This inflatable air mattress comes in three fun colors and has an ingenious hole in the middle to accommodate your growing belly.
Not only can it help you sleep, but it's also easily portable, weighing under three pounds, so you can take it with you anywhere. If you're headed out of town, getting a prenatal massage, or planning a trip to the pool, this maternity pillow can travel with you. It's even engineered for water use so you can get in on all the sunbathing action.
This unique pillow can help alleviate some of the common pregnancy discomforts, including round ligament pain, heartburn, rib discomfort, and lower back pain. It may even help your baby get into the proper birthing position.
Because this product is inflatable and does not come with a pump, you will need to supply one on your own. It should not be used on top of your regular mattress and does not provide the same level of support as a foam mattress provides. It can also be prone to leaks if damaged.
Because it is made out of a waterproof material, much like a regular pool float, your skin may stick to it, so using additional bedding is advised.
Pros
It can help you sleep on your stomach safely.
It doubles as a pool float.
It comes in several colors.
Cons
It must be inflated.
It may not work for tall women.
You still need a separate pillow and bedding.
Our Ratings
Community Feedback
I'm a first-time mom who struggled with hip pain during my pregnancy, making sleep difficult. This mattress provided much-needed relief and allowed me to get some rest. It took some time to find the most comfortable position, but flipping it upside down and using a small blanket for belly support worked great. Just be careful to keep pets away, as my cat punctured it, but thankfully it came with a patch kit.
Why Do You Need a Pregnancy Pillow?
A pregnancy pillow is a large, specially-engineered pillow designed to cradle your pregnant body to facilitate better sleep and comfort. It offers you support in places to prevent muscle strain and helps to reduce pressure points.
As amazing as it is, growing a baby puts an incredible amount of stress on your body. Even in your most relaxed position, you can still feel extreme discomfort, making sleep difficult.
When you're pregnant, you are limited in the number of sleep positions you can enjoy. You can no longer sleep on your stomach due to your bulging belly. And you can't sleep on your back, as your uterus will put pressure on the vena cava, a major blood vessel (1). Even side sleepers are afflicted with limited sleep positions while pregnant since doctors encourage you to sleep on your left side to maximize blood flow to your baby.
That's where the pregnancy body pillow comes in handy. Pregnancy pillows provide support to your back, knees, or belly — and some to all of the above.
Types of Pregnancy Pillows
There are several different types of pregnancy pillows to choose from.
How to Choose a Pregnancy Pillow
If you've decided to buy a pregnancy pillow, keep the following things in mind:
FAQs
---
The Bottom Line
Our top pick for the best pregnancy pillow is the Coop Memory Foam Body Pillow. It is made of ultra-supportive shredded memory foam, so it will maintain its firmness and support, while still having cooling technology to prevent you from overheating.
It offers full-body support to keep your spine in alignment and relieve common pregnancy discomforts, but it is not exceptionally bulky in your bed since it is a simple straight pillow design. You may even find yourself continuing to use it post-pregnancy as it's so comfortable.
Thank You For Your Feedback!
Thank You For Your Feedback!