Postpartum girdles and belly wraps offer support where you need it most after your baby's birth. And there are so many great options to choose from! But with a newborn on the way (or already in your arms), it can be hard to find time to search for the perfect belly wrap.
So, we spent dozens of hours researching the different styles and comparing their features to find the best postpartum girdles to help strengthen your muscles, support your back and belly muscles, and tighten your figure in your fourth trimester.
We'll explain the benefits and best features of belly wraps and postpartum girdles and share our top ten picks so you don't have to waste your precious time shopping around when you'd rather be cuddling your little one.
Image
Model
Product Comparison Table
Features
Best 3-In-1
Chongerfei 3-in-1 Wrap
Breathable and comfortable
Easy to clean
Uses velcro closures
Best for Short Moms
UCharcoal Belly Wrap
Can be used after a C-section
Easy to adjust
Latex free
Best for Plus Size
TiRain 3 In 1
Comes in a larger size
3-in-1 girdle
Stretchy & breathable fabric
Best Budget Pick
Loday Recovery Wrap
Budget friendly
No fasteners to mess with
It doesn't roll
Best for Diastasis Recti
ProCare Elastic
Comfortable compression
Dries quickly after being washed
Affordable
Best Pull Up Girdle
Olikeme Women's Girdle
High waisted
Affordable
Helps with back pain and posture
Best for Body Shaping
Gepoetry Belly Wrap
Multiple avenues of healing and support
Creates smooth, slimmer silhouette
Reduces discomfort
Doesn't Ride Up
Belly Bandit Corset
Won't ride up or roll down
Offers maximum support
Adjustable
Best Basic Belly Wrap
Belly Bandit Belly Wrap
Simple easy to wear design
Offers nine inches of adjustment
Provides necessary support and healing
Best for C-Section
Goege Girdle
Supports lower back
Flattens figure
Breathable fabric
---
---
The Best Postpartum Girdles & Belly Wraps of 2023
Here are the top postpartum belly wraps and girdles on the market.
Chongerfei 3-in-1 Postpartum Belly Wrap
Best 3-in-1 Postpartum Belly Wrap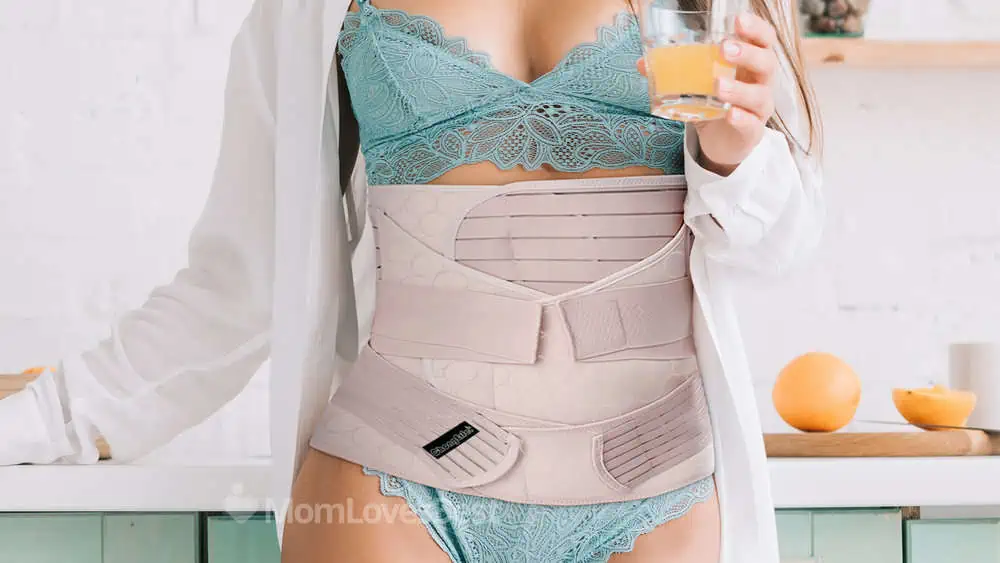 This belly wrap will give you all the support you need with its 3-in-1 design. It offers support for your pelvis, belly, and waist.
The elastic sits high on your waist, preventing that unsightly bulging muffin-top look under your clothes. It also stops the wrap from rolling down when in use, which can happen with other belly bands.
One of the nice things about this belly wrap is that it isn't complicated to put on. If you're a single mother, you'll be able to do this by yourself. Even if you've had a C-section and you're still having trouble getting around, you'll be able to put this on without feeling like you're pulling your stitches.
Because the wrap has boning built in, it gives enough support to help your lower back feel better.
Pros
The belly wrap is breathable, which will make it more comfortable on your skin.
It's easy to clean, which is important since you'll likely be wearing it every day.
It uses Velcro closures instead of trickier hook and eye closures.
Cons
This will only work for women who are under approximately 190 pounds.
It will be noticeable under some of your thinner clothes.
Our Ratings
---
UpSpring Charcoal Post-Pregnancy Belly Wrap
Best Postpartum Belly Wrap for a Short Torso
This postpartum belly wrap doesn't sit as high as some other options, and that makes it a good pick for women who have shorter torsos.
It uses bamboo charcoal fiber, which may help with circulation and potentially impact your metabolism. You'll get a lot of abdominal support, which is nice for moms who have realized how badly pregnancy has messed with their abs.
It doesn't contain latex, so women who are sensitive to latex don't have to worry about allergic reactions. You can wear it over or under clothing, so if you have a hard time with having belly wrap fabric right next to your skin, you can add a tank top underneath.
This wrap will wick moisture away from your skin, leaving you feeling dry and comfy.
Pros
You can use it after a C-section.
It's easy to adjust.
It's latex free.
Cons
This is more expensive than many other brands.
You'll want to make sure your baby's bare skin doesn't rub against this during breastfeeding sessions as it may irritate their skin.
Our Ratings
---
TiRain 3-in-1 Postpartum Girdle
Best Plus-Size Postpartum Girdle
This 3-in-1 girdle set comes in two sizes. There are standard and plus-size options to fit moms of all sizes.
You get three different belts with this. One is a tall belly belt that will put pressure on your whole belly area. Then there is another thick belt for the waist area, and a third, shorter belt supports your pelvis.
These belts can be worn even in the summer heat because the fabric is stretchy and breathable and allows air to circulate. You'll be able to put it on by yourself and keep it adjusted without anyone's help.
Pros
It comes in two sizes to fit a variety of body shapes.
You can adjust its size without taking it off.
It will help with back pain and is even suitable after a C-section.
Cons
It rolls up a little when you wear it.
The instructions are a little hard to follow until you figure them out.
Our Ratings
---
Loday Postpartum Recovery Wrap
Best Affordable Postpartum Belly Wrap
This is one wrap that won't put a dent in your bank account. Moms with any budget should be able to find the wiggle room to purchase this one.
If you're worried that the Velcro straps on other wraps would wear out after a while or that hook and eye closures would be too difficult to fasten, you should like this wrap. It slides right on, and you don't have anything to fasten.
The wrap will smooth any bulges in your abdomen and back, and the extra support from all sides will help improve your posture. The four flexible boning areas on the wrap will keep it from moving around on you.
The material is fairly thick, but if your shirt and pants aren't thin, people won't be able to see it under there.
Pros
This wrap is budget-friendly.
There are no fasteners to mess with; you slide it on.
It doesn't roll.
Cons
You'll have to take your measurements to find the right size because it runs small.
After long-term use, the boning may poke through the fabric.
Our Ratings
---
ProCare Elastic Abdominal Binder
Best Postpartum Girdle for Diastasis Recti
This binder will give your abs the support they need to assist you in your post-birth recovery process. It offers compression to help heal those abdominal strains and combat the weakness your abs will suffer from in the first weeks or months after delivery.
This girdle uses support panels and a flannel lining to help stop it from rolling. This is a good choice for women suffering from diastasis recti but who don't want to feel like they are stuffed in a heavy-duty belt that goes from their hips to their chest. This one just encompasses the abdomen.
It's made of latex-free elastic, which is nice for people with latex allergies. It's easy to adjust, so you won't feel sore just from putting it on.
Pros
The compression is comfortable.
It dries quickly after being washed.
This girdle is affordable.
Cons
Maybe feel too big on women with long torsos.
The fabric feels a little itchy, so you might want to wear a tank top under it.
Our Ratings
---
Olikeme Women's Shapewear Postpartum Girdle
Best Pull Up Postpartum Girdle
If you're looking for a postpartum girdle you can pull on, this one is a great choice. It will instantly make you look slimmer, and the built-in compression does an excellent job of holding in your belly.
On top of the slimming effect, it will also help with any lower back pain you might be experiencing. Just make sure to wear this daily so the pain doesn't start to snowball. It's important to wear it any time you start to ramp up your activity level because it gives your back muscles the extra support they need.
Because this girdle has such tight compression, it will also help you with your posture.
The design is high waisted, so any love handles you might have won't be seen over the top of it.
Pros
It sits high to eliminate any waist bulges.
It's affordable.
This girdle will also help with back pain and your posture.
Cons
It's not easy to get on, which makes using the restroom complicated.
The sizes only accommodate women who weigh up to 155 pounds.
Our Ratings
---
Gepoetry 3-in-1 Postpartum Support
Best Postpartum Girdle for Body Shaping
The changes to your body don't end after giving birth. In fact, it's just the beginning of acceptance and adjustment for many women. If you're struggling with the way your postpartum body looks, this body-shaping wrap boosts confidence and promotes healing.
The 3-in-1 system includes three separate belly wrap and girdle pieces. Each one has a different function to correct your pelvis position, shrink your stomach, provide back support, and more. Best of all, you can enjoy a smooth, enhanced silhouette.
Moms should know they need to read the instructions for this belly wrap set carefully before use. Some pieces are designed for use right after birth, but others shouldn't be worn until you've recovered for a few weeks.
If you're looking for a postpartum girdle to help you feel fabulous and support your body's postpartum transition, give this set a try. It's especially good as a baby shower gift for new moms who may be worried about the postpartum experience.
Pros
The 3-in-1 system provides multiple avenues of healing and support.
Creates a smooth, slimmer silhouette for boosted confidence.
Cons
Can't be used all at once.
The multiple pieces take time to put on and get used to.
Our Ratings
---
Belly Bandit Mother Tucker Postpartum Corset
Best Postpartum Girdle That Doesn't Ride Up
One of the biggest complaints moms have about belly wraps is how they ride up under your clothes. Not only is this uncomfortable, but it can be embarrassing and frustrating. You've got more important things to worry about, so try this postpartum corset from Belly Bandit.
It features a flexible arched design made of a lightweight and breathable material. The six rows of hook clasps provide you with an additional three inches of room in the entire corset. Our favorite part is the flexible but strong boning which prevents the corset from riding up or rolling down.
Don't worry, though! Once you've adjusted the hooks to the right fit, you can pull the entire thing on and off. You won't have to undo and redo the hooks each time you want to wear it.
Because this corset fits so well underneath clothes, it's an excellent choice for working moms who need to feel and look their best as they go back to the office.
Pros
Stays put and won't ride up or roll down.
Two layers of material offer maximum support.
Adjustable with six rows of hooks.
Cons
Finding the right size can be a challenge.
Our Ratings
---
Belly Bandit Postpartum Belly Wrap
Best Basic Belly Wrap
A lot of postpartum belly wraps and girdles have multiple pieces and can feel bulky. Keep things simple with a basic belly wrap like this one from Belly Bandit. It provides all the necessary support without any excess material.
Made of a comfortable blend of polyester and lycra, the band simply wraps around your stomach and attaches with a secure Velcro strip. It offers nine inches of adjustability, so you can continue to wear it as your belly slims down.
The compressing core provides the gentle but necessary pressure to strengthen your core muscles and support your belly, waist, and hips. It is especially good for moms who have abdominal separation.
While this belly wrap is easy to use, it is a bit stiff. The fit will be different for every mom, but some have noted the wrap is too tight or too bulky under their clothes.
Pros
The simple design is easy to wear.
Offers nine inches to adjust with your changing body.
Provides necessary support and healing.
Cons
Very stiff material that adds bulk beneath clothes.
Our Ratings
---
Goege Post-Pregnancy Girdle
Best Postpartum Girdle for After C-Section
After a C-section, you're going to feel sore, and you'll feel like your incision is splitting open with every move you make. To help give you extra support during this difficult recovery period, you'll want a girdle that is easy to put on and adjust. It's got enough support to hold you in until your incision heals and you feel more like your old self.
This girdle fits the bill with its double-adjustment Velcro fastener. You'll be able to fasten it even with your limited strength and mobility.
Your incision will still get some air circulation because of the breathable fabric, which means it won't get as sweaty and irritated as it would with other fabrics. The stretchy material will give your back and sides extra support too.
Pros
The built-in boning gives your lower back extra support when it is weak following childbirth.
This girdle will make you look skinnier the second you put it on.
It won't dig or cut into your skin.
Cons
It can only be hand washed, which can be inconvenient for busy, recovering moms.
Our Ratings
The Benefits of Wearing a Postpartum Belly Band
There are several reasons women should consider using a postpartum girdle or belly wrap.
Abdominal Support
Childbirth is hard on your stomach muscles. Whether you have a natural birth or C-section, your stomach is going to pay the price.
Your muscles will be shot for weeks to months afterward, and it can help you to have the extra abdominal support that a wrap or girdle gives you. Your recovery may be even more challenging if you're dealing with an incision. Wraps or girdles can help with the pressure and pain you'll feel from your surgical wound.
Posture
Using great posture can be a considerable feat after pregnancy. Your posture has been steadily changing over the past nine months, and getting it back to normal can take some work and concentration.
A wrap or girdle can help straighten your back and support your core muscles while doing so.
Back Pain
Your back can feel like it's on fire in the first few weeks after childbirth. Doctors will tell you not to lift anything heavier than your baby for a while, and they'll tell you not to rush back into chores or exercises. Your body has just brought another life into this world, so you deserve a little downtime.
Take Note
While a girdle can alleviate back pain in the short term, it's only a temporary solution, not a permanent fix.
In addition to using your girdle, we recommend focusing on activities like yoga, pilates, strengthening, and stretching. This will help keep your abdominal and pelvic muscles strong and promote a healthy posture to reduce back pain.
How to Choose a Postpartum Belly Wrap or Girdle
When you don't know what you're doing, one girdle or wrap may seem just as good as another. But they all have differences that can affect how you feel about them and how well they work for you.
Here are some of the things you need to think about before making a selection.
---
When to Start Wearing a Postpartum Girdle or Belly Wrap
If you've had an uncomplicated pregnancy, you may want to wear a wrap or girdle shortly after you deliver your baby. Some women opt to wear theirs within a couple of hours of delivery.
If you've had a C-section, ask your doctor when it's safe to start wearing one. Some moms prefer them right away because they feel it helps with the pain and pulling of the incision. But other moms can't stand to have anything touching their incision at all.
You'll want to wear your girdle or wrap for up to two months. At that point, you should transition out of it so your muscles can take over and regain their strength.
---
The Bottom Line
The Chongerfei 3-in-1 set leads the list of the best postpartum girdles because you'll look great while wearing it, and you'll get all the support you need for every area of your body.
If you wear a thin shirt, this won't be unnoticeable under your clothes, but with thicker materials, it will stay hidden. And you won't end up with a muffin top because this one goes up high on your waist, and it won't roll down.
You'll be able to quickly and easily get this on without help, even if you've had a C-section. With that much independence, it won't be long before you start to feel like your old self again.
Thank You For Your Feedback!
Thank You For Your Feedback!