Shopping for clothing to wear after your baby is born can be frustrating. We know what it's like. Nothing fits like the same as before you were pregnant, and it can feel like a waste of money to buy clothing you only expect to need a little while.
But while you might hope your baby will sleep through the night by six weeks, your little one will probably have other plans. Nursing sleepwear allows you to stay comfortable and feed your baby easily, even when you're in a sleep-deprived state. And you can wear most nursing clothes long after your child has weaned.
For weeks, we've been hunting for the best nursing pajamas to make night feeds easier while still allowing you to stay comfortable and feel attractive. We've come up with this list of 13 options in a variety of styles to suit any climate or fashion sense.
Image
Model
Product Comparison Table
Features
Best Button Down
Ekouaer Women's Comfort
Amazingly comfortable
Come in several designs
Mostly cotton
Best Cotton
Baby Be Mine Sleeveless
Machine washable
Modest elastic neckline
95% cotton
Best with Robe
Mothers en Vogue Bamboo
Made of comfy, eco-friendly bamboo
Adjustable nursing cup size
Comes with a robe
Best Plus Size
Everly Grey Set
Comes with a robe
Has a matching baby gown
Includes a gift bag
Most Stylish Set
Kindred Bravely Davy
Flattering cut & jewel tone colors
Soft waistband
Easy and discreet breastfeeding access
Best Built In Bra
Caramel Cantina
Stretchy and soft against skin
Economical pick
Breast pads can be attached
Best for Hospital
Cakye Nightgown
Comfortable & fashionable
Stretchy and forgiving fabric
Easy to nurse in
Best 3-in-1 Gown
Baby Be Mine 3 in 1
Super comfy and functional
Snap closures
Designed for discreet and easy access
Best for Summer
Motherhood Bump
Offers a little breast support
Comfortable and feminine-looking
Clasps keep panel securely in place
Best with Shorts
Ekouaer Maternity
Available through size XXL
Several colors options
Elastic waistband
Review Methodology: At Mom Loves Best, we strive to provide you with a comprehensive analysis of the best nursing pajamas available on the market. Our assessment is based on thorough research, hands-on experience, and comparison of various factors crucial for nursing mothers like comfort, fit, design, and ease of access. We evaluate each product from a user's perspective, sharing quantitative measurements of performance, and identifying key decision-making factors that set these pajamas apart from their competitors. Our professional team ranks and reviews the products based on established criteria, ensuring you make an informed choice supported by factual evidence. Trust our expertise as we guide you through the world of nursing pajamas, focusing on design choices, material, and functionality that cater to your needs.
---
---
The Best Nursing Pajamas of 2023
Here are our favorite nursing pajamas currently on the market.
Ekouaer Women's Comfort Nursing Pajamas
Best Button Down Nursing Pajamas
These super-soft pajamas have a luxurious chiffon trim and are amazingly comfy. They also have several design options, so you can choose the perfect one that fits your style. And even though they have long pants and long sleeves, you'll stay warm without overheating, thanks to their cotton construction.
The buttons are functional for a nursing mama, and since they're not technically "nursing pajamas," you'll be able to wear them long after your baby weans.
The drawstring waist will also help make them appropriate over the long haul since you'll be able to adjust them down or up to whatever size you happen to be as your body changes post-pregnancy.
Pros
Several designs to choose from.
Fit well with a cami or nursing bra.
The mostly cotton fabric is soft and breathable.
Cons
No breast support.
They are not specifically designed as nursing pajamas.
Our Ratings
Community Feedback
Love these pajamas and their soft, breathable fabric! I've ordered four sets, and I've noticed that the polka dot ones are much more comfortable and of better quality than the patterned ones. They even surpass my $80 Victoria's Secret PJs in softness. However, be aware that the adhesive polka dots may start to wear out over time, especially in areas with more friction. These summer PJs are true to size, and I've found them to be both elegant and comfortable. After sleeping in them for the first time, I enjoyed a great night's rest without feeling too hot or cold.
---
Baby Be Mine Sleeveless Nursing Nightgown
Best Cotton Nursing Pajamas
If you like options, you'll love choosing the perfect design for your new nursing nightgown. There are tons of different color and design choices, all made with 95 percent cotton and 5 percent spandex material, so you can feel good about the natural fabric against your skin — and your baby's.
The elastic neckline makes night nursing simple, and the thick straps offer good coverage for the mom looking for a modest pajama option. Because of the simplicity of this design, it would also be a great option to wear in the hospital.
Pros
Machine washable.
The elastic neckline makes feeding simple, even when you're groggy in the middle of the night.
It's 95 percent cotton.
Cons
You will need to wear a nursing bra with it.
Sizes run a little small.
Our Ratings
Community Feedback
Definitely a comfortable and versatile dress, I've worn these during pregnancy and while nursing. The elastic on the top makes nursing easy, and the fit is just right for my growing belly. The material is soft and gentle on my skin, with added convenience of pockets. Although the quality may vary between colors, I've found this dress to be a stylish and practical choice for both pregnancy and postpartum wear.
---
Mothers en Vogue Bamboo Nursing Set
Best Nursing Pajamas with Robe
You deserve the ultimate in comfort, and between the ultra-soft bamboo (rayon) material and the bottoms designed to resemble yoga pants, this set will deliver. You can wear the pants over or under the belly, so if you've had a C-section, you can decide what feels best for you.
The nursing cups adjust based on breast size, which is good because your breast size may fluctuate. And since this set comes with a robe and looks like loungewear, you'll be fully covered if friends drop by and you're still in your jammies.
Pros
Made of comfy and eco-friendly bamboo.
The breast cup sizes adjust.
The pants resemble yoga pants and are just as cozy to wear.
A robe is included.
Cons
It does not hold a breast pad in place.
The plastic clasps can be tricky to connect.
Longer pants may be too hot in summer.
Our Ratings
Community Feedback
I'm really happy with the soft fabric of this pajama set, which is perfect for summer nights. The tank top is a bit large in the bust and the pants are longer than I expected, but the waistband is super comfortable, even during pregnancy. I appreciate the built-in bra, but it can be a bit tricky to keep breast pads in place, causing some overnight leakage. The material wrinkles easily, which is a downside, and the wrap buttons can be a little difficult to fasten. Despite these minor issues, this set is great for lounging around at home or when having visitors over to see the baby.
---
Everly Grey Nursing Set and Gown
Best Nursing Pajamas with Matching Baby Outfit
Not only does this sleepwear set come with a matching gown for your baby, but it also includes a robe, so you can feel completely covered when guests drop in.
The V-neck top makes nursing simple and works perfectly with most night nursing bra styles. The whole set is also machine washable, which is great because what new mom has the time to follow complicated washing instructions?
Pros
It comes with a robe.
It has a matching baby gown.
Many patterns to choose from.
Cons
It is expensive.
Doesn't hold up well to a lot of washing.
They are synthetic.
Our Ratings
Community Feedback
From my personal experience, this sleepwear set offers convenience and comfort for new moms. The V-neck top allows easy nursing access, while the included robe ensures complete coverage for unexpected visits. Additionally, the matching baby gown is a delightful touch, and there are multiple patterns to choose from. On the downside, the set is quite pricey and may not withstand frequent washes due to its synthetic material. Despite these drawbacks, I found the set to be a practical addition to my postpartum wardrobe.
---
Kindred Bravely Davy Nursing Sleepwear Set
Most Stylish Set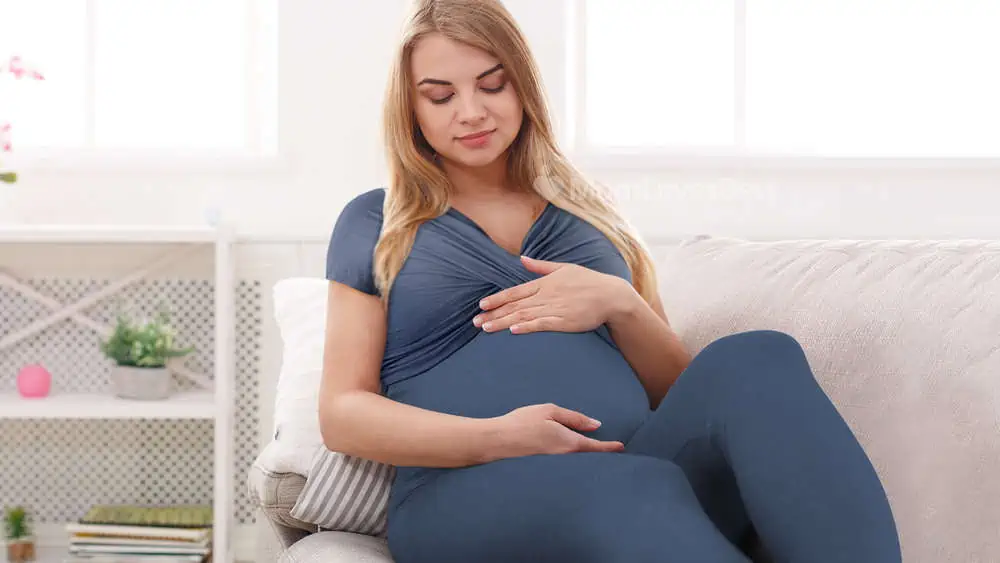 This luxurious 2-piece pajama set from Kindred Bravely combines style and functionality to help moms feel great and nurse comfortably. If you're struggling with your body's changes and want something to make you feel good, these pajamas are sure to put a smile on your face.
Both the top and pants have a flattering cut, which flows without looking or feeling frumpy. Choose from a variety of neutral colors to suit your style.
We also really love that the waistband on the pants is super soft and stretchy. It won't cut into your belly, making it a must-have for moms with a healing C-section incision. The stretchy nursing access panel makes it easy to feed your baby without having to expose a lot of skin.
If you're a mom wanting something comfy but stylish to wear in the first weeks after your little one arrives, we highly recommend this set.
Pros
The flattering cut will help any mom feel great.
Soft waistband prevents irritation for C-section moms.
Easy-access nursing panel keeps you covered while breastfeeding.
Our Ratings
Community Feedback
I've recently tried this luxurious 2-piece pajama set from Kindred Bravely and found it to be both stylish and functional for nursing moms. The flattering cut and neutral color options make me feel great, while the soft, stretchy waistband is perfect for post-C-section comfort. I appreciate the easy-access nursing panel that keeps me covered during breastfeeding sessions. However, these pajamas may be too snug to wear during pregnancy, but they're excellent for postpartum use.
---
Caramel Cantina Nursing Cami
Best Nursing Pajamas with a Built-in Bra
Camis are comfy, supportive, and offer good coverage that won't slip. What more could you ask for in sleepwear?
With this set by Caramel Cantina, you get three nursing camis for the price of one, and each has a built-in bra that will allow you to secure your breast pads, helping to avoid leaks and breastmilk stains. And since they're constructed partially of spandex, they'll also stretch (or shrink) along with you, making it less critical to find a perfect fit.
Pros
They're stretchy and accommodating.
They're soft against the skin.
You get three in a package, making this an economical pick.
You can attach breast pads.
Cons
They're not traditional "pajamas."
They do not come with bottoms, so you'll need to purchase these separately.
Our Ratings
Community Feedback
After using these nursing tanks for a while, I must say they're excellent in quality and reasonably priced. They provide a snug, stretchy fit, offering support and comfort to new moms like me. The built-in bra and extra length make them perfect for wearing at night or under other clothes, ensuring nursing pads stay in place. However, they may not be suitable to wear on their own, as the non-black colors tend to show everything underneath.
---
Cakye Maternity Nursing Nightgown
Best Nursing Pajamas for Hospital
With a variety of attractive colors and designs to choose from, this nightgown is versatile enough to go from maternity to hospital to postpartum. Its cotton construction makes it soft, while the added spandex allows it to stretch as needed.
With this gown, you'll be ready for hospital visitors after your baby is born, but your doctors and nurses will still be able to check on you to make sure you're recovering as you should be.
The pull-down elastic nursing neckline, though not ideal for discretion, is excellent for your brand-new baby. Since they'll still be getting the hang of nursing, you'll want to be able to expose as much of your breast as possible (not to mention promote skin-to-skin contact) (1).
Not only will it be easier for your baby to get used to nursing, but you won't have to deal with straps or clasps, either.
Pros
It's comfortable.
The fabric is stretchy and forgiving.
Easy to nurse in, especially when you're just starting out.
Fashionable.
Our Ratings
Community Feedback
Love this dress for its soft, stretchy material and high-quality construction. As a larger busted woman, I found it to be very comfortable and versatile, even during pregnancy. The cute pattern and design make it suitable for wearing outside of the home with the right accessories. Keep in mind that the neckline may be a bit low, but overall, it's a fantastic gown for nursing mothers and those seeking comfort during pregnancy.
---
Baby Be Mine 3-in-1 Nursing Nightgown
Best Nursing Gown
Enjoy both luxury and functionality throughout your pregnancy and after birth with this unique 3-in-1 gown. Designed for discretion, comfort, and ease of access, you can use this gown before giving birth, during labor and delivery, and as you nurse your little one.
The improved functionality comes because of the multiple closures. With snaps on the shoulders and the back, your doctors can easily perform examinations during labor. However, the hidden front panel and security of the snap closures ensure you are covered up when you want to be, especially in the back.
After giving birth, the gown is comfortable to wear, and the shoulder snaps allow for easy breastfeeding access. As cute as this gown is, it won't quite pass as everyday wear. However, it's a great option to use at home for the months after your baby is born.
Take Note
Anything worn in labor will get messy. Sometimes it's just better to wear the ugly hospital johnny and not have to worry about cleaning your nightgown after your baby is born.
Pros
Super comfy and functional for labor, delivery, and nursing.
Snap closures ensure you're covered when you want to be.
Medical professionals have easy access for examinations.
Cons
Arm elastic can be bothersome or tight for some women.
Our Ratings
Community Feedback
From the moment I tried on this delivery gown, I noticed the material was heavier than expected but definitely better than the typical hospital gowns. Being petite, I found myself swimming in the small/medium size, but I still preferred wearing it over the hospital's option. The gown's accessibility for doctors and nurses was impressive, and the cute patterns added a touch of comfort and style during labor. While the gown's fabric wasn't as soft as I hoped, and the drawstrings in the front were too long, it was more comfortable and functional than what the hospital provided.
---
Motherhood Bump Night Nursing Nightgown
Best Nursing Pajamas for Summer
This strappy nightgown, made of light jersey material, will not only keep you comfy but can help you stay cool as well. Plastic clasps release the front panel when you need to nurse.
Although the neckline won't work very well with a nursing bra, its built-in shelf bra offers a bit of support overnight.
And even though the fabric won't overheat you, it has enough weight to help you feel good about the coverage it gives when you're walking around the house.
Pros
It offers a little breast support.
It's comfortable and feminine-looking.
Clasps keep panel securely in place.
Cons
The fabric shows leaks easily.
The neckline will not work well with a bra.
Our Ratings
Community Feedback
My experience with this strappy nightgown has been both comfortable and practical for nursing. The built-in shelf bra provides some support and the plastic clasps securely hold the front panel in place, although it doesn't pair well with a nursing bra. The light jersey material keeps me cool, offers good coverage, and has a feminine look, but be aware that leaks may show easily on the fabric.
---
Ekouaer Maternity Nursing Pajamas
Best Nursing Pajamas with Shorts
These are perfect for the mama who wants good coverage but also tends to get hot in layers of stuffy fabric. Made of comfortable material, these pajamas by Ekouaer are lightweight and ultra breathable. The neckline is modest but easily pulls down for nursing.
As they come in sizes XS through XXL, they'll fit a variety of shapes and sizes. They also ensure a good fit with their soft, stretchy waistband that adjusts with your body and won't irritate a healing C-section incision.
Pros
Available through size XXL.
With several different color options, you can purchase more than one.
Elastic waistband.
Cons
Not so easy to re-button once unbuttoned.
They run small.
Our Ratings
Community Feedback
These nursing pajamas are a fantastic addition to my wardrobe, making breastfeeding so much easier and more comfortable. The material is incredibly soft and has a nice stretch to it, ensuring a great fit without being too tight. I appreciate that the snaps come undone easily, allowing me to quickly nurse my baby without any hassle. While the tank top provides ample coverage for most of my pregnancy, it may be a bit baggy postpartum. The shorts, on the other hand, run a bit larger than expected, but the adjustable waistband helps ensure a comfortable fit.
---
Monnuro Plus Size Nursing Nightgown
Best Plus Size Nursing Pajamas
This nursing nightgown is cozy, stretchy, and available through size 5X. It's made of rayon and spandex and is available in a range of colors. Because the fabric has plenty of give, this gown can be worn while pregnant but will also be comfortable during the postpartum period.
The elastic ruched trimmed design allows for easy nursing. Furthermore, it has an anti-static feature.
Pros
It's inexpensive for the quality.
Wide range of sizes.
Anti-static feature.
Cons
Thin fabric may not be suitable for colder nights.
Our Ratings
Community Feedback
These maternity nightgowns have been a fantastic addition to my wardrobe during pregnancy and postpartum. They are incredibly soft, comfortable, and provide easy access for breastfeeding, making life much easier for both me and my baby. The stretchy fabric and flattering fit make them perfect for wearing both at home and in public, and the added bonus of pockets is a huge plus. I've found that they hold up well to frequent washing and are still in great condition after six months of use.
---
Ouges Womens Floral Nursing Dress
Best for Going Out
Let's face it. Life as a mama can be crazy, especially in the first few months after giving birth. If you've got places to go and things to do, don't feel stuck in the house because of your baby's nursing schedule. This beautiful nursing dress will help you do everything you need to do with confidence.
Wear it to bed, wear it around the house, wear it out — or all three! With the ultra-soft fabric and fashionable design, you'll want to live in this dress, and we think that's okay. Each gown is made of a stretchy fabric blend and features a rounded neck, short sleeves, and a knee-length cut.
There are no clips, snaps, or elastic bands to cause irritation. To nurse discreetly, you can simply shift the top layer of the bust.
Pros
Designed for day and night use.
No clips, snaps, or elastics to cause irritation.
Discreet nursing feature.
Several sizes to choose from.
Cons
Some find the fabric very thin.
Our Ratings
Community Feedback
As a nursing mother, I found these dresses to be a comfortable option for both pregnancy and nursing. The fit was true to size for me, but I noticed that it could be a bit snug for others, especially if they prefer a looser fit. The fabric quality varied between different patterns and colors, with the green and white floral option being thicker and less see-through than others. One of the best features of these dresses is the discreet and easy nursing access, which allowed me to feed my baby in public without drawing any unwanted attention. Additionally, the dresses with pockets were incredibly convenient for carrying essentials like keys and my phone.
---
Hotouch Women's Maternity Nursing Pajamas
Best for Winter
These PJs will keep you warm all winter long with long pants and long sleeves, and the easy side-open design makes night nursing a breeze. There are no snaps or clasps to fumble with in the dark, which means you'll be able to feed and get back to bed quickly.
Because they're made of a stretchy material, women of all sizes can find a good fit, which is particularly helpful as women's bodies are constantly changing in the months after pregnancy.
Pros
Elastic fabric offers a flexible fit.
Open-side design makes nursing simple.
They're warm for winter.
Cons
The top overlap flap tends to fall on babies.
Our Ratings
Community Feedback
These nursing pajamas have quickly become a favorite in my household due to their comfort and style. The soft material fits as expected and maintains a fashionable appearance, making it difficult to tell they are designed for nursing purposes. I found them to be loose and true to size, which greatly simplifies nighttime feedings. Although they may stretch out slightly after a couple of wears and washes, the overall functionality remains intact. One minor drawback is the top overlap, which tends to fall towards the baby's face and requires some adjustment. Nonetheless, I plan to continue wearing these pajamas even after I am done nursing, as they are extremely soft and comfortable.
Why Do I Need Nursing Pajamas?
Nursing pajamas allow for easy nighttime breastfeeding. They have a design similar to nursing tops.
Some will have a hidden panel allowing your baby to access your breast during nighttime feedings easily. Others will have elastic necklines, so you can pull down the neckline to expose your breast and feed your baby. Some have a plastic clasp like you would find on a nursing bra, allowing you to open it when you need to and securely fasten it when you're done.
You can expect that your baby will need to nurse at night for several months. Despite what you may have heard about babies sleeping through the night, more than half are still waking at night at one year of age, and this is normal (2). Nursing pajamas can help make these midnight feeding sessions infinitely easier on you.
Remember
You'll likely find that your body has changed a lot from how it was during and before pregnancy. Your previous sleepwear may not fit, and your pregnancy nighties will probably be too large.
And most non-nursing attire isn't very functional for a nursing mother. You'll need to expose your nipples to feed your baby, which can be challenging in traditional sleepwear or oversized T-shirts. A pair of nursing pajamas can help make nighttime feeding sessions easier and faster for both you and your baby.
How to Choose Nursing Pajamas
When choosing nursing pajamas, consider the following:
---
Thank You For Your Feedback!
Thank You For Your Feedback!