Bringing home your new bundle of joy is exciting to say the least, but where should the baby sleep? The crib may be an obvious choice for many parents. However, some like to keep their baby even closer.
Co-sleeping is quite a controversial subject. Some advice against it, but by taking the right precautions, your baby can sleep safe and sound next to mommy. In fact, many people actually think it's better for the baby.
When choosing to co-sleep, it's best to use a co-sleeper. But with such a huge choice available, which should you pick?
In this guide, we've rounded up all of the best co-sleepers to help you make an informed decision.
Image
Model
Product Comparison Table
Features
Best for Most Parents
Arm's Reach Concepts
With mattress & mattress sheet
Has a carrying case
Endorsed by most influential pediatricians
Best Organic
Snuggle Me Organic
Snug fit
Prevents accidental roll-overs
Organic and certified fabrics
Best for Newborns
Halo Bassinest Swivel
Rotates and swivels 360 degrees
Side can be lowered
Fitted sheet included
Best Bedside Co-Sleeper
Mika Micky Bedside Sleeper Crib
Great for breastfeeding moms
Can be used as standalone bassinet
Seven adjustable heights
Best for Toddlers
JoJo Lounger
Comfy sleeping area
Lightweight and portable
Padded bottom
Best for Breastfeeding
Munchkin Brica Fold N' Go
Comes with airflow design
Easy to store
No assembly required
Best for Travel
DockATot Deluxe
Cotton and polyester fabrics
Can be used for other activities
Lightweight
Best Budget Pick
Baby Delight Snuggle Nest
Sturdy frame
Cool and breathable mesh sides
100% organic cotton
---
What Is a Co-Sleeper/Co-Sleeping?
The choice between crib or co-sleeping is a tough one for many new parents. But what is co-sleeping?
Many people automatically think that co-sleeping means the baby is sleeping in the adult bed next to mom and dad. But, there's more to the term. You may have heard terms like "room-sharing" and "bed-sharing," these are actually all considered to be co-sleeping.
Let's take a closer look at the two:
Room sharing: Your baby is not sleeping in your bed, but there's a crib, bassinet, or bedside sleeper in the same room as you.
Bed sharing: Your baby is sleeping next to mom or dad. Bed-sharing is not recommended as it comes with many risks, such as SIDS and suffocation (1).
If you do choose to co-sleep, you will need a co-sleeper in order to make the situation safer. There are different types, depending on where you want your baby to sleep.
For example, if you would like them to sleep in your bed, there are nests and small bassinets available that give your baby their own safe space to sleep while in the bed.
If you want to co-sleep but would rather not share the bed, opt for a bedside sleeper. These can look like regular cribs, but you adjust them to fit the height of your bed.
These cribs can be right against the side of your bed. You can even attach some bedside sleepers to the bed itself. And because of the open side, you can also breastfeed without getting out of bed.
How to Choose a Co-Sleeper
Choosing the perfect co-sleeper is difficult. There are quite a few things to consider and features to look for.
You might want your baby to stay as close as possible so you're aware of their every move. But the co-sleeper also has to be a safe environment for your baby to sleep in.
Let's go through the essentials.
Size and Versatility
Your baby may be tiny as a newborn, but they certainly won't stay that way for long. Therefore, it's important to consider the fact that the co-sleeper has to accommodate your growing baby.
When buying a bedside sleeper or co-sleeping crib, you can get one that also functions as a regular crib. Then you won't have to get a separate one for naps.
These cribs allow one side to be lowered, after which you can attach it securely to the side of the bed.
As your child grows and you want to stop co-sleeping, you can still use that same crib. You'll also avoid having several pieces of furniture in your bedroom.
Material
Keep in mind that this will be a place where your baby will spend a lot of time. The crib, cot or bassinet has to be comfortable to keep your little one nice and snug.
You want your baby to sleep in a good environment with a mesh net instead of solid sides for good airflow. The mesh net will also make it easier for you to see your baby without having to get up.
Safety
It's important that the mattress or surface your baby sleeps on is firm. According to the American Academy of Pediatrics, all cribs, bassinets, and cots have to meet certain requirements.
One of the more important requirements is that the mattress needs to be thin and firm. A firm mattress might not look or feel as comfy as a plush blanket, but it will prevent any accidents (2).
If your baby is sleeping on a soft mattress, there's the risk of the baby sinking into the bed. For us as adults or older children, it might be comfortable and we can move into a different position. For young babies, however, this can be highly dangerous.
Cleanliness
Your baby might look sweet and innocent now, but just wait till those diaper explosions come along. Your baby is bound to at least experience some reflux or spit-up.
The co-sleeper is inevitably going to get dirty. Opt for one with a removable cover, so you can easily take it off to clean when needed.
---
The Best Co-Sleeper of 2022
Here are 8 great co-sleepers for you to consider.
1. Arm's Reach Concepts Co-Sleeper Bassinet
Best Co-Sleeper for Most Parents
This Arm's Reach product can be used as a bedside co-sleeper or a stand-alone bassinet. It has breathable sides so your baby gets proper airflow and you can peek in to see that they're doing alright if you're in bed too.
If you're working on something in another part of the house but want to keep a close watch on your sleeping baby, this unit is a breeze to move because of its wheels. The co-sleeping bassinet can be a good solution for moms who are breastfeeding and want minimal disruption to their sleep.
By having your baby nearby, you won't have to get up and possibly be unable to fall back to sleep.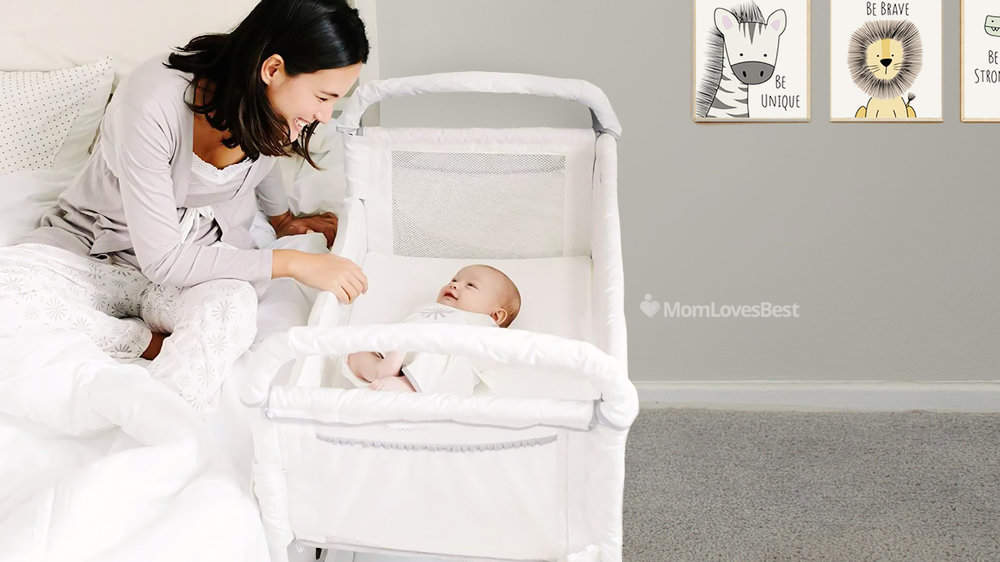 Pros
It comes with a mattress and fitted mattress sheet, so you won't have to buy them.
It has a storage basket for keeping essentials on hand for diaper changes.
It has a carrying case for portability.
You can get leg extensions for taller beds.
Cons
It has a typical assembly time of two hours, according to the company, which might be frustrating for some parents-to-be. Some parents in reviews, though, said assembly only took them 20 minutes.
---
2. Snuggle Me Organic Co-Sleeper
Best Organic Co-Sleeper
Those sleepless newborn nights as a breastfeeding mother were tough. It can be super frustrating to nurse your baby only to have them crying the second you put them down.
The Snuggle Me co-sleeper and lounger has been designed to create a cozy place for your baby. As you put your baby down for the night, the sides of the sleeper will gently hug your child. This gives your baby a secure feeling, as if you were still holding them.
This is good for babies up to nine months of age. The snug fit helps to prevent your baby from accidentally rolling over when sleeping.
The cover is made of GOTS-certified fabrics, and it's filled with virgin polyester filling to help your baby stay warm and snug. When needed, you can remove the cover to clean it.
It's also available in five earthy colors — moss is a personal favorite.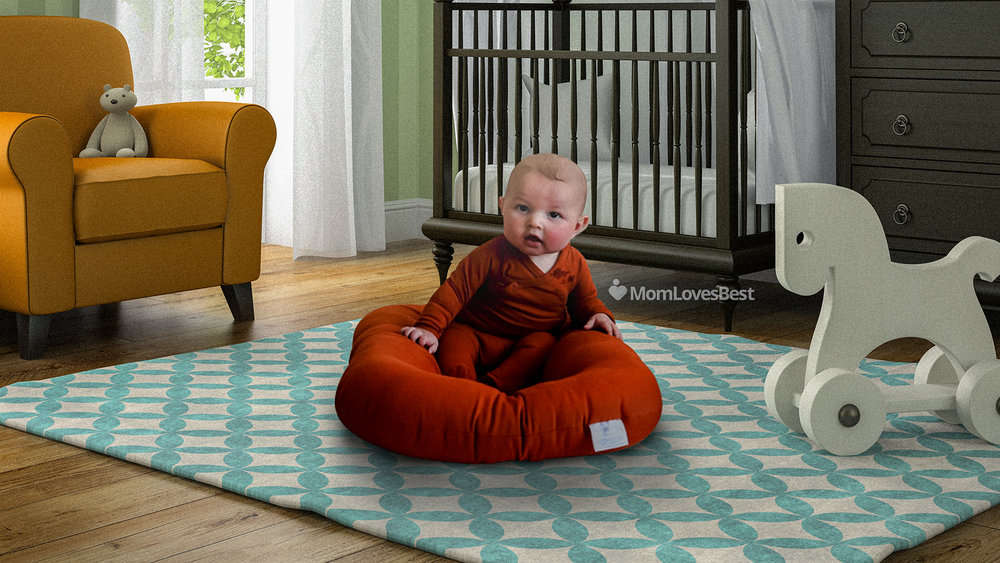 Pros
The snug fit is great for babies who prefer to be held.
Prevents accidental roll-overs.
Organic and certified fabrics.
Can be used as a lounger and for tummy time.
Cons
A few parents said the cover doesn't fit as tightly as they would like.
---
3. Halo Bassinest Swivel Sleeper
Best Co-Sleeper for Newborns
Being able to have your newborn close to you is important. This co-sleeper can rotate 360 degrees, so it's easy to get close.
The base of the stand has four points to keep it stable. It also allows for the crib to be even closer to you since you can tuck the points underneath your bed.
As a new mother, you want to be able to get to your baby quickly if needed. On this co-sleeper, you can lower the side wall completely, to gain quick and easy access.
To keep your baby safe, it includes a fitted sheet that is 100 percent polyester. You can quickly clean it with a damp cloth in case of any minor accidents. The mattress pad is made from polyurethane and is chemical-free.
The bassinet is quite heavy at 28 pounds, so it's best to keep it in one place. Don't plan to use it in the living room for naps.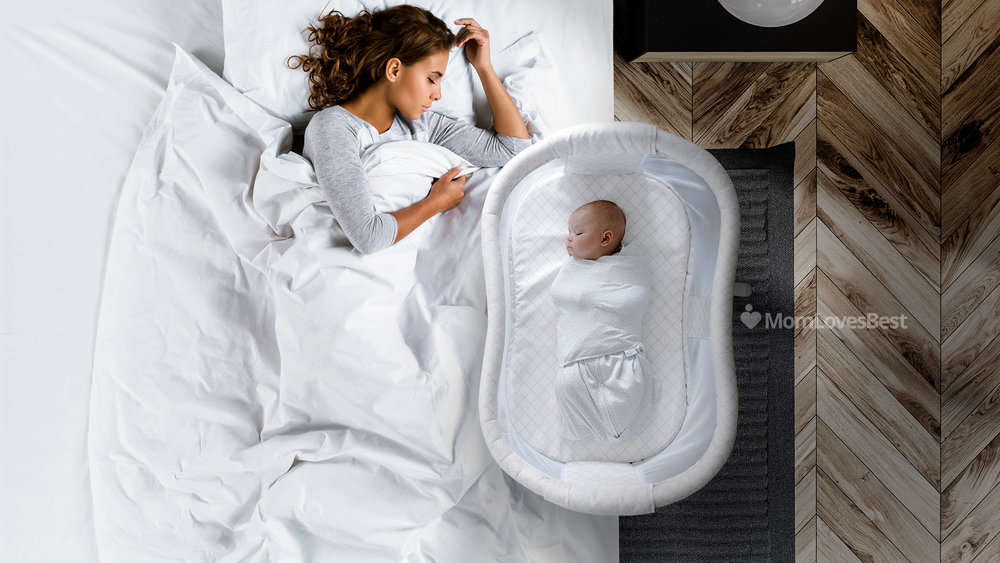 Pros
Rotates and swivels 360 degrees.
Side can be lowered for easy access.
Translucent mesh sides.
Includes a fitted sheet.
Has a storage pocket.
Cons
Its weight makes it less portable than it could be.
---
4. Mika Micky Bedside Sleeper Crib
Best Bedside Co-Sleeper
This is a true bedside crib that easily attaches to your bed using the two fastening straps. You can pull down the fourth wall making it super easy to reach for your baby for midnight feeds or morning cuddles.
If your bed is a high or low height, not to worry! This has seven height positions to match your bed. As for the crib, it has two mesh sides to make it comfy, cozy but breathable safe for your baby.
The crib is very sturdy and stable with a supported bottom. The mattress is comfy and sturdy, too, giving your baby the best night's sleep possible.
You can use this from birth until the baby is five months or 33 pounds. You may also want to consider another option for when your baby can pull themselves into an upright position, as they may be able to get out of the crib.
Pros
Great for breastfeeding moms as you can easily reach your baby in the middle of the night.
You can use it as a standalone bassinet, too.
It has two side pockets for storage.
It has seven adjustable heights.
Cons
The mesh doesn't go all the way down the sides, so some babies will struggle for breath if they press their face against the side during sleep.
The mattress is too hard for some babies.
---
5. JoJo Infant and Toddler Lounger Co-Sleeper
Best Co-Sleeper for Toddlers
Having a co-sleeper that will grow with your baby can save you time and money. This co-sleeper works for infants as well as toddlers. As long as your child's shoulders and hips fit in the center of the sleeper, it's suitable.
The design itself is a bit like the Snuggle Me. It will hug your child as they sleep in it, making them feel as if they're in your arms. The center is slightly padded, so you don't have to worry too much about the surface being uncomfortable.
The raised edges help prevent your child from rolling over as they sleep. The co-sleeper is lightweight, but it's on the larger side and quite difficult to bring along when traveling.
Nevertheless, a happy toddler needs their sleep, and this sleeper creates a safe environment for them to get the necessary snoozing-time.
Pros
Fits infants and toddlers.
Creates a comfy sleeping area.
Lightweight and portable.
Padded bottom makes it comfortable on all surfaces.
Cons
Some moms mentioned that it was difficult to fit into luggage for traveling.
---
6. Munchkin Brica Fold N' Go
Best Co-Sleeper for Breastfeeding
For mothers who like to keep a close eye on their baby during the night, this co-sleeper could be a great option.
You can place it in your bed for safe bed-sharing. It gives your baby their own space to sleep in, while you are close by.
For breastfeeding mommas, it's a lifesaver to have your baby within arm's reach.
You can quickly remove the mattress and fitted sheet which is included in the set and throw it in the washer. It's made out of a cotton and polyester blend to keep your little one snug as a bug.
Unfolded, the sleeper is 30 inches long and 21.5 inches wide. You can also fold it, which makes it easy to store or travel with.
However, this sleeper seems to suit younger babies better than older ones, since it doesn't provide much support for rollovers.
Pros
Sheet and cover can be machine washed.
Easy to store.
Mesh panel for breathable sleeping time.
Cons
Babies will outgrow it quickly.
Not enough support for older babies who roll over.
---
7. DockATot Deluxe Co-Sleeper
Best Travel Co-Sleeper
Helping your baby get a good night's rest while traveling is essential. This co-sleeper will give your baby a comfy, safe, and familiar sleeping area, no matter where you go.
The sleeper is foldable, and you can even get a travel bag to make it more convenient. The cover of the sleeper is made out of 100 percent cotton, so it's gentle on your baby's sensitive skin.
It's made of OEKO-TEX certified fabric, which helps your baby maintain a healthy temperature while sleeping.
Tummy time is crucial for small babes. The rounded sides on the sleeper work well to prop your baby up when on their belly. You can also use the co-sleeper as a baby lounger during the day, or maybe even bring it to the beach.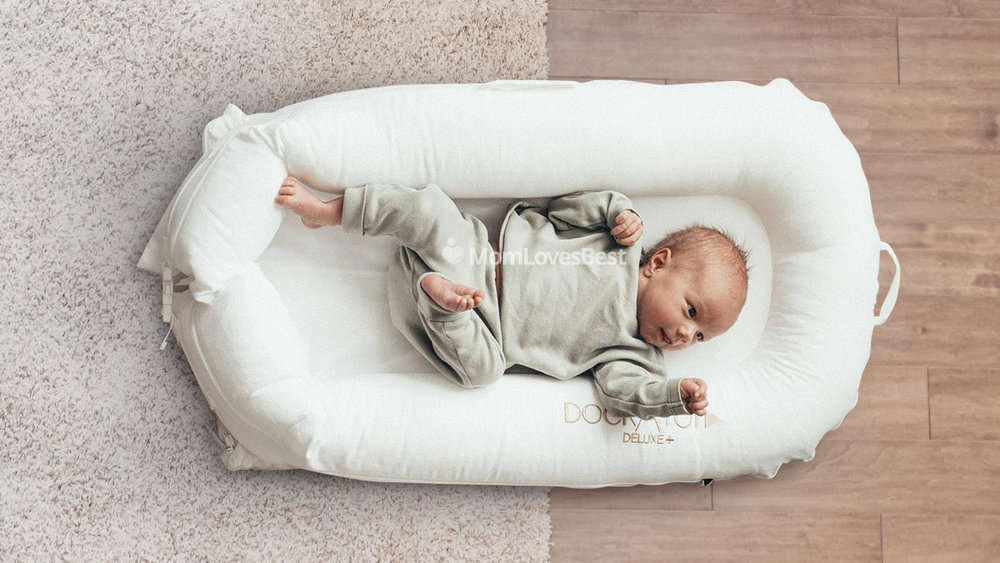 Pros
Cotton and polyester fabrics.
Creates a safe and familiar sleep environment.
Can be used for other activities.
Easy to take with you.
Cons
Some parents reported having trouble keeping the buckles closed.
Can be complicated to put back together after washing.
---
8. Baby Delight Organic Infant Lounger
Best Budget Co-Sleeper
If you want quality on a budget, this sleeper could be it. It has a sturdy vented plastic frame that protects your baby. The whole bed can be folded for easy storage or travel.
A feature you'll love is the sides which are lined with mesh fabric, which allows your baby to get good air circulation. They'll also make it easy for you to check on the baby.
The sleeper is made out of GOTS certified organic cotton and is chemical-free.
Having something that your baby can grow with is also important if you're on a budget. This is a full 33.5 inches long, so there's plenty of room for growth. That said, it's also due to the size that many moms claim it's too big to have in the bed with them.
Pros
Sturdy frame.
Prevents parents from accidentally rolling onto the baby.
Mesh sides are breathable and cool.
Large size for growing babies.
Cons
Some parents said it was difficult to set up.
---
Co-Sleeping Safety
Being close to your baby is the reason why so many parents choose to co-sleep. But remember, letting your baby sleep in a bassinet or crib next to your bed might be a better option (3).
Here are a few things to keep in mind to make sure your baby is safe in a co-sleeper:
No loose blankets, pillows, toys, etc — the sleep space should be bare.
Avoid overdressing, so baby won't overheat.
Bedding should be tight fitting.
Always place your baby on his or her back (4).
---
Thank You For Your Feedback!
Thank You For Your Feedback!