Are you looking for a supportive breast pump bra that doesn't shift out of place when you take your hands off the pump or restrict your movement while pumping?
We were too. So we set out to find the best breast pump bras that allow you to comfortably pump, nurse, or do both simultaneously while keeping your hands free for more important tasks — like checking your social media accounts.
After hours of comparing prices and hundreds of reviews, we've come up with a pretty impressive list. We specifically searched for the most supportive bras that are easy to use, comfortable, and adjustable.
These ten breast pump bras make life easier by allowing you to pump entirely hands-free wherever you may be. If simply being a mom hasn't already made you a super multi-tasker, these pumping bras will do it for you.
Image
Model
Product Comparison Table
Features
Best All Around
Simple Wishes
Impeccable design
Customizable and convenient
Versatile and easy to use
Best Underwired
Ayla Women's Lace
Hidden flange openings
Demi-underwire
Romantic lace in beautiful color
Best All Day Wear
Lupantte Hands-Free
More pumping output
Variety of size options
Fits most breast pumps
Best for Large Breasts
Pump Strap Hands-Free
Easy to maneuver
Machine washable
Fully adjustable and form fitting
Most Feminine
The Dairy Fairy
Very efficient
Light and comfortable support
Feminine and functional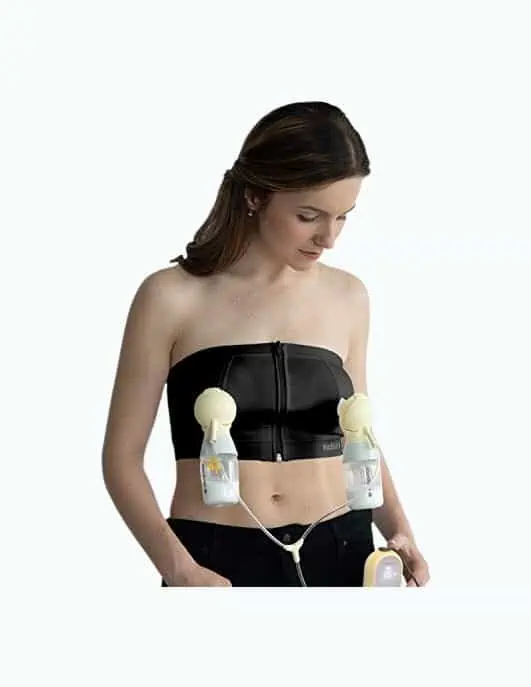 Best Bustier Style
Medela Easy Expression
Two-way stretch
No-slip support
Optimal comfort
Best Sports Bra
Momcozy Hands-Free
Innovative design
Budget friendly
Adjustable to changing shape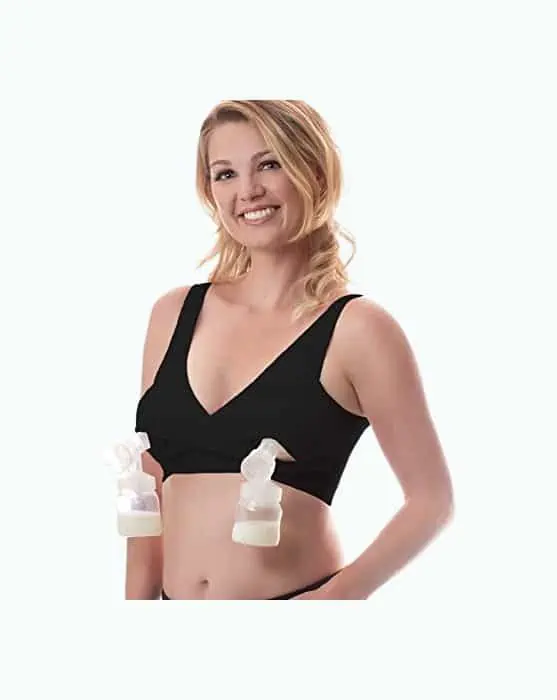 Best Adjustable Bra
Rumina Classic
Adjustable back clasp
Wireless cups
Soft comfortable cotton
Easiest to Put on
PumpEase from Snugabell
Works with all breast pumps
Aesthetically beautiful
3-position front hook & eye closure
Best Accessory
Bravado! Clip and Pump
Super soft
Stretchy cotton
Can hold 2 bottles while pumping
---
---
The Best Breast Pump Bras of 2023
Here are 10 great breast pump bras for you to consider.
Simple Wishes Signature Pumping Bra
Best All Around
If you want a bustier style bra to let you get on with other things while you pump that precious milk, this could be the one for you.
Available in two sizes, XS-M and L+, there is a bra to fit from a size 30AA to a 48J. I like that you can adjust this bra to suit your ever-changing breasts and postpartum body, and it will fit over a nursing bra.
Suitable for most brands of electric pumps, the bustier is cotton and spandex, so it's stretchy but comfortable.
On the downside, this isn't a bra you could wear all day. It wouldn't give enough support outside the home, and the bulkier style would likely make it visible through your clothes.
---
Ayla Handsfree Lace Pumping Bra
Best Underwired
Even though you might feel like a dairy cow sometimes, you still want your bra to be flattering and give you a lift. That's where this offering from Ayla fits in. It's not only lifting in the feel-good sense, but it's also demi underwired to hold your milkers in place.
It comes in sizes from 32A to 40G and delicate black or beige lace. Unlike many other pumping bras, this one is comfortable enough to wear all day under any clothes.
The cup holes fit any pump brand, although some moms find the openings to be a little offset to the side and slightly small.
---
Lupantte Hands-Free Breast Pumping Bra
Best for All Day Wear
Lupantte brings us a soft, comfortable, longline nursing and pumping bra for all-day use. The fabric is made of cotton, modal, and spandex. It is moisture-wicking to give you a comfortable pumping experience.
It's easy to put your bottles in place and take them out. This can mean you don't end up crying over spilled milk.
Offered in a variety of sizes like extra-small, medium, and double extra-large, this bra runs true to size and has adjustable straps.
---
Pump Strap Hands-Free Pumping & Nursing Bra
Best for Large-Breasted Women
This breast pump bra is exactly what it says it is: a stretchy band with a Velcro fastening and a hole at each nipple. You can use it to pump two bottles at once or pump on one side while you nurse on the other.
It comes in one size, suitable for bra cups A through DD, and a choice of six colors. Many women with large breasts find this to be a good solution. There is also an optional neck strap for more support if you need it.
It provides natural breast compression, making milk flow faster. This means less time pumping and more time for your baby or doing other things.
---
The Dairy Fairy Breastpump and Nursing Bra
Most Feminine
For those who still want some femininity, even though you're currently a milk machine, Dairy Fairy has some pretty but practical bras. Made from nylon and lycra, the openings at the front of each breast will allow double or single pumping or pumping while breastfeeding.
These openings can accommodate the flanges of most breast pumps, and once in place, they'll leave you with your hands free. You can wear this bra all day, although it may not sit well under thin clothes. Sizes range from 30A to 40H, but we don't find that it offers much support in the bigger sizes.
---
Medela Easy Expression Bustier Pumping Bra
Best Bustier Style Bra
This bustier-style bra was designed for use with Medela electric breast pumps with two-piece shields. You can use it alone or over a nursing bra with dropped cups.
This bra comes in small, medium, and large sizes. It can feel a bit snug at first, so make sure you size yourself correctly. It does have two-way stretch for comfort and to hold the bottles in place while pumping.
This bra cannot be used with other brands of pumps and can be a little tricky to put on.
---
Momcozy Hands-Free Pumping and Nursing Bra
Best Sports Style Bra
This sports-style bra gives you the best of both worlds, as it's a hands-free pumping bra and a nursing bra. It's also a style that you can comfortably wear all day.
The sizing tends to run on the small side, but there are 10 inches of Velcro adjustment on the back and 2 inches on the front zipper. It has an X design built into the cups, making it easy to insert your bottle shields.
The straps on this bra can be detached or crossed at the back, making it versatile for wear under any clothing.
---
Rumina Classic Pumping Bra
Best for Easy Adjustment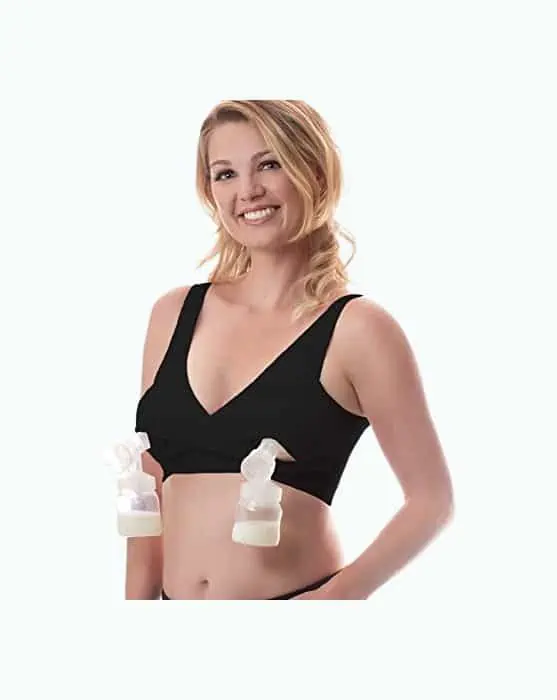 Made in the U.S. by moms for moms, this crossover-style bra lets you nurse, pump, or do both at once hands-free. Made from 90% cotton, the Rumina bra has an adjustable back strap and wireless expandable cups. This is ideal for breasts that seem to change size from day to day or even hour to hour.
This bra doesn't have holes for the pump flanges but uses a two-layered cup to hold the bottles while pumping. This lets you eat your lunch, check your email, or fold your laundry while expressing.
---
Snugabell PumpEase Pumping Bra
Easiest to Take on and Off
The PumpEase bra was designed for moms who want a hands-free pumping experience. You can wear it over a nursing bra or on its own.
You can choose from multiple print designs made from 88% polyester and sizes from 32AA to 48H. The front closes via a hook and eye system. This makes it easy to change in and out of and adjust for engorged breasts.
You can use it with any breast pump brand, and it can be machine washed. It's a good idea to use a laundry bag, though, so the fasteners don't get damaged.
---
Bravado! Clip and Pump
Best Breast Pump Bra Accessory
This is an accessory that specifically fits Bravado! nursing bras. That said, some find they can use it with other brands as long as the clips are the same.
It's made from super-soft, stretchy cotton modal and can securely hold two bottles while you pump. It's available in small, medium, large, and extra large sizes, but it tends to run a little on the small side.
You just pop this on over your nursing bra, release the nursing cups, and clip it into place. Attach your pump and flanges and slip them through the figure eight openings. Sit back, relax, and read your favorite book or catch up on social media while you pump.
How to Choose a Breast Pump Bra
This is a question of choice and lifestyle. Some breast pump bras are meant to be worn all day, while others are only for pumping. These are some things we look at when comparing the best breast pump bras:
Suitability: Make sure you buy a bra that is compatible with your breast pump. Some brands produce bras dedicated to their pumps, while others are pretty much universal.
Comfort: Most breast pump bras are designed to accommodate a little change. But you still need to select the right size for you and your ever-changing mammaries. If you're a busty mama, look for a bra with enough support to hold your girls in place and prevent back strain.
Material: Most breast pump bras will contain a stretch element to hold the flanges in place. Cotton will keep you cooler than synthetic fabrics like polyester.
Adjustability: There are various ways to fasten a pumping bra. Some have Velcro, some have zippers, and others have hooks-and-eye closures. Many bras combine fastenings, making them easy to put on and adjust.
How to Use a Breast Pump Bra
A breast pump bra can be a standalone bra for holding two bottles and flanges in place or can double up as a nursing bra. Alternatively, you can express your milk into a baby bottle while feeding your precious little one.
These bras can halve your pumping time, doing two bottles at once. This is a huge bonus if, for example, you're a working mom, pumping during the day in your break (1).
They have an opening in the bra cup near the nipple. This opening lets you slide the shield into place, attach the bottles and pump, and away you go.
---
Thank You For Your Feedback!
Thank You For Your Feedback!