To make sure all your hard work of pumping your breast milk doesn't go to waste, you'll want a storage solution that keeps your milk wholesome and fresh for your baby, for when they need it next.
We've researched the best milk storage bags for keeping your breast milk safe, fresh and secure in the fridge or freezer until you're ready to use it.
Our seven recommendations will make it much easier to get into a feeding rhythm and routine with your baby without the added stress of expired milk and burst bags.
Image
Model
Product Comparison Table
Features
Firm Favorite
Lansinoh Storage Bags
180ml bag sizes
BPA-free and recyclable bags
Bags don't have plastic smell or taste
Boob To Baby
Kiinde Twist Pouch
Recyclable bags
Fits narrow bottle pump
Cap seals tightly
Perfect for Transporting
Medela Storage Bags
Leak-proof protection
Resealable bags
Includes adapter for pumping directly into the bag
Cutest Design
Mommy's Precious
Accurate measurements for tracking what your baby eats
Safety seals prevents bacteria from entering
Recyclable bags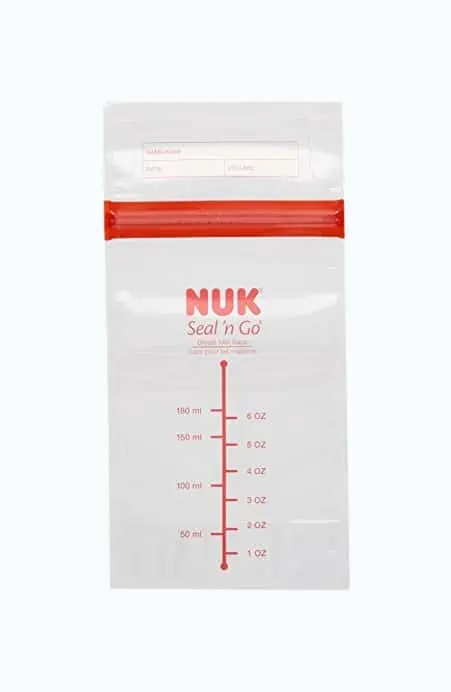 100% leak-proof due to double zipper seal
Self-standing bags
Easy to remove excess air from bags
A Reliable Choice
Ameda Pump 'N Protect
Gussetted bottom
Hole for flange adapter
BPA-free material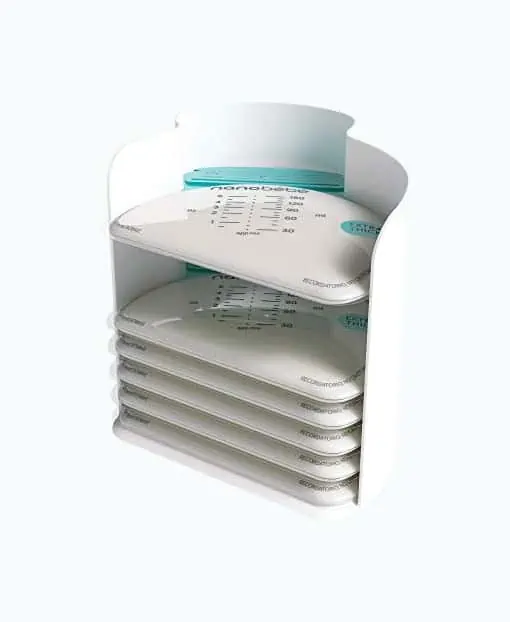 Best Space-Saver
Nanobebe Bags
Stackable space-saving design
Double zip seals to prevent leaks
Medical grade BPA-free material
Review Methodology: At Mom Loves Best, we make it our mission to provide you with a thorough analysis and assessment of the best breast milk storage bags on the market. Our team of experienced professionals conducts hands-on research, comparing various products based on criteria such as performance, ease of use, and safety. We evaluate each storage bag from a user's perspective, using quantitative measurements to rank their performance and highlighting the key decision-making factors. Our reviews delve into the design choices and their effect on users, while identifying what sets a product apart from its competitors. By sharing our findings and first-hand evidence, we help you make informed decisions when choosing the best storage solution for your precious breast milk. Trust Mom Loves Best to guide you through the top breast milk storage bags, ensuring you find the perfect fit for your needs.
---
---
The Best Breast Milk Storage Bags of 2023
Here are seven great breastmilk storage bags to consider.
Lansinoh Breast Milk Storage Bags
Best Overall Breastmilk Storage Bags
These are some of the larger bags on the market, and they have a patented double zipper seal, which means your breast milk shouldn't end up all over the fridge shelf and any unsuspecting veggies.
It saves you from having to clean up your fridge and pump extra milk to make up for the loss. Lansinoh bags have a pourable spout to help get breast milk into bottles without spilling a drop.
These bags are designed to lay flat in the refrigerator or freezer to save room while storing multiple bags. If you have a Lansinoh pump, you can attach it directly to the bags, or you can purchase one of the adapters if you use a different brand. The bags are also BPA and BPS-free.
Pros
It's easy to tell when the double zipper is closed.
The bags hold six ounces which is ideal for older babies that take a larger quantity of breast milk.
These bags are recyclable, which protects the environment. You can bring them to the plastic bag recycling center at local stores.
These don't have a plastic smell or taste.
Cons
To open these bags to use, you have to tear the top off and open a perforated edge which some women find takes longer than opening other storage bags.
Moms might not like that these are tricky to stand upright while pouring milk in because they're made of thinner plastic than other bags.
Our Ratings
Community Feedback
In my experience as a working mom, this product has been extremely helpful in storing breast milk efficiently. The bags are easy to use and freeze flat, saving space in my freezer, and they can be attached directly to my breast pump. I've only had an issue with leaking once, and the double seal provides reassurance. However, the measurements on the pouches are inaccurate, so I suggest measuring in a bottle first before pouring the milk into the bag.
---
Kiinde Twist Pouch Breastmilk Storage Bags
Best Breast to Baby Bags
If you're the kind of mom who values convenience above all, these nifty bags might be for you. Halfway between a bag and a bottle, these pouches come with a twist cap that attaches to most breast pumps and the brand's own bottle converter. They are BPA, PVC, and phthalate-free.
This means you can pump directly into the bag, store it, then attach the bag to an adapter and a range of nipples to feed your baby. No pouring, decanting or measuring out – everything stays in one bag from "boob to baby"!
While quite convenient, an extra benefit of this system is that you're reducing the chances of bacteria getting into the milk and causing trouble. Plus you'll cut down on bottle washing, which is always a win.
Pros
The bags are recyclable.
Fits narrow bottle pump parts, like Medela.
The cap seals tightly, so you don't have to fiddle with zipper seals and risk leaks and spills.
Convenient: collect, store, and feed all with the same pouch.
Cons
The bags aren't completely flat and not as easy to store as those with a simpler design.
Only one size is available.
The full range with all the accessories may be too pricey for some.
Our Ratings
Community Feedback
Best time-saving product for busy parents, these pouches make feeding baby a breeze. I've used them for both breastmilk and formula, and they've been a lifesaver during travel and on-the-go feedings. While the pouches aren't reusable, the convenience they provide far outweighs the environmental concerns, and I highly recommend them to any parent seeking an efficient feeding system.
---
Medela Breast Milk Storage Bags
Best for Travel
Busy moms who breastfeed understand how hard it can be to transport breast milk. These special milk storage bags are perfect for transporting, whether you have a daily routine or are on a fun family trip.
Made from a durable double-layer material with a double zipper seal, these bags won't leak and can handle being jostled around in a diaper bag or purse. They stand up on their own or can lay flat, depending on how you'd like to carry them.
One reason we love this set for travel is the included resealable transport pouch, which allows you to carry all of your unused bags and keep them organized and clean. Moms cannot only take breast milk with them but they can pump on the go and know they've got a clean bag that won't leak.
Each bag can hold up to six ounces of breastmilk and each box comes with 100 BPA-free bags.
Pros
Double-layer material and double zipper seal offer leak-proof protection while transporting.
Bags can stand up or lay flat.
Includes resealable transport pouch.
Comes with an adapter to pump directly into the bag.
Cons
You can't feed your baby directly from these bags, so you'll need to have other bottles with you for on-the-go feedings.
On the smaller side.
Currently not recyclable plastic.
Our Ratings
Community Feedback
Definitely one of the best options for storing breast milk, these bags have outperformed others I've tried in the past. They're easy to fill, pour, and label, without any strange shapes or leakage issues. While the measurements on the bags aren't perfect, using a kitchen scale can help ensure accuracy. Just be sure to apply enough pressure when sealing the zipper to prevent any spills, but overall, this product is practical and offers great value.
---
Mommy's Precious Breast Milk Bags
Best Design
These bags are not only BPA-free – they are latex and phthalate free. Mommy's Precious bags stand up by themselves because of their gusseted bottom design, so you don't have a struggle filling them up.
They use a double zipper lock for closure, and freezing them is simple. They are large and can hold up to 8 ounces of milk. Once filled, they freeze flat to save on storage space.
These bags also claim their measuring lines are 95 percent accurate, which should be a big help to women who are tracking every ounce their child eats.
Pros
The accurate measurements should help moms assess how much milk to pour into each bag.
The safety seal on the bags prevents bacteria from entering.
The bags are recyclable.
Cons
Moms may find these bags tricky to open because of the perforation on the bag.
Although the plastic is thick, it may feel a bit brittle, especially in the freezer.
Our Ratings
Community Feedback
Definitely the best milk storage bags I've come across, Mommy's Precious bags are a lifesaver for busy moms like me. These bags are incredibly sturdy, making it easy to stand them up and fill without spilling, while their double zipper design ensures no leaks. Freezing is a breeze with these bags, as they freeze more evenly and are easier to stack and organize compared to other brands. The only downside is the inaccurate measurement markings on the bag, but I easily fix this by measuring from my pump bottle and writing the amount on the bag with a pen. Just a tip: use a piece of scotch tape to write on if your pen doesn't work on the bag's surface.
---
Nuk Seal 'n Go Breastmilk Bags
Best Leak-Free
These bags also use a double zipper seal, and are guaranteed to be 100 percent leak-proof. Nuk bags have a top seal that prevents tampering and a gusset-free bottom which should mean no leaking from the bags' corners.
The bags are self-standing, but they can also be stacked in the freezer to save room. The bags hold 6 ounces of milk and when frozen, you simply run warm water over the bags to thaw the milk. Because of the oxygen barrier seal and waterproof design, all you'll get is pure milk after thawing and pouring into a bottle – not a watered-down mixture.
Pros
Moms may find it easier to get the air out of these bags because they aren't as thick as some other bags.
The writing section used for labeling is on the tab, not on the bag like some other brands.
100 percent leak proof to the double zipper seal.
Cons
Because these bags are thinner, moms may find that it is trickier to get them to stand upright without a struggle.
Moms may not like the sometimes strong plastic smell these bags have.
Not recyclable.
Our Ratings
Community Feedback
My experience with these breast milk storage bags has been fantastic, as they've proven to be reliable and leak-free, even when put through the rigors of shipping. I've tried several brands, but these bags stand out due to their sturdiness and affordability, making them perfect for storing my precious liquid gold. Pouring milk in and out of the bags is a breeze, thanks to the flap/spout design, and I've had zero issues with leaks during the thawing process, which is crucial for a busy parent like me.
---
Ameda Pump 'N Protect Breastmilk Storage Bags
Best Reliable Choice
These bags were made with a dual zip design to help avoid splits and leaks. Ameda Store 'n Pour bags have resealable zippers that are easy to close.
These are made from durable and leak-free bags that are pre-sterilized to assure safety. The bags are BPA-free and safe for the freezer. You can pump directly into these bags, but you will need an adapter.
The gusseted bottom plastic helps the bags stand up on their own and frees you from needing extra arms to get milk transferred into the bags. Ameda bags are also smaller than many others, holding only 6 ounces.
Pros
Moms like the bags have a gusseted bottom that allows freestanding.
Dual zip to prevent leaks.
Our Ratings
Community Feedback
These breastmilk storage bags have quickly become my favorite due to their thickness and ease of use. The strong seal and durable plastic ensure that even if I accidentally drop them, they won't break or leak. I've found them to be quiet enough to use while my baby is sleeping, and they can easily hold up to 8oz of milk safely. With a double seal to prevent spills, these bags have given me peace of mind when it comes to storing my breastmilk. They also lay flat and freeze evenly, making them perfect for bulk storage in my deep freezer.
---
Nanobebe Breastmilk Storage Bags & Organizer
Best Space-Saver
Lead and BPA-free, these bags are also made from a phthalate-free material. This breastmilk storage bag is stackable making it easy for you to organize. Moreover, it also has a double zipper seal which makes leaking less likely.
Made of thick, sturdy plastic, these bags hold 5 ounces each and come with a safety seal to ensure the bags haven't been contaminated before use.
A sizable record panel on top of these bags has a spot for you to write your baby's name, the number of ounces in the bag, and the date and the time you pumped the milk.
Pros
These bags don't spill when you're pouring milk into them because the plastic is so rigid.
Stackable and great space-saver.
Cons
Only capable of 5 ounces of breastmilk storage.
Our Ratings
Community Feedback
After trying out these breast milk storage bags, I've found them to be durable and quick to thaw, which is a big plus for me. While getting all the air bubbles out can be a bit tricky, I'm still happy with the purchase overall. The bags are thick and sturdy, with no leaks so far. However, they do take up more space in the freezer due to their shape, which can be a bit awkward, especially for those who need to store a large quantity. Despite this minor issue, the convenience of the organizer makes these bags a great choice for keeping everything organized in both the fridge and freezer.
Why Should I Buy Special Breast Milk Bags?
If you are like I was when as a new mom, you might wonder why you can't just use a ziplock bag that you would find in any grocery store. After all, it would be more convenient, and if you can store adult food in them, shouldn't they be okay for breast milk?
Here's why you should pass on the plastic baggies and opt for breast milk storage bags:
Since ziplock bags were not designed to store breast milk the chances of spills, leaks, or contamination are quite high.
Milk storage bags are BPA-free, thicker and can be used to freeze, thaw and warm the milk.
Breast milk storage bags are heavy-duty and sterile, which means your baby has a smaller chance of getting sick from any stray germs.
It's much easier to pour milk out of a breast milk storage bag than it is a ziplock bag– many of them have spouts just for that reason.
Breast milk storage bags are also not the same thing as the bottle bags that are sometimes used for feeding. Those bags are much flimsier and aren't recommended for storing milk – they are only to be used for feeding purposes.
How to Choose Breast Milk Storage Bags
With many different milk storage bags available, there are a few key details you should consider to make sure you find the best for you. The durability, size, material, usability, and option for adapters are all considerations you should make that will narrow down your choices. With this in mind, you'll find the best bag for your liquid gold.
---
Other Notable Brands
Other brands that didn't make the final cut, but we still think are worth checking out are:
Can I Just Use Cheap Plastic Bags?
We don't think you should pick out breast milk storage bags solely based on price. Instead, look for quality to ensure the ones you pick are meeting all your needs.
Even though they're just bags, some of them have features that make them better than others. This is why you should consider choosing high-quality storage bags over cheap, inferior brands.
How Do I Use Breast Milk Storage Bags?
Before beginning to pump, you should wash your hands, just like you would do if you were preparing dinner for your family (1).
After you've finished pumping, take the milk you've collected and put it in a storage bag which you'll either store in the refrigerator or the freezer. All you have to do is open your bag, pour the milk in, and remove excess air before sealing.
Remember
You might be tempted to cram as much milk into one bag as possible to get the most bang for your buck. Don't do that, though. Only put as much milk in one bag as you think your child will drink in one feeding. Otherwise, you will just be wasting the extra ounces.
If you've put 8 ounces of breast milk in a bottle and started feeding your baby, but he's only able to drink 4 ounces at a time, you have two hours left on this bottle of milk before it should be tossed (2).
If your baby needs more than you've given her in one bag, you can simply add more milk to her bottle from another bag. Then you can reseal that bag and put it in the refrigerator again until you need the rest of it. You have 24 hours to use the dethawed frozen milk that has not been mixed with saliva. It saves milk when you give the baby fewer ounces at one sitting, and give more as needed.
Don't Overfill
Another reason you shouldn't overfill bags is that if you plan on freezing them, remember the milk will expand. You don't want to throw away bags that have popped open in the freezer because overstuffed them.
Breast Milk Storage Guidelines
Store milk in the fridge in specially designed glass bottles or BPA-free plastic bags.
Babies under 2 weeks old need 2 to 3 ounces of milk per bag.
Older babies need around 3.5 ounces per bag.
You can keep thawed milk a further 24 hours in the fridge.
Never refreeze milk.
Warmer milk has a shorter lifespan. Discard any milk leftover after feeding.
Babies can have chilled milk only once they're a few months old.
Mixing milk from different "batches" is OK if neither is spoiled.
Deciding Which Bag is Freshest
You should label the bag with a date and time to make sure you know when it was pumped. If your fridge is anything like mine, things get shoved around, moved from shelf to shelf and jammed way in the back, so it's easy to lose track of which one is the oldest bag if you don't label it.
It's a simple step that takes the guesswork out of milk storage.
If you plan to bring milk bags to a daycare, you should also write your child's name on the bag.
I spent a year right after college working in a daycare while I looked for a job and it was unbelievable how many people would forget to put their child's name on the bag. At any given time in the daycare, there were multiple bags of breast milk in the refrigerator, but there was no way to tell who they belonged to!
Just grab a marker and write the baby's name on any bags you're taking outside the house, and the problem is solved.
Storage Bottles vs. Milk Storage Bags
You may be wondering whether you can just store your breast milk in a bottle instead of a bag. The answer is yes, but consider a few key features of bottles before you choose them as a storage method:
Pros
Bottles are durable and less likely to leak.
Bottles can be sterilized and reused.
They're less likely to be contaminated since they can't be snagged or torn as easily.
Cons
Bottles take up WAY more space in the freezer than bags, and can't be compressed.
Bottles are more expensive.
Milk stored in bottles may take longer to heat up.
Ultimately, it's your choice. I recommend opting for bottles if you know you'll be primarily storing milk in the fridge in the short term. If you're producing a lot of milk or want to keep it frozen for a longer time, bags are the better option.
Breastmilk Storage Bags FAQs
Here are some commonly asked questions about breast milk storage bags to help you in your breastfeeding quest:
---
The Bottom Line
Lansinoh takes the prize as our top pick as the best breast milk storage bag. Despite our best efforts as moms and protectors of our breast milk, spills and leaks are just a fact of life. They will occasionally happen with any brand out there. But the pourable spout and double zipper seal make leaks a rarity with these bags.
Lansinoh bags are the best all-purpose storage bag – they work well in both the freezer and fridge and thaw out easily– and they don't have that horrible plastic taste or smell. They hold a little more milk than some of their competitors, which is nice for when your baby's appetite grows.
Thank You For Your Feedback!
Thank You For Your Feedback!