Mei Tai baby carriers seem to be the least common carrier style, but we love their simplicity and extreme comfort.
You have to shop around to find a good Mei Tai carrier because they are not as common as soft structured carriers, baby wraps, or ring slings. As our team consists of moms, we understand how limited your free time is, so we're here to lighten your load and make your Me Tai selection process much easier.
We'll explain how Mei Tai carriers work and compare them to other carrier styles. We'll also review the best Mei Tai baby carriers to help you narrow down your selection and find the perfect carrier for wearing your baby or toddler.
Image
Model
Product Comparison Table
Features
Best for Newborns
Didymos Meh Dai
Easy to breastfeed
Used for different carrying types
Aids healthy positioning
Best for Summer
Suse's Kinder Mei Tai
100% soft brushed cotton twill
Adjustable seat width
Wide straps for comfort
Best for Plus Size
Liliput Mei Tai
Machine-washable organic material
Supports little spines regardless of age
Can hold up to 33 pounds
Best for Toddlers
Didymos Mosaic
Fits babies to preschoolers
Washable organic cotton
Stimulating fabric print
Best Budget Option
Malishastik Mei Tai
Includes a pocket
Detachable hood
Plenty of functionality
---
The Benefits of Choosing a Mei Tai/Meh Dai
With the growing popularity of babywearing in the U.S., the market can be confusing. There are many different types of baby carriers available, of all shapes, materials, and sizes.
If you want a simple carrier that is easy to put on, comfortable to wear, and safe for your baby, you'll love the Mei Tai. It's a minimalist design, a cross between a wrap and a conventional buckle carrier.
Mom and baby will love the comfort of a Mei Tai as it's less rigid than a conventional buckle carrier but easier to use than a baby wrap.
One of its best features is that you aren't limited to using it in one position. The Mei Tai is versatile and adjustable enough to carry your baby on your back, hip, or front.
Your baby simply sits in the Mei Tai's body panel, and you tie the straps around yourself. You can carry young babies and small toddlers comfortably and safely, with even weight distribution for your comfort.
With a bit of maneuvering, it's even possible to nurse your baby discreetly and hands-free. However, this may be more difficult if you have larger breasts.
With a Mei Tai carrier, one size fits (almost) all. You can easily adjust the Mei Tai to alternate between carrying a baby and a toddler. Or, when daddy wants to take a turn, the Mei Tai will fit him too.
How to Choose the Best Mei Tai
If you choose to sling your little one, knowing its features will help you select the right one. These are a few points worth considering when shopping for a Mei Tai:
Is it easy for you to tie on yourself, or will you need someone to assist you?
Is it machine-washable? This was the clincher for my Mei Tai — especially after being puked on with my previous sling!
When choosing a Mei Tai, you need to think about more than how it looks — although there are some really great prints, patterns, and solid colors to choose from.
Choose a Mei Tai that comes in a fabric suitable for your conditions. You don't want your baby (or yourself) to be too warm or too cold while wearing it. As Mei Tais come in a wide range of fabric types, including organic options, it shouldn't be hard to find one that suits your situation.
You want your carrier fabric to be durable and breathable and provide ample support to both you and your child while still being gentle on your baby's sensitive skin.
Consider whether the carrier is structured or made of a soft material, allowing your baby to sit in as natural a shape as possible. How will it support your child? Will it support you in the right areas to counteract your child's weight? Are ergonomic versions available?
"Close enough to kiss" is a mantra for baby wearers. Learning how to use your carrier to ensure your child is secure is important.
Ability to Carry Other Stuff
As a Mei Tai has wide straps that cover both shoulders, if you have narrow shoulders like me, you may find it hard to carry a diaper bag across your shoulder while wearing your little one. You may find it easier to use a backpack diaper bag while wearing your little one on your front.
---
The Best Mei Tai Carriers of 2022
Here are our favorite Mei Tai carriers on the market.
1. Didymos Meh Dai
Best for Newborns
This baby carrier is slightly different from the Mei Tai carriers with a more structured feel. It is made from 100% organic woven cotton. The back section that holds your baby is a soft material, allowing your new arrival to be held in a natural, snug position.
Without any structured padding, this carrier is like a second skin, holding your precious bundle closely to you. It also has an additional element of a drawstring seat, which encourages the ergonomic 'M' shape of your baby's bottom and legs.
The drawstring adjuster enables this Mei Tai to grow with your child, allowing for use from newborn to approximately three years. You can widen the straps for comfort and extra support as your child gets bigger.
A welcome addition is that the carrier has a hood for your baby. This means you can provide shelter from outdoor elements or use it as a cover during sleep.
Thankfully, Didymos has made the material machine washable, which is super helpful when your little one has a huge blowout in the carrier. However, it may not protect your clothing from displaying the blowout results, as I learned the hard way.
Pros
Easy to breastfeed in.
You can use it for front, back, and hip carrying positions.
Lightweight fabric means it's cool enough for warm climates.
Eco-friendly materials.
Available in a variety of colors and prints.
Aids healthy positioning of your baby's hip joints.
Cons
The light, airy material may not be suitable for the winter months.
---
2. Suse's Kinder One and Only
Best for Summer
This beautiful Mei Tai is made of 100% natural cotton. This means it will stay cool and breathable, even in the summer months, while still being supportive due to its finely woven and supportive twill fabric.
The finely brushed fabric is soft enough for your baby's delicate skin, ensuring their contentedness as you carry them.
The undyed fabric keeps this carrier from absorbing the sun's rays. However, if you prefer a more interesting design, this Mei Tai is a blank canvas. You can dye or tie-dye it however you like, making it a one-of-a-kind carrier your mom friends will covet.
Suse's Kinder carrier was designed by babywearing experts and educators with decades of babywearing experience, so you can trust that your little one will be safe and supported.
The straps on this carrier are longer and wider than most, making it more adaptable and suitable for moms of all sizes and offering extra shoulder support and comfort. You can adjust the width at the bottom of the pouch to fit your narrow newborn's bottom. The unique style allows it to grow with your little one until they become too heavy to wear.
With the added tactile stimulation on the waist fabric, you can easily distinguish between the shoulder and waist straps, which will help you remove your baby from the carrier safely.
You can roll the hood panel up to protect your little one from the sun or support their head while resting, or you can button it down to fit a smaller baby.
Pros
Made with machine-washable, cool, comfortable, and natural cotton.
The undyed fabric stays cool, or you can dye it to suit your style.
Adjustable seat width makes it suitable for newborns to toddlers.
Cons
Hip straps are a little wide, making them harder to tie.
Torso length can be hard to adjust for shorter babies.
---
3. Liliput Mei Tai
Best for Plus Size Moms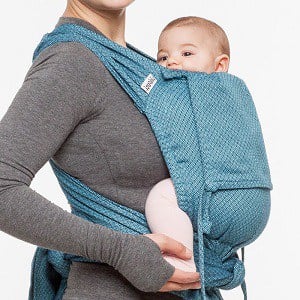 If you're a plus-sized mom, this Mei Tai should be on your shopping list. It has extra-long straps, so you can secure your baby comfortably, regardless of your size.
It has an adjustable panel height and width to grow with your little one. Similar to other varieties, its waistband is padded for your comfort, and the spreadable shoulders support weight distribution.
This Mei Tai is especially comfortable for wearing your baby on your back. However, this can be a complicated maneuver (speaking from experience) and is best for older babies or toddlers who can hold their heads up and support themselves somewhat.
This Mei Tai may seem simple compared to other slings on the market. It only allows for two carrying styles. However, simple does not necessarily mean less useful.
Despite my problems in mastering a back carry position, this sling comes with an easy-to-follow instruction guide and has a good reputation for its ease of use. It keeps your child close, and they'll love being up on your back and seeing the world from your perspective.
Pros
Machine washable
It can be ironed — if you feel the need to give yourself an extra chore!
The hood cover protects your baby's head from the sun.
Organic material.
Supports little spines, regardless of age.
It can hold up to 33 pounds.
Cons
Although advertised for newborn use, the product recommendation is from six to eight weeks old, depending upon personal judgment.
Shoulders are not padded.
---
4. Didymos Mosaic Mei Tai Carrier
Best for Toddlers
The Didymos Mei Tai is made of strong organic cotton fabric that can support babies, toddlers, and even preschoolers if you really need to rein them in.
The fabric pattern is stimulating for younger babies, and the colors are an interesting focal point for tired toddlers.
The jacquard fabric was woven specifically for strong baby carriers, so you can rest assured your carrier will be a safe resting place for your little one.
The long straps make it easy to adjust for people of all sizes with no buckles, clips, or zippers to dig into your skin.
This Mai Tai does include two drawstring ties to adjust the width at the neck and the seat of the carrier.
You can use the carrier to wear your little one on your back, front, or hip. And although the straps don't have any extra padding, they spread wide to distribute your child's weight across your shoulders, back, and hips. The lack of padding also helps this carrier fold up smaller than some other designs.
youtube url="https://www.youtube.com/watch?v=xYp5_zbhJF0″]
Pros
Soft fabric.
Adjustable headpiece and seat.
Great head support.
Gender-neutral color.
Cons
Thicker fabric can be warm at times.
Fabric shrinks some upon washing, making it stiffer.
---
5. Malishastik Organic Jacquard Mei Tai
Best Budget Option
The growing popularity of babywearing means products are appearing to suit all budgets.
If you are looking for your first baby carrier purchase, you'll probably want to have something simple, purse-friendly, and functional. If that's the case, this carrier will be an excellent choice for you.
Although it's more costly than some other styles of carriers, it is inexpensive for a Mei Tai, as they must use quality fabrics to account for their lack of padding and hardware to support your baby's weight.
When you start your babywearing journey, your baby might not like it, or you may find that babywearing just isn't for you and your family. If you aren't entirely sure, a budget option could be best.
The Malishastik carrier is made from organic cotton jacquard fabric and is comfortable and supportive for you and your baby. It functions like a hybrid carrier as it includes an additional strap and buckle to more evenly distribute your little one's weight across your midsection.
Like with most Mei Tais, you can wear your baby in three carrying positions — back, front, and hip. You can adjust the hood height easily with the drawstring, and you can tighten its width with buckles fastened to the shoulder straps.
Although the lightly-padded shoulder straps aren't as wide as on some Mei Tais, you'll have less fabric to deal with when transporting the carrier, and it won't bunch up when you're wearing it.
Pros
Hood and neck support height and width are easy to adjust.
Supportive waist belt.
Carries up to 33 pounds.
Less expensive than many other options.
Cons
May be too padded for some personal preferences.
Baby's face may rub against the adjustable straps.
---
Thank You For Your Feedback!
Thank You For Your Feedback!