Building a bond with your newborn doesn't always happen from the offset; it can take time, sometimes even months. This is why new moms and dads — and babies! — could benefit from the close contact a babywearing shirt provides.
While wraps and carriers aren't new concepts, some could be a little too advanced for your family's tiniest recent addition.
We've compiled a comprehensive list of the best babywearing shirts suitable for your newborn. We've taken comfortability, accessibility, and support into account for you and your baby. These babywearing shirts will keep your newborn feeling snug while encouraging bonding and attachment.
Image
Model
Product Comparison Table
Features
Casual Kangaroo Care
DadWare Cotton Kangaroo
Constructed from soft cotton
Easy access
Two color options, several sizes
Keeping Warm & Cozy
Monochef Women's Sweatshirt
Warm polar fleece
Compatible with carrier and shirt
Can be used during pregnancy
Best for Baby's Growth
Moby Bump & Beyond T-Shirt
Supports your baby like a carrier
Multiple different sizes
Suitable for newborns
Best for Home Use
ThusFar Baby Carrier T-Shirt
Stylish and comfortable design
Soft and breathable fabric
Multifarious color options
Best for Being Active
NuRoo Moisture-Wicking Shirt
Polyester material
Tested up to 45 pounds
Compression for support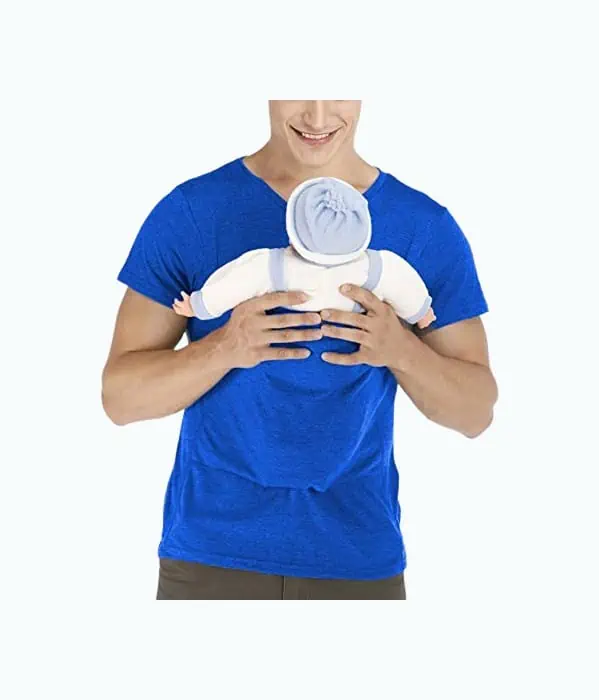 Best for Adventures
Amropi Men's Baby Carrier
Sporty and casual style
Durable
Soft for dad and baby
Best for Soothing
Vija Design Kangaroo Care
3-in-1 shirt
Ideal for easy nursing
Hands-free
---
---
The Best Babywearing Shirts of 2023
Here are seven great babywearing shirts to consider.
DadWare Cotton Kangaroo T-Shirt
Casual Kangaroo Care
A lot of people automatically assume babywearing shirts are only popular with moms. But dads want in on this action, too!
Not only are you getting additional newborn cuddles, but skin-to-skin contact is beneficial for both parents to bond with their infant. And this t-shirt offers dads a comfortable way to do it.
It's made from 92 percent cotton blended with jersey, which makes it super soft. It's also stretchy for comfort, with 8 percent spandex. This t-shirt is stylish, and available in navy blue and charcoal colors.
While it won't provide hands-free support, you can hold your child while moving about. You can keep your infant cozy by pulling the velcro flap over, which may help with better sleep quality and building that unbreakable bond.
Pros
Constructed from soft cotton.
A flap for easy access.
Two color options and several sizes.
Cons
Velcro can wake baby.
Not hands-free.
Our Ratings
---
Women's Babywearing Sweatshirt
Keeping Warm and Cozy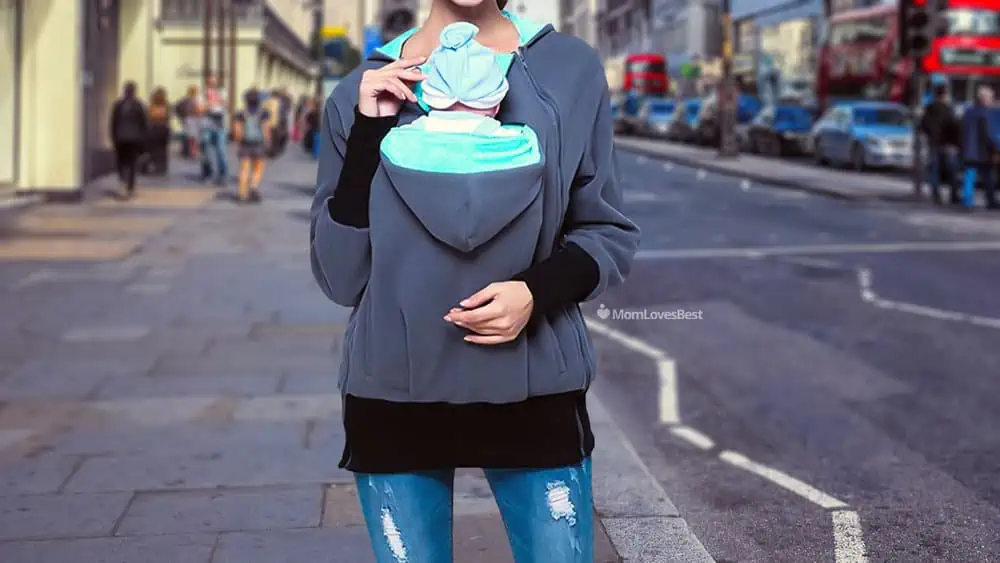 Most babywearing shirts are suitable for spring and summer. But this one is great for colder months of the year.
The idea of this sweatshirt is that it could be combined with a babywearing t-shirt or a front-side baby carrier. It has two inserts: one for maternity and the other for carrying your newborn. All you do is simply zip in the one you want.
We think it's adorable that there's even a little hood to keep away the cold. It's made from a warm polar fleece that's going to be cozy for you to wear, too.
Let's not forget that it has a trendy design. It's grey with a bright-colored teal hood, so you can be warm and fashionable.
Pros
Made from warm polar fleece.
Compatible with carrier and shirt.
Made for pregnancy, too!
Cons
Requires separate baby carrier.
Our Ratings
---
Moby Bump & Beyond T-Shirt
Best for Baby's Growth
Your little one can be in here from the newborn stages until they're 19.8 pounds. So if you enjoy the skin-to-skin shirts, the fact you can use this for so many months will put a smile on your face.
It's also great that this works as a pregnancy shirt, too. You'll love the extra support for your bump and be super comfortable before your baby is even born.
This shirt is also great for people with back pain since the wrap at the back supports your spine and improves posture. This takes the strain off your back while you're pregnant and postpartum.
The breathable and machine-washable fabric is comfortable for both you and the baby, as well as low-maintenance. If it gets dirty, toss it in the washing machine with the rest of your clothes for quick washing.
Pros
Provides hands-free support.
You can nurse your baby while wearing it.
Multiple sizes available, including a plus-size option.
Suitable for newborns and up to 19.8 pounds.
Cons
Not as secure when holding larger babies; better for the newborn stage.
Instructions can be confusing.
Our Ratings
---
ThusFar Baby Carrier T-Shirt
Best for Home Use
Your infant can enjoy comfortable cuddles with dad in this hands-free shirt. You can walk around with confidence, enjoying activities while your child sleeps.
Simply wear it like a normal shirt then place your child into the pouch. No ties or adjustments are needed. It has the capacity to securely hold your baby with a maximum weight limit of 15 pounds and make them feel safe.
It's great for relaxing, bonding, and maybe even sleeping more comfortably. Plus, you can choose between royal blue, army green, dark grey, or black, to match your wardrobe.
Pros
Stylish and comfortable design.
Various color options.
Soft and breathable fabric.
Cons
Only suitable for babies up to 15 pounds.
Does not support healthy hips.
Our Ratings
---
NuRoo Soft Moisture-Wicking Shirt
Best for Being Active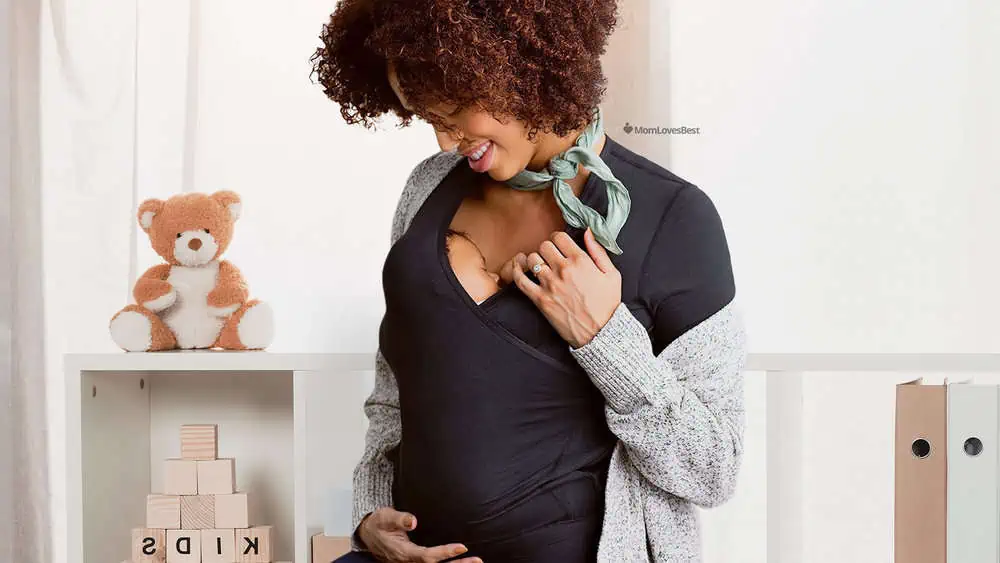 One of our favorites is this mother's babywearing shirt. Simply put it on like a normal shirt and you can enjoy the softness, support, and bonding time.
This product comes with a design that offers full coverage for your baby. This shirt includes a fashionable belt for a supportive fit.
Compression makes the baby feel secure, almost recreating the womb. It also makes it hands-free.
Seamless stitching is going to be just what you need postpartum. It will feel comfortable as your body adjusts to life after pregnancy. It'll also reduce chafing for your new baby.
The polyester makes this product breathable and moisture-wicking, so you can feel cool on hot days. What's more, this is one of the few babywearing shirts that adheres to ASTM sling and carrier standards.
Pros
Made from a soft polyester material.
Seamless stitching for comfort.
Tested up to 45 pounds.
Compression for support.
Cons
Sizes seem to run big.
Babies outgrow it quickly.
Our Ratings
---
Amropi Men's V-Neck Babywearing Shirt
Best for Adventures
Does dad want to take his baby on an adventure? Then this shirt may be just the item of clothing you need. It has a sporty V-neck style, making it look and feel casual. It has short sleeves for warm weather and a slim fit design.
It's made from a mixture of polyester and cotton. This makes it soft and comfortable for dad and newborn to wear all day.
All you've got to do is carefully place your child into the built-in pouch. It extends to swaddle your child. While this isn't a hands-free shirt, you can still walk around if you hold your baby.
Pros
Sporty and casual style.
Short sleeves for the summer.
Soft for dad and baby.
Cons
Maximum weight is 15 pounds.
Our Ratings
---
Vija Design Kangaroo Care T-Shirt
Best for Soothing
You can wear this fashionable t-shirt and hold your child close. It's a babywearing t-shirt that supports your child and allows skin-to-skin contact.
It's made from cotton and can support children weighing up to 20 pounds, thanks to the shirring on the sides. It's great that this top can also be used for nursing— you'll be able to do this discreetly, even in public.
It's also machine washable, so you can launder it with your other washing. This t-shirt is hands-free.
Pros
Made from soft cotton.
Ideal for easy nursing.
Hands-free.
Cons
Some moms reported the sizes run small.
Our Ratings
What Is a Babywearing Shirt?
Imagine how snug and protected a baby feels in the womb and how overwhelming it must be to suddenly be out in the big wide world. Babywearing shirts are an easy way to help your baby make this transition.
They are simply shirts with a built-in pouch, allowing the infant to lie chest-to-chest with the wearer. This helps comfort the newborn and encourages bonding between the mom or dad and the baby.
If you're already a parent, chances are you'll have heard about the positive benefits of skin-to-skin contact. Of course, the main advantage is bonding with your child. But there are other benefits, including that it (1):
Is a calming and relaxing experience.
Helps to regulate a baby's heart rate.
Allows regulation of the baby's body temperature.
Provides support for premature babies.
Allows hands-free support, letting the wearer continue with other tasks.
How to Choose a Babywearing Shirt
Whether you're looking for yourself or a friend that's just had a baby, it can be challenging to know exactly what to look for!
Babywearing shirts are only suitable for newborns (think the fourth trimester), so the shirt won't be in it for the long haul. But the good news is that there are more suitable options to keep that close contact as your little human grows.
We've put together some pointers to remember and features to consider when looking for the best babywearing shirts for mom or dad.
---
Thank You For Your Feedback!
Thank You For Your Feedback!