Are you eager to start wearing your baby, but overwhelmed by all the babywearing options out there?
You're not alone. When my youngest was born, I had another child to chase around while caring for a newborn. My daughter all but lived in her carrier, and it was the only way I could get simple things like the dishes done each day.
Babywearing is a great way to hold and comfort your baby while keeping your hands free to tackle other chores. But how do you choose which babywearing option is right for you? We'll discuss three common babywearing options to help you decide.
---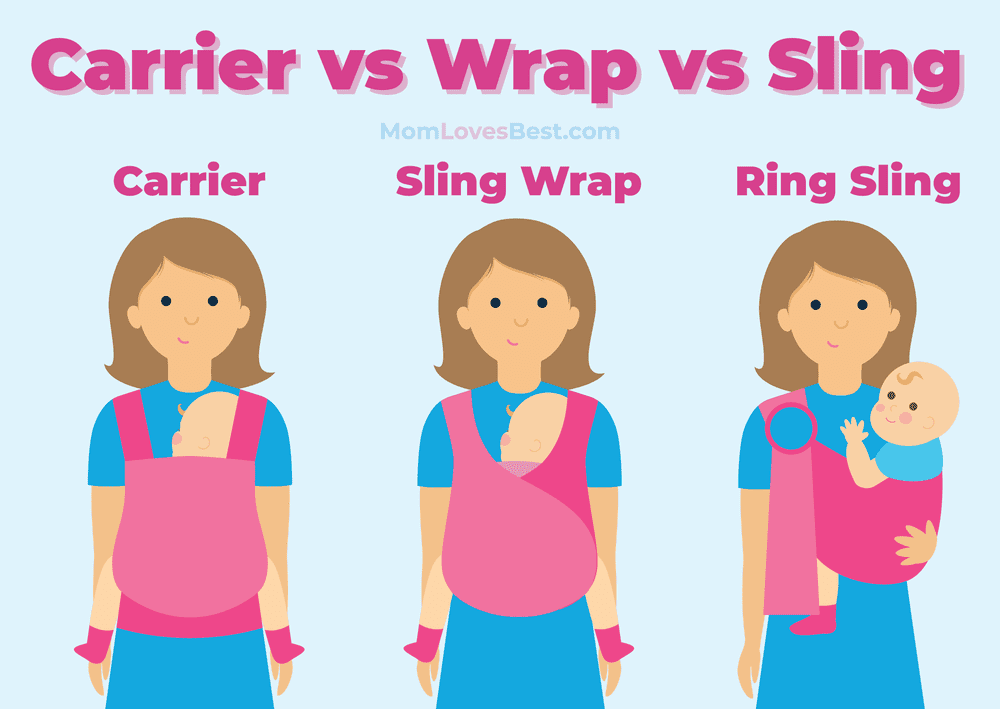 Soft-Structured Carriers
A soft-structured baby carrier is probably the most common type of carrier and is what comes to mind when many people think of babywearing. It has buckles that attach around the parent's waist and back to secure the baby in the carrier.
Soft-structured carriers come in a variety of brands and styles, and you can also get different accessories such as chew pads and headcovers to go with them.
Why Use A Soft-Structured Carrier?
They are easy to master, making them perfect for first-time parents. It is quick and easy to put your baby in and adjust them as needed.
With this type of carrier, you can also carry your baby in several positions, and the padded straps make them comfortable for you. Many styles can hold your baby from newborn to toddler, and they are stable and durable.
Why They May Not Work For You
While soft-structured carriers might be an excellent choice for first-time parents, there are a few things to consider before you jump in. First, they tend to be expensive. They are also bulkier and can be hard to fit in a diaper bag.
Many also do not provide adequate support for a newborn, meaning you will need to wait until your baby is older and has better head support before you can use it. Some parents also find the buckles on the carrier can be uncomfortable for wearers.
What You Should Know Before Buying
Before you buy one, there are a few things you can do to make sure it is the right choice for you.
Consider your budget. How much you're willing to spend will go a long way in deciding the style and brand for you.
Decide what positions you want to wear your baby in, and make sure you purchase a carrier that supports those positions.
Consider how old your baby is. If they are unable to support their neck on their own, you will need to make sure your baby carrier is adequately designed to support a newborn. This will keep your baby safe while wearing them.
Take Note
Although most soft-structured carriers position your baby's legs to protect their hip sockets, some don't. So, choose a carrier that keeps your baby's legs in an M position with their knees above their hips
(1)
.
Baby Wraps
Wraps are a long piece of fabric you tie around your body to hold your baby. You can choose a stretchy wrap that is easier for beginners to master or a woven wrap that will hold your baby from newborn to preschool. The choices are limitless in this form of babywearing.
Why Should I Consider a Wrap?
Wraps are to the babywearing world what Von Dutch hats were to my high school — all the cool kids have them! But, baby wraps can also be intimidating to try, especially for a parent new to babywearing. Still, don't let fear hold you back because wraps can be a lot of fun too.
Stretchy wraps are one-size-fits-all and are easier to use because you can tie them before you put your baby in the wrap. Woven wraps are sturdy and also comfortable for you and your baby as they provide enough support for you to wear your baby in a back carry.
Plus, you can get them in a variety of fabrics which means you can have different wraps for hot or cold weather to keep you and your baby comfortable.
The Cons of Using a Wrap
No carrier comes without its flaws, and unfortunately, wraps are no exception. Depending on which kind of wrap you choose, you will face a different set of cons.
A stretchy wrap, for example, does not offer a lot of support. So, it is best used in the newborn stage alone and cannot be used to back carry as it is not sturdy enough to ensure safety.
The lack of support in a stretchy wrap will also make it more uncomfortable as your baby grows because the weight of your baby will cause it to dig into your shoulders.
With woven wraps, the main issue is that they have a pretty steep learning curve. It can take quite a bit of time to master different wrapping techniques, and you will probably need to learn new wraps as your baby grows.
They are also not one-size-fits-all. Your wrap size is based on your t-shirt size and varies slightly with different brands. Be sure to check the size chart before purchasing your wrap to make sure you get one that fits.
What To Know Before Buying
Before purchasing a wrap, consider how long you plan to use it. If you need a budget-friendly option just for the first few months, a stretchy wrap is an excellent choice for you.
However, if you have an older baby or want a wrap for long-term use, a woven wrap is a better choice. It is also useful to buy your wrap in-store because, at a store, you can try on different sizes and even have a store clerk teach you a few wrap styles.
Ring Slings
If wraps intimidate you, but you want something that offers a bit more variety than a soft-structured carrier, a sling might be a choice to consider.
What Are The Benefits Of Slings?
A sling is a piece of fabric you wrap around yourself which is connected with a ring. Ring slings are also an affordable babywearing option that is popular with parents (2).
Slings are easier to use compared to wraps and aren't as hot as a soft-structured carrier in warm weather. They can also be worn on your chest, hip, and back providing a lot of variety for you and your baby.
What Are The Cons Of Slings?
The cons of a ring sling are similar to the disadvantages of a wrap. While they are easier to get used to than a wrap, there is still a small learning curve. Slings also vary in size, so you'll need to do your research before purchase to make sure it fits properly.
You also need to pay attention to the ring positioning as you tie your sling. If not positioned properly, it can dig into your shoulder and cause irritation or even bruising.
Can You Make Your Own Sling?
Would you like to use a ring sling, but can't decide on a brand? Well, with a little effort you can make yours! It's pretty simple, and you don't even need sewing skills.
To make your ring sling:
First, gather your supplies. You will need a woven wrap and a pair of rings. Use rings specifically made for ring slings so you know they will hold your baby's weight.
Fold one end of your wrap down. Fold it so the shorter tail goes all the way down your back, but not fully around to your side.
Take the shorter tail and begin to gather it at the fold, then pull it through both of your rings. Make sure that the wrap is straight, and not twisted.
Hold the wrap by the rings, grab the top rail, and put it around your back to the top rail is on the top of your shoulder and the shorter tail is folded closest to your back.
Once the wrap is on your shoulder, you can tie it just as you would a ring sling.
How to use a regular sling:
How to use a no-sew ring sling:
---