Being active outdoors comes with a lot of benefits for you and your children. Those long biking trips, hikes, and canoe rides are making memories and muscles at the same time. However, with physical activity, hydration is crucial to keeping healthy and being able to continue (1).
Keeping water with you isn't always so simple though. Water bottles are almost always the items that tend to weigh us down the most. When you're out and about with youngsters, they can easily finish a water bottle in just a few minutes.
Often, parents are the ones doing all that heavy lifting with those water bottles because kids hate to have to carry them in their hands. Because of this, you could be filling your backpack with heavy supplies, which weighs you down.
We've discovered that getting your kid one of the best hydration packs is great way to avoid this issue.
Image
Model
Product Comparison Table
Features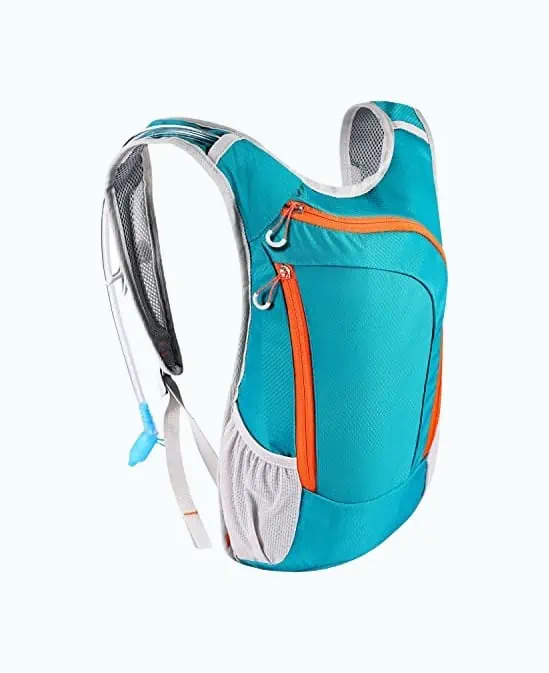 Best Hydration Pack Overall
Kuyou Hydration Pack
Keeps water cool
Comfortable materials
Outstanding reservoir included
Best for Clean Drinking
Vibrelli Hydration Pack
High flow bite-valve
Multiple storage
Light as feather
Best Reservoir
CamelBak Kid's Scout Pack
The Cruz reservoir
Full-featured pack, kid-friendly size
Built-in reflectors and whistle
Pure Hydration
Neboic Hydration Backpack
Lightweight
Comfy fabric
Easy refills
Best for Older Kids
KBNI Hydration Backpack
An emphasis on sanitation
Food grade reservoir
Great fabric
Most Lightweight
CamelBak Mini M.U.L.E. Pack
Extra storage compartments
Reflectors and whistle
Excellent reservoir valve
Most Pockets
Osprey HydraJet 1.5L Backpack
Refilling made easy
Excellent material
Included hydration pack
---
---
The Best Kids Hydration Packs of 2023
Here are 7 great hydration packs to consider.
Kuyou 2L Hydration Pack
Best Hydration Pack Overall
The hydration pack from Kuyou is one of the top-rated packs, and for good reasons. It's both stylish and user-friendly, capable of keeping your youngster refreshed for hours.
With insulated pockets and premium materials, this pack is great for long trips on foot or bike. There's ample room for small essentials like a shirt or snacks. The pack is lightweight and includes a large reservoir that's FDA approved.
It's not suitable for small children, however. The straps are easy to adjust, but we recommend this for ages 9 and up.
What We Like
Keeps Water Cool
On a hot day, the water inside the hydration pack will inevitably become too warm to drink. Kuyou beats this by including insulation. The reservoir sits in a separate pocket where you can add ice cubes if needed without damaging the backpack.
Thanks to the insulated reservoir, Kuyou claims the pack can keep your water cold for up to four hours. That's plenty of time for a hike with kids.
Comfortable Materials
The Kuyou hydration pack is made of waterproof polyester fiber fabric. It's incredibly durable and wear-resistant, ideal as a backpack for kids.
With the waterproof exterior, your youngster can hike through any weather without worrying about spoiling the contents of the bag. There is air mesh at the back and on the shoulder straps, providing some ventilation.
Outstanding Reservoir Included
Included with the hydration pack is a 70.54-ounce (2-liter) reservoir. It's constructed of high-quality TPU material, which is BPA-free, ensuring odorless, taste-free water, and it's FDA approved.
It has a large top opening, making it easy to clean or to add ice cubes if needed. Additionally, there's a 135-degree rotatable mouthpiece and an easy-to-use shut-off valve to adjust the flow.
What We Don't Like
Valve Is Tricky to Figure out
A few users had some issues with the valve, saying it was difficult to figure out how to use it. There are instructions included, but they are vague and not easy to follow. It may take some trial and error on your child's part to get the hang of it.
Product Specs
| | |
| --- | --- |
| Color | Teal |
| Material | Nylon and mesh |
| Extra pockets | Yes |
| Reservoir included | Yes |
| Item weight | N/A |
Our Ratings
---
Vibrelli Hydration Pack
Best for Clean Drinking
This hydration pack is perfect for the whole family. While it will fit kids, it will also fit moms and dads, too! No matter the adventure, this backpack will be your trusted companion. Take it with you hiking, biking or just on day trips.
We love that it's been designed with clean drinking in mind. The bladder is made from medical grade material without BPAs or PVC. It has a special film over it so that the water doesn't have that nasty plastic taste to it. So when you're out adventuring all day long, your water stays fresh and tasty.
What We Like
High Flow Bite-Valve
To drink your tasty fresh water, just turn the Easy-Twist valve 90 degrees and your water will come up. The water flows fast and doesn't leak. You can even lock it so that it doesn't drip while you aren't using it. That's why this backpack is so perfect for a range of adventures! Lastly, there is a wide top fill which means you easily add ice and water.
Multiple Storage
Water isn't the only thing you can store in this backpack! The hydration pack has many pockets for all the essentials. There is the main storage pocket, a separate pack for the bladder, and then the quick access pocket at the front. All of the pockets are pretty spacious without being bulky.
Light as a Feather
Maybe not quite as light as a feather, but you know what we mean! At only 14 ounces, this hydration pack is super comfortable to wear all day. It's ergonomically fitted to suit your body, it's easy to adjust and it's been made to fit most body sizes.
What We Don't Like
Velcro Straps Poor Design
While the velcro is strong and does its job, every time you undo the velcro, it pulls the fabric up a little. Over time, this is really wearing down the fabric and destroying it.
Tight Waist Strap
This is definitely not a universal backpack. It suits standard body sizes but it's best for kids as the waist strap is quite tight. Adults found that they couldn't even fit it over a jacket.
Product Specs
| | |
| --- | --- |
| Color | Orange |
| Material | Nylon and mesh |
| Extra pockets | Yes |
| Reservoir included | Yes |
| Item weight | 14 ounces |
Our Ratings
---
CamelBak Kid's Scout Hydration Pack
Best Reservoir
The Scout hydration pack from CamelBak has a lot to offer outdoorsy children, and it's a favorite brand among parents. With an easy-to-use reservoir, the backpack is suitable for even the smallest trailblazer. It features an innovative design, making sips quick and effortless.
CamelBak ensures your little one remains visible and heard while out and about. The Scout comes in a child-friendly size that won't feel bulky to carry. There's also ample room for all their gear.
With three fun designs to choose from, the Scout is suitable for both boys and girls.
What We Like
The Cruz Reservoir
The Cruz reservoir has received raving reviews from parents and children. It's designed in a way that allows for stronger water flow, delivering 20 percent more fluid than a conventional reservoir with each sip.
Children also love it because of how easy it is to use. Instead of a bite valve, it has an on/off controller, which also prevents bite damage. The valve is leak-proof and is ergonomically designed — it's effortless to refill, too.
Full-Featured Pack, Kid-Friendly Size
CamelBak ensured the Scout was child-friendly in terms of proportions. It's suitable for children with long or short torsos and is comfortable for them to wear.
You can quickly adjust the straps to suit your growing child. There's a chest strap to ensure the pack stays level on the back without bouncing.
Built-In Reflectors and Whistle
If you're ever planning on walking when daylight is low or after dark, the bag must include reflectors. Reflectors don't provide light, but if you get separated, the backpack will be visible if light touches it, helping you spot your youngster.
If your little one gets lost, there's also a safety whistle. You can locate them in no time, giving you some peace of mind when out on the trail.
Ample Room
The reservoir sits in a separate pocket at the back of the pack, so there's ample room for other gear. Your little hiker or biker can pack snacks, extra clothes, notebooks, and pencils without having to ask you for help.
To each side are mesh pockets for small extras like an additional water bottle or juice box.
What We Don't Like
Not Enough Insulation
Some parents pointed out the water became hot rather quickly on warm days, even with ice cubes. There's not much insulation, and the material used for the reservoir doesn't keep the water cool for long.
Product Specs
| | |
| --- | --- |
| Color | Maui blue print, crimson red and blue, or purple sapphire and azalea |
| Material | Padded mesh |
| Extra pockets | Yes |
| Reservoir included | Yes |
| Item weight | 11 ounces |
Our Ratings
---
Neboic 2-Pack Hydration Backpack
Pure Hydration
If you're looking for a hydration pack that takes up minimal space and is easy to carry, we recommend this offering from Neboic, which is sold as a two-pack.
The backpacks are suitable for both children and adults, so you'll have one for your youngster and one for yourself.
Neboic focused solely on hydration. The backpack doesn't feature a lot of other pockets for gear. However, this makes it ideal for sports.
The pack is stable and easy to adjust to suit users. Thanks to an innovative design, refills and cleaning of the reservoir are effortless. Your youngster should enjoy wearing this backpack, even on hot days.
What We Like
Lightweight
The Neboic hydration packs are light and slim in design. They're made for activities such as biking, running, or hiking. While on the back, they feel stable and light — the hip and adjustable shoulder straps prevent bouncing.
They're designed to be a perfect fit for kids from age 9, up to adults.
Comfy Fabric
Neboic is all about comfort, with this backpack featuring breathable material all around. It allows for airflow, keeping your child cool during activities. It's also quick to dry so sweat won't be an issue.
Easy Refills
The drink tube included with the backpack can quickly disconnect from the main reservoir. Your youngster can refill without too much hassle, and the tube will remain in its spot while refilling takes place.
The tube disconnects by pressing a button, then you pull the reservoir out of the backpack to refill. Replace the bladder and reconnect the tube.
What We Don't Like
Plastic Taste
Some reviewers said the reservoir gave the water a plastic flavor. This seems to go away after some cleaning.
Product Specs
| | |
| --- | --- |
| Color | Black |
| Material | Mesh |
| Extra pockets | Yes |
| Reservoir included | Yes |
| Item weight | N/A |
Our Ratings
---
KBNI 2L Hydration Backpack
Best for Older Kids
For older kids who love hiking, KBNI has something great to offer. Their hydration backpack packs a punch in terms of design and features. With cushioning at the back and sturdy material, this backpack is one your youngster should like using.
It's a great backpack for newbie hikers, with an easy-to-use valve and large opening. There's ample room for extra stuff, although it focuses more on keeping a flat profile on the wearer's back.
Your child can hike through any weather, regardless of how extreme the temperatures are. They can even stay active after dark while remaining safe and visible.
What We Like
An Emphasis on Sanitation
The drinking valve on this backpack is outstanding — it's easy to use, resembling a water bottle. It unlocks by pulling out, and then a push back to lock it. The mouthpiece is soft and once unlocked, the user can bite it to drink.
KBNI included a dust cap for the mouthpiece, keeping it clean and covered while not in use.
Food Grade Reservoir
With a BPA-free, EVA reservoir that's FDA approved, you can ease your mind that your youngster won't consume anything harmful.
The bladder can carry 70.54 ounces (2 liters) worth of water, plenty for the average hike.
It's effortless to refill thanks to the extra-large screw cap, measuring 2.7 inches in diameter. Ice cubes can be inserted to keep liquid cooler for longer, and it's easy to keep clean.
Great Fabric
KBNI is a favorite brand among hikers because its backpacks are durable, and this one is no exception. It's made of scratch-resistant nylon, which is waterproof and will remain fresh-looking for years to come.
All your child's gear will remain safe in all kinds of weather. Even the buckles are sturdy and capable of withstanding extreme temperatures.
What We Don't Like
Not for Gear Haulers
Some reviewers said that when filling the bladder to the limit, there's almost no room for gear. The backpack is flat on the back and focuses more on hydration than having room for storage.
Product Specs
| | |
| --- | --- |
| Color | Green, black, red, or blue |
| Material | Nylon |
| Extra pockets | Yes |
| Reservoir included | Yes |
| Item weight | 10.6 ounces |
Our Ratings
---
CamelBak Mini M.U.L.E. Hydration Pack
Most Lightweight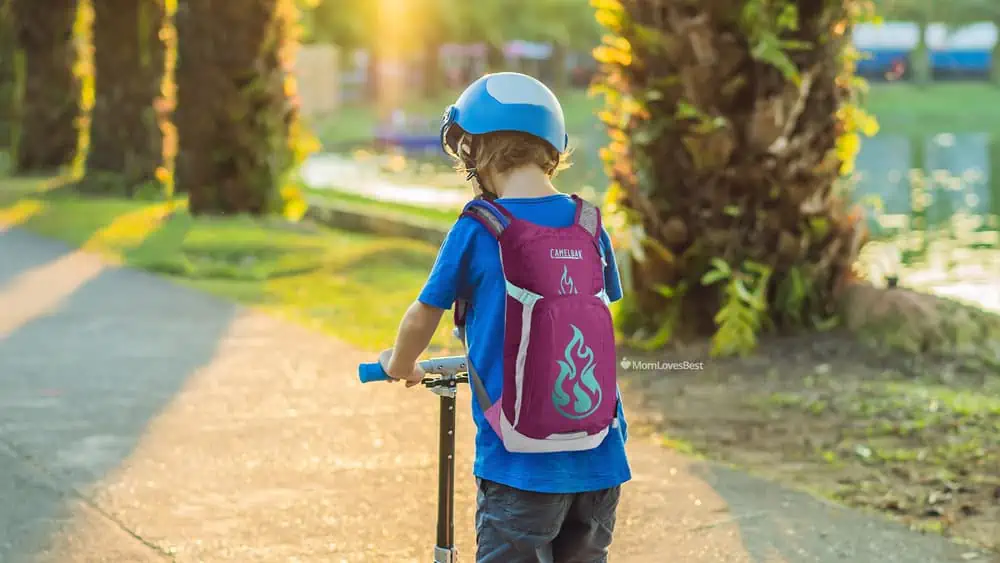 The Mini M.U.L.E. from CamelBak is another outstanding hydration pack for big and small kids. It's made of comfortable, lightweight materials, and is suitable for any season.
The M.U.L.E. is a smaller version of the Scout, which means it doesn't have as much room for gear. However, if your youngster is little, then it will suffice.
It's available in various colors and prints that both girls and boys will want to wear. Reflective elements make sure your little one will stay safe and visible on the road. The included Cruz reservoir is outstanding, excellent for small users.
What We Like
Light Material
For the Mini M.U.L.E., CamelBak used ultra-light materials to create a comfy backpack for young and old users. The back panel consists of breathable air mesh, allowing the wearer to use it even during long, hot days.
The light materials also allow young children to wear it. Some parents said their toddler was able to carry it comfortably.
Extra Storage Compartments
Although the Mini M.U.L.E. doesn't have as much onboard storage as the Scout, it's still plenty for young users. They get a large pocket for an extra layer or a rain cover in case the weather should turn.
Reflectors and Whistle
To ensure your little one is seen while out and about, the backpack features reflective accents all around. If needed, there's also a whistle, located on the chest strap. Your child can use it if they get lost or during emergencies.
Excellent Reservoir Valve
The Cruz reservoir is a favorite among users. It's efficient, providing up to 20 percent more water for each sip than other valves. It features an ergonomic handle for refilling as well as a lever to prevent leaks.
What We Don't Like
Reservoir Is Difficult to Secure in the Backpack
Some reviewers noted the reservoir was a pain to secure inside the backpack. There's a small rope loop, which is supposed to go around, keeping the bladder in place. However, it's complicated to fit it when full.
Product Specs
| | |
| --- | --- |
| Color | Baton Rouge and flames, atomic blue and navy blazer, azalea and Aruba blue, black and flames, or camouflage |
| Material | Padded mesh |
| Extra pockets | Yes |
| Reservoir included | Yes |
| Item weight | 7 ounces |
Our Ratings
---
Osprey HydraJet 1.5L Kid's Hydration Backpack
Most Pockets
Whether your child is into hiking or enjoys going on long biking trips, the HydraJet hydration pack from Osprey is terrific.
It features an eye-catching teal or red color with bright, yellow edges, making the wearer visible on the road.
The main reason we chose this pack, however, is the emphasis on storage space. Osprey has your kid's back in this department.
The pack includes one of Osprey's best reservoirs, and refilling it is a breeze. Parents rave about how comfortable their children are in it and how easy it is to use, suggesting it's well worth a look.
What We Like
Plenty of Room
There's room for all your child's gear. The hydration pack works as a standard backpack, thanks to the external reservoir sleeve. Behind the sleeve sits the main pocket where there's room for almost anything.
Inside the main pocket is an additional mesh compartment for small essentials your child needs handy. To the sides are stretchy pockets for extra water bottles, a toy, or snacks. Then on the shoulder strap sits the last pocket, designed to hold a phone.
Refilling Made Easy
With any kid, you always want something quick and easy. Osprey kept that in mind when designing this hydration pack. The bladder is a breeze to change, refill, or empty if needed.
It sits in an external reservoir sleeve, allowing for quick access, regardless of how full the pack is. Older kids can easily do this themselves.
Excellent Material
At the back of the pack (the part closest to your child's back), Osprey used mesh material. As your youngster is walking, cool air ventilates, keeping their body from overheating. The frame has twin-welded chevron baffles, working to stabilize the water and maintain a flat profile.
Included Hydration Pack
With the backpack, your child gets Osprey's Hydraulics LT reservoir, capable of holding 1.5 liters or 52.91 ounces. It's a high-quality reservoir that features a slide-seal, located at the top, making it easy to remove when you need to refill or clean.
It includes a bite valve with a magnetic clip, attaching the hose to the strap for better management and access.
What We Don't Like
Easy-to-Puncture Valve
The downside to bite valves is that children chew through them, and some parents said it was too easy with this one.
Product Specs
| | |
| --- | --- |
| Color | Blue or red |
| Material | Nylon and mesh |
| Extra pockets | Yes |
| Reservoir included | Yes |
| Item weight | 12 ounces |
Our Ratings
---
What Are Hydration Packs?
Hydration packs are modified backpacks designed to carry a reservoir, or bladder, as some call it. The tank is a rubber or plastic container with an attached tube and a drinking valve.
You fill the reservoir with liquid, and then the wearer can drink from the tube while they are on the go. It's excellent for active, outdoorsy children who frequently accompany their parents on hikes or biking trips. Another benefit is that you'll reduce your environmental impact if you've otherwise been using plastic bottles.
Keep In Mind
They do require a lot of maintenance and frequent cleaning. Drinking valves must be cleaned after each use, and the pack should ideally be left to dry completely before refilling.
How to Choose a Hydration Pack for Kids
---
Stay Hydrated
Staying hydrated is important during physical activity, especially for children. A fantastic way to do this is by having your child wear a hydration pack. These modified backpacks fill with water to see them through a trek or bike ride.
They are also a great means of doing away with all those plastic water bottles if you're working to do your bit for the environment.
The best kids' hydration packs are designed with child-friendly proportions. They should feature a drinking valve your child feels comfortable using and include breathable material on the back panel.
Thank You For Your Feedback!
Thank You For Your Feedback!