Kids are hard on their water bottles.
We're moms, so we know the struggle. You want to keep your kid hydrated without having to replace their water bottle every week. Reusable water bottles can be expensive, but you want to avoid using disposable plastic bottles that are harmful to the environment. So, what's a mom to do?
We've made it our mission to find the best water bottles on the market — reusable bottles that are durable, spill-proof, and easy to carry. We've compared all the top options, looking at criteria such as capacity, design, cost, and durability, to create this list of the best kids' water bottles on the market.
With one of our top picks, you can save money on frequent water bottle replacements and rest assured your child stays hydrated wherever they go.
Image
Model
Product Comparison Table
Features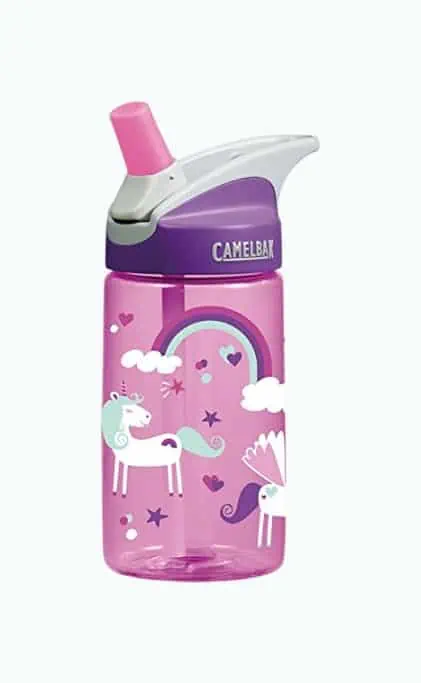 Best Lunchbox Bottle
CamelBak Kids
Dishwasher safe
Free of BPA and BPS
Drip-free experience
Best Straw Bottle
Zulu Torque Bottle
FDA food grade silicone straw
Won't crack, stain or smell
Hard to break bottle
Best Leak Proof Bottle
Nalgene Tritan
Affordable and dishwasher safe
Fits your toddler's hands
Made in the U.S.
Best Hygienic Bottle
Thermos Funtainer
Hygienic push-button lid
Keeps liquid cold for 12 hours
Integrated carry handle
Best Insulated Bottle
Snug Kids
Child-friendly designs
Rust-free
Screw-top lid
Best Stainless Steel Bottle
Anature Stainless
No metallic taste
Won't sweat on the outside
Perfect size for kids to hold
Best On-the-Go Bottle
Contigo Autoseal Trekker
Leak-free and spill proof
Fits perfectly in cup holders
One-handed drinking system
Best No-Slip Bottle
Hydro Flask Wide Mouth
Double-wall vacuum insulation
Powder coat finish
Lifetime warranty
---
---
The Best Kids Water Bottles of 2023
Here are our favorite kids' water bottles currently on the market.
CamelBak Kids Water Bottle
Best Small Lunch box Water Bottle for Kids
This charming bottle is small enough to fit in a lunch box without taking up too much space. Its spill-proof design means it won't leak in your child's bag and ruin their lunch.
Plus, kids will love all the different colors and designs they can get, from unicorns to dragons.
Recommended for kids from ages 3 to 8, this has a redesigned cap and valve to provide a faster flow rate, so your child can chug that water when they need it.
Pros
Dishwasher safe.
Free of BPA and BPS.
Bite valve offers a drip-free experience.
Cons
The tubing often falls out of the bottle.
May collect mold in the spout.
Our Ratings
---
Zulu Torque Kids Water Bottle
Best Kids Water Bottle With a Straw
These modern-looking water bottles hold 12 ounces, and they do it in style with a silicone sleeve that looks nice and protects the plastic bottle.
They have a locking flip lid with a soft straw that won't hurt the top of your child's mouth, lips, or teeth if they happen to fall while walking around and drinking.
Although it's made of plastic, this bottle is free of BPA, phthalates, and PVC.
You can't put this bottle in the freezer to chill your water, but the top is big enough to fit ice cubes if your child prefers cold water.
Pros
Dishwasher-safe for easy cleaning.
Big straw makes for easy chugging.
It's hard to break this bottle, even if you drop it.
Cons
These are fairly expensive.
No replacement straws available.
Our Ratings
---
Nalgene Tritan Grip-N-Gulp Bottle
Best Leak Proof Water Bottle for Kids
This water bottle holds 12 ounces and comes in more than a dozen vibrant colors, some of which have fun designs.
The plastic used to make these doesn't contain BPA, and the smooth mouthpiece should feel comfortable against little mouths.
This bottle is tough enough to stand up to the rigorous use a toddler will put it through. And since it's spill-proof, you won't need to follow your toddler from room to room, mopping up little puddles.
Pros
It's affordable and dishwasher safe.
This bottle is small enough for your toddler's hands.
Made in the U.S.
Cons
The spout doesn't close.
The slow flow of the spout can be frustrating for some kids.
Our Ratings
---
Thermos Funtainer 12 Ounce Bottle
Best Hygienic Water Bottle
You can't protect your child from everything, but you can protect them from germs with this hygienic water bottle.
The key feature is the pop-up straw. It's hidden beneath a cover, so it can't be grabbed by germy hands or exposed to dirt, dust, or anything else your child may get into.
When it's time for a drink, your child just needs to press the button. The lid will open, and the straw will pop up. If your child is the rough and tumble sort, always getting into messes, this water bottle will help keep the germs away.
It's made of stainless steel, holds up to 12 ounces of liquid, and can keep your child's favorite liquids cold for up to 12 hours. We also like that it has an integrated carry handle so smaller hands can maintain a good grip.
These can be used at a young age, and kids love how the cover pops open with a button.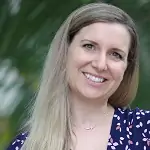 Editor's Note:
Katelyn Holt RN, BSN, BC
Pros
A hygienic push-button lid protects the straw from nasty germs and exposure.
Stainless steel thermos system keeps liquids cold for 12 hours.
The integrated carry handle is perfect for little hands.
Cons
You've got a lot of different parts with this bottle, so there's more to clean, and children might lose the pieces if they take it apart.
Our Ratings
---
Snug Kids Insulated Water Bottle with Straw
Best Insulated Water Bottle for Kids
Your toddler won't be able to break this water bottle, no matter how hard they try! There's a single push button to help their little hands launch the straw, which is excellent for parents who worry about their child's hygiene.
You can't use this for hot drinks, but it does an excellent job insulating your cold drinks for the entire day.
The vacuum-insulated bottles will never rust, and they come in some bright, fun colors to interest your child.
Pros
Child-friendly designs.
This bottle keeps your drink cold for a full day.
Will never rust.
Cons
It holds 12 ounces, which can be a lot for smaller children.
Our Ratings
---
Anature Stainless Steel Water Bottle
Best Stainless Steel Water Bottle for Kids
This brightly colored water bottle holds 9 ounces, which is the perfect amount of liquid for a child. Since there aren't any childish characters on these bottles, they'll still be cool enough to use as your child grows up and gets pickier.
This double-walled bottle is vacuum insulated, which means it will keep your child's water cold all day. It can also be used for hot drinks — like hot chocolate on a cold day — and it'll keep your liquids hot for up to 10 hours.
Pros
You won't get that annoying metallic taste to your water.
It doesn't sweat, so there's no need to worry about your child using coasters on your nice tables.
It's small enough for a child to hold easily.
Cons
It doesn't use a straw but has a screw-off lid, which might be less convenient.
It may be a little heavy for some toddlers.
Our Ratings
---
Contigo Autoseal Trekker Kids Water Bottles
Best On-the-Go Water Bottle
Children are always on the go! Whether they're shuffling about with you or starting to fill their lives with school, hobbies, and friends, you want to keep them hydrated while preventing spills.
That's one of the reasons we appreciate this on-the-go water bottle. It has a specially sealed lid, so it's both leak-proof and spill-proof, preventing accidents, small and large.
It's tough enough that it can roll around in the car or be dropped on the ground without liquid bursting everywhere. It's even designed to fit in standard cupholders.
This is also a great option for active kids because they can use it with only one hand. If your child loves to walk and play outdoors, they can carry and use this water bottle without stopping.
Pros
Leak-proof and spill-proof, so you can take it on the go without fear of accidents.
Fits perfectly in your car's cup holders.
Features a one-handed drinking system.
Cons
There isn't a straw or spout, so younger children may struggle to drink from it.
Our Ratings
---
Hydro Flask Kids Sippy Water Bottle
Best No-Slip Water Bottle
Developing fine motor skills is an important part of growing up. Your little one has been grabbing and reaching for things from the very start, and they especially love it when they can hold things on their own. Unfortunately, many water bottles are too big or slippery for little hands.
This special no-slip water bottle aims to help children get a good grip and stay hydrated. Its smaller size is perfect for a child while still holding 12 ounces of liquid. The double-walled vacuum insulation and stainless steel material keep liquids cool for up to 24 hours.
Our favorite features, however, are the unique powder coat finish and silicone boot. The powder coat is designed to give your child extra grip when they're holding the bottle. The silicone boot provides added protection and traction when your child sets it down.
We love this water bottle for younger children who still need a bit of extra help.
Pros
The smaller size is ideal for young children and their little hands.
With the powder coat finish, your child can get a good grip.
Keeps liquids cool for up to 24 hours.
Cons
Can only be washed by hand.
Our Ratings
What's Wrong with Disposable Water Bottles?
Disposable water bottles are convenient and widely available, and you don't have to worry about cleaning them after use.
But they're also a complete waste of resources — that includes your money and the materials used to make them.
Disposable water bottles won't break down for 450 to 1,000 years — that's an awful lot of waste we can avoid. Last year, around 50 billion plastic water bottles were used in the U.S. alone, and the majority weren't recycled either — they just went straight into the trash.
When we throw these bottles away, we might as well be tossing our hard-earned money in the garbage along with them. Not only are they a waste of money, but they're also a waste of natural resources like the gas needed to transport them all over the globe.
Environmental issues aside, if you think that bottled water is the safer, healthier option, think again. Bottled water isn't any better than tap water (1).
How to Choose Water Bottles for Kids
There are a few considerations to take when you're choosing a water bottle for your kids.
---
What's the Best Type of Reusable Water Bottle?
There are pros and cons to each water bottle type. Plastic reusable water bottles are usually inexpensive and easy to replace, although they can also be easy to break. And some parents worry about chemicals in plastics and choose to avoid them altogether.
Stainless steel and aluminum water bottles are far more durable, but they also have drawbacks. Stainless steel can be heavy for a child to lift, and it can seriously damage little toes if a baby drops it.
Metal bottles have also caused some freak accidents — some kids have had their tongues get stuck inside when trying to get the last drops out of the bottle. When that happens, the tongue is difficult to get out because a vacuum is created (2).
Glass bottles are easy to clean, and you don't have to worry about chemicals. But they're also easy to break, and no parent relishes the idea of their child having to walk through or around broken glass.
You'll have to weigh the risks involved with each type of material and decide what's most important to you to determine which kind of bottle is right for your child.
---
Thank You For Your Feedback!
Thank You For Your Feedback!