Not much can soothe a baby quicker than a nice warm bottle. Finding that perfect temperature isn't always easy, though. It can be dangerous to put the milk in the microwave in case of uneven heating, and putting it in a pot of boiling water can be a difficult guessing game.
A baby bottle warmer may seem like a luxury but it's a must-have for many parents. Especially when you consider how much time you'll spend preparing bottles.
We've rounded up the best baby bottle warmers that will not only help you avoid scalding your baby or offering them too-cold milk, but save you loads of your precious time.
Image
Model
Product Comparison Table
Features
Best for Breast Milk
Dr. Brown's Warmer
Fits any standard bottle
Warms milk efficiently
Has an audible alarm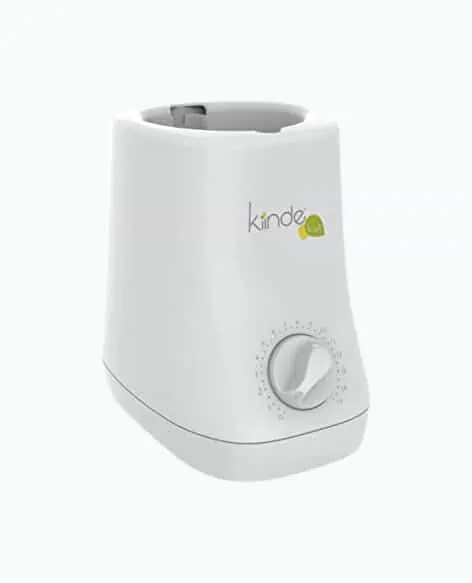 Best for Glass Bottles
Kiinde Kozii Warmer
Can be used with steel bottles
Automatic timer
Doesn't use steam
Best Car Bottle Warmer
Tommee Tippee Portable Warmer
Fits into most diaper bags
Water stays warm for up to 12 hours
Doesn't require an electricity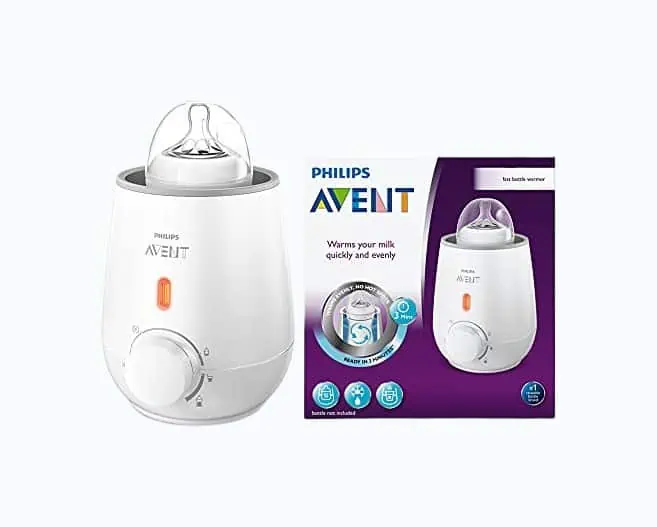 Safest Option
Philips Avent Warmer
Can heat baby food bottles
Temperature reference table included so you know time lengths
Very lightweight at 1.7 pounds
Most Speedy
Munchkin High Speed
Lift-out basket design
Shuts off on its own
Fastest warmer on the list
Best Travel Bottle Warmer
Eivotor 6 in 1
6-in-1 multifunctional design
Programmable temperature
Automatic power off
Best Value for Money
The First Years Simple Serve
Can heat baby food jars
Can sterilize pacifiers
Heats a bottle in under 5 minutes
Review Methodology: At Mom Loves Best, we understand the importance of finding the perfect bottle warmer for your baby. Our team conducts in-depth research, analysis, and hands-on testing to evaluate and compare various bottle warmers based on criteria such as efficiency, safety features, and ease of use. We gather data from real-life experiences and professional assessments to provide a user-focused review. Our article highlights key decision-making factors such as heating time, temperature control, and compatibility with different bottle sizes. We also discuss design choices that impact the overall performance, ensuring you make an informed choice while selecting the best bottle warmer for your family.
---
---
The Best Baby Bottle Warmers of 2023
Here are 7 great baby bottle warmers to consider.
Dr. Brown's Deluxe Bottle Warmer
Best Bottle Warmer for Breastmilk
Dr. Brown's Deluxe Bottle Warmer uses a water chamber that can heat up multiple bottles before it has to be refilled. It can warm both standard and wide neck bottles, as well as baby food jars.
This bottle warmer has a control panel that is easy to operate and an audible alarm to let you know when a bottle has finished warming.
Parents who aren't tech-savvy may appreciate the one-button start feature on Dr. Brown's Deluxe. If you always use the same bottle size straight from the refrigerator, there's a memory function that can be set to your preferred heating time.
Pros
Any standard bottle should fit into this unit.
Warms milk a little faster than some other bottle warmers on the market.
It has a handy memory function for parents that use the same settings.
Cons
The reservoir can get slimy over time because it can be difficult to clean.
The plastic on the bottles gets so hot you need to use a towel to remove it from the machine.
Our Ratings
Community Feedback
My experience with this bottle warmer has been a mix of convenience and minor frustrations. As a new mother, I found that using an electric kettle to warm bottles was not efficient, so I gave this warmer a chance. It works great in warming bottles quickly and evenly, and I appreciate that it can sterilize other items as well. However, the up and down arrows sometimes stick, making it difficult to adjust the time, and I wish it had preset times or an easier way to add time. Finding the perfect temperature for my daughter's 6oz bottles took some trial and error, as the manual didn't provide specific instructions for that amount.
---
Kiinde Kozii Bottle & Breast Milk Warmer
Best Bottle Warmer for Glass Bottles
The Kiinde Kozii Bottle warmer is safe for glass bottles as well as metal, plastic or bags. It both thaws and warms milk or formula, as well as baby food. The Kiinde Kozii warmer uses a low-temperature water bath to warm bottles instead of steam.
It heats quickly and consistently because of the low heat it uses, which helps avoid hot spots that might burn your baby's mouth.
Plus it's versatile enough that you can pop in frozen breast milk storage bags straight from the freezer, making it great for moms who pump and store their milk. This warmer has an automatic timer that automatically shuts off when the set time is finished.
Pros
It works with steel, glass, or plastic bottles as well as bags.
Parents don't need to measure water for every use.
It's easy to use, especially without the worry of overheating the milk.
Cons
Parents might find this unit too expensive.
Not convenient to take with you on trips.
It does not sterilize pacifiers.
Our Ratings
Community Feedback
These bottle warmers have been a great addition to our daycare, as they fit various bottle sizes and work efficiently. I've also used it to heat up pouches filled with homemade baby food, although it takes a bit longer to warm from frozen. The warming chamber isn't deep enough for full pouches or taller bottles, but it's perfect for smaller 4-5oz bottles. Just be sure to maintain precise water levels, clean it regularly, and it'll serve you well!
---
Tommee Tippee Closer to Nature Portable Warmer
Best Car Bottle Warmer
The Tommee Tippee portable warmer can heat your baby's milk anytime, anywhere. We love using Tommee Tippe products for our little one. The brand is so reliable, and their products are easy to use.
With this warmer, pour boiling water into the thermal cup before leaving the house. When you need to warm a bottle, pour the water from the thermal cup into the lid. Place the bottle into the lid to warm up. Simple!
No electricity is needed, so this warmer will be your aid no matter where you are.
Pros
Fits into most diaper bags.
No electricity is necessary so you can use it anywhere.
Works with multiple brands of bottles.
Fits perfectly with Closer to Nature baby bottles.
The water stays warm in the thermal cup for up to 12 hours.
Cons
Customers found it bulky and inconvenient to pack.
Water cools down in the thermos while using the lid to warm bottles.
Some customers experienced the cup leaking.
Our Ratings
Community Feedback
Definitely a must-have for parents on the go, this product makes warming baby bottles quick and easy. I simply fill it with boiling water before leaving the house and it stays hot for 8+ hours, perfect for outings and trips. The container holds enough water to heat up at least three bottles, and is especially useful for those times when I cannot breastfeed or there's no access to hot water in public places. It's a bit large and clunky for the diaper bag, but that's a small price to pay for the convenience it offers.
---
Philips Avent Fast Bottle Warmer
Best Bottle Warmer for Safety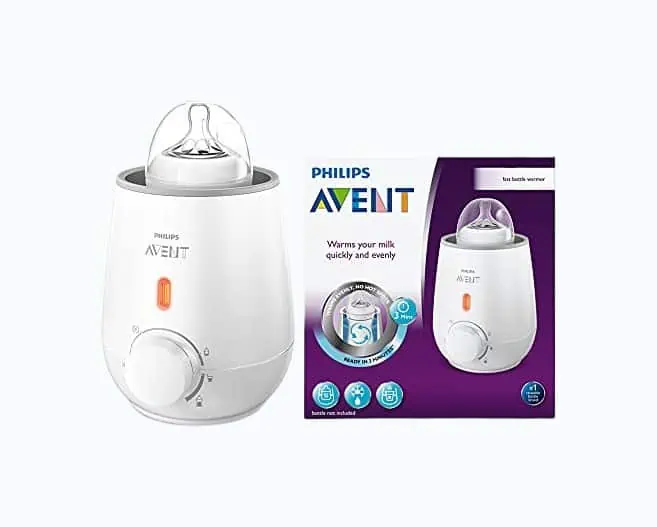 The Philips Avent Fast Bottle Warmer gets high marks for a design that heats the milk gently and uniformly. While not the fastest, it heats a bottle steadily and avoids creating hot spots or scalding the milk or outside of the bottle.
Five ounces are heated in around three minutes. The water in the unit circulates continuously to make sure the milk is mixed and heated throughout.
It also comes with a separate defrosting setting, and is relatively more thorough at heating frozen milk than other models. Plus it'll work on most sizes and shapes of bottles. Just add water and turn the dial.
Pros
It can be used to heat baby food bottles.
Thorough instructions and temperature reference table.
Very lightweight bottle warmer weighing only 1.7 pounds.
Cons
Some parents dislike that there is no timer.
As with many warmers, some experimentation is necessary to find that temperature "sweet spot."
A few moms might find the wait time too long.
Our Ratings
Community Feedback
From my experience, this bottle warmer has both pros and cons. The construction is solid, and it warms bottles quickly and efficiently, although it works best with Philips Avent bottles. One downside is that it's tough to see the water level when warming the bottle, making it difficult to follow the instructions for filling the bath up to the milk level. A small handle on the side would also be helpful for easier pouring of water. On the positive side, it does have a convenient always-on setting that keeps water heated to a constant, perfect temperature, making it a time-saver for those middle-of-the-night feedings.
---
Munchkin High Speed Bottle Warmer
Best Speedy Bottle Warmer
This super cute bottle warmer promises to warm your baby's bottles in just 90 seconds — barely enough time for even the fussiest of babies to start pitching a fit. Unlike many warmers, this one uses hot steam to warm milk, and to use it correctly you'll need to add just the right amount of water using the included cup.
The Munchkin Bottle Warmer is simple and minimalistic, taking up barely any room on a counter. If you ever need to, it won't be too difficult to bring it along on trips since it weighs just under 1.5 pounds.
Moms have found that this unit fits all sizes and shapes of bottles, and since it gets very hot, very fast, you don't have to worry whether it can handle a frozen milk storage bag.
Pros
It comes with a little lift-out basket.
Automatically shuts off on its own with a beep and a flash.
The fastest warmer on the list heating in only 90 seconds.
Cons
The high heat can damage more delicate bottles or glass.
Many parents complain that the steam is just too hot and chars the milk.
It needs a little trial and error to find the right amount of water for your bottles.
Our Ratings
Community Feedback
This bottle warmer has been a convenient and efficient addition to our baby care routine. It heats bottles quickly, usually in less than a minute, which has been a lifesaver during those late-night feedings. However, the bottom does get a bit dirty after multiple uses, so I recommend heating water first before adding formula to minimize any buildup. It's essential to wait for it to cool down before using it again, although holding the button down for a few seconds can speed up the process. While it's not perfect, this bottle warmer is simple to use and has made a difference in our daily lives.
---
Eivotor 6 in 1 Baby Bottle Warmer
Best Travel Bottle Warmer
With a 6-in-1 multifunction design, this bottle warmer from Eivotor helps simplify your life, especially if you're traveling. It combines breastmilk warmer, formula heater, food heater, thawer, heat retention, and baby bottle sterilizer into one compact machine. Wherever you are, whether it's at your mom's house or a hotel room, you'll have what you need to make feedings stress-free.
This bottle warmer includes an automatic shut-off function to avoid kitchen accidents. Moreover, it has heat retention technology that keeps the water at the perfect temperature to ensure the bottle stays warm or you can place a new bottle inside without having to wait for the water to heat back up.
It's important to note this bottle warmer runs through a plug and not on batteries. So, while it's great for taking with you on longer trips, it won't be a great option for shorter trips or while you're out running errands. You'll always need to find a place to plug it in.
Pros
The 6-in-1 multifunctional design allows you to heat and sterilize any kind of bottle.
Keeps water at the perfect temperature for fast and even heating.
It has an automatic shut-off function for peace of mind.
Cons
Doesn't run on batteries, so you'll have to find a place to plug it in when you're out and about.
Our Ratings
Community Feedback
These multifunctional bottle warmers have been a great addition to my daily routine with my baby. The medium-sized warmer has a "warm" setting that maintains a consistent temperature, allowing me to fill bottles with water before bed and have them ready for those early morning feedings. The larger one, gifted by my brother, has a setting to dry bottles as well, so I can sanitize and dry them all at once. Unfortunately, the instructions included are minimal and not very helpful, making it difficult to understand certain functions like "time remaining." Despite this, the warmers save me a lot of time and I appreciate the convenience of having the bottles maintained at a safe and ideal temperature for my baby.
---
The First Years Quick Serve Bottle Warmer
Best Value for Money
This bottle warmer one of the most affordable options out there. It will heat up breast milk, formula or baby food jars quickly, and it has an automatic shut-off for added protection for your family. This unit works with almost any kind of bottle – it can handle wide mouth, narrow mouth, disposable or angled bottles. For moms who are concerned about their baby's safety, it's completely BPA-free.
This warmer is also user-friendly – all you have to do is add a small vial of water, place the bottle in the unit and press a button to start warming your baby's bottle. After the light goes off, the bottle is ready. And if you forget to shut it off because of your impatient, screaming baby, the auto shut-off has you covered.
Pros
Includes a basket insert you can use for heating baby food jars.
You can sterilize pacifiers with this bottle warmer.
Can heat a bottle in under 5 minutes.
Cons
Since the inside of the bottle warmer is plastic, you sometimes get that melted plastic smell.
Figuring out how long to heat a bottle takes some trial and error with this unit.
Our Ratings
Community Feedback
From personal experience, this bottle warmer is easy to use and clean, making night feedings much more convenient. It may take some trial and error to figure out the right amount of water for the desired temperature, but once mastered, it consistently heats milk to the perfect warmth. The compact size and sturdy construction make it a great addition to any kitchen. Although it may take slightly longer to heat than some other warmers, its reliability and affordability make it a worthwhile investment.
Are Baby Bottle Warmers Necessary?
As new moms, we can spend a lot of money on baby gadgets that end up sitting in the corner gathering dust. After all, it seems better to err on the side of just getting that extra bit of baby gear rather than feeling like you're shortchanging your child in any way.
But by the time baby number two comes around, you might be seriously wondering where the line is between "helpful lifesaver" and "useless waste of money."
To help you decide whether a bottle warmer is really worth getting, consider the following:
The number of children: If you have one baby, it might not be necessary, but with twins or more, you're likely to need one.
The question of consistency: If you're the only one who'll be doing it, heating bottles under warm tap water might be fine. But if your baby is frequently cared for by others, it's a nice way to keep things consistent.
Frequency of use: There's no point investing in a bottle warmer if you seldom need to heat any bottles. If your child is still breastfeeding or enjoys cold bottles, you can skip the warmer. Likewise, if you're using formula or not pumping breast milk at all.
Cost: Of course, the cost is always a consideration. For the price, you might simply prefer heating bottles some other way and calling it a day. Another option is getting a second hand warmer if you're not sure how much use you'll get from it.
If bottle-feeding looks like it'll be a big part of your future, a warmer might save you countless hours of hassle and take one more thing off your plate. For some moms, the sheer convenience makes them a no-brainer. For others, they can whip together a perfectly warmed bottle in around the same amount of time it takes the bottle warmer to do it.
If you're wraming breast milk, make sure the warmer is made for this and isn't going to overheat and deteriorate the beneficial molecules.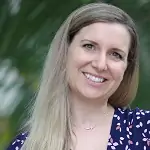 Editor's Note:
Katelyn Holt RN, BSN, BC
Types of Bottle Warmers
Steam vs. Hot Water
The basic difference between most warmers is whether they use steam or a bath of hot water to warm milk.
Steam is faster but can scald you or your baby if you're not careful.
Water baths heat more gently and evenly, but they take a lot longer than steam to do it.
Electric vs. Non-Electric
Most warmers are plug-in appliances that go on your kitchen counter to help you with your normal bottle prep. These can use either steam or hot water, and are great if you're doing most of your feeds at home.
Non-electric styles rely instead on insulation, or battery power to keep milk warm, so can be used on the go. For insulated bags, you'll need to heat the milk up first, though.
Car or Travel Bottle Warmers
Many non-electric styles are designed specifically for use in the car. Some are well-insulated, some use battery power and some plug directly into the car's DC connector via an adaptor.
Naturally, these are smaller and contain no water to spill.
Combined Bottle and Food Warmers
Some electric countertop warmers are designed to heat up baby food jars as well as milk bottles.
They often come with a removable tray or basket but may need a little extra care to keep them clean. Some warmers also have room to heat two bottles simultaneously, making them great for twins.
How to Choose a Baby Bottle Warmer
If you've decided to take the plunge and buy one of the best baby bottle warmers, here are some things to consider:
---
Different Ways to Warm Baby Bottles
It takes a small fortune to raise a child. It's hard to spend money on something like a bottle warmer when you feel there are other ways you can heat up your baby's milk. And you're right; alternatives do exist.
Let's look at some other ways that people warm baby bottles and what we think of them:
Using the microwave: If you learn one thing from this article, it should be never to use a microwave to heat up your baby's bottle. This might be the single worst way to warm a bottle. The microwave doesn't heat a bottle evenly – it leaves areas where the milk is too hot, which can burn your baby.
By running warm or hot tap water over the bottle: This might work, but it takes a couple of minutes to heat the bottle to the desired temperature. If you leave it under the hot water too long, it can become too hot for your baby. If you don't warm it long enough, your baby might not want it, especially if she's picky about the temperature of her milk.
Another drawback to running hot water over the bottle is that you need both hands to do this, leaving your upset baby without comfort. With a bottle warmer, the machine does the warming while you do the cuddling. I know which job I would rather do – cuddling a baby wins every time.
Are Bottle Warmers Safe for Breast Milk?
Bottle warmers provide an excellent way to warm up breast milk that has been thawed or refrigerated. Some warmers can even heat up breast milk straight from the freezer. Some babies don't mind drinking cold bottles, while others prefer warm ones.
It depends on the baby, I've had one baby who would take a cold

bottle of breast milk

with ice chunks from it being frozen and a second baby who needed warm breast milk.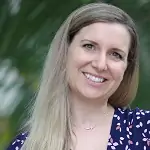 Editor's Note:
Katelyn Holt RN, BSN, BC
Whether you use a bottle warmer or another method, bottles shouldn't be heated much higher than body temperature. If you have heated up your breast milk and your baby refuses to take her bottle, it is generally safe to only heat it one more time.
Keep your fingers crossed that your baby will take her bottle after you've reheated it. As awful as it is to waste breast milk, if she doesn't take it that second time you should toss it down the sink. It's better to be safe than sorry when it comes to your baby's health.
Bottle Warmers FAQs
---
Thank You For Your Feedback!
Thank You For Your Feedback!