You won't be able to protect your baby from everything out there, but you can absolutely take steps to make sure they aren't drinking germs along with their milk.
The best baby bottle sterilizers can kill 99.9% of bacteria in minutes.
To help give you some peace of mind, we've rounded up our favorite sterilizers to ensure your baby's bottles are as germ-free as possible.
Image
Model
Product Comparison Table
Features
Best All-In-One Sterlizer
Papablic Baby
Can handle very large loads
Dries bottles thoroughly
Quicker sterilization cycle
Best Easy to Operate Sterilizer
Dr. Brown's
Includes several accessories
Cycle indicator
Comes with an accessory tray
Best Value for Money
Philips Avent Microwave
Cheaper than other options
Sterilize four bottles at a time
Sterilizes in under 2 minutes
Best Electric Sterilizer
Tommee Tippee
Easy to clean and store
Cools down rapidly
Has HEPA filter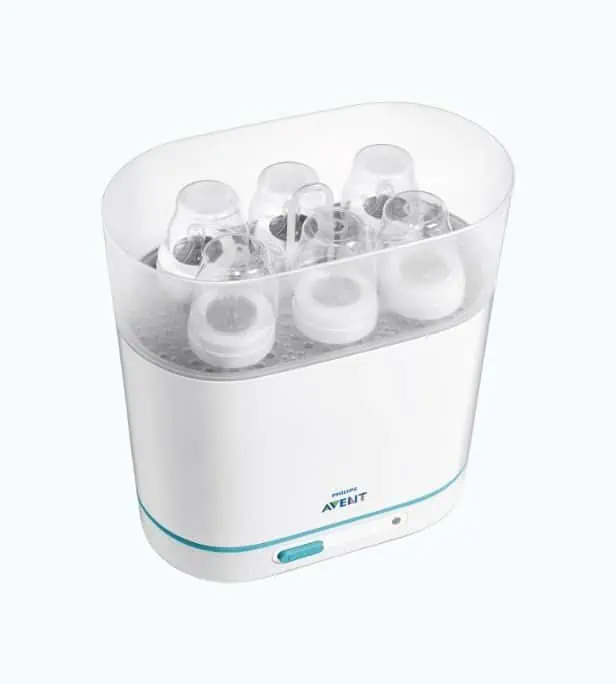 Best for Small Spaces
Philips Avent 3-in-1
Takes up less kitchen space
Kills 99.9% of germs and bacteria
Automatic shut off feature
Best UV Sterilizer
Wabi Baby Touch
Uses UV rays to dry and sterilize
Multiple setting options
Eliminates 99.9% germs and bacteria
Best for Breastfeeding
Baby Brezza Dryer Machine
Fits every size and shape
Multifunctional
Sterilizes various breastfeeding utensils
Best Steam Sterilizer
Bololo Steam Sterilizer and Dryer
Accommodates variety of bottle brands
Fits up to 12 bottles
Safe filtration system
Best Microwave Sterilizer
Nanobébé Microwave
Most affordable microwave sterilizers
Multi-purpose steamer
Heat-resistant rubber handles
Best Steam Bags
Medela Micro Bags
Very affordable
Convenient, compact, easy to use
Portable design for trips away
Review Methodology: At Mom Loves Best, our in-depth analysis and hands-on experience allow us to evaluate the best bottle sterilizers from a user's perspective. Our team of professionals conduct thorough research, collecting data and comparing various products based on key decision-making factors such as performance, design, and ease of use. We rank and review sterilizers by assessing their effectiveness, safety, and durability, and then provide quantitative measurements of their performance. Our article highlights the unique features that set each product apart from its competitors, as well as the most important factors and criteria for choosing the right bottle sterilizer for your needs. You can trust our recommendations, as they are supported by first-hand evidence and facts.
---
---
The Best Baby Bottle Sterilizers of 2023
Here are 11 excellent baby bottle sterilizers to consider.
Papablic Steam Sterilizer and Dryer
Best All-In-One Baby Bottle Sterilizer
If you're serious about sterilization and your little one is a bottle feeding champ who goes through tons of bottles, you might like the unit from Papablic. It's a bit like a tiny dishwasher for all your bottles and accessories.
This sterilizer is large and fits up to 11 bottles inside, and the internal trays can be reorganized depending on what you want to clean. Add water, turn the dial, and after 45 minutes you'll have perfectly clean and dry bottles you can use immediately. There are different settings, however, so you could also opt for a quicker sterilization cycle.
Pros
The sterilizer can handle very large loads.
Dries bottles thoroughly so they're ready to use.
Just turn on and go with minimal fuss.
Cons
This is an extra-large, tall unit and may just be too clunky for many moms.
Some feel the quality is lacking for a substantial price.
Our Ratings
Community Feedback
I'm incredibly impressed with the efficiency of this sterilizer, as it significantly reduces drying time and ensures thorough sanitation of baby bottles and breast pump parts. The separate compartments for larger and smaller items have been extremely helpful in organizing and maximizing its capacity. Since using this sterilizer, I've noticed a reduction in paper towel usage and an increase in my own peace of mind, knowing that everything is effectively sanitized. Additionally, the dehydration mode for food is a fantastic bonus feature that I look forward to utilizing in the future.
---
Dr. Brown's Deluxe Bottle Sterilizer
Best Easy to Operate Baby Bottle Sterilizer
Dr. Brown's sterilizer takes just around 7 to 9 minutes to sterilize its content.
It's easy to operate – all you do is add the water and a measuring cup is included in the package too. Put the bottles in and press a button. Moms who go through a lot of bottles may appreciate that it can accommodate six standard-sized bottles at a time. It has a cycle indicator and an auto-shut off feature for safe hassle-free sterilizing.

Pros
Includes several accessories.
Has cycle indicator.
Comes with an accessory tray for easy organization.
Cons
Can only sterilize six bottles at max.
Our Ratings
Community Feedback
My experience with this sterilizer has been largely positive, as it effectively cleans and sterilizes my infant's bottles. It's important to note that this product is specifically for sterilization, not washing, but it does an excellent job at keeping the bottles clean. I appreciate that it is easy to use and portable, making it convenient for busy parents. One drawback, however, was that I had to manually dry the bottles after the cycle, which could compromise the sterilization process. To address this issue, I upgraded to a slightly more expensive model with a drying cycle.
---
Philips Avent Microwave Steam Sterilizer
Best Budget Baby Bottle Sterilizer
This plastic product is BPA-free, inexpensive and effective. In under two minutes, it kills 99.9 percent of the bacteria that could harm your baby. It can hold bottles, breast pump parts, and feeding accessories. It fits into most microwaves, and if you keep the lid closed until right before you need the items inside, everything will stay sterilized for 24 hours.
Moms will appreciate that this unit is easy to pack for weekend getaways, and it won't take up much storage space at your house. It doesn't involve any complicated instructions – anyone can figure out how to use it.
Pros
Cheaper than other options on the market.
Can sterilize up to four bottles at a time.
Sterilizes in under 2 minutes so your bottles are ready to use in no time.
Cons
The size of this sterilizer may be too large for many microwaves, at around 11 inches in height.
Some moms have reported that the lid melts in the microwave.
Our Ratings
Community Feedback
This sterilizer has been a trusty companion since my first child, and now I continue to use it daily for sterilizing bottles and pumping equipment with my second. Despite its compact size, it fits well in a smaller microwave and holds a decent amount of items for sterilization. Although I cannot measure the remaining germs, the heat generated assures me that it effectively cleans the contents. Unfortunately, it struggles to accommodate larger Dr. Brown bottles, but it works perfectly for pacifiers, pump parts, and other baby essentials. The sterilizer is not only easy to set up and clean but also makes sterilizing a breeze compared to boiling water or using disposable bags.
---
Tommee Tippee Electric Steam Sterilizer
Best Electric Baby Bottle Sterilizer
This unit may be the perfect choice for someone who wants to sterilize a lot of bottles at once. It can hold an entire day's worth of bottles at one time. In just ten minutes, all the sterilizing you'll need for any given day will be done.
This sterilizer will kill 99.9 percent of the germs that can harm your baby. Because it has a space-saving design, moms with limited counter space may like that it doesn't seem too big given how many bottles it holds. Plus, the lid can be flipped over to serve as a germ-free place to prepare bottles.
Pros
Easy to clean and store.
Cools down rapidly so you can get the bottles right away if you need them.
It can clean six bottles at once.
BPA-free plastic for the health of your family.
Cons
It can get a strong plastic smell when heating up.
Needs to be frequently descaled, especially if you're in a hard water area.
Our Ratings
Community Feedback
For those in need of sterilizing multiple bottles efficiently, this sterilizer has the capacity to accommodate an entire day's worth of bottles and completes the task in just ten minutes. The compact design is perfect for moms with limited counter space, while the lid can be flipped to serve as a germ-free area for bottle preparation. Despite some drawbacks like occasional plastic smell during heating and frequent descaling requirements in hard water areas, this BPA-free sterilizer is easy to clean, store, and cools down rapidly for immediate access to the bottles.
---
Philips Avent 3-in-1 Electric Steam Sterilizer
Best for Small Spaces Baby Bottle Sterilizer
This 3-in-1 sterilizer kills 99.9 percent of harmful germs and bacteria on bottles without using any chemicals that could harm your little one.
It has an adjustable modular design so you can fit a variety of bottles or nursing accessories inside. At most, it fits up to six 11-ounce bottles. We love the design because it takes up less kitchen space.
This machine uses electric steam for sterilization, which only takes six minutes. It also features an automatic shut-off for speed and to prevent overheating. You can even keep the objects sterile for up to 24 hours if you don't remove the lid after you've run it.
To use, just add water to the base, fill the compartment up, shut the lid, and press the button. If you're limited on space and need a sterilizer that works quickly, this is a great choice.
Pros
Takes up less kitchen space and fits various bottle shapes with an adjustable size rack.
Uses electric steam to kill 99.9 percent of germs and bacteria.
Has an automatic shut-off feature.
Cons
Condensation forms during use, so it makes a watery mess when you take the lid off.
Our Ratings
Community Feedback
As a new parent, I found this steamer to be a helpful addition to our daily routine. It's easy to use and does a great job sterilizing our baby's bottles, pump parts, and pacifiers. However, the steamer requires some maintenance, such as cleaning the heating plate with vinegar to prevent corrosion. Additionally, it doesn't dry the items, so I still need to towel dry them or let them air dry, which can take hours and might expose them to bacteria in the environment.
---
Wabi Baby Touch Sterilizer & Dryer
Best UV Baby Bottle Sterilizer
Did you know you can harness to power of UV rays to sterilize almost anything? Well, you can and this special touch panel, dual function sterilizer, and dryer harnesses that power to make your life easier.
Place your bottles inside and with the single touch of a button start the drying and sterilizing process, which takes approximately 30 minutes. After removing the bottles, wipe them down with a clean cloth. The dual UV bulbs eliminate 99.9 percent of E. coli, Salmonella, Staph, and other harmful bacteria safely and efficiently.
One reason we love the idea of UV rays is the versatility. Not only can you sterilize your baby bottles, but you can safely dry and sterilize practically anything, including jewelry, sunglasses, breast pump parts, and even electronic devices.
Choose from a dry setting, a UV sterilizing setting, or both. This is a great investment for moms with a lot they want to sterilize and dry.
Pros
Uses UV rays to dry and sterilize, so you can put almost anything in it.
Has multiple setting options.
Effectively eliminates 99.9 percent of germs and bacteria.
Cons
Takes at least 30 minutes to sterilize, so it's not great if you're short on time.
Our Ratings
Community Feedback
This sterilizer and dryer combo has been a fantastic addition to my baby care routine, as it's incredibly easy to use and highly efficient. I've used it to sterilize my newborn's bottles and pacifiers, as well as my breast pump, with no issues arising so far. The convenience of having both a sterilizer and dryer in one unit has been a real space-saver in my already crowded kitchen, and I appreciate how it keeps everything clean and organized. While the price tag may be a bit steep, the peace of mind knowing that my baby's items are properly sterilized and dried is well worth it.
---
Baby Brezza Baby Bottle Sterilizer
Best Baby Bottle Sterilizer for Breastfeeding
When you breastfeed, a lot of things change. Suddenly, your schedule revolves around your little one. Many moms who breastfeed also use bottles to store excess milk to ensure their production and flow is maintained while preventing infections and swelling.
This baby bottle sterilizer system is perfect for breastfeeding moms because it allows you to dry and sterilize everything. It fits up to six bottles of any size or shape and can also be used on breast pump parts. Sterilization takes only a few minutes and if you can leave it for longer all of the excess condensation will be dried up with one of the multiple drying settings.
All of the parts are 100 percent BPA-free and can keep items sterilized for up to 24 hours if the machine is not opened. It has an automatic drying mode you can set up, as well as an auto shut-off function.
Pros
Great for sterilizing everything you use to breastfeed, not just bottles.
Fits every size and shape of the bottle.
Multifunctional.
Cons
While you can put different breast pump parts inside, it can be hard to make things fit properly.
Our Ratings
Community Feedback
My experience with this sterilizer and dryer has been fantastic, especially with a 4-week-old baby. I use it several times a day for pump parts, bottles, and pacifiers, and the dryer feature allows me to quickly dry them between uses. The machine also doubles as a drying rack without the lid, eliminating the need for an additional drying rack on my counter. This product has made cleaning much faster and more straightforward, giving me peace of mind knowing my baby's items are clean and dry.
---
Bololo Electric Steam Sterilizer and Dryer
Best Baby Bottle Steam Sterilizer
This steam sterilizer offers versatility – it can be used for bottles, pacifiers, and small toys. It was designed to allow steam to reach deep into the bottle, which creates more thorough sterilization.
Moms might like that this unit has a built-in drying rack. The trays can be taken out of the sterilizer and placed on the counter to allow the bottles to air dry. This sterilizer has a unique HEPA filtration system, which may be reassuring to parents who are worried about exposing their baby to harmful chemicals and pathogens.
Pros
It can accommodate a wide variety of bottle brands.
Fits up to 12 bottles.
The built-in drying rack can hold a variety of items.
Cons
Some parents have doubts about the product durability.
Our Ratings
Community Feedback
Best decision I ever made as a first-time mom was getting this sterilizer/dryer. Before, I was constantly washing bottles and pump parts, but now I just soak them in soapy water, give them a quick brush, and rinse. This machine does the rest, leaving me with sterile and dry bottles in just an hour. It has a large capacity and is super easy to use, making it a must-have for any parent. Plus, it helps keep my counter clutter-free, as I no longer need to air dry everything. Despite some users experiencing durability issues, mine has worked perfectly fine and is a great time-saver.
---
Nanobébé Microwave Sterilizer
Best Microwave Baby Bottle Sterilizer
This is one of the most affordable microwave sterilizers available so it's perfect if you're on a budget.
Moms who have heard horror stories about their friends being burned by microwave sterilizers may appreciate that this unit has heat-resistant handles that may make moms feel safer taking this sterilizer out of the microwave.
Parents who want a multi-purpose steamer should like that this unit can also be used on pacifiers, teething rings and small toys. It fits all standard-sized microwaves and comes with tongs to help ensure the safe removal of the hot bottles.
Pros
Adjustable pegs to faciliate various items for sterilization.
Works for both wide-mouth and standard size bottles.
It works in as little as four minutes, so it's great if you need a bottle in a hurry.
Cons
The pegs do not fit too snugly at the base.
Our Ratings
Community Feedback
As a traveling parent, I found this little sterilizer to be incredibly convenient for sterilizing my little one's bottles and pump parts. It's compact, easy to disassemble, and packs well, making it the perfect travel companion. However, I did notice that it doesn't fit full size 9 oz bottles, so it's not as versatile as I would have liked. Despite that minor setback, it's been a reliable and easy-to-use product that has made sterilizing baby items a breeze, especially when following the provided instructions.
---
Medela Micro Steam Bags
Best Steam Bags
Medela steam bags are a godsend, and sanitize bottles quickly, easily and thoroughly. All you need is a microwave (even a small one) and a little water. The box contains 12 bags that can each be reused 20 times before the seal starts to lose its integrity.
Like other sterilizers, they kill 99.9 percent of germs and best of all: you can keep them sealed until the bottles are needed. You can toss in breast pump shields, nipples, dummies, feeding accessories and more and they'll get a burst of cleaning steam as well. These take up barely any room – they're great for use at home but work just as well on trips, as long as you have access to a small microwave.
Pros
Very affordable, even more budget-friendly than microwave steamers.
Convenient, compact and super easy to use.
Portable design which makes them great for trips.
Cons
Some moms dislike that there's no handle to grab the hot bag from the microwave.
Despite claims, these bags might melt breast pump tubing.
Our Ratings
Community Feedback
These sanitizing bags have made my life easier, especially when it comes to sterilizing baby items like bottles, pump parts, and toys. They are so quick and convenient, I no longer have to worry about chemicals from dishwasher soap or waiting for a full cycle. The bags are portable and fit well in my office microwave, making it a breeze to sanitize items at work. I appreciate the numbers on the back to track uses and the clear directions for different microwave wattages. My only minor issue is that I can't fit both pump parts and bottles in the same bag, but rotating them every other day isn't a big deal.
---
Papablic 5-in-1 Ultra-Fast Baby Bottle Warmer
Best Portable Baby Bottle Sterilizer
While the product is a baby bottle warmer, we double-checked that it too can sterilize baby bottles. Actually, it has five functions. It can be used for steady warming, sterilizing, fast warming, food heating, and defrosting. The Papablic sterilizer removes 99.99 percent of germs and bacteria so your baby's bottles are as clean as they can be.
With this sterilizer, you can clean bottles, and because it only weighs 1.96 pounds it would be easier for you to bring this while traveling.
It can clean bottles, pacifiers, toys, and nipples. So, once you've done the bottles, use it for other items around the house.
It takes a minimum of three minutes for the sterilization process.

Pros
Auto-shutoff feature.
Multifunctional.
Can accommodate almost any baby bottle brands and materials.
Sterilizes bottles, pacifiers and nipples.
Cons
Can sterilize one item at a time.
Our Ratings
Community Feedback
In my experience, this bottle warmer has been a valuable addition to our feeding routine. The built-in timer allows for precise warming without overheating, but it may take some trial and error to find the perfect setting for your specific bottles. It's a time saver, as it can warm up a bottle in just a few minutes, all while being hands-free. The warmer's performance is consistent, as long as you measure the correct amount of water and discard any leftovers each time. One minor issue is that the directions might lead to slightly overheated milk, so consider setting the timer for a shorter duration than suggested.
Do I Need to Sterilize My Bottles?
Sterilizing bottles isn't a necessity, but it's a step many mothers still choose to take.
A baby's immune system is fragile for the first year. When you're a new parent, it feels like germs are everywhere and there's nothing you can do to avoid exposure — people love to touch and hold your baby. But since nobody likes being labeled a paranoid mommy who won't let people around her baby, you're often left ignoring that inner voice telling you to watch out for germs.
While you can't stop all the germs caused by the doting friends and family members who want to hold your baby, at least you can make sure her bottles aren't making her sick.
Sterilizing bottles is easy, and it cuts back on the mountain of germs your baby is introduced to daily — and that's always a good thing in my book. I know I can't wrap my children in bubble wrap and keep them safe from everything, but if sterilizing bottles prevents even one illness, I think it's worth it.
How to Choose a Baby Bottle Sterilizer
Here's what to look for when buying a good electric steamer/sterilizer to keep everything sterile for your little one.
Different Ways to Sterilize a Bottle
There are several ways to sterilize bottles and nipples, some easier than others.
1.

Boiling

The way our moms sterilized bottles was to boil them in water on the stove in a pan. The method is simple: immerse each item thoroughly in boiling water for at least 10 minutes. This is cheap and relatively easy to do, although it can wear down bottle nipples with time, so be sure to check them for cracks once in a while.

While boiling is a perfectly good way to sterilize, I've always avoided it. I use plastic bottles, and I didn't like the idea of boiling them because I wasn't confident that harmful chemicals wouldn't leach out when heated.
2.

UV Light

UV bottle sterilizers are one of the newest methods for sterilization and use ultraviolet light to kill germs. If you go this route, be prepared to pay dearly – these units cost several times what you'd pay for an electric or microwave sterilizer. Though they work well, the cost puts them out of reach for those of us who aren't prepared to skip a car payment to afford one.
Pros
Effectively kills 99.9% of germs, viruses and bacteria.
3.

Cold Water Sterilizing Solution

This method requires you to immerse your bottles and accessories in cold water in which you've dissolved a substance that will kill bacteria. The sterilizer usually comes in a dissolveable tablet form that can be used to sanitize just about anything, not just bottles.
Pros
This method is affordable
Cons
A little environmentally unfriendly.
Perhaps not as thorough as other methods.
4.

Steaming

Times have changed since we were babies, and there is a simpler way to do things today. You can now use steam to sterilize bottles, either with an electric steam sterilizer or a microwaveable one as shown below.
Microwave Steamers
These steamers are simple in design. To use, simply fill with water and place in the microwave for a few minutes to generate sterilizing steam.
Pros
They're typically cheap and easy to use.
They can be taken on trips and used anywhere there's a microwave.
Cons
They may scald you when you remove them from the microwave.
Some models may end up melting more delicate items.
Microwaveable steamer bags are cheaper still but may require a little more practice to use. They are, however, the best choice for travel.
Electric Steamers
Plugin and sterilize your bottles with the press of a button.
Pros
They're pricier than microwave sterilizers.
Some parents find them more thorough.
A few models come with a handy drying function.
Cons
These kinds of sterilizers offer more variability in size, price, and design, as you get a whole appliance dedicated just to bottle sterilization.
Bigger units can hog the kitchen counter space.
If you live in a hard water area, these will need to be descaled regularly.
---
Baby Bottle Sterilizer FAQs
---
Thank You For Your Feedback!
Thank You For Your Feedback!