Biking gloves can eliminate potential blisters and protect your child's hands from being scraped up if they wipe out. But many brands don't seem to consider that kids grow at an alarming rate and require gloves that are comfortable, durable, and adjustable to grow with them.
We've evaluated and compared all the top products to bring you the best kids bike gloves available. These gloves got the thumbs-up from our pint-sized testers and their parents, too.
Your little biker will love being decked out in stylish, professional-looking gear. And you'll love that you're keeping them as safe as possible while they ride.
Image
Model
Product Comparison Table
Features
Best Overall
ZippyRooz Bike Gloves
Adorable design
Lots of padding
Soft and absorbent material
Best Full-Finger Gloves
Giro DND Jr
Great big-kid design
Easy hook and loop closure
One year warranty
Best for Active Kids
Finger Ten Cycling Gloves
Incredible durability, yet ultra-soft
Allows room for ventilation
Includes anti-slip foam pads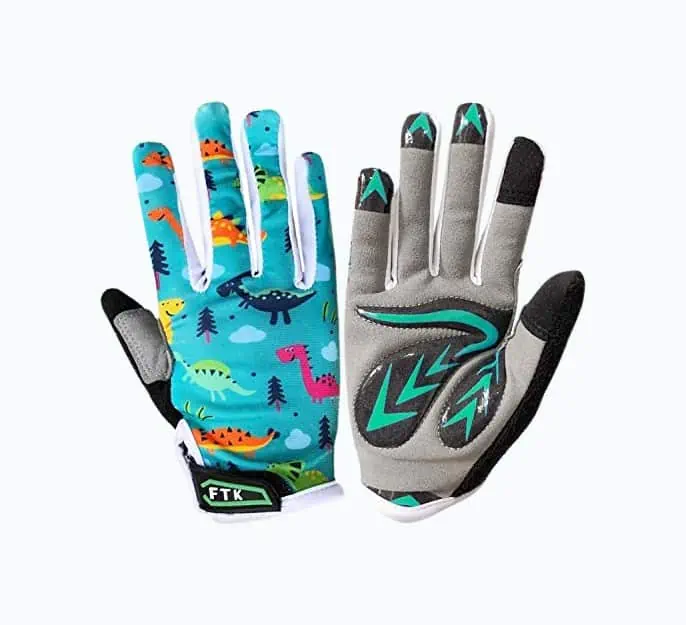 Best Touch-Screen Gloves
Finger Ten Cycling Gloves
Breathable material keeps hands dry
Touch-screen design
Thick padding on palm
Best Urban Street-Cred
Nature Ann Fingerless Glove
Includes shock-absorbing materials
Ergonomically designed
Breathable material
Review Methodology: At Mom Loves Best, we pride ourselves on our meticulous approach to analyzing and evaluating products. Our team of professionals brings their hands-on experience to assess each pair of bike gloves for kids, using a comprehensive set of criteria. We meticulously track and measure each product's performance, comparing and ranking them based on safety, comfort, durability, and design. Our findings are based on solid facts and data, providing you with an unbiased review that helps you make the best decision for your child. From the materials used to the grip provided to the overall fit, we explain what sets each product apart from its competitors. We understand the crucial role of bike gloves in a child's cycling experience and take that responsibility seriously. Rest assured, our recommendations are backed by rigorous testing and concrete evidence.
---
---
The Best Kids Bike Gloves of 2023
Here are the top five bike gloves for kids.
ZippyRooz Toddler & Little Kids' Bike Gloves
Best Overall
Arriving with a warning that your little one might get superhero powers from wearing them, these gloves are fantastic. For starters, they're available in adorable, colorful prints, suitable for any gender.
Besides the ultra-cute design, the gloves offer ample padding around the palm and fingers. The material on the thumb is extra soft and absorbent, there to serve as a nose wipe for the constant runny noses kids seem to have.
These are ideal for young children riding on balance bikes — the padding protects their hands during falls.
The gloves are a half-finger style, excellent for summer use. On the fingers are hoops to assist your little one when putting them on and taking them off.
Various sizes are available, suitable for children between 1 and 8 years old. The materials used are a mix of nylon and polyester, plus they're machine washable.
Pros
Adorable design, with various prints to choose from.
Lots of padding for extra protection.
Soft and absorbent material.
Easy for your child to take on and off independently.
Cons
The sizes run large.
A little slippery, so they won't help when a good grip is needed.
Product Specs
| | |
| --- | --- |
| Style | Half-finger |
| Sizes available for ages | 1 to 8 years |
| Material | Nylon and polyester |
| Machine washable | Yes |
Our Ratings
Community Feedback
Excellent quality and fit for my 6-year-old daughter, these gloves provide the necessary protection for her hands while learning to ride her bike. The padding on the palms offers an additional layer of safety when she takes a spill on the concrete. They may be a bit slippery for activities like monkey bars initially, but they seem to improve with use.
---
Giro DND Jr II Youth Mountain Cycling Gloves
Best Full-Finger Gloves
For the child who prefers a "big-kid" glove, we recommend this pair from Giro. These have a professional, mature look. And their performance matches their appearance.
The gloves are available as full fingers in sizes from extra-small to large and in a variety of colors. With a well-proportioned design, the gloves will hug the rider's hands without being too snug.
Across the hand sits a hook and loop closure, easy to operate for children. Putting them on may take some getting used to due to the full-finger design, but if you choose that type, they provide an all-around shield.
There are high-quality cycling pads specifically designed to suit children to provide some cushioning during falls. They also work to enhance the rider's grip across the handles, giving them the confidence to go faster. Furthermore, using touch screens on mobile phones would be easy without the need to remove the gloves as it's been designed with a conductive fabric on both the thumb and index finger.
Pros
A good "big-kid" design.
Excellent material that will hug the hands.
Easy hook and loop closure.
Full protection.
One-year warranty.
Cons
Sizing may run a little small.
Product Specs
| | |
| --- | --- |
| Style | Full-finger |
| Sizes available for ages | Not stated |
| Material | Faux leather, suede |
| Machine washable | Not stated |
Our Ratings
Community Feedback
I recently purchased these gloves for my daughter and she absolutely loves them, saving me from spending a fortune on alternative options. However, I found the sizing to be quite tricky, as they run smaller than expected, so I recommend ordering a size larger than you think you need. These gloves offer excellent quality with good stitching and an adjustable wrist wrap for a better fit. Just be aware of the sizing issue, and you'll likely have a great experience with these comfortable and protective gloves.
---
Finger Ten Kids' Junior Cycling Gloves
Best for Active Kids
Designed for tough sports such as mountain biking or BMX, these junior gloves from Finger Ten are a solid pick. They've received stellar reviews from parents, praising their durability and their support for small hands.
A special material on the palm area allows cool air in while warmth and moisture escape. It's terrific in the summer to prevent sweaty and uncomfortable hands.
Around the palm and fingers is an anti-slip gripper foam, helping your little one keep their hands on the handles. It's also comfy, made from stretchy and flexible soft lycra material.
Around the thumb sits a large microfiber patch to wipe a snotty nose or some tears after a spill. The half-finger gloves are available in green, blue, and pink.
Pros
Incredible durability yet ultra-soft and flexible.
Special perforated material allows for ventilation.
Includes anti-slip foam pads.
Microfiber patch for drying noses and tears.
Cons
The sizes tend to run small, but there's a helpful sizing guide.
Product Specs
| | |
| --- | --- |
| Style | Half-finger |
| Sizes available for ages | 2 to 10 years |
| Material | Lycra and microfiber |
| Machine washable | N/A |
Our Ratings
Community Feedback
My experience with these gloves has been quite positive overall, as they provide comfort, grip, and protection for various activities. I noticed the padding on the palm is great for my son who struggles with self-injurious behaviors, and they also work well for activities like biking, golfing, and even wheelchair use. However, be aware that the sizing runs small, so it's best to order a size up for a better fit. The only minor complaint is that the gloves can feel a bit hot during warmer weather, but this doesn't detract from their overall usefulness and durability.
---
Finger Ten Cycling Gloves
Best Touch-Screen Gloves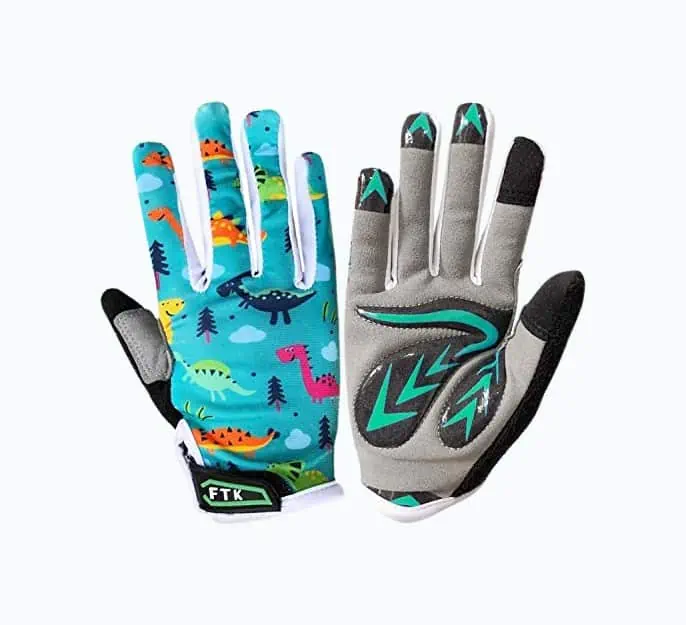 If your youngster uses their phone for maps or Strava while cycling, they need the Finger Ten Cycling Gloves. These gloves have a touch-screen design, so the material works with smartphones, smartwatches, and other electric devices.
The gloves are comfortable and breathable, so your little one's hands can stay dry and comfy while they're cycling. No more slipping and sliding as they try to grip the handlebars. The thick non-slip material keeps the gloves super reliable.
The extra padding reduces vibrations which is ideal if you're doing cross-country bike rides.
You'll find the perfect fit for your child with four sizes and adjustable wrist straps. Plus, the gloves come in six designs to suit your child's personal style.
Pros
Double leather over finger and thumb.
Breathable material keeps hands dry.
Touch-screen design.
Thick padding on the palm.
Cons
Sizing is off, usually running too small.
Not warm enough for cold days.
Product Specs
| | |
| --- | --- |
| Style | Full-finger |
| Sizes available for ages | 2 to 11 years |
| Material | Silicone |
| Machine washable | N/A |
Our Ratings
Community Feedback
After purchasing a second pair of these gloves for my son, I can confidently say that they are durable, brightly colored, and fit really well. They've become his go-to gloves for activities like mountain biking and trail riding, as they provide both padding and extra grip. However, I would recommend measuring your child's hands before ordering, as the sizing can be a bit off. My nephew, who is a normal-sized 9-year-old, needed a size up from what was recommended based on his age. These gloves are also great for younger kids, like my 3-year-old who is obsessed with bikes and motorcycles.
---
Nature Ann Children's Fingerless Glove
Best Urban Street-Cred Gloves
These half-finger gloves are excellent for urban boys and girls. The tough-looking designs include styles such as army green and blue wolf. They work great for sports such as biking, skateboarding, and roller skating.
The thick, shock-absorbing material around the palm area reduces the chance of painful accidents. The gloves are ergonomically designed to hug the natural curves of the fingers, ensuring flexibility and comfort. They're made from a stretchy blend of spandex and microfiber to create a hand-hugging glove.
The material is fully breathable, allowing moisture to escape while cool air can enter. This material is also quick to dry, which is ideal since the gloves should only be washed by hand, then dried in the shade.
These gloves come in one size, suitable for palms measuring 1.97 to 2.79 inches across. Many reviewers said they were excellent for 8- to 10-year-olds.
Pros
Includes shock-absorbing materials.
Ergonomically designed to hug the hand and fingers.
Breathable material allows moisture to escape.
Cons
The rubber on the palms is stiff.
Only one size.
Product Specs
| | |
| --- | --- |
| Style | Half-finger |
| Sizes | One size for 1.97 to 2.79-inch palms |
| Material | Spandex and microfiber |
| Machine washable | No |
Our Ratings
Community Feedback
I'm thrilled with these fingerless gloves, as they've become my son's go-to accessory for bike riding, scootering, and hoverboarding. They provide him with just the right amount of protection and padding, while also boosting his confidence and making him feel super cool. The gloves have held up well through multiple washes, but the stitching might not last more than a season if used daily.
---
How to Choose Kids Bike Gloves
We always tell our children to wear their helmet when riding and maybe even elbow and knee pads, but gloves will also help protect your youngster during a fall. Here's what to look for when selecting a pair for your child.
---
Thank You For Your Feedback!
Thank You For Your Feedback!