Finding the right surprise gift for your child isn't always as easy as it seems. Still, some presents, like a hoverboard, are usually a crowd pleaser.
Hoverboards have taken the world by storm, merging the thrill of skateboards and the ease of scooters. But when it comes to the best hoverboards for kids, safety, and fun must strike a balance.
Rest assured, we've meticulously researched and compiled a list of the top picks, ensuring your child gets the utmost joy without compromising on safety.
Image
Model
Product Comparison Table
Features
Best Overall
Tomoloo Music Hoverboard
Racing-level tires
High power
Built-in speakers and LED lights
Best Color Options
Sisigad Self-Balancing Scooter
Long-lasting battery
Self-balancing system
200 lbs max capacity
Best Value for Money
Uni-Sun Hoverboard
Durable construction
Bluetooth support
Built-in gyroscope foot sensors
Best Off-Road Hoverboard
Gyroor Warrior Hoverboard
Large all-terrain wheels
Sturdy and durable
LED front lights
Best for Long Rides
Swagtron Swagboard Outlaw T6
App controlled speed
Powerful motor
Safe and sturdy
Best for Ages 13 & Up
Lieagle Self-Balancing Scooter
Lots of lights
All-terrain design
Safety certified
Best Designed Hoverboard
Sisigad Hoverboard
Fun graffiti design
Fun features
Easy to ride
Review Methodology: At Mom Loves Best, we conduct a comprehensive analysis, assessing each hoverboard based on established benchmarks and criteria. Our hands-on experience and professional evaluations allow us to compare and rank the best hoverboards for kids through careful examination of performance, design, and user experience. We use quantitative data and real-life testing to measure performance, identify key decision-making factors, and provide you with the facts you need. We test for safety, durability, battery life, stability, and speed, among other elements. Our findings shed light on what sets a product apart from its competitors, helping you make the best choice for your child's needs.
---
---
The Best Kids Hoverboards of 2023
Here are the seven best hoverboards for kids. We have made sure that all our recommendations are UL 2272 certified.
Tomoloo Music-Rhythmed Hoverboard
Best Overall Hoverboard for Kids
The Tomoloo Music-Rhythmed Hoverboard stands out as our top pick, whether your child is a novice or a hoverboard enthusiast.
This one can glide over various surfaces thanks to its durable, race-level tires and powerful motor. It can go quite fast, but with the integration of an app, you can customize speed settings, ensuring safety.
Its robust battery offers a range of up to 7.4 miles, and the exterior is water-resistant, making outdoor escapades even more enticing. Plus, its built-in 5-watt speaker and mesmerizing LED lights are sure to turn heads.
What We Like
Racing-Level Tires
Equipped with 6.5-inch premium tires that are wider than standard tires, the hoverboard smoothly navigates varying terrains, be it gravel paths, grassy patches, or uneven slopes.
High Power
This Tomoloo hoverboard includes a lithium-ion battery and a powerful 500- to 600-watt motor.
It can go up to 7 miles per hour and has a range of 7.45 miles before needing a recharge. The board can handle a 20- to 30-degree incline and supports weights up to 220 pounds.
Entertainment On-the-Go
Dual speakers deliver outstanding surround sound, effortlessly syncing with smartphones via Bluetooth. The board's LED lights not only dance to the music's rhythm, but they also alternate between red, green, blue, and yellow when the speakers are off.
Easy to Ride
The hoverboard comes with self-balancing technology, making it easier for the rider to stay on board. Speed is increased by applying slight pressure with the front of the foot. It's great for beginners — just teach them not to go too fast.
What We Don't Like
No Battery Percentage Indicator
While the Tomoloo hoverboard packs impressive features, it lacks a detailed battery percentage indicator. It does give a warning by switching the green light to red when the battery drops to 15%, however, users should be cautious as the board will stop abruptly when the battery fully depletes.
Product Specs
| | |
| --- | --- |
| Maximum weight | 220 pounds |
| Maximum speed | 7 miles per hour |
| Range | 7.4 miles |
| UL 2272 certified | Yes |
| Speakers | Yes |
Our Ratings
Community Feedback
In my experience, this hoverboard has been an entertaining and enjoyable product for both kids and adults. Despite some initial concerns about battery life, the hoverboard has proven to be durable and reliable, providing hours of fun on various surfaces like wood floors, carpets, and concrete. The Bluetooth functionality adds a unique touch, though it's not something that I use often. It should be noted that this hoverboard is best suited for smooth surfaces, rather than off-road adventures. While some users have reported issues with battery life and calibration, my personal experience has been positive, resulting in a product that offers a good balance of quality, safety, and enjoyment at a reasonable price point.
---
Sisigad Hoverboard Self-Balancing Scooter
Best Color Options
We chose this Sisigad hoverboard for girls partly because we loved the appearance — it's metallic and shiny with bright LED lights. But it has also received outstanding reviews from parents and grandparents.
Beyond its aesthetics, its powerful motor promises thrilling speeds, while the self-balancing feature ensures even novices can enjoy a ride.
With a weight limit of 200 pounds and its own weight of just 15 pounds, this board is both sturdy and portable.
What We Like
Amazing Design
We adore the color of this hoverboard — the metallic light green finish stands out. But if that doesn't suit your fancy, there are alternative color options.
Entertainment Features
With LED lights on the side and front of each tire and integrated Bluetooth speakers, riders can illuminate their path and groove to their favorite tracks, amplifying the fun.
Beginner-Friendly
The self-balancing technology allows first-time riders to gain confidence quickly. It can reach a maximum speed of 6 miles per hour and is powered by a dual 300-watt motor.
Smooth Ride
The hoverboard has two 6.5-inch, high-quality rubber tires that ensure a seamless ride across various terrains. And its shock-absorbent, non-slip pedals guarantee a safe ride.
What We Don't Like
Short Range
One drawback is the board's shorter-than-advertised range. While it's claimed to cover 6 to 9 miles on a full charge, some parents report about half that distance or roughly 20 minutes of ride time.
Product Specs
| | |
| --- | --- |
| Maximum weight | 200 pounds |
| Maximum speed | 6.21 miles per hour |
| Range | 6 to 9 miles |
| UL 2272 certified | Yes |
| Speakers | Yes |
Our Ratings
Community Feedback
I'm impressed with this all-terrain hoverboard as it was easy for my 6-year-old to learn and even my 11-year-old enjoyed playing with it. The lights on the side add a fun element and the battery life is fantastic. However, the product is quite heavy, making it difficult for younger kids to carry without assistance. Despite some minor issues, my daughter absolutely loves it and it has become a popular activity in our household.
---
Uni-Sun Hoverboard for Kids
Best Value Hoverboard for Kids
We chose this hoverboard as our favorite for boys because of the rugged exterior. The Uni-Sun hoverboard is as tough as it looks. Boasting dual 300-watt hub motors, it delivers speeds up to 9 miles per hour with a range of 9 miles.
Parents praise how easy it is to ride. The board includes two technologies, which help the rider find their balance and turn without falling off. It comes with two sturdy wheels that enhance the overall stability.
Vibrant LED lights and built-in speakers only amplify its appeal.
What We Like
Durable Construction
This product is sturdy. The strong shell is durable as well as stable. The tires are solid, measuring 6.5 inches — they're rugged and capable of going over various surfaces smoothly.
Fun LED Lights
Bright LED lights are strategically placed on the tires, sides, and front, ensuring riders not only look cool but remain visible, especially during evening rides.
Bluetooth Support
With built-in Bluetooth-supported speakers, your youngster can blast their favorite music as they roll through the park. Imaginative kids can play different sound effects to transform the hoverboard into something extraordinary.
Easy to Ride
Riding this hoverboard is effortless. It comes with built-in gyroscope foot sensors, which respond swiftly to the angles of the feet. To enhance the balance further, it includes smart self-balancing technology, helping the new rider maintain stability and control.
What We Don't Like
Battery Doesn't Last Long
Despite its strengths, some users pointed out its limited battery life, with some reporting just 30 to 40 minutes of riding time on a full charge.
Product Specs
| | |
| --- | --- |
| Maximum weight | 264 pounds |
| Maximum speed | 9 miles per hour |
| Range | 9 miles |
| UL 2272 certified | Yes |
| Speakers | Yes |
Our Ratings
Community Feedback
I recently purchased this hoverboard for my child and they absolutely love it! The fun factor is undeniable, but the battery life could be improved, as it only lasts for about an hour. Calibrating the hoverboard can be a bit challenging, and it does beep frequently without clear instructions as to why. However, the Bluetooth capability is a nice feature and the performance is impressive, making it an enjoyable product overall.
---
Gyroor Warrior Off-Road Hoverboard
Best Off-Road Hoverboard for Kids
Whether you live in the countryside or enjoy weekend outings, this hoverboard is worth a look at. The Gyroor Warrior hoverboard is meant for going off-road. With large, sturdy tires and a rugged exterior, it excels in durability and resilience.
Parents like how reliable the board feels — even rough children can play without breaking it. It includes powerful dual motors, enabling the hoverboard to reach a speed of 9.95 miles per hour. It offers a range of up to 9.5 miles, although when going off-road, it's a little less.
Nonetheless,  with a weight limit of 265 pounds, it's suitable for both children and adults.
What We Like
All-Terrain Performance
Featuring 8.5-inch all-terrain tires powered by a robust 700-watt motor, the hoverboard can smoothly traverse grass, gravel, and even damp surfaces.
Sturdy and Durable
The Gyroor hoverboard aces the durability and sturdiness departments. It's made from approved UL and ABS materials, guaranteeing a high resilience to various environments. It keeps the rider safe by remaining stable.
LED Front Lights
Users can ride at any time in any setting. At the front of the hoverboard are two LED headlights, which both illuminate the area and keep your youngster visible to people nearby.
Built-In Speakers
Although this hoverboard is tough, it still includes some fun elements. It comes with high-quality speakers, offering exceptional sound. You connect the board with the compatible app.
What We Don't Like
Doesn't Hold a Charge Well When Off-Roading
When going off-road, the board seems to draw more power, which drains the battery rather quickly. Some users measured it to 2 miles on a rugged road.
Product Specs
| | |
| --- | --- |
| Maximum weight | 265 pounds |
| Maximum speed | 9.95 miles per hour |
| Range | 7.5 to 9.5 miles |
| UL 2272 certified | Yes |
| Speakers | Yes |
Our Ratings
Community Feedback
My experience with this hoverboard has been nothing short of amazing. Within a couple of months, I've managed to use it on various surfaces like grass and sidewalks, and even perform tricks on it. While it's heavier than other hoverboards, it's incredibly smooth and responsive, making it perfect for both kids and adults. The built-in speakers are loud and clear, and the app allows for customization of speed and lantern color. Just be cautious when picking it up, as it may try to drive away if not turned off first.
---
Swagtron Swagboard Outlaw T6
Best Hoverboard for Long Rides
If you're searching for a hoverboard that goes far, the Swagboard T6 from Swagtron has one of the longest ranges we've seen. This is all thanks to its powerful dual motors.
This is a solid pick for both newbies and more experienced riders. It doesn't go too fast and is reasonably easy to control and balance.
The board may not be totally devoid of gimmicks and distractions since it has Bluetooth functionality, which makes it appealing to older children. This is a simple yet eye-catching product, and it's easy to transport or take with you on trips.
Furthermore, the hoverboard's speed can be controlled by an app. This is particularly useful for parents who are concerned about the safety of their children by limiting its maximum speed.

What We Like
Impressive Range
Ready for extended adventures, the Swagtron T6 offers a remarkable 12-mile range on a single charge.
Indicator Lights
Beyond just LED headlights, the T6's intuitive indicator lights keep riders informed about battery status at a quick glance.
Powerful Motor
The board is fitted with dual 300-watt hub motors, which pack a punch in terms of power and enable it to ride for longer. However, having a top speed of 12 miles per hour, it isn't as fast as some others.
What We Don't Like
Some Parts Aren't Sturdy Enough
A few parents noted that some of the parts aren't as sturdy as they'd wish, particularly the speaker — users claimed they broke rather easily.
Product Specs
| | |
| --- | --- |
| Maximum weight | 420 pounds |
| Maximum speed | 12 miles per hour |
| Range | Up to 12 miles |
| UL 2272 certified | Not specified |
| Speakers | Yes |
Our Ratings
Community Feedback
I'm impressed with this hoverboard's performance and its ability to handle various terrains. The sturdy tires provide a smooth ride, even though there was a learning curve to adjust from a regular hoverboard. However, I struggled with the air pressure in the tires and found that the caps were difficult to remove. Despite these minor issues, this hoverboard offers excellent battery life, balance, and fun for riders of all sizes.
---
Lieagle Self-Balancing Scooter Hoverboard
Best Hoverboard for Ages 13 and Up
The Lieagle hoverboard is perfectly crafted for children 13 years and above, providing a potent combination of strength and versatility.
Its robust 6.5-inch wheels and spacious deck accommodate even adults, ensuring durability across many terrains.
What We Like
Lots of Lights
Your teen is likely to be out after dark. Equipped with LED headlights and sidelights, this hoverboard ensures late-night riders remain safely visible.
All-Terrain Design
The overall design of the hoverboard is meant for various surfaces, which is why it's great for teens who think no path of travel is off-limits. It can power through sand, gravel, grass, and even the beach. You can also ride it on slopes of up to 15 degrees of incline or decline.
Safety Certified
The hoverboard comes with an assurance of safety at all times. It has earned a UL 2272 certification, which reduces the risk of short-circuiting or overheating.
Its self-balancing technology keeps the user on track no matter what their level of experience.
What We Don't Like
A Quick Charge, But Doesn't Last Long
The ride time you can get isn't mentioned, but some parents put it at only 20 to 30 minutes. It depends on how heavy your child is, what terrain they are going through, and if there is an incline.
Product Specs
| | |
| --- | --- |
| Maximum weight | 264 pounds |
| Maximum speed | 8 miles |
| Range | N/A |
| UL 2272 certified | Yes |
| Speakers | Built-in wireless speaker |
Our Ratings
Community Feedback
When I first got this hoverboard, it took some time to get used to, but once I did, it was a lot of fun. The battery life varies depending on the rider's weight and usage, but it can last anywhere from 20 minutes to over an hour. One downside is that it's not really suitable for all terrains, as it works best on flat surfaces. The Bluetooth function is a nice touch, but the calibration process can be a bit tricky.
---
Sisigad Hoverboard Electric Scooter
Best Designed Kids Hoverboard
If your child wants something eye-catching, then this hoverboard is worth a look. It sports a bright, fun finish and great features to match.
Your youngster should love riding it. It has a top speed of 9 miles per hour but includes technologies to help the rider keep their balance.
The hoverboard provides a smooth ride thanks to its 6.5-inch wheels. The deck is wide, making it easy to balance and stand on. It can carry up to 200 pounds and features non-slip pedals, giving the user a secure stance.
What We Like
Fun Graffiti Design
The design of this hoverboard caught our eyes and didn't let go. The graffiti finish is playful and vibrant, great for children of any gender.
Fun Features
Kids will have a blast riding on this. There are colorful LED lights and Bluetooth-controlled speakers that connect to their devices. They can then blast their songs and have their friends watch as the LED lights change to the music.
Easy to Ride
Anyone can ride this hoverboard, regardless of their experience. It has a self-balancing technology to keep it, and the rider, stable.
The dual 300-watt hub motors allow the board to reach a good speed of 9 miles per hour.
What We Don't Like
Short Battery Life
Sadly, it doesn't hold a charge well. Parents claim that it only lasts around 30 minutes.
Short Bluetooth Range
The Bluetooth range is rather short. So, if the rider wants music on the go, they must carry their device with them.
Product Specs
| | |
| --- | --- |
| Maximum weight | 200 pounds |
| Maximum speed | 9 miles per hour |
| Range | N/A |
| UL 2272 certified | Yes |
| Speakers | Yes |
Our Ratings
Community Feedback
I'm disappointed with this hoverboard because it started having issues within a short period of time. At first, it worked great, and my daughter loved it, but soon it would just stop unexpectedly during rides, causing her to fall. We tried a different color, hoping it was just a one-time issue, but the second one had problems too, like not detecting her weight and malfunctioning lights. On the bright side, the seller was responsive and helped us with returns, but it's frustrating that we received two defective hoverboards. It seems like it's hit or miss with this product, so be aware of the potential risks if you decide to purchase it.
---
Are Hoverboards Safe for Kids?
In recent years, hoverboards have surged in popularity. Modern hoverboards, specifically designed for children, are generally safe when equipped with the necessary safety certifications and used as intended for the appropriate age group.
But it's vital to instill in young riders that a hoverboard isn't merely a plaything – it's a motorized vehicle that demands responsible usage and care.
Accidents can and do occur, with injuries ranging from minor bruises to more severe sprains and fractures. Notably, studies indicate that boys are more prone to injuries than girls (1).
For the utmost safety, it's recommended to wait until a child is over 8 years old before introducing them to hoverboards.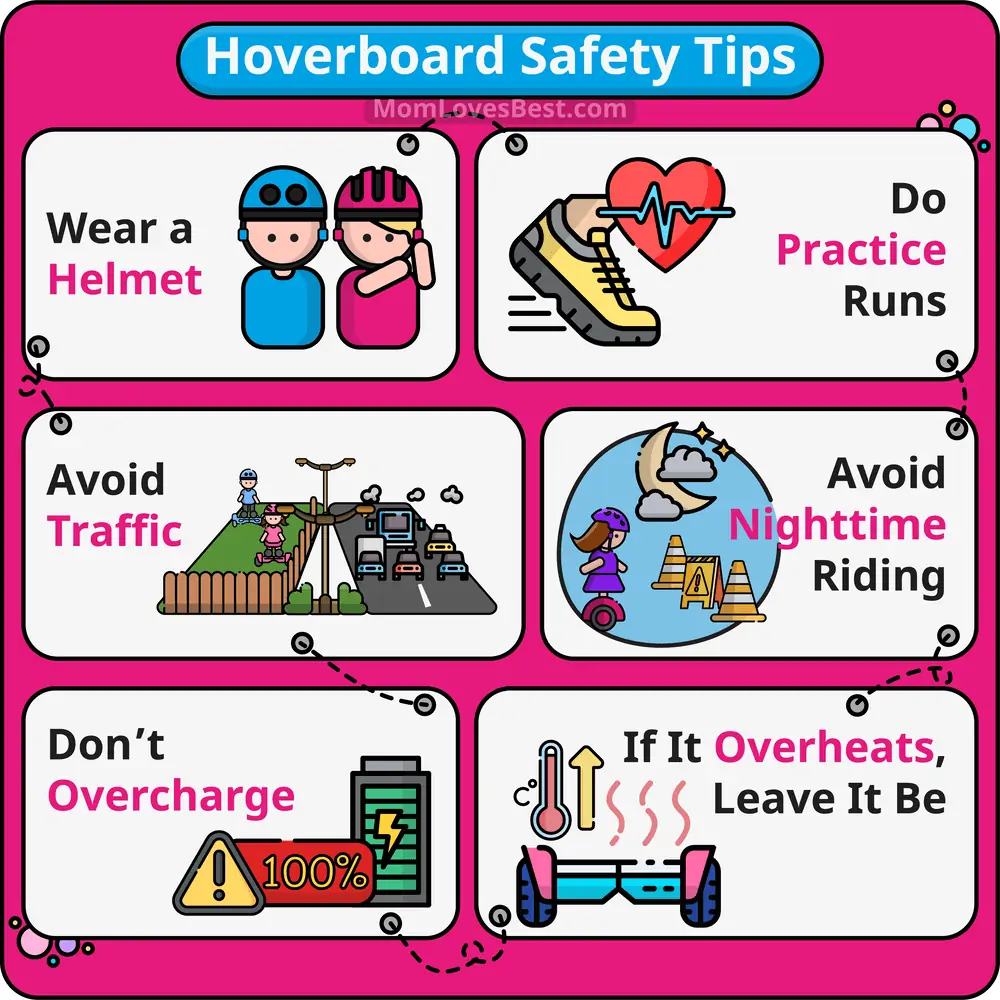 How to Choose a Hoverboard for Kids
---
Hoverboard Safety Tips
Hoverboards are fun but require precaution. Here are some essential safety tips to ensure a safe ride.
1.

Wear a Helmet

Riders should always wear a helmet when using the hoverboard. If they lose their balance and fall, they can hit their heads hard. In the worst-case scenario, this could lead to brain or neck damage.

It's easy to think that helmets aren't a requirement, especially since the people in ads rarely wear them. Still, it's the number one piece of safety gear. Other protective clothing you should consider includes elbow and knee pads.
2.

Do Practice Runs

Before setting out on a full ride, beginners should practice in a controlled environment. Soft surfaces or indoor spaces can be ideal starting points. They may take to it quickly — but ensure that they're fully confident and know how to stop.

Instruct them to always dismount from the back of the board, not the front. When riding, users utilize their foot on the pedal to control speed. The board won't stop immediately if they suddenly jump off, so if they land in front, the hoverboard is likely to run them over.
3.

Avoid Traffic

Once they're ready to venture beyond your driveway, scope out a safe place to ride. Avoid roads — hoverboard users aren't always visible to motorists. In some areas, like New York, they're illegal to use in public places (2).

If it's allowed, ideal places to ride are skateparks, parks, quiet boardwalks, neighborhood sidewalks, and driveways. If your desired site requires a ride through public roads, use the car for transportation.
4.

Avoid Nighttime Riding

Although most hoverboards include some lighting, it's not sufficient for motorists to see. The headlights sit quite low, which limits the rider's visibility.

If they ride in dimmed areas, have them wear a bright shirt, perhaps even with reflective materials. You could also consider a light that can sit on their helmet.
5.

Don't Overcharge

Hoverboards have quite sensitive batteries, and they usually don't require more than two to three hours to charge fully. Avoid charging overnight — this could damage the battery, reducing its range.

Another thing to watch out for is overheating — always charge in an open area, away from flammable objects and people.
6.

If It Overheats, Leave It Be

If the hoverboard starts to overheat — maybe it makes a noise or gets excessively hot — don't use it again. This could be a sign of a faulty battery, which can lead to burnout or an explosion.
---
Thank You For Your Feedback!
Thank You For Your Feedback!