Electric scooters are the buzz around the neighborhoods these days, promising a world of fun without the effort of pedaling. Picture your child effortlessly gliding on smooth pathways with the wind in their hair.
Whether they crave speed or a steady cruise, there's an electric scooter for them.
We understand your concern for safety and quality, which is why we've invested our time and expertise in cherry-picking the seven best electric scooters for kids. Trust in our guide to gift your child endless moments of joy.
Image
Model
Product Comparison Table
Features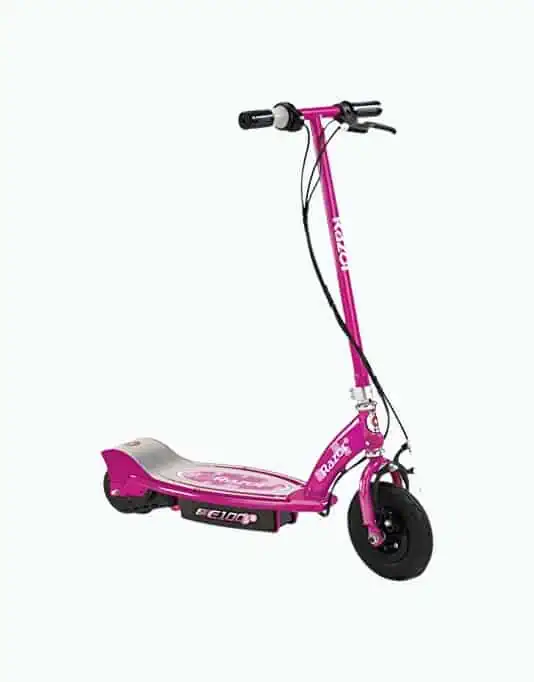 Most Power for Under 12's
Razor E100 Electric Scooter
Powerful motor
Safety features
Adjustable handlebar height
Best Heavy Duty Scooter
Pulse Performance Scooter
Push to go
Fast and long
Safe stopping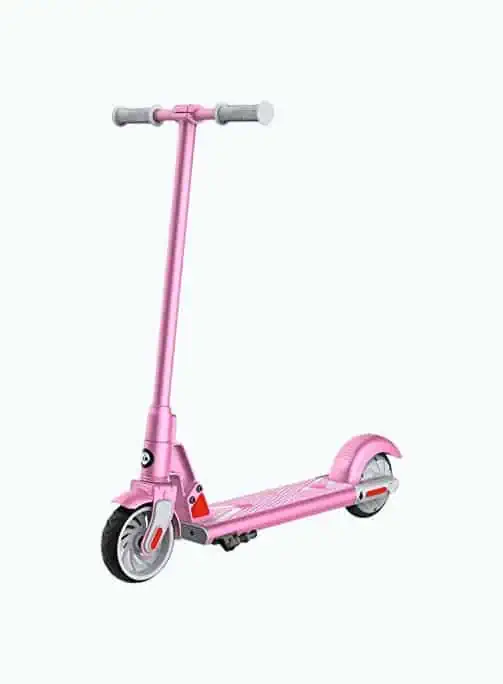 Best for Girls
Gotrax GKS Electric Scooter
Safe step technology
Durable wheels
Lightweight frame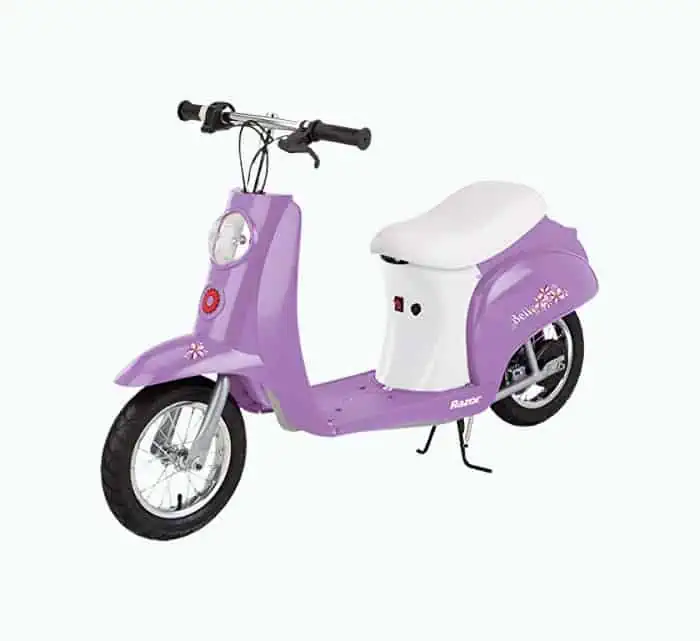 Best Ride-On Scooter
Razor Pocket Mod Euro Scooter
Fun design
Long travels per charge
Smooth ride
Best Ride Time
Razor Power Core E90 Scooter
Long ride time
Maintenance free
Push button throttle
Best for Boys
Razor E100 Glow Electric Scooter
LED light deck
Quiet but powerful
Retractable kickstand
Auto boost
Adjustable handlebar
ASTM compliant
Review Methodology: At Mom Loves Best, we carefully analyze and compare a broad range of electric scooters, ensuring we provide the most accurate and helpful information based on hands-on experience, professional assessments, and factual data. Our expert team conducts thorough research and rigorous tests to measure performance, track results, and rank products based on key decision-making factors. We evaluate from a user's perspective, identifying what sets a product apart from its competitors and providing clear, evidence-based recommendations. We delve into design choices, safety features, battery life, speed, weight capacity, and durability – all critical aspects when considering the best electric scooters for kids. Our reviews are guided by strict criteria and standards, ensuring you get the most reliable, comprehensive, and trustworthy information.
---
---
The Best Electric Scooters for Kids of 2023
Zoom into our detailed reviews as we unveil the top seven electric scooters for kids on the market.
Razor E100 Electric Scooter
Most Power for Under 12's
For children who like a bit more power, we found this scooter from Razor. The E100 electric scooter has a powerful little motor that can reach a comfortable speed.
This kids' electric scooter is quite impressive. The rider controls the throttle and handbrake from the handles. A small safety feature inhibits the motor from engaging until the rider is ready.
With a wide deck and adjustable handlebar height, the scooter is excellent for any child aged 8 years and up. It's available in several colors, whether your child likes Hello Kitty or a bold black.
What We Like
Powerful Motor
Whether you live in a hilly neighborhood or your kiddo likes more power, the E100 can deliver. It includes a high-torque chain-driven motor capable of reaching a maximum speed of 10 miles per hour.
The rider controls the speed using the grip twist throttle. Then on the other side, there's a hand brake for the rear wheel.
Safety Feature
To guarantee your child doesn't blaze off at maximum speed, they must start the scooter's motor by moving the scooter. The engine doesn't engage until the scooter reaches a pace of three miles per hour. They can easily do this by kicking, like a regular scooter, to get the scooter moving.
Adjustable Handlebar
The handlebar height is easy to adjust to accommodate different sizes. The scooter itself suits children aged 8 years or older and up to 120 pounds.
Smooth to Ride
Thanks to an 8-inch pneumatic front tire paired with a urethane rear tire, riders experience fewer bumps and a comfortable journey.
What We Don't Like
The Brake Isn't Reliable
Some parents found the brake less dependable. It does stop the scooter eventually, but it's not reliable. Parents warn that you should teach your child to steer away from dangers instead.
Chain Cover Durability
The chain cover, while protective, is prone to damage, especially during sharp right turns due to its extensive size.
Product Specs
| | |
| --- | --- |
| Battery | 24 volts |
| Top speed | 10 miles per hour |
| Charge time | 12 hours |
| Maximum load | 120 pounds |
| Run time | 40 minutes |
| Brake style | Front hand brake |
Our Ratings
Community Feedback
I'm genuinely impressed with this electric scooter's performance and durability, even after 20 months of use. It was easy to assemble and required minimal maintenance, making it a great choice for my adventurous and athletic child. The scooter has a safety feature where you have to push off and reach 3mph before the electric motor kicks in, which I appreciate. However, the battery is quite heavy, so keep that in mind when choosing where to store it.
---
Pulse Performance Electric Scooter
Best Heavy Duty Scooter
The Pulse Performance Scooter is a robust choice. It boasts a durable steel frame and contoured handlebars, ensuring extra protection and durability while your child rides.
Perfect for kids eight and older, this scooter can handle up to 150 pounds. So this should be in the family for many years, whether you have one child or many to pass it down to!
We also love that the tires ensure the ride of smooth and steady. Nobody likes feeling every bump, rock, and gravel they go over. The urethane wheels are specifically designed to make this the smoothest ride possible, whether you're going down the street, circling over the driveway, or trying it on rougher terrain.
What We Like
Push to Go
Even when this bike has no charge, you can use it as a traditional kick scooter. But if it is fully charged, easily switch between kick and electric with the push-to-go technology. Simply activate the thumb throttle, and it will fire up the motor!
Fast and Long
This electric scooter can reach speeds of 13 miles per hour. This is pretty speedy for a scooter and can get you from point A to point B in no time. Kids love riding this to and from school, too. The 40 minutes of ride time means it's reliable for daily riding!
Safe Stopping
When you need to stop, press your heel against the integrated rear foot brake. This cleverly designed foot brake makes stopping smooth and safe.
What We Don't Like
Uphill Battle
You may need to use your own strength when going uphill, especially for bigger kids. The electric motor just can't do it the same way the human body can, so switch off the motor while you soar uphill.
Customer Service Issues
If you have a problem with this scooter, you're going to have a tough time getting the company to help you out. Instead of replacing the scooter if there's an electrical problem, they may just ask you to open up the scooter and fix it yourself!

Product Specs
| | |
| --- | --- |
| Battery | 24 volts |
| Top speed | 13 miles per hour |
| Charge time | 2 hours |
| Maximum load | 150 pounds |
| Riding time | 40 minutes |
| Brake style | Rear wheel hand brake |
Our Ratings
Community Feedback
I recently purchased this electric scooter and while it's a fun ride, the battery life is quite disappointing and never goes as fast as advertised. After just a month, the battery died and needed replacement. Despite these issues, my kids absolutely love riding it and it's been a great starter scooter for them.
---
Gotrax GKS Electric Scooter for Kids
Best Electric Scooter for Girls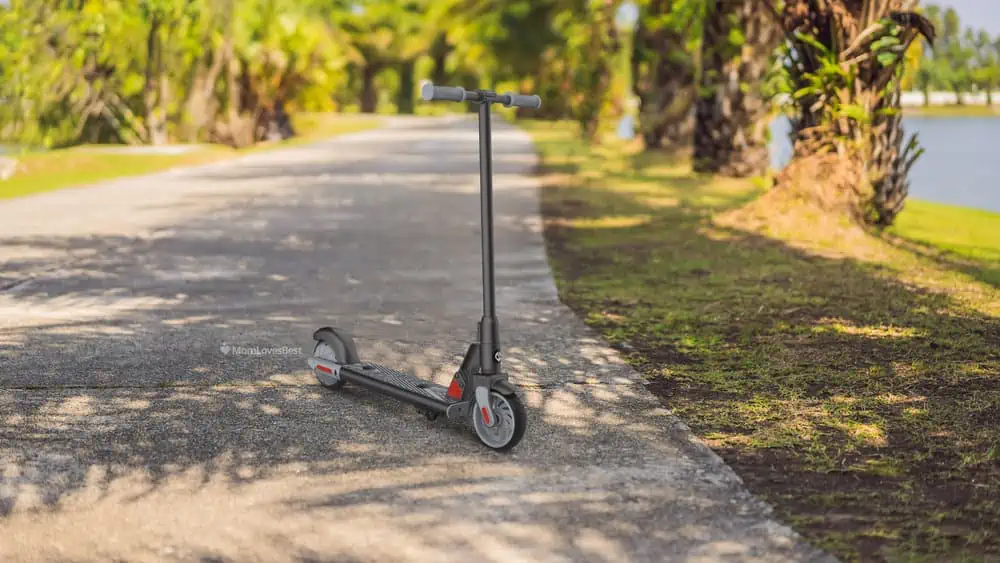 The GoTrax GKS electric scooter, designed in pink, is perfect for young girls. Safety is emphasized as the motor only engages when both feet are securely on the deck.
There are two durable wheels, which are ideal for a smooth ride around the neighborhood. The max speed is limited, which parents praise as not too fast or too slow.
The rider regulates the speed using the buttons on the deck, which might require some practice.
What We Like
Safe Step Technology
Safe step technology ensures the motor won't engage until both feet are firmly on the deck. This will give your child time to get into position and be ready for take-off. Once they remove their foot, the motor disengages, bringing the scooter to a soft stop.
Durable Wheels
The scooter is suited with two 6-inch wheels. These are durable and able to ride smoothly across sidewalks and paved areas.
Lightweight Frame
It's a relatively lightweight scooter weighing approximately 17.8 pounds. It's easy for children to pick up after a fall yet provides ample sturdiness, carrying a weight of up to 154 pounds.
Child-Friendly Speed
Your child won't get caught speeding on this scooter. It has a set limit of 7.5 miles per hour, keeping your child at a safe pace. On a full charge, they can ride up to four miles.
What We Don't Like
Not for Hilly Neighborhoods
The battery isn't the most powerful, and it loses power when going uphill. If your youngster plans on riding around a hilly neighborhood, they better be prepared to kick as well.
Product Specs
| | |
| --- | --- |
| Battery | 150 watts |
| Top speed | 7.5 miles per hour |
| Battery charge | Five hours |
| Maximum load | 154 pounds |
| Riding time | 4 miles |
| Brake style | Rear wheel foot brake |
Our Ratings
Community Feedback
My experience with these scooters has been fantastic, especially since they make great gifts for my 5 and 7-year-old boys. The speed is perfect for them, not too fast but still enjoyable, and the battery life lasts for several hours. One of the scooters did have a broken fender after a rough wipeout, but the company's customer service went above and beyond to help me fix it at no cost.
---
Razor Pocket Mod Miniature Euro Electric Scooter
Best Ride-On Scooter
If you're looking for a scooter with a wow factor, you should check this one out. This ride-on scooter from Razor is a scaled-down Euro scooter. It comes with all the bells and whistles you'd expect from a full-sized model but in a size suitable for children.
It's designed for children 12 years and older and offers seven vibrant colors.
Parents praise how much fun and how durable it is — many say they even took it for a ride. It has a maximum speed of 15 miles per hour and can safely accommodate a weight of 170 pounds.
What We Like
European Flair
This scooter is designed to capture the essence of European style, making rides feel like cruising through Venice or Milan. It features an under-seat storage compartment and a retractable kickstand, offering functionality and fun.
Impressive Range
With the potential to cover up to 10 miles on a single charge and a max speed of 15 miles per hour, this scooter promises extended enjoyment.
Smooth Ride
The scooter is equipped with two 12-inch pneumatic tires, which offer a smooth ride over different surfaces. They're hard and require little maintenance.
To enhance the ride further, Razor also includes a soft suspension system. This works to even out bumps in the road.
What We Don't Like
Not for Small Children
The scooter is suitable for children aged 12 years and up. It can go quite fast, so it isn't recommended for small kids.
Long Charge Time
It takes a significant amount of time to charge. Some parents noted it took 12 hours, but it also rides for a good amount of miles too.
Product Specs
| | |
| --- | --- |
| Battery | 24 volts |
| Top speed | 15 miles per hour |
| Battery charge | 12 hours |
| Maximum load | 170 pounds |
| Ride time | 10 miles |
| Brake style | Rear hand brake |
Our Ratings
Community Feedback
Great purchase for my middle schooler daughter, the MoPad electric bike has exceeded my expectations in terms of comfort, usability, and style. The electric motor assists in pedaling, making it easier for her to travel longer distances and tackle hills with ease. Its versatility allows it to handle various terrains, from paved roads to dirt paths, while the adjustable seat and handlebars ensure a comfortable riding experience. The sleek design and fun color options make it a visually appealing choice.
---
Razor Power Core E90 Electric Scooter
Best Scooter Ride Time
For children who want to ride for a long time, we recommend this Power Core E90 scooter from Razor. It's an upgraded version of the previous E90, and this one packs a bigger punch.
Razor fitted it with extra torque and power, enabling it to run twice as long as the previous model.
With a steady speed of 10 miles per hour, parents are praising this one, saying it's just right for the age group.
It has a kick-start motor, which your child might need some time to get used to. A firm push is needed to get the scooter moving. However, once they get it, you'll see the advantages.
What We Like
Long Ride Time
The specifications say you can ride for up to 80 minutes between charges. Keep in mind this is at max speed, carrying a maximum load, so the overall time can be much more. It's significantly longer than the other scooters on our list.
More Power
This is the upgraded version of the previous E90 scooter. This time, Razor included 50 percent more power, using a power core hub motor with extra torque. It produces no emissions and is quiet despite the additional power.
Maintenance Free
There's no chain drive to look after or anything that requires re-tightening over time. The wheels are made from urethane and TPU and offer a smooth ride.
Push Button Throttle
Your child can control the speed using the push button located on the handlebar. It's easy to use, even for beginners. There's a front-wheel brake to stop, also controlled by a handle.
What We Don't Like
Fixed Handlebar Height
The scooter's handlebar height isn't adjustable, potentially limiting its use as children grow taller.
Product Specs
| | |
| --- | --- |
| Battery | 12 volts |
| Top speed | 10 miles per hour |
| Charge time | 12 hours |
| Maximum load | 120 pounds |
| Ride  time | 80 minutes |
| Brake style | Hand front brake |
Our Ratings
Community Feedback
Best purchase for our adventurous 9-year-old who absolutely loves zipping around the neighborhood on this electric scooter. Although the speed can be quite fast, and may require some practice for better balance, it's perfect for those eager to ride powered vehicles. The battery life is impressive, allowing for hours of playtime before needing a recharge. One minor downside is the lack of an adjustable bar and throttle, as it might have provided more control over the speed. Nevertheless, this scooter has been a great addition to our outdoor activities, and after a short learning curve, it's been nothing but fun for the whole family.
---
Razor E100 Glow Electric Scooter
Best Electric Scooter for Boys
Razor has brought us this awesome update of their E100 electric scooter. The E100 Glow has a cool feature — an illuminated deck.
It's a powerful scooter and isn't recommended for children under the age of 8. The rider controls the speed and brakes from the handle. The deck is wide for stability.
Parents applaud how much fun it is, saying their children love to ride it after dark. The wheels are durable and work excellently on paved roads and light dirt.
It can reach up to 10 miles per hour but requires a 12-hour charge. Once fully charged, it should run for 40 minutes, but some parents say it lasted longer.
What We Like
LED Light Deck
The star feature of this scooter is the blue LED lights on the deck. When it's dim outside, your little guy can watch the light as he twists the throttle. They're great fun, and parents say the scooter remains visible for people to see.
Quiet but Powerful
Featuring a high-torque chain-driven motor, it ensures quiet, emission-free rides. All controls, including the LED activation, are conveniently located on the handlebars with a twist-grip throttle and a rear brake.
Practical Kickstand
The built-in retractable kickstand provides easy parking and supports the scooter's 32-pound weight, alleviating the need to lift it.
What We Don't Like
The Wheels Aren't Free Running
If the motor stops, so do the wheels. Some parents said this made it difficult to turn because it requires a constant push on the throttle.
Not for Small Children
The scooter isn't the easiest to operate, mostly due to the above issue. It's not recommended for children under the age of 8.
Product Specs
| | |
| --- | --- |
| Battery | 24 volts |
| Top speed | 10 miles per hour |
| Charge time | 12 hours |
| Maximum load | 120 pounds |
| Ride time | 40 minutes |
| Brake style | Hand front brake |
Our Ratings
Community Feedback
I recently purchased this electric scooter for my son, and it has exceeded our expectations. The scooter is easy to use, with just a few foot pushes needed to get up to speed before twisting the throttle. It has a smooth ramp-up to its top speed of about 10 mph, and my son quickly learned to regulate his speed by coasting and blipping the throttle. The scooter is well-built and durable, perfect for younger riders in flat to slightly hilly terrain. However, one downside is the low torque power system, which struggles on steeper hills, and the lead acid batteries require proper care and maintenance.
---
Swagtron SK1 Electric Scooter
Best Sturdy Electric Scooter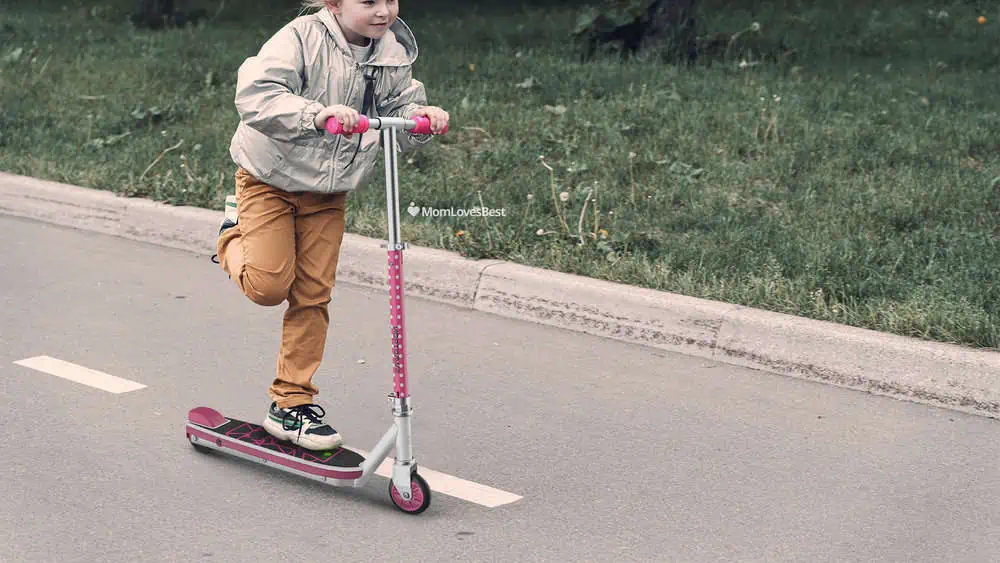 The Swagtron SK1 is one to consider for your growing child. This electric scooter has a huge range of awesome features that your kid will love.
Once it arrives, all you need to do is charge it, and it's ready to go. In no time at all, your little one will be cruising the streets on their super cool scooter. Parents love how entertaining this is for their children, but they also love that it's super practical to store.
While Swagtron doesn't explicitly state what age group this is for, customers recommend it for eight to 12-year-olds. If your child is younger than that, they can use it but make sure they don't turn the power on.
What We Like
Auto Boost
The auto boost and cruise function allows it to swiftly reach and maintain its maximum speed of 6.2 miles per hour. Simply ride, and the motor automatically kicks in.
Adjustable Handlebar
This scooter is ideal for growing children. The handlebar height can be adjusted to keep up with your child through all their growth spurts. So make sure to check your child's height beforehand to make sure this will work for them.
ASTM Certified
Safety is every parent's concern, and Swagtron made sure that this criterion is met. It's made from an ultra-durable iron frame and is certified ASTM F2641 compliant.
What We Don't Like
Fixed Design
A potential drawback is the scooter's non-folding design, which might require more storage space. For those with limited room, alternative foldable models might be preferable.
Product Specs
| | |
| --- | --- |
| Battery | Not specified |
| Top speed | 6.2 miles per hour |
| Charge time | Around three hours |
| Maximum load | 143 pounds |
| Ride time | 4 miles |
| Brake style | Rear foot brake |
Our Ratings
Community Feedback
I'm quite happy with the lightweight design and beautiful colors of this scooter, but its durability and battery life left me disappointed. My kids had a blast riding it for the first few months, but the battery failed and the stickers peeled off, exposing the internal electronics. It's a fun scooter for both kids and adults, but be prepared for possible issues with the electric components and charging.
---
How to Choose an Electric Scooter for Kids
---
Electric Scooter Safety 101
Electric scooters may sound harmless, but they do cause their fair share of accidents and injuries every year. The most common injuries from scooter crashes are fractures, head injuries, and soft tissue injuries (1). Here are some tips for staying safe:
They aren't toys: Kids' electric scooters may look like toys, but they are motorized vehicles. Your child must be aware of this before riding.
Wear the right gear: Always wear a helmet regardless of the speed. You may also want your child to wear knee and elbow pads.
Start slowly: Take time to teach your child how to use the throttle and brake properly. Read the instructions and have them ride in a safe location.
No distractions: Keep the cell phones in the backpack or pocket when riding. The same goes for headphones and earbuds — listening to music can drown out the sound of a vehicle.
Avoid traffic: Unless it's unavoidable, steer away from traffic. Keep the scooter in the park or around the neighborhood where the roads are safe.
Teach traffic rules: If your kid is going to ride in public, teach them about road rules. Tell them the importance of being mindful of pedestrians and other motorists.
---
Thank You For Your Feedback!
Thank You For Your Feedback!