Is your kid begging for a scooter?
They're all the rage, but did you know they come in a variety of styles with different features? So how do you know which one to choose?
We've scoured the market to find the best scooters for kids of all ages and sizes. Our top picks are adjustable, easy to ride, durable, and safe, and they have the best features to make riding extra fun.
In this guide, we'll go over the ins and outs of choosing the best scooter for kids and share our reviews of the 10 best models currently on the market.
Image
Model
Product Comparison Table
Features
Best All-Around
Razor A3 Kick
Large wheels
Shock system for jumping
Wheelie bar design
Best for Beginners
Yvolution Y Fliker Air A3
Easy-to-use brake
Cool and sleek design
Convenient for storage
Best Electric Scooter
Razor E300 Electric
Super-sized deck and frame
High torque
Warranty included
Best Three-Wheel
Micro Maxi Deluxe
Handlebar is adjustable
Non-slip deck
Hassle-free assembly
Best for Toddlers
LaScoota 2-in-1 Scooter
Two-in-one: sit or stand
Turns smoothly
Adjustable seat and handlebar
Best for Tricks
Fuzion X-5 Pro
Super sleek look
Rubber-grip handlebars
High-quality materials
Best Off-Road Scooter
Razor Pro RDS Dirt
Great for the outdoors
Good option for older kids
Holds a lot of weight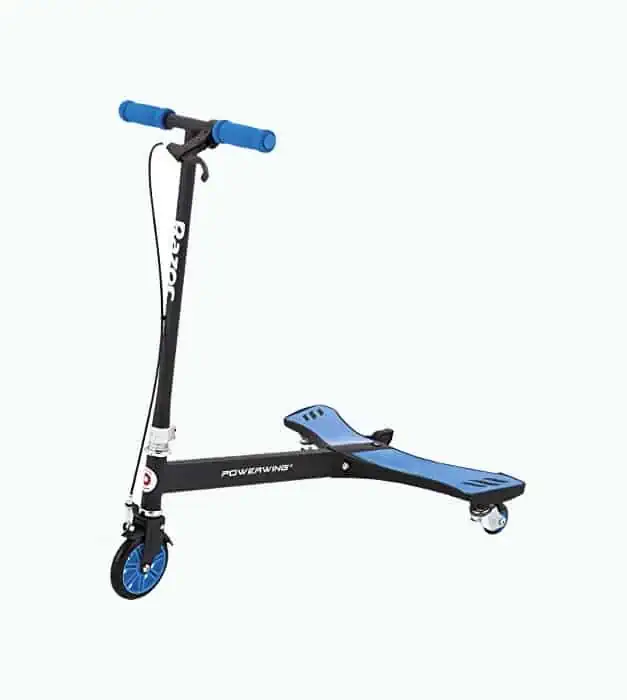 Best Caster Scooter
Razor PowerWing Caster
Patented design
Good for doing tricks
Less work to maneuver
Best Budget Scooter
WeSkate Scooter For Kids
Budget-friendly
Folds in half
Wheels light up
Best Two-Wheel Scooter
Beleev Folding Scooter
Easy to fold/unfold
Rotating handlebar
Lightweight
Review Methodology: At Mom Loves Best, we understand the importance of finding the perfect scooter for your child. Our experienced team thoroughly researches and analyzes a variety of scooters, comparing and ranking them based on criteria such as safety, performance, design, and user experience. We evaluate products from a user's perspective, sharing hands-on evidence and data to help you make informed decisions. Our assessment identifies key factors like stability, durability, ease of use, and age-appropriate features, so you can trust our recommendations for the best scooters for kids.
---
---
The Best Kids Scooters of 2023
Here are 10 great kids' scooters to consider.
Razor A3 Kick Scooter
Best All-Around Kick Scooter for Kids
This scooter is made of aircraft-grade aluminum, which is nice because you know it's good quality. It can hold up to 143 pounds and is recommended for children ages 5 and up.
If you're looking for a compact and lightweight option for your child, this one is perfect. It folds in half and only weighs approximately 7 pounds.
The brake is located on the rear fender, and it comes with a super cool wheelie bar. Imagine your kid spinning their handlebar, lookin' so fly and funky.
It has larger wheels than most standard models and a springless shock system on the front wheel. This is an important feature if your kid wants to perform stunts.
Pros
Large wheels give a smoother ride.
Shock system for jumping.
Wheelie bar design.
Adjustable height.
Cons
It's not very comfy for those over 50 inches tall.
Our Ratings
Community Feedback
This scooter is perfect for kids and even supported my 170-pound frame easily, making it a versatile and enjoyable toy. The larger wheels provide a smooth and stable ride, while the adjustable handlebars accommodate a variety of heights. However, folding it down can be a bit tricky and it may be worth considering a kickstand to prevent it from falling over in storage.
---
Yvolution Y Fliker Air A3 Scooter
Best Kids Scooter for Beginners
The Y Fliker Air A3 Scooter comes in two color options, red or purple, and it's sleek and lightweight in design.
This caster scooter requires hip movement rather than using your feet to propel forward. It boasts a smooth ride and comes with a quick-response hand brake for easy stopping. On top of that, the steel frame makes it durable.
If convenience is your thing, this scooter can twist and fold, so you can easily take it with you when you go out. This scooter is recommended for children ages 7 and up.
Pros
Easy-to-use brake.
Cool and sleek design.
Convenient for storage.
Cons
No light feature included.
Our Ratings
Community Feedback
These YFliker scooters have provided endless fun for my grandchildren and have proven to be a great alternative to traditional scooters. With their unique design, these scooters offer more stability, preventing tipping and making them suitable for kids with motor skill challenges. However, I did experience an issue with the metal leg cracking after a few months of use, but was pleasantly surprised when the company promptly replaced it. The scooters are easy to fold up and transport, allowing us to bring them along on outings with ease. Although there seems to be a slight learning curve for some children, the excitement and enjoyment they get from cruising around on these scooters is undeniable. The only downside I've noticed is that the red wheels seem to wear down faster than the others, so be prepared to potentially replace parts over time.
---
Razor E300 Electric Scooter
Best Electric Scooter for Kids
The Razor E300 electric scooter is designed to be super quiet and can reach up to 15 miles per hour. It can hold up to 220 pounds, enabling your child to use this right through until adulthood.
Its two 24-volt batteries can last up to 40 minutes of continuous use on one charge. The battery takes around eight hours to charge fully. The charger is included.
The scooter has twist-grip throttle acceleration control as well as a hand-operated front brake. There's also a retractable kickstand so it can stay upright when they're not using it.
It should be noted that your child will need to use their feet to kick off for the motor to start. Once they reach around 3 miles per hour, they will then push a trigger to engage the motor.
The front tire is thick and pneumatic, while the back tire is made from polyurethane. Despite being a bigger scooter, you can still fold it in half for easy storage.
Pros
Super-sized deck and frame.
High torque.
Warranty included.
Our Ratings
Community Feedback
This scooter is quite durable and handles various terrains well, even with my son and me riding together. The battery life is impressive, but be mindful of how long it takes to recharge. However, there were a few minor issues, such as the chain falling off and the throttle rubbing against my hand, so I recommend wearing gloves while riding.
---
Micro Kickboard Maxi Deluxe Scooter
Best Three-Wheel Scooter for Kids
The scooter comes in two sizes, with the "Maxi Deluxe" being optimal for older children, from around 5 years up until 12. These scooters are recommended for kids up to 150 pounds. We like this scooter because its three wheels help provide added stability for your child.
It comes in a variety of colors, so you're likely to find one that your child really likes. It comes with anodized handlebars as well as a silicone-injected non-slip pad. This gives foot traction with sturdy placement to ensure less slippage.
It's equipped with high-quality polyurethane wheels and a flexible fiberglass deck to aid in shock absorption. If you want something that will give your child a smooth ride with extra stability, this three-wheel scooter should be on your list.
Worried about being able to stop? This scooter has a rear fender brake for that. It's certified by the CPSC, so we know the safety features have been tested.
Pros
Handlebar is adjustable.
Variety of colors to choose from.
Non-slip deck.
Hassle-free assembly.
Cons
Difficult to navigate corners and downhill.
Our Ratings
Community Feedback
I've had a fantastic experience with this scooter for my daughter, who absolutely loves it and rides it with ease. The sturdy build and simple steering mechanism allow her to maneuver smoothly, making her look like a pro. While it's not foldable and a bit pricey, its durability and kid-friendly design make it worth the investment. Even after a year of use, the scooter remains in excellent condition and continues to bring joy and excitement to my child.
---
LaScoota 2-in-1 Kick Scooter
Best Scooter for Toddlers
This two-in-one scooter is perfect for families looking for a practical addition to their child's riding gear. Thanks to the cushy removable seat, your child can sit on it or stand. When they're confident being upright, simply remove it.
The seat is meant for your toddler as they learn how to navigate using their legs. The scooter's deck is extra-wide and low to the ground, which helps add to the stability. The handlebar is adjustable with two height options.
This is a self-balancing, three-wheel scooter, and an optimal choice for toddlers. The wheels also light up, your toddler will love that they change color as they ride along. Because the front tires are a little bigger, they make the ride smooth — even on bumpy sidewalks.
Your child will need to learn to steer to use this scooter. This is another nice feature for toddler scooters because it helps them learn balance and coordination.
Pros
Two-in-one: sit or stand.
Turns smoothly.
Adjustable seat and handlebar.
Wide deck.
Our Ratings
Community Feedback
I've been using this scooter for my son, and he absolutely loves it. The build quality is impressive, and the smooth ride makes it enjoyable for him. The folding feature is very convenient for storing in the car or at home. The only downside is that the seat is not easy to fold up, so I end up carrying it around during our walks.
---
Fuzion X-5 Pro Scooter
Best Pro Scooter for Tricks
If you're looking for a more serious option for your daredevil child, this pro scooter is worth looking at. This model has been redesigned to include a new aircraft-grade aluminum deck and a smooth IHC compression system.
The steel fork for the scooter's wheels can now include both 100-millimeter and 110-millimeter wheels. Its aluminum-core wheels, made with high rebound cast PU and a nylon/steel brake, make for a quiet and smooth ride.
While this one doesn't fold in half, it's straightforward to take apart and put back together. The V-shaped handlebars come with composite rubber grips to help your child stay comfortable.
This scooter can hold up to 220 pounds, so there's no doubt mom or dad will be tempted to give it a spin. We don't recommend this scooter for beginner learners, as it's a little more complicated to learn to balance on.
Pros
Super sleek look.
Rubber-grip handlebars.
High-quality materials.
Cons
Parts may come loose after a while.
Our Ratings
Community Feedback
From the moment I assembled this scooter, I could tell it was of great quality and perfect for my son who loves doing tricks. The vibrant color options and smooth ride exceeded my expectations, making this an excellent purchase for the price. However, I did notice that the headset would constantly loosen, requiring frequent adjustments, but overall, this scooter provided a fun and engaging experience for my child.
---
Razor Pro RDS Dirt Scooter
Best Off-Road Scooter for Kids
Finding scooters geared for older kids can be challenging, but this Razor dirt scooter fits the bill. It's suitable for children from 10 years of age.
For normal riding, this scooter can safely carry up to 220 pounds. However, if your child plans to do more vigorous riding, it can only withstand up to 120 pounds.
The scooter is equipped with several high-quality features. These include a BMX-style steel fork, Y-style handlebars, an aluminum frame and wheels, and pneumatic tires. The wheels have heavy treading for frequent use and will be much appreciated on rough terrain.
It also comes with coarse grip tape, a classic rear brake, and soft hand grips made of rubber. It's definitely ready for some rough action.
Pros
Great for the outdoors.
A good option for older kids.
It can hold a lot of weight.
Cons
Footbed is on the narrow side.
Our Ratings
Community Feedback
When I first got this scooter, I noticed that it was very sturdy and durable, perfect for off-roading adventures. Although the wider rubber tires don't glide as smoothly as thinner wheels, the scooter still provides a fun ride for both kids and adults. One downside is that the deck is higher off the ground than other similar models, which might be surprising and affect the handling for some riders. Inflating the tires can also be a bit tricky due to the angled valve stem on the rear wheel. Despite these minor issues, this scooter remains a fantastic option for those seeking a robust and reliable off-road scooter experience.
---
Razor PowerWing Caster Scooter
Best Caster Scooter for Kids
If your child is a fan of skateboarding, this scooter puts a fun twist on the idea. You have two inclined casters that allow for 360-degree spins and other cool tricks.
They also make turning, drifting, and acceleration easier because you don't need to push with your feet so much. To move this scooter, you only need to twist your feet from side to side.
It comes with a durable steel frame and high-tech polymer back wings. The front wheel is urethane, and the bars come with a hand brake attached. The hand grips are foam, and the stability bars are removable.
The handlebars also allow your child to drift sideways, and since the "PowerWing" is patented, you won't find another scooter like it. This option is best for children ages 6 and up and can carry up to 143 pounds.
Pros
Patented design.
Good for doing tricks.
Less work to maneuver.
Cons
Some assembly is required.
Our Ratings
Community Feedback
I recently purchased this scooter for my child, and it has been a hit with the whole family, even the adults! The build quality is impressive and sturdy, making it enjoyable and safe for everyone to ride. It does require a flat surface for optimal use, but even in our limited space, my kids have a blast riding it. Just be cautious with younger kids, as it can twist and turn quickly, which may lead to them falling off.
---
WeSkate Scooter for Kids
Best Budget Kids Scooter
For those of you looking for a budget-friendly option, this scooter is one to consider. It can accommodate a wide age range, given the adjustable height. The wheels come equipped with motion-sensing LED lights which adds to the fun.
The handlebars lock in place and are made of aluminum, as are the T-tube and kickboard. This scooter is helpful for smaller hands because it also comes with sponge grips on the handles.
The rear fender brake and the deck are both low to the ground, which is a great safety feature and is convenient for younger children who may not quite have their balance down yet.
This is also a handy option because it can fold in half for easy storage and hold up to 110 pounds.
Pros
Budget-friendly.
Folds in half.
Wheels light up.
Cons
The frame isn't as sturdy as on some other scooters.
Our Ratings
Community Feedback
In my experience, this scooter has been a fantastic gift for kids. The assembly was easy, and the adjustable height ensures that it can grow with the child. The LED lights on the wheels are a fun feature, especially at night, although they could be a bit brighter. The scooter's durability has been impressive, even with rough handling and riding on various surfaces. One issue I encountered was the occasional loosening of screws, but overall, this scooter has been an enjoyable and reliable ride for my family.
---
Beleev Folding Scooter
Best Two-Wheel Scooter for Kids
This folding scooter is super lightweight and perfect for taking on the go to the park or other outdoor areas. The T-bar has three adjustable heights to allow the scooter to grow with your child. It's made from aluminum alloy and can accommodate children up to 143 pounds.
It has an anti-skid sticker to help ensure your child won't slip around while riding, and it comes with shock-absorbing hand grips. If safety is something you're worried about, these features should help put your mind at ease.
It has a rear fender brake and 360-degree steering to add to the fun of riding. The light-up LED wheels are made to guarantee a smooth ride, and the scooter's low footplate is a plus. This scooter is recommended for ages 5 and up.
Pros
Easy to fold/unfold.
Rotating handlebar.
Lightweight.
Cons
Not suitable for jumps or tricks.
Our Ratings
Community Feedback
When my daughter transitioned from a 3-wheel scooter to this 2-wheel scooter, she instantly fell in love with it. The kickstand and light-up wheels are some of her favorite features, making it perfect for her 5th birthday. Upon arrival, I found it well-packaged, easy to assemble, and simple to fold for convenience. The wheels are firm and provide good grip, though the flashing lights aren't as bright as I expected. My daughter did mention that it feels a bit wobbly, but she's been enjoying it for a week with no issues.
How to Choose the Best Scooter for Kids
Is there a kickstand? Does it store well? There are plenty of things to remember when searching for a scooter for your kids, but consider this checklist before making your decision.
Types of Kids Scooters
When I think about scooters, my brain automatically goes to that streamlined silver scooter I had as a kid. But did you know there are many styles and designs out there?
Two-Wheel Scooters
Two-wheel scooters are exactly what they sound like. They have two wheels and often have a kickstand to prop them up. This is the standard scooter design you're probably most familiar with.
You'll find that most scooters are designed with two wheels, whether they're manual or electric. Because this is a standard design, the age range will vary. However, these scooters are best for ages 5 and up or for children who have good balance.
They're suitable for long rides and perfecting coordination. The only downside is that kids need to balance and steer all at once. This may not be suitable for a young child who hasn't learned these skills.
Three-Wheel Scooters
These scooters come with two front wheels and a single back wheel. These can also be referred to as "glider" scooters. Three-wheel scooters are best for children learning to balance because the design makes them more stable than others.
Three-wheel scooters are super versatile. While many are listed for ages 3 and up, most toddler scooters also have three wheels. These are an excellent option for introducing scooting to your child.
The only downside to these is that there isn't much room for cool tricks. The scooter's primary purpose is to provide stability, and that limits its range of movement.
Caster Scooters
Caster scooters are similar to regular three-wheel scooters in that they also have three wheels. However, caster scooters have two wheels in the back, and they're spread far apart. With this one, kids ride a little like a skier would ski down a slope.
These scooters are typically geared toward children ages 5 and up. The upside to this design is that it's unique and offers a fresh and fun perspective on the idea of scooting.
The downside is that it isn't optimal for tricks due to its design. Plus, it's harder for younger kids to learn as there's much to master at once.
Pro Scooters
Pro scooters have a few different names. These may be marketed as "trick" or "stunt" scooters. The purpose of a pro scooter is to give the rider the ability to perform cool tricks. You'll often see them being used at skateparks.
These are built similarly to regular two-wheel scooters but have a wider handle for more stability.
These scooters are typically marketed for children ages 5 and up. Pro scooters are good for kids who are confident in their scooting abilities but may not be a good option if you're looking for an introductory scooter.
Off-Road Scooters
If you're working with rough terrain, off-road scooters are the best option for you. The wheels are much bigger than regular scooter wheels and have tires to help navigate the ground below.
Most off-road scooters will be geared toward children around 6 or 7 years old and above. These scooters are great if you're an outdoorsy family, but they aren't ideal for performing stunts and tricks. They may also be on the heavier side.
Electric Scooters
These scooters are battery-powered and are usually heavier than regular scooters. The wheels are chunkier and less compact than other scooter options, but the added weight makes them much more stable.
Electric scooters are typically recommended for ages 7 and above. These are nice if you want your child to ride around in style or if they have long distances to travel. The main downside is that your child won't get as much exercise with this one as they would with other scooter styles, as the motor does most of the work.
Benefits of Scooters for Kids
Scooters may seem like just another ride-on toy, but have you ever actually stopped to think about the benefits scooters provide? From enhancing motor skills to promoting independence, scooters can offer amazing benefits to your child.
My kids developed so much independence after we bought them scooters!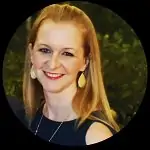 Editor's Note:
Mary Sweeney, BSN, RN, CEN
Consider these benefits when deciding if you're going to invest in one or not:
---
Extra Gear and Safety
Just like with bicycles, your child should always wear proper safety equipment when riding a scooter. Head trauma is the most common type of injury with bikes, skateboards, and scooters (4). However, with proper protection, your kid should be just fine.
Wearing other protective gear like elbow and knee pads may protect against broken bones, bumps, and bruises.
1.

Helmets

Wearing a helmet can decrease the risk of head injury by up to 85% (5). However, as important as a helmet is, it's only effective if it fits properly. Here are a few things to keep in mind when choosing a helmet:
The helmet should be snug. It shouldn't move from side to side or up and down when buckled.
The helmet should rest low on the forehead. Take two fingers and place them above the eyebrow. The helmet should rest on the top finger.
Your child should be able to see the tip of the helmet when they look up.
The chin strap should only have enough room for one finger to fit inside. If you can feel the helmet pull down on your head when you open your mouth, it's correct.
2.

Elbow and Knee Pads

Elbow and knee pads are also important for protection. There's a debate on whether they're essential, but they're a good investment if you want to avoid extra bumps and bruises.

These are typically made with Velcro straps, so ensure your child wears them tight enough to fit snugly and not slip around.
3.

Lights and Reflectors

Because of the way they're designed, it's not recommended to ride scooters at night. However, if your child does, you should ensure the scooter comes with reflectors or other lights to increase visibility.

Scooters with light-up wheels can help with visibility. If the scooter you choose doesn't come with a reflector light, you can purchase one separately.

Ensure your child is wearing bright clothing that the headlights of passing vehicles can easily pick up. This also applies to days with limited visibility due to overcast skies or otherwise.
4.

Stylish Add-Ons

Just like with bicycles, there are plenty of stylish add-ons to give the scooter more character. Some brands even make fun animal heads that attach to your child's scooter handlebar.

If you want to take it up a notch, consider getting them a fun pair of scooter gloves as well.
---
Thank You For Your Feedback!
Thank You For Your Feedback!