Activity is essential for everyone, and getting into the habit of being in motion should begin early. But getting children up and going isn't always easy — gone are the days where kids played outside from dawn until dusk. Technology is often what's keeping children indoors, so why not use it to get them out?
The best fitness tracker for kids will encourage them to get moving. Whether it works by presenting them with an award or having the pure pleasure of seeing their accomplishments, activity trackers have proven successful in motivating kids.
Today, we're helping you decide if they're worth a try, so let's get physical (sorry, I had to include that somewhere).
Image
Model
Product Comparison Table
Features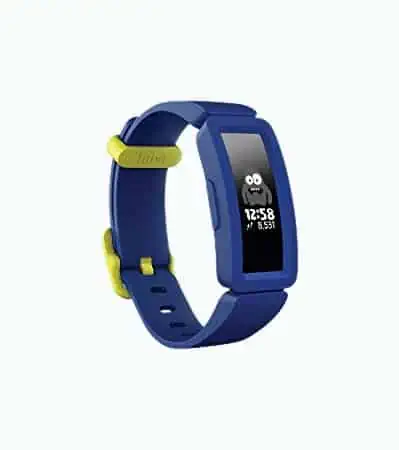 Best Fitbit Tracker
Fitbit Ace 2 Activity Tracker
Waterproof
Animated clock faces
Includes activity challenges
Best Themed Tracker
Garmin Vívofit Jr. 2
Interactive challenges
One-year battery life
Swim-friendly
Best for 4-Year-Olds
ProGrace Kids' Smartwatch
Two-way camera
Touchscreen
Plays music
Best Interactive Tracker
Little Tikes
Child-friendly features
Teaches time the fun way
Parent-controlled reminders
Best for Older Kids
Trendy Pro Fitness Tracker
Sleep monitor
Fitness goal tracking
Smart notifications
Best for Ages 6 Years and Up
Fitbit Ace 3 Activity Tracker
8 days battery life
Fun clock faces
Includes parent app
Best Design
Garmin Vívofit Jr. Tracker
Great wristband design
Includes parent app
Reward system
Review Methodology: At Mom Loves Best, we understand that choosing the best kids fitness trackers can seem daunting. That's why we've conducted a thorough analysis, comparing various brands on criteria like design, performance, and user experience. Our hands-on tests and reviews are backed by data and facts, ensuring we measure and rank each product objectively. We evaluate from a user's perspective, sharing our experiences and findings to help you make informed decisions. We highlight key decision-making factors such as durability, ease of use, and features, and track how these design choices affect users. Our professional assessment identifies what sets each product apart from its competitors, providing you with reliable, evidence-backed suggestions for the best kids fitness trackers.
---
---
The Best Kids Activity Trackers of 2023
With a lot of good and some bad options out there, finding the best fitness tracker for kids wasn't easy. By conducting extensive research on expert sites and wading through parent reviews, we managed to find our seven favorites.
Fitbit Ace 2 Activity Tracker for Kids
Best Fitbit Activity Tracker for Kids
The Ace 2 is a Fitbit watch that has a lot to offer. As with the adult versions, there's an interactive app where users can find motivation and challenges.
Adults are in control of the majority of the content.
You can monitor all the changes, activities, and well-being of your child.
The tracker gives you a full report of activity and sleep habits, as long as they keep wearing it.
What We Like
Sleep and Activity Tracker
The Ace 2 tracks your child day and night. During the day, it analyzes each step, skip, or jump the wearer takes and then summarizes them in minutes of activity. At night, the tracker works on surveilling their sleep patterns.
Waterproof
The exterior of the Ace 2 is waterproof down to 164 feet. There's no need to remove it for bath time, the pool, or water play in the garden. So, spills and splashes are no biggie.
Activity Challenges
Because the CDC recommends at least 60 minutes of activity a day for children, Fitbit includes a one-hour challenge for the wearer (1). This is a daily event, and youngsters can invite friends through the app for some competition.
In the app, children also find incentives like virtual badges and avatars. Here they can watch their progress, which helps them to stay motivated.
Clock Faces and Colorful Bands
Children can express their style through the fitness tracker. There are fun animated clock faces to choose from. Fitbit, however, stresses that some clock faces will require more frequent charging.
What We Don't Like
Fragile Wristbands
The wristbands seem to be the biggest disappointment with the Ace 2. Parents note that they break quite easily. Fortunately, they're easy to replace.
Product Specs
| | |
| --- | --- |
| Suitable for ages | 6 years and up |
| Waterproof | Yes |
| Sleep tracker | Yes |
| Battery life | 5 days before needing charging |
| Parental control | Yes |
Our Ratings
Community Feedback
In my experience, this watch has proven to be a reliable and affordable option for both kids and adults, though there are some downsides. The sleep tracking and step counting are accurate, and the band is comfortable to wear. However, it doesn't track distance, and the information does not sync with other apps. The watch also requires a family account and child account for tracking, which might cause inconvenience for some users.
---
Garmin Vívofit Jr. 2 Fitness Tracker
Best Themed Activity Tracker for Kids
The Garmin Vivofit Jr. 2 is an outstanding motivator. It comes in several themes, including Star Wars, Marvel, Frozen, and Disney princesses. Each opens up interactive games and challenges designed to motivate users to stay active.
With the tracker, parents are in full control. Through the compatible app, you can do a variety of things to better your child's well-being, including tracking sleep and activity.
You can take the activity tracker on any adventure, be it on the playground or to the beach. Just be mindful of too much sand and dust.
What We Like
Interactive Star Wars-Themed Challenges
With the tracker, the user can enter an interactive Star Wars universe where they get to explore more each day. The wearer must complete the 60-minute activity goal, thus unlocking more time to play and explore.
You get to see familiar faces, including Chewie, Han Solo, C-3PO, R2-D2, among many others. It's a fantastic motivation for staying active. Shouldn't there be a version for adults?
Parental Assistant
Along with the tracker, there is a recommended app, which works as your parental assistant. From there, you can view the activity, track their sleep and invite the whole family to step challenges.
What's more, you can set up chores for them to complete, adjust daily step challenges, and designate rewards. You can arrange weekly duties and tasks or choose to edit them daily.
One-Year Battery Life
The battery is unbelievable. Garmin advertises that it will last for at least one year. To get the most of your battery life, make sure you follow instructions regarding charging.
Swim-Friendly
Your youngster doesn't have to remove the watch, even for swimming. It's wholly swim-friendly and will track all the movements underwater for a thorough analysis of their activity levels.
What We Don't Like
Not Sand Proof
Watch out if they're using the tracker on the beach or another location with sand. Parents are warning that sand goes into the buttons and ruins the watch.
Product Specs
| | |
| --- | --- |
| Suitable for ages | 4 years and up |
| Waterproof | Yes |
| Sleep tracker | Yes |
| Battery life | 1 year |
| Parental control | Yes |
Our Ratings
Community Feedback
I recently purchased the Garmin Vivofit Jr. 2 for my child, and I must say that it has been a fantastic motivator for staying active. The variety of themes, such as Star Wars, Marvel, and Disney, provides engaging interactive games and challenges that have kept my child on the move. The compatible app allows me to monitor their sleep and activity, giving me the tools to improve their overall well-being. Although the tracker is swim-friendly with a one-year battery life, be cautious of too much sand and dust during outdoor adventures.
---
ProGrace Kids' Smartwatch with Fitness Tracker
Best Activity Tracker for 4-Year-Olds
For parents of younger children, we found this smartwatch from ProGrace. It's an interactive watch, complete with a touchscreen, games, and other apps. ProGrace recommends it for children aged 4 years and up.
With the watch, you can check how many steps your little one is taking. Although there's no app for parents, it's easy to manage everything directly from the gadget.
The touchscreen has a good size of 1.54 inches. Included are also FM radio and a flashlight.
What We Like
Fitness Tracker
The ProGrace smartwatch lets you monitor your little one's activity. It includes a motion sensor, tracking steps and calories burnt. Have them wear it during active play and then watch how many steps they took directly from the tracker.
Music Player
Your little one can listen to music through either speakers or headphones. If you place a memory card in the watch, you can add as much music as the card's capacity allows. Then they can listen to their favorite tunes while dancing it out.
Two-Way Camera
With the watch, users can track all the moments they want to remember. The two-way camera rotates 90 degrees for both front-facing pictures and selfies. To save the photos, insert a memory card.
Touchscreen and Built-In Games
The watch includes an IPS touchscreen, which allows the wearer to play the included games. These fun surprises include Ninja Run Online, Whac-A-Mole, Brave Money, and Welcome the God of Wealth. It's great for getting them away from mom or dad's smartphone.
What We Don't Like
Tricky to Place Memory Card
Some parents had minor concerns about placing the memory card inside. The process requires opening the back where the battery sits, which some considered tricky to do.
No Replacement Straps for Purchase
Unless you can find another brand's strap, you're out of luck if this one breaks. The company doesn't sell replacement straps.
Product Specs
| | |
| --- | --- |
| Suitable for ages | 4 to 12 years |
| Waterproof | No |
| Sleep tracker | No |
| Battery life | One day before needing to recharge |
| Parental control | No |
Our Ratings
Community Feedback
Bought this smartwatch for my kid, and he's been loving it! The watch has a camera, pedometer, games, and even an FM radio. My son enjoys counting his steps, playing the simple games, and using the camera, but there's no silent setting. Battery life has been excellent, and the watch has proven to be durable – definitely a great purchase overall.
---
Little Tikes Tobi Robot Smartwatch
Best Interactive Fitness Tracker for Young Children
The Little Tikes Tobi Robot smartwatch is ideal for parents of younger children who are looking for motivation to keep them active. The tracker is suitable for ages 4 to 8 and comes in an adorable design.
Little Tikes emphasizes motivation for the activity. The watch includes several features designed to keep the wearer wanting to move more. Parents praise the content that comes with it — it's fun yet practical such as augmented reality Search & Seek and dance activity.
With the tracker, your little one can tumble, jump, skip, and splash in the backyard sprinklers. The watch is water-resistant, though not waterproof, and is an excellent companion for a thriving preschooler.
What We Like
Parent-Controlled Reminders
The Little Tikes smartwatch lets you can set up to three reminders that come in handy for medication or potty training. This is perfect for busy moms who tend to forget the medication schedules or whatnot.
Teaches Time the Fun Way
Buying this watch is like hitting two birds in a stone, you do not only get to monitor their physical health but also you get to stimulate their minds by teaching them how to tell the time using more than 50 watch faces.
Child-Friendly Features
The Little Tikes Tobi Robot is adorable — it's eye-catching for small children who'll adore the cute design. Furthermore, it has two built-in cameras for selfies and taking videos, a pedometer that helps track their footsteps, and an alarm and calendar that is easy to use,
What We Don't Like
Lacks Other Fitness Features
The fitness tracker is an add-on in this smartwatch and unfortunately, this does not come with a heart rate monitor and oxygen saturation status which other moms would love to know.

Product Specs
| | |
| --- | --- |
| Suitable for ages | 4 to 8 years |
| Waterproof | No |
| Sleep tracker | No |
| Battery life | Up to five days |
| Parental control | Yes |
Our Ratings
Community Feedback
As a parent, I found that this watch was a popular gift among my kids, and even my 2-year-old could navigate through the watch and play games. The watch face as the main screen was a brilliant design choice, and it managed to hold the attention of both my 3-year-old and my disabled 6-year-old. While the home button was difficult to press, the battery life was impressive, lasting a few days at a time. However, be prepared for some creepy noises and random alarms that might go off during the night.
---
Trendy Pro Fitness Tracker for Kids
Best Fitness Tracker for Older Kids
The fitness tracker from Trendy Pro is suitable for ages 5 years and up — the bundle includes one additional wristband in a fun color.
The tracker will monitor the movements and sleep habits of the wearer. In addition to this, older children can receive notifications from their smartphone through the watch.
By connecting to a smartphone or tablet, you're unlocking neat features, including remote camera control, anti-loss notifications, and others.
What We Like
Sleep Monitor
Sleep plays an essential role in a healthy life, so analyzing your child's sleep habits can help you immensely. By wearing the watch at night, it will track how many hours of sleep the wearer gets. This gives you room to adjust when necessary, perhaps with bedtimes or diet.
Set Up Fitness Goals
Through the compatible app, you can set realistic fitness goals that your youngster can work toward. If you have the adult version of the watch, you can set mutual goals.
It's capable of syncing with different apps — these include VeryFit Pro and TrendyFit. Here, you can track progress and see how far they've come.
Smart Notifications
Because this tracker is for older children, it includes a smart notification feature. This enables the watch to sync with a smartphone. Then it can receive notifications of texts, calls, and social media apps.
The watch has a discreet OLED HD screen where the user can see their notifications. When a call comes in, the tracker vibrates gently to notify the wearer. If your child doesn't have a smartphone yet, simply connect to yours to set time and date.
What We Don't Like
Large Bands
The wrist bands are on the larger side. A few parents said they didn't fit their children under age six.
Product Specs
| | |
| --- | --- |
| Suitable for ages | 5 years and up |
| Waterproof | No |
| Sleep tracker | Yes |
| Battery life | N/A |
| Parental control | Yes |
Our Ratings
Community Feedback
Great fitness tracker for kids at an affordable price! My 8-year-old daughter loves using this watch to track her steps and monitor her sleep. However, we experienced some charging issues after five weeks of occasional wear, and the watch face tends to detach from the band easily when bumped. On the plus side, the company provided excellent customer service by sending a free replacement, and the app is user-friendly and efficient.
---
Fitbit Ace 3 Activity Tracker for Kids
Best Fitness Tracker for Ages 6 Years and Up
Fitbit Ace 3 is excellent for older children who are mature enough for a serious activity tracker. Ace is suitable for ages 6 and up.
It works similarly to a Fitbit for adults, but still gives parents full control of everything. Connect it to the app and your family account to unlock a range of good-to-have parent-only features.
With the watch, your child can personalize their experience and receive notifications. It will track their every movement and sleep patterns. Spills and splashes are no biggie, and the battery lasts for more or less 8 days.

What We Like
Accurate Activity Tracker
Ace will track your child's activity with high accuracy. The watch monitors how many steps they're taking as well as active minutes. They can wear it during almost any exercise, including swimming.
Long Battery Life
We mean business when we say this watch has an awesome battery life as it can be used for 8 days without recharging. Of course, this depends on usage but the majority of parents can vouch that the battery life is indeed incredible.
Fun Clock Faces
Users can choose different Minion fun clock faces to personalize their Fitbit Ace 3. The watch offers crisp images and enjoyable viewing. Keep in mind, however, that particular clock faces will draw more battery.
On the screen, children can view their rewards for completing their daily activity challenges. They'll also receive notifications if they connect to their smartphone.
Parent App
The watch is compatible with the Fitbit app, where you can set up a family account. If you also use a Fitbit watch, you can connect all the family. Through the app, you can track progress and sleep, but also adjust challenges and add to them.
Your child will also have access to the family account, but they can only view it in Kid View. You'll have full control of giving them access and what they can see.
What We Don't Like
Low Quality Wristband
The majority of parents loathe how the band easily gets broken after weeks of usage. Others commented that their child gets an allergic reaction with the silicone band. Although this can be solved by buying a different strap but this is something worth considering when buying the product.

Product Specs
| | |
| --- | --- |
| Suitable for ages | 6 years and up |
| Waterproof | Yes |
| Sleep tracker | Yes |
| Battery life | Eight days |
| Parental control | Yes |
Our Ratings
Community Feedback
I'm a parent who purchased this Fitbit for my child, and it has been a mostly positive experience. My child enjoys tracking their fitness levels and learning the concept of time, as well as changing the clock face for a fun touch. The syncing process can be a bit cumbersome and the sleep data isn't always accurate, but the overall convenience and enjoyment it provides make it worth it. One issue we faced was the band breaking due to my child stretching it on and off, but a third-party replacement solved the problem. The battery life has exceeded my expectations, and my child loves checking their sleep patterns using the mobile app. Despite a few minor drawbacks, this Fitbit has been a valuable addition to our family routine.
---
Garmin Vívofit Jr. Kids' Fitness Tracker
Best Designed Fitness Tracker for Kids
If your child wishes for something stylish, then the Vivofit Jr. from Garmin is a good choice. The wristbands they offer for this watch are fun and intriguing.
Besides the awesome bands, the watch has a lot to offer for children and parents. We can easily say it's more than a fitness tracker — you can add chores and tasks with the app. Then a fun reward system puts you in charge of deciding on the prize.
What We Like
Great Wristband Design
The Vivofit Jr. features a stylish wristband, available in three designs, Broken Lava, Digi Camo, and Real Flower. The colors are vibrant, and there are ones for both girls and boys.
It's a one-piece band design, which makes it easy to slip on and off. As your child grows, you can change it out with an adult size.
Parent App
This activity tracker for kids is compatible with an app that has a lot of features for parents. Via the app, you can add all your children, monitor their progress, sleep, and daily activity. It also allows you to set up chores and tasks for them to complete and let the watch notify them.
Setting up challenges, inviting family members, and presenting rewards are just a few of the helpful perks the app offers.
Reward System
For each challenge the user completes, they'll receive a respective reward that you've chosen. By completing chores and step challenges, they win virtual coins that they can exchange for your prizes. This could be something like extra screen time or a trip to the mall.
What We Don't Like
Fragile Wristbands
Handle the wristbands with care. Because they're a one-piece design, they can snap when being stretched beyond their limit.
Product Specs
| | |
| --- | --- |
| Suitable for ages | 4 to 9 years |
| Waterproof | Yes |
| Sleep tracker | Yes |
| Battery life | One year |
| Parental control | Yes |
Our Ratings
Community Feedback
Love this watch for its durability and features that keep my daughter engaged. It's perfect for tracking her steps, sleep, and activity goals, and she enjoys setting timers for random tasks. However, the chore tracking feature could use some improvements, as it doesn't offer reminders or easy access to chore details, making it less helpful than anticipated.
---
Should You Buy an Activity Tracker for Kids?
Activity trackers have gained a good reputation among adults — with some folks claiming it's their secret to a healthier life. Others are saying they aren't necessary.
Just as with adults, fitness trackers for children have their pros and cons. They're fantastic motivators but may encourage an unhealthy obsession over weight and exercise.
With the increase in child obesity, the pros often outweigh the cons (2). At least one study for adults did conclude that wearable activity trackers can promote a positive behavioral change (3). The same can apply to children.
By viewing clear information that the trackers provide, along with rewards, many kids are reporting that it made activity more fun. When children find exercise enjoyable, they're more likely to continue this healthy behavior into adulthood.
It's still essential for parents to explain the importance of activity. When doing so, always preach body positivity — remember that healthy, confident attitudes in parents incite a positive atmosphere for your child (4).
How to Choose an Activity Tracker for Kids
---
Let's Keep Moving
Being active is an important part of childhood. While technology has done a lot of good for the world, it's also caused many children to sit indoors, being very inactive. Activity trackers can help change that.
The best fitness tracker for kids can help motivate them to get up and move, whether they are dancing, running, or playing.
You have a lot of choices, so it's essential to look at useful features. These can include sleep monitors, waterproof exterior, good battery life, and compatible apps for parents. With such watches, always remember to promote a positive outlook on exercise and weight.
Thank You For Your Feedback!
Thank You For Your Feedback!