If you're considering investing in a smartwatch for your child, you should know that there's a fine line between a practical watch and a mere toy.
That's why we're here. We've spent weeks searching for the best smartwatches for kids. We've put in our best effort to provide you with trustworthy options to help track your child's whereabouts, count their steps, and entertain them.
The kid-approved, parent-approved smartwatches on our list are easy-to-use, durable models with long-lasting batteries and valuable features.
Read our detailed reviews to find your child a smartwatch they'll love — and one you'll appreciate.
Image
Model
Product Comparison Table
Features
Best Budget Pick
Iniupo Kids Game Smartwatch
Two-way calls
Camera and music features
Fun games and other features
Great All-Rounder
ProGrace Kids Smartwatch
Built-in fitness tracker
Rotatable camera
Earphone port and music player
Best for Games
VTech KidiZoom Smartwatch DX3
Bright flash/flashlight
Fun games
Learn about time
Best for Getting Kids Active
Fitbit Ace 3 Activity Tracker
Encouragement for staying active
Swimproof
Parental control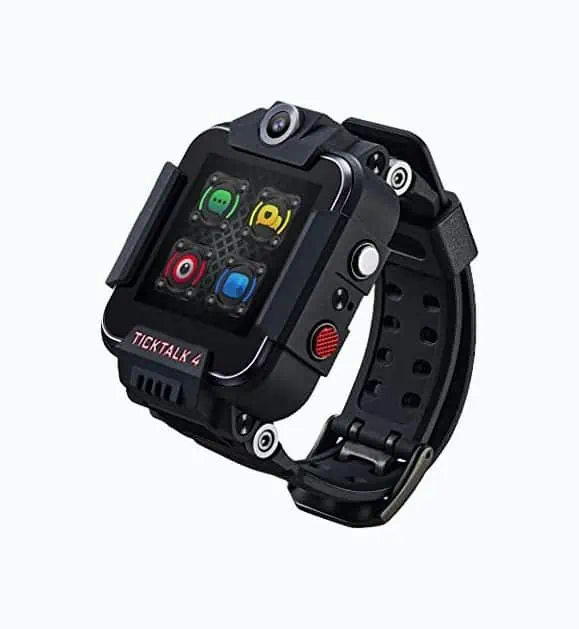 Best GPS Tracker
TickTalk 4G LTE Kids Smart Watch
Excellent GPS tracker
Multifunctional
Camera function
Best Camera
VTech Kidizoom Smartwatch DX
Outstanding camera
Plenty of useful functions
Splash-proof
Best Themed Smartwatch
Accutime Minecraft Smartwatch
Fun camera effects
Star wars sound effects
Space-inspired activities
Review Methodology: At Mom Loves Best, we take a hands-on approach when finding the best smartwatches for your kids. Our professional team conducts extensive research and testing, ranks each product based on a set of criteria, and shares the results of our assessments for you to compare. We evaluate each smartwatch on performance, features, ease of use, and the overall experience from a kid's perspective. We delve into the design choices and their impact on the user, identifying key decision-making factors like safety features, GPS tracking, call and text capabilities, battery life, durability, and price. Our reviews are based on facts and data, ensuring you get an unbiased, comprehensive analysis to make the best choice for your child.
---
---
The Best Smartwatches for Kids of 2023
Here are the top 7 smartwatches for kids.
Iniupo Kids Game Smartwatch Phone
Best Budget Smartwatch for Kids
For the best budget smartwatch for kids, we chose this little beauty from Iniupo. It's suitable for children between 4 and 10 years old.
With a total of nine apps and functions, this watch packs a punch. Thanks to the two-way call function, you can call your child at any time. Your kid can snap photos and record their voice for fun or studies.
The watch includes a memory card that enables you to upload music. There are fun learning games and other valuable features that can make the wearer feel more independent.
What We Like
Two-Way Calls
Thanks to the two-way call function, you'll be able to stay in contact with your child at all times. The wearer can easily make calls or receive them from up to ten contacts. However, you can't modify the names — they'll be known as 'Contact 1, Contact 2' and so on.
Your child can also send an SOS call in emergencies by pressing the power button twice. The watch will call the selected emergency numbers until someone answers.
Camera and Music Features
The wearer can record their daily life using the watch. It has a camera and an audio-record function so the wearer can snap photos or record voice messages for themselves. The smartwatch comes with a 1 GB Micro SD memory card, so everything is saved.
What's more, it also works as an MP3 player. Your child can upload music from a computer and save it on the memory card. The sound is excellent for a smartwatch, and it has a volume control.
Fun Games and Other Features
The smartwatch comes with seven pre-installed learning games. They're easy to play, thanks to the touch screen, and they'll promote logical thinking, hand-eye coordination, and quick responses.
Other features included with the watch are an alarm clock and a calculator.
Easy to Use
Using the watch is a breeze. The strap is fully adjustable, and the package comes with a user manual, a USB charging cable, and a 1 GB micro SD card.
What We Don't Like
No Names for Contacts
Parents wish there was an option to name the contacts. This would make it easier for the child to see whom to call.
Product Specs
| | |
| --- | --- |
| Recommended age | 4 to 10 years |
| Touch screen | Yes |
| GPS tracker | No |
| Camera | Yes |
| SOS call | Yes |
Our Ratings
---
ProGrace Kids Smartwatch
Great All-Round Smartwatch for Kids
For active kids, we recommend having a look at this watch from Prograce. It's a great watch, stuffed with features and functions. It's suitable for children between the ages of 4 and 12 years.
With the watch, the wearer can keep track of how many steps they take every day. While they're walking, they can listen to their favorite music or the built-in FM radio. Thanks to an earphone port, you won't get disturbed.
This watch offers many features. There are games, a rotatable camera, and even a flashlight. The design is outstanding, too — with a large touch screen and a bright strap, it's an eye-catcher.
What We Like
Built-In Fitness Tracker
With built-in motion sensors, you and your child can track their steps and calories. It's excellent for active kids and may even help them build healthy habits for the future.
Rotatable Camera
The camera can rotate 90 degrees, allowing the user to take selfies or front-faced photos. It's easy to adjust the angle, but you will need a micro SD card installed — otherwise, the images aren't saved.
Four Fun Games
With four pre-installed games, your little dude will have loads of fun. The games include Whac-A-Mole, Welcome the God of Wealth, Ninja Run Online, and Brave Money. The watch has a touch screen, so accessing and playing the games is easy.
Earphone Port and Music Player
When you've inserted a memory card, you can upload your child's favorite tunes to the watch. Then they can listen without disturbing you, thanks to the earphone port. There are also speakers, so when they're with friends, they can listen at full volume.
What We Don't Like
Only 24-Hour Time
The watch can only display 24-hour time, and not 12-hour time, as most kids are accustomed to. It's not a huge issue for older children, but smaller ones may find it challenging to figure out.
Difficult to Insert Memory Card
When inserting the memory card, you have to open the back of the watch and remove the battery. Some parents noted they didn't feel comfortable doing this as they feared breaking something.
Product Specs
| | |
| --- | --- |
| Recommended age | 4 to 12 years |
| Touch screen | Yes |
| GPS tracker | No |
| Camera | Yes |
| SOS call | No |
Our Ratings
---
VTech KidiZoom Smartwatch DX3
Best Kids Smartwatch for Games
This bright smartwatch from VTech is an excellent option for children aged 4 to 12 years.
Our kids love the AR features that allow them to capture "monsters" in the real world. It comes loaded with seven additional high-quality games, and you can download even more games and apps from Vtech's online "Learning Lodge."
Another great feature is the camera flash, which maintains bright photos and videos even in low light. The flash also doubles as a flashlight, which is helpful in many scenarios.
The camera effects have received plenty of praise from parents. Users can add to the images and change their voice on videos. The watch is also great for telling time, and your little one can customize the clock display with their own photos or choose from 50+ fun animated clock faces.
What We Like
Bright Light
The DX3 watch includes a well-lit watch face and flash for photos and videos that may also be used as a flashlight. This feature has helped our kids find missing items in dark spaces or light their way on a dark path.
Fun Games
Included are seven exciting games. One of these is Monster Catcher, where the player must use the camera to find and catch monsters in the real world. Kids also love the multiplayer games they can play with their siblings or friends. However, these games only work if both wearers have the DX3 version.
If this isn't enough, you can download more games from the Learning Lodge.
Learn About Time
The watch isn't all about playing — it can also teach a child about the concept of time. They can customize the analog or digital clock with over 55 different designs. Then they can set alarms, use the timer, or plan a date using the calendar app.
Long-Lasting Battery
The battery on this smartwatch lasts a long time — even if your kids play with their watch frequently. We found the watch generally needed to be charged about once or twice per week.
What We Don't Like
No GPS or Online Play Features
Although this watch has parental controls, it doesn't offer any GPS tracking features or internet/Bluetooth connection options.
Product Specs
| | |
| --- | --- |
| Recommended age | 4 to 12 years |
| Touch screen | Yes |
| GPS tracker | No |
| Camera | Yes |
| SOS call | No |
Our Ratings
---
Fitbit Ace 3 Activity Tracker for Kids
Best Smartwatch for Getting Kids Active
If you're searching for a watch that'll inspire your child to be active, the Fitbit Ace 3 is great for dynamic families and children aged 6 years and up.
It features all the must-haves you'd expect from Fitbit. It will track your child's steps and active minutes, and it offers challenges for more activity. You can track your child's progress through your family account.
The Fitbit Ace 3 can be worn around the clock. The battery can last an incredible eight days before needing a recharge. Even when they sleep, the watch is busy analyzing the user's sleep habits for optimal rest.
What We Like
Encouragement for Staying Active
The Fitbit Ace 3 is a Fitbit for kids, so it includes all the benefits the adult version has. The watch will track your child's steps and even their active minutes when they jump, skip, or swim. Through the app, users can earn virtual badges and also challenge friends and family to stay active.
Step Challenges
Because the CDC recommends 60 minutes of activity for children daily, the Ace 3 includes various step challenges (1). This shows as a daily challenge, where the user is encouraged to stay active every hour during the day. You can customize this to suit your child's needs in the app.
Swimproof
Water activities are fine with this watch, which is water resistant to 164 feet. This is ample for backyard fun and pool play.
Parental Control
When you receive the watch, hook it up to your family account and create an exclusive account for your child. This lets you track their progress and even their sleep habits to ensure they get sufficient rest. It also allows you to monitor and approve who they connect to.
What We Don't Like
Bands are Fragile
The wristbands aren't as durable as they could be and break easily. However, they're easy to replace and available in various colors.
Product Specs
| | |
| --- | --- |
| Recommended age | 6 years and up |
| Touch screen | No |
| GPS tracker | No |
| Camera | No |
| SOS call | No |
Our Ratings
---
TickTalk 4 Unlocked 4G LTE Kids Smart Watch
Best GPS Tracker Smartwatch for Kids
If you have smaller children you'd like to track when they're away from home, you might like this smartwatch from TickTalk. It includes an exceptional GPS tracker that gives you accurate information. It's suitable for children aged 5 to 12 years.
In addition to the GPS, you'll be able to remain in touch at all times. By connecting to the compatible app, you can add contacts to the watch that your child can call when needed. Thankfully, these contacts will need to be approved by you.
With a front camera, your child can snap photos. It's an excellent watch for parental control that also offers useful features and fun for the wearer.
What We Like
Excellent GPS Tracker
With this watch, you'll know exactly where your little one is at all times. Its GPS feature gives an accurate positioning system.
This provides real-time information about your child's location with high accuracy. You connect the watch to your phone through the app to access the GPS information.
Calls and Phone Book
The smartwatch allows for both voice and video calls, so your child can reach you anytime. It comes with a pre-installed phone book for all the essential contacts needed. You can control this through the app when you set up the watch.
Camera Function
Not only can your little one use the camera to record their day, but the quality of the photos is good at 5 megapixels. The images are clear with a high definition.
No Disturb and SOS
By using the app, you can set specific "no disturb" times that limit functions during school time. Your child won't be able to use the watch or receive calls during these times. If they sense danger, however, they can still use the SOS button, which sends notifications and calls to selected numbers.
What We Don't Like
Bulky
The watch is pretty bulky and sometimes gets in the way of sleeves.
Not for Older Children
Although the recommended age is 5 to 12, we suggest you avoid buying it for older children. It's a simple device and doesn't include many functions that will appeal to children above the age of 10.
Product Specs
| | |
| --- | --- |
| Recommended age | 5 to 12 years |
| Touch screen | Yes |
| GPS tracker | Yes |
| Camera | Yes |
| SOS call | Yes |
Our Ratings
Community Feedback
I recently purchased the TickTalk 4 smartwatch for my granddaughter and have been quite impressed with its overall functionality. The battery life is impressive, and the call clarity and connectivity are solid. However, the location accuracy could be improved, and the screen is difficult to read in bright sunlight.
---
VTech Kidizoom Smartwatch DX
Best Smartwatch Camera
Some children love taking photos, so a watch like this will be appreciated. The VTech Kidizoom Smartwatch DX offers one of the best camera functions on today's list.
Besides the camera, the watch has a lot to offer. It has built-in functions, including an alarm clock, a timer, and a calendar. This allows the user to take some control, which can help a child feel independent.
Your kids can have lots of fun. There are challenges and activities that are tracked by a built-in motion sensor. It's a great watch for children aged 4 to 9.
What We Like
Outstanding Camera
Whether your kid is into photography or loves taking selfies, the VTech camera is outstanding. The decent-quality camera has an option to add various photo effects. It can also record videos and audio and features a fun voice-changing effect.
The watch has plenty of storage. However, it's best to upload your data files to a computer using the included USB cable for continuous use.
Useful Functions
Your child can gain some independence when using the watch due to the various functions. It includes a timer, a stopwatch, and an alarm clock. There's also a calendar and calculator.
The smartwatch includes several layouts for the analog clock. Users can customize the look with approximately 50 displays to choose from.
Splash-Proof
The watch is splash-proof, so your child can easily play in the rain or get sweaty while wearing it. However, please note it isn't waterproof. Ensure your child doesn't submerge it, and have them remove it before showering or bathing.
Games and Challenges
The smartwatch includes five games, three activities, and three action challenges. The watch has a built-in motion sensor to record the user's progress.
What We Don't Like
Bulky Watch
Both the watch and the band are pretty bulky. They don't look discreet on the wrist, especially on younger children.
No Parental Control
In contrast to the other watches, this one doesn't offer any parental control. There's no GPS tracker, and you can't lock the watch for school times.
Product Specs
| | |
| --- | --- |
| Recommended age | 4 to 9 years |
| Touch screen | Yes |
| GPS tracker | No |
| Camera | Yes |
| SOS call | No |
Our Ratings
Community Feedback
When I first gifted this watch to my seven-year-old, she was overjoyed. The flashlight came in handy for our little adventurer, especially when she'd drop it and we'd have to hunt it down, and the lock feature allowed us to limit her screen time effectively. However, the math problem passcodes initially charming, quickly became a nerve-wracking challenge. On another note, my triplets found the numerous alarms and games amusing, but the watch proved to be more of a distraction at school than a tool, despite marketing claims of effective parental controls.
---
Accutime Minecraft Smartwatch
Best Themed Smartwatch for Kids
Get your TNT and pitchforks ready because here comes a watch for Minecraft lovers. This licensed smartwatch from Accutime is a good pick for little fans. It's recommended for children aged 3 years and up.
But there's no need to worry if your kids aren't Minecraft players. This model comes in a wide range of licensed prints for girls or boys, including some fun Disney options.
With loads of kid-friendly features, such as a selfie camera that also records video, a step counter, a voice recorder, learning games, an alarm clock, and much more, this smartwatch has everything your child needs without the distractions of texting or WiFi features.
What We Like
Stylish Design
Choose from Minecraft, Spiderman, Frozen, Micky Mouse, LOLs, or another themed option. Your child will be proud to show off their cool-looking, multifunctional watch.
Selfie Camera
Your kids will have fun snapping photos or pretending they are Minecraft YouTubers while they record videos of themselves or with their friends. They'll especially love reviewing all their fun pics and videos and sharing them with their friends.
Other Great Features
No more sleeping in with this watch's useful, easy-to-set alarm feature. They can use the calculator function to go deeper into math equations. And they can use the voice recorder to save tasks, record their favorite people, or, if they're anything like my kids, record burp and fart sounds to play pranks on their friends and family.
What We Don't Like
Low-Quality Games
Although younger kids may find the games fun, older kids who are accustomed to online gaming will find the built-in options minimalistic. This can be an advantage if you want the watch to be used for school, as they're less likely to be distracted by gaming.
Product Specs
| | |
| --- | --- |
| Recommended age | 3 years and up |
| Touch screen | Yes |
| GPS tracker | No |
| Camera | Yes |
| SOS call | No |
Our Ratings
---
Benefits of Smartwatches for Kids
If you've ever owned a smartwatch, you know how convenient they are. It's no different for children. Smartwatches are a great alternative to smartphones, especially for young children.
Often, giving young kids a phone isn't ideal. Many children aren't mature or responsible enough to own one (2). Smartwatches, however, are securely attached to their wrists, are less expensive, and have restricted access to inappropriate content.
Many smartwatches for children have educational games, GPS trackers, and SOS buttons. They'll help you keep track of your little ones when they're at school or with friends. Some will even allow for two-way calls, enabling you to stay in contact.
They're also great for older children. For ages 6 and up, smartwatches offer fitness trackers, timers, and calendars that can give kids the independence they yearn for.
However, if you feel that a smartwatch would distract your child, it probably isn't the best investment. Or at least, don't let them wear it to school.
Another reason a smartwatch might not be needed is if your young child still spends lots of time at home, primarily with you.
How to Choose a Smartwatch for Kids
---
Thank You For Your Feedback!
Thank You For Your Feedback!