Put a camera in the hands of your child, and you will be giving them the opportunity to explore and see the world from a new point of view.
And by viewing your child's photos with them, you'll see their world from an entirely new perspective.
Image
Model
Product Comparison Table
Features
Best Digital Camera
Kodak PixPro Friendly Zoom Camera
Simple photograpy
Easy-to-replace batteries
Simple printing options
Best DSLR Camera
The Canon EOS Rebel T6 DSLR
Excellent multi-lens camera
Great pre-set modes
Video capabilities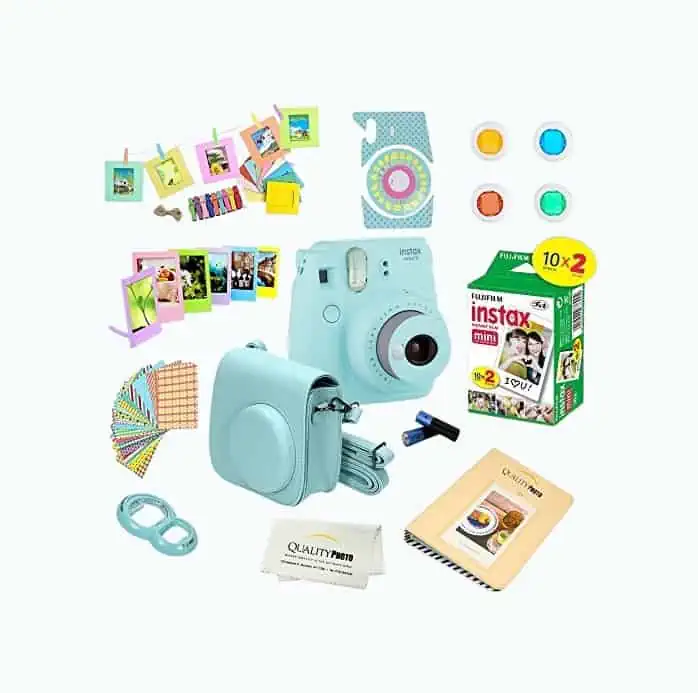 Best Instant Camera
Fujifilm Instax Mini 9 Camera
Instant gratification
Awesome capabilities
Good for carrying
Best Selfie Cam
VTech Kidizoom Duo Selfie Camera
Made for kids
Fun features
Good storage possibilities
Best Cheap Camera
JoyTrip Kids' Camera
Toddler friendly
Video capabilities
Features children will love
Best for Toddlers
Seckton Shockproof Digital Camera
28 astonishing frames
Outstanding memory
Sturdy construction
Best Action Camera
The VTech Kidizoom Action Cam
Can be used underwater
Decent built-in memory
Good built-in screen
Best Waterproof Camera
OurLife Waterproof Action Cameras
Good for extreme sports
Kid-friendly features
Great for tik tok
Best Toy Camera
Plan Toys My First Camera
Cute and playful
Worry-free camera
No music to annoy you
Best Video Camera
GKTZ Kids' Dual Lens Video Camera
Cute design
Versatility for viewing/deleting
Video options
Review Methodology: At Mom Loves Best, we provide an in-depth analysis of the best kids cameras on the market. Our professional team conducts a thorough evaluation process, using a set standard of criteria to rank each product. We compare features, measure performance, and track user experience to bring you accurate, hands-on data. Our reviews are based on facts and findings from our assessments, not just manufacturers' claims. We examine each camera's design, ease of use, durability, and picture quality to identify key decision-making factors. We also provide a benchmark for each product, helping you understand what sets each camera apart from its competitors. Trust in our experience and comprehensive research as we guide you in choosing the best camera for your child.
---
---
The Best Best Cameras for Kids of 2023
Taking all of these things into consideration, we have put together our list of the best cameras for kids, whether they are committed snappers or have just shown a passing interest.
Kodak PixPro Friendly Zoom Digital Camera
Best Digital Camera for Kids
The PixPro Friendly Zoom is a simple-to-use point and shoot camera from Kodak. There are multiple settings that require no photographic knowledge, and the 4x zoom provides kids with an opportunity to explore how zoom affects your final image.
There are four photo shooting modes, plus a video making mode. This allows beginners to take photos of decent quality in auto mode.
Meanwhile, if kids become more confident and want to have more control over their photography, there are multiple scene modes. Scene modes are pre-programmed settings that provide you with the best options for taking photos in particular circumstances such as sunsets and sports.
What We Like
There's a lot about this little beauty to like.
Photographic Simplicity For All Ages
It's simple enough to point and shoot, but also has more sophisticated settings for a child to grow into.
Easy-to-Replace Batteries
Since the camera uses basic AA batteries, it is easy to pick some up and replace them when you are out and about on a photo odyssey. That means you do not have to worry about a camera-specific battery that needs recharging. To keep your costs down, you can use rechargeable AA batteries.
Simple Printing Options
The PicPro has PictBridge technology. This allows you to connect the camera via a cable directly to a printer and print your photographs without first downloading them to a computer.
What We Don't Like
There are some drawbacks involved with this camera.
You May Need Frequent Battery Changes
Although the official Kodak specifications say you can take 120 photographs on one set of batteries, some owners have found the actual number to be much lower. This problem can be overcome by using rechargeable NiCd 2800 mAh batteries on a day-to-day basis. If they die while out and about, you can supplement with disposables.
Product Specs
| | |
| --- | --- |
| Size | 1.05 x 3.67 x 2.37 inches and 4.1 ounces |
| # of MP | 16 |
| Memory card | Not included. Kodak recommends a card of 32GB or less. |
| Wi-Fi capability | No |
| What's in the box? | Camera, 2 AA batteries, wrist strap, USB cable |
Our Ratings
Community Feedback
My experience with the PixPro Friendly Zoom from Kodak has been quite enjoyable as it offers a user-friendly point and shoot experience for all ages. The multiple settings and 4x zoom allows kids, as well as adults, to experiment with photography without needing any prior knowledge. I found the four photo shooting modes and video making mode to be perfect for capturing high-quality memories. As my confidence grew, I appreciated the various scene modes that automatically adjusted settings for specific situations like sunsets and sports events. The only downside I encountered was the need for frequent battery replacements, but it's a small trade-off for the camera's simplicity and easy-to-replace batteries.
---
The Canon EOS Rebel T6 DSLR
Best DSLR Camera for Kids
If you are not familiar with the term, DSLR stands for digital single-lens reflex camera. Without going into the technicalities, what you see in the viewfinder is what you will see in your image (1).
These cameras also have interchangeable lenses, which opens up a whole new world of photo-taking options. Macro lenses allow you to take sharp photos of tiny subjects to superzoom lenses that allow you to take pictures of distant objects.
This particular Canon EOS Rebel bundle comes with one 18-55mm lens, a case, and a 32GB memory card, which is everything a beginner needs.
This refurbished and guaranteed model is more affordable than a brand new DSLR. However, you can buy a brand new EOS Rebel T6 with the same lens, or the newer model Canon EOS Rebel T7.
What We Like
The Rebel only came second to the PixPro because the Canon is a bigger, heavier camera.
Excellent First Multi-Lens Camera
The ability to buy and swap out different lenses opens up a world of photographic possibilities that can't happen with a simpler "point and shoot" camera. Canon has an extensive range of lenses that you can choose according to your child's interests.
Great Pre-Set Modes
Multiple pre-set modes allow your child to take photographs in a range of conditions. Also, the Rebel provides the ability to select all elements of the camera settings. This gives your child the option to experiment further and learn the intricacies of photographic control.
Video Capabilities
Not only does it take great photographs, but the autofocus option means the Rebel is also excellent for video.
What We Don't Like
Not For The Smallest Children
This camera isn't the ideal pick for every child.
As this is a full-size camera designed for adults, it may be heavier and bulkier than your child can comfortably manage.
Product Specs
| | |
| --- | --- |
| Size | 5.08 x 3.98 x 3.07 inches and 17.1 ounces |
| # of MP | 18 |
| Memory card | 32GB |
| Wi-Fi capability | Yes |
| What's in the box? | Camera, camera bag, 18-55mm lens, 32GB memory card, cables |
Our Ratings
Community Feedback
I'm really enjoying this Canon EOS Rebel bundle, as it includes an 18-55mm lens, a case, and a 32GB memory card - perfect for beginners like me. The DSLR's interchangeable lenses have opened up a whole new world of photography possibilities, from macro to superzoom shots. I appreciate that this refurbished model is more affordable than buying a brand new one, but still delivers great quality photos and videos. My only concern would be that it might not be suitable for very young children due to its size and complexity.
---
Fujifilm Instax Mini 9 Camera
Best Instant Camera for Kids
For kids who want the instant gratification of a photo in their hands immediately, the Fujifilm Instax Mini 9 Camera is a winner. It has a built-in flash and several photo modes that give your child plenty of opportunities for creative expression.
The camera is available in a wide range of fun and funky colors, and this particular bundle comes with:
Two ten-frame film packs.
A coordinating custom camera case with strap.
Four color lens filters.
A 64 pocket photo album.
Ten photo frames with clips and a hanging string for displaying your images.
Five additional plastic photo frames.
Multiple frames and camera stickers.
A close-up lens.
Ultra-gentle microfiber cloth for lens cleaning.
What We Like
There are several reasons this camera made our list.
Instant Gratification
Kids can instantly see the results of their photographic exploration. With other cameras, the wait to see how their pictures turn out can be frustrating. Being able to hold the credit card-sized photos in their hand right away can enhance the enjoyment of photography for many children, keeping them interested in a way that standard cameras do not.
Awesome Capabilities Without Being Overwhelming
The color lenses, along with the close-up lens, give your child the opportunity to play about with different photo-taking techniques and effects, without it becoming too complicated or technical. This can be important for some kids who may be intimidated by more complex cameras and accessories.
Good For Carrying
Small and lightweight, this camera is easy to carry and use. The addition of the carrying case with a strap in this bundle means your child can be out and about with their camera and be less likely to drop or otherwise cause damage to their camera.
What We Don't Like
Do you have a photo-crazy child? If so, you may want to think twice about purchasing this model.
On-Going Expenses
With an instant camera, you have to keep buying film refills. While not prohibitively expensive, the cost can mount if you have a child who clicks away indiscriminately.
Product Specs
| | |
| --- | --- |
| Size | 4.6 x 4.7 x 2.7 inches and 11 ounces |
| # of MP | N/A |
| Memory card | N/A |
| Wi-Fi capability | N/A |
| What's in the box? | See the full list above |
Our Ratings
Community Feedback
Definitely a great choice for kids craving instant photo gratification, the Fujifilm Instax Mini 9 Camera offers built-in flash and various creative modes. I love the fun and funky colors, and the bundle includes everything needed for a complete photography experience, from film packs and a carrying case to photo frames and lens filters. The camera's capabilities are impressive without being overwhelming, making it perfect for young photographers. However, be prepared for ongoing expenses as film packs and other accessories may need to be replenished.
---
VTech Kidizoom Duo Selfie Camera
Best Selfie Cam for Kids
Not only does this camera have a standard lens, but it also has an additional rear-facing lens, especially for taking selfies. This is a considerable advantage over cameras that require a child to flip the lens or turn the camera around to take their self-portrait.
Also, children can see what their photos will look like on the built-in screen before pressing the button. That means you don't have to look through the viewfinder, which can be challenging for smaller children.
There are also five built-in games, and three of those games are motion-activated, which is excellent for getting your child up and moving about.
The camera body is designed to make it easy for small hands to grip on either side, and this has the added advantage of keeping fingers away from the lens.
What We Like
This kid-friendly camera has several great features.
Made For Kids
The intelligent auto-portrait mode makes it easy for children to take selfies and portraits in focus and in the frame, without the need for any adult input.
Fun Features
On-board cartoon and collage capabilities give your child the chance to play around with their images without the trouble of first downloading them to a computer.
Good Storage Possibilities
The camera has onboard memory, and there is the option to also use a micro SD card. Kids can snap away for some time, without having to stop, download the photos, and clear some space in the memory.
What We Don't Like
Wondering what the drawback to this camera is?
Feels Quite Childlike
The kid-friendly styling may not appeal to all children. Some may take exception to have an obvious kiddie camera when there is plenty of child-friendly yet adult alternatives.
Product Specs
| | |
| --- | --- |
| Size | 6 x 3.6 x 2.4 inches and 12.3 ounces |
| # of MP | 2 |
| Memory card | Built-in memory |
| Wi-Fi capability | No |
| What's in the box? | Camera, wrist strap, USB cable, 4 AA "demo" batteries |
Our Ratings
Community Feedback
I'm absolutely impressed with the durability and features of this kids' camera. I've gifted it to my grandchildren who are between 4 to 7 years old, and they've been having a blast taking pictures of their toys and surroundings. The camera is definitely sturdy as it has survived multiple drops without any issues. The photo editing features and built-in games keep my grandkids entertained for hours. However, I did notice that the navigation and button layout could be a bit more intuitive and user-friendly for younger kids.
---
JoyTrip Kids' Camera
Best Cheap Camera for Kids
The digital camera from JoyTrip is an affordable, child-friendly first camera. With a soft silicone outer body, the camera is comfortable for little hands, but it is also resistant to the bumps and knocks it is likely to receive.
The built-in battery is charged via a USB cable. With a full battery, your child can expect to have their camera run for somewhere between 2 to 4 hours, depending on how much the screen is used.
Your child can record 1080p video using either the forward-facing or the rear-facing cameras. They can also see how the video will look as they record on the built-in 2-inch screen.
What We Like
This is an affordable gem when looking for cameras for children. Here are some of the reasons we love it.
Toddler Friendly
There are no complicated modes or buttons for children to learn. The camera switches between the rear-facing and forward-facing lenses with the press of one button.
Pictures can be lined up on the built-in screen rather than through the viewfinder. This allows even the youngest of children to use the camera.
Video Capabilities
At this price point, the JoyTrip can take good quality video as well as stills. It can also be used as a webcam by connecting the camera to your computer with the included USB cable.
Features Children Will Love
There are 21 electronic cartoon frames that can be selected and added to an image while still on the camera. When printed, these images, with an added cartoon frame, will come out with the frame included.
What We Don't Like
While it is an excellent affordable kids' camera for first-time users, there is a significant drawback.
Simplistic Camera
This is the most basic of point and shoot cameras. A child who finds they enjoy photography may grow out of this particular model quickly.
Product Specs
| | |
| --- | --- |
| Size | 3.4 x 2.1 x 2.5 inches and 4.34 ounces |
| # of MP | 12 |
| Memory card | 16GB |
| Wi-Fi capability | No |
| What's in the box? | Camera, charging cable, cartoon stickers, lanyard, card reader, micro SD card |
Our Ratings
Community Feedback
Love this camera for my little one! It's a fantastic first camera, and my kid figured out how to use it quickly. It's super durable, so I don't have to worry about it breaking when they get too excited. The picture quality isn't amazing, but it adds a fun, retro vibe to the photos. The camera also has cool features like virtual stickers and selfie mode that my child enjoys.
---
Seckton Shockproof Digital Selfie Camera For Kids
Best Camera for Toddlers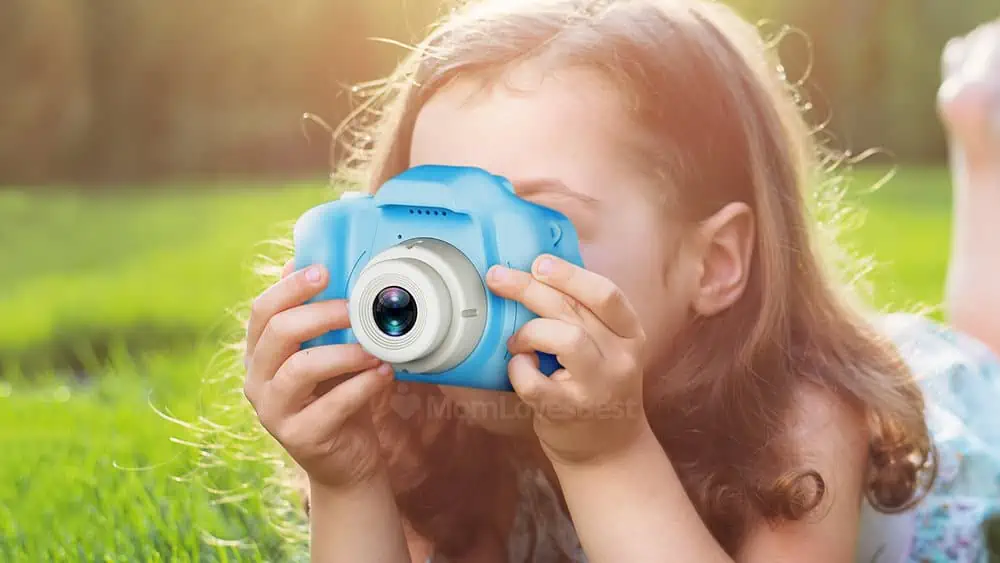 The latest 2020 model of the Seckton has a built-in 8 megapixels and 1080P video as well as both forward and rear-facing cameras.
As well as several on-board games, the camera boasts autofocus, making it more sophisticated than many other child-centric models. However, this doesn't make it any more complicated.
The cute design is extremely appealing to little ones and the shockproof shell provides secures his possession. Nevertheless, it also protects against minor bumps and may be sufficient to prevent light damage if the camera is dropped onto a hard surface.
What We Like
The design should excite little kids, but there is more to this camera than meets the eye.
28 Astonishing Frames
The different zoom provides an opportunity to be a little more creative than with other basic cameras for kids. The in-camera modes and frames give joy and additional creativity.
Outstanding Memory
The 32GB memory card, which is included with this camera, provides enough space to save up to 3,000 photographs, more than enough for most kids. This also means you don't need spare memory cards if you are away from your computer.
Sturdy
The shockproof design means you don't have to be ever alert for bumps, drops, and knocks when your child is using their camera.
What We Don't Like
Here's one thing you might not love about this camera, though.
Best for Printing Only Small Images
At 8 MP, the images are good enough for a child to enjoy, both on the camera screen and on a computer screen. However, if you want to print any of the photos, they may not be to the standard you have come to expect from other modern digital cameras. They are not suitable for printing in anything larger than a standard 6×4-inch photo size.
Product Specs
| | |
| --- | --- |
| Size | 3.26 x 2.4 x 1.92 inches and 2.24 ounces |
| # of MP | 8 |
| Memory card | Max 32GB |
| Wi-Fi capability | No |
| What's in the box? | Camera, memory card, cable, lanyard |
Our Ratings
Community Feedback
For a toddler who loves taking pictures, this camera is a fantastic investment. With features like a normal and selfie camera, filters, and cartoon frames, it keeps my little one entertained and engaged. The camera is quite durable and easy for small hands to operate, though navigating the home screen could be a bit simpler. It's also worth noting that some users have experienced charging issues, but the customer service seems to be responsive and helpful in addressing these problems.
---
The VTech Kidizoom Action Cam
Best Action Camera for Kids
The Kidizoom Action Cam is specifically designed for children to film footage on the go. Complete with a series of cases and mounts, your little one will be able to use this camera on their bike's helmet, bike frame, skateboard, and more.
Not only can your child shoot regular videos, but they can also take photographs, stop-motion videos, and timelapse videos without any additional software. In addition, there are several onboard photo effects, frames, and filters for your child to discover.
What We Like
For on-the-go kids, this is a great pick. Here is why you may want to consider it.
Can Be Used Underwater
When enclosed in the waterproof case, this camera can be used in up to six feet of water. It also protects against the rain, meaning it is great for outdoor pursuits where other cameras would have to be put away. The waterproof case is included in the package, so there is no requirement to buy it separately.
Decent Built-In Memory
The built-in memory allows for two and a half hours of continuous photo taking or video. In addition to the onboard memory, the camera has a slot that will take a micro memory card of up to 32GB, which is not included. The card will take up to 240 minutes of video or 278,400 photographs.
Content is downloaded via a micro USB cable, which is included in the package.
Good Built-In Screen with Games
Three educational games can be played on the built-in screen. This screen can also be used for viewing photos and videos without having to download them first.
What We Don't Like
Are your children extraordinarily rough on their gear? If so, think about this drawback.
Not Damage Proof
The construction is such that the camera should bounce when dropped or bumped. However, this can lead some children to demonstrate a lack of care when using it. While the camera itself is sturdy and designed specifically for use in action, it can still be damaged.
Product Specs
| | |
| --- | --- |
| Size | 1 x 2.3 x 2.2 inches and 20 ounces |
| # of MP | 12 MP |
| Memory card | 32GB, not included |
| Wi-Fi capability | No |
| What's in the box? | Camera, wrist band, waterproof case, micro USB cable, and 3 mounts |
Our Ratings
Community Feedback
This action camera was perfect for my 9-year-old, providing him with a fun and sturdy device to capture his adventures. The photo quality isn't the best, but it doesn't bother him as he enjoys the silly images and sound effects he can add to his creations. It has proven to be durable and suitable for rough play, even surviving pool, beach, and underwater use. Though the screen is small and not ideal for adults, it's perfect for kids who just want to have fun and capture memories with an easy-to-use camera.
---
OurLife Waterproof Kids Action Cameras
Best Waterproof Camera for Kids
If you are looking for a waterproof camera that will take photos and videos, this OurLife model is a good bet.
The waterproof case allows your child to take both photographs and videos in water up to 100 feet deep, making it the camera of choice for kids who enjoy time in the water.
The package comes with an 8GB TF card so your kids can enjoy your gift right after receiving it.
What We Like
Learn why we put this camera on our list.
Extreme Camera For Extreme Kids
This camera is not only ideal for use underwater. The waterproof case, 8-megapixel reversible lens, and mounts also make it great for taking photographs and capturing video during extreme sports activities.
Kid-Friendly Features
With the ability to select from seven video filters and several picture frames, this camera provides more control over the child-focused photography result.
Great for Tik Tok and More
With 1080p/30fps videos and eight-megapixel glare-free photos, this makes it easy to create Tik Tok or YouTube-worthy videos, without the need for additional software or equipment.
What We Don't Like
This camera may not be a wise choice for teen photographers. Here is why that is.
Lacks Grown-Up Capabilities
It is relatively easy for younger kids to appreciate this product while the older ones may find it a little bit dull and boring because of its too childish features. With that being said, it is not specifically great for children beyond 15's.
Product Specs
| | |
| --- | --- |
| Size | 3.94 x 2.95 x 1.57 inches and 2.4 ounces |
| # of MP | 8 |
| Memory card | 8 GB TF card included |
| Wi-Fi capability | No |
| What's in the box? | Camera |
Our Ratings
Community Feedback
In my experience, this camera has been a delight for my young grandchildren who have a keen interest in photography. With features such as a green photo filter, waterproof cases for outdoor use, and a variety of frames and color modes, it has provided them with endless hours of creative fun. Despite the picture quality being reminiscent of early digital cameras, the overall durability, battery life, and ease of use make it a worthwhile investment for nurturing a child's independent creativity.
---
Plan Toys My First Camera
Best Toy Camera
For the tiniest of tots who may not yet be ready to take photographs with the real thing, Plan Toys has My First Camera. This play camera can be enough to excite your toddler.
Rather than a traditional viewfinder, My First Camera allows your child to look through the lens, which runs right through the camera. It is a kaleidoscope lens that kids can turn, giving them an ever-changing view from their side of the camera.
The button on top of the camera can be depressed to give your kiddo the sensation of taking a photograph. The entire thing, apart from the lens, is made from sustainable rubberwood.
What We Like
Cute And Playful
We're always fans of good quality toys that promote pretend play, and the Plan Toys My First Camera does precisely that. Our little one enjoyed traveling with their camera dangling from the wrist strap and then holding it to take photos like mom.
You Needn't Worry About Damage
The only moving parts are the rotating lens and the "shutter button." Since it is not a functioning camera, there is no need to worry about your child dropping it and causing damage.
No Music to Annoy You
Unlike many other kids' toys that replicate adult items, this camera doesn't have any musical or sound functions. That means you don't have to listen to the same kids' tunes repeatedly.
What We Don't Like
This camera isn't for everyone. It will only impress certain children while they are quite young.
Limited Play Value
If your child is excited by the thought of taking photographs, this will likely be a winner. However, if your child has not expressed any interest, and the camera doesn't provoke any, the play value of this item is extremely limited.
Product Specs
| | |
| --- | --- |
| Size | 3.9 in x 2.0 in x 3.1 inches |
| # of MP | N/A |
| Memory card | N/A |
| Wi-Fi capability | N/A |
| What's in the box? | Camera |
Our Ratings
Community Feedback
I recently purchased this wooden camera for my 4-year-old, and it has quickly become a favorite toy. The excellent quality and quiet operation, without any noise or flashing lights, make it perfect for imaginative play. The button moves up and down, while the lens can be spun to "zoom," adding to the realistic experience. However, I do wish the strap was adjustable and that the screen had a more engaging design, such as a baby mirror or colorful picture.
---
GKTZ Kids' Dual Lens Video Camera
Best Video Camera for Kids
This GKTZ camera allows your child to record video and take photographs in a variety of different resolutions. This gives kids the option of playing around with the camera and taking many pictures at just 1 MP resolution. Meanwhile, for images, they are likely to keep children snapping away at 12 MP resolution or one of five other points in between.
Video is 1080p quality, meaning you can easily watch it on your computer without having to try and work out what you're seeing.
Children do not have to use the viewfinder but can instead see what they are recording by watching the 2-inch screen on the rear of the camera.
What We Like
Cute Design
The adorable styling and child-friendly screen at the rear make this a camera that will appeal to most children under 5 years.
Versatility for Viewing or Deleting
Images and videos can be watched and/or deleted while on the camera. There is no need to download first. This makes it an excellent option for taking on holiday, where you can skim through the images and create more space on the fly.
Video Options
The nine cartoon frames can be used when taking photos and when recording video, an option not available on several other, similar cameras.
What We Don't Like
If you have a rough child on your hands, think about this downside before buying this one.
So Many Options Could Lead to Damage
While it's nice to have lots of frames, shooting modes, and photo resolutions, it does give kids lots of stuff to play with. As a result, this camera is more likely to be broken than others. The manufacturers caution against allowing "improper operation" by your child.
Product Specs
| | |
| --- | --- |
| Size | 3.9 x 2.6 x 1.2 inches and 2.12 ounces |
| # of MP | Up to 12 |
| Memory card | 32 GB memory card, included |
| Wi-Fi capability | No |
| What's in the box? | Camera, USB cable, 32GB memory card |
Our Ratings
Community Feedback
Bought this charming little camera for my child and it's been a blast capturing memories with friends and family. The photo quality is better than expected, and it comes with some great features like a timer, photo frames, and date stamps. However, transferring videos to my phone has been a challenge due to the odd format, requiring some roundabout methods to get them from one device to another. The camera is small and perfect for little hands, but it may not be the most intuitive for younger children to navigate through its various options. Despite the lack of a flash, it's a fun and engaging toy for kids who are into photography.
---
Do Kids Need Cameras?
While a camera doesn't make the list of essential childhood gear, there are many excellent reasons to give your child one.
Memories
Your child can record events and experiences that are important to them. They then have physical images to look back on. These can become important as your child grows into adulthood.
Promotes Planning Skills
Taking a photograph requires a complex sequence of planning. Some of the questions your child may consider include:
What is my subject going to be? They'll have to decide between subjects such as people, inanimate objects, moving objects, and abstract images.
Where can I find that?
How will I get there?
Where in the frame should I place my image?
How close should I be?
What kind of lighting do I want?
And that is just the tip of the iceberg.
Physical Skills
Photography can be a surprisingly physical activity. From the gross motor activities of walking, squatting, and bending, to the fine motor control required to press the correct button, these skills can all be developed through using a camera.
Creative Outlet
More than just snapping a few photos, photography is an accessible way for children to express their creativity.
A national study discovered that children who participate in creative outlets are more likely to do well academically because the skills needed to be successful are the same (2).
Bonding And Discovery
Taking photos can also offer a way for children and their caregivers to share a pastime and spend quality time together.
Also, reviewing the images your child produces can offer you an insight into your child's interests and perceptions of the world at large.
Types Of Cameras For Kids
There are pros and cons to the many different types of cameras for kids. Let's take a look at them, so you can best decide which one will work for your child.
Digital Cameras
Digital cameras can be an expensive option, and there is the additional worry of your child damaging a costly piece of equipment. They can be more complicated than necessary for your child, often with multiple settings and modes to master.
You also have to download your images and store them on a computer or Chromebook, which can be an additional burden for some.
On the flip side of that, when you use a digital camera, your child can see their image immediately and, if necessary, retake the photograph until they are happy with the result. Some digital cameras can hold hundreds of photos.
Digital images can also be edited and manipulated, which not only makes the photographs more flexible but can provide an opportunity for your child to develop additional artistic skills.
Although you have to pay to have digital images printed, you only pay for the images you want. With a film camera, you pay to develop and print an entire roll, many of which may be unwanted.
Film Cameras
Cameras that use film are less common today, but they are still available. They can be more appropriate for children who may drop or otherwise damage their photography equipment.
Basic film cameras also tend to be simple to use and do not have multiple settings or modes to learn.
However, you do need to keep purchasing film and paying for the development of your child's photos. Plus, you'll have the hassle of repeatedly having to take in film for development and pick it back up.
With a film camera, your child is limited to the number of frames on the roll of film. And kids are curious little creatures. More than once, our kids have opened the back of a camera, ruining the images on the film.
Action Cameras
Action cameras, such as GoPros, are excellent for capturing fast and furious action on video, but they are not as useful for the more sedate kids who do not need video.
They can also be pretty small, easier to lose, and require additional hardware to mount them.
Underwater Cameras
Underwater cameras are excellent if you and your child will be taking images underwater. They are also capable of taking photos in other environments, so they are a good option for you to take on holiday.
However, they can be more expensive than standard cameras, and this is an unnecessary expense if you do not particularly need a waterproof camera.
Toy Cameras
For the youngest photographers, a toy camera is an excellent option. Often sturdy and far less expensive than the real thing, toy cameras are useful if you have a child who is too young to handle a functioning camera.
Our daughter received a toy camera when she was 3 and, years later, it still works. She likes to laugh at how bad her photography skills were then and how young all our family members look in the pictures.
But one thing you should be aware of with toy cameras is that the photo quality is often poor and the memory of the camera is small. That means your camera won't hold many photos.
How to Choose the Best Cameras for Kids
There are several things to look at when you are choosing the best camera for your child. Thinking of these things now will help you pick the right camera, so you don't have to upgrade immediately.
---
Get Snapping
Encouraging your child to express their creativity through photography can not only provide an exciting hobby for your child, but it can also give you the chance to see the world from your child's perspective.
Take photos with them, or share the results. Either way, it's a fun pastime for you both.
Thank You For Your Feedback!
Thank You For Your Feedback!