Does music play a big part in your life? Would you like your kids to enjoy music as much as you do? If you want your offspring to develop a keen interest in music, there's one device you can use from an early age.
An MP3 player allows anyone, but especially the young, to enjoy their favorite tunes whenever and wherever they want to. Many also have several other useful functions we'll be looking at too.
We've found our the best MP3 players for kids by mining our experience with them and reading a lot of reviews so you don't have to.
Image
Model
Product Comparison Table
Features
Best All Round MP3 Player
Timmkoo MP3 Player With Speaker
Playback options
Wide screen
Wide range of functions
Best for Teens
Aiworth 32GB MP3 Player
Simple to use
Bluetooth 5.0
Large storage
Pretty in Pink
SanDisk MP3 Player
Two-year warranty
Stacks of features
Long battery life
Best for iTunes Users
Sony NWE394/R 8GB Walkman
Playback customization
Easy file transfers
Simple and nostalgic
Best Budget MP3 Player
Soulcker MP3 Player 16GB
Excellent sound quality
Easy to use design
Playback and storage
Best for Young Children
AGPTEK MP3 Player
Child-friendly
Extra functions
Baby sleep soother
Best for Students
SanDisk Clip MP3 & Voice Recorder
Masses of storage space
Battery life
Voice recording
---
Is an MP3 Player a Worthwhile Investment?
Do you have an MP3 player? If you do, you'll appreciate how amazing and uplifting it can be to listen to music (1).
You might be at the bank, sitting in your yard, or chilling on the sofa while you listen to songs.MP3 players deliver your favorite tunes, regardless of where you are.
Buying an MP3 player for your children is not quite the same as buying one for yourself, though. Different features are important.
There are two types of MP3 players. The first is hard-drive-based and works much the same as a mini-computer. The capacity is huge, but they are a little more cumbersome to carry around due to their weight.
This type is also relatively fragile, so not suitable for young children because of their propensity to break things with rough handling.
A flash-based MP3 player is the second option. There are no moving parts, which makes this a light device to carry around. It stores all audio files on flash memory, either internally or on a memory card. These are better for children.
When buying an MP3 player for your child, there's also the question of safety. Is it hazardous for young children to be listening to music via headphones for long periods? Should your teen be listening to the latest grunge metal at full volume?
Let's answer some of these questions before introducing our top seven MP3 players for kids.
MP3 Player Functions to Look For
Original MP3 devices played back music and little else. Nowadays, they are getting more complex with an increasing number of functions packed in.
The more functions on the player, the higher the price, so which ones are important for you and your little ones?
How many audio files do you think your child will need? As well as audio files, some flash drive players can store a variety of other data. All you have to do is connect the device to a computer and copy the files you want.
This feature is excellent for older kids who need to take digital copies of homework to school with them.
DSP stands for digital signal processing, and it allows the user to change the audio in a variety of ways. Processing such as this can improve the sound of the music, or change it according to personal taste. Bass boosts and equalizers are different types of DPS that may be more familiar.
A feature such as this is not essential if it's your toddler who will be listening to tunes.
Audio recording is a standard function of many MP3 players. It records a voice or music.
Younger children may find this function fun to play with. Older children or adults can use the function for recording audio memos, meetings, or lectures.
Basic playback is a feature of all MP3 players. Some also allow the user to create and edit playlists. This might be a useful option for an older child.
As well as listening to music, an MP3 player can be used to listen to audiobooks. A bookmarking feature negates the need for fast-forwarding or rewinding to where you left off.
Do your kids need to stay connected with their buddies on social media? Are they fans of watching bloopers and amusing pet videos on YouTube? If you've answered yes to either of these, you need a player with internet capability.
There are three options when it comes down to the screen.
Touch screen: Much like a tablet or smartphone, this screen uses touch for inputting commands.
Multi-touch retina: These screens also use the power of touch, but they have a better definition.
Color displays: This is the most basic type of display, and commands are made using buttons.
Viewing Videos and Photos
Some MP3 players can also be used to display and view videos and photographs. The color screens are used to navigate files and for viewing. With such a tiny screen, the image is limited, but it's a nice addition.
As well as viewing capabilities, some players include a camera. If your kids are interested in photography, an MP3 player with a camera could be a popular gift.
Listening to the radio isn't as popular as it once was — however, it's nice to have the option. It's a way of keeping up with the news and can be an avenue for exploring new music.
It tends to be flash-drive players that have a built-in radio. Hard-drive-based players have problems picking up stations because of the moving parts.
If you prefer to live a more sustainable life, choose a player with rechargeable batteries. If you don't do that, look for a device that promises a long battery life.
Your kids will get bored quickly if they have to replace batteries every couple of hours. Your wallet might not appreciate it either.
---
The Best MP3 Player for Kids of 2022
Here are seven excellent MP3 players for kids.
1. Timmkoo MP3 Player With Speaker
Best All Round MP3 Player
This is a super device with lots of useful functions like a calendar, calculator, photo browser, ebook reader, and FM radio. It also has some of the latest in audio technology.
It's around the size of an average smartphone, but the sound packs a punch. Another excellent feature is the 4.0-inch LED-back-lit screen that makes watching videos an amazing experience.
The Pros
Playback Options
This MP3 player from TIMKOO has a digital sound processor to enhance the user experience. Both voices and instruments are crystal clear, and the bass impacts whether you're listening via the headphones or the internal speakers.
Wide Screen
The high-definition screen is bigger than the average MP3 player, and it also has a curved surface to enhance the viewing experience. As well as being an MP3 player, this device is also an MP4 player, and it supports high-resolution video.
Wide Range of Functions
This player is more than just a device for listening to music. Features include:
Portable voice recorder.
FM radio.
Pocket ebook.
Mini photo browser.
Calendar.
Calculator.
Stopwatch.
Built-in speaker.
Quick charging.
Expandable memory.
The Cons
Lack of Sorting Functionality
When displaying music files, they're only available in alphabetical order instead of being able to sort according to title, genre, and artist. This can make finding a particular tune rather time-consuming because you've got to scroll through so many.
Additional Specs
| | |
| --- | --- |
| Bluetooth | No |
| FM radio | Yes |
| Camera /video | No |
| Storage | 16GB |
| Compatible audio formats | MP3, AAC, PCM, WMA |
---
2. Aiworth 32GB MP3 Player
Best MP3 Player for Teens
This neat little device fits snugly into a pocket and has some great features. There's a load of storage space so your teen can have as many playlists as they want. They can store up to 5000 songs.
Teenagers can use it for reading books, watching videos, viewing photos, and voice recording.
The Pros
Simple to Use
We like that this tiny device is so simple to use. We have awarded it the title of Best MP3 Player for Teens, but children much younger should be able to use it. It uses buttons for the functions, and there aren't so many that it gets confusing.
Multi-Functional
This player packs in some great features. You get to listen to thousands of your favorite tunes. But you can also use it for watching videos and can also be used as an alarm clock.
Ebook reading is another feature, together with the option for voice recording.
The Cons
Lacks User Manual
Some buyers complained about the missing instruction manual, but having an innate curiosity, your teen will find operating this device with ease.

Additional Specs
| | |
| --- | --- |
| Bluetooth | Yes |
| FM radio | Yes |
| Camera/video | No |
| Storage | 32GB memory card |
| Compatible audio formats | MP3, WAV, FLAC, APE, OGG |
---
3. Sandisk Pink Clip Jam MP3 Player for Kids
Best Pretty in Pink MP3 Player for Kids
We can't deny the fact that sometimes kids just want to be grown-ups. Being a great imitator, they need to feel that they can be given a sense of responsibility for the things that adults have. You can let them imbibe that idea by handing them this durable SanDisk MP3 player. It's a design that might not appeal to boys, but if you have daughters, they should love it. What a nifty pink design with its clip-on. The device is made from lightweight material they can wear it for longer hours.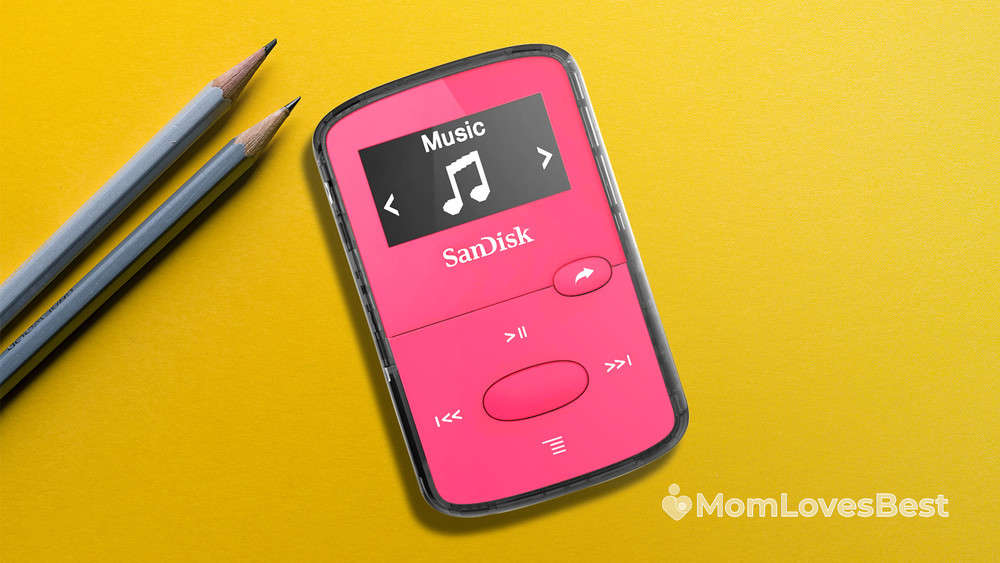 The Pros
Two-Year Warranty
Being sold from a well-known brand, you can be confident that this music player grows with your child. Should the product bogs down, you can be assured of its generous two-year warranty.
Stacks of Features
Aside from the fact that it supports a variety of music formats such as MP3, WMA, AAC, WAV, and Audible, it also includes a built-in radio tuner.
Long Battery Life
According to the specifications, this device can keep playing music for up to 18 hours on a single charge. It can last you even a week on intermittent use.
The Cons
Ease of Use
We often forget how intuitive children can be when it comes to finding their way around devices. As an adult, this device's functions might confuse as some parents say the set does not come with an instruction manual, so a young child may have problems too.
That's not to say they will, but it's something to be wary of.
Additional Specs
| | |
| --- | --- |
| Bluetooth | No |
| FM radio | Yes |
| Camera/video | No |
| Storage | 8GB with built-in microSD card slot |
| Compatible audio formats | MP3, WMA, AAC, WAV, and Audible |
---
4. Sony NWE394/R 8GB Walkman MP3 Player
Best MP3 Player for iTunes Users
Sony was at the forefront of the MP3 revolution, and there's still a place for its Walkman in our list. It's not the most pocket-friendly MP3 player, but it does come with a hard EVA carrying case so you can attach it to a bag or backpack.
The display is on the large side, so it's good for viewing photos and artwork.
It's powered by a rechargeable battery that gives the user an amazing 35 hours of playback from a two-hour charge.
The Pros
Playback Customization
This device makes use of Sony's ClearAudio+ technology, including Clear Bass. It doesn't matter how loud you have the volume; there's no distortion.
Also included are a five-band equalizer and dynamic normalizer, which automatically adjusts the volume according to the recording level.
File Transfers
Transferring files from a Windows or Mac computer is a simple case of drag-and-drop. This is a fantastic function for anyone who makes use of iTunes.
Nostalgia
Some might say it's old-fashioned, but there's something about the Sony Walkman that brings a tear to the eye. Would your kids consider it retro enough to be a fashion statement? You'd probably have to ask your teens about that one.
Simplicity
If all you want is an MP3 device for listening to music, you can't get much more basic than the Sony Walkman.
Do you need a player with a plethora of functions when you've already got a smartphone? This great little player keeps things simple, and the sound it produces is an awesome experience.
The Cons
Too Basic?
The Sony Walkman is a quality piece. However, some teens may find it too basic to be cool. It's lacking some functions of other popular players, but are these necessary when you've got other gadgets?
Additional Specs
| | |
| --- | --- |
| Bluetooth | No |
| FM radio | Yes |
| Camera/video | No |
| Storage | 4/8/16 GB |
| Compatible audio formats | MP3, WMA, WAV, APE, FLAC |
---
5. Soulcker MP3 Player 16GB
Best Budget MP3 Player
Enjoy Hi-Fi Lossless sound with this MP3 player from Soulcker. Not a name many will have heard of, but don't let that put you off. It has plenty of great functions and supports a Bluetooth connection.
You can use it to read ebooks, watch videos, and browse photos.
The battery life is a staggering 55 hours, and you can save it by using the timed screen-saver. To save on power consumption even further, you can play your music using a Bluetooth speaker or Bluetooth headphones.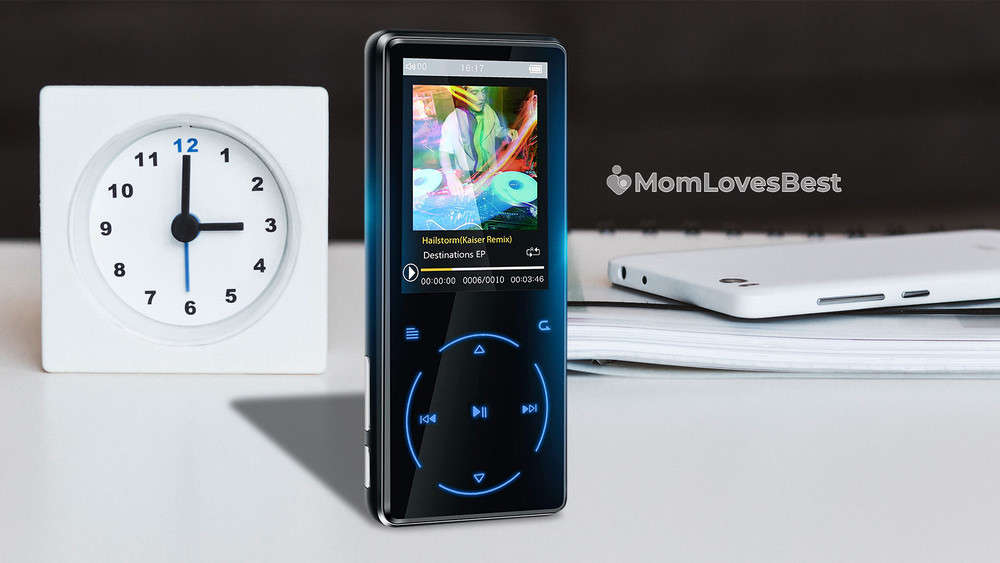 The Pros
Excellent Sound Quality
Inside this device is a digital noise reduction chip that means you don't have to stress over sound distortion. The equalizer offers a choice of audio preferences from rock to funk, classical, or techno. It supports most popular audio formats.
Easy to Use Design
There are seven sensitive touch buttons to find your way around the functions. Simply tap on a particular character, and you can effortlessly control the player. If you're using your player when it's dark, the buttons can light up in electric blue to make them more visible.
Playback and Storage
Storage is a pretty average 16GB, but you can increase it up to 128GB using a Micro SDHC card. This will create enough storage space for over 5,000 songs and books.
The battery life is also astounding with the promise of 55 hours playback from a full charge, which takes two hours.
The Cons
Not Compatible With iTunes
The only real downside to this device is that you can't use it with iTunes. This is unfortunate as so many people make use of this media player.
Additional Specs
| | |
| --- | --- |
| Bluetooth | Yes |
| FM radio | Yes |
| Camera/video | No |
| Storage | 16GB expandable to 128GB |
| Compatible audio formats | MP3, WMA, APE, FLAC, WAV, AAC |
---
6. AGPTEK MP3 Player for Kids
Best Basic MP3 Player for Young Children
This is another well-designed MP3 player for kids. Not only does it look fun and funky, but it also has lots of different and unusual functions. Another great bonus is that it's available in both pink and blue.
The screen is on the small side, but you can still watch videos and look at photos.
If you have a baby, it doubles up as a baby sleep soother. The player has built-in sounds of waves, streams, white noise, the wind, and a piano. Your baby can even listen to lullabies.
As your child gets older, they can learn to use this device themselves and enjoy their own music choice.
The Pros
Child-Friendly
From babies to toddlers and beyond, this player has something for them all. It'll help your precious bundle fall asleep by playing lullabies or soothing sounds. It can also help them learn a new language thanks to its intelligent A-B repeat, variable speed playback, and lyrics synchronization.
Extra Functions
You can use this cute little player to listen to music, but it offers so much more. Some more unusual features include:
Alarm function.
Language learning.
Equalizer.
The Cons
Unicorns Don't Suit Everyone
When you first open up the box and inspect the player, you realize there's a unicorn on the back, even on the blue model. While there's nothing wrong with unicorns, it's not an image that suits everyone.
Additional Specs
| | |
| --- | --- |
| Bluetooth | Yes |
| FM radio | Yes |
| Camera/video | No |
| Storage | 8GB expandable to 128GB with a TF card |
| Compatible audio formats | MP3, WMA, OGG, APE, FLAC, WAV, AAC-LC, ACELP |
---
7. SanDisk 32GB Clip MP3 Player and Voice Recorder
Best MP3 Player for Students
This is a top-rated MP3 player, and one reason could well be its versatility. You get to choose from a variety of screen sizes and storage capacity.
It's a little small size and too easy to lose for small children. But for those just entering their teens, it's a good choice, especially if they want to clip it on to their shirt while they workout.
This device is available in a variety of colors. An optional extra is Bluetooth connectivity, but it will cost more.
The battery life isn't as long as many other brands, but it's more than sufficient for long journeys and days lounging around on the beach.
The Pros
Masses of Storage Space
With a maximum of 32GB of storage space. There's more than enough room for storing all your favorite tunes and more besides. If you'd like some figures, you can store up to 8,000 MP3s or 200 hours of voice recordings.
Battery Life
There are players with longer battery lives than the SanDisk. But you get up to 18 hours of your favorite tunes before you have to worry about recharging it.
Voice Recording
Clip the player onto clothing or a textbook, set it away, and record hours of lectures to save and listen to later.
The Cons
Basic Functions
Compared with many other players on the market, SanDisk might be lacking in features. There's no SD-Card slot and no FM radio.
Additional Specs
| | |
| --- | --- |
| Bluetooth | No |
| FM radio | No |
| Camera/video | No |
| Storage | Up to 32GB |
| Compatible audio formats | MP3 |
---
---
Is Listening to Music Through Headphones Safe?
Children as young as 3 are now wearing headphones to listen to music, watch videos, and play games. Is this safe for their ears, or should you, as a parent, be taking certain precautions?
Even when the headphones are listed as "safe for young ears," safe listening boils down to volume and duration. The louder the volume, then the shorter the period your kids should use headphones (2).
---
Great Entertainment Value
If your child loves music but is too young for a phone, or you're worried about them having access to too many gadgets, consider getting them an MP3 player.
An MP3 player is great for older kids too. It stops them from filling the memory of their phones with music or audio files. These devices typically have many other functions, so they can also work as a dictaphone or ebook reader.
These devices aren't too expensive, and if you choose the right one, it can have many years of usage.
Children are tech-savvy nowadays and rarely have problems navigating their way around new devices. The MP3 players we've included in our list are all child-friendly.
Whatever player you choose, teach them how to use the device safely, and restrict their usage to just a few hours a day.