So, you're one of those moms who wants to document every moment of their child's life? Or maybe you're the opposite but fear you'll forget when those major milestones occurred.
Regardless of your organizational skills, there's a memory book for you.
We've searched for the best baby memory books for every situation. We found a wide range of products that are made to last and include fun prompts, lots of space for photos, and allow you to incorporate as much or as little detail as you like.
Read our reviews to find the perfect fit for your lifestyle.
Image
Model
Product Comparison Table
Features
Tell The Whole Story
Ronica First Years
60 pages
Hardcover lay-flat design
Instagram-friendly square photo frames
Elegant & Chic
As You Grow
Gender-neutral design
Elegant linen cover
Acid-free, archival paper
Cartoon Animal Fun
KiddosArt Keepsake
72 responsibly printed pages
Eco-friendly, soy based-inks
Monthly stickers and keepsake envelope
Best for Little Boys
Baby Boy Hardcover
62 fill-in archival quality pages
Acid-free and lignin-free paper
Cute and adorable
Cutest Theme
The First Five Years
Woodland-themed art
Appealing soft, padded cover
112 pages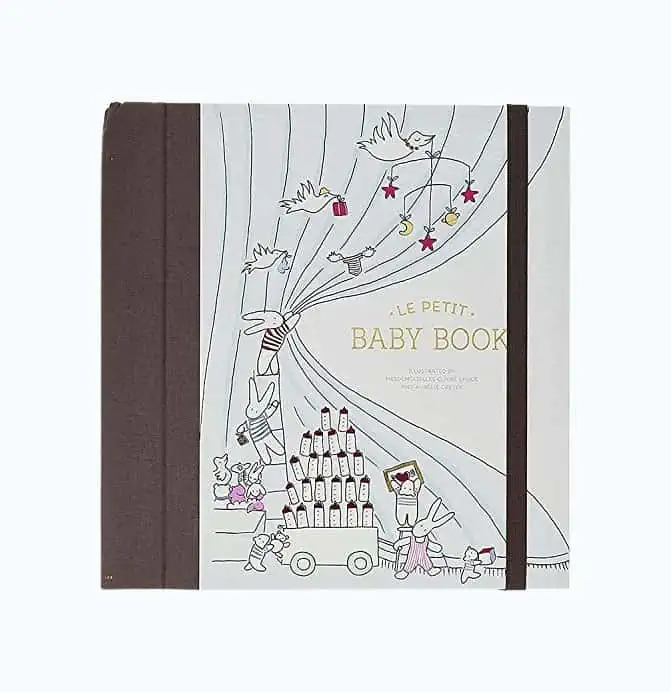 Pop-Up Fun
Le Petit Baby Book
Includes envelope for ultrasound scans
Pull-out growth chart
Beautifully illustrated
The Classy Memory Book
Pearhead Chevron 5 Years
50-guided journal pages
Handprint or footprint on the cover
Includes clean-touch ink pad
Timeless Design
Baby's First Year Journal
Simple and beautiful
48 pages
5 birthday-themed pages
Most Inclusive
First Year Baby
Covers pre-birth memories
Hardcover lay-flat design
Heirloom-quality material
By The Sea
Carter's Nautical Baby
60 themed pages
Creatively embellished cover
Beautiful guided interior
Review Methodology: At Mom Loves Best, we understand the importance of preserving precious memories for parents. That's why our expert team has conducted a thorough analysis and hands-on evaluation of the best baby memory books available. We have compared and ranked these books based on criteria such as design, user experience, and durability. Our assessment includes first-hand experience, factual evidence, and professional insight to provide you with reliable recommendations. We have identified key factors such as storage capacity, ease of use, and customization options that set the best baby memory books apart from their competitors. Trust our research, results, and reviews as we guide you through the process of choosing the perfect baby memory book to cherish your little one's milestones.
---
---
The Best Baby Memory Books of 2023
Now it's time to get into the nitty-gritty of the best books on the market.
Ronica First Years Baby Book
Tell the Whole Story
Don't forget any moment of your magical journey with this first year's baby memory book. You can record how you and your partner met, details and images from your first ultrasounds, and much more. There's even space for a family tree — important information your child will later treasure.
Other cool features include a future letter for your kids, an illustrative guide for dates those baby teeth went away, and more.
This book includes 12 stickers to mark early milestones. There's a keepsake envelope for storing any memorable little items. The overall design is colorful, fun, and sure to be an awesome memento.
Community Feedback
Bought this baby memory book to chronicle the growth of my little one, and it exceeded my expectations. The pages are comprehensive and well-organized, covering everything from family history to milestones and holidays, making it easy to document important moments. My only suggestion would be to add pockets for first haircut and first tooth, but overall, the book is adorable, with high-quality paper and a keepsake box for storage.
---
As You Grow Memory Book
Elegant & Chic
This is a timeless memory book with hand-drawn illustrations. It includes acid-free paper, so you can avoid damage to your photos over time.
We love that it's gender-neutral with its elegant and chic style. It has a lay-flat design, making it easy to write in, and there are pocket section dividers for keepsakes.
Some of the sections included are your baby's first weeks, first year, and development to age 5. This one definitely won't look tacky displayed on a shelf.
Community Feedback
I recently purchased this baby book for my third child and have been very happy with it. The modern design and thoughtful writing prompts make it easy to document my baby's milestones and memories. One downside, however, is that the latest version has fewer pockets for storing keepsakes, which I found to be a great feature in the previous versions. Despite this change, the book is still a beautiful and functional way to capture my baby's first years.
---
KiddosArt Keepsake Baby Memory Book
Cartoon Animal Fun
This memory book is cheerful and puts a smile on your face. There are 72 pages to complete, documenting details from the baby shower to your child's first five birthdays.
You can include over 100 of your favorite photos and decorate your album with a sticker for each of your baby's first twelve months.
There's even a keepsake envelope for those special mementos. This cute memory book has adorable illustrations, is eco-friendly, and uses soy-based inks.
Community Feedback
I recently purchased this baby memory book and I'm so impressed with the quality and design. The vibrant colors on each page really make it stand out, and there's plenty of space for pictures and memories from holidays, birthdays, and other milestones. The spiral binding allows for easy addition of extra pages, and the protective box cover ensures the book will stay in excellent condition. I appreciate the extensive sections like growth charts and holidays, and the inclusion of month-by-month stickers for the first year. Although the inconsistent photo sizes and orientation on some pages can be a bit challenging, overall, this baby book is a wonderful keepsake for any family.
---
Baby Boy Hardcover Memory Book
Best for Little Boys
Memories of your little boy will always be precious, and this animal-themed memory book records them all. There are 62 pages for photos and stories.
We love the page titles. There's everything from the first time they smiled to their first meals and more. You can really give your little boy the whole picture when he's all grown up.
The keepsake box is fantastic. This includes space for a lock of hair, the hospital bracelet, and more.
Community Feedback
My experience with this baby memory book and keepsake box has been nothing short of delightful. From the detailed pages that cover everything from pregnancy to the baby's 5th birthday, it truly captures the entire experience. The included memory box is a fantastic addition, providing a convenient, safe place to store precious items like the hospital band, umbilical cord, and first haircut. At first, I wasn't a fan of the cover design, but it grew on me once I saw the charming pages and the overall high quality of the book. Although the price difference between the boy and girl versions is puzzling, I still believe it's well worth the investment for the lifelong memories it will help preserve.
---
The First Five Years Book
Cutest Theme
As soon as you hear the good news, you can start journaling all your special moments with this cute woodlands-themed book. You can detail your child's first year and all their milestones. Then there are pages for every year up to 5 years old.
There's loads of space to write. It has acid-free paper to preserve your thoughts and feelings. In total, there are 112 pages. It comes with a gift box and a polybag wrapper for safe storage.
Community Feedback
In my experience, this baby book has been a wonderful way to document my children's milestones and memories. The high-quality materials and artwork, along with the variety of pages included, make it a joy to fill out. From medical and dental records to a family tree and pages for grandparents' stories, this book covers it all. I appreciate that it is gender-neutral and has enough space for photos without limiting their size or orientation. The monthly updates for the first year and yearly updates up to age five help me keep track of my kids' growth and special moments.
---
Le Petit Baby Book
Pop-Up Fun
This baby memory book is unique, as it has fun pop-ups and other cool features, like a growth chart you can display in your home. There's also an astrological-sign spin-wheel that helps you determine your baby's sign.
We love the sweet gender-neutral woodlands design. This book is filled with beautiful illustrations. It contains lots of space to personalize your memories with photos. There's an envelope for all your ultrasound scans and to store written notes for your child when they're an adult.
Community Feedback
I recently purchased this beautifully illustrated baby book, which covers everything from pregnancy to the baby's first year. The gender-neutral design and interactive pages provide space for ultrasound images, the family tree, milestones, and other cherished memories. Although the book includes some pages that may not apply to everyone, such as godparents and Christmas, they can easily be removed or left blank without damaging the book's overall structure. One downside is that it can feel a bit templated, with some prompts being overly specific or positive. Nevertheless, the charming artwork and thoughtful layout make this baby book an enjoyable way to document precious moments.
---
Pearhead Chevron First 5 Years Book
The Classy Memory Book
If you prefer a formal and attractive memento for the future, this one's for you. You can choose from a few different color themes, including gray and teal.
It has a classy chevron design with space for a small photo and your baby's cute footprint on the front. The clean-touch ink pad is provided and is easy and safe to use.
There are 52 pages to fill in with important milestones, covering ages up to 5. You can look back and remember the years as if they were yesterday.
Community Feedback
I've been using this baby book to keep track of my child's milestones and memories. The vibrant colors and guided pages make it easy to document important moments without feeling overwhelmed by the task. I appreciate the ample space provided for photos, as well as the clear sleeve on the front cover, which allows for easy customization. The included mess-free ink pad for capturing footprints is a thoughtful touch. Although there were some minor issues with the packaging and a few repetitive areas within the book, I am overall satisfied with its content and functionality.
---
Baby's First Year Journal
Timeless Design
So many wonderful things can happen in your baby's first year. Now you can record them all with photos. The pages of this book are printed with vegetable ink, and the simple design makes everything enjoyable to view.
There are 48 themed pages that are very easy to fill in. This book is perfect for busy moms who don't have the time to write lengthy descriptions of every event. It includes space for the most basic details and maybe a photo or two, allowing you to preserve memories and milestones in their simplicity.
There are pages for all the important events, including the first days of school and other milestones up to 5 years old. The theme is a funky floral design that gives off a sweet, whimsical feeling.
Community Feedback
Excellent design and quality make this baby book a delightful keepsake. The beautiful artwork and organized format, with spaces for photos and information from pregnancy to the first day of school, allow for a comprehensive record of your child's growth. While the photo sizes and limited writing space may be slightly inconvenient, the overall simplicity and straightforwardness make it easy to document important milestones. The spiral binding and inclusion of holidays and blank pages for customization add to the book's appeal.
---
First Year Baby Memory Book
Most Inclusive Memory Book
There are 56 pages to fill with memories here, including removable holiday pages such as Diwali and Easter to suit your family's traditions. Furthermore, the text was created to include a variety of family scenarios.
The design is cute, with a woodland theme suitable for a boy or girl. The paper is acid-free to preserve your memories. A fantastic feature is the square photo frames for Instagram snaps. This memory book also makes an ideal baby shower gift.
Community Feedback
As a parent, I found this woodland-themed baby memory book to be both adorable and functional. The pages are made of thick cardstock, providing ample space for photos and notes to document cherished memories. However, I did find the inclusion of various religious holiday pages to be limiting, as they may not suit all families and could have been presented as optional stickers instead.
---
Carter's Nautical Baby Boy Book
By the Sea
When your little boy grows up, you'll want to look back on his childhood fondly. The best way to do that is with this awesome, nautical-style baby memory book.
There are 60 pages for photos and the details of your favorite moments so you can track his first five years of life. There's a photo window on the front with a cute octopus and other sea-inspired imagery.
Community Feedback
Got this adorable baby book and I'm thrilled with its quality and comprehensive content. It covers everything from family tree to milestones, doctor visits, and even birthdays up to 5 years old. The nautical theme is charming and the pages are sturdy, making it a beautiful keepsake for years to come.
---
Christian Art Gifts Baby Girl Memory Book
Christian Centric
If God plays a big part in your life, this may be the best memory book for you. There are scriptures and space for your favorite bible verses.
You can choose your favorite photo for the front. The book expands, and the cover is padded and has a magnetic closure. A pink gingham print finishes off the details.
This book is all about your baby's first year, with 64 pages to fill. You'll also find pockets to keep mementos safe.
Community Feedback
My experience with this baby book has been delightful, as it exceeded my expectations with its sturdy construction and thoughtful features. The solid cardstock pages hold up well, and the pockets for keepsakes are a significant bonus, allowing me to store precious memories securely. Though intended for the first year or two, the layout offers flexibility for adding continuous year notes, making it a versatile and cherished keepsake.
---
Hello Beautiful 5 Years Book
Best for Little Girls
You can show off your daughter in this cute heirloom memory book. There's space to insert a square photo on the front, and the pink, white, and black design is simple yet attractive.
You can journal about any special milestones in the 50 pages, complete with guides. Capture all the moments that meant the most to you. The acid-free pages will preserve the quality of your photos.
Community Feedback
I recently received this baby memory book as a gift and found it to be a charming and practical way to preserve precious memories. While the size of the book is not particularly large, it provides ample space for writing, storing ultrasound pictures, and even includes a page for baby's hand and footprints. The overall quality of the book is good, although I would have preferred a darker font for easier readability. One downside is that the book only covers milestones up to 5 years, but it's still a lovely keepsake for any parent.
---
Journal for Baby's First Year
The Minimalist Journal
We love the cute, minimalist style of this gender-neutral memory book for noting down all the special moments. The humorous prompts will get you started, and there are checkboxes for detailing the first year. You can also insert photos in the spaces.
The different sections are visible with brightly-colored side menus. It's all about capturing memories in a lighthearted and fun way.
Community Feedback
Excellent baby memory book that allows busy moms to preserve precious memories without spending too much time on it. This book is divided into three sections: pregnancy/newborn, month-by-month, and baby's firsts, making it easy to fill out and keep track of special moments. With helpful prompts, open-ended questions, and space for photos, this book encourages creativity while remaining practical for busy parents. The only minor drawbacks are the limited space for 4x6 photos and the first-person narrative format, but overall, it's a fantastic and affordable option for those looking for a simple yet effective baby memory book.
How to Choose a Baby Memory Book
Baby memory books are all designed a little differently. Some will read like a storybook, while others will focus on photos. Here are some of the criteria we look for when determining the best baby memory books.
---
Thank You For Your Feedback!
Thank You For Your Feedback!