Eventually, our children reach an age where they're more independent. Perhaps they're taking the bus alone to school, going to a friend's house, or are simply spending more time on their own. This can be worrying for any parent — we're used to being by their side, making sure they're safe.
Since we can't have them home forever, we must look for other ways to keep an eye on them. A phone would probably be the first thing that comes to mind. However, depending on your child, they may not be mature enough to handle their own phones.
A good alternative is a GPS watch. You don't have to worry about them losing a watch like they might a phone since it will always be strapped on their wrist when they're out.
Don't worry — we're not talking about pricey smartwatches from giants such as Apple. Instead, we've found the seven best kids' GPS watches that won't break the bank.
Image
Model
Product Comparison Table
Features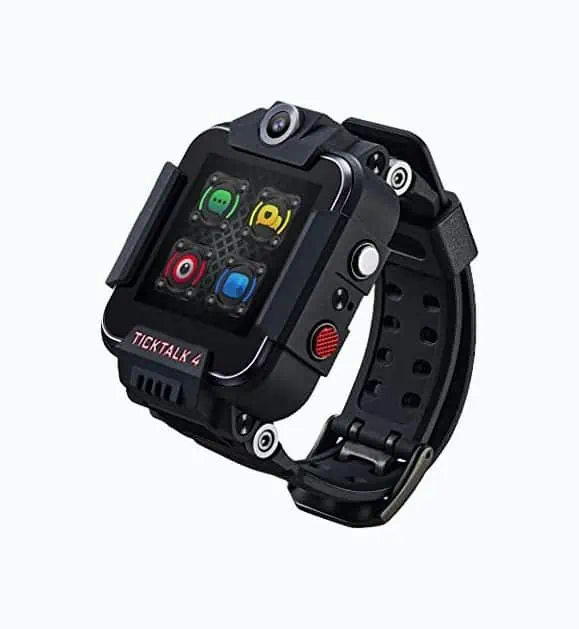 Best Kids' GPS Smartwatch
TickTalk 4G LTE Kids Smartwatch
Accurate GPS tracker
100 hours runtime
Facetalk
For the Active Child
Rayph Store Kids' GPS Smart Watch
Fantastic for various activities
Large, high-quality screen
Classroom mode
Best GPS Tracker
Blackview GPS Waterproof Smartwatch
Multifarious color options
Waterproof materials
Sleep tracker
Best GPS Watch for Watersports
Laxcido Smart Watch
Waterproof
SOS call function
More than 15 features
Best for Boys
4G GPS Kids Smartwatch
Fun features
Flashlight
Two-way calls
Best for Girls
Xplora X5 Play
GPS tracker
Smart emergency button
School mode
---
---
The Best GPS Watches for Kids of 2023
Using our list of features above, we set out to find the best kids' GPS watches. We researched leading sites on the subject as well as analyzing parent reviews. Here's our top seven:
TickTalk 4 Unlocked 4G LTE Kids Smart Watch Phone
Best Kids' GPS Smartwatch
It's super cute and has a lot to offer children between the ages of 5 and 12 years.
The watch allows you to track your youngster's whereabouts, ensuring they're safe and within range. With the use of the parental control app, you have the ability to approve all watch contacts and block unknown numbers keeping your young one away from strangers.
Your child can even wear it in school thanks to the no-disturb function. Aside from being water resistant, it has several useful features like a camera, video and voice calling, secure messaging, talk to text, SOS button, activity tracking, 911 response, and historical routes.
What We Like
Accurate GPS Tracker
This smartwatch utilizes accurate GPS location tracking. This allows the watch to send accurate information about your child's whereabouts in real-time. You connect the watch to your smartphone, and then you can track its location at any time.
SOS Button
A must-have safety feature is the SOS button. When your child is out, and there's an emergency, they can push a simple button. As they do this, the watch will call the three guardian numbers you've chosen, as well as send them all a notification.
Remember to add the contacts when you receive the watch, though. Otherwise, the emergency button won't help. Parents praised how easy it was to set up and use, even for a technology novice.
Long Battery Life
The unit can give you a hundred hours of runtime. The battery is superb as it uses more than just half of the battery when playing music for 2 hours which is exceptional.
Facetalk
The TickTalk kids smartwatch is compatible with SIM cards, so, if utilized, your youngster can engage in calls with selected contacts pre-approved by you.
You can also select three no-disturb times for when your child is at school or other places where quiet is necessary.
Camera, Voice Recording, and Other Fun Gadgets
Your youngster can also have some fun. The watch includes a front and rear camera to snap memories.
Among many other features, the watch includes an activity tracker which reminds your child to set daily step goals, perfect for achieving a healthier lifestyle. Do note that there isn't a single game installed.
What We Don't Like
Simple
Although the watch has a lot to offer, it's best suited for younger children. It's recommended for ages 5 to 12 years. However, the design and the simplicity are probably better suited for children under 10.
Product Specs
| | |
| --- | --- |
| Recommended age | 5 to 12 years |
| Color | Pink, blue, black |
| Call options | Yes |
| Camera | Yes |
| SOS emergency call | Yes |
Our Ratings
---
Rayph Store Kids' GPS Smart Watch
Best GPS Watch For the Active Child
For active children, we recommend this GPS watch. It features excellent functions, enabling your child to keep track of their fitness. They can use it while doing almost any sport, even swimming.
It has a camera and photo album — catching all your child's important moments. Connecting to the app allows you to keep track of your child and help them set alarms and no-disturb times.
The watch is available in both pink and blue. It's recommended for children between the ages of 5 and 12.
What We Like
Fantastic for Various Activities
This watch is excellent for active children who engage in various sports. The watch includes a fitness tracker, which counts steps and keeps an eye on your child's activity levels. It's also waterproof and is capable of being submerged for up to three hours — ample time for swimming lessons.
Large, High-Quality Screen
The watch includes a 1.44-inch, high-definition screen. It's perfect for viewing incoming calls and playing games, among other things. The touch screen is easy to use, enabling your youngster to scroll through the phonebook and other included apps effortlessly.
Camera
Your child can record their life using the front-view camera on the watch. They can snap plenty of photos, which you can later upload to your computer using a USB cable. Or, you can view the images in the watch's album, which can hold up to 32 MB.
Classroom Mode
As your child gets to school, different no-disturb times can be set for when they're in the classroom. You can identify up to three different periods per day, and you control it all from the app on your phone.
What We Don't Like
Not Useful Without a SIM Card
You will need to purchase a compatible SIM card — otherwise, most of the essential functions won't work. For the U.S., the manufacturer recommends T-Mobile.
Product Specs
| | |
| --- | --- |
| Recommended age | 5 to 12 years |
| Color | Pink or blue |
| Call options | Yes |
| Camera | Yes |
| SOS emergency call | Yes |
Our Ratings
---
Blackview Kids' GPS Waterproof Smartwatch
Best GPS Tracker for Kids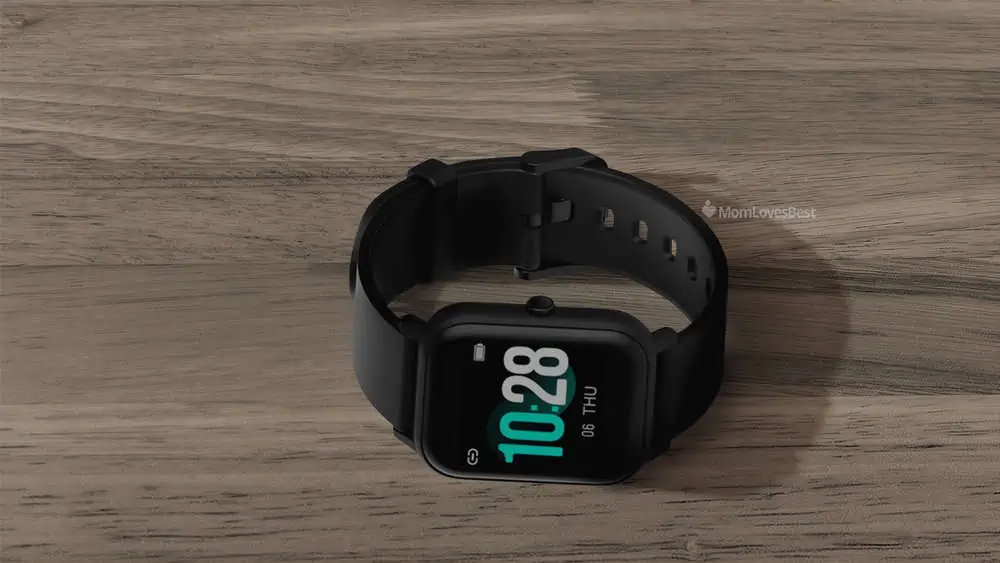 If your child does a lot of after-school activities, this watch is worth a look. It has received praise from parents, suggesting that it's deserving of its spot on our list.
The watch offers plenty of functions your youngster can use. They can call, text, set an alarm or even get notifications from applications installed in their fone. Plus, it will allow parents to easily track the whereabouts of their kids with the accurate built-in satellite positioning system.
You can control it all, and keep track of your child, from an app you download on your smartphone.
What We Like
Precise GPS
The built-in GPS is incredibly accurate when your child is outdoors. Aside from that, a weather report can also be viewed and tracked making sure your child will stay safe and dry.
Waterproof Materials
Made with waterproof materials, your child can continue to wear the watch even during watersports. The manufacturer was certified to 5ATM standards which means that the watch is water-resistant for up to 50 meters within 10 minutes.
Sleep Tracker
The watch will automatically keep a record of your child's sleep quality including their sleeping time.

What We Don't Like
App Notification May Be Distracting
Some parents want their child to focus on studies at a given time, however, when the watch is synchronized with the social networking app, it may get their child's attention and they might lose their focus on the task. Good thing you will have the option to disable notification straight from your little one's mobile.
Product Specs
| | |
| --- | --- |
| Recommended age | Not specified |
| Color | Black, pink, gray, green |
| Call options | Yes |
| Camera | Yes |
| SOS emergency call | No |
Our Ratings
---
Laxcido Kids Smart Watch Waterproof
Best GPS Watch for Watersports
If your kid loves swimming, paddle boarding, or diving, this is a great watch to consider. It doesn't track physical activities, calories, or steps, but it's completely waterproof. So no matter where they are, the GPS function continues to operate.
It has GPS to give double the security. It can track kids all day with super-accurate positioning. Keep in mind that if they're indoors or somewhere with a bad signal, the positioning error may be off.
What We Like
Waterproof
When a child gets a new watch, it's exciting! With this watch, they never need to take it off because it's waterproof. So if they're out in the rain, swimming, canoeing, showering, or just doing the dishes, it can stay on at all times.
SOS Call Function
The SOS call function on this watch is a handy addition. Your kid can inform you of their SOS call with the press of a button. It calls the preset numbers in the watch until somebody answers their phone via the app's alarm notification.
Calling Features
If you don't want your kid to have a cell phone yet, but you want to stay in touch throughout the day, this is a top choice. Your child can give you a call during the day. The watch has a built-in phone book so they can add all the contacts they need.
What We Don't Like
Monthly Cellular Bill
The only downfall about this product is that parents are billed for cellular network carrier charges since it can be used as a cellular phone alternative.

Product Specs
| | |
| --- | --- |
| Recommended age | N/A |
| Color | Blue, sky blue or pink |
| Call options | Yes |
| Camera | Yes |
| SOS emergency call | Yes |
Our Ratings
---
4G GPS Kids Smartwatch Phone Tracker
Best GPS Watch for Boys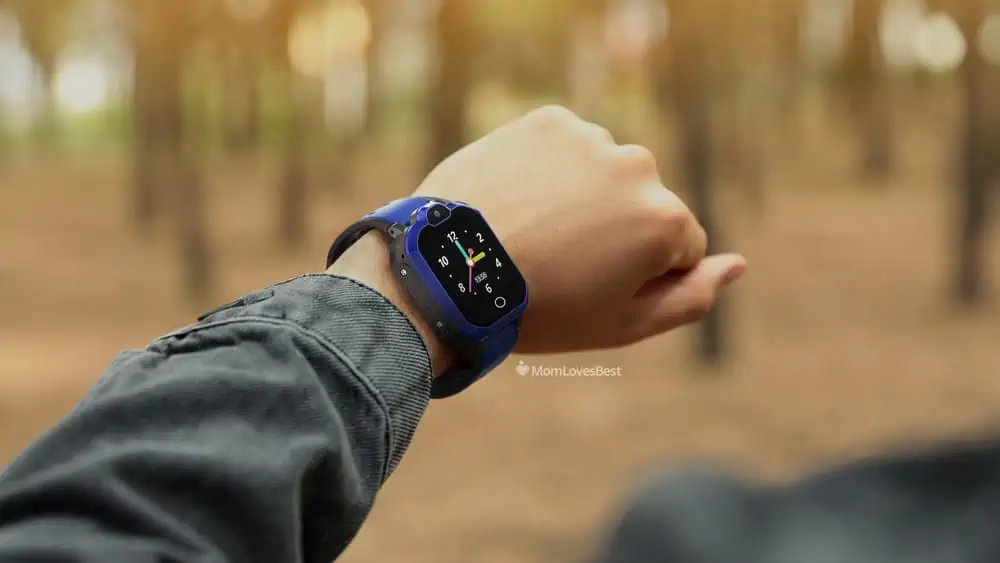 This watch from PTHTechUS is good for boys who enjoy being active. The watch uses a GPS and LBS tracker to give you the most precise location. It can make and receive calls and can facilitate both video call and voice chat.
Your child can wear the watch on any occasion, whether it's at the pool or school. It includes lots of fun features, even some educational games.
It's easy to set up all the functions by downloading and connecting to the compatible app on your smartphone.
Although no age range is listed for this watch, any child over 8 years would likely find it cool since it doesn't have a babyish appearance.
What We Like
Fun Features
This watch is more than just a GPS tracker — it includes fun educational games teaching your little guy math. There's also a camera function, allowing your child to record their day and present it to you later.
Waterproof Materials
The watch is excellent for summer as the wearer can safely jump in the pool or run through the sprinklers. Your child can even continue to wear it during bathtime or when washing hands. However, don't press the buttons or try to use it while it's submerged.
Time Tracker
Your little one can easily keep track of time, thanks to the large clock display on the watch. They can even set their own alarms to wake up in the morning, or have you do it through the app.
What's more, you can set up specific no-disturb times for when your child is in class. All of this is controlled in the app.
Two-Way Calls
When you set up the watch, your child can then call and receive from those selected numbers. Also, it allows you to set up three emergency numbers that will get calls and notifications during emergencies.
What We Don't Like
The Clock Uses a 24-hour Format
One complaint about the watch was that the time is displayed in 24-hour format. Not all children are accustomed to this mode, so some parents would've preferred a 12-hour only display. However, this can be fixed by changing the setting to 12-hour display. It may take a while to get accustomed to.
Product Specs
| | |
| --- | --- |
| Recommended age | 4 – 15 years |
| Color | Blue |
| Call options | Yes |
| Camera | Yes |
| SOS emergency call | Yes |
Our Ratings
---
Xplora X5 Play Watch Phone for Kids
Best GPS Watch for Girls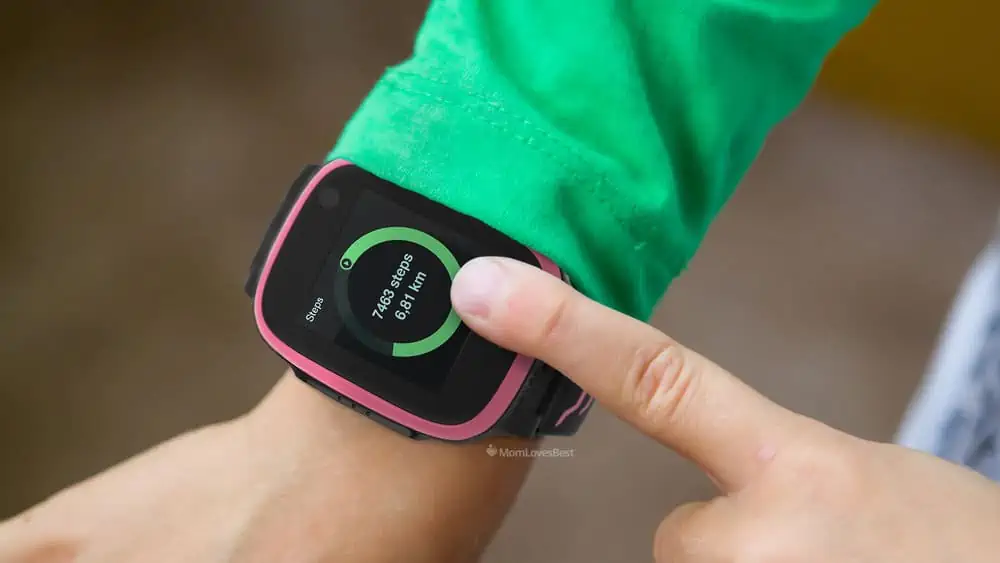 For your girl, we found this cute GPS watch. Besides the pretty appearance, this watch has plenty to offer.
It utilizes multiple services to give you an accurate location and there's an option for you to set up safety zones around some locations such as home and school.
You can keep a close watch through the app.
Among other things, it allows you to add your number as the main contact.
What We Like
GPS Tracker
This watch utilizes multiple services GPS to give you the most accurate location of your child.
Smart Emergency Button
Whenever your child is in distress, they can use the emergency button to contact you. It's straightforward to use and doesn't even require the wearer to watch the screen. As they push the button, the watch sends out notification calls to all of the three selected numbers.
Do Not Disturb Mode
One of the best things about this watch is that the parents are in charge of almost everything. The parents have the option to set no-disturb times disallowing your kid from accessing features like games, camera, except for SOS emergency and the GPS.
What We Don't Like
Battery Life
The only drawback about this GPS watch is that it can give up to only two to three days before it requires charging which others dislike.

Product Specs
| | |
| --- | --- |
| Recommended age | 5 to 12 years |
| Color | Pink, blue, black |
| Call options | Yes |
| Camera | Yes |
| SOS emergency call | Yes |
Our Ratings
---
Why Buy a GPS Watch for Your Child?
It can be easy to view GPS watches as toys. But if you invest in one with the right features, such gadgets can be a great benefit.
A GPS watch helps you keep track of your child at all times. The Global Positioning System (GPS) utilizes satellites to track its approximate location.
Many will have a backup LBS tracker, which uses cell towers to communicate its whereabouts.
Most kids' GPS watches work the same. They ask you to download an app that gets updates from the GPS inside the kids watch. Some high-tech models even allow you to set a limited perimeter, alerting you when your child steps out of it.
It has been estimated that approximately 800,000 children are reported missing each year within the U.S. (1). If your child goes missing when they're wearing one of these devices, you can find their location quickly.
Even if the watch is removed or broken, it will still transmit where it last was. Many parents say that their child wearing a GPS watch gives them some peace of mind, particularly after the youngster starts school.
How to Choose a GPS Watch for Kids
---
Final Thoughts
Investing in a GPS watch for your child can prove to have many benefits. You will always know approximately where your child is and call them when you need them.
The best kids' GPS watches include an SOS button, two-way calls, durable materials, and a fun camera. You should also look for high accuracy that only true GPS can provide.
Teach your child this isn't a toy and that the SOS button is only for emergencies. Also, get a compatible SIM card so you can stay in contact at all times.
Thank You For Your Feedback!
Thank You For Your Feedback!