Teaching your child how to ride a bike is one of the joys of parenthood. But it can be challenging to find a good bicycle for that first lesson.
Balance bikes are relatively new to the market, and although they come highly recommended, the selection is still limited.
Our goal was to find the best balance bikes for beginner bikers, but it was challenging to find options that meet our high safety and durability standards while still being easy to operate for young children.
However, we persevered and found eight terrific bikes we highly recommend for any new learner. Join us as we explore these options, showcasing their best features and pointing out any limitations — so you can make an informed decision for your little biker babe.
Image
Model
Product Comparison Table
Features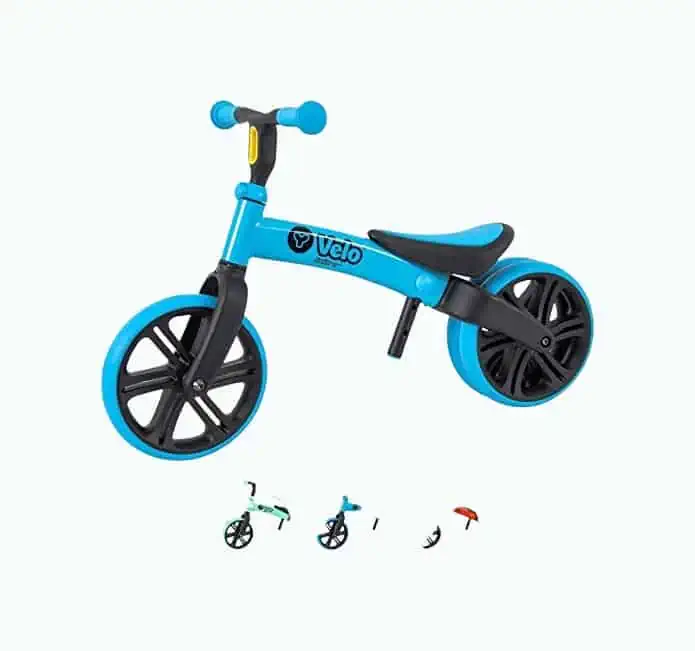 Best Overall
Yvolution Y Velo Junior Bike
Fully adjustable
Lightweight child-friendly frame
Puncture-proof, extra-large wheels
Best Lightweight
TheCroco Balance Bike
Packed with safety features
Sturdy frame
Breezy set-up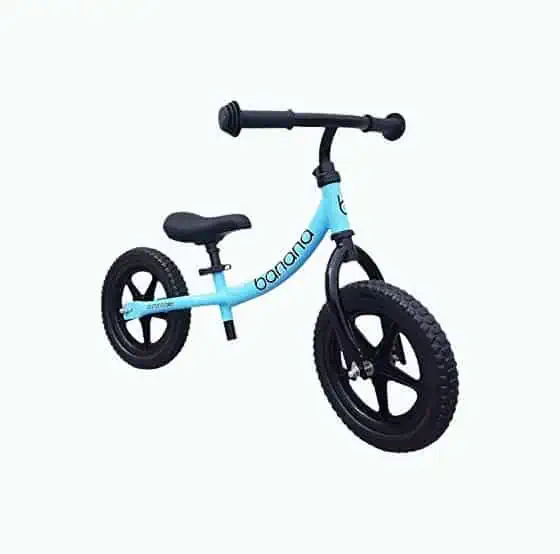 Best for Toddlers
Banana Bike LT Lightweight Bike
Ultralight frame
Adjustable seat
Better traction
Best Convertible
Strider Balance to Pedal Bike
Two-in-one balance bike
Fully adjustable
Soft grips
Best for Girls
Joystar Roadster 12-Inch Kids Balance Bike
Vibrant colors
Soft handlebar
Useful footrest
Best for 4-Year-Olds
Retrospec Cub Kids Balance Bike
Multiple color options
Safe design
Maintenance free
Best for Boys
Gomo Balance Bike
All-terrain bike
Great place to start
Sturdy construction
Best 12-Inch Balance Bike
Schwinn Skip 2 Balance Bike
Durable frame
Balance-friendly design
Easy to adjust
Review Methodology: At Mom Loves Best, we pride ourselves on our thorough assessment and analysis of products like balance bikes. Our dedicated team of experts research, test, and compare each product using a stringent set of criteria and benchmarks. We evaluate every bike from a user's perspective, examining factors such as design, safety features, durability, and user-friendliness. Our hands-on experience and data-driven reviews provide you with the facts so you can make an informed decision. We identify key decision-making factors such as adjustable seat height, weight, tire type, and frame material, scoring each product according to its performance in these areas. Our aim is to help you find the balance bike that sets itself apart from its competitors and is the best fit for your child.
---
---
The Best Balance Bikes of 2023
Here are eight of the top balance bikes on the market.
Yvolution Y Velo Junior Balance Bike
Best Balance Bike Overall
For the best overall balance bike, we've chosen the Y Velo Junior from Yvolution. It has received nothing but praise from parents with young children between 18 months and 5 years.
This bike is an excellent place to start when your little one is learning how to ride. Both the seat and handlebars are adjustable, meaning the bike can grow with your child for a couple of years. The bike itself will support up to 45 pounds.
We love how large the wheels are — they enable your child to ride on various surfaces without tipping over. It's available in multiple vibrant colors, suitable for boys and girls.
What We Like
Fully Adjustable
For developing children, adjustability is always a huge plus — they grow like bean sprouts. The Y Velo Junior allows for adjustments to the seat and the handlebar.
The minimum height for the seat is 11 inches. As your child grows, you can raise the height up to 14.17 inches.
The seat also has a unique beam design, allowing your child to glide forward or backward, depending on their height.
Lightweight Child-Friendly Frame
We appreciate how lightweight the frame is, weighing a mere 7.7 pounds. It enables the rider to pick the bike up themselves. It has a durable aluminum construction that's elevated to provide ample clearance for going over uneven terrain.
Puncture-Proof, Extra-Large Wheels
The extra-large wheels are a fantastic feature on this bike. My kiddo is always biking over uneven terrain like grass or gravel. These large wheels help to level out bumps, assisting the rider's balance.
Your child can ride as long as they like with less maintenance required, as puncture-free rubber tires complement the wheels perfectly. Plus, they match the bike's color, adding to the child-approved appearance.
Ergonomic Handles for a Comfy Grip
Yvolution got it right with the handles. They're ergonomically designed to fit small hands comfortably.
What We Don't Like
Accessories Aren't Included
There aren't many bad things we can find to say about this bike. However, it doesn't include any child-friendly accessories like a basket.
Product Specs
| | |
| --- | --- |
| Color | Green, blue, or red |
| Recommended age | 18 months to 5 years |
| Adjustable handlebar and seat | Yes |
| Maximum weight | 45 pounds |
| Item weight | 7.7 pounds |
Our Ratings
Community Feedback
I recently got this balance bike for my little one, and it has been an incredible experience watching them learn and grow. Not only are they gaining confidence in their ability to ride, but they're also having a blast doing it! The bike is sturdy and well-built, providing a smooth ride for my child. I was impressed by the customer service when I needed a replacement screw, as they quickly sent out a new set. This bike has been a fantastic addition to our family's outdoor activities, and I love seeing my child's progress every day. One small improvement I'd like to see is the addition of brakes for when they go down hills, but overall, this balance bike has been a wonderful investment.
---
TheCroco Balance Bike
Best Lightweight Balance Bike
Balance bikes aren't exclusively for toddlers and preschoolers. They also work wonders for older kids who haven't learned to ride or want a challenge. They're fantastic for older kids with special needs who are just reaching an appropriate time to begin biking.
This bike from TheCroco receives a lot of praise from parents. It has 12-inch wheels and is suitable for children aged 2 to 5, but many people say it also works great for older kids.
The paint on this bike is fantastic and would last for years, and the bike doesn't need any tools for adjustments.
It's an effortless set-up, only requiring a little experience to complete. Then it's all about ensuring your child can safely learn to ride.
What We Like
Packed with Safety Features
TheCroco put safety as a top priority when constructing this balance bike. It has high-quality sealed bearings that last for years, padded seats and handlebars for a comfortable ride, and an aluminum frame that won't rust.
Sturdy Frame
The frame's sturdiness is outstanding. While it may be lightweight, it can support a child of up to 7 years old. The bike is backed by a warranty, guaranteeing repair or replacement if something should fail.
The praise this bike receives from parents of older kids learning how to ride is exceptional. It's suitable for all kids, whether they're late learners or have special needs.
Breezy Set-Up
TheCroco ships the bike partially assembled. All you do is slide the handlebar and seat into position, adjust the height, and secure it.
What We Don't Like
May Not be for Taller Kids
Although older kids can use it, some parents mentioned that taller kids might dislike the idea of using this balance bike.
Product Specs
| | |
| --- | --- |
| Color | Black, blue, bright orange, green, pink, purple, red |
| Recommended age | 2 to 5 years |
| Adjustable seat | Yes |
| Maximum weight | Not specified |
| Item weight | 4 pounds |
Our Ratings
Community Feedback
As a parent of two toddlers, I found these balance bikes to be a fantastic investment for my little ones. They quickly got the hang of riding them and even started mastering more advanced skills like coasting downhill with their feet up. The bikes are lightweight and easy to assemble, making them perfect for young children to maneuver independently. My only concern was the abrasive grip tape on the footrests, which caused some discomfort for my kids, but I appreciate that the manufacturer is addressing this issue.
---
Banana Bike LT Lightweight Balance Bike
Best Balance Bike for Toddlers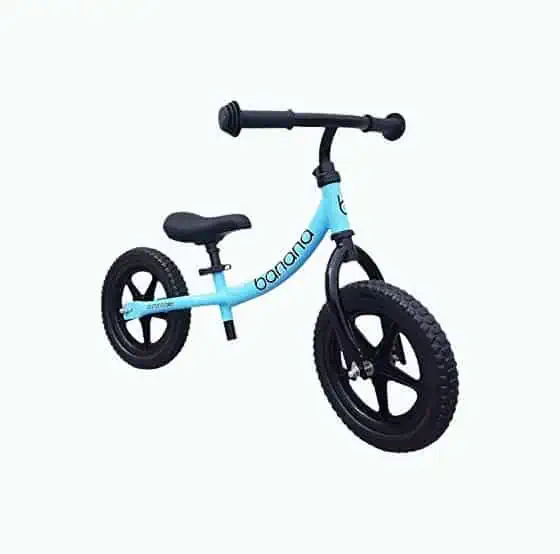 With balance bikes, your child must have two feet fully on the ground while seated. For toddlers, we recommend this bike from Banana Bike.
It's advertised to suit children up to 5 years. However, user reviews deem it best for toddlers aged 3 and under.
The Banana Bike is featherlight, and this LT version is an upgraded model with a durable seat, safe grips, and EVA wheels.
One of the best features is the adjustable seat. The minimum height of 12.2 inches is suitable for 2-year-olds. The bike has received good reviews from parents, so we're confident your toddler will love it.
What We Like
Ultralight Frame
This upgraded version is even lighter than the previous one. Weighing only 6.4 pounds, it's also one of the lightest on our list today.
The bike has a banana-shaped frame that creates a low center of gravity. Despite its low weight, it's durable and made of premium parts.
Adjustable Seat
The adjustable seat is a great feature for growing toddlers. However, the maximum seat height is 15.7 inches, which most parents deem small for a 4-year-old and certainly not high enough for the advertised maximum age of 5.
For toddlers, the Banana Bike is a good pick. It adjusts effortlessly using the quick-release clamp. Your toddler can keep their tootsies firmly on the ground. Another great feature is the ultra-comfy yet durable updated seat.
Comfortable Grip
Other updated details on the Banana Bike are the cushioned handlebars. They offer a secure grip that is comfortable for your toddler's long rides. The handles are slightly textured, helping your little one hold on better.
Better Traction
The bike is suited with puncture-proof EVA wheels. These are lightweight and textured to provide superb traction. Your toddler can ride over various surfaces without affecting the steering.
If needed, the handlebar includes a locking hex clamp, which inhibits it from turning. This can help minimize swiveling while your toddler is learning.
What We Don't Like
The Handlebar Ends Can Come Loose
The updated handlebar ends don't stay on that well. Following crashes or laying the bike down, parents noted that the grips tend to fall off, exposing the metal.
Product Specs
| | |
| --- | --- |
| Color | Pink |
| Recommended age | 2 to 4 years |
| Adjustable seat | Yes |
| Maximum weight | 55 pounds |
| Item weight | 6.4 pounds |
Our Ratings
Community Feedback
In my experience, this balance bike has been an excellent choice for my son's first bike. It helped him quickly gain confidence and skills, as he went from cautious scooting to coasting with legs up in just a week! Although the wheels aren't traditional rubber, they've proven to be durable, and it's a plus that we don't have to worry about keeping them inflated. The vibrant color and sturdy materials make it an attractive and reliable option for young riders. My son has enjoyed riding it on various terrains and is now eager to transition to a bigger bike with pedals, well-prepared by his time on this balance bike.
---
Strider 14X Balance-to-Pedal Bike
Best Convertible Balance Bike
If you're searching for a bike your child can use for a long time, we recommend a convertible. A good example is this one from Strider. It includes a pedal kit to convert it once the rider is ready.
The Strider 14x looks like a big-kid bike and can help build your little one's confidence. It's suitable for children between the ages of 3 and 7, with an adjustable seat and handlebar.
It's a sturdy bike, made to last until your child outgrows it. The tires are air-filled rubber, compatible with standard pumps.
The frame weighs 12 pounds without pedals, so it isn't the lightest on the market.
What We Like
Two-In-One Balance Bike
Some parents find it difficult to choose between a balance bike or a pedal bike, so if you're unsure, this is a great choice. Since it's a convertible, you can attach the pedals if your child doesn't like the balance version or when you feel they're ready for pedaling.
The included kit contains everything you need to make the switch, including thorough instructions. With the pedals and chain, there's also a guard to prevent any potential injuries.
Fully Adjustable
You can lower or lift the handlebar and seat. The seat has a minimum 16-inch height with a maximum height of 23 inches.
The seat is easy to adjust using the clamp system. You simply open it up and lift the saddle before tightening the clamp. However, the handlebar requires a wrench to adjust.
Soft Grips
Strider has fitted the handles with soft materials to ensure hours of comfortable riding. This also secures the rider's grip, giving your child some extra confidence.
What We Don't Like
No Brakes
The bike has no brakes, which many parents feel should be included. It's not ideal when transitioning to pedals.
Product Specs
| | |
| --- | --- |
| Color | Awesome blue or fantastic green |
| Recommended age | 3 to 7 years |
| Adjustable seat | Yes |
| Maximum weight | N/A |
| Item weight | 12 pounds |
Our Ratings
---
Joystar Roadster 12-Inch Kids Balance Bike
Best Balance Bike for Girls
We wanted to include the Joystar balance bike as an option exclusively for girls. It's adorable, decked out in pink and white, with subtle flowers here and there.
The Joystar balance bike has a lot to offer for a beginner. It features a padded handlebar to protect your little one during sudden stops. It's also constructed with a solid frame, capable of surviving the rigorous learning phase.
Another unique feature is the footrest. It sits in the middle, simulating where your child would put their feet on a pedal bike.
The bike is suitable for children aged 1.5 to 4 years. It has an adjustable seat ranging from 12.6 to 16.5 inches.
What We Like
Vibrant Colors
We adore this pretty-in-pink theme. It's vibrant and eye-catching, perfect for little girly girls.
The pink and white colors complement each other well, making for a popping combo. Your child will be clearly visible while out riding.
Soft Handlebar
The worst part about being a small biker is that hard metal frames can hurt, especially the handlebar.
Joystar thought of that and included soft padding in the middle of the bar. If your little one should come to a sudden stop, it won't hurt if they accidentally hit the bar.
Lightweight Frame and Durable Tires
The balance bike is based on a steel frame that's sturdy and lightweight. It weighs approximately 7.5 pounds and is easy for your little one to pick up.
The bike itself is fairly low-maintenance. The tires are 12-inch EVA polymer foam, so they don't require air. They're also rust-resistant and will be able to carry your little one for years.
Good-To-Have Footrest
A small footrest sits in the middle of the frame under the seat. This position helps the rider find their center of gravity while cruising along. It's also where they'll put their feet when they upgrade to pedals.
What We Don't Like
The Handles Are Fragile
Although the handles are soft and comfortable to grip, they're pretty fragile. They show signs of wear relatively quickly.
Product Specs
| | |
| --- | --- |
| Color | Pink or red |
| Recommended age | 1.5 to 4 years |
| Adjustable seat | Yes |
| Maximum weight | N/A |
| Item weight | 7.5 pounds |
Our Ratings
---
Retrospec Cub Kids Balance Bike
Best Balance Bike for 4-Year-Olds
For 4-year-olds, we recommend this balance bike from Retrospec. It's a safe bike with some flair for fun-loving kids. It comes in 7 color combinations, excellent for boys or girls.
The bike is CPSC compliant, featuring air-free tires and a safe design that minimizes the chance of injuries. It features a footrest in the middle of the frame and is a great bike to learn on.
The banana-shaped design promotes balance with its low-lying frame. The handlebars and seat are both adjustable to support your growing child.
What We Like
Multiple Color Options
Four-year-olds love color, and the fun factor is in full gear on this bike. The Cub is available in multiple color options, meaning there's something for every kid. All the combos are vibrant and eye-catching for a preschooler.
Safe Design
The no-pedal design is safe because your child always has their feet close to the ground. Retrospec adds to it a little further, ensuring the design of the frame optimizes safety.
It's a high-tensile steel frame, providing outstanding durability. The low profile helps your little one get on and off quickly. Also, the small footrest helps them keep a centered balance while cruising.
Maintenance Free
The materials used require minimal maintenance. High-tensile steel is long-lasting and able to withstand tumbles. The no-air tires are puncture-proof and capable of riding over various terrains.
What We Don't Like
Steering Is a Bit Stiff
A few reviewers pointed out the steering seems stiff, even after months of use. It's not easy for small riders to make sharp turns without having to use some strength.
Product Specs
| | |
| --- | --- |
| Color | 7 color combinations |
| Recommended age | 2 to 5 years |
| Adjustable seat | Yes |
| Maximum weight | Not specified |
| Item weight | 9 pounds |
Our Ratings
Community Feedback
If you're looking for a balance bike for your toddler, this one could be a hit or miss depending on your child's size and comfort level. I got this for my grandson, and while the quality and design are great, the base sticks out a bit, causing his feet to jut out in an unnatural position. However, my niece found it comfortable and easy to use, quickly gaining confidence and speed. Keep in mind that it may not be suitable for smaller or shorter children, but for some, it's a cute and affordable alternative to pricier options.
---
Gomo Balance Bike
Best Balance Bike for Boys
This product from Gomo is worth a look. It's an all-terrain balance bike, perfect for thrill-seeking boys.
The bike features a turn limiter to ensure your little stuntman won't get into too much trouble. This helps him master his balance without severe swiveling. It's also suited with through-wheel axles as well as an extra padded seat to reduce bumps.
The Gomo is sturdily built. It can carry up to 60 pounds and allows for adjustments for the growing child. It's suitable for children between the ages of 1.5 and 5 years.
What We Like
All-Terrain Bike
Because of the sturdiness of the Gomo balance bike, it's capable of going off-road. The through-wheel axles prevent the wheels from dislodging, even when the road is bumpy.
The seat features extra padding to avoid jarring when your little one hits a bump in the road.
This bike has easy-grip handles to keep the rider comfortable and provide a secure hold. The 12-inch wheels are puncture-proof and can easily glide over gravel and other uneven surfaces.
Great Place to Start
Gomo wants to ensure your little boy masters the art of balance before giving him full reign with the steering. The turn limiter keeps him from swiveling out of control while riding along the path. Then he can put his feet on the footrest once he has built up speed.
Sturdy Construction
Safety aside, the thing we appreciate the most about this balance bike is its sturdiness. It's a lightweight yet highly durable frame, and it's backed by a two-year warranty. The bike weighs a staggeringly light 6.4 pounds, fantastic for getting back up quickly.
What We Don't Like
The Wheels Are Slippery
We found that the wheels can be quite slippery on smooth surfaces. It's not a huge issue since it's a balance bike, but many noted it to be something to watch out for.
Product Specs
| | |
| --- | --- |
| Color | Black, pink, or red |
| Recommended age | 1.5 to 5 years |
| Adjustable seat | Yes |
| Maximum weight | 60 pounds |
| Item weight | 6.4 pounds |
Our Ratings
Community Feedback
I'm thrilled with this balance bike, as it was not only easy to assemble but also served as a fantastic starter bike for my granddaughter. The lightweight and adjustable design allowed her to easily hold it up and ride comfortably. However, I did notice that the handlebars and seat occasionally sank down due to the clamp not holding securely, but it wasn't a major issue.
---
Schwinn Skip 2 Toddler 12-Inch Balance Bike
Best 12-Inch Balance Bike
This bike size is perfect for children between 2 and 4 years, and the Schwinn Skip 2 is a great pick. It's a BMX-inspired balance bike sporting a grayish coat with vibrant red rims and handles.
It's constructed from durable steel and designed with a low center of gravity to help your child balance. The 12-inch wheels are made of soft-riding EVA foam, adding some suspension to level out bumps.
You can adjust the seat effortlessly using the quick-release collar. The bike is fun for boys and girls and is available in ten colors. Schwinn also includes a limited lifetime warranty.
What We Like
Durable Bike
The steel frame and EVA foam tires make the bike durable. It's meant to grow with your child and has a "big-kid" look that is appealing to young children.
Balance-Friendly Design
We love the design of the Schwinn Skip 2. The low-profile frame promotes a low center of gravity, helping your little one find their balance. The outstanding reviews suggest this bike is worth considering.
Easy to Adjust
Adjusting the seat couldn't be easier. It features a quick-release system, allowing you to alter the height without tools. You can even do it with one hand.
What We Don't Like
Difficult to Assemble
The assembly is less than straightforward. Expect it to take at least an hour. Some of the nuts are hard to turn, and a few of the parts aren't good quality, making them fragile while assembling.
No Padding on the Handles
There isn't any padding on the handles, only a thin layer of rubber or plastic material. The handles are hard to hold on to and don't promote a secure grip.
Product Specs
| | |
| --- | --- |
| Color | Gray and red or teal |
| Recommended age | 2 to 4 years |
| Adjustable seat | Yes |
| Maximum weight | N/A |
| Item weight | 14 pounds |
Our Ratings
---
How to Choose a Balance Bike
These are some essential considerations if you're trying to find the best balance bike possible for your little one.
Why Buy a Balance Bike?
Balance bikes are gaining popularity among parents because they eliminate the need for training wheels. They speed up the process and teach the rider to focus on balancing as opposed to pedaling (1).
A correctly sized balance bike can help your child ride without training wheels. They make it fun for small children to learn — it's easy, and almost every toddler can master it.
Your little one also gets to build leg muscles, coordination, and confidence. All of that will help them transition to a pedal bike.
Some children may feel intimidated if it's their first-ever introduction to a bicycle. If that's the case, take them to a place where the ground is even and paved.
These bikes can take some time to get used to, but it's all about patience. Your child will soon gain confidence, and you can encourage them to lift their feet from the ground. A few models come with footrests that assume the position where the pedals would be.
Advantages of Balance Bikes
Boosts confidence.
A safer way of learning how to ride.
Lots of styles — such as BMX, classic, or retro — to choose from.
They're versatile — there's one for every type of child.
There's a wide price point suitable for each budget.
Disadvantages of Balance Bikes
Balance bikes are easy to outgrow once your child has mastered their balance.
They're not a necessity — kids can learn how to bike without them.
---
Thank You For Your Feedback!
Thank You For Your Feedback!