Is your little girl ready for her first bike? Or is she old enough to upgrade to a woman's bicycle?
There's something so cute about a girl riding around on a bicycle, especially when they are little.
Girls' bikes are often colorful and themed. The line between a fun girl's bike and a toy is narrow though. It's easy to end up with something that's not going to last, especially with the small sizes.
It's essential to look beyond the fun appearance and take note of useful features and durability. We'll help you out by filtering the good from the bad, presenting the best girls' bikes.
Image
Model
Product Comparison Table
Features
Best 20-Inch for Girls
RoyalBaby Kids Bike
Safe braking system
Child-friendly structure
Lightweight frame
Best 24-Inch for Girls
Sixthreezero Around the Block
Comfortable ride
Durable construction
Easy to assemble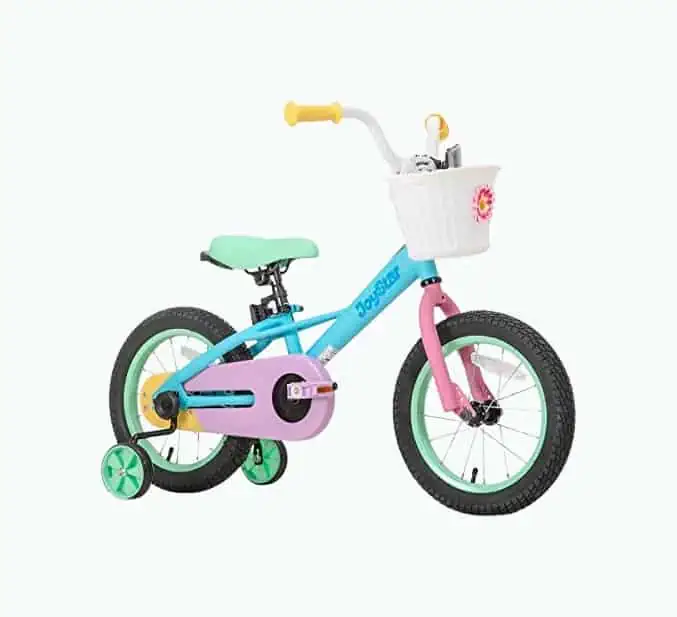 Best 12-Inch for Girls
Joystar Kids Bike
Color popping design
Sturdy frame
Excellent starter bike
Best 14-Inch for Girls
Coewske Kid's Bike
Outstanding design
Two brakes included
Air-filled tires and chain guard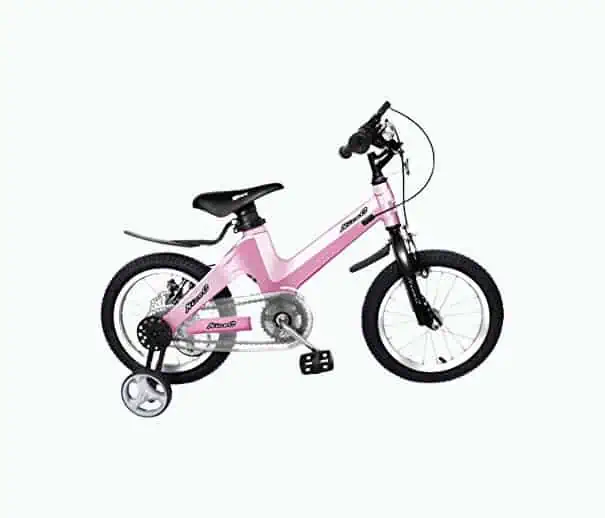 Best 16-Inch for Girls
Nice C BMX Girls Bike
Durable BMX-inspired bike
Thick tires
Dual brakes
---
---
The Best Bikes for Girls of 2023
Here are the top five bikes for girls.
RoyalBaby Kids Bike 20-Inch
Best Girls' 20-Inch Bike
One girls' bike with great reviews is the RoyalBaby bicycle. It resembles a grown-up model with all the features an adult would look for, but in a kid-friendly size.
The main feature of the RoyalBaby bike is the dual brake system. This means that the brake is located both in the front caliper and in the rear coaster, potentially preventing accidents. Furthermore, its steering limiter prevents the handlebar from overturning thus making sure that your child is safe from sharp turning.
This is the 20-inch bike, with a lightweight steel design — it does come with other wheel sizes as well. It's suitable for girls aged eight or nine, with inseam length ranging between 22 to 25 inches. The seat is adjustable and included are decals to make the bike more fun.
The bike comes partially assembled, and many parents praised how easy it was to put the rest together.
What We Like
Safe Braking System
One of the things I fear the most when my little one is riding their bike is a head-over-handlebar accident. As a kid, I encountered this several times, and it's not something I want my child to go through. RoyalBaby dual brake system works to prevent this.
Child-Friendly Structure
The geometry of the RoyalBaby bike is perfect for a child. The company has optimized everything for children, from the miniature grip length perfect for small hands, the seat with a handle that's easy to hold during teaching, and the training wheel legs that can hardly be bent.
The result is a safe structure with a lower seat, giving your girl a better chance of sitting in an optimal position.
Lightweight Frame
RoyalBaby puts a lot of emphasis on safety, and a key point is a lightweight frame. As your child upgrades to larger sizes, the bikes become inevitably heavier. Some can feel more like tanks than girls' bicycles.
The bike weighs 24.9 pounds, which most kids can lift. Despite being light, it's durable and will be likely to last for years, perhaps even becoming a hand-me-down to a younger sibling.
Cute Decals
The bike comes partially assembled, with cute decals included. Depending on the color your child picks, it has different stickers to decorate it.
What We Don't Like
Issue With the Rear Reflector
The only concern about using the bike is that the rear reflector cannot be used in conjunction with the kickstand. You have to choose whether to use either the kickstand or the rear reflector. The bike mechanic can perhaps give assistance to this.
Product Specs
| | |
| --- | --- |
| Age range | 8 to 9 years |
| Recommended height | 53 inches to 57 inches |
| Color | Blue, fuchsia, green, orange, pink, red, white |
| Adjustable seat | Yes |
| Bike weight | 24.9 pounds |
Our Ratings
---
Sixthreezero Single-Speed Women's Cruiser Bike
Best Girls' 24-Inch Bike
Once your girl is 9 years old, she's ready to upgrade to an adult-like bike, and we've found a great one. The Around the Block Cruiser from Sixthreezero is a good introduction to grown-up bicycles.
It's a classic design with 24-inch wheels and a 14-inch steel frame. It encourages an upright riding position for a casual cruise around the neighborhood or to the beach with her friends.
Everything is optimized for comfort, including a dual-spring seat and wide handles with soft foam grips. The 24-inch wheels come with treaded tires for a cushioned ride.
The bike also features a seven-speed gear, excellent for any leisure or commute ride. Your girl will feel confident and stylish.
What We Like
Classic Design
This bike will help your girl feel self-assured and grown-up. The classic, curved design of the frame makes it the perfect beach or recreational cruiser.
The white-wall tires add a retro edge, making it eye-catching. It's available in various colors, but we're in love with this teal and black combo. It's feminine without being too girly.
The high and wide handles are the last, and best, complement to the cruiser. Just verify that she's ready for a bike this size.
Comfortable Ride
Everything about this beach cruiser screams comfort. The seat features dual-spring padding — it's wide and will be soft to sit on for long rides.
Your child will enjoy sitting in an upright position. It's less wearing on the back and shoulders, allowing the cyclist to ride for longer.
Additionally, the low-pedal design makes the bike a little less intimidating for young riders. Moving up to a 24-inch size isn't always easy. Having your feet closer to the ground helps.
Durable Construction
This cruiser is made to last for years. The frame is a 14-inch steel structure, which offers ample durability, even for the oldest rider. It's suitable for girls ranging between 4 feet, 2 inches and 4 feet, 11 inches.
Sturdy wheels are another crucial point, and these do not disappoint. They're 2.125-inch wide aluminum wheels, suited with large tires for added stability and a smooth ride.
Easy to Assemble
The bike arrives 80 percent assembled. Most reviewers said the needed construction was straightforward and didn't take long to complete.
Also, both the handlebars and seat allow for adjustments, which many reviewers said was quick to do. All you need is an Allen wrench for the handlebar, and you're ready to adjust.
What We Don't Like
Not for Uneven Surfaces or Hills
The bike is not an off-roader, nor great for hills. Even with the gears, a few users pointed out that it was an unnecessary struggle. It's best as a cruiser around paved neighborhoods or cities.
Product Specs
| | |
| --- | --- |
| Age range | 9 years and up |
| Recommended height | 4 feet, 2 inches to 4 feet, 11 inches |
| Color | Mint green and black |
| Adjustable seat | Yes |
| Bike weight | 34 pounds |
Our Ratings
---
Joystar Macarons 12-Inch Kids Bike for Girls
Best Girls' 12-Inch Bike
This 12-inch girls' bike from Joystar is a sturdily built, ultra-cute bicycle, fantastic for little girls who love popping colors.
This size of bike is recommended for children aged two to four. Suitable for girls measuring 33 to 41 inches, this bike includes a set of training wheels to help your little one develop her balance and gain confidence.
Your little girl will love riding this bike. It features a coast brake, comfortable seat, and air-filled tires. It's a single-speed, meaning there are no gears to fumble with or high speeds to worry about.
What We Like
Color Popping Design
Who said girls' bikes had to be pink? This Joystar bicycle sports five vibrant, pastel colors all in one design. They include pink, purple, yellow, green, and blue, with matching training wheels.
The colors are eye-catching, which likewise makes your little one more visible while out and about. It's also customizable — some parents attached baskets and baby doll seats to make it more playful.
Sturdy Frame
Joystar constructed the frame using hi-ten steel, formally known as high-tensile steel. It's an ideal material, especially for kids' bikes since it's lightweight and flexible.
It can last for years without showing significant signs of wear because of its resistance to environmental factors like heat and cold.
Joystar also includes a limited lifetime warranty.
Excellent Starter Bike
Experts generally recommend either balance bikes or training wheels for 2 to 4-year-olds. Training wheels are the old-school way of teaching your child how to ride a bicycle and remain the most common. Joystar includes a set of matching training wheels you can attach if needed.
Once your little one has established a good sense of balance, you can remove them and let her grow with the bike. The seat adjusts, so there's plenty of room to develop.
What We Don't Like
Heavy
This bike is considerably heavy, weighing in at 19.8 pounds. It's not ideal for petite novice users, but since there are training wheels, they hopefully won't tip over too often.
Product Specs
| | |
| --- | --- |
| Age range | 2 to 4 years |
| Recommended height | 35 to 43 inches |
| Color | Multi-colored design |
| Adjustable seat | Yes |
| Bike weight | 19.8 pounds |
Our Ratings
---
Coewske Kid's 14-Inch Bike
Best Girls' 14-Inch Bike
For 4- to 6-year-olds, we present this girls' bike from Coewske. It's a sporty yet elegant bicycle, ready for a sassy preschooler or kindergartner.
With a low-frame structure, It's an eye-catching design for a kid's bike. Reviewers commend how their girls love the design and dubbed it a "big-kid" bike with a girly-girl color.
The bike includes a lot of big-kid features such as both a coaster brake and handbrake for easy stopping. It's suited with large 2.125-inch wide, durable rubber wheels, which are air-filled to provide a smooth ride.
To protect your girl's ankles from the chain, Coewske attached an extended chain guard, which also works as a footrest. On the handles are flanged grips that ensure a secure hold.
What We Like
Outstanding Design
The low-profile frame adds a subtle touch of femininity to this kid's bike. It's not a conventional design, making the bike stand out.
Your girl will love the pink color. It isn't overbearing, but a cute baby-pink with contrasting black tires. If your daughter prefers, it's available in purple, white, yellow, or blue.
Two Brakes Included
Teaching your child how to brake is just as important as how to get going. The Coewske bike is fitted with two brakes — one coaster, controlled by the pedals, and one handbrake. They're easy to operate for small drivers and are a great introduction to big-kids' bikes.
Also included are optional training wheels that are quick to attach if needed. They even match the color of the bike.
Air-Filled Tires and Chain Guard
Air-filled tires are often the best choice as they're the most durable option. The air inside the tires helps to make the ride as smooth as possible by adding some suspension.
A large chain guard is attached to protect your little one from potential ankle or lower leg injuries. It's enclosed fully, so there's no way to get small fingers inside either.
Straightforward Assembly
Assembling the bike couldn't be easier. There are thorough instructions included, as well as the necessary tools. Many parents noted it took less than 30 minutes to get it ready — if there were any issues, customer service was responsive and helpful.
The frame is already intact with the wheels. All you need to do is attach the pedals, handlebar, and saddle.
What We Don't Like
Hard to Turn
Some parents noted the handlebar isn't easy to turn, and requires a bit of muscle while going. This prevents your little one from doing a 90-degree turn.
Heavy Bike
The bike is quite heavy, weighing in at 21.4 pounds. It's something to consider if you're buying it for a 3-year-old.
Product Specs
| | |
| --- | --- |
| Age range | 3 to 6 years |
| Recommended height | 31 to 48 inches |
| Color | Pink, yellow, blue, purple, or white |
| Adjustable seat | Yes |
| Bike weight | 21.4 pounds |
Our Ratings
---
Nice C BMX Girls 16-Inch Bike
Best Girls' 16-Inch Bike
A high-quality bike with an ultra-light frame is a good description of our choice for the best 16-inch bike. It's a BMX-inspired bicycle, based on a heavy-duty magnesium alloy metal frame. The bike is suitable for girls aged 6 to 8 years.
It's a one-piece frame, meaning there was no welding involved in the construction. The result is a much more durable build. The bike features extra-thick tires as well as optional training wheels.
Your child can go almost anywhere with this Nice C bike. The thick tires deliver outstanding shock absorption, and the lightweight design makes the bike easy to steer. It also features a dual braking system for an efficient stop.
What We Like
Durable BMX-Inspired Bike
Nice C used some outstanding materials when constructing this bike. Magnesium alloy metal is lightweight, yet its strength is tremendous — it's much more elastic than aluminum.
By avoiding any welding procedures and keeping to a one-piece frame, Nice C ensured it's a bike that'll last. Having everything in one piece is also safer in case of an accident. There are fewer chances that parts will break and hurt your child.
Thick Tires
Since Nice C advertises this bike as a BMX type, it's only to be expected that the wheels are for off-roading. And they are. The tires are air-filled and made with double layers of rubber.
The additional layers allow for superb shock absorption. They will enable your child to ride on almost all surfaces, be they paved or off-road. Even the included training wheels can handle adventures on unpaved paths.
Lightweight Frame
Nice C puts a lot of emphasis on the lightness of the bike. Compared to other similar, same sized bicycles, this one is significantly lighter weighing in at 18.5 pounds.
The lightness makes it super easy to maneuver for young riders. Seeing that it's suitable for children aged six to eight years, it won't cause significant injury should it fall on them.
Dual Brakes
To make braking efficient, Nice C fitted the bike with a dual brake system. It consists of a traditional v-brake controlled by a hand lever. This is then coupled with a disc brake attached to the rear wheel.
The rider controls both wheels by the touch of the lever. Having full control of the front and back can also prevent head-over-handlebar accidents.
What We Don't Like
Problems with the Tubes
Quite a lot of parents have reported issues concerning the tubes that hold the air inside the tires. Many of them had holes, which caused air to escape. It seems, though, that this was a quality control error, and most reviewers received prompt replacements.
Product Specs
| | |
| --- | --- |
| Age range | 6 to 8 years |
| Recommended height | 41 to 55 inches |
| Color | Pink, champagne, or yellow |
| Adjustable seat | Yes |
| Bike weight | 18.5 pounds |
Our Ratings
---
How to Choose a Girls Bikes
---
The Takeaway
When choosing a bike for your girl, pick one with a frame structure that promotes a comfortable position. It should also have good, usable brakes and a lightweight frame.
To make sure you get the right size bike, remember to use your child's height and inseam as a guide. Find a fun design your girl will love, but remember it has to be durable and not merely a toy.
Thank You For Your Feedback!
Thank You For Your Feedback!