Bike buying can be confusing, especially when you're looking for one for your child. You want to get one of the best bikes for 8- to 11-year-olds, but you don't know where to start. We can help you with that.
The most suitable bicycle for this age group is usually a 24-inch. But these are large, and it can be challenging to find one with child-friendly features.
Whether your pre-teen wants something fun or a little more grown-up, the best 24" kids' bikes cater to all needs. We've put together for you a buyer's guide and reviewed the eight best bikes in this category to give you some inspiration.
Image
Model
Product Comparison Table
Features
Best Overall 24-Inch
Raleigh Alysa Kids' Bike
Low standover frame
Excellent for commuting kids
Effortless speed control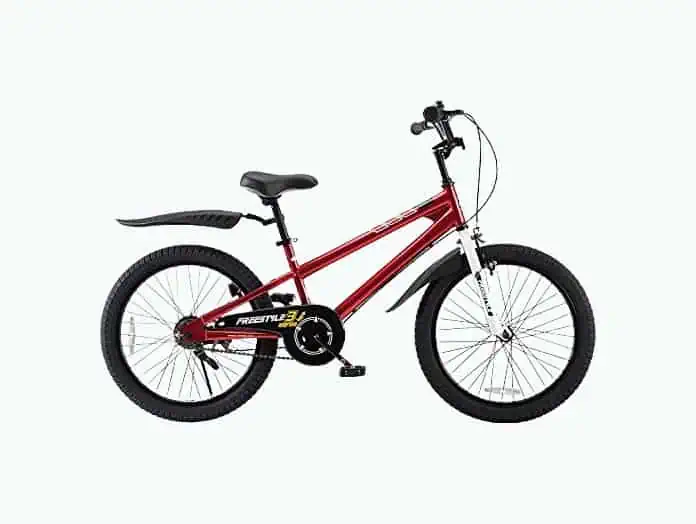 Best Brakes on a Bike
RoyalBaby Freestyle Bicycle
95% pre-assembled
Water bottle holder
Unique seat
Best with Gears
Guardian Kids Bikes Ethos
Surestop technology
Sturdy frame
Easy to assemble
Best BMX-Inspired
Mongoose Title 24 BMX Race Bike
Incredibly durable
Lightweight construction
Assembly is a breeze
Best 20-Inch for Girls
Diamondback Bicycles Tess Youth
Perfect kid-sized mountain bike
Strong brakes
Durable hi-ten frame
Best 20-Inch for Boys
Dynacraft Magna Kids
Excellent for various riders
Rugged frame
Durable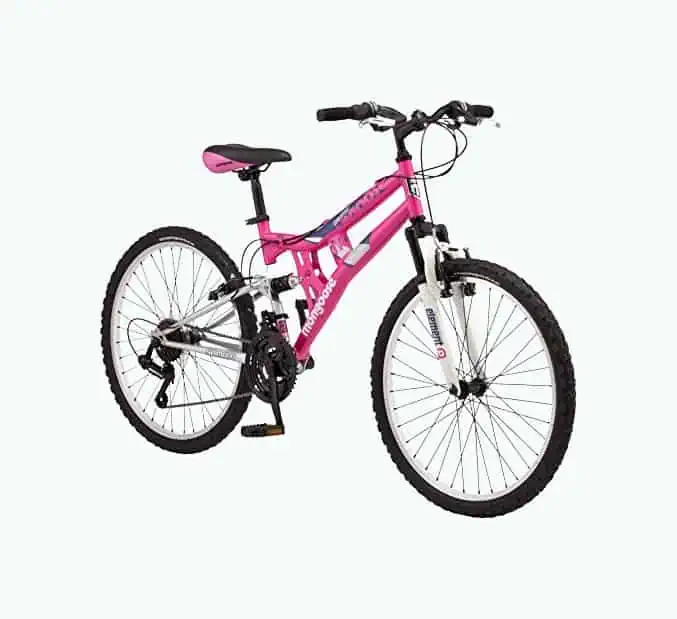 Best Mountain Bike
Mongoose Exlipse
Great all-purpose bike
Alloy wheels
Easy-to-use gear
Best Cruiser Bike
Schwinn Girl's Cruiser Bike
Classic design
Eye-catching colors
Large fenders
---
---
The Best Bikes for 8 to 11 Year-Olds of 2023
Here are the best 24-inch bikes on the market.
Raleigh Alysa 24-Inch Kids' Bike
Best 24-Inch Kids' Bike
This pick from Raleigh is a 24-inch bike designed for the long journeys your kiddo will embark on. With an aluminum frame, constructed as a low standover, the bike is suitable for kids aged 8 to 12.
Thanks to the aluminum material, it is lightweight and easy to maneuver. It works well as your child's ride to school, and it even features seven gears, making long commutes a breeze.
Your child should enjoy riding the bike — Raleigh put a lot of emphasis on comfort. It's suited with soft rubber grips and a road bike seat. The 24-inch wheels are 1.75 inches wide and ensure smooth rolling.
What We Like
Low Standover Frame
Your child might be ready for a bigger bike, but it's still essential they can stand comfortably over the frame. Raleigh designed the Alysa with a low standover frame so your child can feel fully in control. It's easy to get on and off for children between 53 and 61 inches tall.
Excellent for Commuting Kids
Having a comfy bike is the best encouragement for getting out on the road or trail. With seven gears, the Alysa is a great companion for long commutes to school or as the sidekick for the family weekend getaway.
The rider can switch between seven speeds using the included Shimano Reva shifter. It's smooth to turn, even for kids who are still getting used to gears. The big comfy seat prevents sore bottoms, enabling the rider to go for longer.
Effortless Speed Control
Raleigh fitted the bike with Alloy V brakes. These are effortless to use and offer high precision control. It's great for those fine adjustments to the speed as well as efficient stopping.
Smooth-Rolling Tires
This bike is a miniature replica of Raleigh's adult version — it even has the same smooth-rolling tires as the bigger variant has. With the large, stable wheels, riding on the sidewalk or the trail is effortless.
What We Don't Like
No Chain Guard
The bike's chain is exposed. It doesn't feature a chain guard. Long skirts or loose pants could get caught while riding.
Product Specs
| | |
| --- | --- |
| Color | Teal |
| Suitable for ages | 8 to 12 years |
| Recommended height | 53 to 61 inches |
| Bike size | 24 inches |
| Bike weight | 22.1 pounds |
Our Ratings
---
RoyalBaby Freestyle Bicycle
Best Brakes on a Bike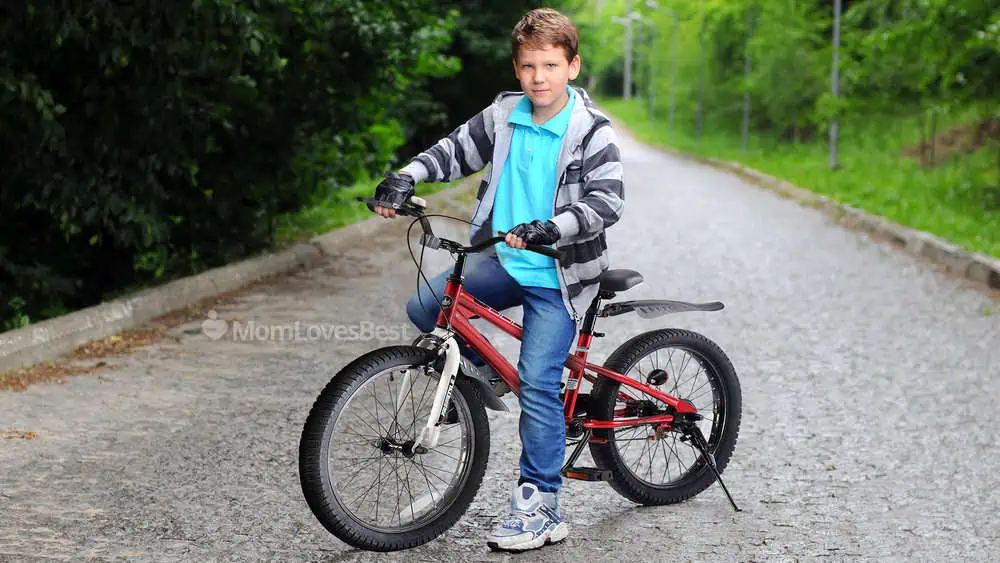 A good quality set of brakes on a kid's bike can make all the difference when it comes to safety. The front caliper brake and rear coaster brakes makes stopping safer and more efficient. There's also a brake lever for added safety. It was designed to be really short so that most kids can easily press it to stop their bike, even if they have small, weak hands.
You should also note that this bike comes in seven different colors. Your child can choose their favorite! It's also available in a variety of sizes, with or without training wheels or kickstands. Check out the chart to find the right size for your child.
What We Like
95% Pre-Assembled
This bike comes nearly fully assembled. So when it arrives, you hardly have to do any DIY before hitting the trails! However, it still comes with assembly instructions and the necessary tools.
Water Bottle Holder
The handy water bottle holder, located behind the seat, is a huge bonus. It's important to stay hydrated while exercising, and this sturdy water bottle holder will keep a big bottle within reach during your whole cycle!
Unique Seat
This unique bike seat is super soft, and equipped with a handle, so it's easy for parents to lift in and out the car. The seat is also adjustable to suit kids of different heights. Adjusting it is super easy, too, due to the quick release.
What We Don't Like
Heavy Bike
The bike is quite heavy. Coming in at over 34 pounds, it can be a bit of a challenge for smaller kids to get the bike going. Some parents said their child struggled to start pedaling as the bike was just too heavy for their little legs!
Cheap Tires
The tires aren't of the highest quality. Customers described them as being cheap. They often deflated, and didn't stay pumped up for long. Some customers also said the tires fell off the wheel. This issue isn't ideal for long cycles around the park!
Product Specs
| | |
| --- | --- |
| Color | Red, blue, fuschia, green, orange, pink and white |
| Suitable for ages | 7 years and up |
| Recommended height | 53.2 to 65 inches |
| Bike size | 20 inches |
| Bike weight | 34.55 pounds |
Our Ratings
---
Guardian Kids Bikes Ethos 24-Inch
Best 24-Inch Kids' Bike with Gears
With a slightly heavier frame than the Original, the Ethos by Guardian Bikes is a great budget-friendly alternative. It features all the best from the famed Shark Tank brand such as SureStop brakes, easy assembly, and fun decals.
The bike is suitable for children between 8 and 11 years, ranging from 49 to 57 inches in height. The 24-inch bike comes with a seven-speed gear — suitable to use for daily commutes or long trips.
Due to the bike's geometry, it's stable, promoting a sound balance, excellent even for the child who's still learning.
Like its lighter big brother, the Ethos comes 95 percent assembled. It requires minimal work on your side, and most parents said they finished the job within 30 minutes.
What We Like
SureStop Technology
With a single lever controlling the brakes for both the front and rear wheel, it's easy to stop in no time. It's efficient, proven to be more than 44 percent quicker than competitive bikes. The innovative system eliminates the chances for head-over-handlebar accidents.
Sturdy Frame
The Ethos is a bit heavier than the Original, weighing in at 26 pounds, but it's sturdy. It's made of a durable steel frame, capable of taking a few tumbles. Your child can ride it until they fully outgrow it, and it will still be fine for the younger sibling to inherit.
Excellent Kid-Friendly Geometry
Guardian Bikes constructed the Ethos specifically for kids — the geometry places the rider low, closer to the ground. The bike enhances their balance, giving them more confidence to ride.
Additionally, it features an extended wheelbase. This structure promotes stability, making the bike suitable for the experienced, or riders who are still learning.
Easy Assembling
One of the most common praises of this bike is how easy it is to assemble. It arrives 95 percent ready, leaving you to attach the front wheel and handlebar. Included are fun water-transfer decals your child can use to decorate the bike.
What We Don't Like
Gear Changes are Difficult
The bike comes with seven-speed gears. A few parents said their child wasn't able to smoothly make gear changes. It's a bit stiff and hard to turn for small hands.
Product Specs
| | |
| --- | --- |
| Color | Black and red; black, blue and green; light blue and blue |
| Suitable for ages | 7 to 11 years |
| Recommended height | 49 to 57 inches |
| Bike size | 24 inches |
| Bike weight | 26 pounds |
Our Ratings
---
Mongoose Title Elite 24-Inch BMX Race Bike
Best BMX-Inspired Kids' Bike
Designed to go fast over tough terrain, the Title 24 BMX race bike from Mongoose is great for adventure-seeking children. It's a 24-inch bike, constructed with a tectonic T1 aluminum frame. The bike is lightweight yet highly durable.
Mongoose designed it with an integrated headset and internal cables running through the frame instead of hanging outside. The clean lines improve the bike's safety, making it ideal for racing or tricks.
The bike will run smoothly across various surfaces, due to its large Arisun XLR8 tires. These sit on aluminum, double-wall rims from Xposure. As for the brakes, they're a high-quality radius alloy linear-pull brake with an easy-to-use lever for precise speed control.
What We Like
Incredibly Durable
For racing, the rider needs a durable bike that can tackle each jump with ease. That's precisely what the Title Elite can do. Everything is optimized for BMX riders, or those aspired to be.
The high-tensile handlebars that are connected by a sealed bearing enhance the steering. The rider can turn on a dime with minimal adjustments, perfect for racing.
Lightweight Construction
Another factor that enables the rider to maneuver the Title with ease is its lightweight construction. The frame itself weighs a mere 3.11 pounds — when fully assembled. The large 24-inch wheels are mounted on aluminum rims — they're wide, aiding stability and balance.
Assembly is a Breeze
Many parents praise how easy the bike was to assemble. It comes pretty much ready to ride out of the box, with only minor components to attach.
What We Don't Like
Pedals are Plastic
A few reviewers pointed out the pedals are plastic. This isn't as durable as other materials and caused a few parents to switch them out.
Squealing Brakes
Some parents noted the brakes squeal the first time you use the bike. It seems all they need is time to settle, and the noise will stop after a few rides.
Product Specs
| | |
| --- | --- |
| Color | Black |
| Suitable for ages | Based on the recommended height, this bike may be best for ages 10 and beyond, rather than 8 or 9. |
| Recommended height | 63 to 68 inches |
| Bike size | 24 inches |
| Bike weight | 23.4 pounds |
Our Ratings
---
Diamondback Bicycles Tess Youth 20-Inch
Best 20-Inch Girls' Bike
For the girls who love hitting the trail, the Tess 20 works well. The 20-inch mountain bike is based on a sturdy steel frame, featuring all the essentials for an all-terrain bicycle.
Your adventurer can go fast for long with the 6-speed Shimano drivetrain. Thanks to the included suspension fork, jumps and bumps on the track are no problem for the bike. It's also an ideal ride for a lap around the neighborhood or to school.
While on the road, the rider can stop in no time due to the strong brakes. Even down a steep hill, they can stop at any moment.
Suitable for children aged 4 to 9, the height range is from 44 to 54 inches tall.
What We Like
Perfect Kid-Sized Mountain Bike
If you're a family who enjoys your weekend trips to the forest track, then this is a good bike. It enables your child to come with you, even when the trail becomes bumpy or there are steep hills to climb. Thanks to the 6-speeds, the rider can choose the best setting for each challenge.
Strong Brakes
When mountain biking, things can quickly get too fast when riding downhill. Your girl can feel secure knowing that the reliable brakes will allow her to stop at any time with its efficient linear pull system.
Wide Tires
The 20-inch tires are wide and deep treaded — they'll go through dirt and rocks while preserving optimal traction and stability. The tires also work well on smooth surfaces, so it's great for the daily ride to school.
Durable Hi-Ten Frame
Hi-ten or high-tensile steel is incredibly durable and well suited for a miniature mountain bike. It's flexible when compared to aluminum or usual steel. This allows the bike to adjust to the rider and terrain over time — however, it may need a tune-up after the first month of riding.
What We Don't Like
Weighty
On the heavier side, this bike weighs around 35 pounds which is not the lightest in the list.

Product Specs
| | |
| --- | --- |
| Color | Pink |
| Suitable for ages | 4 to 9 years |
| Recommended height | 44 to 54 inches |
| Bike size | 20 inches |
| Bike weight | 34.8 pounds/td> |
Our Ratings
---
Dynacraft Magna Kids BMX Bike
Best 20-Inch Bike for Boys
For smaller boys in this age group who love speed or dirt bike riding, we recommend this BMX bike from Dynacraft. It's a robust 20-inch bicycle, recommended for children aged 6 to 10 years.
Everything on the bike is optimized for comfort while on a rough track. It features a padded handlebar, a comfortable seat, and large wheels. It also comes with a kickstand for easy parking.
The bike is rather heavy, weighing in at 26.95 pounds, but it's durable. Your boy can tackle the jumps on the track with ease while having optimal stability right from the gate.
What We Like
Excellent for Various Riders
Although it's a BMX bike, the rider can also use it for street biking or going to school. The large deep-treaded tires provide maximum traction while on dirt or smooth surfaces. It's even equipped with a padded saddle, making it comfortable to sit on.
Rugged Frame
The rugged steel frame, decked out in black, orange, and white, gives the bike the essence of BMX. It's durable and will safely support your child while pedaling or jumping on the track. The padded handlebar protects the rider, should they happen to fall forward.
Straightforward Assembly
Many parents praised how easy the bike was to assemble. It comes practically ready to ride. You only need to attach the pedals, front wheel, handlebar, and seat.
What We Don't Like
Holes In the Tubes
A few parents complained the tires kept losing air. It turns out there were holes in the tubes from the manufacturing process. This wasn't an immediately noticeable issue as the company sealed the holes — it only became a concern after a few rides.
Dynacraft may have now rectified this problem. If not, it's easy to fix by replacing the tubes.
Product Specs
| | |
| --- | --- |
| Color | Black and orange |
| Suitable for ages | 6 to 10 years |
| Recommended height | 48 to 53 inches |
| Bike size | 20 inches |
| Bike weight | 26.95 pounds |
Our Ratings
---
Mongoose Exlipse Mountain Bike
Best 24-Inch Girls' Mountain Bike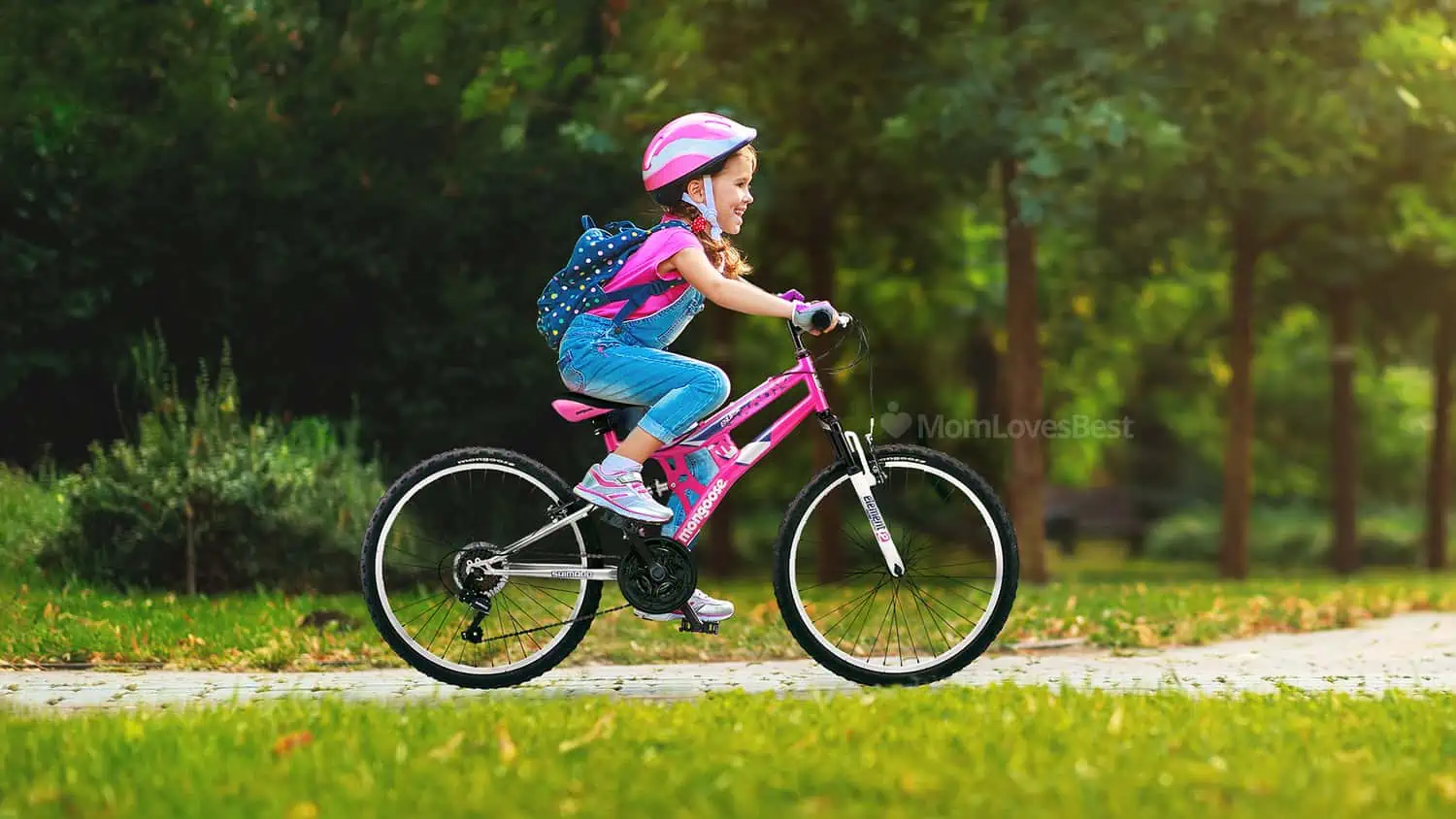 For the girls who love an all-terrain bike, we recommend the Exlipse from Mongoose. It's a mountain bike with 24-inch wheels.
Any surface, whether smooth or rugged, is a breeze on this bike. Its tires are wide and feature knobby treading throughout, providing ample grip on uneven trails.
The steel mountain bike frame has a full dual suspension, so the rider will feel in full control as it evens out each bump. Additionally, it's fitted with an 21-speed twist gear and Shimano rear derailleur, maximizing the performance.
What We Like
Great All-Purpose Bike
Whether your daughter enjoys the rugged tracks of the forest or she rides to school every morning, she'll love this. It's an all-purpose bike, capable of going on smooth roads or uneven trails. The large wheels provide a soft ride, and the gears allow her to adjust to the surroundings for optimal comfort and speed.
Durable Frame
The bike is based on a durable steel frame, capable of taking a tumble or two. The wide tires sit on sturdy alloy rims, aiding stability. It's easy to turn and maneuver, even for riders who are still learning.
Easy-To-Use Gear
The 21-speeds on the Mongoose Exlipse are easy to use. It's a simple twist shifter, allowing the rider to change gears smoothly when needed.
What We Don't Like
Difficult Assembly
The assembly isn't as easy as hoped. Many reviewers said they had to take it to a local bike shop. Some do complain of a missing clamp for the seat, which is something to watch out for.
Product Specs
| | |
| --- | --- |
| Color | Pink |
| Suitable for ages | 8 years and up |
| Recommended height | 56 to 66 inches |
| Bike size | 24 inches |
| Bike weight | 33 pounds |
Our Ratings
---
Schwinn 24-Inch Girl's Cruiser Bike
Best 24-Inch Cruiser Bike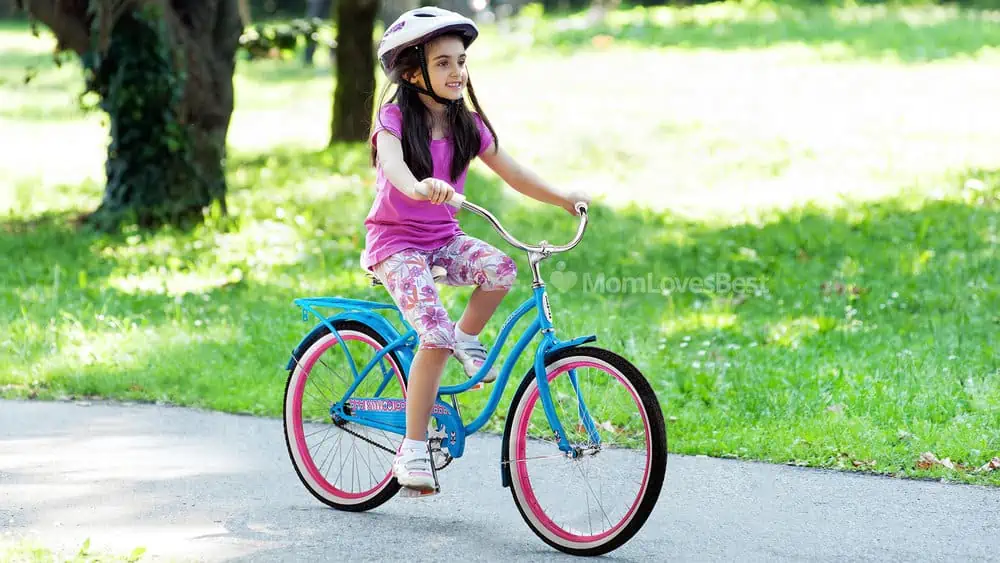 With a classic cruiser look and one-speed drivetrain, this bike from Schwinn is ideal for pre-teen girls. It works perfectly for neighborhood rides with her friends or to school.
The cruiser bike features a step-through frame, and the front fork promotes a comfortable, upright position. With the wide, padded seat to smooth out the ride, your child will love this bicycle.
It sports a fun, eye-catching teal color with white-wall tires and pink rims.
The bike doesn't have a handbrake and instead features a coaster brake. It stops with ease, and there's no worry about head-over-handlebar accidents.
What We Like
A Great Take on a Classic Design
Cruiser bikes are a bit nostalgic — the design reminds most of us of our childhood bicycles. They're perfect for laid-back riders who enjoy having a comfortable seat to sit on when going from point A to B. The low frame also helps the rider to get on and off with ease.
Eye-Catching Colors
Schwinn is known for creating child-friendly bikes, and this one is especially eye-catching. The bright teal color is complemented perfectly with white-wall tires and pink rims. Even the saddle looks retro-chic, sporting a white base color with pink details.
You can choose to add a matching bell and basket, but these are sold separately.
Large Fenders
Apart from being stylish, the large fenders help to keep road dirt and stones at bay. They extend across nearly half of the wheel, providing ample protection for the rider.
What We Don't Like
Tubes Come with Holes
A few reviewers said the tubes had holes in them. This caused the tires to deflate pretty quickly when riding. It's an easy fix by purchasing a new set of tubes, though.
Heavy Bike
Cruiser bikes, in general, are considerably heavier than BMX or mountain bikes. This one weighs a hefty 31 pounds, which many parents thought was excessive.
Product Specs
| | |
| --- | --- |
| Color | Teal |
| Suitable for ages | 8 years and up |
| Recommended height | N/A |
| Bike size | 24 inches |
| Bike weight | 31 pounds |
Our Ratings
---
How to Choose a Bike for a 8 to 11 Year Old
---
The Takeaway
When looking for the best bikes for 8- to 11-year-olds, remember to use your child's height and inseam as a guide when searching for the perfect fit. For this age range, the best size is a 24-inch — this will allow for growth while still being kid-friendly.
Look for a bike that's suitable for your child's interest, such as a mountain bike or BMX if they enjoy off-road rides. Ensure that it's fitted with proper brakes and has the right amount of gears for the rider's needs.
Thank You For Your Feedback!
Thank You For Your Feedback!