As parents, we want our children to be safe on their bikes, and the best way to do this is to find them a safe and sturdy ride.
So how can you tell the difference between a good bike and one that will compromise your child's safety? (Hint: it's not always about the price.)
We're here to help. We've spent many hours evaluating the market to find durable bikes that will fit our children well and keep them safe on the trail. We've narrowed our selection from dozens of options to these seven models, so you can rest easy knowing you've chosen the safest and best bike for your 6- to 8-year-old child.
Image
Model
Product Comparison Table
Features
Best Lightweight Bike
Raleigh Bikes Jazzi
Super Lightweight model
Aggressive geometry
Traction tires
Best Dirt Bike
Dynacraft Magna Major
Coaster brakes
Padded handlebar
Easy assembly
Best 20-Inch for Girls
Firmstrong Bella Classic Cruiser
Wide tires and comfy saddle
Braking made easy
Fashionable design
Best BMX
Mongoose Legion Sidewalk BMX
Outstanding durability
High-precision brakes and steering
BMX tires
Best 18-Inch for Boys
RoyalBaby Space Shuttle
Ultra-light
Superb stability
Color options available
Best Sports Bike
RoyalBaby Freestyle Kids
Superb sports bike
Dual brakes
Easy assembly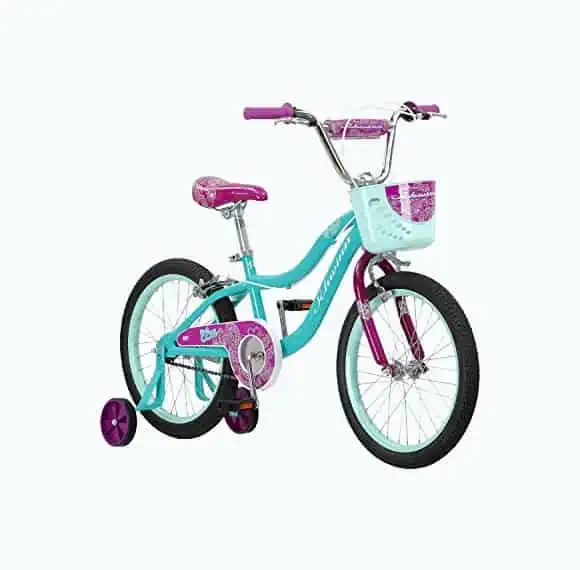 Best 18-Inch for Girls
Schwinn Elm Girl's
More stability
Fun features
Child-friendly proportions
Review Methodology: At Mom Loves Best, we understand how crucial it is for your child to have the right bike. Our comprehensive assessment includes a thorough analysis of each product's performance, checking and comparing them based on essential criteria like safety, durability, and ease of use. We evaluate these bikes from a user's perspective, using our extensive experience and hands-on testing to provide objective results. Our reviews rank and score each bike, helping you understand what sets one model apart from another. We track the bikes' design choices, measure their performance, and provide the facts you need to make an informed decision. From the bike's weight to its wheel size, brake system, and even its aesthetic appeal, we consider all relevant factors to a 6- to 8-year-old. Trust us to provide an honest review, helping you find the best bike for your little one.
---
---
The Best Bikes for 6- to 8-Year-Olds of 2023
Here are the top seven bikes for 6- to 8-year-olds on the market.
Raleigh Bikes Jazzi 20-Inch
Best Lightweight Bike for 6- to 8-Year-Olds
The Jazzi 20-inch bike from Raleigh is built with lightweight materials. It's amazingly light when compared to other bicycles from Raleigh, weighing in at 21.6 pounds.
Some of the outstanding features included are the alloy V-brake and rear coaster. The bike is suitable for children aged 4 to 8, with heights ranging between 44 and 52 inches.
The geometry of the bike puts the rider in an aggressive position. If your kid loves to go fast or race around a track, this is the form to look for. With the smooth tires, your child can glide across the roads in your neighborhood.
What We Like
Excellent Weight
Although weight isn't a huge factor for this age group, a lightweight bike is still preferable. Jazzi is incredibly light, built with a low-standover aluminum frame, giving the rider full control. Building speed, turning, and stopping is a breeze, even for the smallest user.
Aggressive Geometry
When designing the Jazzi bike, Raleigh clearly intended it for more than just leisure use. With the aggressive position, your child leans slightly more forward than on other bikes. It's optimal for making sharp turns, going fast, or tackling a jump.
Traction Tires
With the bike's smooth tires, navigating various terrains is a breeze. They provide ample traction for simple dirt roads. The rims are durable, made of alloy, and capable of taking on a few jumps.
What We Don't Like
Brakes Are Flimsy
The Jazzi bike features alloy V brakes, but some parents weren't impressed. A few said they were flimsy and weren't as efficient as they'd hoped they would be.
Product Specs
| | |
| --- | --- |
| Color | Blue |
| Adjustable height | Yes |
| Wheel size | 20 inches |
| Bike weight | 21.6 pounds |
| Gears included | Yes |
Our Ratings
Community Feedback
Best bike for my 4-year-old granddaughter, this bike is not only easy to assemble but also boasts a high-quality build and a gender-neutral green color. However, I had to spend an hour adjusting the overly tight wheel bearings, chain, and headset to prevent potential damage. Although the Raleigh logo is present, the bike is made in China and arrived without retaining clips for the front wheel and assembly instructions - I had to order the clips separately and search for a similar bike's assembly video. Despite its few drawbacks, this bike is a great size for my little one, and with some upgrades and regular maintenance, it'll handle anything she can throw at it.
---
Dynacraft Magna Major Damage Dirt Bike
Best Dirt Bike
This BMX dirt bike is an epic way for your little one to ride around your neighborhood, the park, or bike trails. It's ideal for beginners and can be ridden by kids between four and eight years old.
It comes with training wheels so they can learn how to balance and stabilize themselves on the bike. Once they grow in confidence, you can easily adjust or remove these to give your child a bit more independence on the bike.
We also love the bright yellow fashion of this bike, meaning it's highly visible. This is perfect for riding around neighborhoods so cars are aware of the bike.
What We Like
Coaster Brakes
When your child is flying through the trails on their bike and suddenly needs to stop, they'll be super grateful for the coaster brakes. These brakes mean stopping is smooth, steady, and safe.
Padded Handlebar
The handlebar is padded in a super vibrant and stylish design. This makes the bike look epic, so your little one can ride in style. But it also means there is extra safety in case they lean on the handles a little bit as they're stopping the bike.
Easy Assembly
When this arrives, your child will be eager to get on it right away for a test ride. Thankfully, assembly is straightforward and generally takes less than 30 minutes.
What We Don't Like
Not a Lot of Growing Room
This bike is best suited for kids around 43 to 48 inches tall. That means there isn't a lot of growing room. Most customers say this bike lasted for around one year before they had to upgrade to a bigger size. The seat is adjustable, but it still doesn't help too much.
Tight Pedals
The pedals on this bike are pretty tight. It makes it quite difficult for younger kids to pedal. Keep that in mind when buying; it's best for kids with a bit of strength behind them!
Product Specs
| | |
| --- | --- |
| Color | Yellow |
| Adjustable height | Yes |
| Wheel size | 16 inches |
| Bike weight | 25.8 pounds |
| Gears included | No |
Our Ratings
Community Feedback
I'm happy with the overall look and sturdiness of this bike, but assembly proved to be quite challenging due to some parts not fitting well together. My son was initially disappointed that he couldn't ride his new bike right away, as we had to tighten everything that was preassembled and even order a missing seat post clamp. Despite the initial hurdles, my son loves riding this bike now and it seems well-crafted to withstand his growth and daily adventures.
---
Firmstrong 20-Inch Bella Classic Cruiser Bike
Best 20-Inch Kids' Bike for Girls
With a laid-back geometry, the Bella Classic Cruiser from Firmstrong is a good pick for growing girls. It's a 20-inch bike built for cruising around town or going to the beach with friends. The cruiser is suitable for kids measuring 3 feet, 2 inches to 4 feet, 4 inches tall.
Due to the laid-back position, it's an excellent introduction to leisure riding. It's a one-speed bike — for the relaxed biking this was designed for, there's no need for gears.
The bike sports classic white-wall balloon tires, so the ride is cushioned and smooth. Girls will love the look. It's mint green and retro-inspired, but it's also available in other colors. When the ride is over, your girl can come to a soft stop using the coaster brakes.
What We Like
Leisure Riding at Its Best
Without disturbing cables or complicated handles to twist, this bike lets your girl cruise how she likes. The smooth balloon tires make the ride soft by adding some suspension, and the single gear allows the rider to maintain a steady speed. It's all about sitting back and enjoying the surroundings with her friends.
Wide Tires and Comfy Saddle
With wide tires, the cruiser is stable and comfy to ride. Aiding that is the broad saddle and extra cushioning. The seat also features a dual-spring system, which helps to even out bumps in the road.
Braking Made Easy
Once your girl has mastered pedaling, she's ready for coaster brakes. When riding the cruiser, all the rider needs to do is pedal backward, and the bike comes to a soft stop.
Fashionable Design
Cruiser bikes often have an old-school look to them, and this one from Firmstrong is no different. With the white-wall, wide tires, the retro vibes are through the roof. It's intriguing to look at with the unique frame and wide handlebars.
What We Don't Like
Missing Accessories
One parent noticed the incomplete accessories shipped by the seller. Make sure to check your package and contact customer support if anything is missing.
Product Specs
| | |
| --- | --- |
| Color | Mint green |
| Adjustable height | Yes |
| Wheel size | 20 inches |
| Bike weight | Not available |
| Gears included | No |
Our Ratings
Community Feedback
I'm pleased with the look of this bike and my daughter says it feels sturdy with a smooth ride. However, it did arrive with missing hardware for the front fender, requiring me to purchase extra nuts and bolts. Additionally, there was a tear in the seat and a bent head tube entry for the handlebars, which I had to fix myself. Despite these issues, my daughter and granddaughter both enjoy riding the bike in their neighborhood and at the beach.
---
Mongoose Legion Sidewalk Freestyle BMX 20-Inch
Best Introduction to BMX Riding
BMX-style bikes are not so newbie-friendly, but if you mix them with a sidewalk cruiser, you have a winner. The Legion Mag is a great introduction to BMX riding. It's a 20-inch bike suitable for children between 4 to 5 feet tall.
With a hi-tensile steel frame and a 20.43-inch tube length, the Legion Freestyle is durable and excellent for aggressive riding. The 2.3-inch-wide tires add ample stability, and the aluminum wall rims prevent the bike from being too heavy.
Your child will love riding this bike — it's smooth to turn and easy to build up speed. A threaded headset with a 48-millimeter stem connecting the handlebar and fork enhances the steering. The drivetrain features a 170-millimeter, one-piece crank, making it easy to go fast.
What We Like
Outstanding Durability
With a hi-tensile construction, it's the perfect combo for quiet neighborhood riding while still being sturdy enough to go on the trail. The bike will grow with your child and may even become a hand-me-down.
High Precision Brakes and Steering
BMX riding is all about control, and the brakes play an important role. The Mag features a steel U-brake. These are perfect for high-precision speed control and ultimate brake capacity.
The threaded headset offers a superb steering performance. Whether your kiddo rides on the pavement or trails, they've got full control.
BMX Tires
The bike features BMX-style tires with aluminum rims and optimal grips, so going off-road or doing tricks is a breeze. The wide design optimizes the rider's stability.
What We Don't Like
Requires Adjustments
Out of the box, a few parents noted many parts, including the chain, bracket, and steerer tube bearings, were too tight and required a fair amount of adjusting.
Many reviewers complained about the brakes, saying they're useless. Some parents said the issue was that the brakes were too loose upon arrival, and a quick tightening mended the problem.
Product Specs
| | |
| --- | --- |
| Color | Orange or silver |
| Adjustable height | Yes |
| Wheel size | 20 inches |
| Bike weight | 32 pounds |
| Gears included | No |
Our Ratings
Community Feedback
From my experience, this BMX-style sidewalk cruiser, the Legion Mag, is perfect for kids who want a thrilling introduction to BMX riding. As a 20-inch bike suitable for children between 4 to 5 feet tall, it boasts a hi-tensile steel frame and a 20.3-inch tube length, making it durable for aggressive riding while the 2.4-inch wide tires provide ample stability. The aluminum wall rims prevent the bike from being too heavy, and my child found it smooth to turn and easy to build up speed. The steering is enhanced by a threaded headset with a 48-millimeter stem connecting the handlebar and fork, and the drivetrain features a 170-millimeter, one-piece crank for an effortless ride. However, it requires some adjustments, but once done, it delivers outstanding durability, high precision brakes, and steering.
---
Royalbaby Space Shuttle 18-Inch Bike
Best 18-Inch Bike for Boys
For active boys between the ages of 5 and 7, we've chosen this bike from Royalbaby. It's the ultra-light, magnesium alloy Space Shuttle bicycle — ready for boys who love speed.
This bike is uniquely built. The frame is in one piece, meaning there are no welded parts, making it more durable. It also features a sturdy single-speed drivetrain.
The Space Shuttle works well for going off-road. It's suited with 2.4-inch-wide tires that are textured to provide extra grip.
Everything about the bike works to stabilize the ride. It can help your child feel more confident by making the experience less intimidating.
What We Like
Ultra-Light
As opposed to using the usual aluminum or steel, Royalbaby used magnesium alloy for the Space Shuttle. It's incredibly light, weighing roughly 21 pounds, yet highly durable.
The Space Shuttle is great for building speed. The lightness of the frame makes it easy for even the smallest child to pedal while still having full control.
Superb Stability
A great benefit of using magnesium alloy, besides the lightness, is its anti-impact elements. You have to be rough to make it budge. This translates to its riding performance, giving it superb stability.
Your kiddo can safely bring it onto the rough off-trail roads. The frame and the wide tires reduce the risk of falling.
Color Options Available
The Space Shuttle is available in three colors: white, purple, and black. The design is appealing to children of all ages.
The magnesium alloy has another benefit. It's easy to form and mold, adding clean lines to the bike and eye-catching shapes.
What We Don't Like
Hard Hand Brake
While most reviewers are happy with the bike, some said there was an issue with the hand brake. It's tough for a child to use correctly, which compromises their stopping time.
Product Specs
| | |
| --- | --- |
| Color | White, purple, or black |
| Adjustable height | Yes |
| Wheel size | 18 inches |
| Bike weight | 21 pounds |
| Gears included | No |
Our Ratings
---
Royalbaby Freestyle Kids 20-Inch Bike
Best 20-Inch Kids' Sports Bike
If your child enjoys biking sports, then the Freestyle from Royalbaby is well worth a look. With 20-inch-wide, deep-treaded wheels, it's perfect for activities — on or off-road.
The bike is available in various sizes, down to 12-inch wheels, each variant featuring specific components. The 20-inch bike comes with a kickstand and dual brakes — one caliper and a coaster brake.
It's easy to assemble the bike. Everything you need is in the package, along with additional features such as a bell, water bottle, and tools for the assembly. The seat adjusts with ease using the quick-release system.
What We Like
Superb Sports Bike
With large, wide tires and durable wheels, the Freestyle is great for bike sports. The rider can take it around the track, do stunts at the park, or race around the neighborhood.
Dual Brakes
Having full control of the speed is essential when doing biking sports, and the Freestyle includes two brakes. On the handlebars, there sits a lever to control the front wheel brake. This is ideal for fine adjustments while doing tricks.
Then the coaster brake helps to come to a smooth full stop. It will also prevent those dreadful head-over-handlebar accidents.
Lots of Extras Included
A kid-sized bike with grown-up features is perfect for 6- to 8-year-olds. Royalbaby includes fun things such as a bell and water bottle for your speeding child. It also features a kickstand for easy parking.
Easy Assembly
Everything you need is ready in the box. Tools and an owner's manual are in the bundle — the instructions are easy to follow. There may not be much to do to get it on the road — many reviewers said the bike comes mostly assembled.
What We Don't Like
Considerably Heavy
This 31-pound bike is pretty heavy for a child's bike. It can be heavy to lift, even for an adult.
Product Specs
| | |
| --- | --- |
| Color | Red, blue, green, pink, orange, or white |
| Adjustable height | Yes |
| Wheel size | 20 inches |
| Bike weight | 31 pounds |
| Gears included | No |
Our Ratings
---
Schwinn Elm Girls 18-Inch Bike
Best 18-Inch Bike for Girls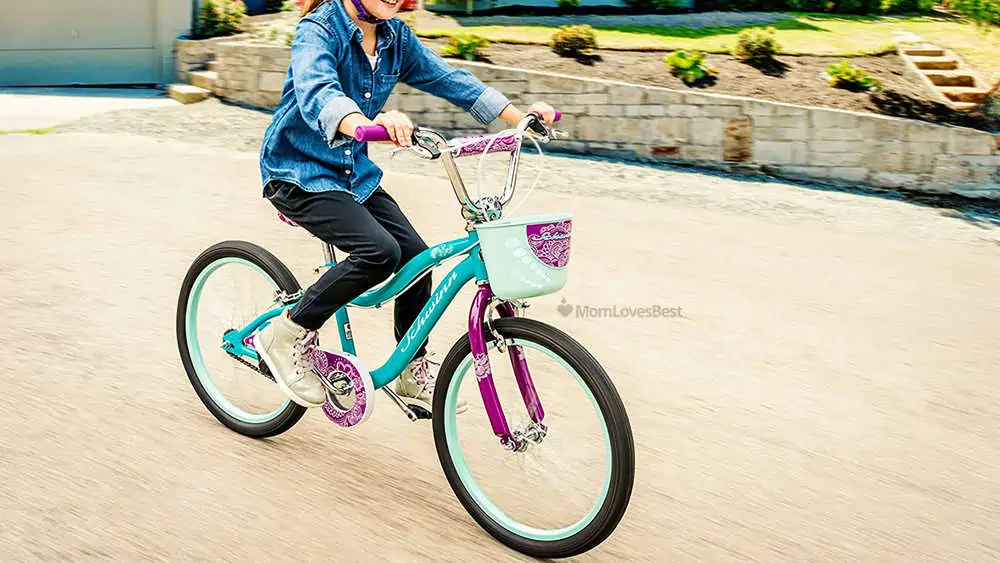 For 6- to 8-year-olds, 18-inch bikes like this one are the perfect size. They're a bit smaller and less intimidating than a 20-inch bike while still featuring most of the "big-kid" components.
With child-friendly colors and features, your girl should love cruising around on the Elm Girl's bike. It includes a cute front basket, a combination of coaster and hand brakes, and a full chain guard to protect her legs.
An adjustable seat ensures the bike can accommodate growing girls who are between 42 and 52 inches tall. It has a slack-tube angle for easy mounting and includes optional training wheels.
What We Like
More Stability
The main highlight of the Elm Girl's bike is the Smart Start design. It consists of a sturdy steel frame with child-specific proportions, making pedaling and steering easier. Moreover, the construction optimizes stability, minimizing wobbling while riding and helping the cyclist's confidence.
Fun Features
The Elm bike is fun to look at with a superb child-friendly appearance. It sports vibrant colors — every element is coated, even the rims. At the front, your girl has a matching basket for carrying her stuff around.
Child-Friendly Proportions
Schwinn strives to make your child feel comfortable and confident while riding the bike by optimizing the proportions. Everything from the handle's diameter to the distance between the pedals provides the perfect balance for small riders.
What We Don't Like
Fragile Basket
It's made of plastic and can't take rough handling or heavy cargo. A few parents said they exchanged it for a more durable alternative.
No Instructions
Unless you're a bike expert or at least have some experience, you'll have a hard time putting this together. It doesn't come with instructions, so reviewers said they went to bike shops or viewed online videos for assembly guidance.
Product Specs
| | |
| --- | --- |
| Color | Teal, purple, or pink |
| Adjustable height | Yes |
| Wheel size | 18 inches |
| Bike weight | N/A |
| Gears included | No |
Our Ratings
Community Feedback
I recently purchased this bike for my child and was pleasantly surprised by the fast delivery and well-protected packaging. The assembly process was straightforward, thanks to the easy-to-follow instruction book. However, I was disappointed with the plastic hand brake handlebar mounts and adjusters that stripped out during adjustment. Additionally, both front and rear tire rims were warped, causing concerns for safety and premature wear. Despite these drawbacks, my child loves the bike, and its vibrant colors and overall design are quite appealing.
---
How to Choose a Bike for 6- to 8-Year-Olds
---
Thank You For Your Feedback!
Thank You For Your Feedback!