When children get their first "big-kid" bike, they take yet another step toward independence. Since they'll soon begin to ride alone, we want them to be safe, and the best way to do that is by finding the right bike for them.
The best bikes for 4- to 6-year-olds are usually the 16- to 18-inch sizes. However, a few other things need to be considered, such as brakes, weight, and your child's inseam.
There's a good option out there for every little biker, and we've researched every option to help you choose the right one for your child.
Image
Model
Product Comparison Table
Features
Best 18-inch BMX
Nice C BMX Kids Bike
Outstanding durability
Extra-thick tires
Adjustable seat and handlebar
Best Braking System
Guardian Bikes Ethos
Surestop braking system
Adjustable seat
Fun decals
Best with Training Wheels
Joystar 16-Inch Bike
Training wheels included
Elegant bike
Impact resistant
Best 16-inch for Girls
Coewske 16-Inch Bike
Well-thought-out design
Dual brakes
Wide air-filled wheels
Best 20-inch for Girls
Huffy Panama Jack Beach Cruiser
Perfect-fit frame
Lightweight design
Comfy seat
Best 12-inch for Boys
Huffy Marvel Spider-Man Bike
Super fun
Durable construction
Comfy saddle
Most Durable Tires
RoyalBaby Freestyle Bike
All-around bike
Durable tires
Comfy grips and saddle
Best 18-inch Kids Bike
Joystar 18-Inch Bike
Easy adjustments
Kickstand and saddle holder
Durable frame
Review Methodology: At Mom Loves Best, we offer you an extensive analysis and hands-on assessment of the best bikes for 4 to 6-year-olds. Our professional experience and rigorous criteria, combined with data-driven research, allow us to evaluate each product from a user's perspective. We compare and rank bikes based on key decision-making factors such as safety, performance, and design. Our findings provide you with quantitative measurements of each bike's performance and distinctive features that set them apart from their competitors. Our reviews are backed by facts and first-hand evidence, so you can trust us to help you make the best choice for your child's cycling adventure.
---
---
The Best Bikes for 4 to 6-Year-Olds of 2023
Here are the best 16 to 18-inch bikes on the market.
Nice C BMX Kids Bike
Best 18-Inch BMX Kids Bike
For BMX-loving kids, we present the 18-inch offering from Nice C. It's a high-quality bicycle designed to withstand the rugged nature of a BMX track. The outstanding reviews suggest it lives up to Nice C's promises, and parents praise the sturdiness.
It's designed for optimal durability while providing stellar suspension and longevity. A BMX bike requires some of the best brakes, so this one includes a dual system.
What We Like
Outstanding Durability
The frame is made with a high-quality magnesium alloy, ensuring this bicycle is incredibly durable. It's for heavy-duty work, which is great if your youngster is competing or aspiring to go that route. The material also makes it lightweight, weighing roughly 19.4 pounds — one of the lightest on our list today.
Additionally, the zero-welding frame ensures no parts break loose during a crash, which helps keep your little one safe.
Extra-Thick Tires
This bike is armed with thick tires, ready for the track. The added thickness provides some slight suspension and shock absorption as your child tackles the jumps and bumps. It even comes with matching training wheels, offering the same durability.
Fantastic Brakes
With a dual-braking system, Nice C offers a bit more than other manufacturers. The traditional V-pull brake that connects with a disc for the rear wheel provides outstanding efficiency while braking. Your youngster can enjoy precise speed control without worrying about accidents.
Adjustable Seat and Handlebar
Adjustability is a must-have to accommodate a growing child, and this bike offers it. Both the seat and handlebars allow for alterations, helping your little one grow up with the same bike.
What We Don't Like
Confusing Instructions
The assembly instructions are pretty confusing. It's easier to just look at the pictures.
Product Specs
| | |
| --- | --- |
| Color | Champagne, black, pink, and yellow |
| Recommended age | 4 to 8 years |
| Recommended height | 41 to 55 inches |
| Wheel size | 18 inches |
| Bike weight | 19.4 pounds |
Our Ratings
Community Feedback
I've recently purchased two of these 16" NiceC bikes for my 6-year-old twins, and while they don't match the quality of top brands, they do offer a lot for their price. The lightweight magnesium alloy frame and dual hand brakes make them a great option for children learning to ride, though I experienced some issues with brake adjustments and the instructions were somewhat confusing. Despite these drawbacks, my kids were able to ride without training wheels on their second day using these bikes.
---
Guardian Bikes Ethos 16-Inch Bike
Best Braking System
Guardian Bikes makes stopping fun and easy for children who are still mastering two wheels. Its Ethos bike features the SureStop system — a patented braking system that helps the rider stop quickly and correctly, preventing accidents.
The Ethos is designed for kids, using optimal geometry for small legs and arms. The 16-inch size is best for children aged 4 to 6. The seat is fully adjustable, allowing for plenty of growth.
What's more, your child will have full control of the bike. It's relatively lightweight, making it easy to maneuver, stop, and steer. It's not compatible with training wheels, but it does include a kickstand.
What We Like
SureStop Braking System
For kids who are still learning, having a sound braking system is imperative. Guardian Bikes' SureStop technology is one of the best on the market. It receives stellar reviews on expert blogs and among parents.
SureStop works by pulling a single lever sitting on the handle, like a regular bike. However, instead of only controlling one wheel, it activates the rear brake first before slowly engaging the front. This method prevents head-over-handlebar accidents, helping your child feel and stay safe.
Adjustable Seat
Having an adjustable seat is ideal for this age range — kids grow like crazy. The Ethos allows for alterations. You can place the seat between 18.5 and 23.5 inches. It can comfortably support riders from 40 inches to 46 inches tall.
Fun Decals
With a plain base color, this bike comes with fun water-transfer decals. They add an eye-catching pop of color, making the bike look extra special. You can choose to follow the instructions or go with your imagination and create something unique.
Child-Friendly Geometry
Besides the innovative braking system, a lot of parents praise the bike's geometry. It places the rider closer to the ground, promoting a lower center of gravity. This, in turn, helps the rider balance better, which is excellent for children who are learning.
What We Don't Like
Quite Heavy
Ethos isn't the lightest bike on the market. It weighs approximately 20 pounds, which might be too heavy for some kids.
Product Specs
| | |
| --- | --- |
| Color | Black and blue; pink and aqua |
| Recommended age | 4 to 6 years |
| Seat height | 18.5 to 23.5 inches |
| Bike weight | 20 pounds |
Our Ratings
Community Feedback
Best bike for kids learning to ride, the Guardian Ethos has been a fantastic choice for our family. My timid 5-year-old started off using it as a balance bike without the pedals, and within a week, he was confidently pedaling around. The SureStop brake system is a standout feature, providing safe and effective stopping without the risk of going over the handlebars. The well-designed geometry and lightweight frame make it easy for kids to maneuver and enjoy their rides. However, the 20-pound steel frame may be a bit heavy for some little riders, and the unique braking system could be tricky to tune up when needed. Despite these minor drawbacks, the Guardian Ethos has been an excellent investment in helping my children learn to ride and enjoy biking.
---
Joystar 16-Inch Cruiser Bike With Training Wheels
Best 16-Inch Kids Bike with Training Wheels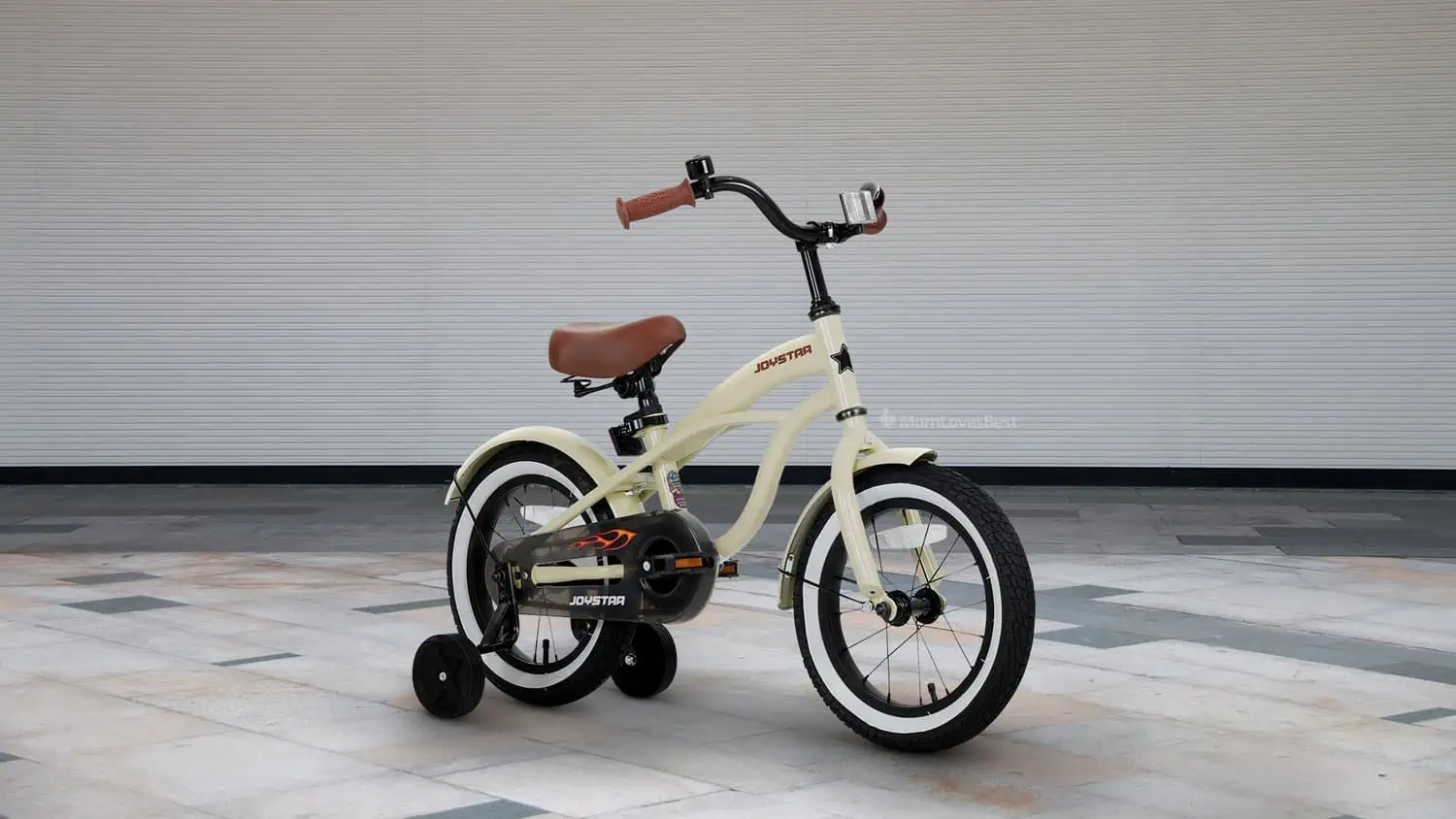 This bike from Joystar, with included training wheels and a sturdy frame, works well for newbie riders. It has received outstanding reviews from parents of 5-year-olds, suggesting it's ideal for this age range.
Based on a high-tensile steel frame, this cruiser-inspired bike is useful on various surfaces. The front fork provides some suspension as it's impact resistant. It also features two large, air-filled tires with a white-wall design, adding some retro vibes.
Joystar has fitted coaster brakes for smooth stopping. The off-road tires provide excellent grip, aiding the brakes on flat or dirt surfaces.
What We Like
Training Wheels Included
Does your 4-year-old still require some assistance while riding? Joystar includes a set of sturdy training wheels to support your little one. They're easy to attach and remove.
Elegant Bike
This bike gives us strong beach-time vibes, which is what Joystar intended. It's a cruiser-inspired bike with an elegant frame, suitable for both girls and boys. It comes in a cruiser-beige color but is also available in black or blue.
The large and wide black tires with a white-wall design are sleek and add a fun, edgy element to the bike. It even has a sassy bell, so your little one can make their presence known on the road.
Impact Resistant
Although it's not an off-road bike, it offers a smooth ride even on bumpy sidewalks. The fork provides some impact resistance, while the large tires add cushioning.
Works in Any Weather
Joystar decided to go with a coaster brake. It prevents accidents where the rider is bucked off by a locking front wheel. Instead, they can come to a soft stop while still being in full control.
The coaster brake is aided by the tires, which feature off-road rubber wrapping. This added material improves grip and stability, even on a wet surface.
What We Don't Like
Assembly Issues
Although assembling the bike is relatively easy, a few parents said they had issues with the seat. It wouldn't go smoothly into the post and required some sanding to adjust.
Product Specs
| | |
| --- | --- |
| Color | Beige, green, pink, black, blue, or orange |
| Recommended age | 4 to 7 years |
| Recommended height | 41 to 53 inches |
| Wheel size | 16 inches |
| Bike weight | 20 pounds |
Our Ratings
Community Feedback
I recently purchased this Joystar bike for my 5-year-old, and it has been a great fit for her as a beginner rider. The sturdy frame and training wheels provide the necessary support, while the impact-resistant front fork offers some suspension on various surfaces. I love the retro white-wall design on the large, air-filled tires, which also provide excellent grip for both flat and dirt surfaces. The coaster brakes ensure smooth stopping, adding to the overall safety of the bike. However, I did encounter some minor assembly issues, but once resolved, my child has thoroughly enjoyed riding this bike in any weather.
---
Coewske 16-Inch Kids Bike
Best 16-Inch Bike for Girls
Sporting an attractive design, this kids bike from Coewske is worth a look. It is suitable for children aged 4 to 8 and offers good features for a growing kid.
The Coewske bike has two brakes to ensure a smooth stop. While riding, the driver can place their feet on the low frame, which was also intended as a footrest.
It comes with a fully enclosed chain guard, and the handles feature flanged grips. Parents will appreciate that it's easy to assemble.
What We Like
Well-Thought Out Design
The low frame gives the bike a nostalgic appearance — it's quite feminine, excellent for little girls. A low frame also earns a point in terms of standover height. It's easy for the rider to get on and off without having a bulky bar between their legs.
The bike is available in six colors, providing ample opportunity to suit your child's developing sense of style.
Dual Brakes
Your little one will be in full control of the speed and stopping. Coewske included two brakes, managing both the front and rear wheels. It's an excellent way to teach your child how to use both brakes efficiently and to prevent accidents.
Wide Air-Filled Wheels
Its air-filled tires provide incredible grip on various surfaces and a smooth ride. The tires are broad, measuring approximately 2.125 inches wide, and they're deep-treaded to enhance grip on all surfaces.
Under the surface are additional layers, making the tires extra thick for sustained wear and tear.
Easy Assembly
The bike arrives 95% assembled, so there's not much left for you to do. The only things to attach are the pedals, seat, and handlebar. All the tools needed are in the box, ready for use.
What We Don't Like
Hard to Adjust the Chain
Some parents complained the chain is tight upon arrival and requires adjustments. The large chain guard makes it difficult to do so, as it needs to be removed to gain access.
Product Specs
| | |
| --- | --- |
| Color | Blue, pink, purple, white and blue, white and pink, white and purple |
| Recommended age | 4 to 8 years old |
| Recommended height | 41 to 53 inches |
| Wheel size | 16 inches |
| Bike weight | 22.5 pounds |
Our Ratings
---
Huffy Panama Jack Beach Cruiser Bike
Best 20-inch Kids Bike for Girls
For bigger girls in this age range who love to cruise around the neighborhood or to the local beach, we recommend this bike from Huffy.
The Panama Jack is a 20-inch bicycle, ideal for children aged 5 to 9. It features Huffy's Perfect Fit Frame, making it comfortable to ride.
The bicycle is lightweight and easy to maneuver for kids. The pedals are smooth to turn, and accelerating is a breeze.
What We Like
Perfect Fit Frame
Huffy's exclusive Perfect Fit Frame works to deliver the right posture for a comfy ride. The design places the seat further back, promoting a low center of gravity. Then the swept-back-style handlebars allow for an upright riding position while leaving ample room for full leg extensions.
It's an optimal cruise bike, allowing the rider to go long distances without any pain, and you can quickly adjust the seat as your girl grows. It's suitable for heights between 44 and 56 inches. Also included are large fenders, a roomy basket, and comfy, cork-style grips.
Lightweight Frame
Aluminum is a popular material to use for bikes. It's lightweight and highly durable, enabling fast acceleration. The lightweight frame also allows for better control and stopping.
Comfy Seat
Cruiser bikes always have the most comfortable seats, and this one is no exception. It includes a wide seat with additional padding, keeping the bottom comfy for the full ride.
The grips are also comfortable, made of soft material in a cork style. They're great to hold onto.
Beachy Style
The style of this bike provides a punch of summer. It's beachy with its blue, green, and white colors incorporated within decals of wood and flowers.
What We Don't Like
Holes in the Tubes
It seems to be a common occurrence that the bike arrives with damaged tire tubes that deflate quickly and require a replacement. When it's reported, Huffy appears to rectify the issue promptly.
Product Specs
| | |
| --- | --- |
| Color | Pool Blue |
| Recommended age | 5 to 9 years |
| Recommended height | 44 to 56 inches |
| Wheel size | 20 inches |
| Bike weight | 33.2 pounds |
Our Ratings
Community Feedback
I'm really enjoying this bike for its beautiful design and sturdiness. The comfortable ride and handy little basket make my daily commute a breeze, and I appreciate the subtle gold accents and attached bottle opener. Although assembly required a bit of extra work due to some metric nuts and bolts, once properly put together, my daughter and I have been having a blast riding these bikes.
---
Huffy 12-Inch Marvel Spider-Man Bike
Best 12-Inch Bike for Boys
I'm a mom to a little Spider-Man fan, so this bike from Huffy had to make it onto the list. The whole bike is decked out in the web-slinging character theme, featuring all the associated colors. This bike should be a big hit for Spider-Man fans.
It has more than just its appearance going for it, though. It's built to last — including dual brakes and durable tires.
What We Like
Super Fun
Every inch of the bike has a fun element to it. The large plate on the handlebar, inspired by the chest of the famous red suit, will let everyone know Spidey is on his way.
While there to protect little ankles, the spider-infused chain guard looks cool while it does its job.
Durable Construction
The bike is based on a durable steel frame that will withstand the tumbles and bumps of a kid who's learning. Huffy even includes a limited lifetime warranty as assurance.
Comfy Saddle
As well as sporting a red and black Spider-Man theme, the seat is comfy too. It features additional padding, enabling your little one to ride for hours. It also sits them over a frame with a good standover height.
What We Don't Like
Slanted Training Wheels
The bike comes with training wheels, which you can attach and remove as needed. However, a few parents noted no matter how many alterations they made, the training wheels were slanted, decreasing the stability.
Product Specs
| | |
| --- | --- |
| Color | Spider-Man themed |
| Recommended age | 3 to 5 years |
| Recommended height | 37 to 42 inches |
| Wheel size | 12 inches |
| Bike weight | N/A |
Our Ratings
Community Feedback
I'm impressed with the quality and sturdiness of this bike, which made my grandson's third birthday extra special. The design appealed to his love for Spider-Man, and he quickly learned how to pedal and use it. Assembling the bike was easy for me, although the instructions could have been more specific to this model. The training wheels work well and are adjustable, making it a great purchase for young kids learning to ride.
---
RoyalBaby Freestyle Kids Bike
Most Durable Tires
If your child enjoys an occasional off-roading experience, a good, all-around bike like this one from RoyalBaby is best. It's a steel bike with a thin frame and welded steel fork, providing ample shock absorption. The bike is capable of going over various terrains.
On the frame sits an extended chain guard. The pedals will keep the rider's feet securely in place with their non-slip resin.
RoyalBaby also included dual brakes consisting of a caliper brake and rear coaster, which are optimized to suit children. The handles are comfy with soft rubber grips. There's a water bottle holder on the back to help keep your kid sipping while they get their exercise.
What We Like
All-Around Bike
All-around bikes are great for the active family who enjoys their occasional weekend bike trip. It allows your child to use the bicycle for everyday things like riding to school or around the neighborhood with friends. Then they can also tackle rugged surfaces on your weekend trip.
The chain guard protects the chain and drivetrain, keeping stones and dirt at bay.
Durable Tires
The bike is suited with large, 2.4-inch wide knobby tires. Featuring RoyalBaby's custom tread, they provide ample stability for the rider.
The tires sit on steel rims for added durability.
Comfy Grips and Saddle
RoyalBaby included soft rubber grips for the handles, making them comfy to hold. They ensure your child gets a firm grasp, which is essential if they're going off-road. The seat features extra padding to protect small behinds.
What We Don't Like
Water Bottle Is Difficult to Access
Behind the seat, you can attach the included water bottle holder for the water bottle. A few parents pointed out it's difficult to reach when the seat is in the lowest setting.
Some said they bent the holder a bit, but we don't recommend doing this as it could break.
Stickers Peeling
The bike includes a few stickers, but they tend to peel off after a short time.
Product Specs
| | |
| --- | --- |
| Color | Blue, fuschia, green, orange, pink, red, or white |
| Recommended age | N/A |
| Recommended height | 43 to 59 inches |
| Wheel size | 18 inches |
| Bike weight | 29.8 pounds |
Our Ratings
Community Feedback
This all-around bike from RoyalBaby has proven to be a great option for children who enjoy off-roading adventures. The steel frame and welded steel fork provide ample shock absorption, allowing it to handle various terrains with ease. I particularly appreciate the non-slip resin pedals and the dual-brake system, which are optimized for young riders. The soft rubber grips on the handles ensure comfortable handling, though I did notice that the water bottle placement on the back of the bike can be difficult to access, and the stickers started peeling after some time. Despite these minor drawbacks, this RoyalBaby bike offers a durable and enjoyable riding experience for children.
---
Joystar 18-Inch Kids Bike
Best 18-Inch Kids Bike
This 18-inch bike from Joystar is ideal for children aged 5 to 9. The seat allows for height adjustments, and with a premium frame, it's worth a mention on this list.
It offers some excellent features for the child who's still learning. What's more, decals are included that your child can use to decorate the frame. They can help make the bike more fun.
What We Like
Easy Adjustments
Adjusting the seat height couldn't be easier. It features a quick-release system that simplifies the process to a mere clamp. All you do is release the clamp, lift the seat as needed, and tighten it again.
The bike is suitable for children between 43 and 59 inches tall or with an inseam of 20 to 24 inches. It's a bike your little one will be able to use for a while.
Fun Decals
To make the bike even more child-friendly, Joystar includes fun decals for the frame and chainguard. Your child can spell out what they want, whether it's their name or a fun phrase they like. It makes the bike more personal.
Kickstand and Saddle Holder
Unfortunately, the 18-inch bike doesn't come with training wheels. Instead, it features a saddle holder for mom or dad to assist with the balance until the rider gets going. It does come with a cool kickstand for parking that your child should adore.
The bicycle has a hand and a coaster brake. It's a way to get your little one accustomed to the different types, and both are easy to use.
Durable Frame
To ensure the bike will grow with your child, Joystar made it of premium steel. It's high-quality and heavy-duty, capable of withstanding accidents or bumps during the learning period. It comes with a limited lifetime warranty.
What We Don't Like
Assembly Confusing
A few reviewers noted their disappointment with the assembly, as some directions are unclear.
Joystar does provide a video to help with the process:
Product Specs
| | |
| --- | --- |
| Color | Blue, ivory, orange, or red |
| Recommended age | 5 to 9 years |
| Recommended height | 43 to 59 inches |
| Wheel size | 18 inches |
| Bike weight | 22.8 pounds |
Our Ratings
---
Bike Sizes Made Easy
When talking about kids bike sizes, it's important to know it's the diameter of the wheel that determines the size. Yes, it's confusing, especially once manufacturers begin labeling them with things like "fit for 4-year-olds."
When you're looking for a bike, you'll stumble across terms like "16-inch" or "18-inch." This describes how big the wheels are and also what's considered the bike size. However, due to differing frame sizes, two bikes with the same size wheels can vary in height by as much as 5 inches.
Because of this, you must measure your child's height and inseam. If the bike allows for seat adjustments, always focus on the lowest setting, leaving room for growth.
How to Choose a Bike for 4 to 6-Year-Olds
---
Thank You For Your Feedback!
Thank You For Your Feedback!