Keeping the right temperature in the nursery is imperative. You don't want your baby to be too cold in the winter or too hot in the summer. Investing in the best baby room thermometers is a way of making sure the optimal temperature is maintained.
However, upon your first search, you'll see how limited the options are. That's why we've made it our mission to help you. We searched through expert sites, parent reviews, and then we cut our choices down to the top five below.
Image
Model
Product Comparison Table
Features
Best Overall Choice
Kelvin Color-Changing Room Monitor
Has a night light
Works as a hygrometer
Customizable temperature
Best for Room & Bath
Dreambaby Bath Thermometer
Works for bathwater
Color-coded indicator
Made from safe materials
Best With Hygrometer
ThermoPro TP50 Digital Hygrometer
High accuracy
Large digital screen
Portable
Best With Clock
BeGrit Hygrometer Thermometer
Doubles as a clock
Mountable on wall
Large screen
Best Swiss-Made Sensor
Govee Bluetooth Thermometer
Backlight and touchscreen
Two-year cloud storage
196 feet coverage
Review Methodology: At Mom Loves Best, we prioritize your trust and satisfaction. We conduct thorough analyses and benchmark tests on each baby room thermometer, comparing them based on criteria informed by professional experience and research. Through our hands-on evaluations, we measure performance, rank products, and provide data-backed reviews. We assess each product from a user's perspective, considering key factors like accuracy, reliability, and user-friendly design. We highlight unique features that set a product apart, providing evidence through our first-hand findings. Our thorough process ensures we recommend only the top-performing, parent-approved baby room thermometers.
---
---
The Best Baby Room Thermometers of 2023
Here are the top five best baby room thermometers below.
Kelvin Color-Changing Nursery Room Monitor
Best Baby Room Thermometer Overall
The Kelvin color-changing room thermometer is outstanding. It's a good pick for parents who want a clear indicator of the temperature, even when looking from afar.
The thermometer sits on a light-up base that changes colors based on the temperature in the room. It's either blue, amber, or red, indicating cold, just right, or too hot.
At first glance, you can easily see in which direction to make adjustments. On top of the base sits the thermometer where you can see the exact temperature. The device also works as a hygrometer, showing you the humidity in the room.
What's amazing is that you can customize the optimal temperature to suit your region and environment. Whenever you're outside the range, the base will change color. You can also choose between Fahrenheit or Celsius.
The base is adorable — it has two eyes, resembling a little creature. Plus, Little Hippo includes a one-year warranty.
Pros
Night light.
It works as a hygrometer.
Customizable temperature range.
One-year warranty.
Cons
The temperature is a bit off at times.
Product Specs
| | |
| --- | --- |
| Power type | Adapter |
| Operating range | 32 to 104 degrees Fahrenheit |
| Built-in hygrometer | Yes |
| Temperature scale | Fahrenheit and Celsius |
| Color-coding | Yes |
Our Ratings
Community Feedback
I recently purchased this color-changing thermostat for my baby's nursery and it has been a great addition. The visual temperature indicator allows me to easily check if the room is too hot or cold, ensuring my baby is dressed appropriately. One drawback is the brightness of the blue light, which can be quite intense, so I recommend placing it away from the crib. While it does provide some light, I wouldn't rely on it as a primary night light.
---
Dreambaby Room & Bath Thermometer
Best Thermometer for Room and Bath
If you're looking for something versatile, we recommend this room and bath thermometer by Dreambaby. It's an adorable crocodile, suited with a thermometer on its body.
You can place the croc in the nursery, where it will check the temperature every ten seconds. The results are easy to see on the digital screen, and it gives you the option between Fahrenheit and Celsius. It also includes a color-coded indicator, which changes from red (too hot) to green (too cold).
Once it's bath time, bring the crocs to the tub and place it in the water. Here it will give you an accurate reading every ten seconds to keep you updated.
The croc is also fantastic at adding a fun element to the bath for your baby. It's BPA-free and holds up to EN71 Standards, making it safe as a toy, too. Just avoid rough play.
The thermometer also has a 30-minute auto-shut-off to preserve battery life.
Pros
Works both for the room and bathwater.
It features an easy-to-read screen and color-coded indicator.
Made from safe materials.
Batteries included.
Cons
The automatic 30-minute shut-off can be a hassle.
Product Specs
| | |
| --- | --- |
| Power type | Battery |
| Operating range | Not specified |
| Built-in hygrometer | No |
| Temperature scale | Fahrenheit and Celsius |
| Color-coding | Yes |
Our Ratings
Community Feedback
I've been using this bath thermometer for a while now, and it has made bath time so much easier. The ducky shape is adorable and my baby loves to play with it. It quickly displays the temperature and even has a blinking light feature to let me know if the water is too hot or too cold. I also appreciate the automatic turn-on and shut-off, which saves battery life. I initially bought this for my baby, but it's been useful for my pets as well, like my tortoise and yorkie. The only downside I've experienced is that it can sometimes turn on when it's not supposed to, but overall, it's been a reliable and helpful addition to our bath routine.
---
ThermoPro TP50 Digital Hygrometer Indoor Thermometer
Best Thermometer and Hygrometer for Baby Room
Preserving optimal humidity as well as temperature is essential in the baby's room. This digital product from ThermoPro works well at this.
The thermometer and hygrometer offer professional-level accuracy — it refreshes every ten seconds to give you the latest update. Besides the actual reading, it shows you what's considered high and low. This will give you an idea of where your temperature and humidity is at.
With every reading, you'll also see a face icon — this changes according to the environment. When it's optimal, you'll see it smiling, but when it's out of whack, it will frown. The digital screen is large and super easy to interpret.
It's also portable — because it runs on batteries, you don't have to worry about a power cord. At the back, there's a magnet if you want to use it in the kitchen or another room.
Pros
High accuracy for the temperature.
Smiley face to indicate optimal levels.
Large digital screen.
Portable and can be used in all rooms.
Cons
The humidity is a little off.
Easy to confuse the temperature reading with the humidity.
Product Specs
| | |
| --- | --- |
| Power type | Battery |
| Operating range | -58 to 158 degrees Fahrenheit |
| Built-in hygrometer | Yes |
| Temperature scale | Fahrenheit and Celsius |
| Color-coding | No |
Our Ratings
Community Feedback
I recently started using this small humidity gauge in my bedroom, and it's been perfect for monitoring the temperature and humidity levels. The large, bold numbers are easy to read from a distance, and the gauge seems to be quite accurate. I particularly appreciate the magnet and stand options, which allow me to place it in various locations around the room. As someone with physical disabilities and asthma, this device has been helpful in managing my daily comfort. The compact size ensures that it's not an eyesore, and I can even see it being useful in other areas of my home or even at work for monitoring different environments.
---
BeGrit Room Hygrometer Thermometer for Baby
Best Thermometer and Clock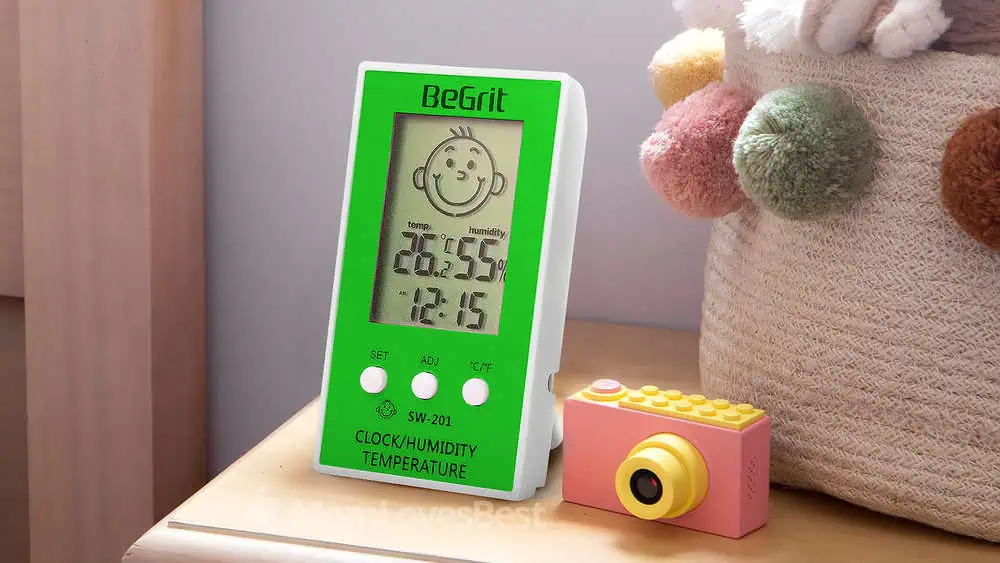 Another thermometer that's great for parents who want something versatile is this one from BeGrit. Along with the temperature and humidity, you can also set the clock, showing you the time in AM/PM format.
The device is easy to use. You can hang it on the wall in the nursery or use the built-in stand to place it on a table. The temperature reading is available as both Fahrenheit and Celsius, and the big digital screen is clear to see.
The thermometer will let you know that the temperature and humidity are fine by showing a smiley face. If it should get too cold or hot, dry or humid, the face will frown.
It's straightforward to use, too. It only requires one AAA battery, included in the bundle. You can also choose between green and pink for a boy or girl's room.
Pros
Displays time too.
Hangable on the wall.
Large screen and baby face indicator.
Easy to use.
Cons
The screen is not lit, making it impossible to read in a dark room.
Product Specs
| | |
| --- | --- |
| Power type | Battery |
| Operating range | 32 to 122 degrees Fahrenheit |
| Built-in hygrometer | Yes |
| Temperature scale | Fahrenheit and Celsius |
| Color-coding | No |
Our Ratings
Community Feedback
For a busy parent like me, this gadget has been incredibly helpful in maintaining a comfortable temperature in my child's room. It not only displays the temperature, humidity, and time, but also features a baby face indicator that frowns if the humidity level isn't ideal. Although the baby face doesn't change based on temperature, it's still a useful and cute visual reminder for me. One downside is the lack of backlight, which makes it difficult to read in the dark. Despite this minor drawback, I'm satisfied with my purchase and appreciate the convenience and peace of mind it provides.
---
Govee Digital Wireless Temperature Humidity Monitor
Best Swiss-Made Sensor Room Thermometer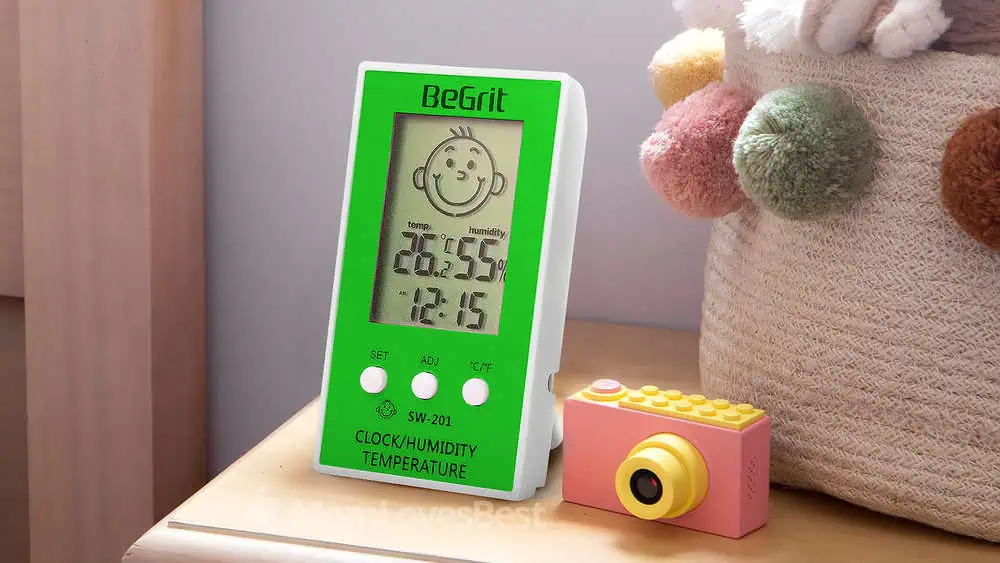 The Govee digital wireless temperature offers multifarious services. The 4.5-inch screen is touchscreen enabled and has a 15-second backlight. Made from a high-quality sensor by the Swiss, you are guaranteed an accurate room temperature reading which refreshes every two seconds.
It displays both Fahrenheit and Celcius temperatures and supports two years of cloud data storage when you connect it to the internet. What's best is that it can cover an area of 196 feet and it lets you know instantaneously when the temperature or humidity goes beyond the desired range by sending you notifications.
The numbers on the screen are large and easy to read, even in a super dark room as the backlight lights up for 15 seconds. This light provides a soft glow to ensure that your baby sleeps soundly, but isn't too alarmed by the darkness.
Pros
Helps parents know the best room temperature.
Backlight and touchscreen.
Two year cloud storage.
Batteries included.
Cons
The 4.5 inch display may be a bit small for older people.
Product Specs
| | |
| --- | --- |
| Power type | Battery |
| Operating range | Not specified |
| Built-in hygrometer | Yes |
| Temperature scale | Celcius and Fahrenheit |
| Color-coding | No |
Our Ratings
Community Feedback
If you're looking for a reliable and easy-to-use thermometer, this Govee product is a great option. I've placed these thermometers in various rooms, and I love that I can monitor the temperature and humidity on my phone. The large digits make it easy to read, and although the app could use some improvements, overall, I'm impressed with the quality and functionality of this thermometer.
---
Why Invest in the Best Baby Room Thermometer
Small babies can't tell you when they're feeling too hot or cold. They may seem fussy or irritable, but we're likely to assume it's due to hunger or tiredness. In actuality, they might be feeling too warm or too cold.
It's vital to keep a suitable temperature in the nursery. Having a comfortable temperature will allow your baby to sleep with minimal layers and covers on.
You don't need to keep your baby bundled up all the time. This is a recipe for overheating, which increases the chances of Sudden Infant Death Syndrome (SIDS) (1).
When you keep a thermometer in the nursery, you can make adjustments to the temperature. This minimizes the need for additional layers and keeps your little one comfy and happy.
What's the Ideal Baby Room Temperature?
Although it depends on where you are and your environment, an ideal temperature range for a baby is between 68 to 72 degrees Fahrenheit.
You should also consider the humidity, which experts agree should be between 30 and 60 percent (2).
Many baby room thermometers also come with a built-in hygrometer, which is excellent for getting a thorough climate overview. Indoor humidity is almost as important as the right temperature. Having low humidity can cause dry and irritated skin — it's also a good environment for spreading viruses and bacteria (3).
Features to Look for in Baby Room Thermometers
Baby room thermometers are modified with features to make them ideal for a nursery. Here are some things to look for:
Color-coding: Many nursery thermometers include color-coding. The device will indicate the temperature using colored LEDs, allowing you to see it from across the room.
Built-in hygrometer: Because indoor humidity is important, this feature is fantastic to look for.
Big display: Looking for a big screen is great as it makes it easier for you to see the temperature.
---
Final Thoughts
The best baby room thermometers are a solid investment. Knowing the temperature of the nursery can help your baby stay comfortable during the night.
It's vital never to overdress your baby as this puts them at risk of SIDS.
During your search, look for useful features, including color-coding, built-in hygrometer, and a big display. This way, you'll also be able to monitor the humidity of the nursery easily and ensure that it is ideal for your little one. It might also help you avoid the risk of dry skin or other health hazards.
Thank You For Your Feedback!
Thank You For Your Feedback!