A good long-range baby monitor can help you feel close to your baby, no matter where you are in your home. Some may even let you dash to the garage or the backyard for a minute.
But with some monitors claiming to cover over 1,000 feet and others bragging that they cover just 150 feet, it can all be a little confusing.
We'll look at these claims and discuss what truly qualifies as a long-range baby monitor. We'll even shave hours off your shopping process by highlighting the five best long-range baby monitors on today's market and comparing their features and shortfalls.
Image
Model
Product Comparison Table
Features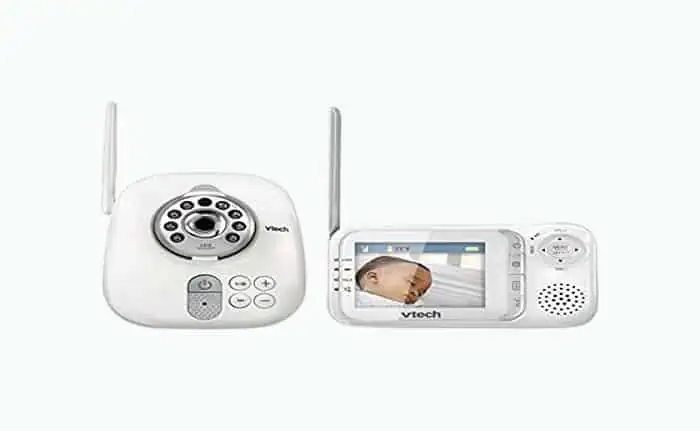 Best for Sound and Video
VTech VM321
Split-screen viewing
Crystal clear DECT sound
Out-of-range and temperature alarms
Best Video Only
Infant Optics DXR-8
150-foot obstructed range
Good battery life
Changeable camera lenses
Best Budget Video
Babysense Video
Affordable yet decent picture quality
Power saving mode
Can extend to take 4 cameras
Best Audio
Philips Avent DECT
Crystal clear sound
100% secure with DECT technology
Long-lasting batteries
Excellent range indoors and out
Superb audio
Night light on the nursery unit
---
---
The Best Long-Range Baby Monitors of 2023
Here are our favorite long-range baby monitors on the market.
VTech VM321 Video Baby Monitor
Best for Sound and Video Long-Range Baby Monitor
VTech makes a video monitor with excellent audio and an impressive field range of around 1,000 feet. It can work up to 150 feet in the home with no outages. So if you need to run to the basement to do some laundry, you'll have no worries with this monitor by your side.
The audio on the monitor uses DECT technology, which cuts out background noise, such as music, and prevents interference.
Other great features include automatic built-in night vision, a talk-back function, and a powerful zoom lens. This lets you observe and listen to your little ones at all times, even in a dark nursery.
You can add up to four cameras, which is great for watching little ones when they're in their playpen, the nursery, or even outside.
Your privacy and security will be protected with a 2.4 GHz frequency, and the ample 2.8-inch LCD screen lets you view your little one in living color. Moving around a lot? Don't worry; an alert will tell you when you've gone out of range.
These monitors even let you know if the room temperature is too high or low.
Pros
Split-screen viewing.
Crystal clear DECT sound, with the elimination of background noise.
Out-of-range and temperature alarms.
Five built-in lullabies.
Cons
The rechargeable battery may not last through the night.
Adding a second camera can sometimes disrupt the audio of the first.
Our Ratings
---
Infant Optics DXR-8 Video Baby Monitor
Best Long-Range Video Only Baby Monitor
This video monitor has an excellent field range of 700 feet. With crisp sound quality, little interference, and a clear 3.5-inch color LCD, you can watch your baby from anywhere in your home.
The monitor has an alarm system to let you know when you're out of range, so you won't accidentally go too far and miss something important.
You can control the high-quality camera from the monitor, so you can zoom, pan, and tilt through 170 degrees, to give you a total view of the nursery. You can add up to four cameras to suit your needs for even better coverage.
This unit comes with a standard and zoom lens — but you can add an additional wide-angle lens easily. The wireless transmission between the camera and monitor is 2.4 GHz to protect your privacy.
Other handy features are the two-way talk-back and temperature monitor. It has a lithium-ion battery and even includes a spare, which you can keep charged and ready when you need to switch out batteries. The battery life maxes out at 12 hours but you could be covered for 24 hours by cycling both batteries.
This monitor has infrared night vision and LED light alerts for noises, such as your baby's cries.
Pros
150 feet of obstructed range.
Good battery life.
Changeable camera lenses.
Audio-only setting so you can operate it when the screen is off.
Cons
Other devices in the same wireless frequency sometimes interfere with the signal.
Our Ratings
---
Babysense Video Baby Monitor
Best Budget Video Long-Range Baby Monitor
This video baby monitor from Babysense has a 900-foot open coverage range and 160-foot range indoors. This allows plenty of scope for movement indoors and out while still keeping an eye on your mini human.
It has a 2.4 GHz wireless digital connection for privacy and uninterrupted signal and a built-in alarm to notify you when you move out of range or when the battery is low. With this unit, you'll always have your little one covered.
The 2.4-inch display has a clear picture, so you'll be able to tell at a glance if your baby is awake or asleep. And you can easily control the zoom and pan function from the monitor, giving you a bird's-eye view of your precious bundle.
Other cool features are a temperature sensor, two-way talk-back function, infrared night vision, and built-in lullabies. When on silent, an LED light display indicates when your baby makes any noise.
The battery life only lasts for up to eight hours, which may not be long enough for your baby to get a full night's sleep — if you're lucky, and your little one is a better sleeper than mine was. Fortunately, the unit has an eco mode that lets you save power. Once activated, it will turn the unit on only when sound is detected.
Pros
Decent picture quality at an affordable price.
Power-saving mode to extend battery life.
It can take four cameras.
Cons
The power cord is pretty short, so you may need to use an extension cord with it.
The unit beeps when searching for a connection, which could disturb you at night.
Our Ratings
---
Philips Avent DECT SCD720 Baby Monitor
Best Long-Range Audio Baby Monitor
This long-range monitor is an audio-only unit, and its sound quality is excellent. As uses DECT technology, there's no interference — even over long distances. This also ensures transmissions are safe and secure, meaning only you can hear your baby.
The monitor has a talk-back function, enabling you to talk to and soothe your little one. The nursery unit monitors the room temperature, has five relaxing lullabies, and includes a soft night light — so you can get up for a middle of the night feeding without bumping into things.
The wireless parent unit sounds a warning alarm when you go out of range. Rechargeable batteries power the unit (up to 18 hours of life), and it has a handy docking station for charging. There's an LED light alert for noise, which operates even when you mute the unit.
Pros
Range up to 1,000 feet in the open and 160 feet at home.
Crystal clear sound and 100% secure with DECT technology.
Long-lasting batteries.
Cons
The parent unit doesn't have a belt clip.
Our Ratings
---
VTech DM221 Audio Baby Monitor
Casual Award
If you're on a budget and want an audio-only unit, this one from VTech has an excellent open range of up to 1,000 feet and up to 160 feet indoors. That gives you plenty of room to do laundry, prepare dinner, or just take five minutes for yourself in the garden.
The DECT 6.0 technology eliminates white noise, allowing uninterrupted, crystal-clear audio. You won't wonder whether you're hearing your baby or some other noise.
The parent unit has a five-level sound indicator, displaying the volume of sound in the nursery. You can mute the sound but still see when your baby is crying or making a noise.
Two-way talk-back lets you communicate with your little one when you're not in the room with them. You might even be able to soothe them back to sleep.
The parent unit comes with rechargeable batteries, but you can also use AAA batteries. It comes with a belt clip, making it conveniently portable.
An alarm sounds if you move out of range or if the battery runs low — although the monitor battery lasts up to 18 hours. There's also a vibrate alert function to detect noise when the audio is off.
Pros
Excellent range indoors and out.
Superb audio with DECT 6.0 technology.
Talk-back feature.
Night light on the nursery unit.
Cons
No battery option on the nursery unit.
The screen on the parent unit has no illumination, making it hard to see at night.
Our Ratings
What is a Long Range?
Many manufacturers measure the range of monitors in what they call an open field range. This means that they measure the distance the monitor covers in an open area with no obstructions.
This is not something we face in the real world. There are walls, doors, and pieces of furniture that get between the monitor and the transmission unit in the nursery, which means the actual range will likely be less than the stated open field range. A good source of information for the actual range on a unit is to read customer reviews.
Keep In Mind
Electromagnetic Fields (EMFs) from Wi-Fi, mobile phones, or
baby monitors
have not been found harmful to adults. However, some parents are concerned since most safety guidelines exclude children, who may have more vulnerable brain structures. To be safe, follow the manufacturer's instructions, and keep the monitor several feet from your baby
(1)
.
How to Choose the Best Long-Range Baby Monitor
There are a few things to think about when choosing a long-range baby monitor:
---
Closing Thoughts for Peace of Mind
Of all the products we've reviewed, we think the best long-range video monitor is the VTech VM321.
It has the best of both worlds: excellent sound with DECT technology and good video. The range is also relatively stable, allowing up to 1,000 feet outdoors and 150 feet indoors. And there are loads of handy features that make it feel like you have a second pair of eyes to keep on your baby.
Anything that gives you the freedom to move around your home and yard while still keeping tabs on your baby is a godsend in our book!
Thank You For Your Feedback!
Thank You For Your Feedback!