Is your baby struggling to sleep and you need to find a solution before you lose your mind?
Using a white noise machine can help provide your baby with a sense of comfort and allow them to fall back asleep without your intervention.
We've rounded up the best sound machines to help find one that suits your baby's needs.
Image
Model
Product Comparison Table
Features
Best Nightlight
Hatch Baby Night Light
Programmed to turn on automatically
Controlled by smartphones
Includes toddler lock feature
Best Projector
BabyFeel SleepyMe
Auto-off timer
2 power options
10 soothing melodies
Plugs directly into the wall outlet
Soothing night light display
No wifi required
Best Shushing
Baby Shusher Sleep Miracle
Easy timer options
Small, compact and portable
Doctor-approved
Best White Noise
Homedics Sound Machine
Compact and portable for travel
Auto-off timer
Battery-operated or plugged into an outlet
Best Portability
MyBaby SoundSpa
Portable design great for travel
Withstands bumps and tumbles
Four soothing lullabies
Best Plush Toy
Zazu Kids Plush
Programmed with 6 sound options
Melodies activated by shaking or sound
Shuts off by itself
Best Humidifier Combo
Ultrasonic Humidifier
Four soothing lullaby sounds
3-in-1 machine
Compact and portable for travel
Best Heartbeat
Waver Premium
Seamless looping of 6 quality sounds
Built-in USB charger
Lightweight and portable
---
Why Do Sound Machines Work?
Some believe when babies are in the womb, they are encapsulated in silence. But while the sounds of our outside world may be muffled, your baby isn't developing in silence.
The womb where your baby develops is actually loud. Your baby is exposed to many sounds within your body like the gurgling of your stomach and the beating of your heart.
Since they are used to constant noise, when you place your baby to sleep in an extremely quiet environment, your baby doesn't feel safe or at least a bit out of place.
Your baby is in a foreign environment, and can hear the slightest noises that can cause him or her to become startled. Younger babies have a hard time falling back to sleep on their own once waking up. This is where the noise machine comes in handy.
A sound machine emits a noise that is designed to be familiar to your baby and soothe him or her. The sound machine also helps block out all that background noise that could cause him or her to startle.
Types of Sound Machines
Different types of baby sound machines come with different features. Here is what you should know about each kind, so you can better decide which one best meets your needs.
Portable
A portable sound machine is a great option if your baby sleeps in many different places. If you are constantly on the go, it can be difficult to get your baby to sleep, and it can be hard to drag a sound machine along too.
A portable sound machine runs on batteries and can be used virtually anywhere. You aren't limited to space with an electrical outlet, you just have to make sure you have some extra batteries handy.
Plug-In
A plug-in sound machine works via a wall outlet. This sound machine is best if you are looking for a stationary machine. Typically, you will purchase this type of machine for your baby's nursery.
A major benefit of this type is that you don't have to worry about preserving power or changing batteries. Since this type of machine runs on electricity, they usually have extra features as well. This type of sound machine should be kept out of your baby's reach because the cord can be dangerous.
Stuffed Animal
This type of sound machine is basically a stuffed animal with a small sound machine inside of it. These can be nice because your child may become attached to the stuffed animal. Remember to never place the stuffed animal in the crib with your baby because it can be dangerous. A benefit of these is once your baby is old enough, he or she could sleep with this animal.
These sound machines typically turn on with just the press of a button, and babies learn how to turn them on fairly easily. You also have the freedom of taking the stuffed animal on the go!
Combination
There are combination products out there that combine more than one baby necessity, so you don't have to worry about purchasing two separate items.
You can often find a sound machine with an alarm clock, baby monitor aspect, radio, night light, or ceiling projection.
How to Choose the Best Baby Sound Machines
Here are a few things you should look for when choosing the best baby sound machine:
How is the Sound Machine Powered: Batteries are better for portability, whereas plug-in is easier for the nursery.
Is There a Remote Included: By no means a deal-breaker, but it can make life a little easier.
Is There a Sleep Timer: Most portable sound machines come with a timer in order to preserve battery life. But if you want a sound machine that will run throughout the night, the timer can become a nuisance as some models can only play certain for a certain duration before they automatically shut-off.
What Sounds Do You Want: Your options include white noise, nursery rhymes, heartbeat, animal sounds, and nature noises. Most newborn babies will prefer the heartbeat and white noise over the other options, but will eventually gravitate toward the other sounds.
The Appearance: There are different designs on the market — some of them are adorable and some of them are hideous. You need to figure out what features are most important to you, and if the features overrule looks.
---
The Best Sound Machines of 2021
Here are our favorite baby sound machines on the market.
1. Hatch Baby Night Light and Sound Machine
If you are hoping to find a sound machine that has a lot to offer, this is one of the greatest. This sound machine can be customized in many ways and it can even grow with your child.
This night light and sound machine is designed using scientifically proven light colors that promote healthy circadian rhythms and melatonin production with white noise to aid sleep. It is fully customizable, programmable, and controlled from your smartphone.
As your child moves from bassinet to big kid bed, it grows with your needs — first providing soft light for middle-of-the-night diaper changes and nursing sessions, then alerting your toddler when it is ok to get out of bed in the morning. It helps you reinvent bedtime to get your family a better night's rest.
Create the ideal sleep environment for your child's unique sleep needs by choosing from a range of custom colors and sound choices. The night light feature helps children feel secure. Plus, you have the bonus option to have the light stay on all night while still staying cool to the touch.
Pros
Can be programmed to turn on automatically.
Can be easily controlled by your phone.
Offers a variety of colors and sounds.
Includes toddler lock feature.
Cons
Some users said the light was too bright.
The app may not load properly on everyone's phone.
Some users noted the sound stopped shortly after purchasing.
---
2. BabyFeel SleepyMe
SleepyMe soother projector displays relaxing colored stars on the ceiling which create a calming effect for children. It also includes three interchangeable projection colors of starry skies that can easily be changed in a few seconds, preventing your child from becoming bored.
The sound machine uses an internal speaker that plays a selection of nature sounds and well-known lullabies. The tranquil tunes should put your child in a relaxed mood before going to bed so they can fall asleep quickly.
If your child wakes up, the music can quickly reset their mood and lull them back into a deep sleep. A single tune can be selected or you can loop all the tunes together.
It includes a volume control so you can adjust the volume to your desired level. Remember to keep it on low volume to protect your baby's hearing.
Both the star projection and music sounds can be activated manually by pressing a button.
Pros
Relaxing star projector good for all ages.
Ten calming lullabies and nature sounds.
2 power options.
Auto shut-off.
Cons
No option for either light or sound to be used while the other's turned off.
---
3. LectroFan Kinder Baby Sound Machine
Sleeping well begins at an early age. Help your child get the best sleep, improve their bedtime routine, and give yourself peace of mind with LectroFan Kinder.
Just plug it into any standard outlet, download the app, and control the experience with your Apple or Android smartphone or tablet. This makes it a good choice for any tech lovers out there.
You can control your little one's experience from outside the bedroom without having to cause any disturbance. Sometimes even tiptoeing into your baby's room can be enough to startle them while they are sleeping.
There are over 75 high fidelity sounds and lullabies that will give you a wide selection for your little one.
Pros
Plugs directly into the wall outlet.
Plays lullabies, nature sounds, and ambient noise.
Soothing night light displays a rainbow of colors.
Works with Apple and Android, no wifi required.
Cons
Some users had trouble with the Android app.
Some users noted it didn't stay synced to their phone.
Some users thought the range wasn't far enough.
---
4. Baby Shusher Sleep Miracle Soother
The Baby Shusher stops crying by engaging the natural calming reflex of your baby. It uses a parenting technique made popular by Dr. Harvey Karp in the "Happiest Baby on the Block" book.
It incorporates the fourth "S" of the "Five S" — shushing. With loud, rhythmic shushing noises, it draws on ancient, time-tested practices.
This is a doctor-approved and thoroughly tested technique designed to break a baby's cry spell and engage their natural calming reflex.
The rhythmic shush reminds the baby of being inside mom, where they were inundated 24 hours a day with loud sounds of blood flow and other in utero noises. What may sound harsh at first can be calming to a baby.
Because we know that babies will cry anywhere, the Baby Shusher is small, compact, and easy to keep clean, meaning you can use it in the car, when visiting friends and family, or when doing important everyday things like grocery shopping or catching up with friends.
Pros
You can choose how loud to play the shush.
There are two easy timer options for 15 or 30 minutes.
Small and compact for easy cleaning.
Portable.
Cons
Requires two hands to use.
Speaker is at the bottom, so it must be sat on its side when using.
---
5. Homedics White Noise Sound Machine
The Homedics White Noise Sound Machine offers six different nature sounds including White Noise, Thunder, Ocean, Rain, Summer Night, and Brook.
It features an adjustable volume setting allowing your baby to easily relax or fall asleep, even with undesirable background noise.
This model allows you the freedom to plug it into the wall, or use batteries for portable use. It can be plugged into a wall outlet with its included adapter or powered by four AA batteries, which are not included.
Its also designed with an auto-off feature. Set the timer to 15, 30, or 60 minutes. Or, if you choose, leave it on all night.
In addition to the white noise feature, there are also five other natural sounds that work great for calming down your baby. The rhythmic sounds instill a feeling of comfort that lulls people of all ages to sleep.
Pros
Includes white noise and five other sounds.
Compact and portable for travel.
Auto-off timer.
Can be plugged into a wall outlet so you don't burn through battery power.
Cons
Includes a green "on" light that emits significant light.
Some buyers noted that the knobs tend to break easily.
I used this sound machine with both my kids and it is still working. It has been working for the past 6 years and is still going. We have taken it on all of our family vacations to keep the babies soothed. It is easy to use and very durable.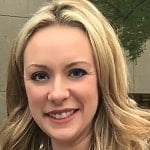 Editor's Note:
Jennifer Schlette, MSN, RN
---
6. MyBaby SoundSpa White Noise Machine
MyBaby is a solid pick when you are on the go. There are four high-quality lullabies and sounds including white noise, ocean, lullaby sounds, and heartbeat. The soothing sounds mask background noises to create an ideal sleeping environment for your baby.
Babies fall asleep easier, sleep better, and wake up refreshed when listening to a sound machine. There is a 15, 30, or 45-minute optional sleep timer that helps you conserve battery power and control your baby's sound exposure.
The integrated clip attaches to strollers and car seats, making the portable design great for travel. You aren't limited to just using this sound machine when on the go. It is also great to quickly and easily take from room to room.
Pros
Portable design great for travel.
Durable and withstands bumps and tumbles.
Four soothing lullabies.
Cons
The loop is a bit shorter.
---
7. Zazu Kids Plush Dog Sound Machine
DEX the Dog Sleep Soothing Soft Toy is a cute plush toy that helps calm and soothe a newborn baby through voice and motion-activated sounds. There are six sounds to choose from including a heartbeat and white noise sound as well as musical melodies.
The sound of your choice will activate as soon as it hears your little one awaken and play its soothing sound until it hears quiet for 10 minutes. That will eliminate a lot of the guesswork for you.
If you are hoping to find a baby sound machine that can stay on all night, this is not a great selection for you. This is best for parents wanting to only provide soothing noise for their little one when he or she is upset.
The fact this sound machine plush toy only turns on after hearing your baby cry, and then shuts off after your little one is quiet is great if you are worried about your baby relying on the machine as a sleeping crutch.
Pros
Sound module programmed with six different sound options.
Soothing melodies activated by shaking or sound.
Shuts off by itself.
Volume control.
Cons
Some buyers thought the sound was horrible.
Not safe to be in bed with younger children.
Some users were not pleased with the auto turn on/off.
---
8. MyBaby Ultrasonic Humidifier and White Noise Machine
The Homedics MyBaby SoundSpa Ultrasonic humidifier combines soothing humidity and relaxing sounds to help your baby sleep throughout the night.
Its one-gallon tank can deliver up to 45 hours of run-time per filling. Its Clean Tank Technology helps to protect the tank and air from mold and mildew buildup. An optional night light gently illuminates the room, while four soothing sounds block distractions and lull the baby to sleep.
One of the many features is an auto-off timer, which can be set for 15, 30, or 60 minutes to conserve energy. This is a great option if you are putting your little one down for a nap.
The SoundSpa baby sound machine is portable and lightweight. It easily fits into a bag or suitcase, making it a good travel companion for moms and babies alike.
The machine has many uses. It not only helps babies and children fall asleep, but it can also be used to calm them down if they are fussy.
This machine can help more than just babies too. Adults can also use it to tune out distractions or boost their focus while they study or work. It can be used to purifier the air in any nursery, bedroom, dorm, apartment, or office.
Pros
Four soothing lullaby sounds.
Triples as a night light, humidifier, and sound machine.
Compact and portable for travel.
Cons
Some users were not pleased with the white noise sound feature.
Several users noted the machine broke shortly after beginning use.
---
9. Waver Premium Soothing Sound Machine
Add a sense of calm to your baby's nursery with this stylish sound machine that helps drown out household noises and promotes more restful sleep.
Each of the six sound settings was carefully selected with your baby in mind to help you create the ideal mood for naptime or bedtime.
The heartbeat sound is a great way to soothe newborns. In addition to this sound, there are also lullabies, ocean, rain, fan, and white noise options to choose from.
There are integrated premium speakers with excellent volume control so you can ensure that the sounds are emitted at your baby's comfort level.
Pros
Seamless looping of six quality sounds with no audible break.
Built-in USB charger.
Lightweight and portable.
Includes a 15-, 30-, and 60-minute timer.
Cons
Some reviews noted the product broke about 3 months into use.
Some users noted the machine makes scratchy noises when on.
---
The Bottom Line
Our top pick as the best baby sound machine is the Hatch Baby Night Light and Sound Machine.
Although quite expensive, we believe it an investment worth making because it has features that let it adapt and change with your child. You can start using this with your newborn and continue using it once your little one is out of the toddler stage.
The fact this can be remotely controlled by your phone is also another great plus. You have many color options and sounds to choose from, and they are all conveniently accessible.
There is nothing better than getting two useful products in one, and that is what this sound machine has to offer.