When your baby gets a cold, it's awful. There are no medications thaet you can give them, and no easy way to ease their discomfort.
You can't even give them a teaspoon of honey if they're under one year old.
One of the very few things you can do to help your little one's cough, runny nose, and other cold symptoms is to use a humidifier.
We've rounded up the best humidifiers for baby's nursery so that you and baby can sleep easy.
Image
Model
Product Comparison Table
Features
Best for Congestion
Vicks FilterFree Humidifier
Easy to operate and clean
Runs for up to 30 hours
Can control humidity level
Best with Night Light
Pure Enrichment Cool Mist
Calming night light function
Runs for up to 16 hours
Multiple settings
Easiest to Clean
Honeywell Cool Moisture
Space saver
Comfortable transport
18 hours run time
Best Warm Air
Vicks Warm Mist
Has a handy nightlight
Use in conjunction with medicated inhalants
Operates quietly
Best Large
Everlasting Comfort Cool Mist
50 hours of operation
Incredibly silent
ETL certified for safety
Best Filterless Humidifier
Crane USA Humidifiers
Doesn't require a filter to function
Can run for 24 hours
360 degree lid
Best Cool Mist
Pure Enrichment MistAire
Safe, cool, mist
Ultrasonic
Comes with a 5-year warranty
Best Ultrasonic Humidifier
URPower 1L Humidifier
Up to 20 hours runtime
Automatic shutoff
Easy to operate
Best for Allergies
MadeTec Cool Mist
Runs for 16 hours
Nearly germ-free
Can be filled up easily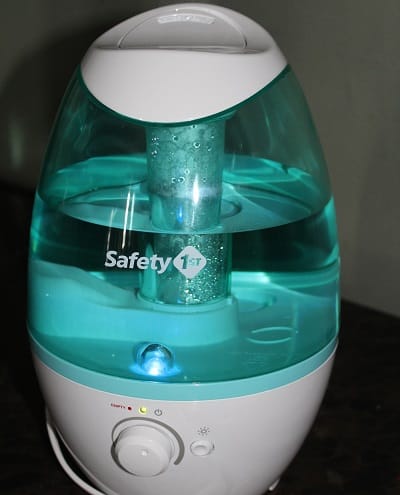 Best 360 Degree
Safety 1st Cool Mist
360-degree mist outlet
Easy to clean
Runs quietly
---
Should You Have a Humidifier in Baby's Nursery?
While not a necessity, a humidifier help ease the symptoms when your baby has a cold.
It does this by:
Thinning the mucus, so it's more easily expelled.
Soothing a dry throat to reduce the severity of a cough.
Moistening nasal passages and sinuses to promote faster healing.
Using a humidifier can not only help your baby (and the rest of your family) endure and recover from a cold, but it also has preventative health benefits. Humidity significantly hinders the ability of airborne viruses to travel, so keeping your air moist can help prevent your baby from catching the flu, colds, or other icky bugs that always make the rounds during the winter.
How to Choose a Humidifier for Baby
When purchasing a humidifier for your nursery, consider the following:
Decide whether you'd prefer a cool mist or hot steam unit. Generally, "vaporizer" means it will emit hot steam, while "humidifier" means it will expel a cool mist. However, sometimes the terms are used interchangeably so make sure you read the product details thoroughly.
A built-in filter will keep potential irritants out of the air, but it can also be a source of ill health if it's not kept clean. If you choose one with a filter, be prepared to clean it regularly, or else be prepared for the ongoing expense of replacing it.
Each humidifier has a different sized area for which it's suitable. If you're just using it in your baby's room, a machine that covers a 100 square foot area may be suitable. If you're planning to use it in your main bedroom, you'll need something larger.
Some humidifiers can be paired with scents or essential oils, emitting a pleasing aroma, offering health benefits, or just helping to ease congestion. Depending on the brand and model, you may be required to purchase their specific diffusing product. If you want a simple humidifier to add moisture to the air, skip ones with this particular feature.
---
The Best Humidifiers for Baby of 2021
Here are the top humidifiers for your baby's nursery.
1. Vicks FilterFree Humidifier
This easy-to-operate humidifier has a visible reservoir so you know exactly when you need to replenish the water. You won't have to do it that often, though, because one fill-up can make the unit run for up to 30 hours. If you do let it run dry, it will shut off automatically so the machine won't be damaged.
It's designed to be used with Vicks Scent Pads, which can introduce menthol or lavender into the air to soothe your little one (although first verify that this is appropriate for your baby's age group).
There are no filters to replace and few safety concerns as the water is atomized into a mist by a high-frequency vibrating plate rather than creating heat and steam. You can also control the mist output with a simple, foolproof dial design — dial-up for more mist, dial down for less.
Pros
You can use Vicks Scent Pads.
It has a large opening for easy cleaning.
Runs for up to 30 hours.
You can control the humidity level.
Cons
It doesn't kill bacteria as it's cool mist.
---
2. Pure Enrichment MistAire Ultrasonic Cool Mist Humidifier
Babies with coughs or stuffy noses often need humidifiers at night to help them sleep soundly. Thanks to this humidifier for Pure Enrichment they can also enjoy a peaceful and soothing ambiance as well.
The tank is not only rounded and made of a clear plastic, which is aesthetically pleasing in the first place, but a simple press of the button turns it into a night light. With a soft glow, it can help calm your baby as they struggle to sleep through the night.
You can fit 1.5 liters of water inside and choose from high or low-speed settings to adjust mist direction and intensity. Because it can run for up to 16 hours, it can be used throughout the night. However, if the water level is too low or something dislodges the water tank, the humidifier will automatically shut off to ensure your baby's safety.
Pros
The calming night light function is perfect for bedtime.
Runs for up to 16 hours, so it'll last through the night.
Multiple settings ensure the perfect moisture level for your situation.
Cons
Moms note the small tank opening makes it hard to clean.
---
3. Honeywell HEV320WD1 Cool Moisture Humidifier
At first, you may think humidifiers remain clean because of all the water you put inside. But think of all the germs and gunk in the air it's trapping so you don't breathe it in! Cleaning a humidifier is important to how effective it is and the extra-large opening on this Honeywell humidifier lets you do just that.
Because the opening on the water tank is so large, this allows you to scrub more effectively and get into those hard-to-reach nooks and crannies. It also means you can fill it up without worrying about spills.
It's a cool-mist humidifier complete with a 0.8-gallon tank. Move it from the sink to your baby's room easily thanks to its lightweight construction. If you use a humidifier consistently, this is an easy-to-clean option that won't add extra stress to your life.
Pros
Extra-large tank opening makes cleaning easy.
Minimalist design and space-saving device.
Long runtime of 18 hours.
Cons
The replacement filters for this unit are not at a great price point for moms on a budget.
---
4. Vicks Warm Mist Humidifier
This warm mist humidifier has a one-gallon capacity that will last for 12 hours, which is plenty of time to make it through the whole night. But if you forget to refill it, no worries — it has an auto shut off in the event it empties.
It also has a medicine cup, allowing it to produce a medicated vapor to ease your child's congestion if they're sick, and a nightlight to scare away those monsters! You can adjust the flow of the steam between 2 comfort settings, and the tank is designed to empty completely (without leaving standing water) to reduce the chance of bacterial growth.
Pros
It empties completely, which is more hygienic.
It has a handy nightlight.
You can use in conjunction with medicated inhalants.
It operates quietly.
Hot steam kills 95 percent of germs.
Cons
You must keep it out of the reach of children to prevent burns.
The nightlight does not turn off.
You'll need to clean it occasionally.
---
5. Everlasting Comfort Cool Mist Humidifier for Bedroom
Do you need a humidifier to work in a particularly large room? Or maybe you need it to run for a longer time? If so, a large humidifier is the way to go and we suggest this one from Everlasting Comfort.
With a 6-liter tank, it will work for up to 50 hours. This is great for moms at home who need continuous, refreshing air. Better yet, place a few drops of oils in the built-in humidity essential oil tray will make this perfect to enjoy long-lasting comfort throughout the day.
We also love how quiet this humidifier is. Because it's ultrasonic, it's incredibly silent and won't bother your baby when they're trying to sleep. Combined with the extra-large tank, you can use it at night without any fuss.
The tank may hold up to six liters and the entire humidifier itself isn't very bulky so you don't have to worry about it taking up extra space in your home.
Pros
The large water tank gives you 50 hours of operation.
Incredibly silent and great for bedtime.
Guaranteed safe for use by Intertek.
Cons
Others may find refilling difficult but some user suggested that lifting the vents off the top will expose a carrying handle making it easily portable.
---
6. Crane USA Ultrasonic Cool Mist Humidifier
Many humidifiers work with a filter, something you will then have to purchase and change out on a regular basis. Skip the stress and avoid a filter altogether with the Crane USA Humidifier. It doesn't require a filter to function properly, saving you time and money.
However, if you have super hard water, a filter can be inserted to avoid damaging the piece. Make sure to figure out what your water is like before putting it in the humidifier.
Overall, it holds up to a gallon of water and uses vibrations to produce a cool mist good for relieving the symptoms of coughs, colds, dry skin, and more. Because the mist isn't heated, it's especially good for your baby's delicate skin.
We also really appreciate the 360-degree lid, which allows you to direct the mist where you need it the most. It's whisper-quiet and can run for up to 24 hours.
Pros
No filters mean you save time and money.
Holds up to a gallon of water and can run for 24 hours.
The 360-degree lid allows the mist to be directed.
Cons
No filter means you'll have to keep an eye on how dirty the inside of the humidifier gets, leading to more cleaning.
---
7. Pure Enrichment MistAire Ultrasonic Cool Mist Humidifier
This cool-mist humidifier will moisturize your air for up to 10 hours, so you know that it'll operate continuously throughout the night without you needing to refill it constantly. The long mist stream will prevent water from pooling on the floor and help ensure it's absorbed and distributed as desired.
You have the option to select on using either high or low mist settings in a few touch of a button, and it will help to humidify small to medium-sized rooms not greater than 175 square meters. It provides moisture through ultrasonic technology, so you don't have to worry about your little one burning themselves if they get too close.
Pros
It's safe, cool mist.
Five years warranty.
It's ultrasonic, so it's very quiet.
It has an optional night light.
Cons
The design can be difficult to clean and refill.
Difficult to operate at night since the power button LED automatically shuts off..
Will only last for 10 hours of usage.
---
8. URPower Remote Controlled Ultrasonic Humidifier
This humidifier makes operation a breeze with wireless remote control and clear, well-lit indicators for low/medium/high mist output. The one-liter holding tank means it easily operates for more than half a day without needing a refill, and the sleek design fits in easily with many types of decor.
It shuts off automatically when empty so it won't burn out the motor, and the quiet operation won't interfere with your baby's sleep. And since it's ultrasonic, the mist it releases will be cool — there are no hot elements — to maintain your little one's safety. There's also no filter, so ongoing maintenance is minimal.
Pros
There are no heating elements.
It has an auto shut off feature.
Easy to operate.
It has a sleek, modern design.
Cons
It only holds about a liter of water.
You must clean the unit every 2-3 uses.
---
9. MadeTec Ultrasonic Cool Mist Humidifier
This humidifying unit acts as both a humidifier and diffuser which means they will help provide continuous 20-hour humidity in your child's nursery in just a single filling. This will help prevent irritating your child's sensitive respiratory system. It has three different mist settings varying from low, high, or cloud.
The tanks are nicely sized so you can fill them up in your sink, unlike some other models that are too bulky and need to be filled up in the bathtub. It runs super quietly and won't disturb your (or your baby's) sleep.
Pros
It runs for 20 hours.
Covers up to 350 square feet.
It can be filled up easily in your sink.
Cons
The light on the front is very bright.
May require a bigger space in the table.
---
10. Safety 1st Soothing Glow Cool Mist Humidifier
Is heating your house during the winter causing your child to have a dry throat, irritated nasal passages, or even nosebleeds? Some children child suffer from nose bleeds during winter if they don't keep a humidifier running in their bedroom at night.
We liked the idea of not having to monopolize the whole electrical outlet with a nightlight and a humidifier when one unit could take care of both functions. And the glow from this one is just right – it's not too bright, but it's also enough to prevent stubbed toes for me when I wander in to see if he has kicked off his blankets and needs to be tucked back in.
After giving this unit a test run, we were pleased. The tank was easy to fill and one tank lasted about three nights at the setting I use.
Pros
The humidifier offers a 360-degree mist outlet which lets you position it anywhere.
You don't have to replace any filters.
It's easy to clean, which is a good thing for keeping germs at bay.
It runs quietly.
Cons
If you use it at its highest setting, you'll need to fill it frequently. Try it at its lowest setting first to see if it does the trick for you.
---
What Type of Humidifier is Best for Baby?
The AAP recommends using a cool-mist humidifier over a warm mist one.
Steam vaporizers heat water to the point that has the potential to burn a small child if the device is knocked over. This is why professionals agree they are not worth the risk.
Are Humidifiers Safe for Babies?
When using a humidifier, there are a few things you need to be aware of.
​Burn Risk: Hot-water vaporizers are generally more hygienic as the water is heated to steam that is hot enough to kill potential bacteria (1). However, they also pose a burn risk for small children. If you choose a hot-water vaporizer, make sure it's out of reach of your child. If there's no way to ensure your small child can't have access to the vaporizer, opt for a cool-mist humidifier.
Cleanliness: If your model has a filter, you need to clean or replace it periodically. In any product that holds water, bacteria and mold have the potential to grow, which can cause health problems. Make sure you keep it clean and well-maintained to prevent unwanted health issues.
Over-Moisturizing: If you introduce too much moisture into the air, it can cause mold and other allergens to grow in your child's room or other areas of your home. You can purchase a hygrometer at any home improvement store to monitor the moisture level and prevent it from becoming too high; 30-50% is ideal for health, while 43% has been shown to be the ideal level to prevent the travel of airborne bacteria and viruses (2).
Pro Tip
Consider using filtered water in your humidifier to give it a longer lifespan. Tap water can cause mineral buildup inside the machine, making cleaning more difficult and causing unnecessary wear and tear over time.
---
The Bottom Line
Sometimes, simple is best. We think the best humidifier for baby's nursery is the Vicks FilterFree Humidifier because it is easy to operate, easy to refill, and easy to clean. It has no filter that you need to replace, and the opening into the water chamber is large enough so that your regular cleaning sessions (which you'll have to do no matter what unit you choose) are a breeze. It's also compatible with medicated, scented pads to ease congestion and because it's a cool-mist humidifier, you'll be at ease knowing there's no burn risk to your baby.
There are a few tricks you can try when your baby comes down with a cold, and using a humidifier is at the very top of that list. Not only can moist air make your babe more comfortable, but it can also help them heal faster — and stay well longer. That's well worth the upfront investment of a humidifier if you ask me.