Moms have to deal with the grossest things, don't they? Most people realize that after having a baby, they'll have to deal with diapers and spit-up, but they forget the third most common bodily fluid: mucus.
Whether they're sick, suffering from allergies, or have a runny nose due to teething, babies' noses are always running. And to keep them comfortable (and happy), you're going to have to do something to clear those nasal passages.
We've spent hours reviewing all the best nasal aspirators so you can make an educated choice and help your baby breathe better. Our handy guide has everything you need to know about clearing your baby's nose, including what to look for in a nasal aspirator.
Image
Model
Product Comparison Table
Features
Easiest to Clean
Nosiboo Pro Aspirator
Quick and easy to use
Full control over suction power
Fun ball shape
Best Electric Aspirator
Watolt Nasal Aspirator
Five major protecting systems
Easily portable
BPA-free silicone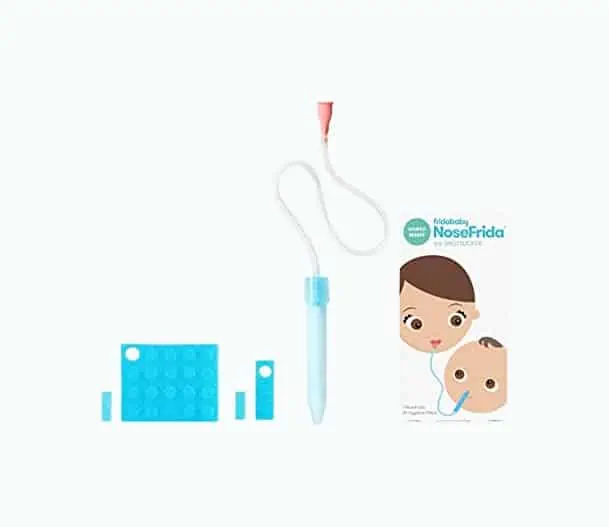 Best for Newborns
NoseFrida The Snotsucker
Convenient disposable filters
Easy control of suction
BPA-free and phthalate-free
Best for Long-Use
OCCObaby Baby Aspirator
Multiple tip options
Compact design
Can use batteries or oral suction
Best for Squirmy Babies
BabySmile Aspirator
Hospital-grade suction power
Use at any angle
Small and compact kit
Best Bulb Style
BoogieBulb Baby Aspirator
Dishwasher safe
No need for replacement filters
Hygenic design prevents mold
Best Budget Pick
Innovo Twister Bulb
100% medical grade silicone
No BPA, phthalates, or latex
Hypoallergenic
Best for Sinus Infections
Bubzi Co Aspirator
Soft hospital-grade silicone tip
Mouth-controlled suction
Easy to assemble
Review Methodology: At Mom Loves Best, we provide an in-depth analysis and hands-on evaluation of the best nasal aspirators on the market, ensuring that you can trust our expertise and experience. Our team of professionals conducts thorough research, comparing and ranking products based on performance, design, and key decision-making factors. We assess criteria such as suction power, ease of use, and hygiene, providing quantitative measurements and first-hand evidence to highlight the top choices. By reviewing and scoring each aspirator, we identify what sets them apart from their competitors, ultimately helping you choose the best option for your baby's needs.
---
---
The Best Nasal Aspirators of 2023
Here are our favorite nasal aspirators currently on the market.
Nosiboo Pro Baby Nasal Aspirator
Easiest to Clean Nasal Aspirator
Designed with the help of ENT (ear, nose, and throat) specialists, this nasal aspirator has a unique design that is both functional and fun. Babies will be gladly distracted by the large, round ball, and moms will love how easy it is to clean.
In fact, the patented head is the only part of the aspirator that requires cleaning. It disassembles easily and only needs to be washed under running water. You don't have to worry about cleaning multiple pieces and getting into tiny nooks and crannies.
We also really like the control you have over the suction power. It has multiple settings you can adjust based on your child's age and the thickness of their mucus. Scientists worked to ensure the highest suction level would not be too high for your baby's sensitive nose.
This aspirator helps moms distract their children during what can be a stressful time, while simplifying the cleaning process.
Pros
Patented design makes clean up easy and quick.
Full control over suction power with multiple settings.
Fun ball shape helps distract and entertain baby.
Cons
The noise of the machine is a bit loud and may be startling.
Our Ratings
Community Feedback
I'm thrilled with the performance of this nasal aspirator, as it has made a huge difference in helping my kids breathe easier when they're congested. The adjustable suction power ensures the right amount of suction for each child, and although the motor can be a bit noisy and warm up after continuous use, the effectiveness of the device far outweighs these minor drawbacks. To ensure a positive experience, let your child explore the device first and remember to clean it promptly after each use.
---
Watolt Electric Nose Suction for Baby
Best Electric Nasal Aspirator
This whisper-quiet aspirator claims its motor is so silent that your baby will sleep right through it. Plus, you have the option to play a soothing lullaby while doing the cleaning. It's battery operated, meaning it will be at the ready whenever you need to use it — no need to wait for it to charge up. It's also ideal for travel.
It has five major protection systems, so you can be sure that you won't harm your baby while you're cleaning his nose. And the parts of the device that come into contact with mucus can be removed and sterilized for future use, ensuring that it's hygienic every time.
Finally, you only need one hand to operate this aspirator. With the simple push of a button, the suction is activated.
Pros
Features five major protection to ensure a safe cleaning.
It's portable.
Made with BPA-free silicone.
It has three suction settings.
Cons
You'll need to replace the batteries occasionally.
Our Ratings
Community Feedback
From my year-long experience using this nasal aspirator, it has proven to be a helpful tool in clearing my baby's congestion. The product is easy to clean and assemble, and the various attachments for different ages make it versatile. While the suction works well, I do wish it was slightly stronger to avoid inserting it too far into my child's nose. One downside is that the device tends to drain batteries quickly, so I recommend using rechargeable batteries for repeated use.
---
NoseFrida The Snotsucker Baby Nasal Aspirator
Best Nasal Aspirator for Newborns
The NoseFrida is the original oral suction-powered aspirator. It allows you to gently control the level of suction with your mouth while keeping the "ick" factor minimal with a disposable filter, ensuring you can't accidentally inhale the baby's mucus during treatment.
The disposable filter also promotes hygiene as you can throw it away once it has been contaminated and replace it with another clean, hygienic filter. What's more, the NoseFrida is dishwasher safe, allowing you to clean it easily.
It's also free of BPA and phthalates to keep potentially harmful chemicals away from both you and your baby.
Pros
Easy to clean.
Disposable filters promote hygiene.
You can control the strength of the suction.
BPA-free and phthalate-free.
Cons
Some reviewers found the pieces disconnected during use.
Our Ratings
Community Feedback
Got this product for my 3-month-old who had a cold, and it has been incredibly effective in clearing out the mucus. The suction power depends on your lung capacity, but once you get the hang of it, the relief it provides is impressive. This nasal aspirator is also easy to clean and comes with a lifetime supply of filters, ensuring a hygienic experience. Despite the initial hesitation about sucking out boogers, it has quickly become an essential tool in our baby care arsenal.
---
OCCObaby Baby Nasal Aspirator
Best Long-Use Nasal Aspirator
With multiple tips and a compact size, this nasal aspirator will be a staple in your household for years to come. It's a great investment for new moms and moms of multiples.
Each set comes with three different tip sizes: a power suction tip for heavy mucus, a long-reach tip for those hard-to-reach places, and a gentle tip that's perfect for newborns. All the tips are made of medical-grade silicone and can be reused. This means you won't have to worry about messy filters and replacement tips or buying a new aspirator once your baby gets bigger.
The smaller, waterproof base fits easily into a diaper bag or purse, making it a great choice for when you're on the go. We also like the dual operating options. It's run by batteries, but if you're caught without some, simply use the included oral suction tool.
Pros
Multiple tip options mean versatility and long-term use.
Compact design fits into purses and diaper bags.
Can be run with batteries or with oral suction.
Cons
Suction power doesn't compare to electric aspirators.
Our Ratings
Community Feedback
For the past few weeks, my baby has been struggling with severe congestion. This nasal aspirator has been a lifesaver, as it clears the congestion quickly and efficiently. The battery-powered suction is strong, but gentle enough for my baby's comfort, and the various tip sizes make it adaptable for their growing needs.
---
BabySmile Nasal Aspirator
Best for Squirmy Babies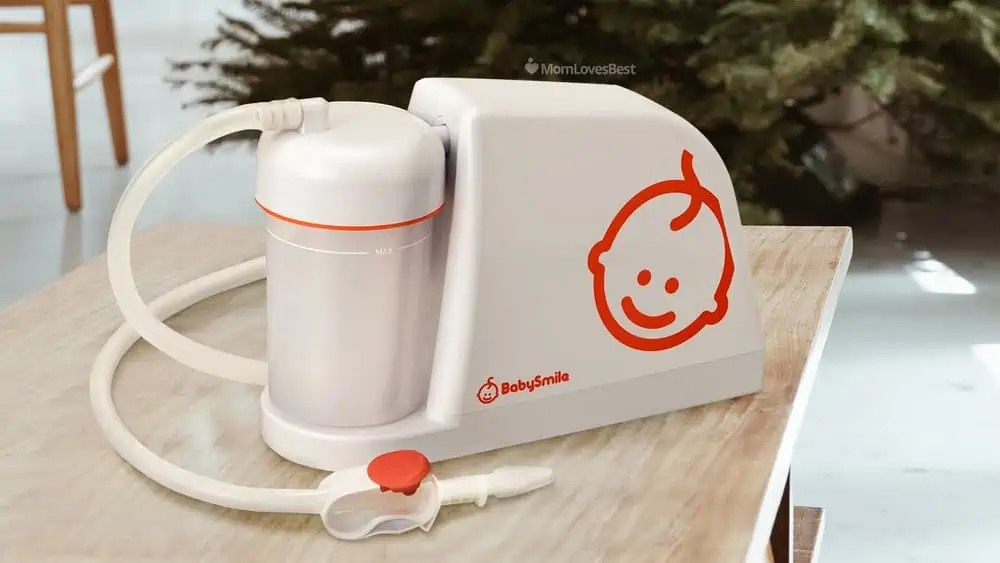 The highlight of this nasal aspirator is its instant mucus suction. It's a great option for those moments when your little one just can't sit still.
Plug in the power base and turn it on. Hold down the clip for a few seconds, and place the soft silicone tip near your baby's nose. With its hospital-grade suction, it quickly sucks up even the thickest mucus.
The additional strength is ideal for those really sticky situations. But beware: smaller babies may be sensitive to the high power, so start on a lower setting and work your way up to ensure they're comfortable.
The thin cord makes it easy to use the suction tip at any angle. This means you can soothe and comfort your baby in a position they prefer. You can even hold your baby on your lap if they're getting too squirmy.
Pros
Hospital-grade suction power ensures instant mucus suction.
Use at any angle to ensure baby's comfort.
Small and compact kit.
Cons
Includes multiple parts to clean.
Much more expensive than manual aspirators.
Our Ratings
Community Feedback
From personal experience, the BabySmile Nasal Aspirator has been an essential tool for my baby's care. This compact device effectively clears nasal passages, providing instant relief from congestion. The gentle suction is safe and comfortable, making it easy to use even on a fussy little one. Cleaning is hassle-free with its detachable parts. Whether dealing with a sick baby or just everyday stuffiness, this nasal aspirator has consistently delivered reliable performance, making it a must-have for parents.
---
BoogieBulb Cleanable Baby Nasal Aspirator
Best Bulb Nasal Aspirator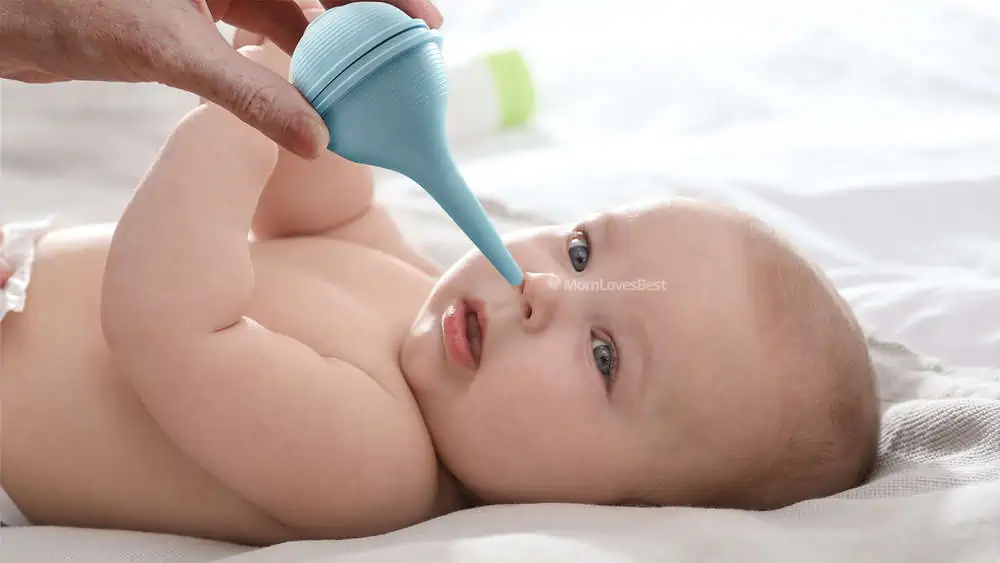 The BoogieBulb takes the tried-and-true classic bulb syringe and improves on it by making it easier to clean. After you've suctioned your baby's boogies, you can open the bulb to clean, dry, and sanitize it — it's even dishwasher safe.
It comes in multiple sizes you can purchase purchased separately, is made of hospital-grade latex, and is clinically proven to prevent the build-up or transfer of germs.
We love that all sizes of the BoogieBulb come with a lifetime warranty, so if you have any trouble with the product, the company will stand behind it.
You can open the bulbned to ensure proper cleaning and complete drying.

Pros
Dishwasher safe.
No need to purchase replacement filters.
Design prevents bacteria and mold growth.
Cons
You have no control over the level of suction.
Pieces sometimes separate during use.
Our Ratings
Community Feedback
From the moment I tried this nasal bulb, I knew I had found something special. The suction power is incredible, easily outperforming other nasal aspirators I've tested; it effortlessly clears out even the toughest boogers, providing my baby with much-needed relief. However, it's important to use nasal saline beforehand to avoid causing discomfort. What sets this bulb apart is the ability to disassemble and thoroughly clean it, preventing mold growth and ensuring its safety for my child. While the initial assembly might be a bit challenging, once mastered, this nasal bulb truly stands out in terms of effectiveness and cleanliness.
---
Innovo Hospital Grade Silicone Twister Bulb
Best Budget Nasal Aspirator
This product is made from 100 percent medical-grade silicone that's safe, BPA, phthalate, and latex-free.
There is no need to buy batteries or replacement filters. The clear design allows you to see whether the suctioning is effective or if more power is required to clear the sinus cavity.
Furthermore, unlike other aspirators, it doesn't get inserted deep into the nostril, facilitating increased comfort for a baby whose nasal passages and sinuses are inflamed or infected.
Pros
100% medical grade silicone.
Clear design allows you to see the effectiveness of suctioning.
No disposable filters to purchase.
BPA, phthalate, and latex-free.
Cons
There are lots of parts to wash and dry.
Our Ratings
Community Feedback
If you're looking for a reliable and efficient way to clean your baby's nose, this product is a fantastic choice. I initially tried the regular blue ones, but they broke easily and didn't offer a clear view for cleaning. This one, however, has better suction, is transparent, and easily comes apart for thorough cleaning. I've used it on my 6-month-old without any issues and even ordered a second one for our diaper bag. After using it with two kids, I can confidently say that this product is a significant improvement over the standard options.
---
Bubzi Co Baby Nasal Aspirator
Best for Sinus Infections
This nasal aspirator is perfect for treating sinus infections for several reasons. Two stand out in particular.
It has a smaller suction tip to fit comfortably in your baby's little nose without causing extra irritation. Large tips not only stretch the skin, but they also poke at the inflamed area inside your baby's nostrils. Best of all, the tip is made of soft, BPA-free hospital-grade silicone.
Our second favorite feature is the unique mouth suction control. To use this nasal aspirator, place the tip at the base of your baby's nostril and gently inhale through the mouthpiece to aspirate the mucus.
This feature allows you to control the strength of aspiration and ensure your baby is comfortable. Because your face will be closer to your child's, you can also help them feel more relaxed. If your baby frequently has sinus infections, this is a really effective option.
Pros
Soft, hospital-grade silicone tip prevents irritation.
Mouth-controlled suction helps baby stay comfortable.
Easy to assemble and clean.
Cons
Although totally sanitary, the idea of using your mouth to suction can be off-putting.
Our Ratings
Community Feedback
This baby nasal aspirator has been highly effective in providing sinus congestion relief for my little one. The gentle suction ensures a safe and pain-free experience, while the soft tip is comfortable for both babies and toddlers. This reusable aspirator is easy to assemble, clean, and store in its convenient case, eliminating the need for additional filters or parts.
What Is a Nasal Aspirator?
A nasal aspirator is a device used to suction mucus from a baby's nasal passages. It's used when a baby is very congested — to the point that it affects their ability to breathe, eat, and sleep.
As adults, we blow our noses when we are stuffed up. Since babies don't have that ability, their mucus must be removed another way.
3 Types of Nasal Aspirators
When choosing a nasal aspirator to help your baby breathe better, there are three main designs you'll see.
Bulb Syringe
Also known as a "bulb aspirator," this is the classic snot-sucking tool. Made of rubber with a large ball on one end and a narrow, tapered opening on the other, it looks (and works) like a large eye dropper or turkey basting tool. This is the lowest-tech option available.
Electric Aspirator
These battery-powered gadgets are designed for ease. One end goes in the baby's nose, mom presses a button, and the mucus is sucked into the mechanism to clear baby's nasal passages.
Oral Suction Aspirator
These handy tools took the market by storm a few years ago. A tube is inserted in the baby's nose, and the other end goes in the caregiver's mouth. The caregiver then uses oral suction to get the boogers out. (Don't worry, there's a filter that prevents you from accidentally eating them.) Moms swear by these as a gentler and more efficient alternative to the bulb syringe or electric aspirator.
How to Choose a Nasal Aspirator for Baby
When purchasing a nasal aspirator, these are the things you should pay attention to:
---
How Do I Use a Nasal Aspirator?
Proper aspirator usage will depend on the type of aspirator you choose. You can increase the effectiveness of any method by using saline drops or a saline spray in your baby's nose before suctioning. The saline will help to thin and loosen mucus, making it easier to remove.
How to Use a Bulb Syringe Aspirator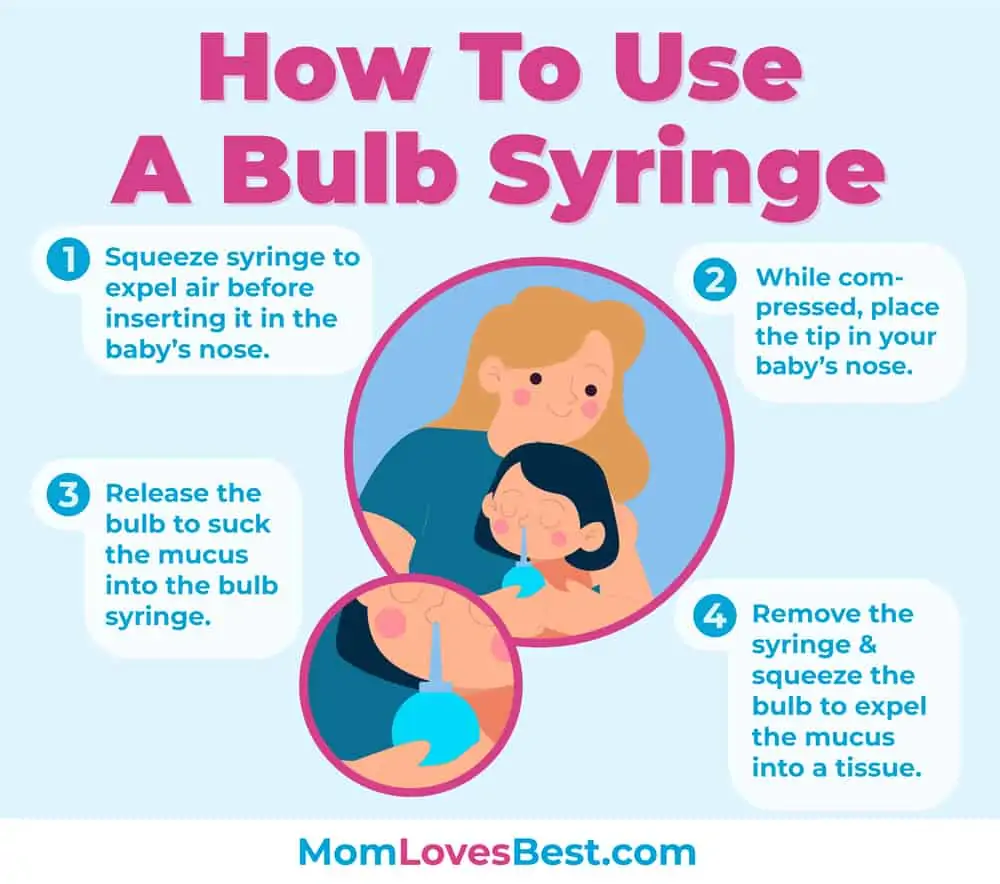 Squeeze the syringe to expel air before inserting it in your baby's nose.
While the bulb is still compressed, place the tapered tip in your baby's nose, making sure it is inserted far enough that the outer edges of the nostril touch the end of the syringe and form a seal.
Release the bulb to create a vacuum that will suck the mucus into the syringe.
Remove the syringe and squeeze the bulb to expel the mucus into a tissue.
How to Use an Electric Aspirator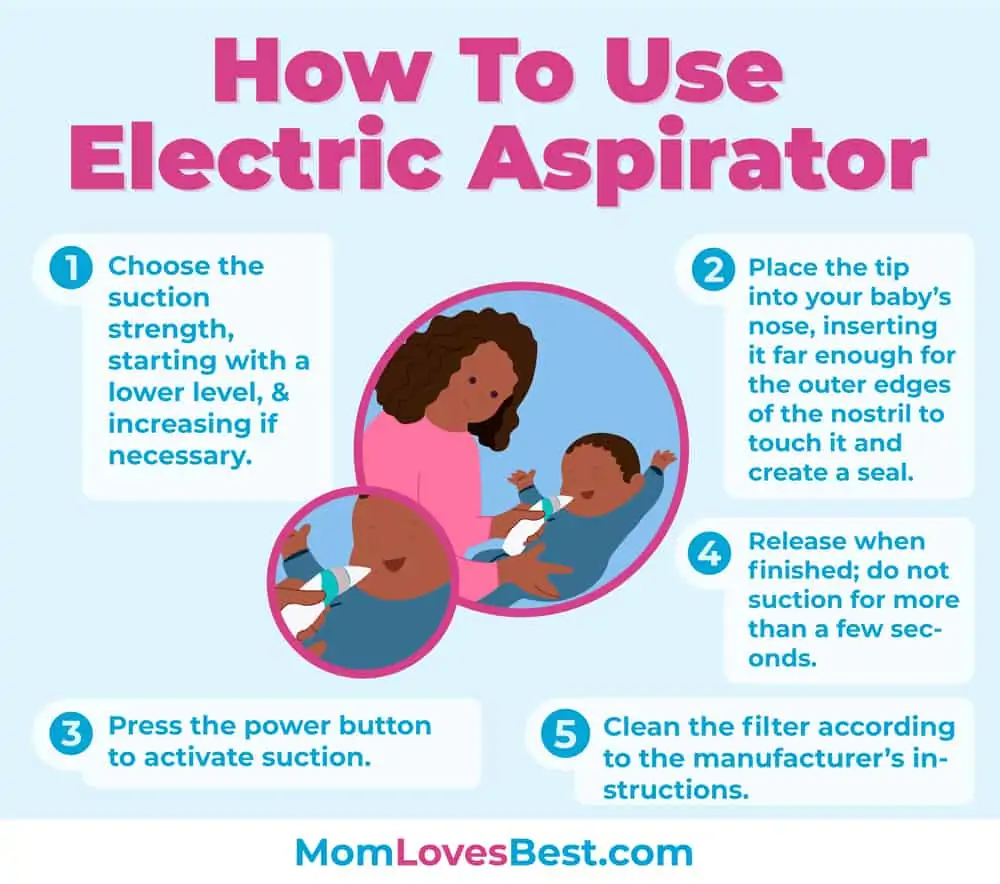 If your device has a variable suction level, choose the desired strength. Start with a lower level, and increase the suction as necessary.
Place the tip into your baby's nose, ensuring it's inserted far enough for the outer edges of the nostril to touch it and create a seal.
Press the button to activate suction.
Release when finished; do not suction for more than a few seconds.
Clean the filter or release the mucus according to your manufacturer's instructions.
How to Use an Oral Suction Aspirator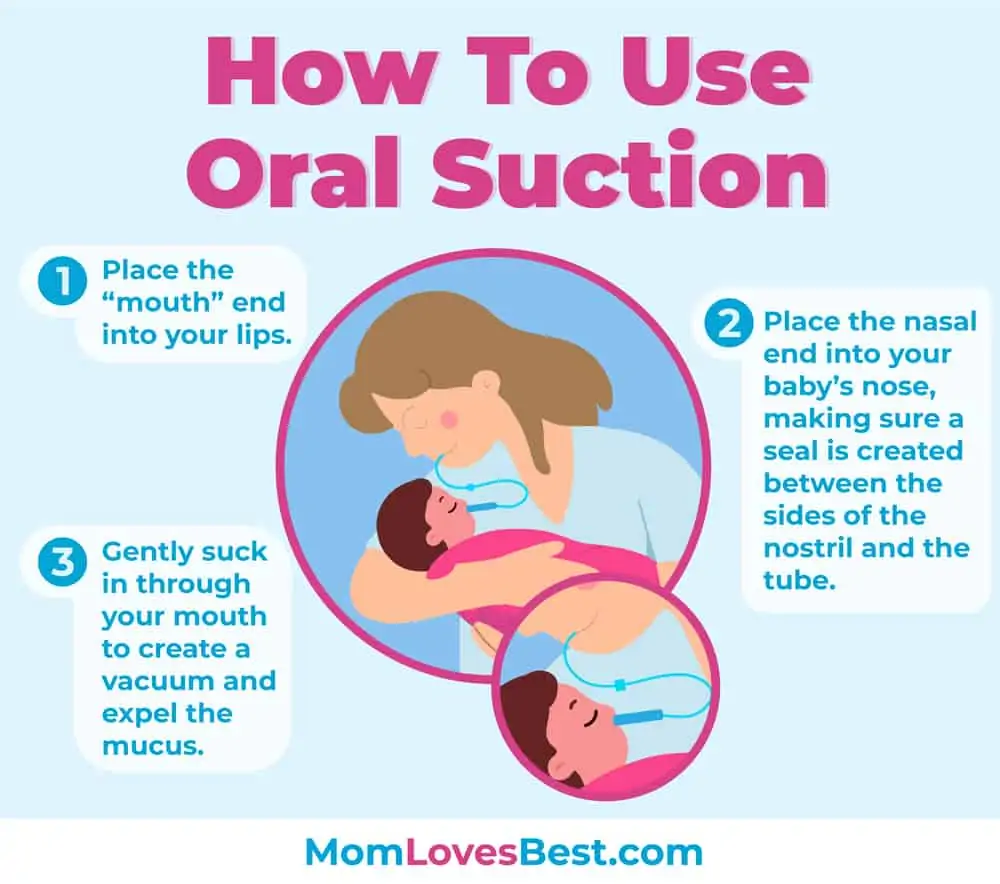 Place the "mouth" end into your lips.
Place the nasal end into your baby's nose, making sure a seal is created between the sides of the nostril and the tube.
Gently suck in through your mouth to create a vacuum and expel the mucus.
Does Suctioning a Baby's Nose Hurt?
Most babies will fuss and cry when a nasal aspirator is used as it's uncomfortable and may hurt a bit. But it is effective, and when used properly and sparingly, an aspirator will not harm your baby.
However, there are a few safety issues to keep in mind.
When using a bulb syringe, always squeeze the air out BEFORE putting the end in your baby's nose. Never squeeze air into the nasal cavity as it can cause damage and harm your baby.
If you're using saline drops to thin the mucus, never use them for more than four days in a row as they can dry out the nasal passages and cause them to become inflamed. Also only use gentle saline products that were created specifically for babies — not the adult versions.
Do not use a nasal aspirator more than 2–3 times per day as it can irritate the lining of your baby's nasal passages (1).
Clean the nasal aspirator thoroughly after each use to prevent bacteria growth. Failure to do so can cause the bacteria to be transmitted to your baby upon its next use and result in illness or infection. For bulb syringes, soak in dish soap to loosen the mucus, run the soapy water through the syringe multiple times followed by clean water to rinse, and allow to dry completely. To sanitize, boil it in water for ten minutes. For oral suction or electronic aspirators, consult your manufacturer's instructions for proper cleaning and sanitizing techniques.
---
The Bottom Line
Let's face it: nobody enjoys causing their baby discomfort when using a nasal aspirator. But if you choose one that's quick, efficient, and as gentle as possible, the odd sensation will save them (and you) a lot of long-term discomfort from congestion.
Thank You For Your Feedback!
Thank You For Your Feedback!