If your child is gaining control of their fine motor skills, and you're looking to expand on their arts and crafts experience, you'll want to find supplies designed specifically for toddlers. This is not always as easy as it sounds.
Most craft supplies are created for older children with better motor skills, who are less likely to try to eat their crafting materials. But we've searched high and low to come up with a list of the best art supplies for toddlers. These products are easy to use, safe for little ones, and affordable. They're not super messy either.
From finger paint kits to glue-free paper crafts to easy-to-hold crayons, We'll provide plenty of options to save you time and effort and get your little one working toward artistic mastery sooner. We'll review them in detail and discuss the benefits of art for tots.
Let's get started.
Image
Model
Product Comparison Table
Features
Most Versatile
Noyo Gel Crayons
36 highly pigmented colors
Crayon is washable
Works on light or dark paper
Perfect for Siblings
Magic Doodle Mat
Nontoxic and safe
Collaborative art fun
Water-resistant nylon mat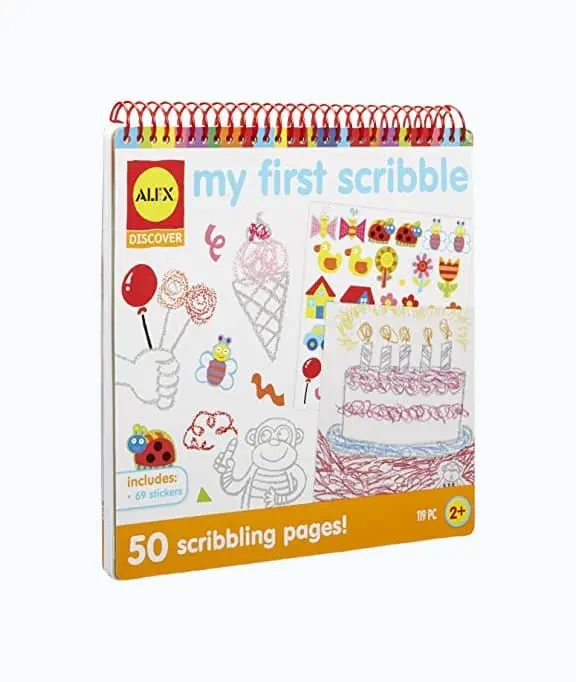 For Budding Doodlers
My First Scribble Pad
Good for traveling
Sturdy design
Encourages early drawing skills
Months of Reusable Fun
Alex Discover Button Art
With convenient storage tray
Great for hand-eye coordination
Includes 46 colorful buttons
For Little Painters
Melissa & Doug Brush
Great for little hands
Convenient storage pouch
Easy to clean
No Mess & Sure To Impress
Fluffy Friends Paper Animals
Good for animal lovers
Easy for toddlers to understand
Virtually mess-free
Classic Art Fun
Crayola My First Finger Paint
Great introduction to colors
Paint is washable
Easy-squeeze tubes
Crayon Meets Stacking Toy
GiBot Finger Crayons
Certified non-toxic material
12 basic colors
Super durable
All-Natural Fun
Stockmar Beeswax Crayons
Non-Toxic
Wide variety of colors
Food-grade pigments
Best Sticker Set
Melissa & Doug Sticker
Different themes available
Mess-free activity
Full of color, glossy in texture
---
---
The Best Art Supplies for Toddlers of 2023
So what kinds of art supplies are best for toddlers? We've compiled a list of 13 products that are sure to impress your budding artist. From gel crayons to craft kits, we've given you a range of products to cover all interests.
Noyo Gel Crayons
Most Versatile
These crayons come with a plastic covering. They're also washable, so you don't need to worry about clothing stains or scrubbing your child's skin raw.
The set comes with 36 heavily-pigmented gel crayons that can be used as regular crayons, pastels, or watercolors. They also work well on light or dark paper and even on wood.
This is perfect for versatility. Rather than buy many different art supplies, you can introduce your child to different mediums with one product.
Pros
Three different ways to use them.
36 different colors.
Crayon is washable.
Our Ratings
---
Magic Doodle Mat
Perfect for Siblings
This mat was one of my toddlers' favorite activities. It lays flat on the ground and has a blank center space for creations.
It comes with four easy-to-fill water pens — two with fine-line tips and two with broad-line tips. Simply fill the pen with water, and your child can start coloring the white part of the mat. When the water reacts with the mat, it reveals a rainbow of colors underneath. The cool thing about this is that within 10 minutes, the mat dries completely blank again, so you can use it over and over.
This set also includes stamps, stencils, a drawing booklet, and suction cups for hanging your child's creation or coloring in a standing position.
The pens and markers are stored in the included carrying case.
This is great for practicing hand-eye coordination as well as color perception. It's large enough for two to three children to color together — ideal for families of multiples.
The mat is safe and non-toxic and contains no messy inks or paints. The back is made of water-resistant nylon.
Pros
Good for families with multiple children.
Non-toxic and eco-friendly.
Reusable after a few minutes.
Cons
Water pens may be hard to unscrew initially.
Our Ratings
---
Alex Discover My First Scribble Pad
For Budding Doodlers
If you want something sturdy and easy to take on the go, this drawing pad is an excellent choice. It's similar to a coloring book in that it has thick pages with doodles on them. However, it gives your child an outline of a drawing to finish.
This encourages your child's imagination and introduces them to the concept of drawing. The pages are thick and easy to tear from the notebook for display. It also comes with 60+ stickers — a toddler's dream.
Pros
Good for traveling.
Sturdy design.
Encourages early drawing skills.
Cons
The stickers can be hard to remove without tearing.
Our Ratings
---
Alex Discover Button Art
Months of Reusable Fun
Not only is this one an excellent way to teach color matching, but it's super practical, as it's reusable. With this kit, you pop the buttons in and out to finish the picture on each board.
It comes with 10 pictures, 46 large, colored buttons, and a storage tray, which is handy for keeping all the pieces together.
This is great for working on hand-eye coordination and fine motor skills. It's recommended for toddlers from 18 months old.
Pros
You can use it over and over again.
Great for hand-eye coordination.
Easy to understand.
Cons
No locking mechanism to keep the tray closed.
Our Ratings
---
Melissa & Doug Jumbo Paint Brush Set
For Little Painters
If your little one loves to paint but struggles with the fine motor skills to hold a paintbrush, these paintbrushes are the way to go. This set comes with four thick-handled brushes designed especially for toddlers.
The thicker handles make them easier for your toddler to grasp, making them the "next step up" from finger painting. They also come with a convenient storage pouch.
You can easily clean the brushes with mild soap and water. They don't come with paint, so you'll have to buy that separately.
Pros
Great for little hands.
Convenient storage pouch keeps them together and protects them from damage when not in use.
The bristles are easy to clean.
Cons
They only come in one thickness.
Bristles are quite stiff.
Our Ratings
---
Alex Jr. Fluffy Friends Paper Animals
No Mess and Sure to Impress
This kit comes with four sticky collage boards, animals and paper to attach to it, and fun stickers. Your child can make a cat, bear, bunny, or chick.
It's super easy to do as your child simply sticks the paper to the board. The stickers can then be added after your little one finishes with the paper. The boards have adhesive on them, so no messy glue is needed.
Pros
Good for animal lovers.
Easy for toddlers to understand.
No gluey messes to clean up.
Cons
Each board can only be used once.
Our Ratings
---
Crayola My First Finger Paint
Classic Art Fun
If you're not afraid of a little mess, consider this finger painting kit for your toddler. It's suitable for children as young as 12 months old, making this one of the few art supplies for really young toddlers.
The set comes with 10 sheets of glossy paper and four washable finger paints. The paint colors are red, green, yellow, and blue — a perfect yet not overwhelming introduction to the rainbow.
The paint tubes are easy to open, and the paints are washable for a quick cleanup. They come in easy-to-squeeze tubes, so there's no need to worry about cutting them to get the paint out.
Pros
A great introduction to colors.
The paint is easy to wash off skin, surfaces, and clothing.
Tubes are easy to squeeze.
Cons
The paper comes folded, which leaves a crease.
Our Ratings
---
GiBot Finger Crayons
Crayon Meets Stacking Toy
If you're looking for a way to gently introduce drawing to your toddler, check these crayons out. They're designed for young hands and can double as a stacking toy.
The pack includes 12 fingertip crayons, which are washable for your convenience. They're non-toxic and completely safe, as the actual crayon is hidden in the tiny hole at the bottom.
These do contain paraffin and soy wax, though. If your child is allergic to these ingredients, you'll want to try a different brand.
Pros
Easy for young toddlers to hold.
You can stack them for storage or play.
Super durable design won't break easily.
Cons
The coating makes the first use difficult.
Our Ratings
---
Stockmar Beeswax Crayons
All-Natural Fun
These chunky beeswax crayons are handmade in Germany of 100% beeswax. They are free of lead, cadmium, and mercury. This makes them safe for toddlers who may end up putting the crayons in their mouth.
They don't come with the potential mess that finger paint does, so that's definitely a plus. There are 16 crayons in a pack, making them a long-lasting product. The thick design makes them easy to hold. They also come in a sturdy tin, which helps prevent them from getting lost.
Pros
100% all-natural ingredients.
Wide variety of colors.
Sturdy storage tin makes them easy to take anywhere.
Cons
More costly than standard crayons.
Although the manufacturer claims they're unbreakable, they do break with rough use.
Our Ratings
---
Melissa & Doug Reusable Sticker Pads
Best Sticker Set
These cling-style sticker pads are mess-free, which is nice for when you're on the go or you need a break. There are several different themes, but the one we chose comes with two large books: one for vehicles and one for habitats.
The background scenes are full of color and glossy in texture. This product can help with hand-eye coordination, fine motor skills, and creative play.
The pads are recommended for ages 3 and up, but many parents have purchased these for their toddlers as young as 18 months. You just need to ensure they don't put them in their mouth, as they can be a choking hazard.
These are great for windows and mirrors. My kids have made huge scenes on our sliding glass door.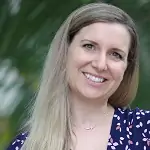 Editor's Note:
Katelyn Holt RN, BSN, BC
Pros
Different themes available.
Mess-free activity.
Great for fine motor skills.
Cons
Stickers can be challenging to remove from the pad.
Our Ratings
---
Cameron Frank Dauber Dawgs
Fun Alternative to Regular Markers
These washable dot markers are a fun activity for children 24 months old and up. The dauber-style markers fit comfortably in small hands and are both non-toxic and non-leaking. This makes for easy cleanup and less of a headache for you.
They come in an eight-pack with 10 activity pages. You can find additional printable coloring pages online. The lids attach to the end of the markers when they're in use, so you don't have to worry about losing them. However, you do need to keep an eye on little ones, as the lid could pose a choking hazard.
Do they remind you of Bingo daubers? They're similar to the markers used in the game. You might even find yourself borrowing these for an evening with your friends.
Pros
Good for small hands.
Washable design makes cleanup easy.
Unique option.
Cons
The ink dries out quickly.
Our Ratings
---
Alex Jr. Tots Art Start
Perfect for a Rainy Day
This choice is nice for introducing your toddler to a variety of activities. The kit comes with six projects and is recommended for toddlers 18 months and up. The peel-and-stick frame is a cool feature — no glue necessary.
The set includes an easy-grip crayon, different textured papers, doilies, stickers, and tree and giraffe paper cut-outs. It's perfect for encouraging imagination, developing fine motor skills, and fostering creativity.
Pros
Comes with a variety of supplies.
Introduces texture, color, and more.
Cons
One-time use per activity.
Our Ratings
---
Crayola Palm Grip Crayons
Best Crayons for Little Hands
These egg-shaped crayons are ergonomically designed to fit a toddler's hands best. They come in six bright colors for your toddler's enjoyment.
These are AP certified, non-toxic, and virtually mess-free. They're convenient for throwing in your bag to keep your little one busy at restaurants or doctor's offices. Easily washable, these crayons shouldn't be an inconvenience.
Pros
Ergonomically designed.
Non-toxic.
Mess-free.
Cons
Hollow shape may mean a short life.
Our Ratings
How to Choose Art Supplies for Toddlers
Benefits of Art for Toddlers
Art is fun, and it encourages your toddler's development, often in ways you may not expect — like the growth of cultural awareness (2).
With young children, we put such a big focus on learning letters and numbers. It's easy to forget about other important growth aspects.
---
Thank You For Your Feedback!
Thank You For Your Feedback!