I planned to breastfeed my baby exclusively for the first year, just as my doctor and lactation consultant suggested I should. But I'd heard nightmarish tales of babies refusing to breastfeed after trying bottles, and I was worried because I definitely didn't want my baby to stop nursing entirely.
"Nipple confusion" sounded funny to me at first until I considered how bad it would be if it happened to me and my little one. When she started feeding erratically after I introduced her first bottle, I wondered if I had ruined a good thing. Now I know that I should have paid a little more attention to that bottle I'd given her!
What are the best bottles for breastfed babies? Is there anything you can use to stop that breast/bottle confusion from developing? Let's find out.
Image
Model
Product Comparison Table
Features
Best for Travel
Comotomo 8 Ounce
Withstand heating and squeezing
Great for vacations
Close to breastfeeding experience
Best Budget Pick
NUK Simply Natural
Inexpensive option
Built-in anti-colic system
Features multiple nipple holes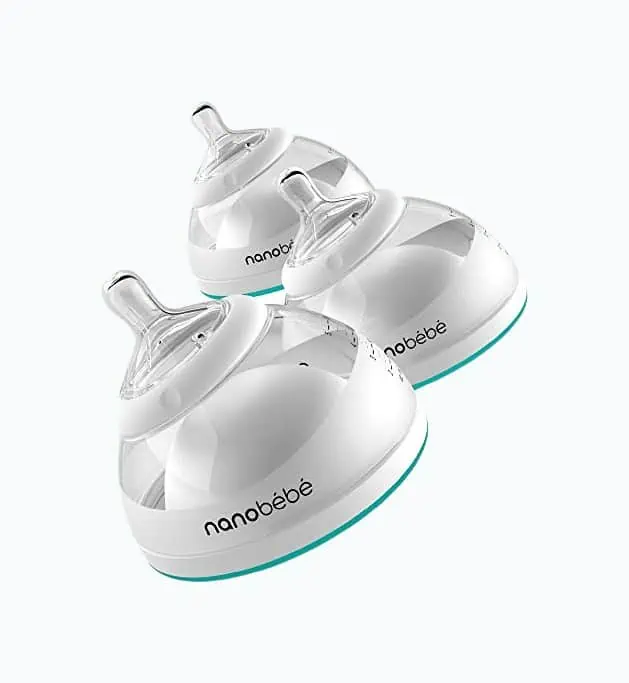 Most Innovative Bottle
Nanobebe Breastmilk
Milk cools and warms faster
Helps with reflux and colic
Chunky, tactile shape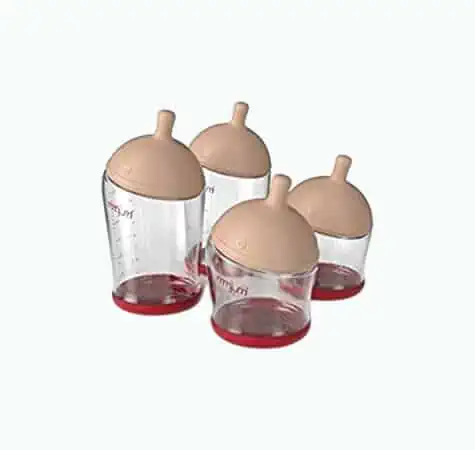 Best Plastic Bottles
Mimijumi Get Going
Realistic nipple look & feel
Easy to assemble and clean
Helps fight colic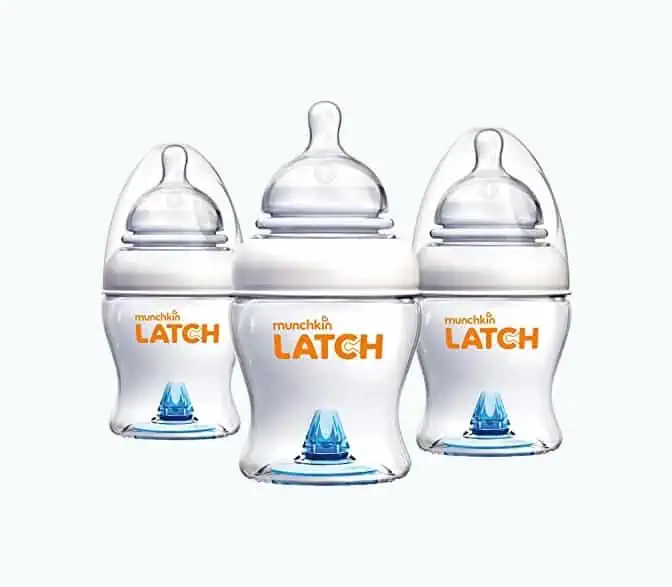 Best for Colic & Gas
Munchkin Latch
Affordable set
Anti-colic valve
Once won American Baby's award
Best Glass Bottles
Philips Avent Natural
Easy to clean or fill
Compatible with any Avent nipple
Anti-colic features
Short Nipple Choice
Lansinoh Momma NaturalWave
Great choice for picky babies
Natural feeling nipple
Collapse-resistant nipple
Helps for Natural Latch
Tommee Tippee Closer to Nature
Realistic nipple
Great for babies that refused bottle
High quality and non-toxic materials
A Breeze To Clean Up
Playtex Nurser
Ensure extra hygiene
Generous flow
Easy to assemble
Review Methodology: At Mom Loves Best, we understand the importance of finding the best bottles for breastfed babies. Our thorough analysis and hands-on experience allow us to evaluate products from a user's perspective, demonstrating our expertise in this area. We compare and rank bottles based on criteria such as nipple design, venting systems, ease of cleaning, and material quality. Our assessment includes quantitative measurements of each bottle's performance, identifying key decision-making factors, and sharing first-hand evidence to recommend the top choices. By reviewing design choices and their effects on users, we provide you with the most reliable information to make an informed decision for your little one. Trust us to help you find the perfect bottle to complement your breastfeeding journey.
---
---
The Best Bottles for Breastfed Babies of 2023
These are the top bottles for breastfed babies:
Comotomo Natural-Feel Baby Bottles
Best Travel Bottle for Breastfed Babies
It doesn't get any simpler than these. So simple to assemble, you'll be able to stick your whole hand in this ultra wide-neck bottle to clean it when you don't have access to a dishwasher.
These are as close as you can get to the breastfeeding experience.
The nipples are big and soft. In a dramatic twist from most other bottles, even the base of the bottle is flexible, so your baby can grab and squish the bottle when she's feeding, just like she does with your breast.
You can microwave them or stick it in boiling water or the dishwasher. If you have a baby bottle sterilizer, you can toss it in there too. It won't warp or melt no matter which sterilization method you choose.
Both the nipple and the base of the bottle are made completely from silicone. And if you're worried about colic, these have dual anti-colic vents.
Pros
These bottles will hold up to all the heating and squeezing you can throw their way.
You don't even need a bottle brush to clean these, which is great for vacations.
Will help you avoid bottle rejection.
Cons
These bottles are fairly expensive.
They can give off a plastic smell when warmed up.
Our Ratings
Community Feedback
My experience with these Comotomo bottles has been fantastic, especially after trying multiple other brands for my little one with reflux. These bottles not only helped reduce gas and kept more food down, but they are also incredibly easy to clean, durable, and leakproof. The wide and flexible nipple design mimics a mother's breast, making it easier for my baby to latch and transition between bottle and breastfeeding. The soft, silicone material and unique shape make it comfortable for both baby and parent to grip.
---
NUK Simply Natural Bottles
Best Budget Breastfeeding Bottle
This three-pack of 9-ounce breastfeeding bottles combines great performance at an affordable price. Because they are so big, if you buy these you won't have to upsize from any newborn bottles you might have considered purchasing.
It features multiple nipple holes that give a more realistic feel, like your baby is sucking on your breast. Depending on what flow the nipple is, it can have up to nine tiny holes. Plus, the wide silicone nipple stretches with your baby's movement, which means she won't break her latch as often.
To help cut down on spit-up and gas, these use a one-piece anti-colic system. Because the colic system is built into the bottle, you won't have to mess with trying to clean out lots of complicated pieces.
The bottles are stain-resistant, which will keep them looking newer for longer. An ergonomic design makes this bottle comfortable for both you and your baby to hold during feeding time.
Pros
Inexpensive option.
Built-in anti-colic system means they are easy to clean.
The milk comes from more than one hole, like a real breast, which helps ease the transition between the bottle and breast.
The milk won't come out of the bottle unless she forms a proper latch.
Cons
The cap can be tough to pull off the top.
Because of a tiny air hole at the top of the nipple, you must position the bottle correctly when feeding.
Our Ratings
Community Feedback
Got these NUK Simply Natural bottles for my fourth baby, and they've been mostly good. Some cons that I noticed are that they're not stain-resistant and can get an orange tint after dishwasher use. Also, one of the nipples got burned and melted in the dishwasher, which was disappointing. It's pricey to buy extra nipples, so it's better to buy multiple packs for a newborn. On the bright side, they're easy to clean, heat up quickly, and fit easily into diaper bags and strollers. However, transitioning between stage 1 and stage 2 nipples was challenging, as stage 2 was much faster, causing choking and dribbling. I believe NUK should introduce an intermediate nipple for a smoother transition.
---
Nanobebe Baby Breastfeeding Bottles
Most Innovative Breastfeeding Bottle
Nanobebe is really trying to break the mold with these "bottles." The shape is definitely the most breast-like on this list, and consists of a hollowed dome, a little like an upturned bowl. The nipple is angled on the one side and either you or your baby hold around the lower rim as they feed.
If you're concerned about retaining as much of the nutritional content of your pumped milk as possible, the makers of this bottle claim that the design optimizes heating and cooling in such a way that the vitamins and minerals are not damaged on their way from your breast to your baby.
You can pump directly into these bottles, and because they're concave, they stack rather nicely. They're anti-colic, too, and will inhibit bacterial growth for extra peace of mind.
Pros
Milk cools faster and warms faster because of the way it's stored inside.
Helps with reflux and colic.
Chunky, tactile shape to hold for self feeders.
Cons
The large, somewhat awkward shape means you don't see your baby's face as you feed.
Our Ratings
Community Feedback
These bottles have been a great addition to our baby feeding routine. The unique shape not only resembles a breast, making it easier for our baby to latch, but it also allows for comfortable feeding from different angles and even self-feeding. Plus, the wide base helps the bottle stay upright, preventing spills. However, the friction fit bottom assembly can be a bit difficult to put together, especially in the middle of the night or for those with arthritic hands. Despite this, the bottles are much easier to clean than other options we've tried, and they stack nicely for storage.
---
Mimijumi Get Going Bottle Kit
Best Plastic Breastfeeding Bottle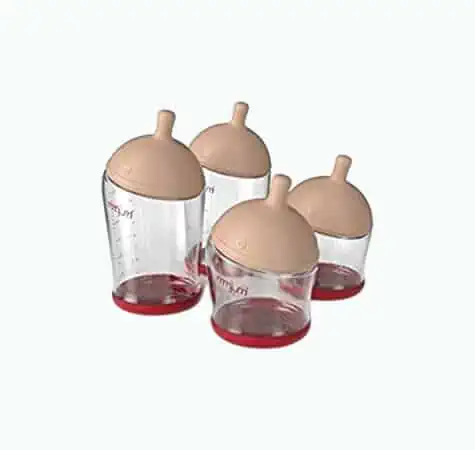 Your baby should love the appearance of this bottle set. The large, flesh-colored nipple is surprisingly boob-like, and looks and feels like the real deal. It's so realistic-looking your baby might do a double take when they see it.
The set comes with four bottles — two in the Very Hungry bigger size and two in the Not So Hungry smaller size. There are hardly any parts to fuss with these, which makes them extremely easy to assemble. You don't even need to put a ring around the nipple to hold it onto the base because the nipple screws directly onto the bottle.
The slow-flow nipples and the nipple design help ward off baby fussiness caused by colic. They don't contain BPA, and the super wide necks mean you'll be able to clean them in seconds.
Pros
Realistic looking and feeling nipple.
Easy to put together and clean.
Helps fight colic.
Cons
They are really expensive.
The nipples can be a little difficult to screw on correctly without having leaks.
Our Ratings
Community Feedback
These bottles initially caught my attention due to their high price point and promising quality. However, upon using them, I found that my baby had difficulty accepting them, and I was disappointed with the overall quality. On the other hand, another family I gifted these bottles to had a positive experience with their baby accepting it. One downside to these bottles is that they tend to leak during feeding, leading to a messy and less enjoyable experience. In the end, I switched to using Tommee Tippee bottles, which provided a better, leak-free feeding experience for my baby.
---
Munchkin Latch Newborn Bottles
Best Anti-Colic Breastfeeding Bottle
This set offers a lot for a reasonable price. You'll get three 4-ounce bottles with two slow flow nipples, one stage two medium flow nipples, and three sealing discs. The pump adapters will allow you to connect these to many breast pumps but these are sold separately.
These bottles are a good choice for preventing colic because the stretchiness of the nipple helps encourage the right latch. A proper latch can ensure your baby is taking in less air intake with every sip because the nipple will move with your baby's mouth. The anti-colic valve at the base also reduces any gas your baby might suffer from as a result of feeding.
They are made out of plastic and silicone, so everything in this set can be cleaned in the top rack of the dishwasher. Munchin also won the 2015 American Baby's award for Best Bottle Chosen by Moms.
Pros
Affordable with a lot of extras in the set.
The anti-colic valve and latch nipple helps reduce colic.
Cons
The anti-colic valve is hard to clean.
You have to make sure everything is assembled perfectly or you'll have a leaky bottle.
Our Ratings
Community Feedback
From the moment I started using these bottles, I noticed a significant improvement in my baby's feeding experience. They were much less confusing than other bottles I've tried, and my baby was able to latch on with ease. The bottle's unique design helped reduce gas and spit ups, making each feeding more comfortable for my little one. Although I did encounter occasional leaks from the valves, I was able to manage the problem with minimal effort.
---
Philips Avent Natural Glass Baby Bottles
Best Glass Bottle for Breastfed Babies
Philips Avent has a lot of products aimed at making the breastfeeding experience a successful one for moms. These are just one more tool in the shed to help with that particular battle.
These bottles come in a three-pack, and they can each hold up to 4 ounces. What makes them really shine when it comes to bottle-feeding breastfed babies is the realistic nipple. The nipples are made of soft silicone and are wider than many other nipples, which will hopefully remind your baby of a breast.
They have an incorporated anti-colic system that doesn't require any hassle to assemble and are straightforward and easy to operate.
Philips uses strong borosilicate glass to manufacture these, which means your baby won't be ingesting any harmful chemicals like he might with a plastic bottle.
Pros
The wide neck makes these easy to clean or fill without spilling.
Any nipple from the Avent brand will fit.
Anti-colic features should make your baby more comfortable.
Cons
These are smaller and your baby will outgrow them in a few months.
They aren't made to withstand sudden temperature changes, like being moved from the freezer to a baby bottle warmer.
Our Ratings
Community Feedback
My experience with these Philips Avent bottles has been quite positive, especially when it comes to feeding my breastfed baby. The soft silicone, wide nipples mimic the shape of a breast, which has made the transition to bottle-feeding much smoother. I also appreciate the anti-colic system that's built right in, making it hassle-free and providing comfort to my baby. The wide neck design allows for easy cleaning and filling without any spills, and the compatibility with other Avent nipples is a bonus. However, these 4-ounce bottles are on the smaller side, so my baby may outgrow them quickly. Additionally, they're not designed for sudden temperature changes, so be cautious when moving from the freezer to a bottle warmer.
---
Lansinoh mOmma NaturalWave Bottle
Short Nipple Choice
These bottles from Lansinoh consistently receive good reviews, even from parents who have struggled to coax their babies onto other brands. The shape is a little different from the usual, and sometimes that's all it takes to get a baby to accept it. The surface of this one is matte and thick, and the nipple itself tapers off less sharply, so it doesn't feel as long in the mouth.
This NaturalWave design is meant to promote just the same sucking motions your baby would be practicing at your breast. These motions are necessary for proper oral development and a good latch.
Besides the nipple, the rest of the bottle is constructed of sturdy plastic and a wide, easy-to-clean neck. Many moms have also discovered that this bottle fits a range of other brand nipples, too.
Pros
A great choice for even picky babies.
Natural feeling, shallow, matte nipple.
Nipple is collapse-resistant, so your baby can't invert it and cause a mess.
Cons
The nipple may be too fast for very young babies.
The flexibility of the nipples means they can sometimes crack and leak.
Our Ratings
Community Feedback
I've found that these Lansinoh bottles have been well-received by many parents, even those with pickier infants. In my experience, the unique matte and thick nipple design successfully promotes natural sucking motions necessary for proper oral development, while the bottle's sturdy plastic and wide neck make it easy to clean. However, I have noticed that the flexibility of the nipples may lead to cracking and leakage, and the flow could potentially be too fast for very young babies.
---
Tommee Tippee Closer Nature Bottles
Helps for Natural Latch
Tommee Tippee bottles have a distinctive shape that really fits well into little hands. Breastfeeding experts have carefully designed the nipple to closely resemble a breast, with a wide base, flattish profile and long, natural-looking nipple. This company claims that more than 90 percent of babies will accept this nipple within three attempts.
There are different flow rates to choose from, and a sophisticated anti-colic valve mechanism that means your baby won't be sucking in tons of air once they do form a successful latch.
The body of the bottle can be held in a few different ways, which means you'll find a comfortable hold whatever your position. Choose from 5, 9 or 11-ounce bottle sizes to match your baby's appetite.
Pros
Realistic nipple that's easy to latch onto.
Great for babies that have refused other bottle styles.
High quality and non-toxic materials.
Cons
The measurements printed on the side sometimes rub off.
The nipples may need replacement more often than other brands, especially if your baby is prone to chewing.
Our Ratings
Community Feedback
If you're looking for a baby bottle that closely resembles breastfeeding, these Tommee Tippee bottles might just be the perfect choice. Their unique shape is easy for little hands to hold, and the nipple is designed to mimic a breast, making it easier for babies to latch on. With different flow rates and an advanced anti-colic valve system, this bottle ensures a comfortable feeding experience for your baby. Although the measurements on the side may fade over time and the nipples may need replacement more often, these bottles are made of high-quality, non-toxic materials, providing a great option for babies who have refused other bottle styles.
---
Dr. Brown's Wide Neck Bottle
Best Wide Neck Breastfeeding Bottle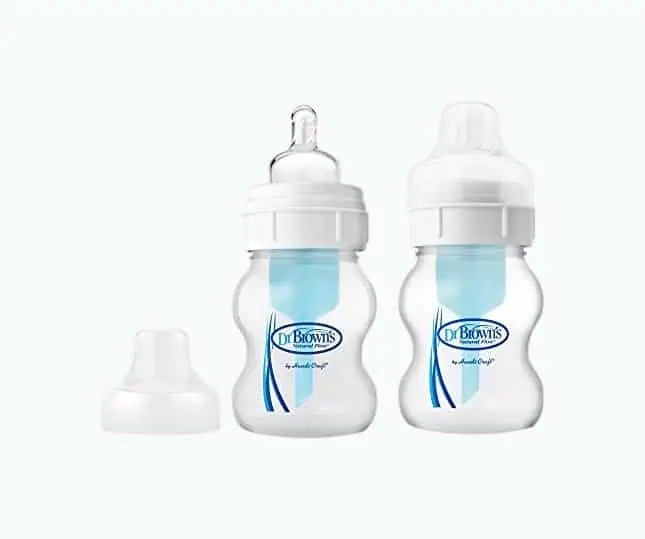 Dr. Brown's bottles are always solid all-rounders and this wide-necked model is no different. Made of shaped BPA-free plastic that's easy for both you and your baby to hold, the bottle offers a feeding experience that's as close to being at mom's breast as possible.
The venting system consists of a straw valve that reduces colic, gas, and spit-up. It can be removed to clean, or you can place everything in the dishwasher and bottle sterilizer. The bottles can be bought in packs of 2 to 8 to suit your needs, and the price is reasonable, and both a 4 ounce and 8 ounce bottle are available.
If you have a baby who is showing signs of nipple confusion or else one who gets a little colicky now and then, this bottle will help you kill two birds with one stone.
Pros
Vent system really does remove every last bubble of air in the milk.
BPA-free and can be put in the dishwasher.
Quality material that holds up after repeated washes.
Cons
Can be a little tricky to clean the inner valve.
Some have found that the bottles leak.
Multiple parts to put together.
Our Ratings
Community Feedback
Excellent wide-necked bottle design that closely mimics a natural breastfeeding experience. This Dr. Brown's bottle is made of BPA-free plastic that's comfortable for both me and my baby to hold. The unique venting system, featuring a straw valve, effectively reduces colic, gas, and spit-up. Though it can be a bit tricky to clean the inner valve, it's dishwasher safe and remains durable after multiple washes. The bottles come in various pack sizes to fit your needs, with both 4-ounce and 8-ounce options available at a reasonable price. Despite some reports of leaking and having multiple parts to assemble, this bottle has been extremely helpful for my baby who experienced nipple confusion and occasional colic.
---
Playtex Bottle with Disposable Liners
A Breeze to Clean Up
These bottles from Playtex have a very clever disposable bag system: simply add a liner to the bottle and fill with milk as usual, then discard the liner once you're done — they're recyclable.
The liners are not only a good idea for cutting down on washing up, but they serve an anti-colic function, too. As your baby drinks, the bag collapses with the vacuum, and no air enters. The bottles are BPA-free and the liners come pre-sterilized and ready to go so that you can get going with a feeding session as quickly as possible.
The bottle itself also has an innovative bending feature, and the top can hinge slightly so that your baby can get comfortable no matter which way they angle the bottle.
Pros
Sterilized bags ensure extra hygiene.
Generous flow of milk for bigger/hungrier babies.
Easy enough to assemble, even one-handed.
Cons
If your baby drinks less than the amount on which the bag can hold, you'll have to take care to ensure that all the air is squeezed out the rest of the bag before you place it in the bottle.
Our Ratings
Community Feedback
My experience with these Playtex bottles has been incredibly positive due to their clever disposable bag system. The liners not only reduce the need for washing up, but also serve an anti-colic function by preventing air from entering as the baby drinks. I appreciate that the bottles are BPA-free, and the pre-sterilized liners make feeding preparation quick and easy. The innovative bending feature allows my baby to comfortably drink from any angle. However, if your baby consumes less than the bag's capacity, be sure to squeeze out excess air before placing it in the bottle to maintain the anti-colic benefits.
What Your Breastfed Baby Wants in a Bottle
Buying bottles for breastfed babies requires some thinking ahead — you can't just grab any old bottle and call it good. And you don't want to risk turning your baby off breastfeeding forever because they learn some bad habits on a poorly designed nipple.
Put yourself in the mindset of an infant and consider the following when choosing the perfect feeding substitute so that they won't turn their noses up the next time they're offered a real-life breast.
What Mom Wants in a Bottle
In some ways, it's easier to go shopping for your new home than it is to pick out a baby bottle! At least with home shopping, you know what you want. You've lived in a house your whole life so you have a good idea about what your basic needs are.
But with bottle shopping, things are different. This is a completely foreign task if you're a new parent, and you likely don't have time or money to waste on trial and error.
Start by narrowing down your search to some appropriate bottles that meet the standards your breastfed baby would tell you about if they could, then take a look at the next set of criteria we think is important.
---
Tips for Buying Bottles
When you finally get a handle on what type of bottle you want, you need to go through one more checklist to make sure you're not sabotaging your own success by forgetting something crucial.
To make sure you aren't making a big mistake, here are some tips you should follow when buying that first bottle for baby.
Don't buy in bulk: If you run out and buy 20 bottles only to find your baby hates them, you're going to be sorry. Instead, find three potential candidates, buy one or two of each and see which works best for your baby before making a bigger investment.
Consider getting the largest size: Those cute little 4-ounce bottles are perfectly sized for a newborn. But that newborn is going to grow quickly, and before long they'll be guzzling 6 ounces of milk, not 4 (3). Buy the biggest sized bottle when you've found a brand you like; you can always buy a pack of slow-flow nipples to go with them until your baby is ready for faster-flow nipples.
Consider your breast pump brand: Compatibility is a great thing. If you buy bottles that are compatible with your breast pump, you'll be able to pump directly into the bottles, which will save you some extra dishwashing. What new mom doesn't like saving her time and energy?
If this is your second baby, get new bottles: I know no one likes to spend extra money, but if you have a bunch of older bottles that you used years ago with your first baby, they may no longer be appropriate, especially if they contain dangerous BPA.
When Do I Introduce Bottles to my Breastfed Baby?
There's no telling how well your baby will deal with the differences between feeding at the breast and feeding from a bottle. Some babies easily switch between the two even from a young age, while others get hooked on one and have trouble getting used to the other. If you and your baby are nursing happily, there's no need to add a bottle if you don't want to.
Wait A Few Weeks
If possible, do not introduce bottles before a few weeks to a month of age, as this could cause problems for your baby later on.
But beyond that, your choice of when to introduce bottles (and which kind to use) will all depend on you:
If you'll have your baby with you all the time and don't mind public nursing, you can hold off on bottle feeding.
If there's even a chance you may be separated at some point, it's a good idea to get your baby used to a bottle.
If you're working and need to pump milk to leave with your baby at daycare, obviously introducing them to a bottle is a lot more of a priority.
If you're having trouble feeding, latching, or suffer cracked nipples or infections, you might want to start bottle feeding sooner just for the relief.
If in doubt, follow your baby's lead. Take it slow and make the introduction patiently and in stages. They'll come around.
When in doubt, we always recommend you work with a lactation consultant to give you the best chance of success.
Tips for Bottle-feeding a Breastfed Baby
As a mom you'll already know that nothing in the world can interfere with your baby's own pace when it comes to their development. Slow and steady wins this race, and a bottle that's introduced in a low-stress manner is more likely to be accepted. So relax — you've got this!
Try these tips to get your baby to take to a new bottle.
Start when your baby isn't hungry. Offer a bottle after a normal feed, at night, with just a small amount of milk.
Choose a breast-like nipple and opt for a slow flow, particularly if your baby is on the younger side.
Get someone else to do the first bottle feed. A baby might not take to a bottle if they can sense their mother's presence or worse, can see your actual breasts just inches away.
Vary the time and place you offer the bottle, and try seating your baby in different positions.
Experiment with different temperatures of the milk.
Many brands offer kits with different nipple sizes. Try each of them and see which one sticks.
A neat trick is to dab a bit of your own breast milk on the nipple.
What is Paced Feeding and How Can it Help?
When you eat your meals, do you sit down and gobble it all in one steady stream without taking a breath? Or do you prefer to stop once in a while and appreciate your food, or have a chat with your dinner companion? Babies are not so different, and in fact, natural breastfeeding follows a similar pattern, with pauses and slow, measured intake.
A Natural Way To Feed
Paced feeding is a way of offering milk to your baby that most closely resembles the way they'd get it during real breastfeeding.
When your baby feeds more slowly and has to work more to get the milk, they learn to manage their own satiety. Taking pauses throughout a feed means your baby learns to accurately recognize fullness because their bellies aren't quickly filled before they can register that they've had enough.
Paced feeding is thought to be less stressful for babies, and may prevent poor eating habits that could predispose them to obesity later in life (4). Plus, it may be a more obvious feeding style for those babies still fond of breastfeeding.
Sit the baby upright and offer the bottle horizontally. This regulates milk flow.
After 30 seconds or so, tip the bottle down or remove the teat to stop the flow.
If your baby looks like they're gulping, tilt them forward to let the milk flow back a little, and to encourage them to pause.
Watch for your baby pausing naturally on their own, and wait for them to initiate feeding again.
Avoid over-feeding. If your baby looks drowsy, bored, or sucks more slowly, they may have had enough to eat.
The right bottle and nipple will make bottle feeding more natural, but you can also go a long way to improve the experience by changing the manner you bottle feed.
One possible situation when it isn't appropriate to use paced feeding is if you have a naturally fast letdown and your baby is already accustomed to that. Paced feeding for a baby already used to a fast flow will just feel frustrating. Also avoid too much paced feeding if your baby is having a particularly hard time with gas and colic, as this may make things worse.
FAQs
---
Thank You For Your Feedback!
Thank You For Your Feedback!