Many moms wonder how to find a gripe water formula that will actually work for their little ones.
When my baby suffered from tummy discomfort after feedings, I decided to try gripe water, as it was more natural than some other forms of tummy relief. However, the first product I tried didn't seem to help, so I abandoned it.
I've recently spent hours studying how this "miracle cure" works, and I now know that gripe water formulas differ. So when one product doesn't work for your baby, you can try a different formula with different ingredients to ease your baby's tummy troubles.
In this article, we'll explain the differences between gripe water ingredients. We'll explain what to look for to help ease your baby's particular symptoms and what to avoid. We'll also review our top seven picks for the best gripe water products based on how effectively they relieve discomfort and how natural their ingredients are.
Image
Model
Product Comparison Table
Features
Best for All-Day Care
Little Remedies
Safe even for newborns
Nighttime formula
Works quickly
Best Organic
Wellements Organic
For those with dietary restrictions
Doesn't include sucralose or alcohol
Pediatrician recommended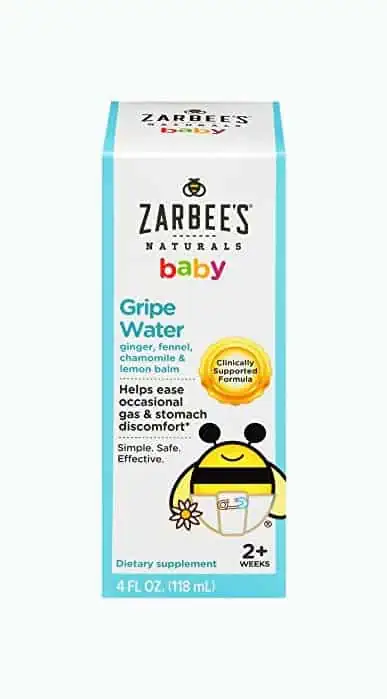 Best All-Natural
Zarbee's Naturals
Dispenser allows slow administration
No refrigeration needed
Paraben-free & gluten-free
Best with Sodium Bicarbonate
Mommy's Bliss
Can be kept at room temperature
USDA-certified organic ginger
Can also be used by adults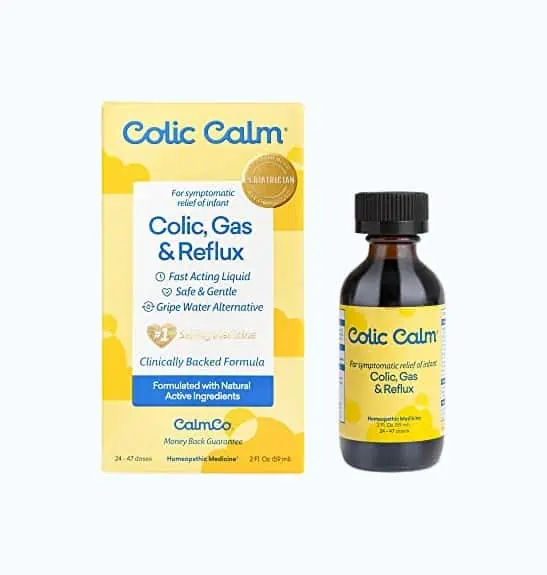 Best for Colic
Colic Calm Relief
FDA-inspected & approved
Recommended by many national organizations
Won't interfere with digestive process
Best Budget Buy
Woodward's Gripe Water
Affordable and effective
Great for encouraging burps
Relieves air build-up
Best for Digestive Support
Herbs for Kids
Can be taken by adults
Safe at room temperature
Alcohol-free
Review Methodology: At Mom Loves Best, we understand the importance of finding the best gripe water for your little one. Our team of experts conducts thorough research and hands-on testing to evaluate products from a user's perspective, ensuring that our recommendations are based on real-life experiences. We analyze and compare various brands based on crucial factors, such as ingredients, safety, effectiveness, and ease of use. Our assessment includes quantitative measurements of each product's performance, highlighting what sets them apart from their competitors. We rank and review these products based on key decision-making factors, sharing insightful findings on design choices and their impact on users. Trust Mom Loves Best to help you make an informed decision when selecting the perfect gripe water for your baby.
---
---
The Best Gripe Water for Babies of 2023
Here are 7 great gripe water brands to consider.
Little Remedies Day and Night Gripe Water
Best Gripe Water for Round-the-Clock Care
Formulated to help alleviate your baby's stomach discomfort, this Little Remedies product includes a day and night formula. Both dye-free formulas are free of sodium bicarbonate, parabens, or gluten.
The nighttime formula uses chamomile and lemon balm to promote healthy sleep. Little Remedies advertises the product as effective for colic, gas, unexplained fussiness, and hiccups.
It's based on a traditional, 100-year-old European formula. This company prides itself on using the fewest amount of ingredients, so this gripe water may be best for those whose babies have allergies or intolerances.
This water contains fennel and ginger to help aid your baby's digestive process. You'll use little for each dose, meaning your gripe water will last a long time. You don't need to refrigerate it between uses, so it can be a great choice for keeping in your diaper bag.
Pros
Limited ingredients will help you determine what works for your little one — and what doesn't.
The nighttime formula can help your baby to sleep, even when they aren't feeling well.
Works quickly and can be used even for young babies.
Cons
The included dropper for dosing and administration can be hard to use.
Our Ratings
Community Feedback
In my experience, these Little Remedies Gripe Water syrups have been a fantastic help for my baby's sensitive tummy and gas issues. The daytime formula helps soothe discomfort, while the nighttime version provides added relief during those tougher hours. I found that this product has significantly improved my baby's sleep, as well as reduced their overall fussiness and discomfort. However, it's important to administer the doses patiently and with a burp cloth handy, as the nighttime syrup can be a bit sticky.
---
Wellements Organic Gripe Water
Best Organic Gripe Water
If you're looking for gripe water with organic ingredients, Wellements is our favorite brand. Its purpose is to provide relief from colic, gas, hiccups, and teething.
This product is certified by the USDA as organic — it's also free of many additives found in other products. No alcohol, dye, artificial flavors, or colorings are used in this formula. It's also dairy-, soy-, gluten-, and paraben-free.
In addition to being a viable choice for babies who can tolerate limited ingredients, this product is both kosher and vegan.
I like that this Wellements product is manufactured here in the United States and is free of chemical preservatives. While I love that the ingredients in the gripe water are natural, it does mean you'll need to refrigerate your bottle after opening.
As it's free from preservatives, this product doesn't have a long shelf life. You will need to plan on throwing any leftover product away after four weeks. It also contains sodium bicarbonate.
Pros
Suitable for those with dietary restrictions.
The formula doesn't include sucralose or alcohol.
Pediatrician recommended.
Cons
You'll need to discuss the use of sodium bicarbonate with your doctor, as it may not be recommended for a young baby.
It expires four weeks after opening.
Must be refrigerated, so you won't be able to carry it in your diaper bag without a cooler.
Our Ratings
Community Feedback
My experience with this gripe water has been overwhelmingly positive, as it consistently helps with hiccup relief and gas issues for my baby. The flavor is enjoyable for my newborn, making it easy to administer without any fuss. Although the need for refrigeration and the larger bottle size may be considered a downside for some, I believe the effectiveness of this product outweighs any minor inconveniences.
---
Zarbee's Naturals Baby Gripe Water
Best All-Natural Gripe Water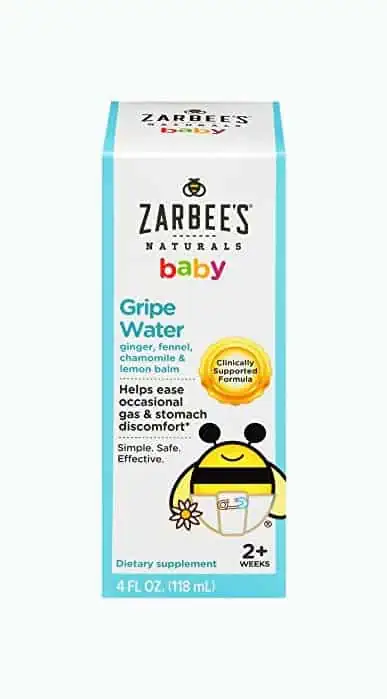 If you're looking for an all-natural product for your baby, Zarbee's gripe water can be a great choice. Best known for its natural and effective products for infants and children, Zarbee's pays close attention to what ingredients they use in their gripe water and how they're sourced.
This formula includes chamomile, lemon balm, ginger, and fennel. It is alcohol-free and doesn't contain any dyes.
Lightly flavored with agave syrup for a bit of sweetness, this product doesn't include any artificial flavors. It's designed to be gentle and to address the pain associated with gas, colic, fussiness, and hiccups.
This formula is recommended for infants aged two weeks and older, and pediatricians often recommend this paraben- and gluten-free gripe water. We appreciate that the man behind Zarbee's is both a father and a pediatrician. He strives to make products that are safe and healthy for your precious little one.
Pros
No need to refrigerate the formula.
The included dispenser is easy to use and allows for slow administration.
Chamomile and lemon balm makes this a great choice for relieving nighttime discomfort.
Cons
Expires 90 days after opening.
Product may stain clothing.
Our Ratings
Community Feedback
I've been using Zarbee's Gripe Water for my little one who has been struggling with gas issues since their third week of life. After trying multiple probiotics and other gripe water brands without success, I finally found relief with this product. Within minutes of administering Zarbee's, my baby's discomfort lessened, and they were able to burp and feel relief. I appreciate the natural ingredients, which include ginger root, fennel seed, chamomile, and lemon balm, and the easy-to-use syringe that comes with the bottle. This gripe water has significantly improved my baby's sleep and overall comfort, and as a result, has made our lives as parents much easier. While it may not be a permanent solution to gas issues, it's definitely a product worth trying for quick relief.
---
Mommy's Bliss Gripe Water
Best Gripe Water with Sodium Bicarbonate
Many pediatricians recommend this product, which contains natural ingredients. Mommy's Bliss gripe water is a vegan formula made with USDA-certified organic ginger. It also has natural fennel flavoring.
I love that this formula doesn't have any artificial coloring or flavoring. It's also paraben-free and alcohol-free. You don't have to worry about allergens such as dairy, soy, gluten, or sucrose in this product. And there are no harsh ingredients that could cause issues for your baby.
A bonus for us eco-friendly mamas is that the packaging is made from recycled materials and doesn't include any BPA.
This is a popular product for occasional gas and stomach upset relief for infants. It's even safe to use with additional gas control methods, like gas drops.
If your pediatrician believes sodium bicarbonate is appropriate for treating your baby's discomfort, Mommy's Bliss can be a great option. This is a natural gripe water formula, but it doesn't need to be refrigerated, so it's one of the best choices for when you're on the go.
Pros
You can keep it at room temperature.
Suitable for babies as young as two weeks of age.
Adults can also use the formula to ease stomach discomfort.
Cons
More expensive than others on the market.
Our Ratings
Community Feedback
These gas relief drops have been a lifesaver for both hiccups and indigestion, even when my baby is fussy. I've noticed that it helps to calm gas buildup within 30 minutes, making it perfect for gassy or colic babies. The pleasant flavor is definitely a plus, as my baby seems to love it. It's become a staple in our household and always has a place in the diaper bag. I've even seen it referred to as "magic in a bottle," which I can't help but agree with.
---
Colic Calm Relief
Best Gripe Water for Colic
Looking for a product that's substantial enough to tackle the discomfort that goes along with colic? You may want to consider using Colic Calm.
Many companies claim their gripe water is pediatrician recommended and includes ingredients proven to combat stomach upset. However, not many can say they are FDA-listed as a medicine. It's a difficult classification to receive, but Colic Calm has made the list.
This gripe water has also been approved and recommended by the American Academy of Family Physicians, PBS, and the American College of Obstetricians and Gynecologists.
Colic Calm doesn't contain sugar, sodium bicarbonate, or simethicone. It's also dairy-, soy-, gluten-, and animal-product-free. There are no artificial colors or flavors included in the formula.
Unlike other gripe waters, this one doesn't contain herbal extracts or oils. It does use natural ingredients, including chamomile, ginger, fennel, and lemon balm. If other products haven't worked for your baby, it may be worth trying this one.
For best results, use this gripe water when symptoms present themselves. There's no reason to dose regularly in a preventative fashion.
Pros
Made in the U.S. at an FDA-inspected and approved facility.
Approved and recommended by many notable national organizations.
Colic Calm is non-habit forming and won't interfere with your baby's ability to learn how to process and digest foods.
Cons
Includes peppermint, which may cause stomach upset in some children.
Our Ratings
Community Feedback
Great product for relieving baby's gas and GERD symptoms. After trying numerous natural treatments and even doctor-prescribed PPI, this gripe water containing charcoal, finally provided relief for my baby. Be prepared for the charcoal to cause black spots on baby's clothes and burp rags, but in my opinion, it's well worth it for a pain-free baby. Keep in mind that this product is not a cure-all, but it does significantly lessen gas pain and can be a helpful addition to your baby care routine.
---
Woodward's Gripe Water
Best Budget Buy
Treating your baby for digestive discomfort doesn't have to be expensive. If you're looking to provide your baby with some comfort — and do it on a budget — we recommend Woodward's gripe water.
This sugar-free product contains dill seed oil and sodium bicarbonate to address the symptoms of excess gas. We love that this multi-purpose formula saves you money on additional products as it helps with a variety of ailments, including colic and teething discomfort.
Woodward's gripe water has existed for many generations. They also have a formula made for adults. For best results, make sure you order the infant gripe water.
Once opened, this product doesn't have a long shelf life. You'll need to use or discard it after two weeks.
Pros
Affordable and effective.
Great for encouraging burps and relieving built-up air in your baby's digestive system.
Cons
Contains more chemicals than other products on the market.
Our Ratings
Community Feedback
In my experience, this gripe water is an affordable and effective solution for treating my baby's digestive discomfort. I appreciate that it contains dill seed oil and sodium bicarbonate, which help address excess gas and can also provide relief from colic and teething discomfort. It's great for encouraging burps and relieving built-up air in my baby's digestive system. However, I did notice that it contains more chemicals than some other products on the market. One downside is that once opened, the product doesn't have a long shelf life, needing to be used or discarded after two weeks.
---
Herbs for Kids Quiet Tummy Gripe Water
Best Gripe Water for Digestive Support
Have you been searching for a product that uses natural herbs and recipes to address your child's tummy aches? Quiet Tummy can be a good option. It's even suitable for use with young babies.
Herbs for Kids is dedicated to making quality products for children. Their formulas comply with the strict standards of Current Goods manufacturing practices. I love that they balance their mission of producing quality herbal options for children without compromising on their manufacturing principles.
Quiet Tummy is an herbal supplement containing extracts of fennel, ginger, chamomile, and peppermint. It's alcohol-free, but some parents don't like that it contains agave syrup, a natural sweetener. However, many children enjoy the sweet taste.
Pros
Adults can use it for stomach discomfort as well.
Safe to keep at room temperature.
Cons
The dosing size is greater than with other gripe waters.
Contains agave syrup — a natural sweetener.
Our Ratings
Community Feedback
Best natural remedy for our little one's gas and colic issues! We've been using this product for 8 weeks now and it has made a noticeable difference in his comfort level. The taste is sweet, reminiscent of Listerine, and our baby willingly drinks it when mixed with water, sometimes even preferring it over breastfeeding after a sweaty evening walk.
What Is Gripe Water?
Gripe water is a solution comprised of water and herbs. It frequently contains dill and sometimes sodium bicarbonate. The sodium bicarbonate can help break down any excess gas in the system that could be causing pain.
You give this solution to your baby orally. If you are purchasing commercially available gripe water, you should carefully follow the provided directions for dosing and administration after consulting your pediatrician.
It's generally not recommended to give this remedy to babies less than a month old (1).
How Does Gripe Water Work?
Documentation of using this remedy goes back to the mid-1800s (2). People believed that the water helped settle gastrointestinal issues in babies and brought digestive relief.
The original British recipe contained alcohol, which, at the time, was thought to be the most beneficial ingredient for relieving colic. Trials in the 1980s proved this was not the case, and later, they removed alcohol from the list of ingredients.
Gas is likely the culprit of your child's digestive discomfort. The purpose of grip water is to help break up that gas and ease the accompanying pain.
The different ingredients in any particular product will shape exactly how that happens. Knowing the purpose of each ingredient may help you determine which product is best for your baby:
Chamomile: A known antioxidant with anti-inflammatory properties, chamomile is frequently used to treat diarrhea and nausea. It's a natural way to treat motion sickness, vomiting, and colic.
Ginger: Ginger is well known for its stomach-settling abilities. Often used to treat nausea during pregnancy, it's also great for stimulating bile and saliva production. This can help your baby's body easily digest what they've eaten.
Fennel: This seed is packed with dietary fiber and can help your baby digest and process any eaten food that may be causing discomfort.
Cinnamon: Cinnamon has long been reported to have anti-inflammatory properties.
Lemon balm: Lemon balm is believed to boost the body's systems. It can help protect the immune system and encourages good sleep, which can be restorative to the body.
There are many reasons your baby may be producing excess gas. If one form of gripe water doesn't have an ingredient that addresses your baby's needs, it may not be effective.
Don't be afraid to try a different product if the first one you bring home doesn't seem to make a difference.
Can Gripe Water Help Your Baby?
These are some indications to look for if you aren't sure if your baby is experiencing digestive discomfort:
Pulling knees up to the chest or rigidly extending them to their fullest extent: This is a classic behavior that goes along with a distended or gassy stomach in a young baby.
Urgently crying: You'll learn your baby's pain cry quickly — there is a distinct difference between a cry of displeasure and one caused by pain. You likely won't be able to soothe the crying until the gas passes, no matter how long you walk the floor. Holding your baby upright and providing comfort may help.
A hard and distended stomach: This can be a sign that gas is causing your baby discomfort.
Never ignore blood in your baby's stool or an inability to pass urine or stools. It can be a sign of a serious medical issue and needs to be addressed with an immediate visit to your pediatrician.
---
Thank You For Your Feedback!
Thank You For Your Feedback!