Are you looking for a bath mat you can trust to keep your baby from slipping and sliding around the tub — one that won't end up covered in mold or mildew?
We were too, so we hit the shops to compare all the bath mats we could find to bring you this list of our top 10 favorites.
We found options to match any bathroom decor and some that even provide entertainment for your little one. We evaluated each mat's comfort level, grip quality, shape, and size.
So quit stressing about bathtime, and enjoy some fun with your little one with one of these best baby bath mats.
Image
Model
Product Comparison Table
Features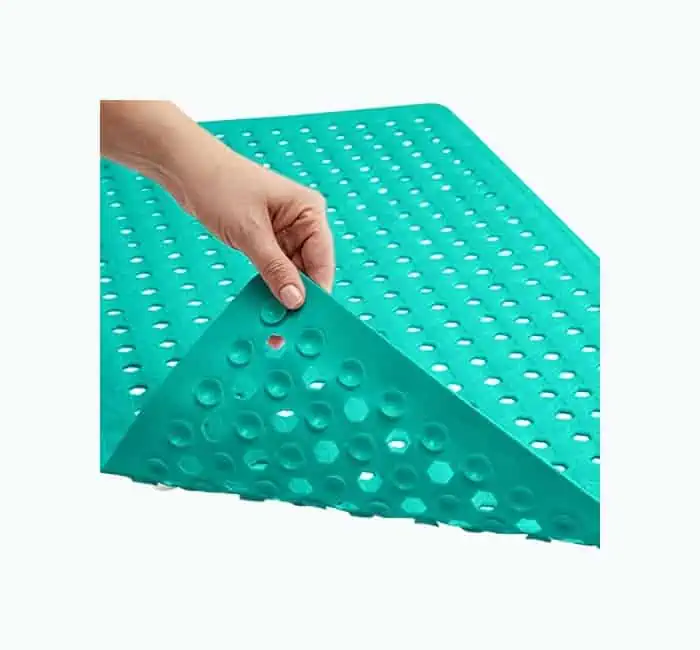 Ticks all the Boxes
Gorilla Grip
Ultra-strong suction cups
Easy water drainage
Multifarious color options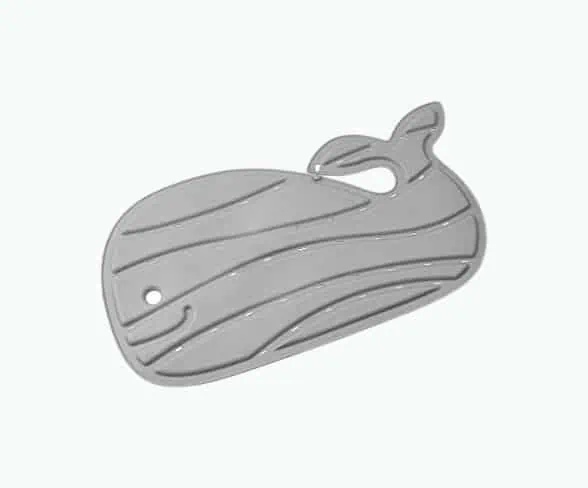 Best Unisex
Skip Hop Baby Bath Mat
Skid-resistant design
Cute and functional
Soft and comfortable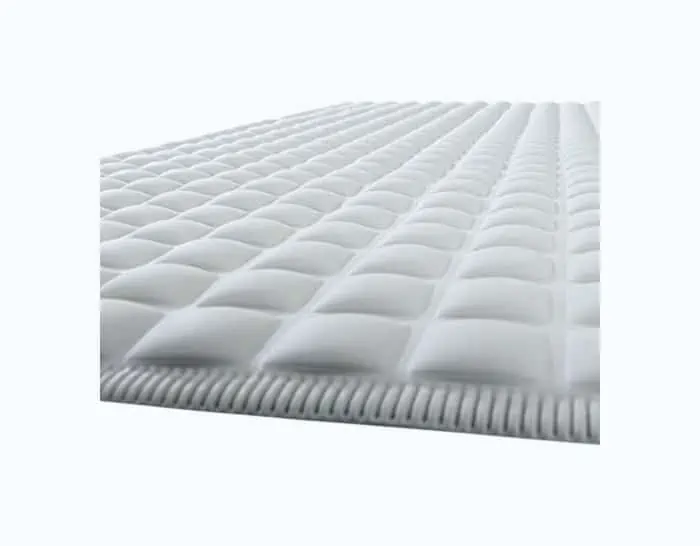 Best Minimalist Mat
SlipX Solutions Cushioned Bath Mat
Perfectly complements any color
Cushioned for comfort
Made from natural rubber
Cutest Design
Munchkin Quack Duck
Textured material grips feet
Skid-resistant suction cups
Adorable design
Best for Learning
Munchkin Dotted
Non-slip surface
Cute and playful design
Long-lasting and durable
Best All-Natural
Ikea Crocodile
Hangs to dry
No toxic chemicals
Trusted brand
Best Firm Grip
All Pride Bath Mat
Powerful sucker
Odorless and soft
Mildew resistant
Best Non-Slip
BeeHomee Non-Slip
Hundreds of high-strength suction cups
Unique cute style design
Machine washable
Pure and Simple
Epica Anti-Slip
Easy to clean
Anti-bacterial
Provides ultimate safety
Best Low Maintenance
Boon Bathtub
With drain holes and hooks
Covers large portion of tub
Super-soft textured surface
---
---
The Best Baby Bath Mats of 2023
Here are our favorite non-slip baby bath mats.
Gorilla Grip Bath Mat
Ticks all the Boxes
If you're looking for a bath mat that covers all angles, this is a good place to start. It's safe for your little one, has an anti-slip surface, and should fit even the biggest tubs.
This mat makes life easier for mom too, as it's simple to clean. You can pop it in the washing machine, although I find it's just as easy to clean it by hand.
Is your little one hyperactive at bathtime? Thanks to the powerful suction cups, this mat should stay put. And this mat offers ample cushioning for your baby, making their bathtime a more comfortable experience.
Our Ratings
---
Skip Hop Moby Non-Slip Baby Bath Mat
Best Unisex
Us moms are the ultimate thrift shoppers, and this whale-shaped mat follows the trend. It's fun for boys or girls, and its minimalistic yet functional design will make sure it's worth every buck spent.
It contains holes for water to pass through when draining the tub. The whale's tail fastens to its body, making it easy to hang over your showerhead when not in use.
Made with super-strong suction cups, it aims to provide a safer, slip-free bathtime experience.
Our Ratings
---
SlipX Solutions Cushioned Bath Mat
Best Minimalist Bath Mat
Many moms want to bring the best out of their motherly duty while still maintaining to create a homey environment for their family.
The design of SlipX Solutions' cushioned bath mat is a good fit for any bathtub. Let's admit it; sometimes, a cartoony design will not fit all mothers' color preferences, making this the best alternative.
We love the soft, cushioned design for our babies and ourselves! Why not buy a mat that you can use for your own comfort too?
Apart from its design, the product's functionality is advantageous for those concerned about safety. The strong suction feet keep the bath mat firmly in place, helping to keep your baby stable.
Our Ratings
---
Munchkin Quack Duck Bath Mat
Cutest Design
Does your baby have a classic rubber ducky for bathtimes? This bath mat is the ideal complement! The vibrant yellow duck brings color and fun to bathtime.
This mat is much more than just cute. It's also functional, with a textured surface to prevent babies from slipping when moving around.
However, if you're looking for a full-coverage bath mat, this may not be suitable because of its shape. But the underside is completely covered in suction cups — even the duck's beak! Therefore, this is great for grip.
Our Ratings
---
Munchkin Dotted Bath Mat
Best for Learning
When it comes to discovering new things, babies soak it all up like a sponge. If your child has a thirst for knowledge, use bathtime to teach them about colors with this multi-colored dotted bath mat!
The Munchkin mat has a funky, colorful design, which might just be an ideal strategy for distracting stubborn bathers. Engage your baby by naming the colors while you wash them down.
It's also a generous length, which could appeal to moms bathing more than one child at bathtime. The big dots are raised to help keep your baby from sliding around — and it looks good too!
Our Ratings
---
Ikea Crocodile Bath Mat
Best All-Natural
The Ikea crocodile bath mat has been designed with the "au naturel" approach in mind.
This vibrant green crocodile is made of rubber and free from synthetic treatments.
It is hard-wearing and easy to maintain. To avoid mold, all you need to do is hang it up to dry after each bath. It even has strategically placed hook holes.
It doesn't cover the entire bath, but the size is sufficient enough for babies to sit or stand on, and it doesn't slip around the tub.
Our Ratings
---
All Pride Oval Bath Mat
Best Firm Grip
Do you find your bath mat starts in one place, but by the end of bathtime, it has shifted down toward the drain hole?
The All Pride bath mat has a bigger drainage hole, preventing mildew accumulation. Nevertheless, it stays put. It comes with a pod of extra-powerful little suckers. This should help keep your bath mat where you left it — no matter how active your baby is.
It might not take up the whole tub, but it does cover enough area to allow the baby to walk or sit safely without slip-sliding around. Aside from the oval shape, there is also a choice to purchase a rectangular-shaped bath mat to your liking.
Our Ratings
---
BeeHomee Non-Slip Bath Kid Mat
Best Non-Slip
Are you uber stressed over your baby constantly bouncing around in the tub? Are baths taken standing up rather than sitting down?
The BeeHomee bath mat won't feel like stepping on a banana peel. It features a bumpy surface for extra non-slip support, ensuring safety for excitable little ones.
This mat also has suction cups galore, which is important for a dependable hold. However, check your tub, as this bath mat is only suitable for smooth surfaces.
And although we love this mat for its safety, our kids' favorite feature is the cartoon-style aquatic animal prints.
Our Ratings
---
Epica Anti-Slip Bath Mat
Pure and Simple
Not a fan of cartoon characters? Or do you dislike having too many colors in the bathroom? Want a mat that's good for parents as well as for babies? This simple design might be the best choice for you.
This neutral color will suit any bathroom color scheme. It appeals to moms looking for something practical, tasteful, and discreet.
There will be no more slipping and sliding with a latex-free, textured upper and suction pads that stick to any surface below.
We love how the antibacterial finish prevents mildew and mold. And if it does get grubby, you can just run it through the washing machine — no scrubbing or effort necessary.
Our Ratings
---
Boon Bathtub Mat
Best Low Maintenance
One of the downsides to bath mats is the effort it takes to keep them clean. When you have a baby, you don't have the time to do a scrub-down after every wash.
The Boon mat has made our lives a little easier.
It comes with a hook for hanging the mat so the rubber can dry thoroughly to prevent mold growth. And the whole design is aimed at discouraging mildew. The ripples in the mat have small gaps to allow water to drain away easier.
However, one drawback is that it lacks a little in the comfort department. Younger babies may not find the surface soft enough for their tender bottoms.
Our Ratings
Bathtub Safety
Non-slip bath mats grip the tub and provide traction, helping you keep your baby steady and safe while you bathe them.
These are some safety tips to keep in mind when bathing your baby:
Supervision: Don't leave your baby unattended, even for a few seconds. Wait to answer that text, and ignore the doorbell until bathtime is over. If you absolutely have to leave the bathroom, take your baby out of the water (1).
Temperature: Babies have delicate skin. Even if the water doesn't feel too hot for you, it can still burn them. You should keep the water around 100 degrees Fahrenheit.
Babyproofing: Remove anything that can hurt your baby from the vicinity before bathtime. Curious fingers may try to grab things resting on the side of your tub.
Soaps and shampoos: Not all soaps and shampoos are appropriate for babies. Make sure the ones you use won't irritate your baby's sensitive skin — for example, some perfumes can cause urinary tract infections.
Hygiene: Keeping your bath and bath accessories clean is essential! Rinse toys, bath thermometers, and bath mats after use.
Keep it fun: Bathtime should be an enjoyable experience for baby and mom! Include toys and games to make baths something you both look forward to.
How to Choose the Best Bath Mat
As your baby gets older, they will move on to bigger things in all aspects of life. Eventually, this means moving from the baby bath to the family tub.
This also means you have countless choices for a new bath mat!
Here are a few factors to consider before choosing one:
---
It's a Wrap!
The Gorilla Grip Bath Mat is our pick for the best baby bath mat. It is easy to clean, a good length for the bathtub, and safe and comfortable for your baby.
Our only criticism is that this mat doesn't have a cute design. But that's what bath toys and decals are for! Safety and functionality have to come first. If a fun design is a priority, the Beehome Baby Bath Mat is our second favorite.
Thank You For Your Feedback!
Thank You For Your Feedback!