Cabinet locks are one of those items parents both love and hate at the same time.
They prevent little ones from getting into things they shouldn't, making messes, or finding dangerous substances. But they can be annoying when you constantly have to unlock and lock them — especially when your hands are full. Because, as moms, it seems our hands are always full!
The simpler the lock is to use, the easier it is for your little genius to figure it out. But many of the more complex locks are not just difficult for babies to get into; you may find yourself fighting to open them too.
We understand the struggle. So we made it our goal to find the best cabinet locks to protect your goods and your little ones while still allowing you to access those cupboards when needed.
Image
Model
Product Comparison Table
Features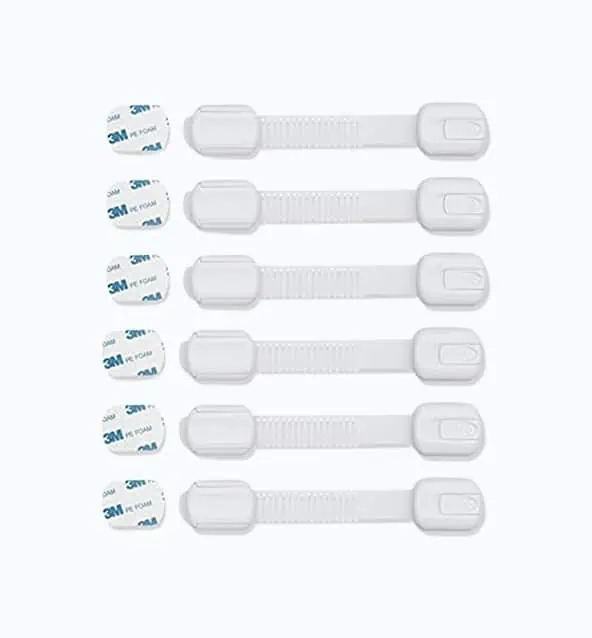 Best No Drill
CuteSafety Safety Locks
Easy to install
Robust adhesive
Great at keeping curious children out
Best Magnetic Locks
Jambini Magnetic Locks
No drilling required
Doesn't take long to install
Tough locks
Best Safety Latches
The Good Stuff Latches
Easy to remove when not needed
Super quick to install
Adhesive works well
Best Adhesive Locks
Hurrise Locks
Affordable choice
Comes with more than one key
Easy to install
Best Multi-Purpose
Eco-Baby Locks
Works on both cabinets & drawers
Includes a butterfly sticker
Large kit
Best Inconspicuous Locks
Safety 1st Adhesive Lock
Completely invisible outside
Easy to install
Can be disengaged when not needed
Best Multi Colors
Wonder Kid Locks
Good selection of colors
One-hand operation
Don't require any drilling
Best for Kitchen Cabinets
Enovoe Magnetic Locks
Holds securely
Non-bulky
No drilling required
Best Sliding Locks
CuteSafety Sliding Lock
Easy to slide on & off
Comes in 4 colors
Sturdy
Best for Knobs
Kiscords Baby Locks
Not a choking hazard
Video installation direction included
Won't damage your cabinets
Review Methodology: At Mom Loves Best, our comprehensive analysis and assessment of cabinet locks are based on benchmark tests, hands-on experience, and data-driven criteria to evaluate and compare each product. Our team of professionals conducts thorough research and reviews to rank products based on performance, design choices, and their impact on users. We strive to provide you with clear, objective evidence and facts, showcasing what sets each cabinet lock apart from its competitors. Our findings focus on key decision-making factors such as ease of installation, durability, child safety, and effectiveness, ensuring that our top recommendations meet the highest standards for your family's needs. Trust Mom Loves Best to help you make informed decisions when choosing the best cabinet locks for your home.
---
---
The Best Cabinet Locks of 2023
Here are our favorite cabinet locks on the market.
CuteSafety Baby Safety Locks
Best No-Drill Cabinet Locks
You can use this multi-purpose lock on cabinets, appliances, trash cans, windows, drawers, and even toilets.
Even though it will keep your baby out, you'll still be able to open your cabinets easily with one hand. And you'll be able to close them just as quickly.
This lock uses adhesive to stick to your cabinet — there's no need for drilling or complicated installation.
Just wipe down your cabinet with a damp rag, and dry it thoroughly to make sure nothing is preventing the adhesive from sticking. After your baby is old enough that they aren't drawn to all the dangers lurking in your cabinets, you can remove the adhesive without ruining your cabinets.
The locks come in multiple colors, so you should find an option that blends well with your decor.
Pros
Easy to install.
Robust adhesive.
They're great at keeping curious children out.
Cons
These aren't reusable once they've been removed.
Some parents said the plastic on these strips didn't last as long as they would have liked.
Our Ratings
Community Feedback
I'm impressed with how well these cabinet locks have worked in my home, keeping my curious toddler out of drawers and cabinets. They were easy to install and have a discreet design that blends in with my cabinets. However, upon removal, some adhesive residue was left behind, but with a bit of effort, I was able to clean it off without damaging the cabinet finish.
---
Jambini Magnetic Cabinet Locks
Best Magnetic Cabinet Locks
If you love the power of magnetic locks but don't want the mess or work of drilling for them, here is a magnetic lock that doesn't require any tools. These locks use 3M adhesive, which is strong enough to withstand the tugs of a curious baby. You'll open the cabinets by using a key.
The adhesive locks can be installed within minutes, saving you a lot of time and effort.
If you're worried about how your locks will look, rest assured, you'll barely be able to see them. These blend in with your decor and will fit any cabinet style you have.
Pros
No drilling required.
It doesn't take long to install these.
These are tough locks.
Cons
They don't work well on thick cabinets.
They only come with one key, so you'll have to keep track of it.
Our Ratings
Community Feedback
In my experience, the Jambini Magnetic Cabinet Locks are an excellent investment for any parent seeking to childproof their home. Installation was quick and hassle-free, and the strong adhesive ensures that even my determined toddler can't break through. I appreciate the sleek and subtle design of these locks, which blend seamlessly with my cabinets and drawers while still providing a satisfying click that assures me my little ones are safe. Additionally, the convenient toggle feature and magnetic key make it easy for adults to access the cabinets without struggling with complicated mechanisms.
---
The Good Stuff Child Safety Cabinet Latches
Best Cabinet Safety Latches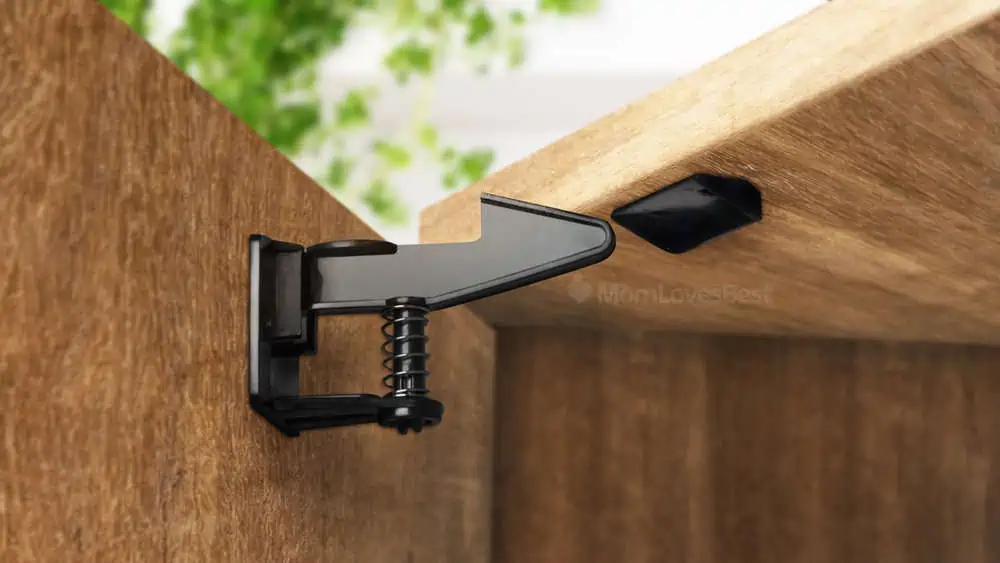 These latches will work with most cabinets, and the best part is that they're simple to install. They don't require any tools, and you can attach them in seconds.
All you have to do is peel off the plastic covering the adhesive strip, stick it on your clean cabinet, and you're done. To open the cabinet once it's on, reach your finger inside the top of the cabinet, and press down on the latch to release the lock.
These are ideal for moms who want safety without ruining the appearance of their cabinets. Since these locks go inside the cabinet, they won't be visible.
Pros
They're easy to remove when no longer needed.
Super quick to release.
The adhesive works well.
Cons
You have to be careful to get the right placement when installing these or they won't be as secure as you want.
These are single-use locks, so you'll need to replace them if you move or install them incorrectly.
Our Ratings
Community Feedback
I'm pleased with these cabinet locks, as they were easy to install and have held up well against my curious 15-month-old. They also proved effective in keeping my cat from getting trapped in the cabinets, saving me the hassle of rescuing him. Although the adhesive on some pieces was hit or miss, the majority still worked perfectly.
---
Hurrise Magnetic Cabinet Lock
Best Adhesive Cabinet Locks
These magnetic cabinet locks use adhesive instead of drilled holes, making them quick and easy to install, and you won't have to permanently damage your cabinets to use them.
This set comes with 16 locks and three keys, so if you lose one, you won't go into full panic mode that you'll never be able to open your cabinets again.
You can place these locks inside the cabinet so no one will be able to tell they're there.
Pros
Inexpensive locks.
It's nice that it comes with more than one key.
Easy to install.
Cons
The adhesive may not last as long as you require.
You need to let them set for 24 hours before using them.
Our Ratings
Community Feedback
I recently purchased these magnetic cabinet locks to help toddler-proof my home. Installation was fairly easy, but the adhesive didn't hold up as well as I'd hoped on my older, textured cabinets. Out of the 16 locks in the package, 13 worked well while the others were defective. The magnetic key works well, but it was a bit inconvenient to use every time.
---
Eco-Baby Child Safety Magnetic Locks
Best Multi-Purpose Lock Set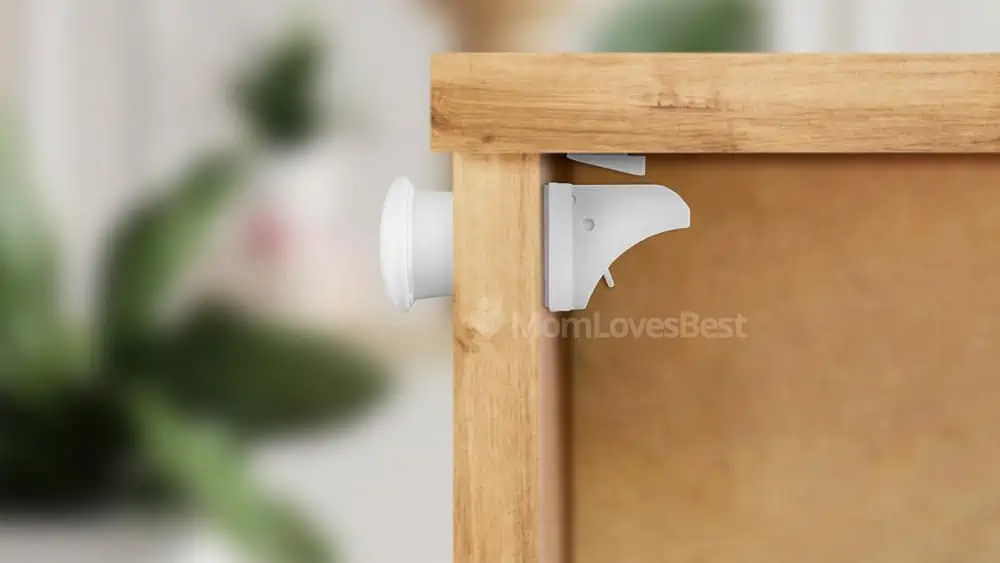 You shouldn't have to buy multiple styles of locks to childproof your home. The locks in this set work on both cabinets and drawers, saving you money and making installation easy.
Each set contains twelve magnetic locks and keys. The locks attach with an extremely strong adhesive tape that can be removed cleanly without damaging the cabinet or drawer. You also get extra adhesive tape strips if you find you need to move a lock to a different location.
Other features include a plastic template to help align and install each lock properly and twelve butterfly stickers. The stickers go outside the drawer or cabinet, so you know exactly where to play your magnetic key. We especially love this feature if you have babysitters or family members in your home who need access to your stuff.
Pros
Work on both cabinets and drawers.
Includes a butterfly sticker to help match the key to the lock.
Large kit helps childproof your whole house.
Cons
The adhesive is strong enough to keep babies out but may be pulled off by a strong toddler.
Our Ratings
Community Feedback
Love these magnetic locks for keeping my mischievous cat and curious nieces out of my cabinets and drawers. They were super easy to install, even for someone like me who isn't very handy. The fact that they're invisible from the outside is a big plus, and the option to use screws or adhesive makes them versatile for different surfaces. These locks have saved me numerous trips to the vet due to my cat's late-night snack raids and have kept my makeup safe from little hands. I wear the magnetic key on a lanyard for easy access, and I appreciate that they automatically relock themselves.
---
Safety 1st Adhesive Magnetic Child Safety Lock System
Best Inconspicuous Locks
Do you want to keep your cabinets looking clean and stylish, even with a baby lock system? This kit from Safety 1st makes each lock completely invisible from the outside. It works by using a combination of magnets and strong adhesive.
Use the yellow plastic template to perfectly align each lock on the inside of the cabinet. Peel off the backing and automatically stick it to the surface without any tools or installation instructions. To operate, simply press the magnetic key to the outside of the door, and pull it open.
We also love that you can disengage the lock when you don't need it. It's perfect for when you have guests over or are working consistently in an area without your children. You can turn the lock back on with the simple press of a button.
Each set comes with eight locks and two key fobs.
Pros
Completely invisible from the outside.
Easy to install and includes a plastic template.
Can be disengaged when you don't need them.
Cons
They aren't very versatile, working only on cabinet doors.
Our Ratings
Community Feedback
I recently purchased these cabinet locks to keep my curious toddler and pets out of my cabinets and drawers. Installation was easy, but make sure to check the red and yellow tabs first to ensure they're intact and line them up properly before installing. The best feature is the ability to disengage them when not needed, making access a breeze for adults. These locks have successfully kept my little one and pets out of restricted areas, and I'm very satisfied with their performance.
---
Wonder Kid Safety Locks
Best Reusable Latch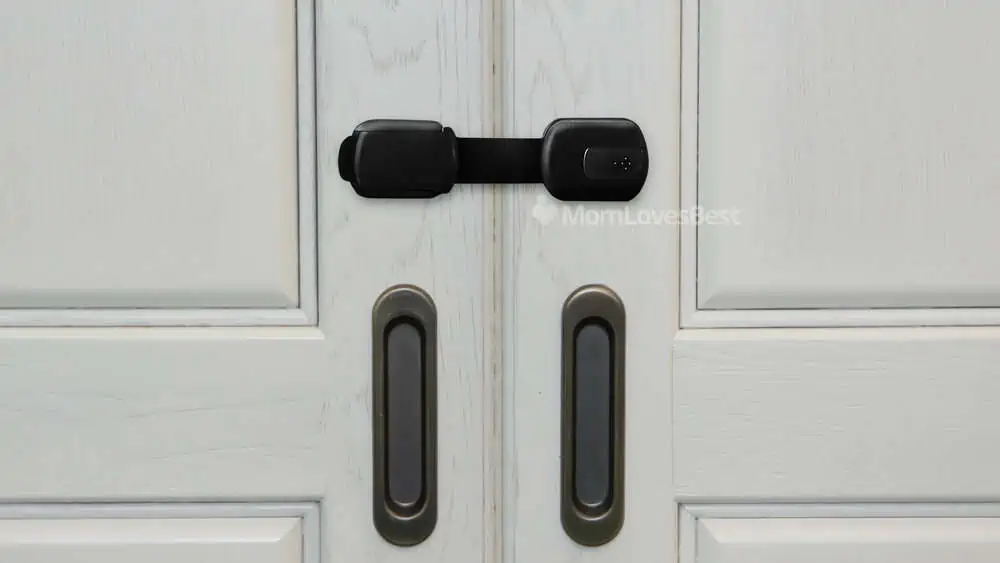 While many cabinet lock brands offer two color choices, this type gives you four options, so you'll have a better chance at finding one that matches your home decor.
You can also get these in packs of two or six.
While these will stump small children, adults can open them with only one hand, which is great for busy moms who frequently have their babies in their arms.
These also don't require any drills or special tools since they use an adhesive to stick to your cabinets.
Pros
Good selection of colors.
You only need one hand to open them.
They don't require any drilling.
Cons
Some parents said the adhesive isn't that strong.
The straps are prone to breaking.
Our Ratings
Community Feedback
These child safety locks are effective and easy to use, keeping my children from accessing restricted areas. I found them to be discreet, blending well with the color of my furniture, but be prepared for a slight learning curve when installing them. To remove the locks without damaging the cabinets, I used a credit card and a hairdryer, which proved successful.
---
Enovoe Magnetic Cabinet Locks
Best Kitchen Cabinet Locks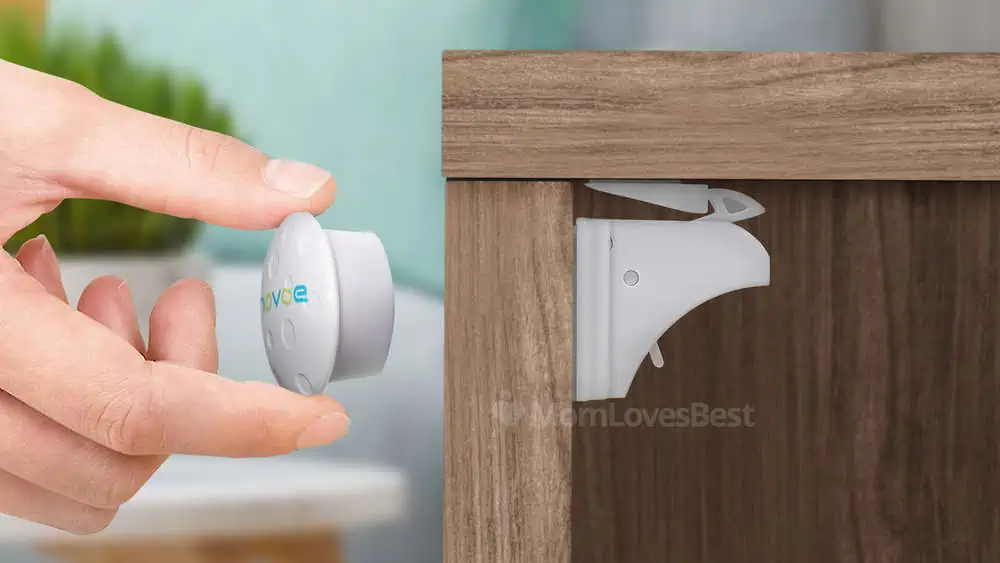 This set comes with ten locks and two keys, which is nice if you have a lot of cabinets in your kitchen and don't relish the idea of only having one key.
The locks are only visible on the inside of your cabinet, so there's nothing on the outside to draw in your curious child. And since your child won't be able to reach the locks, there'll be no way for them to open them.
These locks don't require any drilling. Just use the adhesive strips to get them to stick to the cabinet.
Pros
They fasten securely, without even a crack left open, so there's no way kids can catch their fingers.
You can't even tell there's a lock installed.
No drilling required.
Cons
The keys may break if dropped.
The adhesive is not especially strong.
Our Ratings
Community Feedback
I've been using these cabinet safety latches for a few months now and have had a mixed experience. On one hand, they're discreet and effective at keeping my child from accessing hazardous materials, but the installation process can be a bit tricky and time-consuming. The magnetic keys are convenient, but can be prone to breaking if dropped too often. Despite some minor issues, the adhesive is strong and overall, these latches do their job in keeping my little one safe.
---
CuteSafety Sliding Cabinet Locks
Best Sliding Locks
If you think sliding locks are the way to go, you might want to check these out. They're smooth all the way around so your baby won't cut or scrape their tender skin while exploring the house.
They won't work for every type of cabinet, though. You'll only be able to use them on smaller knobs and thinner handles.
You can slide them open just by using one hand, and they're easy enough that you don't have to fight with them.
They won't impact the surface of your cabinets because they simply slide over the handles.
Pros
They're easy for adults to slide on and off.
They come in three colors to match most color schemes.
Sturdy enough to hold up to a toddler's tugging.
Cons
They'll attract the attention of your child and can be a bit of an eyesore.
They don't work on all handle types.
Our Ratings
Community Feedback
I recently purchased these cabinet locks to keep my curious little ones from getting into dangerous chemicals and off-limit treats. The locks come in various colors, which is a nice touch, and they were fairly easy to install. My grandbaby hasn't figured out how to unlock them, so they're definitely serving their purpose. One minor issue I encountered was that the release triggers can be a bit difficult to grab if installed incorrectly, but once I figured that out, it wasn't a big problem.
---
Kiscords Baby Safety Cabinet Locks
Best for Knobs
These are a good choice if you use your cabinets frequently. You won't have to drill anything or use adhesive you'll later have to peel off. They won't ruin your cabinets' finish, and they come in two different colors to match your cupboards.
Parents can open these locks with one hand, but babies and toddlers won't figure out the double-lock design. The knots on the cord will prevent your child from removing any of the tiny parts.
The nylon cord doesn't stretch, which prevents your child from pulling the cord, letting go, and getting whipped in the face.
Pros
The short cord isn't a choking hazard.
The installation directions include a YouTube video link.
They won't damage your cabinets.
Cons
They'll only work on cabinets that have knobs that sit close together.
Although the locks will keep your kids out, the cords will lure your kids in — they'll want to check them out.
Our Ratings
Community Feedback
Got these cabinet latches to secure both my baby and curious cat from accessing our kitchen cabinets. Installation was a breeze, and the non-adhesive design helped protect my cabinets from damage. Though they may not fit all cabinet sizes perfectly, they still do their job effectively and can be easily removed by adults when needed.
When Should I Install Cabinet Locks?
Cabinet locks aren't necessary before your baby is mobile, but once they start crawling, you'll want locks in place. You probably have all sorts of things in your cabinets drawers that your baby shouldn't get ahold of, like cleaning products and medicines.
The Sooner The Better
Do yourself a favor, and put those locks on before your child begins crawling. You'll be able to rest easier while your little explorer is at work.
If your child is already crawling and you haven't installed locks yet, it's never too late. Every year, more than 130,000 children are treated at the hospital because they've accidentally ingested harmful substances (1). Children between the ages of 1 and 2 have the most non-fatal poisonings.
How to Choose Cabinet Locks
When you're trying to figure out which kind of cabinet locks you want to use, you'll see a lot of cheap options out there. But cheaper isn't always better. You need to think about what features you want in your locks, or you might end up replacing them before long.
There are several types of cabinet safety locks. We'll look at the most common kinds and discuss their advantages and disadvantages.
---
How Many Cabinet Locks Do I Need?
Before you start ordering, walk around every room in your house, and count all the cabinets that will require locks.
Think More
You might think you'll only need cabinet locks for the cabinets that have dangerous substances in them, but you'll also want them for any cabinet that you use for storage purposes.
Even if you store bowls and plastic dishes in a cabinet, if you don't lock them, be prepared to have to pick up those items off your floor every day until your baby learns to walk and can reach new targets.
In addition to the mess, your baby won't understand the art of closing a cabinet door gently. They'll slam it with glee just to hear the loud noise it makes. When they do that, the noise can drive you crazy, and they risk slamming their fingers in the door, which is even worse than the commotion.
So once you have a tally of all your cabinets, think about any family homes you may frequent or your daycare provider. Ask them what they intend to do about their cabinets, especially the ones that store stuff that could hurt your baby.
If they're agreeable to the idea, get a few extra locks for them. They're inexpensive to buy, and they're worth it, if only for the peace of mind.
Cabinet Lock FAQs
---
The Bottom Line
We think sliding safety locks are the best cabinet locks for babyproofing because you can use them on so many other surfaces besides cabinets.
You'll be able to babyproof just about anything you can imagine. For busy moms who always seem to have their hands full, it's nice that these can be opened using only one hand.
While it may seem like babyproofing is something you'll have plenty of time to do, those first few months pass quickly, so try to tackle this chore as soon as you can!
Thank You For Your Feedback!
Thank You For Your Feedback!