Is your toddler always on the move? Climbing on the furniture, crawling under the table, or trying to reach the top of "mount laundry" — or is that just mine?
Building an environment where your toddler has room to explore their abilities and try new things is vital, and the best toddler climbing toys can help with that.
Being a mom to an active toddler, finding a toy where they could burn some energy was a gift from above. Given that they also promote strength, hand-eye coordination, and more, we were intrigued by the idea of a climbing toy.
Don't worry, you don't need a big backyard to have one — many can easily fit indoors, depending on your space and setup. Let's take a look at some of the features these toys offer, then go over our favorite picks.
---
Features to Look For
Climbing toys come in all shapes and sizes — there are large options for outdoors, and smaller compact ones for indoors. Which features you opt for depends on your house, your toddler, and yourself.
Multi-purpose: This is a feature I always look for. Perhaps find a climbing toy with a tunnel, a slide, or a basketball hoop — different activities that your toddler can explore. If they show interest in swinging, for example, maybe that's a feature you'd like to include.
Timeless toy: Choose something that will grow with your child. A climbing toy that applies to a wider age group that will last a while is always a better purchase than something that won't get any use after a year.
Encourage learning: Consider a climbing toy that encourages your toddler to explore, learn letters or numbers. These extra features can go a long way in keeping them entertained while being educational.
Climbing toys are perfect for developing all sorts of new skills. Some may even learn to climb before they walk!
---
The Best Toddler Climbing Toys of 2020
---
---
---
---
---
---
---
---
---
---
---
---
---
---
---
---
---
---
---
---
Pikler is based on a theory from a pediatrician named Emmi Pikler. In short, she stressed the importance of letting the child develop in their own time and at their own pace (1).
The Pikler allows your toddler to explore their abilities simplistically. The multi-level, triangular shape keeps it straightforward enough and, to store it away, simply fold it up and put it in the closet (or under the bed).
As a big plus, it's relatively easy to make, for those who have basic carpentry skills.
[/product-review]
---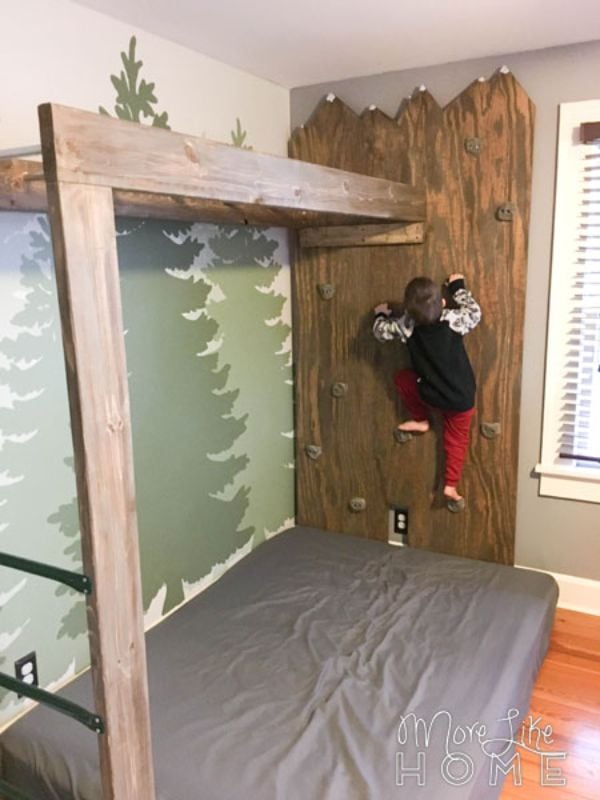 I know my children would be through-the-roof excited for one of these impressive walls. Although it looks like a monumental task, we appreciate the clear instructions and the fact that the builders include their mistakes so we can avoid the same.
This is also one of those that can grow with your child, from the toddler years to those approaching the "tweens."
Suffice to say, you'll want to include a landing pad below, especially when your child works up the confidence to climb all the way to the top.
[/product-review]
---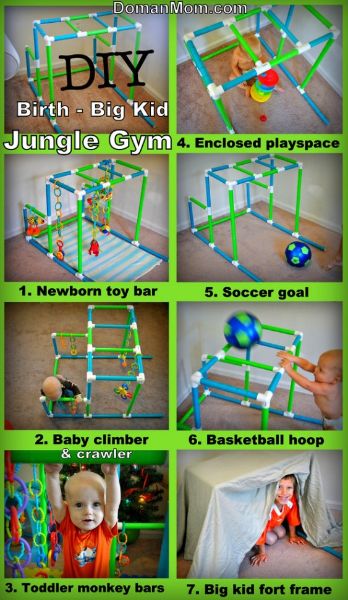 Ever thought you could make your own jungle gym? No, me neither. But now we can, with the help of this useful guide.
This is a DIY project you can sign yourself up for, even while your child is still a baby. Once it's finished, you can use it as a baby toy bar, toddler monkey bars, a soccer goal, and much more. With all these options, it seems like a great choice.
[/product-review]
---
This DIY climbing wall allows for older toddlers to have an authentic climbing experience, complete with not only climbing pegs, but a rope attached to a carabiner for support.
For younger children, you'll want to ensure the rope is used properly and under supervision. I would also suggest putting a mattress on the floor, for obvious reasons!
This project requires some handy skills, but I'm sure your little one will appreciate it. You can decorate it with maps and other fun stuff as you please.
[/product-review]
---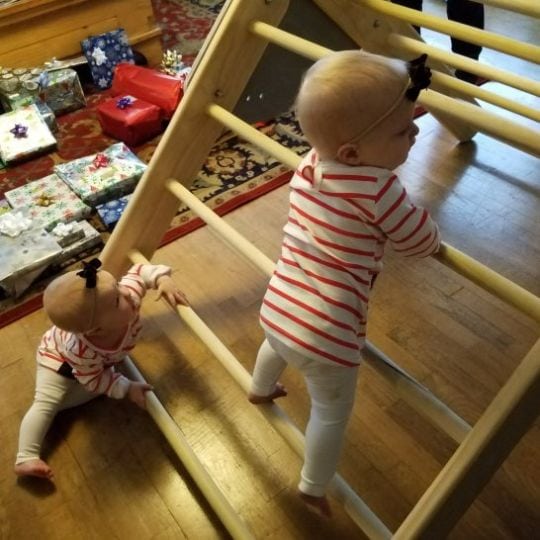 Since the Pikler seems to be a popular choice online, we've included this add-on climbing wall for your Pikler triangle. Once you build this miniature climbing wall, attach it to the Pikler with some hooks. Then your little one can climb up and down.
We reckon this could be used on its own as well, attached to another safe and suitable surface. We appreciate the size and minimal carpentry skills needed.
[/product-review]
---
Safety Precautions
When it comes to toys, safety is a top priority. Here are some precautions to take and what to avoid (2).
Avoid sharp edges: A poke in the eye, a scratch on the arm — either way, avoid anything that could potentially cause injury, and instead look for products with rounded edges.
Age appropriate: If your toddler is small, avoid buying something designed for older children, which will only frustrate them and potentially be dangerous.
No choking hazards: If there are ropes or hanging parts, make sure a toddler can't get caught or wrap it around their neck.
Durability: Look for material that can hold enough weight and won't break down with repeated use
---
Reach the Top
With the best toddler climbing toy, your miniature mountaineer can practice motor skills, balance, and most of all, confidence.
Now that you have some idea of what to look for, we hope you're feeling confident yourself in deciding which climbing toy is best for your child.
Our favorite is the Children's Factory soft tunnel climber. This is a great place to start and soon your child will only climb higher. A bonus is that it's suitable for younger toddlers as well.
Have you tried your hand at a DIY climbing toy? Do you have a favorite from the above list? Please leave your answer below, and share our list for others to enjoy.